fightcamp
Despite — or in many cases because of — the raging pandemic, 2020 was a great year for many tech startups. It turned out to be an ideal time to be in the video game business, developing a streaming ecommerce platform for Gen Z, or helping restaurants with their online ordering.
But which companies in Southern California had the best year? That is highly subjective of course. But in an attempt to highlight who's hot, we asked dozens of the region's top VCs to weigh in.
We wanted to know what companies they wish they would have invested in if they could go back and do it all over again.
Startups were ranked by how many votes each received. In the case of a tie, companies were listed in order of capital raised. The list illustrates how rapidly things move in startup land. One of the hottest startups had not even started when 2020 began. A number doubled or even 16x'd their valuation in the span of a few short months.
To divvy things up, we delineated between companies that have raised Series A funding or later and younger pre-seed or seed startups.
Not surprisingly, many of the hottest companies have been big beneficiaries of the stay-at-home economy.
PopShop Live, a red-hot QVC for Gen Z headquartered out of a WeWork on San Vicente Boulevard, got the most votes. Interestingly, the streaming ecommerce platform barely made it onto the Series A list because it raised its Series A only last month. Top Sand Hill Road firms Andreessen Horowitz and Lightspeed Venture Partners reportedly competed ferociously for who would lead the round but lost out to Benchmark, which was an early investor in eBay and Uber. The round valued PopShop Live at $100 million, way up from the $6 million valuation it raised at only five months prior.
Scopely, now one of the most valuable tech companies in Los Angeles, was also a top vote getter.
The Culver City mobile gaming unicorn raised $340 million in Series E funding in October at a $3.3 billion valuation, which nearly doubled the company's $1.7 billion post-money valuation from March. It is no coincidence that that was the same month stay-at-home orders began as Scopely has benefited from bored consumers staying on their couch and playing ScrabbleGo or Marvel Strike Force.
The company's success is especially welcome news to seed investors Greycroft, The Chernin Group and TenOneTen ventures, who got in at a $40 million post valuation in 2012. Upfront Ventures, BAM Ventures and M13 joined the 2018 Series C at a $710 post-money valuation.
Softbank-backed Ordermark, which flew more under the radar, also topped the list. The company's online ordering platform became a necessity for restaurants forced to close their dining rooms during the pandemic and raised $120 million in Series C funding in October.
On the seed side, two very different startups stood out. There was Pipe, which enables companies with recurring revenues to tap into their deferred cash flows with an instant cash advance, and Clash App, Inc., a TikTok alternative launched by a former employee of the social network in August.
We will have the list of Southern California's top seed startups out tomorrow.
Lead art by Candice Navi.
Los Angeles is seeing a renaissance in medical technology.
Earlier this month a venture capital firm headed by two former Amgen executives announced they raised $500 million to boost and incubate new life science and biotech companies across Los Angeles. And the firm, Westlake Village Biopartners, is working to develop a 30,000 square foot campus in Thousand Oaks.
Across town, the 20,000 square foot LABioSpace is set to open. Funded through the county, federal funds and private donations, the incubator will feature lab space dedicated to bioscience research and collaboration and is designed to house up to 25 companies.
And yet, another "innovation hub" backed by the county and private funds called BioScienceLA is expected to launch its own space in Culver City next year.
"For years, we have lost talented scientists and entrepreneurs to other regions, due to lack of investment capital and start-up and expansion space for growing companies," said David J. Whelan, the CEO of BioscienceLA. "We are finally at an inflection point, with funding, space, and talent supporting each other to grow the LA life sciences ecosystem."
Here are some trends to watch in healthtech.
Telemedicine Brings Health Access and Equity to Patients at Home
Doctors visits and at-home testing have been made easier during the pandemic as more companies launch platforms to deliver health information to patients from home.
COVID-19 has sparked new demand for telehealth services to test and treat consumers. And more clinics and hospitals are adopting the tech. According to a PitchBook report, companies in the virtual health segment raised about $534 million in venture funding in the second quarter of 2020.
L.A. startups like Healthvana and ConsejoSano, a platform for patients and providers that aims to make healthcare easier to access for multiple cultures and languages. Last week, the North Hollywood company raised $17 million to build out its services like scheduling appointments and coordinating transportation to a patient's provider.
Meanwhile, Los Angeles-based MotiSpark developed a digital tool to send personalized reminders to users. And in September, the Santa Monica-based prescription discount platform GoodRx, went public and became the most downloaded medical app, boasting five million active users and 70,000 pharmacies.
More Investment in Diagnostics
Diagnostic companies typically have a hard time securing capital, but this year changed that. Kevin Zhang, a partner at Upfront Ventures who leads health and biotech investments, said the life sciences industry has seen a spike in gene therapeutics companies over the last few years. And the wave of new drugs brings with it new demand for lab testing.
"Frankly, it was a bit of a dead zone for venture investment," he said. "It's one of the least sexy areas to put money into. Now that's grown tremendously"
The pandemic has only accelerated that need, Zhang said, and investors have shifted their attitude about biotech companies focused on diagnostics.
Since March, L.A. biotech companies and labs like Curative have pivoted to developing and administering COVID-19 tests. The team's testing technology is now being deployed across the nation. Meanwhile, several companies are now producing vaccines and COVID-19 therapeutics as the nation gears up for mass distribution.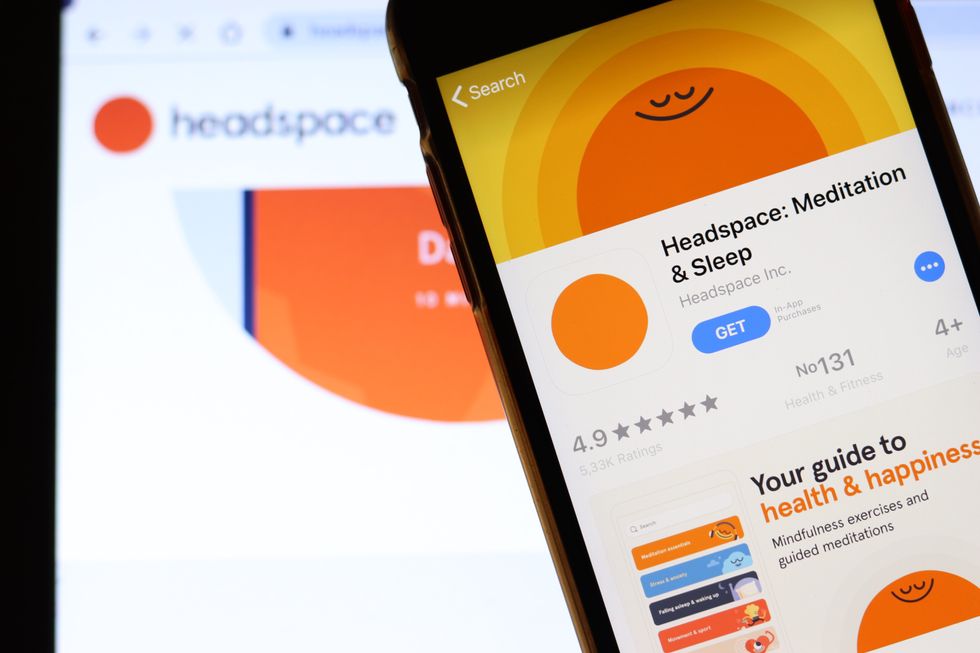 Employers Using Mental Health and Wellness Tech
The anxiety and stress caused by the pandemic has stoked demand for mental and physical wellness apps, including several based in Southern California. Experts see interest continuing into the new year as these wellness companies tap corporate partners to drive growth.
Earlier this year, Headspace, the Santa Monica-based meditation app, began offering free subscriptions to healthcare providers and teachers.
"We've seen explosive growth," said Headspace co-founder and CEO Rich Pierson at dot.LA's Summit in October. "CEOs have realized now that mental health is being discussed in every boardroom. That was not the case pre-COVID."
Calm, Talkspace and BetterHelp are among the handful of tech startups selling meditation classes and more affordable therapy access. And both Calm and Headspace offer a corporate product as employers and insurance companies have worked to make mental health resources more accessible since the pandemic began.
Exercise subscription platforms are also seen a boom. Apple launched its Fitness+ app in December, whose classes are filmed at a Santa Monica studio. As gyms remain closed in many parts of the country, consumers are buying up Pelotons and Mirrors. The craze is expected to continue to grow into the next year with several Southern California companies poised to benefit.
Indoor cycling app Zwift scored a $450 million investment in September. The Long Beach-based company is taking on Peloton building "hardware," presumably stationary bicycles, to go along with its 3-D generated worlds where users can compete from their living room. Another L.A.-based company Presence Fit raised $1 million in October for its two-way live interval training classes. And then there's FightCamp, which promises to capture the feeling of a boxing gym in your home.
From Your Site Articles
Related Articles Around the Web