Sports Tech
The latest news about sports technology and sportstech startups in Southern California from dot.LA
Sharon Town Lee ripped off a cluster of laminated public health flyers from the front window of her pet grooming salon in Santa Monica Tuesday.
It's June 15, the day widespread mask mandates and social distancing protocols in California become concepts of the past.
Sports fans and concert goers can now scream into the air. At Disneyland, visitors can again wait in long lines and crowd around princesses as the park expands its capacity limits.
Under state protocols, vaccinated individuals are no longer required to cover their faces at gyms, in the grocery store or other indoor settings — minus a few exceptions.
And many business owners including Town Lee are letting customers inside mask-free, without checking vaccination records.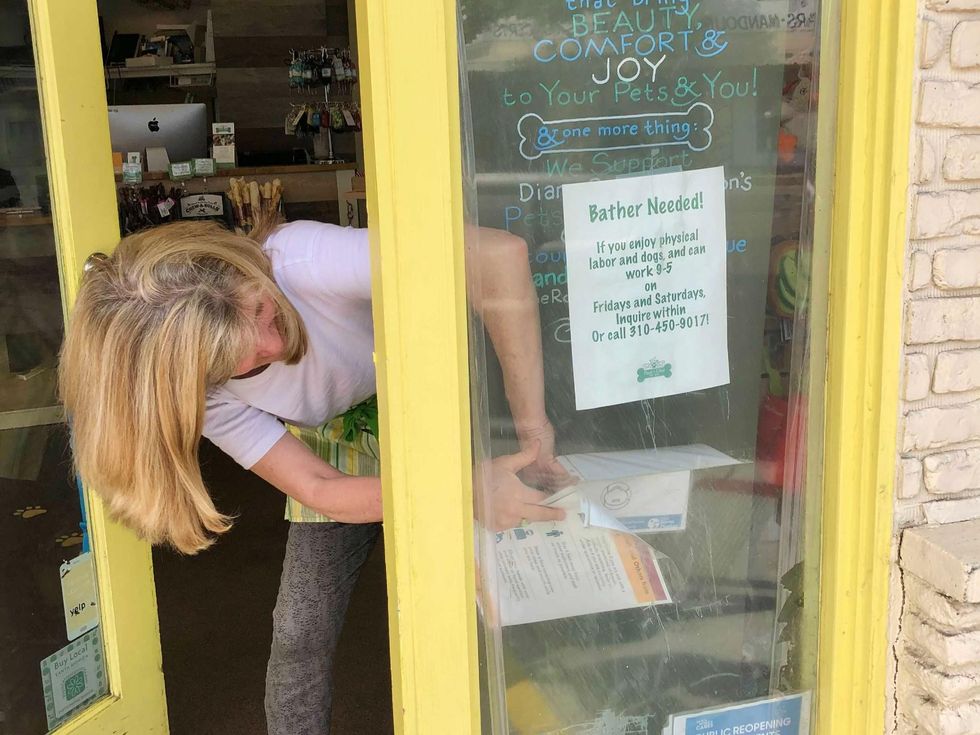 Sharon Town Lee ripped off a cluster of laminated public health flyers from the front window of her pet grooming salon in Santa Monica.Photo by Francesca Billington
"It's not our responsibility to show whether you've been vaccinated," said Town Lee, who chairs the local business district spanning Pico Boulevard and gave her employees incentives to get vaccinated.

The state's updates come as a relief. Town Lee, who is hearing impaired, can read her customers' lips again. While her small shop was largely empty in the morning, most people walking along the business district wore masks.
Private businesses can now pick between one of three state protocols: require all patrons to wear a mask, trust customers who say they've gotten the shot or establish a "vaccination verification process."
"It's a sensitive thing to ask people," said Rod Martinez, a supervisor at Literati Cafe in Los Angeles. "So we're not."
The question of enforcement remains murky — not to mention optional.
Last week, Newsom hinted at a new state-endorsed verification system to help private businesses hoping to check. SFGate reported that it'll look like a digital vaccine card designed to replace the paper ones issued by pharmacies and doctors.
How — and even if — stores and restaurants will ask customers to prove vaccination credentials is up to them, Newsom said. The governor was quick to remind viewers that his tech system isn't a so-called vaccine "passport," messaging that echoes tech startups like Healthvana.
"There's no mandates, no requirements, no passports in that respect," Newsom said during a press briefing Friday after drawing more winners for the state's cash vaccine incentive program.
Some business owners worry that requiring masks could turn off potential customers. Town Lee said that it almost feels like discriminating against people who don't want to be vaccinated for a variety of reasons.
At Ace Hardware in West L.A. store manager Brian Peacock said that three hours after opening, only one customer stepped inside without a mask.
"He walked in and said, 'I'm vaccinated!'" said Peacock. "For the most part, everybody has been wanting to wear a mask."
Beginning Tuesday, vaccinated people can go maskless at concerts, sports events and indoor performance venues. L.A. County health officials made the announcement Thursday, opening the door for a return to a pre-pandemic summer.
More than half (54%) of L.A. County residents over 16 had been fully vaccinated, and 65% had received at least one dose as of June 7, according to the public health department.
Unvaccinated people will still be required to wear a mask indoors, but just how that will be enforced is being left to the discretion of businesses. Retailers may still opt to require all patrons to wear masks and health officials still advise frequent hand washing as children under 12 are still unable to get inoculated.
Still, signs of a post-pandemic summer are here. The Hollywood Bowl began selling season passes and has a packed lineup. The Music Center said it plans on announcing a slew of outdoor music and live events for the summer. For their outdoor summer dance series, "Dance at Dusk," vaccinated patrons can go maskless, but need not show proof.
The county is strongly recommending unvaccinated patrons wear masks at so-called mega-events outdoors with more than 5,000 people. And it requires employees who can't maintain a social distance outside stay masked up.
At the Music Center, operators were still figuring out what the guidelines would mean for indoor concerts and performances.
"We follow the guidelines for how you need to show proof and accept that the proof is the proof. You do the best you can do," said Howard Sherman, chief operating officer at The Music Center, which runs the Walt Disney Concert Hall, Dorothy Chandler Pavilion, Mark Taper Forum, Ahmanson Theater and Grand Park.
Sherman said he has concerns about the reliability of vaccine verification and people being upfront about their status, but that there's only so much venues can do.
The Los Angeles Football Club, which opened up vaccinated sections last month, has been requiring patrons to show a vaccine card, a picture of it or a digital version before entering the section. It will be returning to full capacity on June 19th.
The county guidelines largely follow those set by the state earlier this week. Masks will still be required in public transit and rideshare vehicles, transportation hubs and healthcare facilities regardless of vaccination status.
Venues' calculus for deciding how stringent to be – whether to require masks or enforce capacity limits, for instance – will likely aim to strike what Julie Baker, who leads advocacy group Californians for the Arts, calls a "balance of commerce and public health."
Among the first sectors to be fully shut down, live entertainment venues' bottom lines have been battered by the pandemic. Baker said that early on, most venue operators fully supported prioritizing safety, but as the pandemic dragged on the angst and economic damage mounted.
She said after so long, many are anxious to get back to pre-pandemic days.
Sports fans and politicians have debated whether college athletes should be able to make money from their fame for years. Less commonly debated, however, is whether high school athletes should be able to do the same.
On Tuesday, Pasadena-based youth sports streaming platform BallerTV announced its new plan to allow high school athletes to make money off their names, images and likeness. How? By joining the NFT craze.
The company will sell NFTs that depict video highlights from the final June 8th game at Pangos All-American Camp, an elite, invite-only camp for high school basketball players. This game, called the "Cream of the Crop" game, features the top 30 players from the camp.
BallerTV hopes the potential of these players to become basketball's next legends will encourage consumers to invest in the NFTs.
"These NFTs will give collectors and young athletes the opportunity to capture the first moments of what could very well be storied NBA and professional careers," said BallerTV CTO Kavodel Ohiomoba.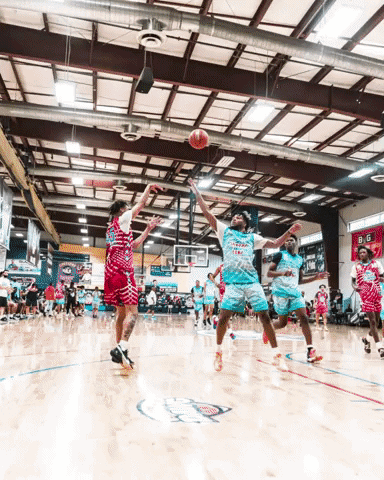 The NFTs are set to drop Tuesday on BallerTV's website at ballertv.com/nft and will be available for purchase on the Ethereum blockchain, with no starting price. The athletes featured in the NFTs will receive half of the profits, which may then be deferred until graduation from high school. The other half will go back to BallerTV.
Players can also donate their profits to a charity, school or organization of their choosing. BallerTV said it offered the option in case accepting the profits became an issue for players' future eligibility to play sports in their state.
BallerTV is taking their stand at a time when the issue of paying student athletes is top of mind at many universities and colleges, especially in California. In 2019, California Governor Gavin Newsom signed a bill allowing college athletes to hire agents and profit from endorsements without losing their NCAA eligibility. This bill will go into effect in 2023. Though California is the first state to do this, several other states are following suit.
BallerTV hopes the auction will contribute to the larger movement to allow student athletes to get paid, whether through selling NFTs or through other means.

"We're gonna see what the reception is to this," said BallerTV Executive Vice President Sandeep Hingorani. "How do the athletes respond? How does the community respond? Is this something they find interesting? But if that reception is not there, then there are going to be other avenues to explore to allow families and athletes to earn and benefit from the opportunities that are there."
While the NCAA has been slowly moving toward allowing its student athletes to benefit monetarily from their heightened profile, the National Federation of State High School Associations (NFHS) — which writes the rules for most high school sports — remains steadfast against payment for high school athletes.
"High school students participating [in travel or club sports] MUST NOT be allowed to benefit from [their name, image and likeness]," NFHS Executive Director Karissa Niehoff said in a statement earlier this year. "This would completely disrupt the high school environment when these students come into the high school locker room."
Meanwhile, the NBA has been cashing in on the recent NFT craze. NBA Top Shot, for example, a marketplace dedicated to selling video clips of NBA stars as NFTs, has an aggregated market value of $627,894,904, according to NFT site CryptoSlam. Last April, a clip of LeBron James dunking sold for almost $400,000 on the site.
From Your Site Articles
Related Articles Around the Web