Sports Tech
The latest news about sports technology and sportstech startups in Southern California from dot.LA
Cryptocurrency just scored a big win in the world of professional sports.
Los Angeles Rams wide receiver Odell Beckham Jr. disclosed on Monday plans to join a handful of professional athletes who are taking their salary in cryptocurrency.
Beckham, 29, announced on Twitter that he would take the entirety of his new contract in Bitcoin.
"It's a NEW ERA & to kick that off I'm hyped to announce that I'm taking my new salary in bitcoin thanks to @CashApp," the NFL megastar tweeted."To ALL MY FANS out there, no matter where u r: THANK YOU! I'm giving back a total of $1M in BTC rn too. Drop your $cashtag w. #OBJBTC & follow @CashApp. NOW"
It's a NEW ERA & to kick that off I'm hyped to announce that I'm taking my new salary in bitcoin thanks to @CashApp. To ALL MY FANS out there, no matter where u r: THANK YOU! I'm giving back a total of $1M in BTC rn too. Drop your $cashtag w. #OBJBTC & follow @CashApp NOW pic.twitter.com/ds1IgZ1zup
— Odell Beckham Jr (@obj) November 22, 2021
With Bitcoin's price trending upward, a number of pro athletes could have been doubling down on the cryptocurrency.

In October, Green Bay Packers quarterback Aaron Rodgers announced that he was teaming up with Square Inc.'s mobile payment service Cash App to convert a portion of his salary into Bitcoin. Rodgers also said he would be giving out a total of $1 million in tokens to make Bitcoin more accessible to his fans—something Beckham said he would be emulating.
The first NFL player to have his salary paid in Bitcoin was Carolina Panthers offensive lineman Russell Okung. Last December, the 33-year-old Okung agreed to have roughly $6 million of his $13 million salary diverted to mobile payment company Strike to purchase Bitcoin investments.
In April, Kansas City Chiefs tight end Sean Culkin, 28, announced plans to take the entirety of his 2021 base salary – $920,000 – in Bitcoin.
A month later, 21-year-old Trevor Lawrence, the Jacksonville Jaguars No. 1 NFL pick, announced that he would convert his salary to Bitcoin. Lawrence signed a deal with cryptocurrency platform Blockfolio, which will pay him the deal amount in cryptocurrency.
And over the summer, New York Giants running back Saquon Barkley, 24, announced plans to convert all of his income from marketing deals and endorsements to Bitcoin using payments app Strike.
On Tuesday, the price of Bitcoin hit $57,573.92, according to Coinbase Global Inc., which operates a cryptocurrency exchange platform.
Bitcoin is 16.29% below the all-time high of $68,778.48, recorded on Nov. 5.
The Beckham news comes on the heels of Anschutz Entertainment Group's Nov. 17 announcement to rename the Staples Center to Crypto.com Arena beginning Dec. 25.

AEG, the company that owns and runs Staples Center for the Los Angeles Lakers, Clippers, Sparks and Kings, said the deal is valued at $700 million over 20 years with Crypto.com.
Crypto.com is a Singapore-based company that provides a cryptocurrency exchange app.
Meanwhile, some athletes may be taking a wait-and-see approach as Securities and Exchange Commission Chair Gary Gensler has begun investigating cryptocurrencies.
The SEC seems to be looking at whether cryptos are a form of currency or a security.
For instance, when crypto exchange Coinbase sought clarification on lending products offered to customers who hold digital assets, the SEC responded with subpoenas for records and issued a warning of impending enforcement action.
From Your Site Articles
Related Articles Around the Web
If you stop by Koreatown's Immanuel Presbyterian Church on Sundays, you might run into Kavodel Ohiomoba pushing a broom across a basketball court hidden on an upper floor of the cavernous historic French Gothic cathedral. It's a favorite movie backdrop for Hollywood films.
On a Bose portable speaker, you also might hear rapper Polo G's mellow-sounding "RAPSTAR" echoing off of the mid-century gymnasium's walls: "Lately, I've been prayin', God, I wonder, can you hear me? Thinkin' 'bout the old me, I swear I miss you dearly."
The six-foot, four-inch tall Ohiomoba, known as "Kav", gets the gym tidied up before the first game starts at 9 a.m. sharp. The "run," or freewheeling run-and-gun basketball game with connections drawn together by Kav, came together this past summer as the pandemic began to subside and vaccines were readily available to all. He got the idea of using pickup basketball as a way to network with the tech community from Jeff Jordan, partner at A16Z, who runs a famous pickup game in Palo Alto.
Kav is chief technology officer of BallerTV, the Pasadena-based streaming sports company that livestreams youth sporting events at scale, and is currently focused on basketball, volleyball, soccer and lacrosse.
Before BallerTV, the Stanford alum put in work at a few tech startups in the Silicon Valley, including MOCAP Analytics, where he was a member of the founding team as a data scientist and software engineer. The MOCAP team leveraged machine learning and computer vision to build a data storytelling engine on top of the player tracking data that was quickly being adopted by NBA teams.
"The opportunities were truly endless," Kav said. "We were building models that told us which players and teams did what, where, how and when."
As advances in computer vision — and later, machine learning and artificial intelligence — introduced new possibilities for sports viewing, Kav sought to bring broadcasting and video to athletes who weren't being streamed on ESPN or major television outlets. Not long after, he co-founded FieldVision, which built hardware and software using artificial intelligence and computer vision to autonomously film any team sport, anywhere.
BallerTV CTO Kavodel Ohiomoba
FieldVision came into the BallerTV fold via acquisition about two years ago, and proved to be a slam-dunk for the company. Since its launch in 2016, BallerTV had relied on an army of 30,000 videographers throughout the United States to film youth athletic games ranging from basketball to volleyball.
Kav spearheaded the effort to take FieldVision's machine learning — fueled by artificial intelligence algorithms — and put it all into an iPhone app. After a few months, the i1 platform was born. The platform uses an iPhone rigged up with a wide-angle lens and its software tracks players on the court, ball movement and shifts in a fast-moving game. The game is then broadcast live to BallerTV's rapidly growing network of subscribers, allowing anyone with an internet connection to watch as if they were sitting courtside at the game.
The i1 platform has been revolutionary for BallerTV, which filmed 350,000 youth sports games in 2021. On a given weekend, BallerTV can film more than 20,000 games. That's 5,000 more games in a weekend than the 15,000 ESPN televises in an entire year.
Kav says there's a bigger purpose behind his basketball runs. The group is diverse and inclusive, with participants coming from all parts of L.A. and a variety of professions. The basketball games serve as a form of connection between people, regardless of their backgrounds.
Some runs have included BallerTV's co-founder and co-CEO Aaron Hawkey, nicknamed "15 and in," mostly because he's money from within 15-feet of the basket; Marcus Boyd, a former professional track and field athlete turned software engineer; John Daniels, founder and CEO of Navtrac, a logistics technology company that utilizes artificial intelligence software to track inventory, and Tommer Schwarz, a doctoral candidate in genetics at UCLA.
"I'm an old man. I did not injure myself last weekend, but I missed several layups in spectacular fashion," said the 40-year-old Paul Haaga, managing director of HW Capital in Santa Monica, of his performance one weekend in October.
Haaga's firm was an early investor in BallerTV, as well as a number of other early-stage companies and real estate deals.
"It's interesting, if you see guys enough on several Sunday mornings in a row, you get to know who they are as people on the basketball court, and that's probably a pretty good indicator of who they are in life. Do they play fair? Do they play hard? Do they compete? It's a good indicator of someone's qualities, and if they have relationships outside of the game, then that's all the better," said Haaga, who makes the 14-mile drive in from his La Cañada residence.
And few reveal who they are quite like Kav, who attends to the runs as he would a group of his close friends.
"There is no job that is below [Kav], whether it's dusting the floor before we get there, or making sure that everybody's hydrated with Gatorade. He's always thinking about your health, right? Everything is sugar-free," observed Ryan Sauter, an entrepreneur in the hospitality industry whose Hybrid One is headquartered in downtown's Arts District.
Sauter's highlight of the week is when he gets the weekly email from Kav asking 60 other like-minded people on the distribution list if they're in or not for the weekly pick up at the church.
"I definitely look forward to that email, which comes Wednesday or Thursday," Sauter said. "It kind of brightens your day a bit because you're like, 'Hey, I can't wait until Sunday to play with everybody."
After breaking a sweat at the church, Kav and the others head over for some chit-chat and a cup of joe at the Starbucks or Blue Bottle Coffee near the K-Town church. Even grabbing a post-run cup of coffee is a welcome respite in a time where people are trying to be connected more than ever.
"We're coming out of COVID, and that's how this evolved," Kav said. "We were itching to meet each other. And of course, I think we were all itching to get back out on the court."
From Your Site Articles
Related Articles Around the Web
The world of sports betting is heating up, and the Walt Disney Company is considering making a wager.
CEO Bob Chapek hinted earlier this month at the Goldman Sachs Communacopia Conference that Disney intends to break into a world that has long been associated with vice.
"Strategically, what sports betting gives us is the ability to appeal to a much younger sports fan viewer, who can be very strong in their affinity for those sports," said Chapek.
The 61-year-old executive who took over for Bob Iger last year has overseen a massive reimagining of the once family-centric entertainment giant. Chapek, who once reigned over Disney's theme parks, has made streaming front and center for the Mouse House, shaking up the organization's pecking order. And now, he appears to be looking at folding gambling – a pastime that's seems far from the company's roots – into the company's franchise.
Chapek reiterated last week the idea he has been floating since earlier this year. Disney is looking to bring sports betting to ESPN, heeding the call from some investors that have been clamoring for the company to make more use of the channel and its synchronicity with DraftKings. Disney gained a stake in the wagering site when it acquired 21st Century Fox in 2019, but hasn't done much with it.
In August, the Wall Street Journal reported Disney was in talks to license its ESPN brand to casino operator Caesars Entertainment and DraftKings. Nothing is finalized, and the deal sources valued at $3 billion could fall through, but the move is an indication of Chapek's style and Disney's evolving focus.
"They're very deliberately and carefully realizing that their brand is maturing and people have matured with it," said Tom Nunan, the former president of NBC Studios and lecturer at the UCLA School of Theater, Film and TV.
Nunan pointed to the company's decision made in 2016 under Chapek's direction to begin allowing alcohol in parts of some parks and added that Disney is realizing its fans are "human beings who have hobbies that can be addictive."
"They're kind of letting that play itself out naturally and trying not to ignore it," he said.
An ESPN-licensed sportsbook could be a big revenue driver for Disney, not just because of its potential for gambling content, but the overall brand.
The global sports betting market was worth roughly $67 billion in 2020, and it's expected to grow at least 10% through 2028, according to Grand View Research.
"They have one of the most trusted brands and sports, if not the most trusted brands in ESPN, and anything that follows from that including DraftKings is the gold standard for sports entertainment," Nunan said of Disney.
The sports betting industry is growing quickly, but it's still a small fraction of the overall gambling market, said David Schwartz, gaming historian and professor at the University of Nevada Las Vegas. UNLV research reported that revenue from sports betting in July was roughly $210 million, a figure dwarfed by the revenues of casino gambling.
Still, with so much going online, there's a calculation that these sites will be able to capture and eat up some of that market.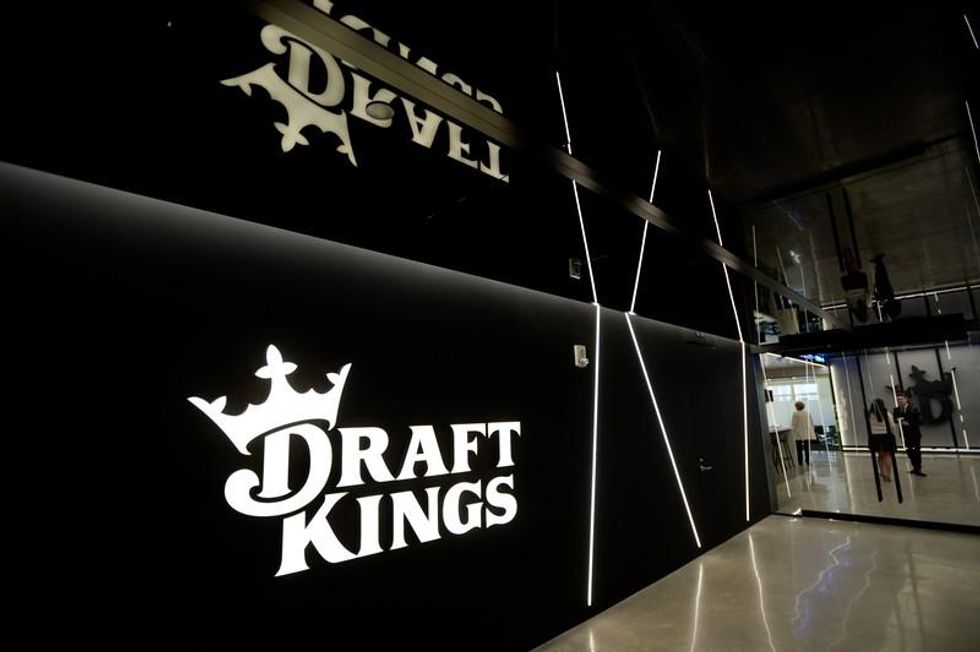 DraftKings reportedly made a $20 billion offer to buy Entain, a U.K.-based company that operates a sportsbook with casino magnate MGM earlier this month. If the deal is finalized, DraftKings would need to link up with MGM in order to operate Entain's U.S. assets, a move that could be an eventual benefit to Disney as well -- both as an added revenue stream and a way to keep customers streaming ESPN Plus and other sports content.

But Disney is moving cautiously around the gambling industry. Chapek has implied the company's trying to find a way to avoid embedding betting directly into ESPN.
"We know that it represents very little risk to the company and very little risk to ESPN," he told investors in April. "I think there's a long way between (being) embedded into the ESPN business model and licensing out, right, there's a lot of room between there."
The Journal reported that an insider said the deal would also mandate the buyer spend a certain sum of advertising dollars on ESPN's platforms, as well as giving the sportsbook access to the ESPN branding.
One complicating factor is that states vary on the legality of sports wagering. CBS Sports reported that 22 states have embraced some form of legal sports betting, while 18 states including California are considering bills that could legalize it. It remains illegal in seven states and three are in the process of figuring out regulations.
Schwartz said it might be easier for Disney to license a brand name like ESPN to a sportsbook instead of creating its own and getting swept up in regulations. If Disney created its own sportsbook, the owners and operators would need to be approved by gaming commissions in every state it operated in.
And while Disney will definitely add a new revenue stream if it gets into gambling, Schwartz said it is unlikely to see explosive growth overnight since the sports betting industry is still developing.
What it will add, Schwartz said, is eyeballs to ESPN and its ESPN Plus counterpart, which saw considerable growth during the pandemic -- paid subscribers were up by one million to a total of 14.9 million, compared to 116 million paid Disney Plus subscriptions.
It could also eventually use betting to drive viewership to its more traditional channels, including creating more TV shows, podcasts and written content around gambling. ESPN publishes some betting odds and has a handful of sports betting podcasts and TV shows, but it's directly avoided facilitating any bets on the platform.
"It's not necessarily going to transform Disney, it'll just be an added revenue stream and it probably would be a pretty small one," Schwartz said. "It's just the question of building those synergies -- if people are betting the games, they're more likely to be watching the games, which means ratings go up."