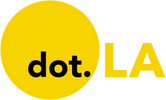 Get in the KNOW
on LA Startups & Tech
X
Sports Tech
The latest news about sports technology and sportstech startups in Southern California from dot.LA
Image courtesy of Ludis Capital
On this episode of the LA Venture podcast, Ludis Capital founder Matilda Sung talks about the future of sports and technology, including sports betting, streaming and digital assets like NFTs.

At Ludis, Sung invests in companies at the intersection of sports, media and technology, writing checks of $500K to $1 million each. Prior to that, she served as the director of strategy and business operations at the NFL, where she saw changes in the way the sports industry functions first hand.
"Folks were no longer going to the three-and-a-half-hour games in person, they were not spending thousands of dollars on season tickets, nor were they even cable subscribers," said Sung. "They realize there's this whole generation of sports fans that was just consuming so differently."

Games are essentially the "crown jewels" of the sports industry. That's where fans are, and where the bulk of revenue is made. Much, she said, depends on media rights and where the games get aired.
One of the biggest challenges Sung said sports faces is creating compelling fan engagement and content. While some fans may want to watch the full game, younger viewers more often just want the critical moments.
"The league historically wanted to prioritize longer times, larger audience. But then they had to sort of wrap their heads around the fact that the younger generation" had a lot more viewing options. "That's not specific to sports," said Sung. "That's everything in the media world."
One strategy the industry has adopted is gamifying the sports experience for the viewers at home. Offering NFTs and betting has become a way to engage fans with the game. Some tokens can earn their owners rewards, giving them a sense of being a part of the game or their team.
"Whether it be metaverses or cryptocurrencies or fan tokens, or NFTs, you've now introduced this other format or vehicle to call upon which to further engage the fan on a much more intimate basis," Sung said.
Sports betting, now legal on the federal level, has also opened enormous new opportunities for sports media. Sung said that she's excited to see how the American sports betting market differentiates itself from that of Europe. American technology companies, she said, could create some interesting new ways for sports fans to compete with one another, using interfaces that make for much easier onboarding and sharing.
"That opens up a much larger sports betting market. And we'll include demographics that are not your traditional ones," Sung said. "We could see some really interesting experiences that don't even seem like sports betting at all."
Hear the full episode by clicking on the playhead above, and listen to LA Venture on Apple Podcasts, Stitcher, Spotify or wherever you get your podcasts.
dot.LA Engagement Fellow Joshua Letona contributed to this post.
From Your Site Articles
Related Articles Around the Web
Photo provided by Mercury
Sports and entertainment startup Vaunt—which partners with athletes and artists to stream content, sell merchandise and offer NFTs—has raised $5 million in new funding, the company's co-founder and CEO, former NBA player Roger Mason Jr., told dot.LA.
Vaunt's Series A round saw participation from Elysian Park Ventures, the investment arm of the Los Angeles Dodgers' ownership group. Other investors included metaverse firm InfiniteWorld and True Culture Fund, as well as former New York Giants star Justin Tuck and Michele Roberts, the former executive director of the NBA Players Association.
Based in Miami, Vaunt produces "alternative sports competitions" and content such as a FIBA three-on-three basketball tournament and a beer-less pong league pitting rapper Post Malone against other celebrities. The company streams these competitions online, often incorporating sports betting elements into the presentation.
Vaunt is currently considering deals to air its content on traditional linear TV, Mason told dot.LA. It's also planning to take its intellectual property into the realm of NFTs, via non-fungible tokens that fans could buy to get front row seats or face-time with professional athletes.
"We're excited about the fact that we can really create some unique experiences around the NFTs, as well, with superstar athletes," he said.
Mason played 11 years in the NBA and served as deputy executive director of the NBA Players Association, the league's labor union. While negotiating collective bargaining agreements between players and team owners, he got a crash course in licensing rights for things like video games or trading cards.
"It was during that process that I realized there's a huge opportunity to monetize the rights of the players off the court," Mason noted.
He co-founded Vaunt in 2015 alongside Omari Ware, a startup and tech executive. The company, which has now raised $11 million to date, plans to use the new funds to grow its six-person team and stage upcoming sports competitions.
"We want to be the leader in alternative sports competitions in the world," Mason said.
From Your Site Articles
Related Articles Around the Web
Photo by Decerry Donato
The NFL has reportedly sounded out an unlikely potential media partner: Netflix.
The streaming giant, which has largely avoided sports so far, is among the media companies that the NFL has spoken with as it seeks distribution and/or equity partners for its NFL Media division, according to The Athletic. Other firms reportedly listed during a slideshow presentation at last week's annual NFL team owners' meeting included Amazon, Apple, Paramount, ESPN and Peacock, among others.
NFL Media oversees properties like NFL Network, NFL.com, the RedZone channel and NFL Films. Last year, the Wall Street Journal reported that the league was shopping minority stakes and seeking strategic partners for the media assets as it looks to expand the reach of its TV and online content. Sources with knowledge of the NFL's thinking told dot.LA that the league wants to keep NFL Films separate from any equity transaction for its NFL Media properties, while still seeking a content partner for NFL Films' treasure trove of documentaries and historical footage.
Representatives for both Netflix and the NFL declined requests for comment.
Deep-pocketed tech firms like Apple and Amazon—which have already made pricey forays into live sports—have been floated in reports as possible NFL Media partners. According to the Athletic, Apple is considered the frontrunner for both the NFL Media rights and NFL Sunday Ticket, the league's out-of-market games package which has been on DirecTV since 1994.
Netflix, the market leader in streaming, has long expressed little interest in sports, citing the high costs of entry. Still, Netflix has found success with sports documentaries such as "The Last Dance," about NBA legend Michael Jordan, and "Formula 1: Drive to Survive," revolving around the auto racing league. The Athletic report suggested Netflix's background in nonfiction sports series would make the streamer a good fit for NFL Films.
The NFL's shopping of its TV and digital assets comes after it has expanded its presence in Los Angeles, a media hub that's home to its existing partners such as ESPN-owner Disney and Fox Sports. Last year, the league moved its West Coast headquarters from Culver City to a fancier site in Inglewood, in the shadow of SoFi Stadium. The NFL's investment in LA was seen by some observers as a strategy to broaden its media footprint, bringing it in closer proximity to legacy media titans and streaming giants alike.
A deal with Netflix, if it occurred, would certainly expand the NFL's reach—especially outside the U.S., where the league has tried to go international by taking games to Europe. Netflix's 222 million global subscribers could go a long way toward helping the NFL achieve its goal of making American football more popular outside of America.
From Your Site Articles
Related Articles Around the Web