Electric Vehicles
Browse the latest news about electric vehicles and EV-related companies in Southern California from dot.LA.
Electric vehicle startup Rivian lost about $2 billion since the start of last year, according to its IPO filing with the U.S. Securities and Exchange Commission.

Rivian is seen as among the leading electric vehicle startups that can rival Tesla, which sells the most electric vehicles in the U.S. by far. The company plans to trade its shares on the Nasdaq under the symbol RIVN.
But despite a roster of orders, Rivian is struggling to make money in a capital-intensive car market where it built itself from the ground up.
The company lost $1.02 billion last year and another $994 million in the first half of 2021. But, it has years to catch up with its competitor Tesla, which took 18 years to become profitable.
Founded in 2009, Rivian has focused on trucks and SUVs, a large segment of the American car market, and expanded into last-mile commercial delivery vans, where it found an ally Amazon and financial backer.
Potential customers have ordered 48,390 of its R1T pickup truck and R1S SUV, according to the filing. The EV pickup trucks have rolled off the production lines in Normal, Illinois and deliveries have begun. The SUVs are expected to be delivered later this year.
"We do not expect to be profitable for the foreseeable future as we invest in our business, build capacity and ramp up operations," Rivian said in the filing, "and we cannot assure you that we will ever achieve or be able to maintain profitability in the future."
Rivian expects a "significant portion" of its revenue will come from Amazon, which has invested over $1.8 billion in the company, according to the filing.
In 2019, it reached an agreement with Amazon to design, develop, manufacture and supply electric last-mile delivery vans. Amazon ordered 100,000 vans by 2030, with the first 10,000 expected to be delivered this year. Amazon will have exclusive rights to the delivery vans for four years after its first order is received and it has right of first refusal to buy the vans two years after that.
Amazon's logistics unit, however, has the right to decide how many vans it will purchase from Rivian, which may be fewer than expected, the filing shows. It can also work with other companies to develop or purchase vehicles.
The EV market is attracting lots of attention as major auto manufacturers, like General Motors and Ford, are adding dozens of EVs to their lineups, while EV startups are hoping to outrival the legacy car companies.
Lawmakers are also imposing rules to help spur the growth of the EV market in the face of global climate change.
It has raised $10.5 billion from investors like Amazon and Ford, built a factory in Illinois and employs about 8,000 people globally.
The Irvine-based company's public offering was imminent as it announced in late August it had filed a draft S-1 with the SEC. At the time, Bloomberg reported it was seeking an $80 billion valuation.
In the public filing, the startup listed the size of the offering at $100 million, a placeholder that is expected to change once the terms of the share sale are decided.
"I hope you'll join us in our journey to help drive the future of transportation," Founder and CEO Robert J. Scaringe wrote in a letter to prospective investors and Rivian owners.
The offering is being led by Morgan Stanley, Goldman Sachs Group and JPMorgan Chase & Co.
As the White House continues its push for electric vehicles, the demand for semiconductors – a key component in electric vehicles – is about to surge. That spike will mean big business for German semiconductor producer Infineon Technologies, which has its 300-person U.S. headquarters in El Segundo.

Microchips and semiconductors have established vital roles in everyday devices. While laptops, phones and other mobile devices might be the first things to come to mind, transportation—in particular cars—takes a sizable portion of the demand.
Infineon is a significant semiconductor supplier to the automotive and transportation industry, in particular to the Volkswagen Group, which is beginning to deliver on its promises of many electric vehicle launches throughout the decade. Infineon has more than 50 of its semiconductors in the VW ID.4, a compact electric SUV that went on sale in the U.S. earlier this year. It also supplies semiconductors to Electrify America, an EV charging company owned by VW Group of America.
VW's push has come in a year when a global microchip shortage caused by production curtailing in last year's onset of the Covid-19 pandemic. Automakers, in particular, have scrambled to continue building new cars. Dealership lots across the country are running out of inventory and used car prices remain high. At the same time, President Biden has called for a massive increase in electric, hybrid and fuel cell vehicles production. He aims to have half of all vehicles sold by 2030 be non-gas powered.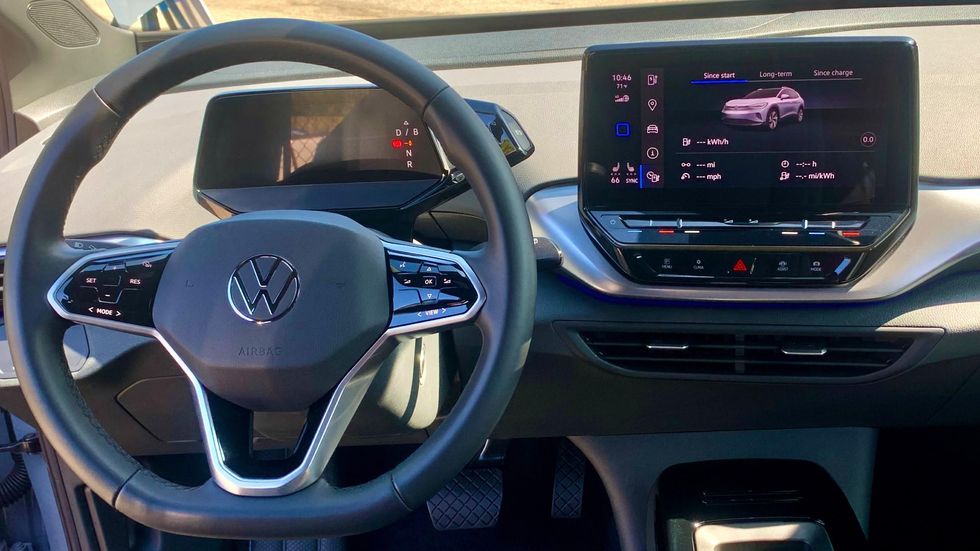 "It's an industry problem," said Shawn Slusser, Infineon senior vice president for marketing and distribution in El Segundo. "The industry overall is in a situation where production and demand are not matched."
A typical car has about $450 worth of power semiconductors to operate features that go from the radio and navigation system to the automatic headlights and windshield wipers, said Slusser. However, that number roughly doubles for EVs when factoring the microchips needed for Infineon's power module to power the car.
The company also supplies semiconductors to Electrify America, an EV charging company owned by VW Group of America. Infineon has more than 50 of its semiconductors in the VW ID.4, a compact electric SUV that went on sale in the U.S. earlier this year.
Auto industry analysis firm IHS Markit predicted in the Wall Street Journal last week that microchip and semiconductor production will allow auto production to get closer to normal by the end of 2022, although some of the problems are likely to stretch into 2023.
And it's a problem that's been brewing long before stay-at-home orders.
"There's a misconception that chips have only been going into EVs recently, but it's been happening since the '80s," IHS Markit analyst Phil Amsrud told dot.LA. "But what it used to be was that there was automotive and everything else. Now there's much more commonality."
Slusser said Infineon has seen demand for semiconductors steadily rising over the last several years. In 2018, the company decided to add capacity with a facility in Austria. But doing so takes between two to three years and billions of dollars — even in a well-functioning climate. And at the time, there were fewer government pushes and mandates to get consumers to buy EVs.
"The timing of how much capacity we need is also dependent on EV adoption," Slusser said. "Is [demand] going to look like a steady incline or a sharp curve?"
Amsrud said EV production may be helped because the semiconductors going into EV power modules don't go into consumer electronics.
"In this case, it may end up being a benefit," he said. "Those are fairly specialized and won't be competing with consumer products or as many markets for the silicon carbide components."
Correction: An earlier version of this post mischaracterized the number of semiconductors in a typical car and the cost of upgrading a semiconductor facility.
Related Articles Around the Web
The COVID-19 pandemic has laid bare many defects in our society, but chief among them may be the fragility of our supply chains. From toilet paper to bicycles to lumber, the virus has shown that even relatively minor disruptions to the chain can cause long-term shortages of important goods.

In Los Angeles, a San Francisco-based autonomous trucking company is carrying out a new pilot program with computer hardware giant HP Inc. In the next couple of years, the startup wants to reduce emissions and transit times in HP's supply chains. And if it's successful, expand the model to other companies.
Founded in 2016, Embark has been focused on creating fully autonomous trucks to ferry goods around the United States. As part of the partnership with HP, the company has detailed plans for a pilot program that would use a mixture of electric vehicles and fully autonomous trucks to ferry HP's hardware around Los Angeles and beyond.
The shipping strategy uses a fleet of human-driven electric trucks, specifically the BYD 8TT, to make first and last mile trips: Goods move from an HP facility to a transfer point on a human-piloted electric vehicle. Then they're moved onto a non-electric autonomous truck for the middle leg of the journey. Finally, they're moved back onto another electric truck for delivery.
The program's initiation comes just a few months after Embark announced a plan to go public via a $5.2 billion SPAC deal. They join competitors TuSimple and Plus in the publicly traded autonomous trucking world. The landscape is heating up and investors are taking notice, but the markets appear to harbor some uncertainty in terms of whether fully autonomous driving is possible, and if so, on what timescales.
TuSimple's stock price has ping-ponged between approximately $70 and $30 over the past 3 months reflecting the incredible opportunity and challenge that autonomous driving represents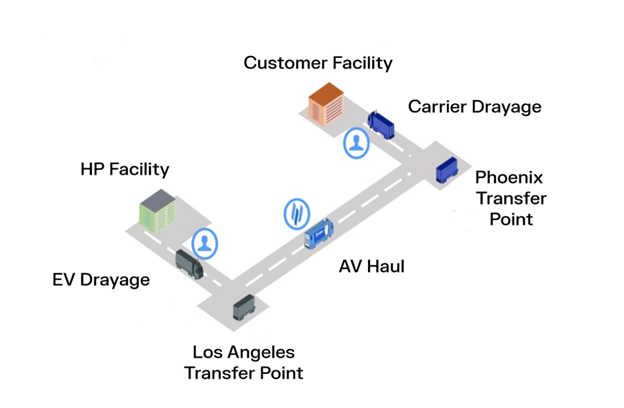 Electric on the ends, autonomous in the middle.
"All of these partnerships that advance transportation options and transportation possibilities are certainly welcome. All of this is motherhood and apple pie," said Ram Pendyala, a transportation systems expert at Arizona State University. "The question is what is real and what is truly going to make a tangible and noticeable difference."

The electric vehicle component of the pilot, Penyala said, is a no-brainer. Switching to electric trucks for short-range trips is an easy and effective way to significantly reduce emissions. Amazon is reportedly on the way to amassing a fleet of 100,000 electric delivery vans with the same intention. Sam Abidi, head of business development at Embark, said their preliminary research suggests that "the use of autonomous and electric trucks can remove up to 50,000 tons of CO2 from HP's supply chain over 10 years."
Embark is hoping to have fully autonomous trucks on the road in a pilot program as early as 2023, with commercial operations in the following year.
Pendyala said that's a very optimistic timeline, but not uncommon for the burgeoning industry. His skepticism is well-supported by the history of autonomous vehicles: It seems like self-driving cars have been "about three years away" for 15 years now. Google's self-driving experiment began back in 2009 (and has now morphed into Waymo, an Alphabet subsidiary) but has yet to produce a commercially available autonomous vehicle.
Tesla's Elon Musk famously claimed that the car manufacturer's autopilot software was "basically a solved problem" back in 2016, and, even as recently as January, suggested a fully autonomous vehicle would be possible by year's end—a statement that has already been walked back.
By comparison, Embark was only just founded in 2016, but what may give the 200-person company an advantage is their singular focus on shipping. If their autonomous trucks only have to navigate highways and loading docks because human-driven EVs are doing the first and last mile work, the range of scenarios they might encounter is drastically reduced.
This model is, of course, dependent on regulators and drivers accepting the idea of driving on highways alongside an 80,000 pound vehicle with no human on board.
"I'm fairly certain we'll see some quantum leaps in the development of this technology very soon. These partnerships are going to be what advances that," Pendyala said. "For now, the human driver and the human delivery people are just inevitable. Don't hold your breath for full autonomy. That is still far out on the horizon."
Related Articles Around the Web