Electric Vehicles
Browse the latest news about electric vehicles and EV-related companies in Southern California from dot.LA.
Los Angeles has more electric vehicle chargers than any other American city.
There are over 10,000 chargers across the city thanks to the city's own aggressive "Green New Deal" and the resulting partnerships with local EV companies. The move has attracted several companies to the region.
And the effort got supercharged Wednesday when President Joseph Biden laid out his own $2.25 trillion infrastructure plan focused on clean energy that could bring billions of dollars into the electric car economy.

"We're going to provide tax incentives and point-of-sale rebates to help all American families afford clean vehicles of the future," Biden said in unveiling his plan. "Imagine knowing that you are handing your children and grandchildren a country that will lead the world in producing clean energy technology."
Later on Wednesday, Mayor Eric Garcetti spoke in support of Biden's plan, which allocates $174 billion in spending toward electric vehicles and infrastructure.
"This legislation is about winning the future, it's about a just transition for folks working in fossil fuel industries, and electrical vehicle infrastructure that will reduce air pollution here in L.A., and it has justice and racial equity as the centerpiece of all of it," Garcetti said. "L.A.'s fingerprints are all over this legislation, because we've been a model for so much of this work."
For Los Angeles's EV goals, the next challenge will be to actually get Angelenos to buy the electric cars for all those stations.
Mayor Eric Garcetti's office estimates there are 62,851 electric cars being driven around the city. That's less than 1% of the total of cars registered in the county last year, according to the Department of Motor Vehicles.
If Garcetti's is to reach his goal of having a city where 25% of the cars are zero emissions by 2025, tens of thousands of Angelenos will need to buy an electric vehicle over the next few years.
"You can't expect someone who is a low-income resident of Los Angeles to be an early adopter, because cost is still an issue," said Seth Jacobson, the managing director of Climate Resolve, a nonprofit that advocates for policy to combat climate change. "So we really need to not be overly focused on EV single-passenger vehicles as a silver bullet."
Jacobson argues the city's goals don't account for the vast majority of Angelenos who may not be in a position to buy a new car. Eighteen percent of Angelenos live below the poverty line, according to the United States Census, and on average, most new electric cars cost $19,000 more than a gasoline-powered vehicle, estimates the National Resource Defense Council.

Jacobson advocates for subsidies for pre-owned vehicles, but he admits even that has its problems, since older electric cars often need new, expensive batteries.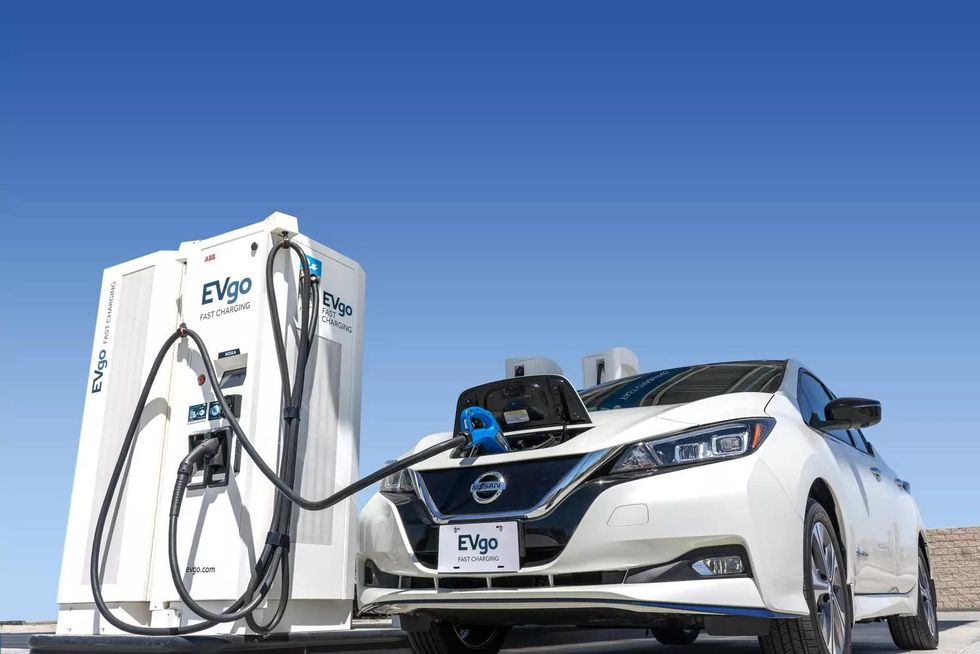 EVgo now has 160 operational stations and 290 chargers across Los Angeles County.
LA's EV Infrastructure Development
Encouraged by the city's bullish stance on electric vehicles, a rush of companies have planted their flag in L.A.; the county is already home to several EV manufacturers, like Canoo, Faraday Future and XOS trucks.
EVgo is one company that saw a big opportunity in public partnership with L.A. The company moved to the city in 2017 and now has 160 operational stations and 290 chargers across Los Angeles County, with several more still in construction. It recently announced a partnership with Uber to launch Uber Green in L.A., providing discounted charging to Uber drivers with electric vehicles.
"As an L.A. company, we see the impacts of EV adoption first hand, with Teslas, Nissan LEAFs, Kia Niros, Chevy Bolts, and more and more models on the roads every day," said Jonathan Levy, EVgo's chief commercial officer. "EVs are no longer a rare sighting in and around L.A., and we've been building out the charging infrastructure to support them."
Greenlots is another EV charging company based in Los Angeles. It was acquired by Shell in 2019, and announced this month a plan to roll out half a million charging stations over the next four years. Like EVgo, one of the company's partners is the city itself.
"Given the size of the market in California and automakers' aversion to manufacturing different vehicles for different U.S. markets, California will lead the whole U.S. market towards electrification," said Tom Ashley, Greenlots' vice president of policy and market development.

Despite upcoming challenges, California remains the largest market for EVs. The state is home to 45% of EVs in the U.S., according to a report by the California Energy Commission
Future EV Goals and Challenges
Los Angeles is now aiming to create another 15,000 charging stations by 2025, according to Julia Thayne from the Mayor's Office of Mobility and Innovation.
Many of the stations are subsidized by the city's Department of Water and Power. The bulk of them — about 8,500 — are located at offices or multi-unit apartment buildings. The city hopes that this encourages residents who don't have access to a charger at home to consider electric vehicles.
"We do need to make sure that that affordability is addressed, and there are programs to make power more affordable for utility customers, and there should be programs in place to make sure that the EVs are more affordable for low income customers as well," said Jacobson.
But, it's hard to say whether the distribution of the public chargers across the city is equitable. Most appear to be located around downtown, but there hasn't yet been quantitative research released as to whether the chargers are serving communities that need and use them.
Despite the challenges ahead, Los Angeles is ahead of the game in comparison to other American cities, to utilize the funds Biden is promising and continue developing electric vehicles and infrastructure.
Canoo's fortunes took a sharp turn this week after a shake up in their C-suite with their chief financial officer abruptly leaving and a partnership with Hyundai Motor Group falling apart.
On Tuesday, the Torrance-based automaker's shares plummeted as much as 25%, erasing the gains it made after its latest product was revealed earlier this month.
The news came after the company's first investor call as a public company, in which CEO Ulrich Kranz was absent and Chairman Tony Aquila announced a shift in strategy to consumer sales that suggested the company's contract with Hyundai Motor Group is no more.
The announcement took analysts on the call by surprise.
"You're obviously de-emphasizing engineering and engineering services," Roth analyst Craig Irwin told Aquila during the call. "So that seems to imply that the original SPAC model is no longer guidance going forward. Is that accurate?"
Aquila tried to assure Irwin and other analysts throughout the call that the company was on steady ground but was met with skepticism.
"To be a contract engineering house is just really not going to drive the best shareholder value," he told them.
Canoo went public last December in a SPAC agreement with Hennessy Capital Acquisition valuing the company at $2.4 billion.
In February 2020, it announced an agreement with Hyundai to develop a "skateboard-like" battery electric vehicle platform for Hyundai and Kia-branded products similar to Canoo's for its own vehicles. It positioned itself as a company that legacy brands could turn to for design and engineering work.
The deal was widely viewed as a huge boon for Canoo, which started in 2017. It would also give Hyundai a way to quickly deliver more electric cars and commercial vehicles to meet its own goals.
Both companies have also recently been connected to assist in the fruition of the long-rumored Apple Car. But talks with the Cupertino-based electronics company amounted to nothing. Hyundai Motor America and Kia Motors America are based in Orange County. A Hyundai representative was not immediately available for comment on Tuesday.
The startup automaker revealed Monday in its 2020 earnings report and investors call that Chief Financial Officer Paul Balciunas was no longer with the company. Instead, Aquila installed five new executives, including an interim CFO, chief technology officer and chief marketing officer on Monday. Kranz is "still currently the CEO of the company," he said later in the call.
"The majority of this team has worked together for more than 17 successive quarters and never missed consensus estimates," Aquila said in Monday's statement. "As Canoo became a public company and expands from engineering to commercialization, we wanted to bring in an executive team that not only had experience but had experience working together."
Aquila also said Canoo was in the process of looking at finalists for a joint venture on producing its products, but added that any deal would be dependent on state deals and any assistance from the Biden administration for electric vehicle projects.
Canoo's stock (GOEV) closed at $9.30, dow 21.2%. On March 15, it hit a high of $15.70.
Canoo's month started more optimistically as it unveiled a dramatically-styled pickup truck it plans to start producing in 2023. Shares soared on the announcement. It already announced last year its plans for a delivery van based on the same platform aimed at the commercial market.
"These are significant surprises on the call today, and that's not ideal after a SPAC IPO process," Irwin told Aquila. "I just wanted to underline that."
From Your Site Articles
Related Articles Around the Web
Faraday Future named former Jaguar Land Rover executive Xuefeng "Chris" Chen as the chief executive of its China division as the company prepares to enter the world's largest electric vehicle market and develop its binational market strategy.

With a new Chinese investor, Faraday is focused on developing its market in China, which is over triple the size of the U.S. market, according to a 2019 report by the International Energy Agency.
"Chris is a critical hire to the realization of FF's US-China dual home strategy," said Global Faraday Future CEO Carsten Breitfeld in a statement announcing the appointment. "I am confident that his comprehensive management acumen and operational experience in luxury car brands will accelerate the implementation of FF's business in China and will be beneficial to FF's global strategic development."
Prior to joining Faraday, Chen served as the executive vice president of Chery Jaguar Land Rover Automotive. He had been promoted from executive vice president of manufacturing, becoming the youngest executive running China-side business in an automotive joint venture.
The Los Angeles startup is expected to go public by midyear in a deal that values it at $3.4 billion. Its anchor investor is Hangzhou, China-based Geely Holding Group, an automotive manufacturing company that has plans to spend almost $5 billion to build an electric battery plant in China, Reuters reported earlier this week.
Faraday will use Geely's manufacturing services and technology and engineering support to develop its base in China.
Faraday is also preparing to roll out its flagship product one year after going public. The FF 91 is an all-electric, autonomous ready luxury vehicle that boasts more than 300 miles per charge and a 1050 horsepower.
It's expected to go into production later this year.
From Your Site Articles
Related Articles Around the Web