Cannabis
The latest news about cannabis technology and cannabis startups in Southern California from dot.LA
Christopher Gavigan — co-founder of the consumer goods empire Honest Company — is trying to bring order to the unregulated market of CBD.

Just weeks after the Honest Company's Wall Street debut, CEO and co-founder of Santa Monica-based Prima is charming investors of his own with a line of pricey hemp-infused serums and supplements.
The company announced a lofty $9.2 million seed-plus round on Friday led by Greycroft, H Ventures, Defy and Lerer Hippeau.
The startup prides itself in sending each formulation through clinical trials and tests with third-party regulators. CBD-infused supplements are currently unregulated by the Food and Drug Administration, leaving manufacturers and retail stores to set their own standards and regulations.
Gavigan is eager for an FDA stamp of approval, which he said will guide retailers currently left weeding through the saturated market of hemp-infused products.
He first launched the company in 2019 as an educational platform about hemp and cannabinoids, the compounds found in cannabis.
Five months later, the brand unveiled a line of dietary supplements, face creams and a "bath gem" that dissolves in hot water. Gavigan called the daily CBD supplement — priced at $45 per bottle of 30 softgels — "the essential nutrient for stress management for everyone."
"Stress, as we all know, is the epidemic of today," he said.
Each product contains CBD extracted from hemp grown on small farms in Oregon, the "Napa Valley of hemp right now," said Gavigan.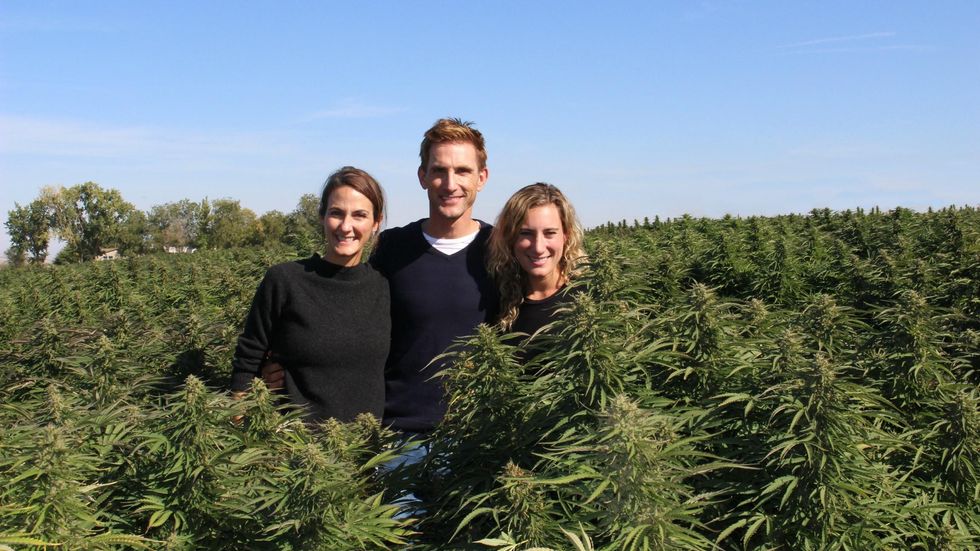 In 2020, he and his co-founders helped makeup retailer Sephora develop its own CBD standards to self-regulate new brands and products. That came after companies like Target started introducing "clean" product standards to mark diapers, detergent and cleaning products produced without ingredients dubbed toxic or unsafe.

It's the same approach to consumer goods Gavigan and Jessica Alba took for The Honest Company, which pledges sustainable goods free of 2,500 "questionable ingredients."
Before his stretch at The Honest Company, Gavigan served as CEO of Healthy Child Healthy World, a nonprofit advocating for safer, non-toxic consumer products for children.
"We have our own standards," the chief executive said of Prima. "We've banned over 2,800 ingredients we'll never use. Brands need to have that rigor within their own supply chain and formulation principles."
Prima sells direct-to-consumer and at a handful of retailers — Sephora, Nordstrom, Thrive Market and Erewhon — and will expand to new ones this summer. Prices are steep, but Gavigan said the company is planning to "amend pricing to make our products even more accessible."
George Mancheril has a habit of fidgeting with his wedding band while talking at warp speed about debt capital markets. The effect is more evocative of Wall Street uppers than Californian cannabis, but looks can be deceiving.
True, Mancheril cut his teeth back in New York, working in fixed income trading at Goldman Sachs and structured credit at Guggenheim Partners. But he's been a Santa Monica resident for the last eight years, and now, as the 35-year-old CEO of Bespoke Financial, he's bringing his Wall Street expertise to the cannabis industry.
Especially in the beginning, the core philosophy behind Bespoke Financial was simple: Like any consumer product industry, cannabis companies need to borrow money. They need to buy sugar for edibles. They need to buy plastic packaging materials from China — in bulk and in advance — to wrap their products. They need office supplies. For any of this, companies need short-term loans.
Photo by Richard T on Unsplash
Even before COVID, equity investors were retreating from cannabis: From 2018 to 2019 equity and debt capital raised declined from $14.2 billion to $11.7 billion. Venture startup money was starting to run dry. The pandemic only created more market volatility, which in turn made it even more difficult for cannabis companies to raise capital. At a time when everybody needed loans, lenders were scarce.

"People compare it to alcohol, tobacco, pharmaceuticals. If you look at any one of those industries, they rely on functioning debt capital markets," said Mancheril.
Paul Seaborn, an assistant professor of commerce at University of Virginia, agrees that debt capital markets are essential for mature consumer products industries, but he also thinks cannabis is going to stay weird for a long time yet.
"Every month, every year the industry is becoming more normal, but that doesn't mean that it's gone mainstream by any means," said Seaborn. "There's going to be a need for companies like this one who specialize in cannabis."
This isn't a novel concept, but servicing the cannabis comes with a unique set of challenges. For one, despite being "fully legal" in 11 states, weed is still illegal under federal law, meaning the Federal Deposit Insurance Corporation (FDIC) cannot insure the banks on loans to marijuana companies. Cannabis laws also vary wildly by state and are in constant flux.
"Dealing with an industry like cannabis, you run into every single issue—things that would be comical in any other industry," said Mancheril. "If this was easy, everyone would be doing it. It's the difficulties and the headaches that create the opportunity in front of us today."
Bespoke CEO George Mancheril
Lending to the nascent cannabis industry has been Bespoke's bread and butter since it launched in June of 2019, but the company also has much larger fintech aspirations. In April, Bespoke raised $8 million in Series A funding to expand a broader tech platform built on top of its underwriting model. A sort of Stripe-but-for-cannabis, the software aims to connect with banking systems, point of sales systems, compliance platforms and accounting packages like QuickBooks.
In combination with a suite of lending options, Bespoke allows cannabis companies more flexibility in how they order, invoice, borrow and pay — and because they don't actually handle marijuana, they're only considered a cannabis-adjacent company. This distinction lets them facilitate payments on their platform while avoiding sky-high transactional fees that banks and credit unions charge to cannabis companies to cover the higher compliance and disclosure requirements associated with the industry.
"A cannabis company looking to pay their vendor via ACH (an automated clearing house that coordinates money transfers) may have to pay 0.5% to 1% per ACH, which can add up quickly," said Mancheril. "Sending or receiving an ACH costs us 10 cents." The concept behind the platform is based on the ProducePay software model, which was created in 2014 by Mancheril's Bespoke co-founders, Ben Dusastre and Pablo Borquez, to provide a fintech platform for farmers. Now they've set their sights on a new crop.
The movement of money through the cannabis sector has historically been extremely opaque due to its forced reliance on cash, but as more and more companies are onboarded, Bespoke also gains a clearer understanding into the industry's cashflow. This allows them to refine their underwriting model even further and also identify new business needs in the industry that might be served with the platform.
But what happens if weed becomes federally legalized? Mancheril admits that the prospect could certainly introduce more competition into the lending landscape, but ultimately he believes legalization would be a net benefit to Bespoke. Mancheril said legalization would entice new investors into the space as well.
"You're going to have institutional capital looking to deploy 100, 200, 300 million dollars at a clip to the cannabis sector," he said. "They can either do the work themselves and try to underwrite these companies and try to understand the nuances of compliance, or you can work with someone like Bespoke."
Seaborn agrees that expertise in such a uniquely challenging landscape will likely take time to develop. "It would be very hard for someone who just does generic debt lending to pick up information from one of these cannabis companies and know if this is going to be a safe lending situation," he said.
Ultimately the success of Bespoke will likely mirror the success of the industry at large, but that's what drew Mancheril to the industry in the first place.
"I believe in the industry, and I believe there's a core consumer base that will keep this a thriving market," he said. "There are great fundamentals and great growth projections."
Even though he still sounds like a New York finance guy, he does keep a weed vape pen on hand at all times. If he can find a few moments to relax, he'll spark up a bowl and brew a cup of chai. California appears to suit him just fine.
Editor's note: This story has been updated to clarify George Mancheril's previous roles.
NBA players, talent agents and Snoop Dogg's venture firm are among the investors behind LEUNE, a California cannabis brand eying new U.S. markets.
The company closed a $5 million round on Thursday from big name athletes like Carmelo Anthony, John Wall, Lebron James' agent Rich Paul and Anthony Saleh, who manages artists like Nas and Future.
Plus, it's backed by Snoop Dogg's Casa Verde Capital, a Los Angeles-based venture capital firm focused on seed investments for cannabis startups.
"I've been seeking to make an investment in the cannabis space for quite some time, but never found a brand that resonated with me until I came across Nidhi and her products," investor and celebrity La La Anthony said in a statement announcing the raise.
The company could not be immediately reached for comment.
The two-year-old startup sells cannabis products in over 130 California dispensaries and 19 delivery platforms. In a press release, founder and CEO Nidhi Lucky Handa said the funds will be used to contribute to hiring, growing LEUNE's product line and "unlocking more geographies." It's unclear where the company plans to launch next.
After becoming the first state to legalize medical cannabis use, California authorized recreational cannabis use in 2016. Last month, New York became the 15th state to legalize recreational marijuana, entering into what is becoming a crowded market.
Handa will also keep up her brand's commitment to social justice by working with The Last Prisoner Project, Eaze Momentum and the Floret Coalition — partnerships that include donations, mentorship opportunities and "awareness-building collaborations to amplify marginalized voices," LEUNE said in the statement.