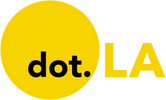 Get in the KNOW
on LA Startups & Tech
X
Cannabis
The latest news about cannabis technology and cannabis startups in Southern California from dot.LA
Image courtesy of Houseplant
Houseplant, the Los Angeles-based cannabis brand launched by actor and comedian Seth Rogen, is trying to make good on its socially responsible mission with its second annual In-House mentorship program.
This is the first time that Houseplant has opened up its mentorship program to the public; last year's beta-test of the In-House program was invite-only and had only two participants. The program is open to anyone trying to join the supply chain for legalized pot and has received over 500 applications since mid-March, "which [has] exceeded our expectations," according to Houseplant Chief Consumer Officer Melissa Greenberg. (The deadline for applications is May 1.)
The mentorship doesn't come with any funding, but it does offer access to Rogen and Evan Goldberg, Rogen's long-time screenwriting partner and Houseplant co-founder. The mentorship allows participants to tap into resources like Houseplant's network of industry advisors, with the goal of helping mentees in developing, marketing and selling their products.
The first time around, Houseplant helped its mentees with "preparation for their brand and retail launches, [including] advising on social media best practices, reviewing media and marketing plans, creating process documentation, and providing financial planning templates for future use," Greenberg told dot.LA in an email. "Additionally, we used our platform to highlight the entrepreneurs to help drive foot traffic and awareness about their businesses once they launched."
Houseplant In-House participant Moises Estrada growing cannabis.Image from Houseplant
One participant in last year's program was Moises Estrada, a cannabis grower born and raised in East Hollywood who runs Downtown-based pot brand Itty Bitties. Estrada was granted a social equity license for his business from the city of Los Angeles in 2020—part of the city's plan to give people from communities disproportionately affected by the war on drugs the chance to earn a living in the legal cannabis market. Estrada said that without the city offering him a shot at a license, he would never have been able to launch a cannabis business and work with In-House.
"These social equity licenses have been a total blessing," Estrada told dot.LA. "I'm in a much better place than I was four years ago when I began this journey."
He added that the Houseplant team was "very accessible" and gave him valuable insights into how to handle local regulations. "I know cannabis and cultivating very well, but this program helped me think about how to ramp up the business side of things," Estrada said.
Launched in March 2021, Houseplant sells pot to a handful of dispensaries in Los Angeles and elsewhere across California, as well as home goods—including artfully-crafted yet expensive ashtrays and vases based on original designs by Rogen—in all 50 states. Houseplant CEO Michael Mohr told dot.LA that the merchandise is a legal way of reaching the national market, even in states where consumers can't buy its weed.
Rogen has been an outspoken advocate for cannabis legalization and repairing communities impacted by the war on drugs. Houseplant works with Black Lives Matter, the Marijuana Policy Project and Cannabis Amnesty to advance these goals; Greenberg said the company provides funding to those organizations and also amplifies their goals by having Rogen, Greenberg or Mohr participate in their events.
Rogen wasn't available for comment.
Mohr told dot.LA that Houseplant's goal is to prepare cannabis founders for when the drug eventually becomes legal across the country. "Legalization in the United States is inevitable," Mohr said. "The momentum is there, public sentiment and desire is there—it will happen."
From Your Site Articles
Related Articles Around the Web
THC-infused savory snacks are getting a boost from Snoop Dogg.
TSUMo Snacks—a cannabis brand offering tortilla chips and cheese puffs infused with a 10-milligram dose of THC per bag—has raised a $4 million seed funding round led by Los Angeles venture capital firm Casa Verde, the companies announced Thursday.
The investment is the latest weed-focused endeavor for Casa Verde co-founder Snoop Dogg, with the L.A. hip-hop legend now looking to capitalize on the marijuana culture he helped popularize. Launched in 2015, Casa Verde raised $100 million last year for its second fund and has invested in startups across the cannabis market supply chain—from producers and manufacturers, to biotech firms, to sales and compliance software providers.
TSUMo Snacks has looked to differentiate itself among a crowded edibles market that has long skewed toward sweets like chocolates, gummies and lozenges. Sweet items are often cheaper to make and easier to portion out in accurate doses, while they also do a better job of masking cannabis' earthy flavor. What's more, strict regulations have made it more difficult to produce savory items.
"With all edibles, you have to stay within the 10% variance in terms of the dosing—and when you're talking about chips, which are irregular, it's not the easiest thing in the world to do," TSUMo co-founder and CEO Caroline Yeh told dot.LA.
TSUMo was concocted by the team at Casa Verde alongside RedBud Brands, a venture studio whose founders helped launch the companies that make SkinnyPop Popcorn and makeup brand Urban Decay. Yeh joined the startup last March after nearly a decade of experience in the worlds of both cannabis regulations and food development, and TSUMo officially launched in September.
The cannabis brand currently offers five flavors of snacks in personal-sized bags that are sold at dispensaries across California. TSUMo plans to begin offering larger, multi-serving bags starting next month, will come out with larger, multi-serve bags, and will use the new funding to develop new flavors and snacks.
A $1.9 Billion Canadian IPO Could Make LA the 'Center of the Cannabis Universe'
When PSI Labs started testing cannabis for THC levels and pesticides in 2015, it entered into an unregulated industry that would soon grapple with the effects of legalization and—perhaps more troubling—was prone to sloppy testing practices that gave varying results on potency and toxicity levels.
"A client comes to you. They don't like the numbers that they see," said Ben Rosman, co-founder of the Michigan-based PSI Labs, which expanded into California earlier this year. "And they're like, 'I can find another lab who's going to give me the numbers I like,' or 'I don't like that you failed me. And I know there's another lab that's going to give me a pass.'"
What Rosman is referring to is the potency rating on marijuana. The higher the rating, the more powerful the drug.
"A lot of folks sort of test as marketing, not just quality control, and they want to see the highest potency possible," Rosman added. "Or they just test purely to drive their product to market alone."
But times are finally changing. Five years after California legalized marijuana in 2018, both the state and industry players are wrestling with standardization and varying regulations that have cost cannabis producers tens of thousands of dollars while endangering consumers and the environment.
A law signed by California Governor Gavin Newsom has ordered the state to develop clear and specific guidelines to test cannabis products.
The bill will require California's Department of Cannabis Control to create a strict set of standards for testing cannabis products, including pesticides, contaminants, cannabis potency and heavy metals. The standards will be established by 2023 and all cannabis labs in California will have to follow them.
"Testing standards provide consumers with confidence about cannabis product safety and accuracy of cannabinoid content," the DCC said in an email. "These standards are what distinguish legal, regulated cannabis from illicit cannabis. Cannabis sold through unlicensed sources is not tested, may contain unsafe contaminants or undisclosed ingredients, and is often labeled with higher cannabinoid content than the product actually contains."
What labs test for, and how they test samples, is often at the discretion of the lab itself. The cannabis buds at the top of the plant are often more potent than the bottom-most buds, and some portions of the plant may contain more microbiological contamination than others. Labs claim to strive to collect a representative sample of the entire batch of cannabis (though how they determine what a representative sample is is also up for grabs).
The process has led to "lab shopping", by which cannabis processors and growers go to labs that will produce more favorable results, even if they're less accurate.
Kurvana, a cannabis vape pen company founded in 2014, has lost millions of dollars over the years due to poor regulation. Varied results in sample collection has led to contaminating entire cannabis production facilities. Kurvana employees had to travel to pot farms and observe how it was grown and cultivated to make sure it was up to standard. In 2019, a lab they tested with got shut down for poor practices, endangering the company's reputation, forcing it to recall their products tested in that facility, and burning around $150,000 in testing fees.
"It got a lot more complex, too, because the different testing labs were using different instruments and different sample prep methods and testing methodologies," Moghaddam said. "So one testing lab made tests for pesticide and says it'd pass and another testing lab made tests for pesticides in it, [and it might fail]...And that was a big challenge at the time."
But some wonder if further regulating the legal cannabis market may end up inadvertently bolstering the illicit cannabis market.
"The more expensive you make the product for the end use, so the more you tax it and regulate it, the more expensive it is for the user," said David Wolf, co-founder of the cannabis testing lab maker Greenbox Builders. "And then that's why a black market can crop up. The black market in California is bigger than the legal cannabis market."
Despite having some of the most lax cannabis laws in the country, California still has a robust underground cannabis market where growers and sellers are not confined to the increasingly strict rules legal cannabis sellers are. The market is nearly double that of the legal pot market in the state and, between having a cheaper product and lax cannabis penalties, it's nearly ubiquitous.
Large homes for illegal pot cultivation are tucked away in the Mojave Desert and Antelope Valley, where water (already sparse in those areas) is stolen from local residents and toxic pesticides (a few drops could kill a large bear) are sprayed all over the plants, endangering people and wildlife.
In 2020, the California Department of Public Health tested illicit cannabis vape cartridges seized by the state and found additives and harmful dilutants that lead to E-Cigarette and Vaping Associated Lung Injury (EVALI). Almost all cases of EVALI, according to the DCC, come from unlicensed products.
But Rosman is hopeful standards will fully legitimize his industry.
"One of the things that was most exciting about...expanding into California is generally having a bigger platform and having a louder voice in speaking about the importance of data integrity and raising the bar and talking about the importance of standardization of lab tests, cannabis lab testing practices," he said.
From Your Site Articles
Related Articles Around the Web