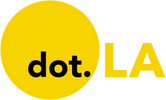 Get in the KNOW  
  on LA Startups & Tech  
X
Cannabis
The latest news about cannabis technology and cannabis startups in Southern California from dot.LA
Courtesy of Karan Wadhera
On this episode of the LA Venture podcast, Casa Verde Capital's Karan Wadhera talks about the cannabis industry, investing in risky environments and working with music legend Snoop Dogg.
Wadhera grew up playing music and had always wanted to be in the music industry. Around 1999, as a student dabbling in html, he got his shot.

"I started learning how to code and make basic websites, pre-social media. And through that really, like a rabbit hole, got connected to record labels, and would get these sort of consulting assignments in college to help out with different artists," said Wadhera.
Those assignments brought him into contact with artists including John Legend, Snoop Dogg and Kanye West.
"And I did it while I was in college," he said. "That's how I got to know L.A., and a lot of the industry here."
Eventually, Wadhera landed a job with Goldman Sachs working in Hong Kong and Mumbai, then transitioned over to Nomura Securities as the head of India sales trading.
"Trading at that time [in] emerging markets was scary. You always thought you were going to get your face ripped off, someone was going to cheat you," he said. But navigating that tricky environment ultimately helped him build relationships and experience working in risky financial worlds.
"No one was raising their hand to go to India when I went—and cannabis was similar."
Wadhera always knew that he eventually wanted to do something on his own. He left Nomura without lining up another job and moved to L.A., where he had maintained a friendship with hip hop legend, entrepreneur and cannabis enthusiast Snoop Dogg.
In 2016, shortly after Colorado legalized recreational marijuana and shortly before California followed suit, Wadhera signed on as a managing partner for Casa Verde, a firm dedicated to funding cannabis companies co-founded by Snoop.
Wadhera said Los Angeles has become the hub of the cannabis industry, largely "because we're such an important cannabis market," he said.
"There's funds in San Francisco and New York and everywhere. But you know, L.A. really has emerged as one of the center points, both culturally and from a brand perspective and for investing in cannabis."
Wadhera said he's seen a number of different characters in the cannabis space in his six years working in the industry.
"There's people who've been in the illegal black market industry transitioning into the legal industry. There's the very, very corporate people with dollar signs in their eyes who've come here and are trying to structure every deal like a distressed deal and then there's people in the middle who love the culture," said Wadhera.
Casa Verde is focused on investing in cannabis, but the firm has also recently made investments in psychedelics as well, starting with Boston-based Delix Therapeutics. For now, Wadhera said, the opportunity is in companies who are exploring the possible medical and pharmaceutical benefits of the drugs for people suffering from PTSD or severe depression.
"When and if there's the adult-use side of [psychedelics]... then it actually kind of falls more into our space," he said. "And we would do more there. It makes perfect sense, because we've built the infrastructure for it, right?"
Click the link above to hear the full episode, and subscribe to LA Venture on Apple Podcasts, Stitcher, Spotify or wherever you get your podcasts.

dot.LA Engagement Fellow Joshua Letona contributed to this post.
Image courtesy of Crypto Cannabis Club
While many cannabis firms are still figuring out how to incorporate the metaverse and Web3 applications like NFTs, Canoga Park's Saucey Farms & Extracts has become one of the first business to offer THC products in the metaverse as part of a dispensary in Cryptovoxels, a virtual platform build on the Ethereum blockchain. Local weed brand Califari, meanwhile, recently sold NFT artwork to support the cannabis-oriented criminal justice nonprofit The Last Prisoner Project. Then there's groups like the Crypto Cannabis Club (CCC), an organization centered around 10,000 "NFTokers" that gives holders discounts on cannabis products and has hosted weed-themed meetups in the Decentraland metaverse.
According to Crypto Cannabis Club CEO Ryan Hunter, about 20% of the community is based in California, with the organization's most active chapter located in Southern California. Hunter said that CCC uses different metaverses based on its needs; if the Club wants to host virtual 4/20 or 7/10 gatherings for all of its members, those would take place in Decentraland because it's "more of a wide-open space," while interactive gaming experience would be on The Sandbox platform, where noted weed entrepreneur Snoop Dogg has already staked a claim.
Hunter views the metaverse as a bridge between real-world cannabis enthusiasts and those who are passionate about virtual experiences.
"We're trying to intentionally create a community of folks that are part of the cannabis community in the real world, and want to be a part of the cannabis community as it expands into the metaverse [and] these virtual communities that are developing," he said.

In addition to cannabis ventures, artists are also exploring how the metaverse and Web3 can help them connect with new audiences. Reece Kinsbursky, art director of the The Artist Tree dispensary chain, told dot.LA that he has received interest from artists about showing their NFT artwork on the dispensary's walls; one even explored marketing a piece for sale via a QR code that would be displayed in the dispensary. (While The Artist Tree does not currently display NFT art at its stores, Kinsbursky didn't rule it out in the future.)
"It certainly has the capabilities to change a lot in how the ecommerce space functions," he said of the overlap between NFTs and cannabis. "But it's too soon to tell."
Cannabis aside, the metaverse is blossoming into a major focus for tech companies in Los Angeles. From social media companies like Snap to entertainment giants like Disney, there are no shortage of players leveraging virtual reality to grow their businesses and expand how they interact with audiences.
Likewise, Hunter and other cannabis entrepreneurs hope that engaging with metaverse platforms can expand their brand awareness and ecommerce presence. In addition to launching a direct-to-consumer offering—featuring collectible NFTs—in partnership with delivery company CampNova, CCC is building a dispensary in Cryptovoxels to display products from partner brands. In time, Hunter wants the virtual dispensary experience to mirror the real one, complete with a cultivation space where visitors can learn about the growing process.
As for cannabis consumers who may doubt the metaverse's potential, Hunter believes a little skepticism is healthy."I think there's every reason for them to be suspicious, and that's a great way to approach it," he said. "I'm not trying to convince anybody. We're trying to create a community that earns its place—and hopefully we'll find folks who are open-minded, and they'll tell friends who are less open-minded and convince them."
Image courtesy of Houseplant
Houseplant, the Los Angeles-based cannabis brand launched by actor and comedian Seth Rogen, is trying to make good on its socially responsible mission with its second annual In-House mentorship program.
This is the first time that Houseplant has opened up its mentorship program to the public; last year's beta-test of the In-House program was invite-only and had only two participants. The program is open to anyone trying to join the supply chain for legalized pot and has received over 500 applications since mid-March, "which [has] exceeded our expectations," according to Houseplant Chief Consumer Officer Melissa Greenberg. (The deadline for applications is May 1.)
The mentorship doesn't come with any funding, but it does offer access to Rogen and Evan Goldberg, Rogen's long-time screenwriting partner and Houseplant co-founder. The mentorship allows participants to tap into resources like Houseplant's network of industry advisors, with the goal of helping mentees in developing, marketing and selling their products.
The first time around, Houseplant helped its mentees with "preparation for their brand and retail launches, [including] advising on social media best practices, reviewing media and marketing plans, creating process documentation, and providing financial planning templates for future use," Greenberg told dot.LA in an email. "Additionally, we used our platform to highlight the entrepreneurs to help drive foot traffic and awareness about their businesses once they launched."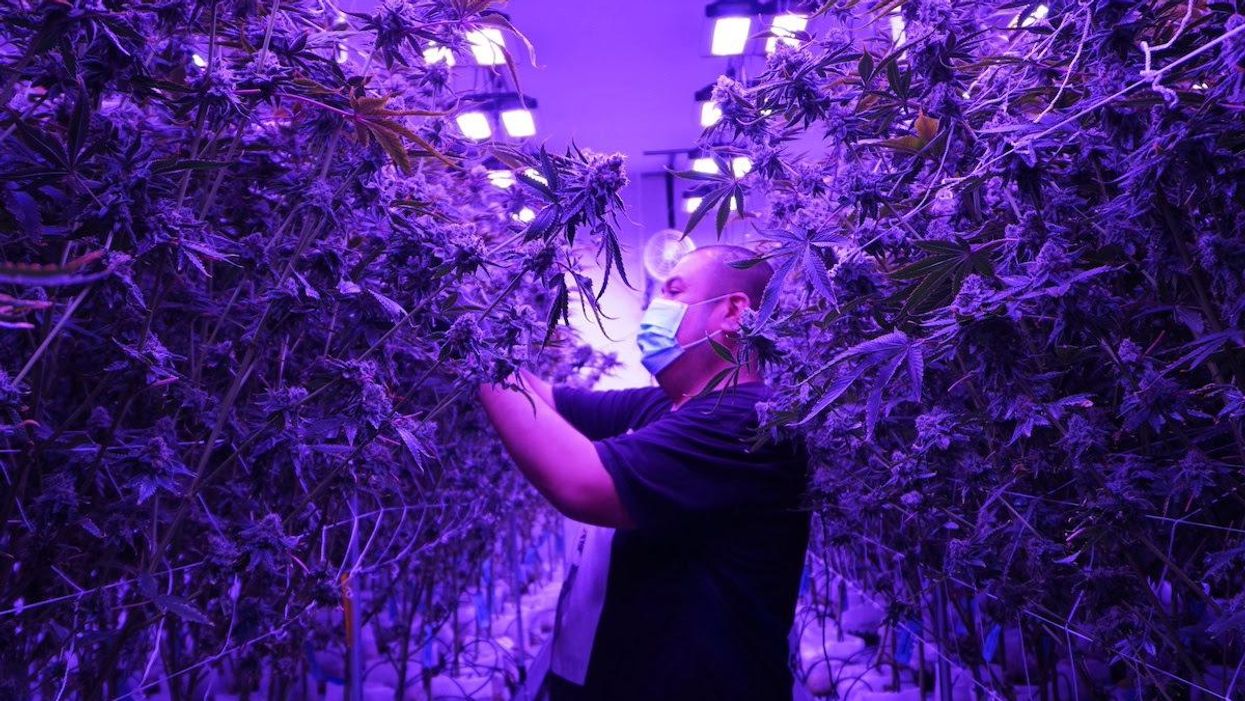 Houseplant In-House participant Moises Estrada growing cannabis.Image from Houseplant
One participant in last year's program was Moises Estrada, a cannabis grower born and raised in East Hollywood who runs Downtown-based pot brand Itty Bitties. Estrada was granted a social equity license for his business from the city of Los Angeles in 2020—part of the city's plan to give people from communities disproportionately affected by the war on drugs the chance to earn a living in the legal cannabis market. Estrada said that without the city offering him a shot at a license, he would never have been able to launch a cannabis business and work with In-House.
"These social equity licenses have been a total blessing," Estrada told dot.LA. "I'm in a much better place than I was four years ago when I began this journey."
He added that the Houseplant team was "very accessible" and gave him valuable insights into how to handle local regulations. "I know cannabis and cultivating very well, but this program helped me think about how to ramp up the business side of things," Estrada said.
Launched in March 2021, Houseplant sells pot to a handful of dispensaries in Los Angeles and elsewhere across California, as well as home goods—including artfully-crafted yet expensive ashtrays and vases based on original designs by Rogen—in all 50 states. Houseplant CEO Michael Mohr told dot.LA that the merchandise is a legal way of reaching the national market, even in states where consumers can't buy its weed.
Rogen has been an outspoken advocate for cannabis legalization and repairing communities impacted by the war on drugs. Houseplant works with Black Lives Matter, the Marijuana Policy Project and Cannabis Amnesty to advance these goals; Greenberg said the company provides funding to those organizations and also amplifies their goals by having Rogen, Greenberg or Mohr participate in their events.
Rogen wasn't available for comment.
Mohr told dot.LA that Houseplant's goal is to prepare cannabis founders for when the drug eventually becomes legal across the country. "Legalization in the United States is inevitable," Mohr said. "The momentum is there, public sentiment and desire is there—it will happen."
From Your Site Articles
Related Articles Around the Web