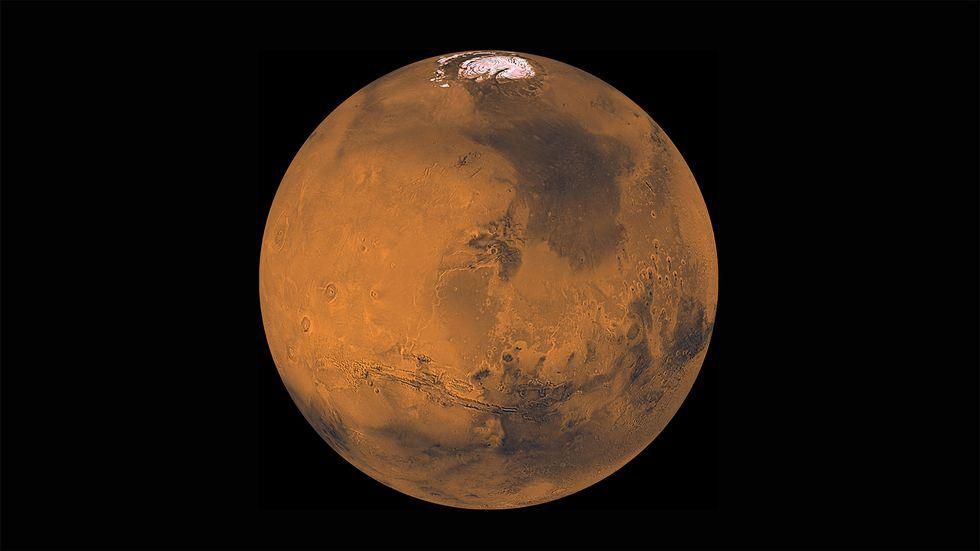 Space
Browse the latest news about Southern California's space and aerospace startups from dot.LA.
Vacationing in space?

With intercelestial travel fast approaching for people who can afford it, Fontana-based Orbital Assembly Corp. is already plotting out a hospitality industry.
Orbital is working on autonomous robots that can build luxury hotels in space and could eventually create a floating interstellar cruise ship.
Orbital Assembly CEO Rhonda Stevenson said that while the idea might seem far-fetched, proving that the technology works on the ground is the first step to convincing people to use it in outer space.
The company wants to "create large space structures that simulate gravity" and serve multiple uses -- residences, hotels, business centers and bars, she said in an email.
Already, the space tourism industry is taking off. SpaceX recently announced it'd sell four tickets to launch private citizens into space as early as 2021 -- and Amazon and Blue Origin founder Jeff Bezos said he'd fly into orbit himself as soon as this July.
Orbital hopes that by 2027 it can erect an operational space hotel atop a vessel that can spin fast enough to maintain gravity inside.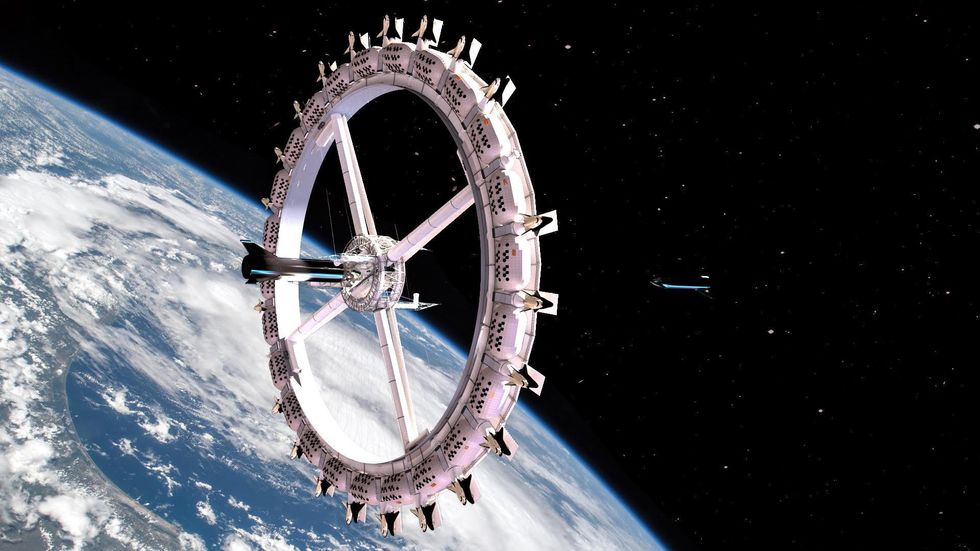 Photo courtesy Orbital Assembly Corp
The structure was originally conceived as the Von Braun Space Station, after Nazi rocket scientist Dr. Wernher von Braun. A company spokesperson said they changed the name to the Voyager Station for "obvious reasons."

"I hate to compare us to Elon Musk, because I see him as a once-in-a-generation type of figure, if that," said Tim Alatorre, chief operating officer and chief financial officer. "But what he did is he saw a problem that nobody was solving, and so, that's what Orbital Assembly is doing. I think we see a problem that nobody's solving. We don't have low-gravity stations in orbit, we don't have the ability to build large structures economically and easily in orbit."
"There's no engineering reason for that. It's just a matter of will, and getting all the business and the commerce components in place to make it happen," Alatorre added.
Alatorre also added that having a robot build equipment in space could be far safer than asking humans to do spacewalks.
"In order to get humanity into space, we need to be able to build things more economically," Alatorre said. "The International Space Station was put together primarily by astronauts in spacesuits going out into the vacuum of space manually and that's just not cost effective. But it's also a danger we think about; it's incredibly dangerous and you have to have a lot of training."
Orbital Assembly isn't the first company to come up with the idea of a hotel beyond the stars. Almost as soon as human spacefaring began in 1961, people have floated the idea of living, working and chilling in outer space. It's only been recently, as SpaceX, Blue Origin and other private space companies have made strides towards private space travel that these projects have become more focused.
The construction system Orbital Assembly calls the DSTAR robot (short for demonstrator structural truss assembly robot) is the company's first attempt at proving its automatic builders work.
Orbital is conducting a June 19 demo of the technology where it will assemble a truss the size of a football field at its Fontana warehouse. After the event the company will post videos of the robots in action.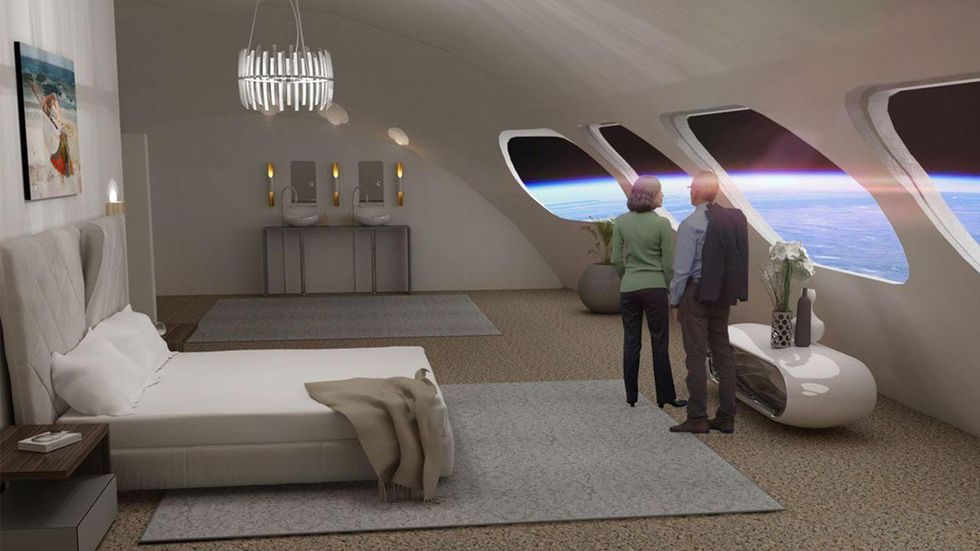 Photo courtesy Orbital Assembly Corp
Alatorre also said he hopes the demo technology will be recyclable or something Orbital Assembly can resell.

"We've had [it] in pieces in storage throughout Southern California, and we haven't had a space large enough to be able to assemble it," Alatorre said. "Since we've announced this, we actually have a number of different potential clients who are interested in using this truss-building technology for other purposes as well; So even though it's a demonstrator, we're hopeful that we'll be able to repurpose it and use it for some other clients."
After the technology is operational, the next step is launching the DSTAR into low-Earth orbit by 2023.
There's a myriad of challenges that Orbital Assembly could face -- and is anticipating -- on its way to building an abode in the stars. Firstly, there's the money: Stevenson said the company needs to raise $200 million to fund its mission in 2023.
So far, Orbital Assembly has raised just $1 million since it launched in 2019 from investors through an equity crowdfunding effort led by Net Capital.
Funding issues have plagued other skyward-looking startups before: a Houston, Texas-based company called Orion Span was hyped up to launch a space hotel project by this year, but closed shop before it took off. The company was forced to refund the $80,000 fee it charged customers to pre-order a ride to their space hotel.
Alatorre said the first two parts of the Voyager station could be "at max about $2 billion." He added that in total, "our current estimates for Voyager station are less than $8.6 billion" and added, "keeping in mind that the station is significantly larger than most."
Related Articles Around the Web
Long Beach-based aerospace manufacturer Rocket Lab landed a contract with NASA to design a twin Photon spacecraft for a Mars mission that will begin in 2024.
NASA's choice to employ Rocket Lab for this mission comes as another win for Los Angeles, which has one of the most distinguished aerospace industries in the world. Los Angeles is also home to SpaceX and an arm for the U.S. Space Force.
The mission, called ESCAPADE (Escape and Plasma Acceleration and Dynamics Explorers), will send the twin spacecraft (nicknamed Blue and Gold) to orbit Mars to better understand the planet's magnetosphere. Specifically, researchers are interested in gathering information about changes in Mars' climate over time by studying the effects of solar wind on the planet's atmosphere.
The spacecraft's travel to Mars is expected to take 11 months. Once the spacecraft has entered Mars' orbit, the mission is slated to last one year.
This is just one of many efforts in the aerospace industry to learn more about Mars. The possibility of life once existing on the planet and the potential for human colonization both make Mars an attractive area of study.
ESCAPADE, led by Rob Lillis at the University of California, Berkeley Space Sciences Laboratory, was chosen back in 2019 to be a part of NASA's SIMPLEx program, which focuses on the development of small satellites.
Part of SIMPLEx's goal is to lower the cost and boost accessibility of interplanetary research, since small satellites come at a low cost to develop. It is currently unclear exactly how much ESCAPADE will cost.
Rocket Lab was founded by engineer Peter Beck in 2006 in Auckland, New Zealand and established its Long Beach headquarters in 2013. They are known for having developed several rockets for orbital flight, including Electron, which suffered its third failed launch last month.
To most, NASA's satellite images of Southern California space look like a weather map, but the yellow clusters that hover over downtown L.A. and Long Beach don't signify rain. Instead they represent high levels of carbon dioxide, a greenhouse gas that is fueling climate change.
Carbon dioxide levels are at an all time high, despite the pandemic and researchers have been searching for ways to offset it.
The images released this week are the first of what it's calling the most accurate maps from space that show humans' influence on carbon dioxide levels. NASA researchers hope the new data, centered on the Los Angeles basin, can be used to persuade lawmakers to pass more aggressive policies to fight climate change.
They were captured last February by a first-of-its-kind measurement system dubbed the Orbiting Carbon Observatory 3. Located at the International Space Station the device uses a telescope and three spectrometers to measure the electromagnetic spectrum of sunlight to detect carbon dioxide. Launched in May 2019, the project began at NASA in 2012.
It can measure up to 40 locations per day in Southern California, with a focus on L.A. and other areas showing high carbon emissions.
Carbon Dioxide Over the L.A. Metropolitan Area www.youtube.com
JPL research scientist Matthäus Kiel is a lead researcher on the project which released its first map this week. He told dot.LA that researchers decided to focus on Los Angeles first, not just because the NASA-managed Jet Propulsion Laboratory is in Pasadena but because the megapolis has long-standing emissions data.

"We still have a long way to go to provide emissions estimates that will be directly used, but I think we are in a good way," Kiel said. "There's no place like L.A., (where) their emissions are well reported already."
A growing network of sensors on the ground, including a few at JPL partner Caltech, are used by researchers to verify the data from space. Kiel said the plan is to network with universities across the country that have their own emissions sensors to collect and verify more readings.
So far, the satellite readings have been almost exact mirrors of the data on the ground, proving to scientists that it's possible to take these kinds of readings millions of miles away from the Earth's surface.
It's also key that JPL can double-check its data because many environmental factors, from wind to changing weather, can impact the spread and density of CO2.
Kiel said a zoomed-out view from space provides a more accurate way to visualize changes in carbon emissions around the world and he sees its potential for measuring data in remote locations across continents.
"This data can be used to inform policymakers [and] they can use the data to make informed decisions about, for example, emission reduction policies that many cities have in place," Kiel said.
The planet is at a turning point in its climate change battle. An intergovernmental panel told NASA recently that "taken as a whole, the range of published evidence indicates that the net damage costs of climate change are likely to be significant and to increase over time."
These costs include rising sea levels and melting glaciers, changes in rainfall, stronger hurricanes and rising CO2 levels in the atmosphere, which the OCO-3 project at NASA is currently mapping.
By the year 2100, sea levels are expected to rise 1 to 9 feet globally, NASA estimates.
Kiel said he was surprised by just how much local weather changed the CO2 readings that are visible from space, using their OCO-3 instrument.
"Sometimes we saw days where we barely saw elevations of CO2 over L.A. [and] this was interesting to see and something that we haven't seen before that we were not able to monitor before," Kiel said. "it was interesting to see how these values move with the different meteorological conditions."
The Los Angeles metro area is the first place JPL has mapped with OCO-3, but Kiel said the plan is to eventually expand the lens to offer a global view of carbon emissions.
The easiest way to do that is to start in places that already have working sensors on the ground. Kiel noted that NASA might look to map Tokyo, the Bay Area or Boston next, since they already have sensors set up in those areas.
"There's a lot ahead of us," Kiel said. "We usually tend to look to the cities where we have ground-based networks just to make sure we can validate the data before we expand to a wider global sense."
From Your Site Articles
Related Articles Around the Web