Startups
The latest Los Angeles startup news, including funding, hiring, launches and more.
U.S. pet ownership rose nearly 50% over the last year as Americans, hemmed in by the pandemic, embraced their furry friends. The surge propelled the pet industry past $100 billion in revenues and exacerbated demands on veterinarians already stretched thin.
With its hybrid telemedicine subscription service, Culver City-based startup Modern Animal is looking to grow by appealing to both overtaxed vets and the new rush of pet owners. On Friday, it announced a $75.5 million investment to help do it.
The company believes its model, which relies on 24/7, app-based care, access to beautifully outfitted clinics for users and a streamlined system for veterinarians, can help upend the way the industry traditionally does business.
"The problems we were trying to solve [when we started the company] were not actually related to the animal," said CEO and co-founder Steven Eidelman. They were related to the humans: the pet-owners and the veterinarians.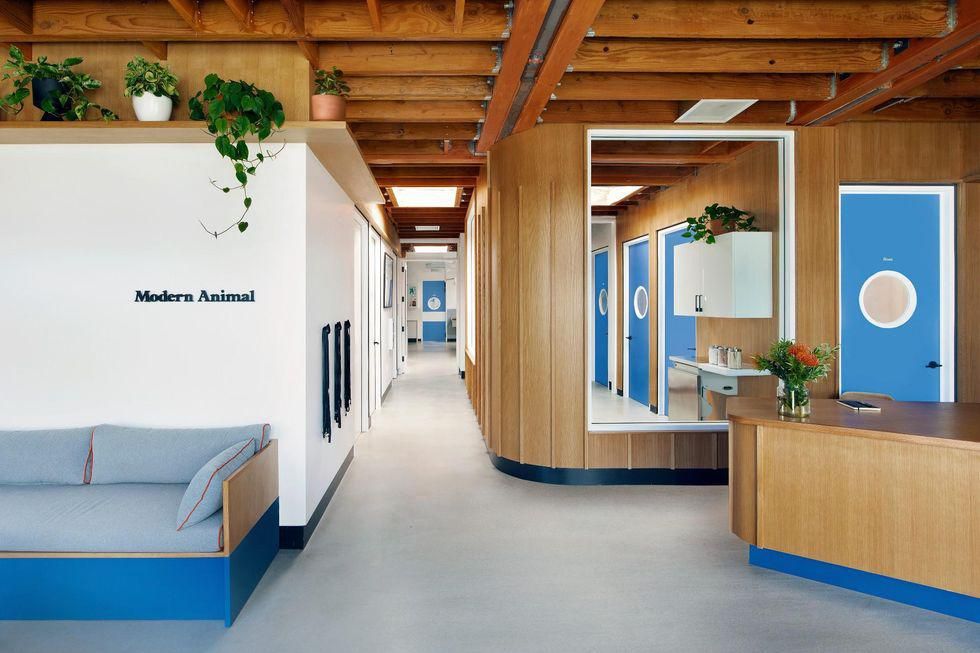 Eidelman is the former founder of Whistle, a pet health startup that made a 'Fitbit for dogs' and was acquired in 2016 for $117 million by Mars. He founded Modern Animal in 2018. It has now raised $89 million.

Its first clinic opened in April last year in West Hollywood. Unlike most drab veterinarian offices, Modern Animal's clinic boasts amenities like a "beautiful Oscar Gronner mural" and "Margo's Bark root beer in our fridge". Customers pay a $100 annual membership fee per pet, which grants them free exams and around-the-clock telemedicine. The company does not offer emergency medicine.
The new funding is split between a previously unannounced $35.5 million Series A led by True Ventures and Addition, and a $40 million Series B led by Founders Fund. With it, the company plans to open a dozen more clinics around California over the next 18 months — including facilities in Playa Vista, Pasadena and Studio City — by the end of the year. The WeHo clinic has maxed out its capacity of around 4,000 furry patients, and Eidelman said the new clinics will be similarly sized.
Modern Animal has largely appealed to younger pet owners. Eighty percent of its human members are between 25 and 45 years old; only 10% of the clients are over the age of 55.
"There is a very different type of behavior that younger pet owners are exhibiting, and so we wanted to build a system that, looking to the future, is built for them," Eidelman said. Members make about five visits per year, which he noted is more than double the typical frequency but also includes virtual appointments.
He attributes that stickiness to Modern Animal's free initial exams and how the company pays veterinarians, which discourages them from charging for extra services.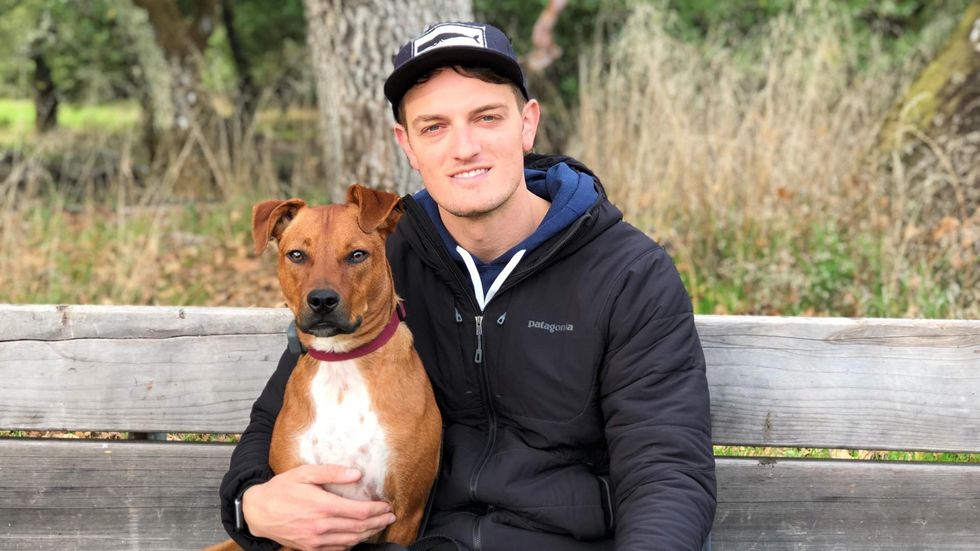 Layla (left), and her human, Modern Animal CEO and co-founder Steven Eidelman.
About 80 employees work at the company, split evenly between the medical staff and the business side. Flush with funds, Eidelman plans to go on a hiring spree, prioritizing operational and human resource roles to support the company's expansion.

Eidelman said one of the company's cornerstones is creating a good place for often stressed out veterinarians to work.
Dr. Christie Long, Modern Animal's head of medicine, said it's one of the reasons she appreciates the company. She has been a veterinarian since 2007.
"As a profession, we give so much of ourselves away, and we have a real problem with drawing boundaries," she said.
Modern Animal takes several steps to change that paradigm, Long said.
The medical team works collaboratively, so that during a telemedicine appointment, the on-call vet has access to the pet's health records, which may have been input by their colleagues from both in-person and remote visits.
Using telemedicine also allows for a more efficient allocation of the clinical staff's time and skills, Eidelman said, as less urgent matters can be addressed without requiring a potentially wasteful visit to the clinic. And unlike much of the vet industry, the company pays its staff a salary rather than on a fee-for-service basis.
"We pay a good salary to a doctor and expect them to work their 40 hours a week and then we expect them to go home. And we want them to go home," said Long. "We are attracting a younger group of veterinarians...I'm excited to see them raise their hands and say, 'the (old) model doesn't work for me.'"
In addition to the new funding, the company also announced three board members: David Bowman, former COO and CFO of Blue Bottle Coffee; Karen Boone, former CFO of Restoration Hardware and current board member of Peloton, Sonos and Rivian; and Tony Conrad, partner at True Ventures.

Eidelman said they bring value from their experience scaling businesses with a physical presence.
"The big opportunity we see is to fix this profession," he said.
From Your Site Articles
Related Articles Around the Web
As Netflix, Disney, Amazon and others duke it out in the streaming wars, a growing list of tech companies that cater to their needs are benefiting.
Among them is Meta Data Software, a service that organizes massive content libraries, supplementing television shows, films and other content with rich data — from the cast and crew members involved to legal and licensing information.
Founded in London in 2018 and serving its SaaS product to catalog-owning clients that include MGM, Fox, WarnerMedia and Epix, Meta is now moving its home base to L.A.
Its biggest project may be yet to come. Amazon is poised to swallow its client MGM's iconic library, home to 4,000 films including the Bond franchise and such classics as "Rocky", along with 17,000 television shows.
Earlier this summer a group of investors led by Rob Delf paid $3 million for a majority stake in Meta. Delf, who previously led Santa Monica-based data management service Rightsline, has assumed the CEO role at Meta. Meta's founder and former CEO Robin Tucker will serve as its chief product officer from London.
"As streaming services have exploded, and the types of features and functionality that they've delivered becomes more sophisticated...the kind of requirements around the data that you need to hold really expand exponentially," said Tucker, a former designer at Apple.
Other companies supporting the new streaming world from the periphery include Struum, a consumer service that bundles different services into a single subscription, and Brainbase, a data management system for intellectual property including trademarks and patents.
"[Entertainment companies] have to be able to access their libraries all the time, and be able to track where different things are licensed for, which rights, for how long and they really need to have an organized way of doing it because otherwise they will make mistakes and do inconsistent deals," said entertainment-tech lawyer Richard Thompson.
The recent flurry in streaming of M&A activity has made keeping all the data straight more challenging, said Thompson. Amazon announced it had acquired MGM in May, less than two weeks after WarnerMedia's HBO Max and Discovery announced plans to merge. Rumors are swirling that independent studios including Reese Witherspoon's Hello Sunshine and LeBron James' SpringHill Entertainment are exploring sales.
"When you have two different hunks of libraries that now need to be managed together, to find ways to consolidate that management under one system is definitely an opportunity for this kind of thing," Thompson said.
Delf said his priorities over the next 18 months include finding more customers – namely studios and streaming platforms – and hiring people in customer support, sales and account management roles.
Meta occupies a niche of the entertainment industry known as the media supply chain. Companies that own content libraries – studios like Disney, streamers like Netflix, for example – use an amalgam of systems to help keep track of the different kinds of data that accompany the many titles in those libraries: things like licensing rights, distribution schedules and audio-dubbing files.
Meta helps media giants manage their metadata: including titles, synopses and content ID numbers. In the past, that has often been a painstaking process done with spreadsheets.
Meta's technology includes a user-friendly data management interface and AI tools that can automate mundane duties like filling in missing data. With this, Delf said Meta has reduced the time requirement for some tasks – like preparing a show to launch in a new market – "from 75 minutes to five seconds." The company also claims to have saved its customers over $10 million annually compared to manual data management.
"As an investor and an entrepreneur, really it's about better, faster and cheaper," Delf said.
Tucker, the former CEO turned CPO, said that in contrast to the sleek user interfaces that entertainment executives are used to, data management software has typically been a clunky stepchild. Part of his vision is to give those execs an easy, aesthetically pleasing interface.
"If he could solve that, then he's halfway to the solution," Thompson said.
MedTech Innovator, created by Paul Grand, former CEO of a slew of biotech startups, has long been hailed as a successful accelerator that helped bring 74 medical products to market, from implants to prosthetics.
Now, the eight-year-old program has launched BioTools Innovator, a new virtual accelerator for genomics, personal medicine, targeted drug therapy and other life science startups. The program expands the accelerator's focus on medical devices to biotechnology, including platforms and other diagnostic tools that will improve health.
"In a lot of ways, Medtech Innovator is one of the things that's helped Southern California build a reputation as a device hub," said Llewelyn Cox, CEO of Lab Launch. The new program, he said, will help "influence the global industry and vice versa."
On Thursday, it announced its first cohort. The ten startups participating come from all over the U.S., and Zurich.
They include: Kino Discovery, a cancer technology startup from Irvine, Celldom, a genomics platform in San Carlos, Claremont-based Machine Bio, a protein production company, and Massachusetts-based Elemental Machines, a data compiler upstart for labs.
"Partners of ours have seen a gap in the life science tool space and seen how what we do on the medtech side can really benefit companies or innovators," said Kathryn Zavala, managing director of BioTools Innovator. "It's really just about taking our successful model and applying it to a different vertical."
According to BioTools Innovator, over 160 companies applied for the accelerator. The 10 startups selected will slowly whittle down to four, and they will compete for a cash prize in Carlsbad.
For the next three months, each will undergo a customized mentorship program, set up short-term goals, talk to industry experts and compete for as much as $200,000.
Related Articles Around the Web