Micromobility
The latest news about "last-mile" technology and micromobility startups in Southern California from dot.LA
In 2019, the city of Los Angeles held a one-year micromobility pilot program that prescribed how the city's micromobility companies could operate. The goal was to learn about the dockless transportation model and its impact on urban mobility.
L.A. said it wanted to focus on how safety, equity, access and quality of life were impacted by collecting vast amounts of data from operators and their vehicles.
Nearly four years later, we haven't seen an update to the micromobility program or meaningful infrastructure to support its expansion.

L.A. could improve this program and create an infrastructure for scooters and bikes that would help ensure safe, affordable and sustainable mobility options for all of its communities by being more open with its data around ridership trends, reporting where revenue is being spent, and investing more into infrastructure to support its micromobility ambitions.
Collecting Data for the Wrong Reasons
Los Angeles collects data from scooters, bikes and other sources, including vehicle and trip data such as where a trip begins, where it ends, the route it takes, how long it takes, etc.
All that data comes from the city's digital infrastructure, mobility providers' apps and consumers. When you ride a Bird, the company logs the data on their servers and L.A. collects the data through a set of APIs.
But much of that information is used to generate revenue, rather than assist travelers. Early on, Los Angeles — like other cities — saw an opportunity to tap well-financed operators for operating cash, originally offering a revenue share of $1 per ride per day to cities.
The data the city collects ensures that it gets its share of revenue and enforces its regulations, but it doesn't do much to build a better-connected city.
According to their One Year Micromobility Report, L.A. invested only $2 million into its micromobility infrastructure. Atlanta, Tel Aviv, and Santa Monica are investing more dollars per capita across more square miles than Los Angeles.
Enforcing regulations and managing L.A.'s program is costly, and it's crucial that the city recoups their costs, however, there is no visibility into how much the city has raised in incremental costs to manage micromobility programs nor transparency in how the revenue earned from operators is being spent.
Micromobility data and revenue earned by the city is meant to be leveraged to build transportation infrastructure, access, safety, and equity but we haven't seen tangible progress in these areas from Los Angeles.
Moving Forward
First and foremost, L.A. should be transparent about their micromobility management operations and costs, how the revenue earned from operators is spent, and report out micromobility ridership trends. Citizens and operators are primary stakeholders in this program and have a right to more and better insights.
Better infrastructure is key to the success of micromobility. At least 36 cyclists were killed in L.A. County in 2019 according to the National Highway Traffic Safety Administration. Many of these deaths were a result of poor bike lanes and resulted in multimillion-dollar payouts by the city.
The L.A. Green New Deal has very ambitious goals to build more than 20 bike lane miles per year by 2028 and reduce vehicle miles travelled by 45% by 2050. According to their latest report, they are on track to achieve their 2021 mobility goals. One of them is improving micromobility infrastructure at transit stations.
We are still in the early days of L.A.'s Green New Deal and time will tell whether these infrastructure projects come to fruition, but the timeline is ambitious.
Nonetheless, L.A. should leverage micromobility data such as trip start and end locations to understand general ridership behavior and trends. They can use this information, paired with vehicle driving and Metro data, to prioritize bike lane infrastructure projects as well as address underserved communities where micromobility would be valuable to citizens.
L.A. should also use app open data to understand where users are looking for options and work with operators to bring vehicles to those locations to better serve citizens.
Operators like Bird and Lime are experts in micromobility. They could leverage city data to find efficiencies for their business.
Los Angeles should reframe its relationship with operators as partners to build a future with micromobility as a core pillar of its transportation options.
What if you could use the same transit pass to access a bike, scooter, car, train or bus?

L.A. Metro is rolling out a program that will allow users to do just that in South LA starting next summer. The pilot includes a "mobility wallet," an integration with TAP (transit access pass) that enables riders to use the same card to access multiple mobility options in the area.
The pilot — the first to put a "universal basic mobility" (UBM) approach into practice in the city — is being rolled out with the help of the L.A. Department of Transportation (LA DOT), Uber Transit, TAP, BlueLA and Curb Mobility.
L.A. Metro announced the news at a workshop at this year's CoMotion LA conference on technology and transportation. .
The pilot is one of the projects funded through a $7 million grant from the California Air Resources Board and will focus on an area roughly bounded by Crenshaw and Alameda and Florence and the 10 in South LA.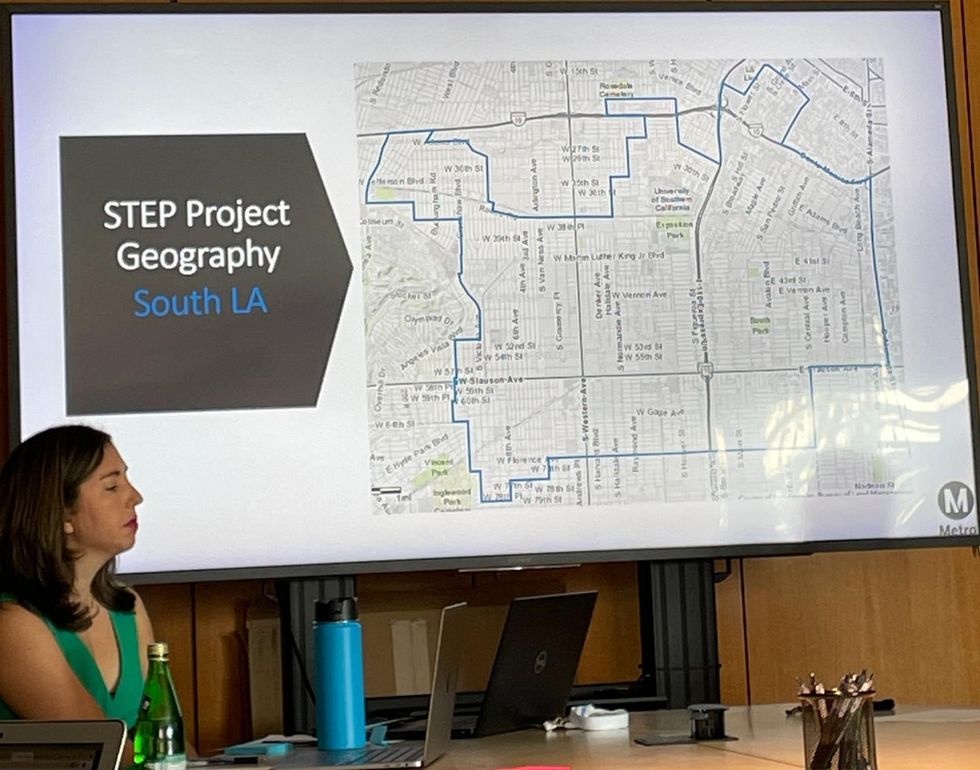 The hope is that offering multi-modal transportation through a single portal will increase transportation equity for some of L.A.'s most vulnerable populations.
"We know that from our community engagement, from our rider surveys, that people sometimes need more flexible services. Sometimes a bus or train is not close enough to where they live or is not fast enough to get them where they need to go to access opportunities," said Avital Shavit, senior manager at Metro's Office of Extraordinary Innovation.
Universal Basic Mobility represents a shift in thinking about transportation — from an amenity to a basic human right.
"Without access to transportation, you can't get a job, keep the job, have access to basic needs for basically a meaningful quality of life," said LA DOT Environmental Affairs Officer Shirin Sadrpour.
Many low-income Metro riders are "unbanked" and "untech-ed," Shavit said. The Mobility Wallet would integrate multiple mobility options — including rideshare, bikeshare, scooters, transit pass and car share — into one payment system on TAP. According to studies, 80% of Metro users have smartphones. The program will purchase smartphones and data plans for the 20% of transit users who don't.
"The emphasis is on outreach and teaching people and meeting them where they are," said Shavit.
Metro is planning to pilot the program with 2,000 eligible users over the course of one year. At the same time, Metro is pushing to double enrollment in its low-fare pass (LIFE) program before it resumes collecting fares in 2022. The agency hopes to piggyback on that outreach effort to reach potential participants for its UBM pilot.
Public transit has traditionally had a "complex relationship" with private sector companies like Uber and Lyft. But through the UBM pilot, Metro hopes it can build a better model for public-private partnership for transportation.
The city already partners with Uber Transit to provide paratransit services for L.A. and also provides free "rescue rides" or coupon codes for a free ride when L.A. buses break down.
Curb Mobility offers hardware and software solutions for the taxi andor ride-hailing industries.
The pilot is set to launch next summer with a beta test phase in the spring. Outreach efforts will begin December 5 at CicLAvia in South L.A.
Related Articles Around the Web
During the pandemic, ridership on L.A. Metro dropped drastically, a reported 70%.

COIVD-19 irrevocably changed the face of public transit and the habits of its passengers. As agencies like Metro L.A. were forced to adapt, technology played a role in making long overdue changes to entrenched systems.
Kevin Foreman, Optibus general manager for North America, compared it to going on a diet where you come out healthier on the other side.
"It's 2021. And most of the technology in the back end systems is still at 1980," he said.
Foreman's remarks came from a panel of public transit agencies and partners called "Get on the Bus: Rethinking Post-Pandemic Transit" at the three-day CoMotion conference on mobility and technology happening at the Japanese American National Museum in Little Tokyo.
During the COVID crisis, many agencies adopted cloud-based technologies such as AWS (Amazon Web Services) to process transportation data and respond swiftly to shifting patterns in ridership.
The pandemic also spurred a workforce crisis, with the loss of 55,000 transit drivers in North America alone. Foreman stressed the need to adopt schedules that appeal to drivers as well as riders.
"Especially with the infrastructure bill coming in, I think our transit agency customers will be flooded with cash. Now we need people to actually drive buses," said Foreman.
L.A. Metro Chief Innovation Officer Joshua Schank had some advice for private sector companies looking to partner with Metro:
"Don't start with the technology. Start with a problem you're trying to solve."
Since it was founded in 2015, Metro's Office of Extraordinary Innovation has received over 250 unsolicited proposals from private, nonprofit and academic organizations seeking to help Metro reach its goals.
"Things that get rejected are typically things where people are very excited about the technology and haven't thought through what it is that it will actually accomplish for our business model and for our customers."
Schank emphasized the benefits of public/ private partnership. Private sector companies not only bring technology and innovation, they also take on some of the risk of investing in new transit infrastructure and services.
One example of such a partnership is Metro Micro, a micro-transit service currently operating in eight zones in Los Angeles, with a ninth zone scheduled to launch December 12 in Westwood. The service offers on-demand shared rides to users within a fixed zone for $1 per ride.
The project came about through an unsolicited proposal from private sector partner RideCo. "We were getting eaten alive by alternative services,'' said Shank. But Metro saw an opening to provide lower-cost mobility on-demand for underserved populations that were not being targeted by Uber or Lyft.
"Our role is to make sure that people aren't getting completely stampeded by the capitalist system we live in, and ensuring that we're helping the people who need the help the most, making sure we don't completely destroy the planet," Schank said.
He added that the pandemic provided a hard reset not just for Metro but also for the average person and that Metro is hoping to seize the moment to introduce shifts more radical than using cloud-based technology to optimize bus schedules or providing on-demand mobility services.
"I'm sure you've all experienced this where, before the pandemic, you're just like, 'yeah, we go to work every day and we travel around and we're maniacs, and that's just how life is'. And then now we're all like, 'oh, maybe we don't have to do that all the time'."
If people can rethink commuting to work everyday, maybe they can also rethink driving alone to get there — or get out of single occupancy vehicles altogether.
Metro is currently conducting a
congestion pricing study
. But it's also piloting a
program
to reward people for not driving.
From Your Site Articles
Related Articles Around the Web