Music Tech
Browse the latest news about Southern California's music technology startups and scene from dot.LA.
As the pandemic shut down, cancelled and delayed events people had been looking forward to, Wave co-founder and CEO Adam Arrigo saw an opportunity.
His company was founded in 2016 at a time when brands like Oculus and PlayStation were looking to bring virtual reality into the mainstream. Not knowing how ready people would be, Arrigo and his team were conservative with the company's money.

"We basically didn't spend any money because we weren't sure how quickly people were going to strap these things to their heads… And we were kind of right because VR sort of petered out," said Arrigo.
Instead, the company worked on something that he characterizes as a "metaphor for a live performance." Arrigo, a game designer and a musician, realized the music industry needed a tech boost to help keep artists connected with their fans during the pandemic.
Wave provided artists the ability to perform as virtual avatars in 3D spaces and allow fans at home to strap on their headsets and be immersed in a concert.
The company hit a breakthrough when it hosted a show with violinist Lindsey Stirling, which garnered an audience of 2,000 using VR and 398,000 using either game controllers or watching on YouTube.
"Now that this thing is sort of starting to catch on, the truth is that we're not [...] trying to replicate or replace live events," said Arrigo. Instead, he said the experience is meant to be more additive to a live tour.
Wave raised a lot of funding over the pandemic, getting opportunities to work with artists like The Weeknd and Doja Cat.
The startup experimented with allowing fans to send musicians virtual gifts. It proved popular among fans.
"People just loved being able to interject something into a show that they couldn't do at a real concert," said Arrigo.
With popular video games such as Fortnite hosting concerts and the concept of the metaverse gaining traction, Arrigo thinks that live performances will become more like hybrid experiences.
"Concerts will probably become something where, if you're lucky enough to go to the physical version, that's going to be more of a VIP experience. But I think one of the main modalities of experiencing live music, it's going to become virtual," said Arrigo.
He added, "It's just because like the generation that's growing up in Roblox and Minecraft, you know, this is the way they're experiencing music."
From Your Site Articles
Related Articles Around the Web
The Rattle opened a studio in Silver Lake last year, which it operates as something between a startup accelerator, art co-op, coworking space and venture studio. Its goal is to rethink the way musicians and artists are compensated for creating something new or groundbreaking.

"In the music economy, artists are treated like writers of music for some label or publisher, so that the grown-ups can go and sort it out afterwards," said Chris Howard, CEO of The Rattle. "We wanted to see if we could translate the principles of startups and entrepreneurship to artists."
This week, the Los Angeles and U.K.-based creative collective announced its first investments into Los Angeles-based companies.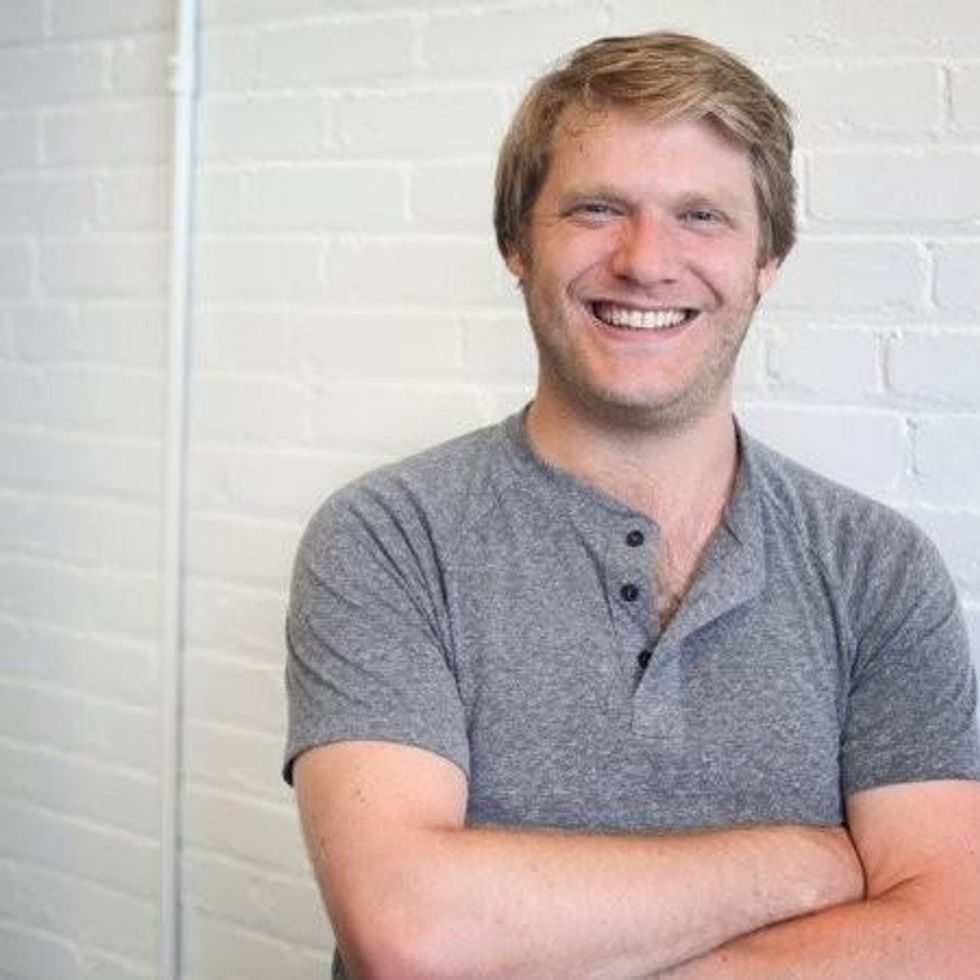 The Rattle CEO Chris Howard
They include a virtual reality tour guide platform, Animas, created by musician and artist Alexandria Rowan and FINKEL, an artist group that uses film and music to encourage people to explore new cultures.
Roughly 8,000 people have applied to join The Rattle since it launched in 2018, but it's only accepted about 400 artists and white-hat hackers between the U.K. and United States, according to its program director Brittaney Bunjong.
Only about 5% of applicants are accepted into its membership program. Only about 10% of those members receive a capital investment from the organization.
"I've found having outside eyes to provide direction on my choices as an artist and entrepreneur, learning about opportunities available to me, all has been appealing," Rowan said. "The co-working part of the process and getting to hang out with like-minded people has been wonderful."

The Companies
Rowan uses virtual reality to create tours of cities for new residents and help them meet their neighbors, an effort she sees as complementary to trends exacerbated by the pandemic, when people working from home in shut-down cities opted to move to more affordable locations.
Animas will hold a demo event using its VR in October. The team will pick a small, relatively unexplored city (sadly, Los Angeles is neither) to host and showcase local artists and vendors. The event will also encourage residents to purchase local art and get active by using the technology to do an augmented reality scavenger hunt.
FINKEL's co-founders are husband and wife duo Brian and Jane Spencer, They're musicians who started a band of the same name but wanted to expand into filmmaking. After a failed attempt at recording a concert in Antarctica during the pandemic, the couple began experimenting with other ways to use film to expose local musical talent and culture.
Their first project, called "Islanders," will debut this year; it'll be a multimedia project examining the local artist culture in Mackinac Island in Northern Michigan.
A Finance Model for Artistic Provocation
The Los Angeles group is no more than 150 people who pay a $125 monthly fee to access the office space, engineering support and networking.
Howard said the Rattle doesn't make a profit from membership fees but instead takes equity in the startups it co-founds.
"The goal is to help them become financially independent," Howard said. "We deliberately shifted to an equity business model, so that if we're going in hard with members, then we will only commercially succeed when they commercially succeed -- and that's a philosophical difference between ourselves in the music business."
Eligible startups will receive funding from The Rattle for the first year of their operations plus access to its studio and creative space at the historic Mack Sennett Studios in Silver Lake. The Rattle declined to provide details on funding.
"We did so many experiments with how to finance an artist early on, so that they can be a great artist and a great business builder at the same time," Howard said, adding that musicians are forced into making money in only one or two significant ways: selling the rights to reproduce the music, or performing. "But if you establish your own company right from the very beginning and build that company as your artist's brand, you can enter any industry you want," he said
Howard told dot.LA it'd been testing the model for about two years before making investments, thought it has helped launch or develop 40 companies to date, he said.
"We partner with specific members in our community who we believe are making the most provocative or the most challenging projects and we co-found a brand new company," Howard said.
The Rattle has raised $3.5 million to date and is backed by Crowdcube, the Future Fund, London-based Dig Ventures and European investment firm LeanSquare. Former Virgin Music managing director Steve Lewis and Outrun Ventures Partner Chris Adelsbach also backed The Rattle as angel investors.
From Your Site Articles
Related Articles Around the Web
Social media has made it easier for musicians and producers to get discovered, but they still have to impress the industry's gatekeepers to make it big -- and those executives are typically white men swayed by their own biases, whether they intend it or not.

A June report from USC's Annenberg Institute found 86% of the music industry's top executives are white and male, and under 20% of executives at the level of vice president or higher are from minority groups.
Little surprise, then, that Snafu Records founder Ankit Desai believes the music industry is overdue for a change in how it discovers, promotes and scales artists' careers — and he's using artificial intelligence to do just that.
Snafu, which launched in 2018, raised a $6 million funding round on Sept. 21 to fine-tune its AI discovery platform. With offices in Los Angeles and Sweden, Snafu will soon launch two new products -- Blurry, a platform for songwriters to find collaborators, and Fine.Art, a system that lets Snafu and its artists co-invest in funding a breakout artist's career.
Desai said the company's revenue mainly comes from taking a cut of the rights to an artist's work after they sign. Snafu has a roster of 45 artists.
Snafu uses AI to scan a million new songs per week and analyze factors that could determine the artist's success -- including song structure, overall popularity and how listeners are talking about them on social media. Right now the platform focuses on Spotify, YouTube and TikTok, but Desai said Snafu's looking to include other audio streaming platforms like SoundCloud and Bandcamp soon.
The company brought in a number of high-profile investors in the round, including Agnetha Fältskog, lead singer of Swedish superband ABBA; Hampus Monthan Nordenskjöld, who was one of the first investors in Snafu; and Academy Award-winning songwriter Savan Kotecha.
"I'm proud to be part of what [Desai] is creating, which is not just an algorithm trying to find hits, but it's actually quite a lot bigger than that," Nordenskjöld said. "We're trying to change music from the ground up, and I think we're gonna make a solid attempt."
When it launches, Blurry will use AI to match producers and artists looking to collaborate. Desai described it like a "Tinder for musicians," where people match based on short music samples and then their identities are revealed to one another after they agree to collaborate.
The Fine.Art service will help up-and-coming artists identified by Snafu's algorithm as potential stars get advanced funding to start their projects. Desai said the AI will pinpoint potential hits and then Snafu will offer existing artists the chance to invest in an emerging artist's success.
"The good thing about streaming is that once a song has peaked, you can be relatively comfortable in predicting how much money that song is going to make in the next 18 to 24 months," Desai said, adding this is how the company will decide which artists to fund.
Shrikanth Narayanan, an AI researcher and university professor of computer and electrical engineering at USC, said AI has the potential to democratize and make the music industry more equitable.
"Personalized experiences are something that AI strives to do in a way that could be very inclusive and equitable," Narayanan said. He added that AI has "a promising potential to empower the music industry" and could "actually enhance and make it even better."
There is a potential the AI could be wrong -- something Desai and investors say they expect. It's possible Snafu could give an artist an advance and never see a return, one or two big hits could make up for it.
Narayanan said that Snafu's AI could have its work cut out for it in calibrating its selection process.
"Naturally there's going to be a lot of variability across people, and so that while we can understand that and study it, this may certainly be a challenge that AI tools will face," Narayanan said. "They have to see enough patterns to understand the range of emotions or things a particular piece of music is conveying (to) or connecting with listeners."