Music Tech
Browse the latest news about Southern California's music technology startups and scene from dot.LA.
Social media has made it easier for musicians and producers to get discovered, but they still have to impress the industry's gatekeepers to make it big -- and those executives are typically white men swayed by their own biases, whether they intend it or not.

A June report from USC's Annenberg Institute found 86% of the music industry's top executives are white and male, and under 20% of executives at the level of vice president or higher are from minority groups.
Little surprise, then, that Snafu Records founder Ankit Desai believes the music industry is overdue for a change in how it discovers, promotes and scales artists' careers — and he's using artificial intelligence to do just that.
Snafu, which launched in 2018, raised a $6 million funding round on Sept. 21 to fine-tune its AI discovery platform. With offices in Los Angeles and Sweden, Snafu will soon launch two new products -- Blurry, a platform for songwriters to find collaborators, and Fine.Art, a system that lets Snafu and its artists co-invest in funding a breakout artist's career.
Desai said the company's revenue mainly comes from taking a cut of the rights to an artist's work after they sign. Snafu has a roster of 45 artists.
Snafu uses AI to scan a million new songs per week and analyze factors that could determine the artist's success -- including song structure, overall popularity and how listeners are talking about them on social media. Right now the platform focuses on Spotify, YouTube and TikTok, but Desai said Snafu's looking to include other audio streaming platforms like SoundCloud and Bandcamp soon.
The company brought in a number of high-profile investors in the round, including Agnetha Fältskog, lead singer of Swedish superband ABBA; Hampus Monthan Nordenskjöld, who was one of the first investors in Snafu; andAcademy Award-winning songwriter Savan Kotecha.
"I'm proud to be part of what (Desai) is creating, which is not just an algorithm trying to find hits, but it's actually quite a lot bigger than that," Nordenskjöld said. "We're trying to change music from the ground up, and I think we're gonna make a solid attempt."
When it launches, Blurry will use AI to match producers and artists looking to collaborate. Desai described it like a "Tinder for musicians," where people match based on short music samples and then their identities are revealed to one another after they agree to collaborate.
The Fine.Art service will help up-and-coming artists identified by Snafu's algorithm as potential stars get advanced funding to start their projects. Desai said the AI will pinpoint potential hits and then Snafu will offer existing artists the chance to invest in an emerging artist's success.
"The good thing about streaming is that once a song has peaked, you can be relatively comfortable in predicting how much money that song is going to make in the next 18 to 24 months," Desai said, adding this is how the company will decide which artists to fund.
Shrikanth Narayanan, an AI researcher and university professor of computer and electrical engineering at USC, said AI has the potential to democratize and make the music industry more equitable.
"Personalized experiences are something that AI strives to do in a way that could be very inclusive and equitable," Narayanan said. He added that AI has "a promising potential to empower the music industry" and could "actually enhance and make it even better."
There is a potential the AI could be wrong -- something Desai and investors say they expect. It's possible Snafu could give an artist an advance and never see a return, one or two big hits could make up for it.
Narayanan said that Snafu's AI could have its work cut out for it in calibrating its selection process.
"Naturally there's going to be a lot of variability across people, and so that while we can understand that and study it, this may certainly be a challenge that AI tools will face," Narayanan said. "They have to see enough patterns to understand the range of emotions or things a particular piece of music is conveying (to) or connecting with listeners."
Designed with TikTok creators and amateur musicians in mind, Mayk.it wants to let you make music -- all on your phone.

The Los Angeles-based company is hoping to be part of the growing creator app space that is reshaping the relationship between traditional studios and aspiring artists. Mayk.it announced Tuesday it raised $4 million in a round of seed funding to expand its user base and develop more tools.
The T-Pain-backed music app allows users to find beats made by other users and sing over them to create their own music, meant to mirror a recording studio-like experience.
Other music-creating apps like Apple's Garageband and Soundtrap Studio also let users create and share beats and songs. But Mayk.it is intended to be simpler. It doesn't require users to make their own beats and doesn't come with the various tools found on other apps.
"There's a lot of sound waves, and faders and buttons and words that you have no idea what they mean," said Stefan Henriquez, the co-founder and CEO of the company. "And it's very, very complicated."
The app launched on the Apple App Store on a waitlist basis Tuesday after testing to a beta community of around 300 users.
Henriquez got the idea for the app at the start of the COVID-19 pandemic after he tried to start creating music, but found that most apps were complicated and difficult for amateur musicians like himself.
"If you really want to say something and you have a message and you're a good storyteller, there really shouldn't be any technical hurdles for you to express yourself with a song," said Henriquez, a former marketing head at TikTok. "And that's what we do with the app."
The app also isn't just limited to amateurs. Some artists have used the app as a way to quickly jot down ideas for music or to experiment with different types of music, he said. The app also lets artists avoid relying on music studios, which can be limited in capacity and costly to rent.
Ownership of music created on the app is split between the singer and the beat creator. The app is also setting up partnerships to help creators distribute their music, though Henriquez declined to share details.
The round of seed funding was led by Greycroft, Chicago Ventures, Slow Ventures and firstminute and included rapper T-Pain, former Spotify executive Sophia Bendz and YouTuber Mr. Beasts' Night media.
Henriquez said he's hoping the app helps decentralize music creation for a broader audience.
"Lots of content creators want to be 360 creators and want to be fully independent and do everything themselves," he said. "Having another creative (music) tool really, I think is probably the last dimension that was missing."
Correction: A previous version of the story misstated the number of beta users. It is 300.
Related Articles Around the Web
Moment House is a livestreaming platform that's gained traction building an audience among music fans, but CEO and co-founder Arjun Mehta doesn't see it as just another livestreaming platform.
Like the name suggests, Mehta is trying to mold the platform to create "moments" for creators and their megafans.
The platform's interactive features allow viewers to chat with performers and other fans live. And it's got some big name creators onboard, including rock band Tame Impala, Youtube star KSI and Tiny Meat Gang podcast hosts Cody Ko and Noel Miller, along with other podcasters to musicians.
"The creators that we love the most, we don't want to only receive content, we want to participate in experiences," he said. "The reason why is the same underlying psychology of why you get thrilled when your favorite artist has your city on their tour announcement, the same reason why, if you're a Christopher Nolan superfan, you want to see his next movie in theaters and not on HBO Max at home."
The Los Angeles-based startup announced Thursday that it raised $12 million in a round of Series A funding led by Forerunner Ventures.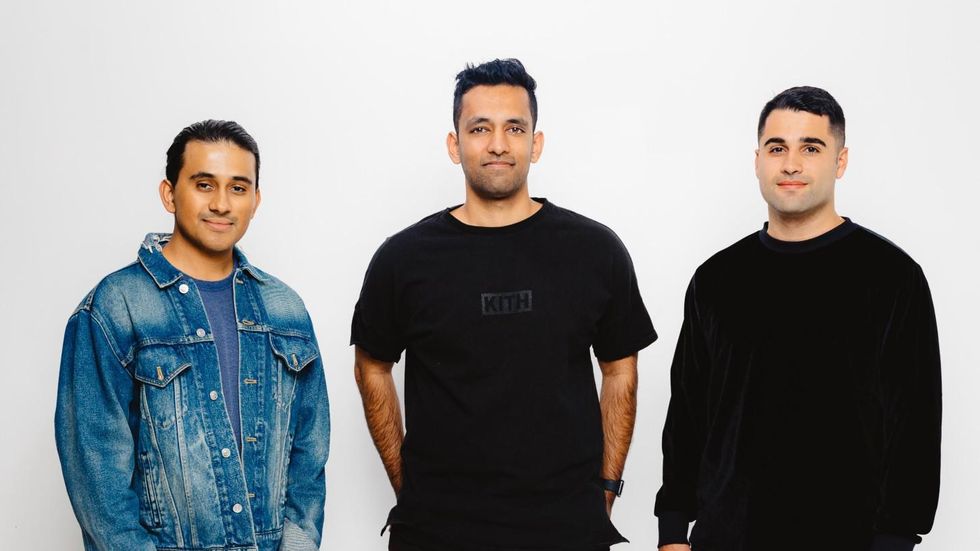 Moment House co-founders Arjun Mehta, Shray Bansal and Nigel Egrari
Moment House's platform allows creators to host pay-per view livestreams. The broadcasts aren't always live — some of the content is pre-recorded — but Moment House doesn't save recordings of streams and tickets can be limited in quantity, Mehta said.

Mehta declined to disclose specific details on revenue and viewership numbers, but said its highest performing streams have grossed several million dollars and peaked at hundreds of thousands of viewers.
It's targeted to fans of both small and large creators. But performances aren't always meant for everyone. The cost of entry acts and limited ticketing can act as a "filter" for the most dedicated fans, said Mehta.
"You're not gonna want this for everyone," he said. "It's only the creators you truly truly love."
The platform has features like smaller breakout chatrooms based on location or sub interest and Clubhouse-like call rooms where users can talk during streams — beyond the chatting features offered on established platforms such as Twitch or YouTube.
"When you think of a livestream, you think of literally a livestream with a text chat – not much innovation is happening," he said.
Creators can also use the platform to sell merchandise during streams. Moment House is also developing other tools to help fans connect once performances are over, though Mehta declined to comment on specifics.
The platform is so far only based on desktop. Moment House's Series A funding included UTA Ventures, IDEO, Dumb Money Capital, as well as former and current executives from Spotify, YouTube, Clubhouse and Discord.
Moment House, Mehta said, isn't trying to replace physical experiences, but rather give creators better tools to reach audiences they otherwise couldn't.
"Physical experiences are obviously amazing, we love them, we're not trying to compete with them or replace them at all," he said. "That being said, physical experiences alone are not enough."
"The problem is that fans are everywhere and creators can't go everywhere," he said. "And so the way we see it is that you need to have a hybrid approach as a creator in this modern world."
From Your Site Articles
Related Articles Around the Web