sportstech
Those lucky enough to be in attendance will not only get to see the boys in blue in the flesh for the first time since they won the World Series last year, but they will also get to experience a stadium significantly updated for the digital era.
The improvements include a revamped $100 million centerfield plaza featuring food, entertainment and play areas for kids and a host of less-visible tech upgrades, including blazing-fast 5G wireless connectivity and an improved point-of-sale system allowing fans to order food and drinks without having to wait in line.
The enhancements were originally scheduled to coincide with the Dodgers hosting the 2020 All-Star game, which they have now been awarded for 2022.
Anyone who has ever tried to text or browse Instagram during a game – Dodger Stadium has the distinction of being one of the most Instagrammed places on Earth – will appreciate the wireless updates. The team installed over 1,000 5G access points and will be the first MLB team to feature next-generation Wi-Fi 6.
The team also installed new point-of-sale cloud software from Appetize, a Los Angeles startup founded in 2011 that went through the 2016 Dodgers accelerator, and is already used at Yankee Stadium and Fenway Park.
"The three of us co-founders are our massive Dodgers fans, and to have the Dodgers, to us, is that trifecta of having the three biggest brands in baseball," said Kevin Anderson, Appetize's co-founder and chief strategy officer.
As part of the switch to Appetize, the stadium hawkers who roam the aisles of Dodger Stadium selling cotton candy and peanuts will now carry handheld devices, which means the days of handing crumpled up bills down your row and hoping you get handed back change are over. All the hawkers will now accept credit cards.
The new system will also allow fans to use Postmates to preorder stadium food so they do not have to wait in line for Dodger Dogs, expanding a program the team piloted last year in the upper decks.
"Postmates is a big deal because every venue has always tried to do mobile ordering but I've never heard of it being successful," said Esquibel.
For baseball purists or even more casual fans, the idea of people spending more time staring at their phones rather than being engaged in the game may not sound so appealing. A growing number of concerts and comedy shows have banned smartphones. There is also a much more serious problem of fans distracted by phones getting seriously injured after being hit by foul balls. But MLB — whose average fan is 53 years old — wants to stay relevant and appeal to a younger audience.
"I feel the romance of Dodger Stadium," said Esquibel, who grew up near the ballpark. "There is a lot of history, but at the same time we want to evolve and keep up with technology."
Esquibel also believes that, far from taking fans out of the game, technology will bring them closer to it because they can track advanced analytics and play fantasy on their smartphones. The next logical step: Fans will someday be able to make in-game bets, as is already commonplace in the U.K. and Europe.
"It could be very exciting," said Esquibel. "Wagering is coming."
Already MLB has been encouraging fans to bet on games and plays to win contests that offer cash prizes, though the league is careful to point out it does not yet allow actual betting.
In order to prevent fans from congregating, some of the new areas will initially be shut off to fans, but the Dodgers hope that will be short lived and their refreshed stadium can soon operate in its full glory.
"The fans that will be coming here on Friday will be able to walk through here and get to their seats, but most of the areas will still be closed off to fans," Dodgers President Stan Kasten told members of the media this week. "We're hoping some time between May 1 and June 15, according to the governor, we should be open 100%. That's the day we're all looking for."
A version of this story originally ran July 23rd and was updated April 9th.
Things are moving rapidly these days in startupland, particularly in the suddenly crowded red-hot audio space.

Just six months ago, Betty Labs pivoted for a third time – from sports gambling to live audio – and the third time proved to be the charm, as Spotify announced Tuesday it was buying the Los Angeles company for an undisclosed sum.
Betty Labs' Locker Room app is often likened to a sports version of Clubhouse, the much-hyped live audio app that has hosted conversations with the likes of Elon Musk and Bill Gates. But Betty Labs co-founder and CEO, Howard Akumiah, says he actually first saw the appeal of audio conversations after he realized users were more interested in talking to each other than wagering on games.

"The major thing we learned building products around sports betting is that the most important thing you can do for sports fans is facilitate communication between them," Akumiah told dot.LA in a wide-ranging interview before the sale was announced.
Still, he does not deny Clubhouse, which recently raised new funding led by Andreeson Horowitz at an eye-popping $1 billion valuation, has been helpful.

"We're building a product in a hot market," Akumiah said.
He admits people being cooped up inside all day unable to go to sports bars — much less games themselves — has also been beneficial, but he does not think Locker Room's appeal will diminish when life returns to normal.

"People want to talk regardless of whether it is pandemic or post pandemic," Akumiah said. "I think that will continue to be true."
Akumiah started Betty Labs in San Francisco in 2018, when he was still a product manager at Pinterest, as a way to make sports wagering more accessible to a wider audience, hence the name Betty Labs.
"Betty was a personified sportsbook," Akumiah said. "The idea was that you could text this number and Betty would text you back to make bets that were related to what was happening in the game that you were watching live."
Akumiah, who was the one texting people back, soon started getting more action than he could handle.
"I went from hacking this fun thing during the NBA playoffs to basically being an illegal bookie with 500 people on my book," Akumiah remembers. "So I quit my job, shut the product down and I raised a little bit of money to start exploring what was possible."
Akumiah moved to Los Angeles and began hiring.
Betty Labs co-founder and CEO Howard Akumiah
"I moved to L.A. to get closer to the people who would ultimately use the products that we built," Akumiah said. "When I was talking to people about what I was wanting to build in San Francisco, I was met with a lot of confusion."
Betty Labs launched an app called Sideline in 2019, which offered live in-game predictions for sports betting. The predictions aspect did not take off but the social features did.
"People were coming to the Sideline app to talk to other fans about games that they were watching on television," Akumiah said. "If we wanted to take it to the next level, we needed to add audio because we needed to create a medium that is endemic to sports like sports talk radio and podcasting," Akumiah said.
The company raised a $9.3 million seed round last October, with backing from Precursor Ventures, Chapter One Ventures, Maveron, Amazon Alexa Fund, Lightspeed Venture Partners, MaC Venture Capital, and M13. NBA stars Kevin Durant, Andre Iguodala, Baron Davis also participated in the round.
The same month, Betty Labs released Locker Room so users could talk to each before, during or after games. And in this case, talking is what users really wanted to do, a throwback to a time before online chatting, texting or e-mailing.
"I think of the growth in audio not from the consumption side, but actually from the creation side," Akumiah said. "The average person is realizing that they don't have to prepare any materials. They don't have to convert their thoughts to type. They don't have to create a video. They can just begin speaking what's on their mind."
It's not just fans talking to each other. Andre Iguodala and Indiana Pacers center Myles Turner have hosted live Q&As. Mark Stein, the well-sourced New York Times NBA writer, signed a deal with Locker Room last month.
"Instead of doing a podcast, he's going to do regular rooms on Locker Room where answers people's questions about the league and shares his insights," Akumiah said.
Spotify's acquisition is not only a large shift for Betty Labs, but also for the Swedish audio giant. It's Spotify's first major foray into live audio. Interestingly, the company said it plans to soon expand Locker Room well beyond sports to offer conversations focused on music and cultural programming.
"Creators and fans have been asking for live formats on Spotify, and we're excited that soon, we'll make them available to hundreds of millions of listeners and millions of creators on our platform," Gustav Söderström, Spotify's Chief Research & Development Officer said in a statement.
Akumiah added this is an email Tuesday: "Joining Spotify unlocks the ability to grow quickly and deliver that same platform and experience to other communities of passionate fans, whether they want to talk about music, culture or sports."
Spotify is not alone trying to take on Clubhouse. Twitter recently launched a live audio feature, Spaces, and Facebook is reportedly at work on a similar function.
From Your Site Articles
Related Articles Around the Web
Ali Marler and her brother-in-law Peter Marler found themselves in a pro golf shop, intimidated and out of place as they tested their swings, feeling as though they were being judged by staff and more experienced golfers in the store.
"For a golf novice, it is the scariest place you'll ever step foot into," Ali said.
For Peter, there were hundreds of clubs to choose from, while Ali was directed to a back corner that had only a few options of pink and purple clubs, one named "Azalea."
"I felt so put into this bucket of 'you're a girl, here's what you golf with and this is all you get'," she said.
It was the beginning of a business venture dedicated to creating a direct-to-consumer golf club company with an eye on increasing diversity in the mostly white male sport that drives the $84 billion industry.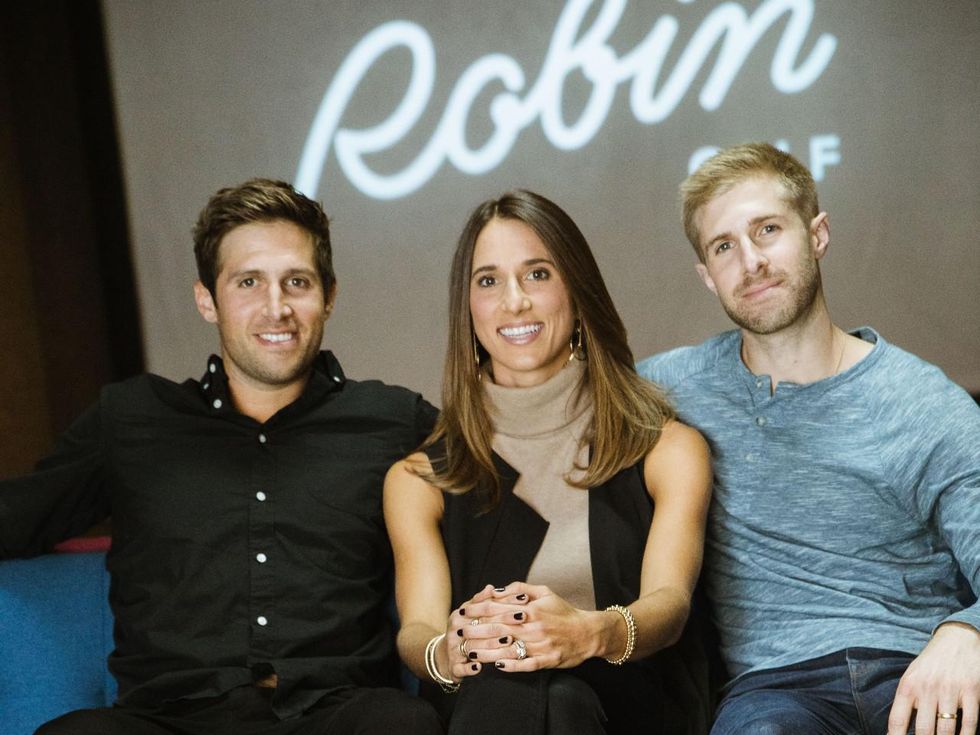 Robin Golf co-founders Andrew Marler, Ali Marler and Peter Marler.Courtesy of Robin Golf
They teamed up with Ali's husband and Peter's brother, Andrew Marler, a more experienced golfer who played in college, and launched a Kickstarter campaign in 2019 that raised $32,000. Robin Golf went online in March.
Then a global pandemic effectively halted the economy. The Marlers worried about the viability of the company.
"What we didn't realize is come May — once golf courses were deemed socially distanced approved — the golf industry would have its record year in its 1,000 year history," Andrew said.
Golf playing was up almost 100%, golf equipment sales were up 30% and there has been a record number of new golfers entering the sport, even more than when Tiger Woods became a professional, he said.

Those new golfers needed clubs. They sold out their inventory in two months and saw a 900% increase in sales from April to May.
And they've raised $1 million through angel investors, including dot.LA co-founder Spencer Rascoff, recently turning down a term sheet from an institutional venture capitalist. The company said ultimately their "visions were misaligned," and that they're not focused on the hyper growth approach the VC was looking for.
Driven by how Ali and Peter felt at the golf shop that day, the L.A.-based ecommerce startup has marketed its clubs to beginners, women and a diverse and inclusive audience to make it easier to enter the golf world, typically dominated by affluent, white men.
The fastest selling club is the female set. Of Robin's customers, 45% are women or kids. Those groups make up just 5% of sales industrywide.
While the major golf equipment companies, such as Callaway or TaylorMade, are targeting the 7 million avid or skilled golfers in the U.S., Robin Golf is marketing to the 27 million casual or beginner golfers, Andrew said.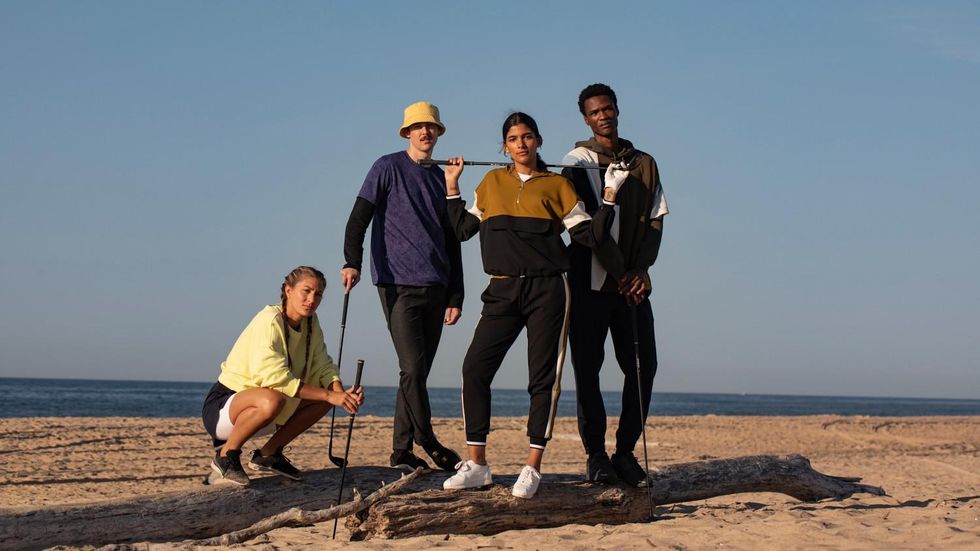 For an example of just how intolerant golf can be, Peter pointed to pro golfer Justin Thomas' recent use of an anti-gay slur under his breath when he missed a putt at a tournament.

"Golf has a long way to go in terms of embracing diversity," Peter said.
He also recalled how he and Andrew were playing with a "major golf influencer," when Peter mentioned his husband in conversation.
The golfer said, "Oh, I'm sorry I didn't realize gay people golfed," Peter said.
"It's very personal to us in terms of creating sort of new communities, new accessibilities for people who previously felt as though golf was not for them," he said.
Lane Demas, a history professor at Central Michigan University and the author of "Game of Privilege: An African American History of Golf," said, there are "many barriers to expanding golf participation."
Among them: Many neighborhoods don't have golf courses nearby, while urban golf courses often charge high green fees and there is a lack of golf programs in K-12 schools that serve predominantly non-white students, Demas said.
Often, the golf tradition is passed down by family members, making it harder for novices to enter the sport, he added.
And while Robin Golf clubs are not as well-known as some of the bigger brands, they are much cheaper. The clubs are sold as a set rather than individually. The men's and women's set cost $699 each. A junior set sells for $259.
Cognizant that people may be hesitant to buy clubs online, Robin has a generous return policy, giving customers 90 days to test out their clubs. They describe the business model as the Warby Parker or Casper mattresses for golf, a direct-to-consumer business with products sold online. They've found that many millennials prefer to buy things online and golf clubs are no different.
This year, Robin Golf wants to expand into selling golf balls and accessories as well as apparel, allowing first-time golfers to purchase everything they need before they step onto the links.
These days on the course, Peter feels less intimidated and Ali now enjoys the game on vacation — with three rules: Always have a drink in hand, it's okay to stop if you're frustrated and remember that no one else is looking at you.
Related Articles Around the Web