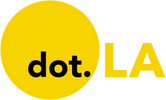 Get in the KNOW
on LA Startups & Tech
X
Food Tech
Browse the latest news about food technology and food and beverage startups in Southern California from dot.LA.
Image courtesy of Plenty
This is the web version of dot.LA's daily newsletter. Sign up to get the latest news on Southern California's tech, startup and venture capital scene.
With Southern California's drought reaching emergency levels, water restrictions are cropping up across the region. The Metropolitan Water District of Southern California is demanding that local agencies reduce consumption by 35% and limit outdoor watering to one day a week in parts of Los Angeles, San Bernardino, and Ventura counties. That adds to a recent executive order by Gov. Gavin Newsom, who declared that the state's Water Board must consider a ban on the watering of decorative grasses around commercial, industrial, and institutional areas.

Simply put, Southern Californians must find a way to make due with 80 gallons of water per person per day (the average SoCal resident currently uses somewhere between 100 to 125 gallons of water per day). And if we can't curb our water usage, stricter cuts—including a ban on all outdoor irrigation—could come down as early as September.
But while restrictions aimed at residential water use are important and will be vital to surviving the drought, the fact is that "urban" water usage is a drop in the bucket compared to agriculture, which consumes four times as much H2O in California.
Seeing how this is a tech website, maybe you can guess where I'm going with all this: Is there a technological solution for growing plants with less water? Yes, there is.
Vertical farming is picking up real steam in Southern California. As the name suggests, the technique revolves around growing crops vertically, often forgoing soil in favor of a hydroponic system where roots dangle in a mixture of water and nutrients. This reduces the geographic footprint of a farm substantially, and its water consumption, too. Because there's no runoff, water waste is dramatically reduced compared to traditional farms—with some setups able to grow an equivalent amount of crops with up to 95% less of the wet stuff.
In Los Angeles, the big name in vertical farming is Plenty, which we've covered in the past. The San Francisco-based unicorn is currently growing a host of leafy greens in a building in the middle of Compton, and plans to further scale with the help of a $400 million Series E funding round it raised in January.
In addition to taking up less water and land, vertical farming also brings fresh produce closer to end consumers. Because vertical farms can be placed in dense urban areas and grow produce year-round in a climate-controlled environment, they significantly cut down on the carbon emissions required to ship fruits and vegetables to their end destinations.
Of course, there are limitations to what types of crops can be grown on a vertical farm. So far, the technology has only really been successfully applied at scale to leafy greens, herbs, and a few types of berries. That won't do much to help California reduce the water needed to grow staple crops like grapes, almonds, oranges and walnuts—but then again, the technology is still relatively young.
There's a strange logical fallacy that people often fall victim to when discussing environmental efforts. It goes something like: "This isn't the biggest issue, so we shouldn't focus our efforts here." Is banning plastic straws going to clean up the Great Pacific Garbage Patch? No. Would eating less red meat eliminate global CO2 emissions? No. Is vertical farming going to solve Southern California's drought? No.
But solving the climate crisis requires a million tiny victories like these, which help us progress to where we need to be. The gains from embracing vertical farming alone won't mean anything if we don't make a drastic shift toward renewable energy sources, zero-emission vehicles and other sustainable solutions—but that doesn't mean they don't matter. — David Shultz

Courtesy of Miso Robotics
The next time you're having late night cravings and find yourself at a Jack in the Box, there's a chance you're munching on burgers and fries made by robots.
The San Diego-based fast food chain is partnering with Miso Robotics, the food tech startup responsible for the burger-flipping robot known as Flippy. After recently teaming up with Panera Bread to install its CookRight Coffee system and with Chipotle on an automated tortilla chip-maker, the Pasadena-based company announced Tuesday it would be sending an upgraded version of its signature burger-flipping droid, the aptly named Flippy 2, to a Jack in the Box location in San Diego in the next several weeks.
Flippy first entered the market in 2017. Miso initially charged burger chain White Castle $60,000 to install the first machines at its locations—an arm and a leg for a bulky robot equipped with a robotic arm that could slap patties onto a grill.
Five years later, the startup's efforts to scale the technology have brought down its cost down to $3,000 per month. Today's Flippy 2 features a much sleeker design that takes up considerably less kitchen space. No longer content as a mere burger flipper, the upgraded Flippy has been designed to maneuver Jack in the Box's proprietary fry baskets to cook everything from taco shells to fish filets to curly fries—freeing up employees to handle customers or prep other items.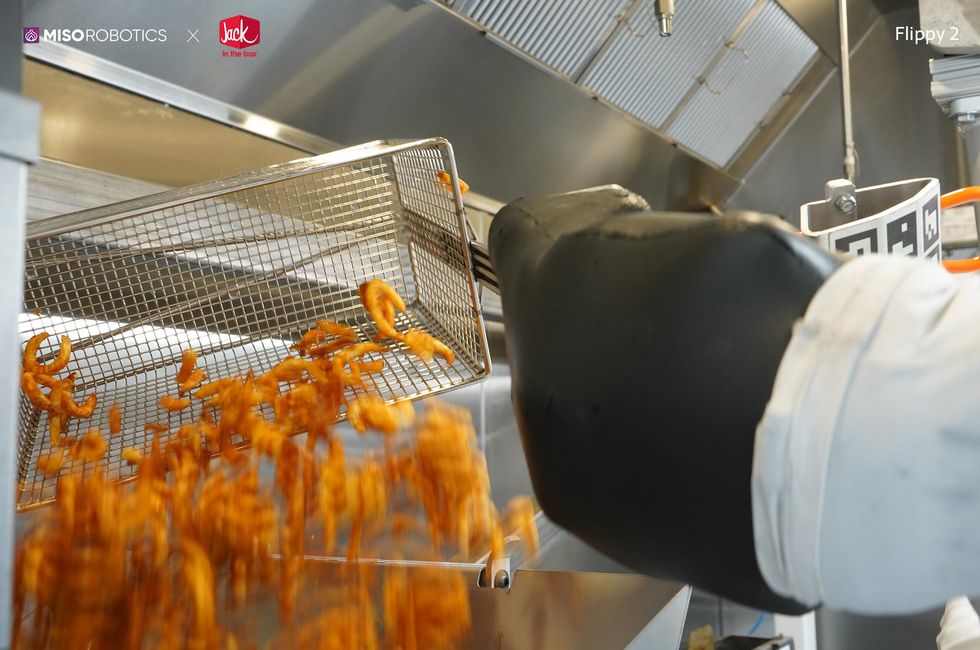 Flippy 2 cooking Jack in the Box curly fries. Courtesy of Miso Robotics
There are dozens of Flippy robotic arms currently making burgers, with the early adopters including CaliBurger and Dodgers Stadium. Earlier this year, White Castle announced it would install Flippy 2 robots at 100 locations across the country.
But unlike White Castle, Jack in the Box serves a wide variety of menu items, from tacos to chicken tenders, that require more than just a spatula to finish the job—presenting Miso with a "a new challenge," Jake Brewer, the startup's chief strategy officer, told dot.LA.
"A taco shell…that's more delicate than a chicken nugget or french fry. So we were able to adapt Flippy to be able to accept those items," Brewer said.
Once a food item is placed before Flippy, the robot's AI-enabled camera will identify the food, pick it up, cook it in the correct fry basket and safely place it into a holding area. Brewer said the company was already developing add-ons allowing the attachment of specialty baskets to the robot, but when the request came in from Jack in the Box, the process was accelerated.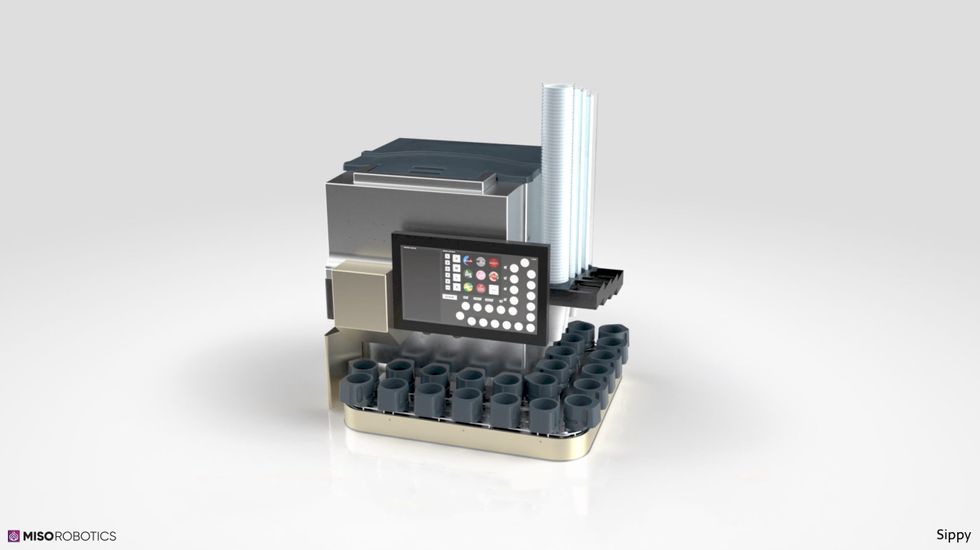 Sippy, Miso's automatic drink dispenser and sealer that will roll out at the end of the year.Courtesy of Miso Robotics
Miso is currently putting the finishing touches on Sippy, an automatic beverage dispenser and sealer that will be joining Flippy 2 at the Jack in the Box in San Diego by the end of this year. The startup is currently in the process of raising a Series E funding round, having set an initial target of $40 million.
Unsplash
This is the web version of dot.LA's daily newsletter. Sign up to get the latest news on Southern California's tech, startup and venture capital scene.
How do we save restaurants?

As the food industry continues to battle supply chain bottlenecks, labor issues, razor-thin margins and the rise of delivery apps, the answer may lie in real estate. Even before the pandemic, in a 2019 report, the National Restaurant Association noted that the coming years would see a gradual trend away from in-person dining as delivery becomes more popular.
"Convenience will be a huge priority and consumers will appreciate all the options offered by restaurants…but they won't always be eating at the restaurant," the report said. "Dining away from the restaurant will grow in importance."
The pandemic has only accelerated this trend, which has seen the industry morph via new models like ghost kitchens that eliminate the need for servers, cashiers and seating space with delivery-only options. (The most notable company in this space is CloudKitchens, an L.A.-based ghost kitchen startup launched by former Uber CEO Travis Kalanick.) Ghost kitchens phase-out overhead expenses like kitchen certifications and licensing fees; as a "restaurant" owner, you don't need a lengthy lease to operate—just pay for the space you use as needed.
Earlier this week, Chipotle announced a $50 million venture fund that will invest in early-stage food tech startups that, according to Chipotle chief technology officer Curt Garner, will "enhance our employee and guest experience, and quite possibly revolutionize the restaurant industry."
The Newport Beach-based Mexican fast-food chain is already incubating at least one of these technologies at its innovation center in Irvine: an AI-enabled robot called "Chippy," developed in conjunction with Pasadena-based Miso Robotics, which promises to replicate the "subtle variations in flavor" of Chipotle's tortilla chips so as to not "lose the humanity behind our culinary experience."
But robots like "Chippy" also cut down on the square footage usually occupied by kitchen workers and their food preparation stations. Piestro, another local food tech enterprise, condenses an entire pizza kitchen into a compact vending machine. Piestro is backed by Wavemaker Labs, a Santa Monica food tech incubator that funded "Chippy," as well as the autonomous bubble tea maker Bobacino.
This kind of technology offers restaurant operators the chance to cut costs at a time when they can use all the help they can get. It also threatens to automate a lot of human labor—which, of course, means eliminating jobs. And so you've got to ask yourself: Without cooks, servers and dining rooms, what remains of the restaurant industry to save? — Keerthi Vedantam