Food Tech
Browse the latest news about food technology and food and beverage startups in Southern California from dot.LA.
Los Angeles startup PeaTos brands its products as an alternative to "junk food" like Cheetos and it just nabbed a former executive from competitor Frito-Lay, maker of the neon orange puffy chip.
David Johnson, a 19-year veteran of Pepsico's Frito-Lay brand, was named chief growth officer of the Westchester-based brand.
As the startup's first CGO, Johnson will focus on driving retail sales and developing a greater presence in foodservice. The appointment comes after Peatos raised $12.5 million in February from Post Holdings, Inc., known for its hand in building out cereal brands like Honey Bunches of Oats. That came just four months after the company raised a $7 million Series A round.
The snack food brand, which is sold online and at retail outlets, has also picked up a steady stream of online subscribers for its fiber and protein-dense chips. In February, PeaTos CEO Nick Desai told dot.LA that the company grew 50% from 2019 to 2020 and expects 100% growth this year.
The flavored crunchy curls and rings are sold in 4,700 retailers including Vons, Albertsons Safeway, Sprouts and Kroger.
"It will be my pleasure to help ensure that all consumers have a choice of PeaTos while shopping their favorite retailers," Johnson said in a statement.
Johnson most recently served as chief executive of beeline North America, a fashion accessory supplier. His last post at Pepsico was as an executive on the Stacy's Pita Chips team.
From Your Site Articles
Related Articles Around the Web
Stephanie Wilson is familiar with stress and exhaustion. The 30-year-old entrepreneur is also a full-time night nurse who spends much of her free time working on her fledgling company.
The idea for her startup came from her experience in health care, where workers are worn down after long days and nights, especially during the global pandemic.
"I've always had a hard time staying hydrated," she said "I know my co-workers have a hard time with that as well and I hated plain water."
Wilson saw an opportunity. She canvassed her colleagues and came up with Tiki Bev, a liquid enhancer aimed at frontline workers — and anyone who needs a boost. The startup soft-launched in October 2020, aiming to be the healthy, eco-conscious alternative to liquid water enhancers.
"Everyone needs an immunity boost. You know, as nurses, we never get enough sleep. And we always need more energy," she said.
Even with the pandemic, the global market for water enhancers was valued at $2.6 billion in 2020 by marketing analytics firm Research and Markets, which estimated that would grow $6 billion by 2027, as consumers focus on health-conscious and low-calorie beverages. Kraft and Dyla are big competitors in the space with products such as health-focused Stur and MiO, which advertises itself as a way to turn water into a "flavor-packed vessel of motivation."
Wilson said the more she started to look more into the big product names and common ingredients in many enhancers, the more she realized how bad some of them are for you. Aspartame, sucralose and polyethylene glycol are common in many products, she said. They're also entirely artificial.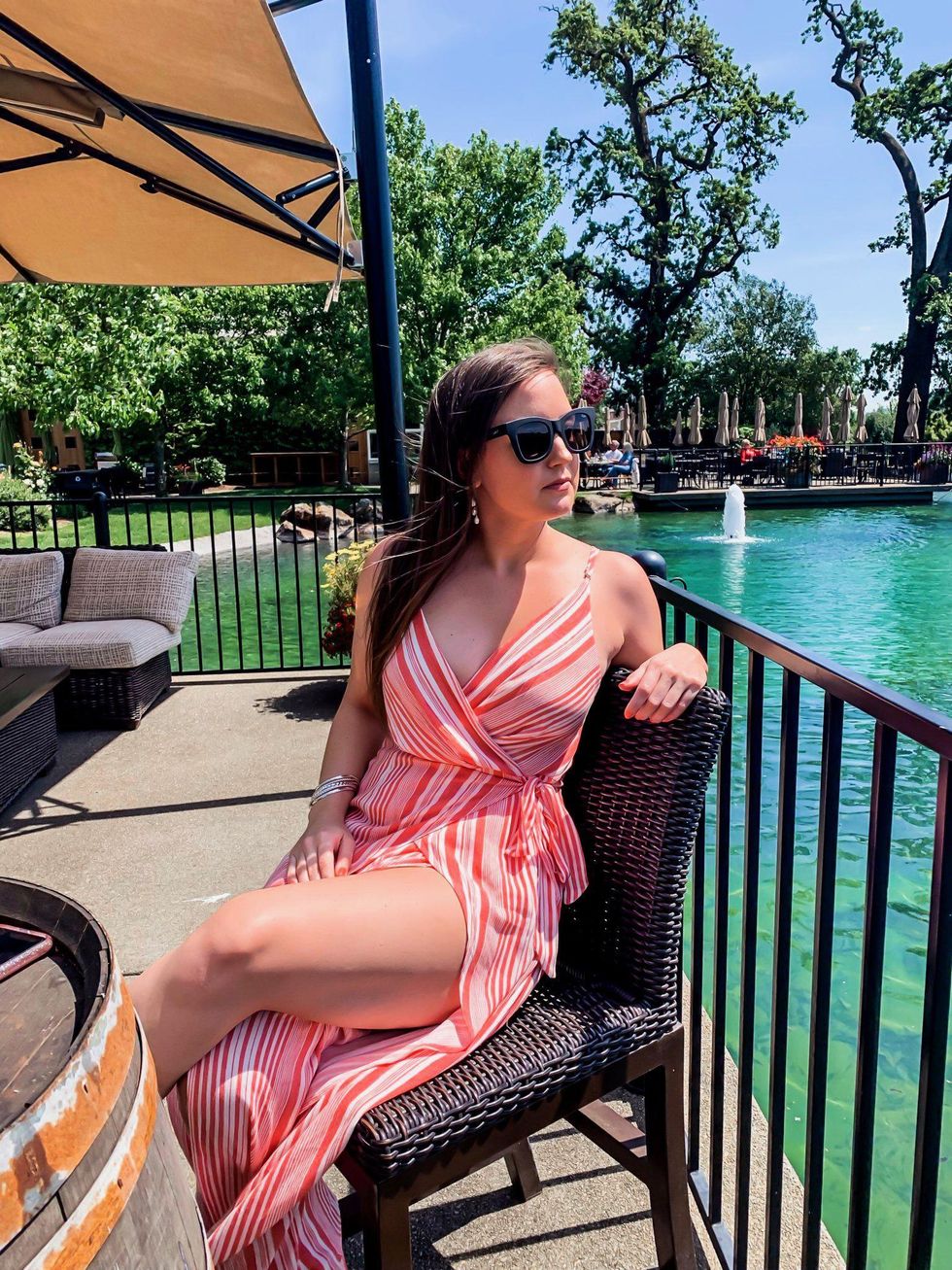 Tiki Bev founder Stephanie Wilson
"A couple of these ingredients in the certain liquid enhancers are found in, like, paint thinners," Wilson said. Instead, she aims to make Tiki Bev the natural, health-conscious competition. The company uses stevia and promotes immunity, energy and sleep, she said.
At the moment, Tiki has one product available, a Vitamin C, orange flavor immunity booster. Two more — a passion fruit formula for boosting energy and a pear flavor enhancer to help consumers sleep — there's no exact launch date for those products, but Wilson wants to everyone keep an eye out.
Wilson thought of running Tiki Bev back in her native Ohio, but decided instead to stay in Los Angeles because of the city's proximity to the beach and its focus on healthy living and environmentalism — all of which she sees as key to Tiki's brand.
In February, Wilson found her way onto Amazon's "Two Minute Pitch" show, a competition show hosted by serial entrepreneur David Meltzer on which founders pitch their companies in order to win exposure and cash.
Tiki Bev won the $50,000 prize, which has helped get their product back into production after some investors backed down from their pre-seed funding round.

"It's great to say that you were on a competition show. David Meltzer is a big name and business," Wilson said, "It helps kind of show credibility that we were able to do that and bring home a win for such a small company, especially when we were competing against other big names, people that have been in business much longer than us."
Wilson was able to land a spot on Manos, a Google-backed accelerator aimed at Latino and Latina entrepreneurs, where she got some help learning how to start a business, structure the company and find investors.
Ultimately she wants to distribute the product in a biodegradable bottle and focus on becoming a full-time entrepreneur and solve the problem of her original customers.
"Nursing is a stressful job and if Tiki can help boost your vitamin intake to help you stay healthy, keep you energized, or help you fall asleep after a stressful shift, we have done our job."
On today's episode of the Behind Her Empire podcast, we hear from Laureen Asseo, founder and CEO of Fresh n' Lean, one of the largest organic prepared meal delivery service in the United States.
While studying at the Fashion Institute of Design and Merchandising, her father faced serious health problems. Galvanized to help him reverse the damage of years of poor eating habits and inactivity, she founded Fresh n' Lean out of her one-bedroom apartment, at 18 years old.
Talking business was commonplace growing up, and she says her parents were extremely supportive of her endeavor. Of her dad, a serial entrepreneur, she said, "He's my number one fan, always pushing me to do what I want to follow my dreams. And that was really instilled for me at a young age. So that was a super powerful, especially being a woman and being young...."
As she cooked for him, she formulated a business plan. Her goal was to make eating well incredibly easy for people who lack the time or desire to prepare healthy meals. She spent her twenties grinding, while her friends were partying and says "personally now I look back at my life and I'm like, oh my gosh, eleven years went by so fast. And like my whole twenties,...I didn't get to experience a lot....I think that everyone just...chooses the path to go down."
The business grew rapidly and over the past three years, and Laureen says Fresh n' Lean has recorded revenue growth of more than 500%, has a team of 400 employees and is generating over $100 million in revenue without any outside funding.
Hear what Laureen says it takes to build a business as a young woman in an industry largely dominated by men, how she dealt with the many naysayers who thought her idea was impossible and the biggest lessons she's learned over the past decade running her company.
"If I could go back in time, I would tell myself...don't be so hard on yourself and don't...listen so much to what people are saying or wanting to please everybody or just being in that emotional state because it only negatively impacts yourself and...your ability to process properly or to make a decision." -- Laureen Asseo
Laureen Asseo is under 30 years old and the founder and CEO of Fresh n' Lean.