Illustration by Ian Hurley
What Are LA's Hottest Startups of 2022? See Who VCs Picked in dot.LA's Annual Survey
Harri Weber
Harri is dot.LA's senior finance reporter. She previously worked for Gizmodo, Fast Company, VentureBeat and Flipboard. Find her on Twitter and send tips on L.A. startups and venture capital to harrison@dot.la.
05:00 AM | January 31, 2022
In Los Angeles—like the startup environment at large—venture funding and valuations skyrocketed in 2021, even as the coronavirus pandemic continued to surge and supply chain issues rattled the economy. The result was a startup ecosystem that continued to build on its momentum, with no shortage of companies raising private capital at billion-dollar-plus unicorn valuations.

---
In order to gauge the local startup scene and who's leading the proverbial pack, we asked more than 30 leading L.A.-based investors for their take on the hottest firms in the region. They responded with more than two dozen venture-backed companies; three startups, in particular, rose above the rest as repeat nominees, while we've organized the rest by their amount of capital raised as of January, according to data from PitchBook. (We also asked VCs not to pick any of their own portfolio companies, and vetted the list to ensure they stuck to that rule.)
Without further ado, here are the 26 L.A. startups that VCs have their eyes on in 2022.
Harri Weber
Harri is dot.LA's senior finance reporter. She previously worked for Gizmodo, Fast Company, VentureBeat and Flipboard. Find her on Twitter and send tips on L.A. startups and venture capital to harrison@dot.la.
Samson Amore
According to a Forbes report last April, both the viewership and dollars behind women's sports at a collegiate and professional level are growing.
In 2022, the first 32 games of the NCAA tournament had record attendance levels, breaking records set back in 2004, and largely driven by the new and rapidly growing women's NCAA tournament. WNBA openers this year saw a 21% spike in attendance, with some teams including the LA Sparks reporting triple-digit ticket sales growth, about 121% over 2022's total. In 2023, the average size of an LA Sparks crowd swelled to 10,396 people, up from 4,701 people.
Women make up half the population, but "also 50% of the folks that are walking into the stadium at Dodger Stadium, or your NFL fans are just about 50% women," noted Erin Storck, a panelist and senior analyst at Los Angeles-based Elysian Park Ventures.
Storck added that in heterosexual households, women generally manage most of the family's money, giving them huge purchasing power, a potential advantage for female-run leagues. "There's an untapped revenue opportunity," she noted.
In the soccer world, Los Angeles-based women's soccer team Angel City FC has put in the work to become a household name, not just in LA County but across the nation. At an LA Tech Week panel hosted by Athlete Strategies about investing in sports, Angel City head of strategy and chief of staff Kari Fleischauer said that years before launching the women's National Women's Soccer League team, Angel City FC was pounding the pavement letting people know about the excitement ladies soccer can bring. She noted community is key, and that fostering a sense of engagement and safety at the team's home venue, BMO stadium (formerly Banc of California Stadium), is one reason fans keep coming back.
Adding free metro rides to BMO stadium and private rooms for nursing fans to breastfeed or fans on the spectrum to avoid sensory overload, were just some of the ways ACFC tried to include its community in the concept of its stadium, Fleischauer said. She noted, though, that roughly 46% of Angel City fans are "straight white dudes hanging out with their bros."
"Particularly [on] the woman's side, I'd like to think we do a better job of making sure that there's spaces for everyone," Fleischauer told the audience. "One thing we realize is accessibility is a huge thing."
Samson Amore
Samson Amore is a reporter for dot.LA. He holds a degree in journalism from Emerson College. Send tips or pitches to samsonamore@dot.la and find him on Twitter @Samsonamore.
https://twitter.com/samsonamore
samsonamore@dot.la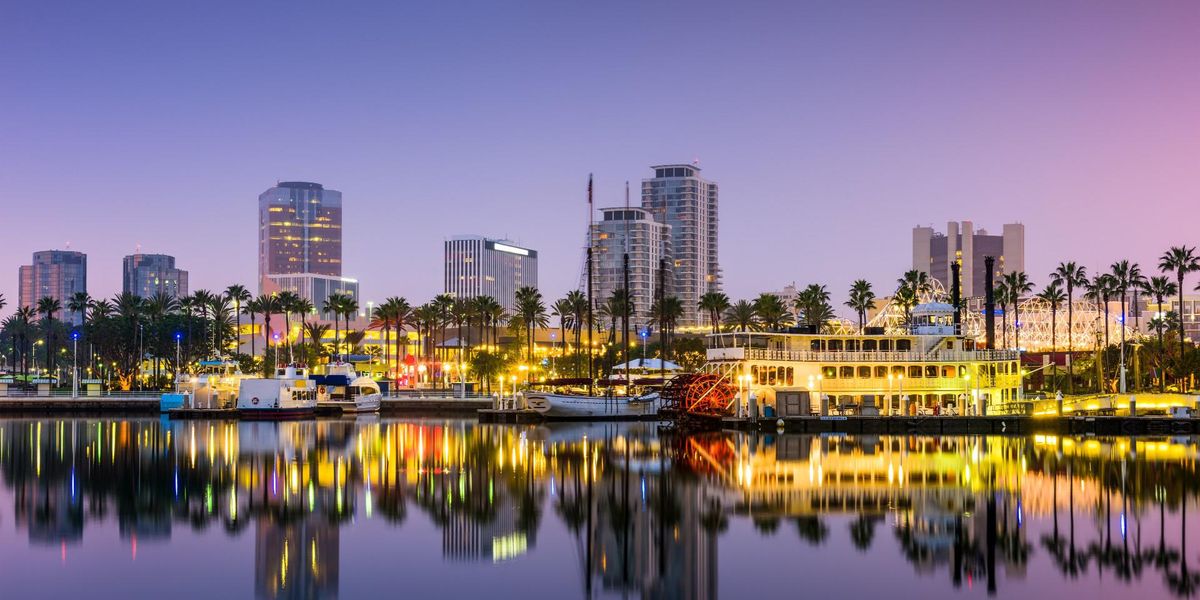 Long Beach has a long history of innovation. It's one of the densest aerospace hubs on the West Coast. There's a vital port there, and the city is home to several tech industries—including health care, space tech and cybersecurity. That, along with its colleges and universities, have made Long Beach an enticing destination for entrepreneurs.
It's within this environment that the Long Beach Accelerator sprouted in 2019 and has grown since. To date, the accelerator has cycled 20 companies through its four-month program, helping them raise a total of over $12 million.
On July 5, the program will welcome its fourth cohort of startups from around the world, participating in a hybrid combo of virtual and in-person sessions. Each cohort includes between five to 10 companies.
Long Beach, along with Cal State University, Long Beach's Institute for Innovation and Entrepreneurship and capital provider Sunstone Management, are all partners in this public-private model of startup investment. The accelerator itself operates as a nonprofit.
Long Beach Accelerator Managing Director Andrea White-Kjoss
The city provides help with some funding, covering the costs for some low- to moderate income Long Beach-based founders whose companies are accepted into the accelerator.
The organization's partnership with CSULB enables it to help founders move from idea stage to execution at the institute, and then advance to business growth via the accelerator.
Sunstone Management, a private capital management and investment firm, provides funding for the incoming cohorts. The firm's venture capital fund typically invests $100,000 in the startups as soon as they join the accelerator and takes a 6% equity stake in return.
Sunstone had also been providing some follow-on funding on a case-by-case basis. It upped the ante earlier this year by promising an additional $500,000 to current cohort and alumni.
"It's a model that brings enormous resources to the table for our portfolio companies, as well as for economic development, acting as a growth engine for the region," managing director Andrea White-Kjoss told dot.LA.

A serial entrepreneur who has served as CFO at several companies, White-Kjoss came aboard as the founding managing director in July 2020. Before that, she co-founded seed-stage funding platform ExtraVallis, based in Rancho Santa Fe, and founded Mobis Transportation, which was the product of a public-private partnership with the city of Long Beach.

She also happens to be a 17-year resident of the city.
"So I know intimately how attractive this city is to tech entrepreneurs, from the high-tech industries, to the culture and lifestyle, to the world-class workforce and institutions," she said. "When you bring all of that together...the opportunity to build a tech accelerator, and more than that really, a tech ecosystem here in Long Beach, was natural and irresistible."
The accelerator was originally intended to be in-person, but quickly had to pivot to remote sessions during the pandemic. It remains virtual, for the most part, "which has turned out to be a huge source of strength," White-Kjoss said.
That's because the founders come from all over the world. There's no geographic restrictions on who's accepted and no need to burden founders with moving to Long Beach to participate.
White-Kjoss said the move has fostered diversity, and enabled the accelerator to draw on an international network of mentors, instructors, advisors and investors.
They—along with the accelerator's staff of three facilitators — get to know the companies and their founders "deeply" and provide individualized assistance, including building strategic partnerships with potential customers and/or marketing partners.
There is still an in-person aspect to the accelerator. All cohort founders fly into Long Beach for about two weeks during the program. While there, they attend in-person workshops and networking events. They also participate in a Demo Day, with investors present. This helps the companies get additional seed funding for continued growth once they graduate.
So far, five graduating startups have received acquisition offers—but none have taken them.
White-Kjoss said that's because those founders "felt they had much further to take their companies, at least in some degree, due to the empowerment of the tools, resources and networks provided by the accelerator."
Bump's Success
One success is Los Angeles-based Bump. Since graduating from the Long Beach Accelerator, Bump has raised more than $5 million, co-founder and CEO James Jones told dot.LA.
It's currently participating in another accelerator, Snap's in-house Yellow Accelerator, which is now a co-lead investor in Bump, along with Sunstone.
The company is working on an AI-fueled fintech platform for the creator economy, which hasn't yet launched. It would help creators track revenue from multiple sources, monitor expenses, access credit and manage their crypto and non-fungible tokens (NFTs).
The company has started a waitlist, for access to its credit and financial management tools. Once the services are available users would pay about $400 per year.
The company also plans to integrate micro-advances into its platform, designed to enable creators to stay in full control of their finances and keep 100% of the rights to their work.
Jones said that participating in the Long Beach Accelerator's very first cohort was a "great springboard" for the company.
Specifically, sessions on customer personas and discovering addressable markets, as well as mentor meetings were "invaluable," he added.
Meet the Startups In the Long Beach Accelerator's Latest Cohort:
Apsy: Creating the first true fully AI platform to build affordable elegant custom apps.
Crumbraise, Inc.: Fundraising made easy for creators, clubs & causes.
Educational Vision Technologies, Inc.: Automated video editing and content curation using A.I. to make online learning accessible, efficient and engaging.

Gift Pass App Inc.: Streamlining experiences around digital gifting & payments.
The Girls Co LLC: We are a women's health company that is currently focused on a solution to alleviate period cramp pain.
Intellitech Spa Inc.: Intellitech is a realtime telematics, predictive maintenance and driver behavior monitoring platform.
Kwema: Kwema provides an easy to scale Smart Badge Reel Duress Service that reduces incident response time without escalating the situation.
Pathloom, Inc.: Outdoor trip planning made easy!
Rotender: The world's fastest and most reliable bar.
Deirdre Newman
Deirdre Newman is an Orange County-based journalist, editor and author and the founder of Inter-TECH-ion, an independent media site that reports on tech at the intersection of diversity and social justice.