biotech
biotech
Tucked away in Redondo Beach is a spacious Spanish-style mansion, complete with a majestic common area, stained glass windows that flood each room with light and a Spanish-tiled hot tub that glows under string lights on the mezzanine. In nearly each room hangs a sign: Brazen Bio.

Brazen Bio, an incubator program with logo borrowed from the 'parental advisory' sticker affixed to profanity-laced CDs, has a mission: to help scientists become CEOs.
Shawn Carbonell co-founded it, inspired by his own experience building a startup. Burned by the venture capital system, he wanted to create a place where other scientists could learn how to master that system.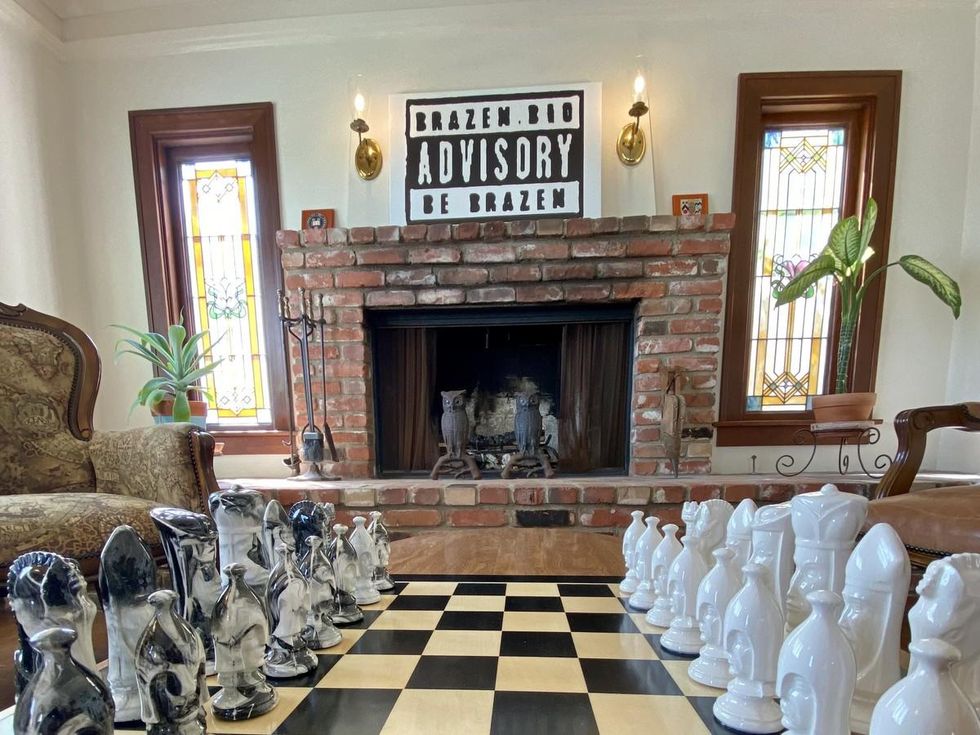 Carbonell started OncoSynergy, a company to develop a drug to treat brain cancer, after spending 15 years in academia intending to become a neurosurgeon. Though the drug was intended for a niche market of patients, he said the venture firms he worked with tried to push him toward the much larger market for lung cancer or breast cancer drugs, which could mean bigger returns for them. After seven years, a chance meeting with a venture capitalist helped him gain funding for the company's Series A round and launched it into clinical trials. Now, that drug is being tested on humans before it goes to the FDA for approval. He said he wanted to use his success to help others.
Carbonell started working on Brazen Bio in March. He and his co-founder Brent Witgen, an expert in drug filings, incorporated the company in May.
"Getting out of academia requires a certain brazenness, if you will," Carbonell said, referencing the house mantra, "Be brazen."
Shawn had long been trying to convince Witgen to work with him — first at his neurosurgery residency, then his oncology startup. The pair, who have long been friends, came up with idea over many talks and quickly crowdfunded $280,391 through Wefounder.
After advertising on social media, they got dozens of applications for its 12-week incubator program. This first cohort, which starts in mid-October, includes four startups. For three months, they will have 24/7 access to lab space at the Lundquist Institute to build out their products, meetings with mentors and venture capitalists in the industry, and housing at the Brazen House.
Brazen Bio declined to name the four companies, but said they span from diagnostics to the microbiome to antibiotic resistance.
Carbonell's goal is to help scientists like himself become CEOs, breaking a longtime paradigm that relegates those who discover a new company's drug or a treatment in its research division, rather than elevates them to chief executive.
There are sometimes good reasons for that. Most bioscience startups are spun out of discoveries made at research universities, and the scientists behind that research are often best suited to oversee the science part of the startup once it gets venture capital funding.
Being a CEO, especially at an early-stage bioscience startup, requires extensive knowledge on how to raise capital and budget for unforeseen events, as well as tiptoe through painstaking FDA regulations. It's a full-time job, and most scientists can't focus on research while also trying to figure that out. Scientists often also have to commit to stepping back from the research world if they want to be CEO, which also entails stepping away from a stable research job at a university and embracing the uncertainty of the startup world.
But Carbonell said CEOs without a science background are more apt to push the founder's vision to the side and focus on profits over patients. He saw this firsthand at OncoSynergy.
"I had to basically fight the consensus of everyone else and maintain my desire to to build this drug for brain cancer patients," Carbonell said.
Venture firms are slowly embracing scientist CEOs, according to Arye Lipman, an investor at the science-focused VC firm MarsBio. Venture capitalists used to be more supportive of having a chief executive with a business background run bioscience startups, but that perspective is shifting as companies that were built organically by the founders see more success. Most recently, Gingko Bioworks, the brainchild of PhD students, went public 13 years after the students spun their research out of MIT. One of the students remained its CEO throughout the process.
"I think there's kind of a cultural shift happening where the concept is sort of that really anyone should be able to start a company and the market will tell whether they're good or bad," Lipman said.
Correction: An earlier version of this post misstated the size of of chess set in Brazen Bio's common room.
From Your Site Articles
Related Articles Around the Web
Los Angeles County on Friday began administering Pfizer booster shots shortly after the director of the Centers for Disease Control and Prevention approved third doses of the vaccine for certain groups, including frontline workers.

CDC Director Dr. Rochelle Walensky overruled an agency advisory panel that had refused to endorse the booster shots for healthcare workers, teachers, grocery workers and others whose jobs put them at risk.
L.A. County's director of public health, Barbara Ferrer, said the county is prepared to offer boosters for those over 65, residents of long-term care facilities, those who are immunocompromised in addition to those working in high-risk industries.
The move paves the way for plans announced by Gov. Gavin Newsom Thursday that his administration would roll out Pfizer vaccine boosters following the Food and Drug Administration's approval of the shots. State officials said their MyTurnVaccine Platform will start taking appointments on Friday.
The approvals set the stage for a massive inoculation campaign with millions in the state expected to become eligible for a third shot. In Los Angeles County, health officials estimate slightly over 1 million people got two doses of Pfizer before April 1 and about 420,000 of them were 65 years old and older.
Still, as more and more people seek a booster shot, clinics are likely to experience another flood of vaccine demands at a time where large vaccination sites like Dodgers Stadium have reverted back to their original purpose.
Here's what to expect:
Am I eligible to get the booster shot?
Newsom announced California residents over the age of 65 or who work in high-risk settings can begin receiving booster shots along with severely immunocompromised people.
The booster shot is not recommended for children, nor for people who received the Moderna or Johnson & Johnson vaccine, even if they meet the age or occupation criteria. MyTurn will send a text message to Californians as they become eligible for the booster.
Where can I get the booster?
Residents should visit MyTurn.ca.gov and make an appointment or find a walk-in appointment at a clinic that offers the Pfizer shot, since it's not guaranteed every vaccine clinic will have a supply of the Pfizer booster shot. Those who qualify for in-person vaccinations can call the Department of Health Services at 833-540-0473. Residents will also need to bring proof of their previous vaccinations, either in the form of a vaccination card, digital record or a photo of the vaccination card.
Will people who got the Moderna or J&J shots be eligible for the Pfizer booster shot?
The FDA has not approved any other booster shots except for Pfizer's. Those who received other vaccines are not eligible for a Pfizer booster, but the FDA said it is working to quickly approve the Moderna booster shot.
When after getting my shots should I wait for a booster?
The FDA recommends the Pfizer booster shots be taken at least six months after receiving their second vaccination dose.
Will clinics be asking for some kind of proof of eligibility?
Clinics will require vaccine proof to make sure the person has received two Pfizer doses before getting the booster.
Here are the forms of vaccine proof the city, county and state accept.
People may also have to sign an attestation form that confirms they meet the criteria of getting the booster.
After years of playing second fiddle to biotech hubs like San Diego and Boston, Los Angeles is doubling down on its investment in bioscience.

Next month, the 20,000 square foot BioscienceLA office opens in Culver City (on the site of an old county courthouse), to act as a "headquarters" for the many bioscience startups, entrepreneurs, and researchers scattered across L.A. County. The county invested more than $10 million into the project.
In the neighboring area of Baldwin Hills, L.A. City Councilmember Mark Ridley-Thomas spearheaded a project to dust off a handful of decades-old abandoned parcels for a project known as Marlton Square. Though the project has yet to break ground, it's expected to include lab space and a collaboration space for venture capital firms, bioscience startups and entrepreneurs.
"We have all of the pieces here," said Dave Whelan, the CEO of BioscienceLA. "We need a sort of connective tissue that brings those resources, brings that energy, brings those developments together."
Los Angeles never enjoyed the reputation as a biotech hub the way San Diego and Boston have, partly because of its geography. There are clusters of biotech development teeming in different parts of the city and county, but they're all separated by freeways.
Big pharma giant Amgen, for instance, is surrounded by a slew of startups in Thousand Oaks. Companies spun out of USC, UCLA and CalTech stay in the nearby neighborhoods, as many researchers still work at those institutions and sometimes use their facilities.
The Westside is scattered with biotech companies thanks to the Lundquist Institute and Kite Pharma. Further inland, where the land is vast, developers are looking to build manufacturing facilities that serve as an important production arm for the industry.
"Because it's spread out in all these little clusters, (Los Angeles) has never really gotten the traction that it should because it's sort of hard to connect all the dots," said Shaun Stiles, executive director of the real estate firm Cushman and Wakefield who tracks bioscience real estate development. "When you have these life science developers or owners coming in, looking into L.A., they're used to doing stuff in Boston, San Diego and all these big hubs."
That might change as L.A. County continues its large-scale investments in the industry. Los Angeles County signed off on research firm Lundquist Institute's 15-acre biotech park at the Harbor-UCLA Medical Center last year. It has sunk economic development dollars into the high-paying field of bioscience and a handful of other industries due to the projected growth of job development in the industry.
Last summer it allotted $15 million to a bioscience investment fund to spur homegrown biotech startups. According to the county, the local bioscience industry netted more than $44 billion in economic activity and 195,820 jobs.
"I see bioscience as a phenomenal opportunity in this area for two reasons: the industry has tremendous value to our health and health systems, and careers in the bioscience industry tend to pay family-supporting wages, providing an opportunity for low-income communities of color to enter into the middle class," said Ridley-Thomas, who as a former county supervisor was also heavily involved in BioscienceLA.
Whelan, for his part, envisions L.A. becoming the home to some of the biggest bioscience innovations in the country, with global bioscience investors flying through the city and camping out of the Culver City building to hold meetings, as opposed to driving from one startup in Thousand Oaks to another in Santa Monica.
"Rather than spending half of the day on the freeway to have two or three meetings across L.A., you spend half an hour on the freeway camp out at Bioscience, L.A. for the day and have about six or seven meetings come to you. And so it becomes much more of an efficient way to kind of connect with L.A.
"