medtech
There's such a stigma around menopause that even doctors misdiagnosed Catherine Balsam-Schwaber's pre-menopausal symptoms.
The CEO of Kindra — a Los Angeles-based menopause wellness brand that just closed a $4.5 million seed funding round — said when she was nearing 50 she could feel changes in her body. She didn't recognize that it was menopause because she didn't know enough about the hormonal changes women go through and neither did doctors.
Menopause has a total of 34 symptoms, which often go untreated because of the stigma surrounding conversations. According to the 2020 Menopause Report, only 36% of women felt moderately or very prepared for menopause.
"If you don't have the language to explain this information, you can't get the help that you need," Balsam-Schwaber said.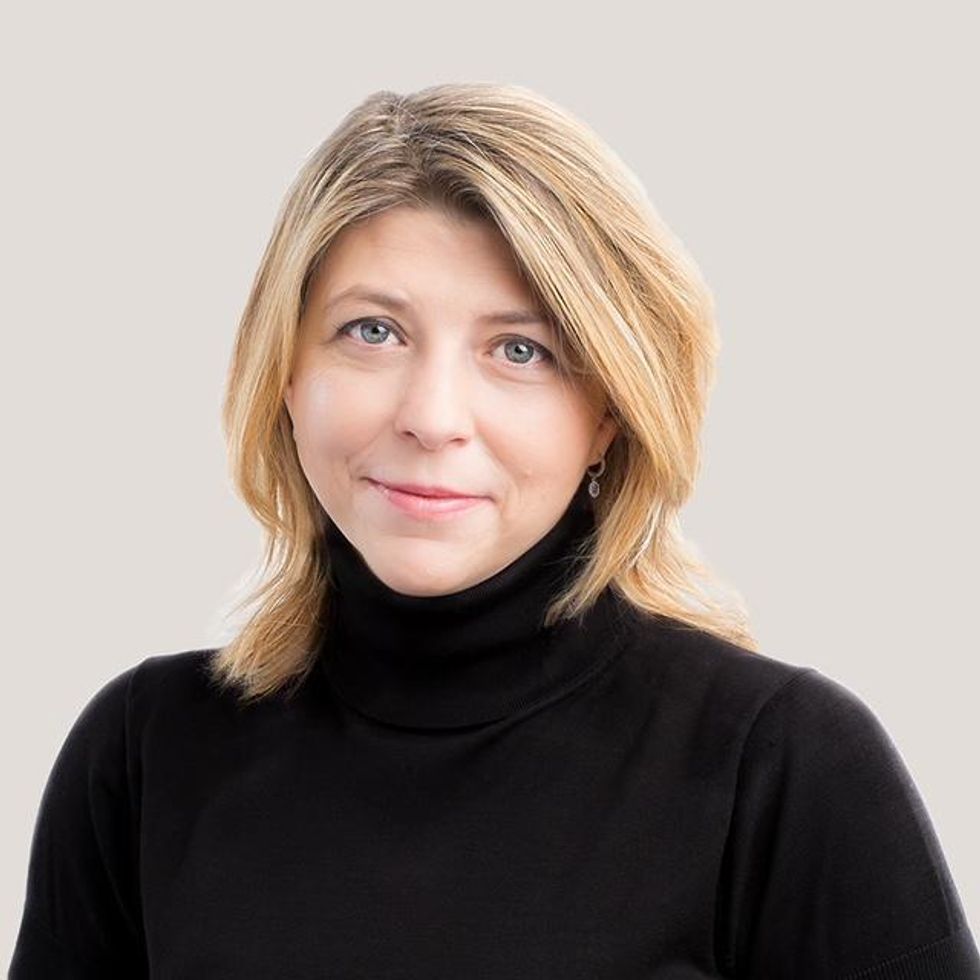 Kindra CEO Catherine Balsam-Schwaber
The round was led by the Female Founders Fund. Primetime Partners, Anne and Susan Wojcickii, Katie Couric Media, The Community Fund and H Ventures are also investors in this round.
Founded in 2019, through a partnership between P&G Ventures and M13, the rare menopause-focused startup fills a hole in the market for products and services addressing menopausal symptoms including: vaginal dryness, hot flashes, sleep disruption and fatigue (including brain fog and mood imbalance).
"By 2030, we will have more women between the ages of 40 and 64 than women under 18," said Abby Levy, managing partner and co-founder of Primetime Partners. Yet women's health is still largely excluded in research.
Although there have been positive trends (women's participation in clinical trials increased to 72% in 2019), there's still a long way to go. Women were only added to clinical trials in 1993, and in 2018 only 56% of trials included women.

"A sector that has long been ignored by venture capital, the women's health space is one of the most promising areas of investment with women controlling 80% of all healthcare buying and usage decisions in a $3.5T healthcare industry," Female Founders Fund Founding Partner Anu Duggal said.
Current products in the market are sorely lacking, according to Balsam-Schwaber.
"Until our own patented applicator, the only lotion applicators in the market were invasive with potential of increasing discomfort and/or risks." Many women still resort to coconut oil as their go-to treatment.
"We are building a new market. A market for menopause products hasn't really existed before now," Balsam-Schwaber said.
Kindra's daily lotion addresses one of the most common issues menopausal women face: vaginal dryness.
On a recent intergenerational education session for Mother's Day, participant moms explained to their grown-up daughters that they never talked about their menopause because they never had the words to explain it.
"It was a revelation," she said.
Kindra plans to use the funding infusion to further research and build their outreach.
From Your Site Articles
Related Articles Around the Web
The COVID "passport," a concept public health officials toyed around with during the pandemic that has fallen into disfavor, is slowly emerging in different iterations as vaccinated people unmask and private businesses open up.
British Airways is letting passengers upload their vaccination status to its smartphone app (though it's unclear if lack of a vaccination status is a barrier to entry on flights). Staples Center will require proof of a vaccine, as will Dodger Stadium and the Los Angeles Football Club, where viewers will sit in designated parts of the stadium or arena.
Most of these companies will rely on the white card that people get after being vaccinated, or a negative PCR test. Los Angeles County has partnered with Healthvana to offer Angelenos digital cards they can use to share their vaccination record without losing or damaging the physical copy.
The debate over "passports" comes at a time when businesses are struggling with how to open to as many people as possible, while also granting safety to immunocompromised customers and those concerned about their health. Adding to the complexity is a public that is uneasy — in some cases outright hostile — to the idea of having to offer proof of vaccination.
Courtesy of Healthvana
As vaccinations rolled out, Healthvana made it possible for those vaccinated at a county site to download their vaccine record and upload it to their Apple Wallet.

Healthvana CEO Ramin Bastani said employees at some companies, who he declined to name, are already using the app, which can integrate into the Apple Wallet to verify whether people are vaccinated.
"They can use it if they want, how they want," Bastani said. "And likely they will have to use it for schools depending on their age or university."
The Los Angeles-based company had advertised its digital vaccine record as a way "to return to work, school, get on a plane, etc.," and Healthvana says it's working with large event planning businesses, stadiums and other large companies who are toying with the idea of some sort of vaccine validation.
And people are using it. The company estimates hundreds of thousands of people are integrating their vaccination record into their Apple Wallet.
A few other companies are also offering a similar feature. Clear, the company behind a TSA clearance app, is deploying a feature known as the Health Pass that would allow stadiums to confirm people's vaccination status. AT&T Park in San Francisco is one of its customers.
Healthvana officials are careful not to call their app a "vaccine passport". Rather, Healthvana says it is a way for patients to have access to their record, which is part of the P in HIPAA — the Health Insurance Portability and Accountability Act, established in 1996 that protects patient's privacy.
"This is your medical information. You have a right by way of HIPAA to a copy of your medical information, and that's getting captured by Healthvana," Bastani said. "You also have the right to modify that information if it's incorrect, if your date of birth is miscaptured."
Nonetheless Healthvana's technology follows the app-based model of many of the COVID vaccine passports out there. Israel's "green pass" is an app that can show vaccination records. Denmark's Coronapas follows a similar model.
"I'm not sure it matters what we call it as much as it matters that we have a way to verify who has been vaccinated," said Shira Shafir, a UCLA associate professor of epidemiology.
Other countries have embraced the idea of a centralized record system. Israel's system, for instance, connects fingerprints with passports and I.D. records. Same goes for Denmark. A centralized system would make it easier for states and municipalities to regulate how COVID passports would work, what kind of information would be on it, where data is stored and the rules for entering public spaces.

In the absence of a single solution in the U.S., Shafir said businesses that adopt some sort of COVID passport will have varying requirements, making it more cumbersome and less viable for individuals.
"It's incredibly redundant, and it's annoying and burdensome for the people who were doing the submitting. I want to go to an event on campus at UCLA — I have to submit it. Then I want to go to a different event — I'm going to have to show it."
Bastani said Healthvana does not expect its technology to be used as a systematic way for people to enter buildings or stadiums, though in December the company had thought, "that there might be the use case where the federal government would require some sort of information if they jumped in, and we were ready for that."
One thing that Healthvana's digital vaccination record does have that gives it an added value is a feature that can share which variants one has tested positive for — a useful tool to further track the virus in all its forms. Plus it can continuously update, a useful tool as Pfizer and Moderna both work on creating booster shots on top of their two required vaccines.
From Your Site Articles
Related Articles Around the Web
Wearable technology has come a long way.

The Apple Watch — often touted as a way to help people monitor their steps and sleep — may soon be able to check your blood sugar levels, making it more akin to a medical device.
Rockley Photonics, a photonic sensor company based in Pasadena, has been quietly working on small blood sensors that can be affixed to wearables and parse alcohol intake, blood sugar and glucose levels. Its biggest customer according to a story from the Telegraph is none other than Apple.
The technology reportedly uses sensors on the back of a smartwatch to shine light through the skin in order to assess blood. Apple and another unnamed company account for as much as 100% of Rockley Photonics' revenue, according to SEC filings.
Neither company replied to requests for comment.
Glucose monitors, once used primarily by diabetics, are reaching the masses. Increasingly companies are offering glucose monitoring services as the obsession with micromanaging one's health grows.
January.ai is a California-based metabolism tracker startup that provides continuous glucose monitors (CGMs) to subscribers, and uses AI to predict what kind of exercise users need to maintain their health. The sticker price for a package is $488. Another —Levels — pairs with an existing CGM to track one's glucose levels at $395. With the added cost of sensors that need to be ordered frequently, these services are out of reach for many, especially for those with type 2 diabetes which has a high correlation with poverty.
What makes glucose monitors more attractive than traditional blood tests is that they continuously track, allowing users to see which foods spike their blood sugar, since different foods have varying results on individuals.
It is unclear if Apple will use this blood sugar monitor the same way January.ai has, but the company (and Rockley) are toeing the line between a consumer health wearable and an actual medical device, which would need to get approval from the Food and Drug Administration. It's a process that could take years to complete, which is incompatible with Apple's typical innovation cycles.
The advent of 24/7 blood sugar monitors that have smartphone capabilities for people to store, track and send data, have been a game changer for diabetics and physicians — doctors can more accurately treat patient health.
"There's also patients who are eating right and are taking all their medicines as prescribed and sometimes putting a CGM on them shows us that, 'oh wow, we've been just treating this patient incorrectly'," said Khan.
But dedicated glucose monitors aren't always reliable — Dexcom came under fire in 2019 when its system stopped notifying patients when their blood sugar was too high or too low, and a parent monitoring their children's diabetes said he was afraid to drop her off at school in case the system failed again.
"These wearable technologies are only as useful to the patients as they are accurate and precise," Khan said. "But because they're so fine-tuned to our diabetes patients, they're a lot less prone to error."
"I certainly wouldn't tell my patients to dose their insulin based on what their Apple Watch is telling them," Khan said. "I would tell them to trust their sensor or trust their fingerstick."
From Your Site Articles
Related Articles Around the Web