venture capital
venture capital
On this episode of the LA Venture podcast, Untapped Capital, Alltruits and Kiva founder Jessica Jackley talks about her experience supporting entrepreneurs across the world, and offers advice to founders on what to do when encountering doubt -- from themselves or others.
"The pursuit of an opportunity, a vision, like an imaginary world that you want to make real. You're running after this thing, you're pursuing it without regard to what you have in front of you," she said. "So there's always going to be something wrong."

Jackley's journey as an entrepreneur started when she founded Kiva, a nonprofit that lends money to low-income entrepreneurs. She started the company and moved to East Africa where she heard stories of people starting businesses with just $100.

"I wasn't asked to swoop in and help or save. I was asked strategic questions about where they could access loan capital, where they could access business training," said Jackley. She added that the individuals she met through the service didn't want handouts.
Kiva offered $200, $300 loans at no interest. That model helped build successful small businesses. Every year, they saw a raise on how many loans they could offer. The company has so far facilitated $1.5 billion in loans since the business started in 2005.

More recently, Jackley founded Untapped Capital and Alltruits. Untapped gave her opportunities to invest in unexpected companies and watch them rise, much like Kiva. Alltruits was born out of the pandemic.
"I really wanted to figure out a way, especially as we were on lockdown, like how do we not just have our lives be waiting for the doorbell to ring and another package is dropped off and we just consume it, right? What, what would it look like to reach back out into the world in a way that is helpful," said Jackley.
She created a box subscription service that provides kids with activities that can benefit them and the world. The company's last box focused on making a pollinator hotel for bees.
From her ventures, Jackley recognized when pursuing your dreams, something will always go wrong.
"There's going to be days when you are told, or you're telling yourself, 'well, I'm not old enough', 'I'm too old'. 'I don't have enough experience'. 'I have the wrong experience', whatever," said Jackley. "Just take more steps anyway towards that thing. Cause that's what great entrepreneurs do."
Hear more of the episode, in which Jackley talks about her goal to disrupt the volunteer economy and more.
From Your Site Articles
Related Articles Around the Web
Mega-deals. IPOs. Skyhigh valuations. It's only October, but the VC industry has already obliterated many of its annual fundraising records, according to the latest U.S. Venture Monitor report from Pitchbook and NVCA.

Across the country, the quarterly report found $238.7 billion worth of venture deals so far in 2021, the majority of which (57.2%) can be attributed to outsized startup funding rounds of at least $100 million (a.k.a. mega-deals).
Mega-deals are far more common today than they were just a few years ago. Pitchbook recorded 138% more mega-deals this year than in 2019, nearly 600 in total. The report attributed the rise in part to the flood of dollars coming in from non-traditional investors such as hedge funds.
California predictably saw the most deals of any state by a wide margin (3,813 so far), followed by New York (792). In the Los Angeles area alone, Pitchbook tallied 1,201 deals totaling $27.5 billion in value as of September 30, 2021.
Amid this frenzy, record sums are flowing back into some investors' hands as funds grow larger and exits such as IPOs — where investors can turn their startup shares into cash — reach new heights. Pitchbook tracked $582.5 billion in exit value so far this year, more than double last year's record.
"This rising tide also appears to be lifting boats for female founders, who have realized $57.7 billion in exit value [in the year to date], nearly double the previous annual high of $24.1 billion in 2020," the report said.
Startups founded by women have raised $39.4 billion so far in 2021, up about 69% from 2020. But the VC industry remains a boys' club, and Pitchbook's report reflects the impact it has on female founders.
Companies founded exclusively by women are chronically deemed less valuable by VCs, and those startups also don't appear to be reaping the benefits of valuation growth that exclusively male-founded startups have seen so far this year, per the report.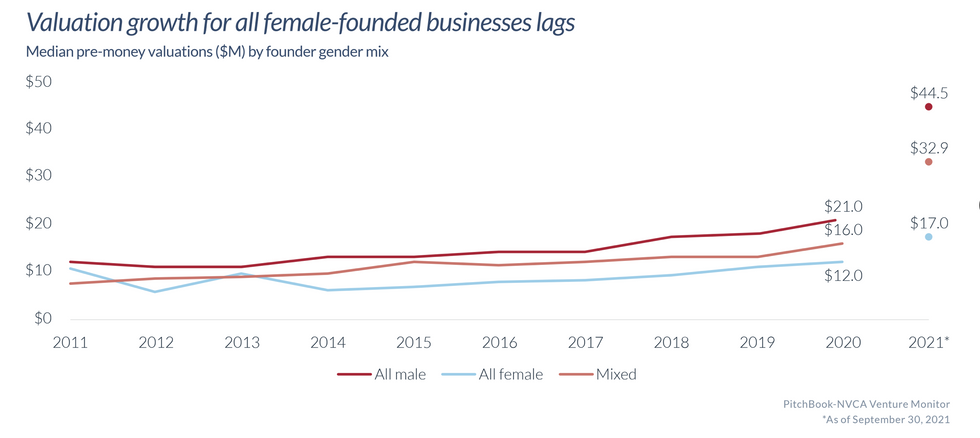 This pattern starts with smaller funding rounds for female-led firms, according to Maya Ackerman, assistant professor of computer science and engineering at Santa Clara University and co-founder of music startup WaveAI.

"My research shows that investors don't like to invest in female-led companies (almost certainly due to implicit bias). This bias is most clearly seen in the amount of funding given to male-led versus female-led firms," Ackerman said in an email to dot.LA. This chart lays out the gulf in deal size by gender.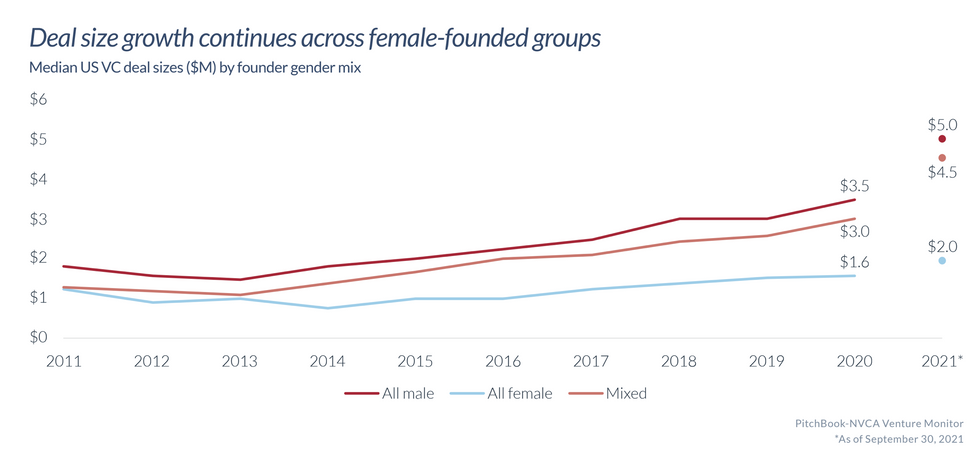 "Since investors are biased against women, women can't raise as much money, and the resulting valuations (on average) will be lower than those of companies led by men, in which investors are more comfortable investing," said Ackerman.

"It's important to stress that everyone loses as a result of this bias: Investors lose out on investing in great companies, consumers miss out on great products, and, of course, highly qualified businesswomen are held back," she said.
From Your Site Articles
Related Articles Around the Web
Cornerstone OnDemand, the Santa Monica–based learning and talent management software company, is shaking things up. Shareholders approved on Tuesday a $5.2 billion deal to take the company private.
In an all-cash transaction, Clearlake Capital Group (also based in Santa Monica) takes ownership of the company through a combination of equity and debt, buying the outstanding shares at $57.50 per share.
Adam Miller, founder & co-chairman at Cornerstone, says the move is designed to give the company more flexibility to pursue avenues of growth that might be unpalatable to shareholders that expect growth on a quarterly basis.
"We saw both organic and inorganic opportunities to grow in ways that would be difficult to do as a public company," he said. "It's difficult to do both of those things at the same time as a public company. But as a private company you can do those things in sequence and get the benefit of a longer-term strategy."
Cornerstone, which was founded in 1999, had been publicly traded for over a decade. Their products are used by many universities and corporations such as Dell, Hyatt, Walgreens and Cannon. The company had been thriving during COVID, posting earnings above expectations in Q2 2021, and exceeding their growth from the same time period last year by 16%, which likely contributed to the 31% premium that Clearlake paid for the stock buyout.
Cornerstone, which employs roughly 2,700 people, is no stranger to acquisitions. In February 2020, the company acquired their largest competitor, Saba Software for $1.295 billion. The move left Cornerstone fairly leveraged, Miller says, so the transition to go private appears to come as a means to help the company to continue expanding aggressively. In the COVID world, where so much of education has transitioned into online formats, the company is hoping increased flexibility will allow it to fully take advantage of the expanding market.
Cornerstone currently boasts 75 million users spread across 6,000 different customers. For those users, Miller says, the experience should change very little. "The end user experience will only improve as we have more resources we can deploy for our engineering team, and as we have the ability to think—again—longer term," he said.
With shareholder approval sealed, Cornerstone's deal to go private should close on Friday.
From Your Site Articles
Related Articles Around the Web