venture capital
venture capital
Non-fungible tokens—better known as NFTs—have gone mainstream in the past year, with everyone from major art auction houses to Hollywood movie studios buying into the hype.

NFTs are unique pieces of data tracked and stored on blockchains like Ethereum. They're usually associated with digital images, such as cartoon apes or the artist Beeple's $69 million digital collage. NFTs offer a record of ownership that is verifiable through a digital ledger, opening up a whole range of possibilities for digital assets that people can buy, sell, and transact with.
Major venture capital firms like Andreessen Horowitz are among those to have entered the NFT fray, with the Silicon Valley giant targeting NFT startups through its new $2.2 billion crypto fund. As such, dot.LA decided to gauge how local VC investors—who are accustomed to navigating burgeoning tech bubbles—feel about this latest trend.
In a dot.LA poll of 32 leading Los Angeles-based venture capitalists, roughly 9% described NFTs as a "good" investment, while an equal percentage indicated the opposite, calling them a "bad" investment. A roughly 66% majority of respondents, meanwhile, said they were simply "not sure." The remaining 16% selected "other"—listing a range of responses including "Not great for a venture fund, good for individuals," "Fundamentally a good development, but currently overvalued," and "Depends on the NFT!"
When dot.LA reached out for further comment, none of the NFT skeptics chose to share their take on the record.
Like the crypto space at large, NFTs have no shortage of doubters and proponents alike. Some prominent technologists—including Signal founder Moxie Marlinspike and Square CEO Jack Dorsey—have publicly questioned whether the scene is as decentralized as it seems. In the gaming industry, some developers are looking to build entire games around NFTs, while others are reportedly turning away NFTs as payment.
"2021 was a watershed year for NFTs focused on art, collectibles & gaming. People value scarcity, and NFTs fit the bill," said M13 investor Mark Grace. "Add in their traits of transportability and programmability, and it's easy to see why people are so engaged," he added, though noting that he's cautious of "NFTs marketed as a cure-all."
TenOneTen partner Minnie Ingersoll shared the enthusiasm.
"No one yet knows how things will shake out, but ownership, the metaverse, and digital identity are being rethought and that's exciting," said Ingersoll. "Personally, I'm more bullish on tokens that have functionality or represent digital work (e.g., NFTs that unlock access or represent digital art) than I am on NFTs that try to bridge the physical world onto the blockchain. I think both will happen eventually but from a timing perspective the latter is not where I would focus on investing now."
Both M13 and TenOneTen have investments in blockchain-related companies—respectively, crypto investing tool River and mobile banking app LVL.
From Your Site Articles
Related Articles Around the Web
After hitting the jackpot with hometown bets like shopping app Honey, Los Angeles venture capital firm Wonder Ventures is doubling down with a new early-stage fund focused exclusively on L.A. startups.
Santa Monica-based Wonder has raised $31 million for its new venture fund, founder and managing partner Dustin Rosen told dot.LA. The new fund is double the size of the $15 million pre-seed fund that Wonder raised in 2018, and like that one it will target fledgling L.A.-based startups that Rosen believes are too easily overlooked by larger VCs.
"The L.A. ecosystem is really mature as far as a place to build technology companies, and more capital than ever is coming into L.A. to fund our companies as they grow and scale toward an IPO," Rosen said, noting that Wonder already deploys more than 90% of its capital in Southern California-based ventures. "We still believe that the earliest stage is underfunded—pre-traction and pre-seed. That stage is the hardest time to raise and get elite investors, and that explicitly is what Wonder does."
Rosen pointed to an eclectic group of more than 60 L.A.-based founders and tech executives who have invested in its latest fund, including those from current and former Wonder portfolio companies like Clutter, Tala, and Honey. Other investors from local startup success stories like Snap, GoodRx, and Dollar Shave Club also pitched in.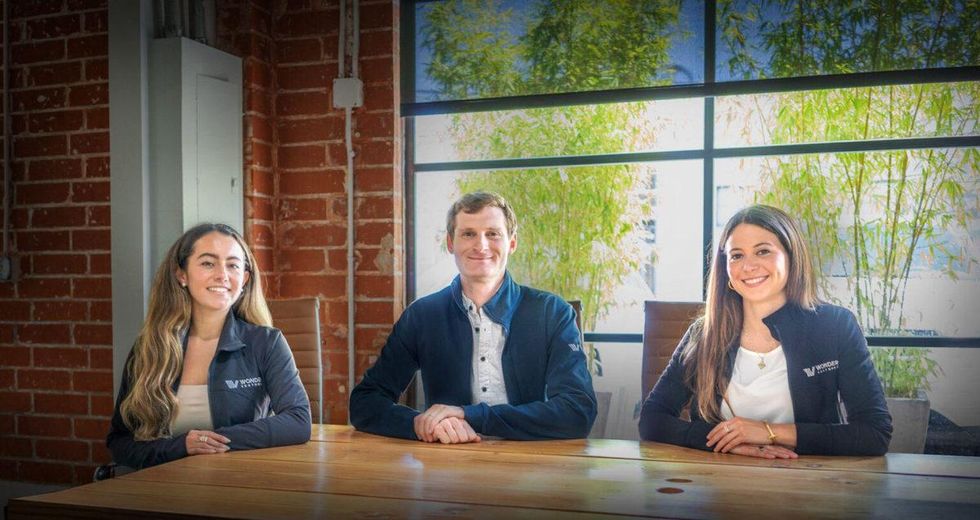 Fom left to right: Valentina Rodriguez, senior investor; Dustin Rosen, managing partner; and Taylor Bolhack, head of platform and community for Wonder Ventures. Courtesy of Wonder Ventures
Among the first companies to be funded by the new vehicle is RealAppeal, a Santa Monica-based startup that finds savings in homeowners' property tax assessment bills through an appeals process. Rosen said he filed his own appeal on the company's website as its founders made their pitch to him on the phone. "I hope to save thousands of dollars," he noted.
Among Wonder's most successful investments to date has been Honey, the ecommerce rewards app that PayPal acquired for $4 billion in 2019. The VC's initial early-stage investment in the Arts District-based startup returned an exit worth more than Wonder's entire $5 million first fund, according to Rosen.
The firm's largest portfolio holding today is WhatNot, the Marina del Rey-based livestream auction marketplace that raised more than $220 million in venture capital last year on the way to reaching a unicorn valuation of $1.5 billion. That investment has proven even more lucrative than its bet on Honey; Rosen noted that the current value of Wonder's stake in WhatNot is "worth more than the entire [$15 million] second fund."
In addition to launching the new fund, Wonder has made two new hires to help oversee its portfolio of nearly 80 companies. Valentina Rodriguez, formerly an analyst and trader with Morgan Stanley, has joined the venture firm as a senior investor, while Taylor Bolhack, previously with Santa Monica-based micromobility operator Bird, has been named head of platform and community.
Wonder Ventures isn't the only L.A-based VC firm targeting local seed and pre-seed startups. After five years with San Francisco-based Crosslink Capital, investor Joe Guzel has launched a fintech-focused early-stage fund with McLain Southworth called Haven Ventures, Guzel told the LA Venture podcast this week.
From Your Site Articles
Related Articles Around the Web
After five and a half years at Crosslink, Joe Guzel is launching his own venture fund Haven Ventures, a new fintech fund focused on seed and pre-seed startups, cutting checks of up to $1 million.
On this episode of the LA Venture podcast, Guzel talks about his journey into the venture world and becoming a leading investor in fintech.
Guzel got his start at Intuit in San Francisco, where he fell in love with the city's culture – and adopted the city's feeling that "there isn't that much going on from a tech perspective" in L.A. But shortly after moving to Santa Monica to join the L.A. firm Crosscut Ventures, Guzel caught "the L.A. bug."

"After literally day one, cruising down the ocean to Crosscut's office in Venice Beach, I was like, 'Oh, this is really, really nice. Like, 'what the hell are all these people up north talking about that L.A. sucks'?,'" he said.
Guzel moved back to the Bay to work for Crosslink Ventures, where he focused on the firm's fintech investments, including startups such as Chime, Personal Capital and Step.
There, Guzel saw the landscape in financial technology radically shifting, both in terms of the technology and consumer interest.
"There has never been a better time to get into fintech," he said. "And that's because you have this $15 trillion industry that has taken decades and decades to get to the point where both tech infrastructure on the B2B side is ready for an upgrade."
He saw a chance to start his own venture firm focused on financial technology and the transformation that is happening with decentralized finance and web3. With his partner McLain Southworth, he built Haven.
In the rest of the episode, Guzel talks about his family's journey from the Middle East to the U.S. and what it was like growing up in an immigrant family in the Central Valley.
"We went from kind-of having it all in Kuwait, to having nothing," he said. "There were eight of us living in a four-bedroom house that we still own in Bakersfield. I was sleeping on a bunk bed with my mom till I was 12."
dot.LA Engagement Intern Joshua Letona contributed to this post.
Hear the full episode by clicking on the playhead above, and listen to LA Venture on Apple Podcasts, Stitcher, Spotify or wherever you get your podcasts.
From Your Site Articles
Related Articles Around the Web