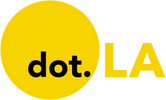 Get in the KNOW  
  on LA Startups & Tech  
X
Proptech
Browse the latest news about real estate technology and proptech startups in Southern California from dot.LA.
Six months after announcing bold plans to renovate the derelict Broadway Trade Center building, it appears metaverse startup Emcee won't turn the aging 1.1 million square-foot property into a "tech hub" any time soon.
The building is now headed towards foreclosure after the owner defaulted on a $221 million loan to retrofit it. This means we likely won't see the "Emcee Studio," a proposed multi-use space including a hotel, members-only rooftop pool, restaurant and coworking offices in the near future. The space will be boarded up and sold at a bankruptcy auction.
Emcee founder and CEO John Aghayan didn't respond to dot.LA's requests for comment.
"The owner was listening to ideas like [a] metaverse gaming hub but we all knew there [was] zero chance they were going to raise enough money to make the building habitable let alone be profitable," said one local real estate manager familiar with the deal who wished to remain anonymous for fear of damaging their business. "Nobody in their right mind would invest in that building in DTLA," the source added.
A brief history of the hulking, scaffolded building you've likely seen many times while traversing Downtown Los Angeles: The Beaux-Arts style property at 8th and Broadway was built in 1906 as Hamburger's Department Store, and later became the May Co. headquarters after it changed ownership in 1925. The May family vacated their department store in the mid-1980s, and since then it's become known as the Broadway Trade Center, existing in a state of limbo and increasing disrepair after being gutted two years ago. In 2014, New York-based real estate investment trust Waterbridge Capital bought the building for an estimated $130 million.
Waterbridge Capital is run by Joel Schreiber, one of the first investors in WeWork. He's running the building under a joint venture LLC called Broadbridge. In 2016 he secured a nearly $165 million loan on the property, and another loan worth $213 million in 2018. Still, after all these refinanced loans, no one was able to move in.
Waterbridge Capital is also reportedly in talks to buy the Union Bank Plaza office building Downtown for $155 million. The company didn't immediately reply to a request for comment.
A longtime L.A. broker who's been following developments on Broadway for decades and requested anonymity to avoid business conflicts speculated the Emcee announcement some months back could have been an ill-fated tactic to stave off the inevitable foreclosure when refinancing the loans was no longer an option.
"I hate to say it, but it sounded like some kind of cockamamie sham put together to find more time with the lender," the source said. They added that the foreclosure process could take up to 18 months, during which time the building will fall into even more disrepair and added they believed it's not even worth half of the total loan amount.
Now the question is, what to do with this behemoth of an empty building?
The same sources told me the city government could buy it back for pennies on the dollar now, but then it'd be on the hook for making it habitable – both brokers told dot.LA the elevators aren't even up to code, much less anything else. Also, it's got no parking lot, and parking's a critical need for any large-use building Downtown, those sources said.
"Housing is our critical need right now," the broker said. "But it's just too big of a challenge. There's no government agencies to do it [and] it's a monster floor plan."
Courtesy of Laurent Grill
On this episode of the LA Venture podcast, JLL Spark's Laurent Grill talks about the world of proptech, COVID's impact on the office and lowering buildings' emissions.
Grill joined JLL Spark, the investment arm of global commercial real estate company JLL, over a year ago. The firm focuses on Series A and B investments of between $2 million and $10 million in a wide range of areas in real estate technology, including smart buildings, construction tech and tenant experience platforms — all of which have become more relevant in a post-pandemic world.
As employees filter back into offices, Grill said the purpose and experiences of those spaces will likely change for a world in which more companies adopt a hybrid or remote work model. The challenge, he thinks, will be in creating an environment that doesn't promote employees' isolation.

"I don't necessarily believe that the future of the office looks like a bunch of cubicles," said Grill. "There's definitely going to be a need to create an environment where people can come back together, where we're giving them the tools to do it in a way that is exciting so that people want to be back."
Office space is one issue, there's also the problem of building emissions. For example, Grill said 70% of New York City's carbon emissions come from steel and concrete. That will need to change as cities become more serious about cutting their impact on the environment.
"One of the largest emitters is steal and concrete. If we can remove that from the supply chain and build, there's a lot of ways that we can actually lower emissions. And we just saw there was a skyscraper that was built purely on mass timber, which is really, really cool," said Grill.
Grill added that we're likely to see a flurry of mandates in the coming years aimed at reducing emissions from properties.
"These mandates will inspire companies to experiment with tons of new technologies," he said. "And so as compliance deadlines draw closer, we're likely to see a wave of adoption [of] we'll call it 'smart' buildings, which really encompasses a variety of things."
They include rental, data and internet-of-things infrastructure technologies that can track how buildings are being used, and squeeze new efficiencies out of them.
Grill sees proptech evolving much as fintech did five years ago.
"You're gonna have tons of innovation," he said. "And you're gonna have tons of adoption across previously antiquated industries that will allow for some really, really big players."
Click the link above to hear the full episode, and subscribe to LA Venture on Apple Podcasts, Stitcher, Spotify or wherever you get your podcasts.
dot.LA Engagement Fellow Joshua Letona contributed to this post.
From Your Site Articles
Related Articles Around the Web
Photo by Decerry Donato
In the wake of the pandemic, remote work forced many people to convert their living and dining rooms into home offices, something that could be problematic in more cramped living situations. Enter Azure Printed Homes—a 3D-printing construction company that says it can build a backyard studio or accessory dwelling unit (ADU) out of recycled polymer plastic in under 24 hours, with the goal of alleviating dwellers' space constraints.
On Wednesday, the Culver City-based startup will publicly launch a $5 million campaign on the crowdfunding platform Republic, with the goal of raising new funds to increase its supply inventory and grow its 12-person staff. Co-founder Gene Eidelman told dot.LA that Azure was bootstrapped until last week, when it received an undisclosed amount of funding from two angel investors.
"As unfortunate as the pandemic is, trying to serve customers during a pandemic is what led us to this idea," Eidelman said.
Azure is the brainchild of Eidelman and his fellow co-founder and company CEO Ross Maguire. The construction industry vets (Eidelman previously worked for local home construction firm Houck Construction, while Maguire served as a construction manager for British giant Carillion) bonded over a passion for advancing sustainability in their chosen trade. The construction sector is one of the most energy-intensive industries in the world and responsible for 38% of global carbon emissions, according to a report last year by the World Business Council for Sustainable Development.
The pair launched Azure Construction in 2019, initially with the aim of building backyard additions and ADUs in a timely manner and with transparent pricing. But their interest in sustainability led them to the realm of 3D printing, which can be a significantly less resource-intensive method of construction. Maguire said they initially devoted their time to consulting with different 3D printing companies and figuring out which materials and printers they should use, as well as what the designs of their 3D-printed structures should look like. Azure Printed Homes was subsequently, officially born this April.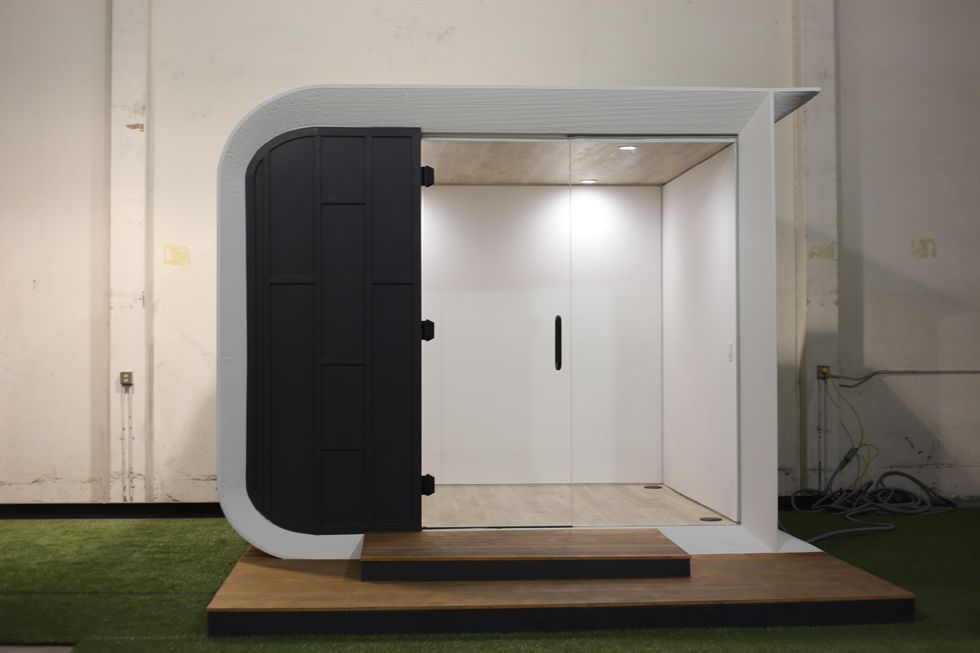 Azure's 3D printed ADU. Photo by Decerry Donato
The startup boasts that the materials used to 3D-print its structures are made of 60% recycled plastic, fiberglass, and an ultraviolet (UV) stabilizer that offers protection from the sun. A 120-square-foot studio starts at $24,000 (with the cost increasing with additional square footage), not including delivery fees and add-ons (such as solar panels and air conditioning) that can cost thousands of dollars more. Azure says that customers can expect the entire process—from their initial order to the final delivery and installation of the product—to take less than one week. The company is also using the crowdfunding campaign to unveil a new 180-square-foot ADU with a kitchenette for less than $40,000.
Most of the $5 million in crowdfunding that Azure is seeking will be allocated toward buying two more robotic printers to help boost its production capacity. Currently, the startup has one robot stationed at its factory that can print the walls of a 120-square-foot unit in less than 24 hours. By purchasing two more robots, the company will be able to produce three structures per day—a heightened pace that will help alleviate Azure's current 40-order backlog and the roughly 70 inquiries, on average, that it receives from potential customers each day, according to Maguire.
"The beauty of it seems to be that some people just love the way it looks," Maguire told dot.LA. "But then there's enthusiasts about the environmental aspect, and then people that love the technology of 3D printing."