how to startup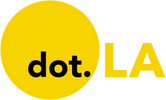 Get in the KNOW
on LA Startups & Tech
X
how to startup
As a co-founder of nine startups and an investor in dozens more, I have helped name many companies. (I am also a parent of three children and two dogs, all of which I have helped name as well – it's amazing how similar the process of naming a child is to naming a company.) Naming is hard and is a passionate subject among founders which prompts lots of debate.

When we named Pacaso, it took a couple of months. Pacaso was not the first name we chose – in fact, we hadn't even dreamed up the name when we went through our first round of finalists. Our first name was Niner Homes, a reference to the vitality of the Gold Rush era. We used Niner Homes in our early marketing materials as we built the first version of the beta product, but we ultimately decided to change it to Pacaso.
We got the inspiration for the name Pacaso from the artist Pablo Picasso, but put our own spin on it. Pacaso fills all of my naming criteria (see below), and it's been well-received by the many Pacaso stakeholders including our employees and Pacaso homeowners.
If you are at the stage where it's time to name your new venture, here are a few tips to keep in mind as you start to vet potential name options.
What Makes A Good Name?
A good name should be the following things:
* Memorable. Pick something that's easy to say and remember. A brand name doesn't have much value if no one can remember it.
* Spellable. Your name should be easy enough to type into the search bar correctly. If it's overly complex and includes tricky abbreviations or numbers, this could be a problem. (One of my startups was named 6tudio but was pronounced "Studio" - hard to spell, even harder to pronounce. They changed their name to Invisible Universe – much better.)
* Unique letters and sounds help: Try to create a name that's high in Scrabble points - X, Z, K, P, Y are all good letters.
* Ownable. This may be obvious, but make sure the name is available and trademarkable. At Hotwire, we almost launched with the name Rocket but switched it at the last minute because Rocket.com was not trademarkable.
You should also consider if the name is verb-able or noun-able. Many brands spend a fortune on marketing trying to become a household name, but a brand is really successful when its name becomes synonymous with the product or service it provides. For example, we probably all "Google" something on a daily basis - to Google has become a transitive verb. To Zillow means to look something up on Zillow. An Airbnb means a vacation rental property. And hopefully, someday a Pacaso will be widely known as a co-owned second home. My first startup, Hotwire, never quite got to household brand name status, but we always hoped that "to Hotwire" something would mean to buy a travel product online at a great price. Maybe someday.
Different Types of Names
To help get those gears turning, let's look at some examples of different types of names. There are a few different categories:
* Real-world, descriptive, and in-category like Whitepages, Bankrate, CreditCards.com, and Apartments.com. These names give you a really great idea of what the company and/or service is but their generic nature makes it unlikely that consumers will ever fall deeply in love with these brands.
* Real-world, not descriptive, and not in-category like Stripe, Plaid, Pipe, Bolt, and Gopuff. These names don't tell you much about what the company is providing.
* Made-up words like Yahoo, eBay, Bing, and Hulu. These names can create unique new worlds.
* Reference the category without an explanation like Instacart, Netflix, SpaceX, Boosted, LendingTree, and Coinbase. These names give you an idea of what type of product or service is being provided without an explanation.
* Reference with an explanation like Zillow ("zillions of pillows"), dotLA (like "dot-com" but for LA), Pacaso ("combine different things to make something luxurious and beautiful"), and Recon Food ("reconnect over a love of food").
These names give you an idea of what type of product or service is being provided when given an explanation. As you can probably tell, I prefer names in this last category because they are memorable, have brand equity, and don't constrain the business with specificity.
Prototype and Pivot
It's common that in the early stages of a startup, the product or features will change to serve early adopters. When the idea of your product or service morphs, your name might have to change too.
Your business name will be with you for a long time, so it's important to carefully consider your choice before you move ahead at full speed. A good name will reflect your business's identity and goals, help market yourself, and keep you out of legal trouble.
Once you have solidified a name, now it's time to pitch to investors. Check back here in a few weeks for my advice on how to do just that. In the meantime, take a look at some of my examples below to see what names made the final cut: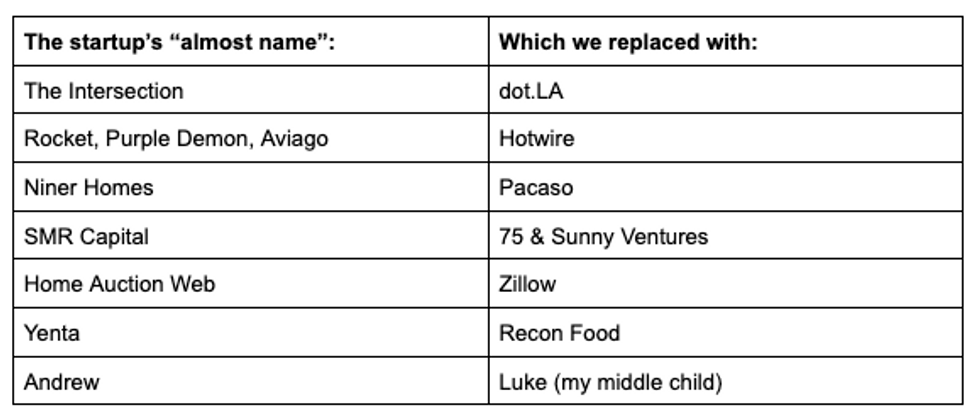 From Your Site Articles
Related Articles Around the Web
"How to Startup" is a new series from serial entrepreneur and investor Spencer Rascoff. Step by step, Spencer will take prospective entrepreneurs through the process of coming up with a startup, raising funding, starting a team, scaling, and, eventually, exiting. Based on his class at Harvard called "Startups: From Idea to Exit", "How to Startup" is your guide to starting the next big thing.

Lots of startups start with an idea, but that's not always the case. Zillow actually didn't start with an idea; it started with a team. In early 2006, a group of us left Expedia together and sat in a conference room for months trying to come up with a startup idea. We didn't know what the startup would do, we just knew that we wanted to work together outside of Expedia.
Several of us were buying houses at the time and noticed the poor quality of online real estate resources. Partly just to pass time while we waited for inspiration to strike, we hacked together Seattle's county website data with real estate MLS data and Google Maps, and we jerry-rigged a user experience that helped us buy homes. It became clear that if this worked for us, it could work for other people. We then realized that the most important piece of information about real estate was still missing: determining the value of homes. Thus, an idea was born.
Sometimes finding a startup idea is not as easy as having a "light-bulb moment," and other times the perfect idea hits when you least expect it. When ideating, there are a few things you should explore:
Look for problems you want to be solved. I divide startups into two different categories: medicines and vitamins. Medicines are the ones that solve a problem and aim to create a new market, while vitamins are the ones that make your life a bit easier and democratize access to things. Sometimes finding a great idea is as simple as looking for things that dissatisfy your wants and/or needs.
Look for things you're passionate about. Something I frequently look for in startups as an investor is a personal connection between the founder who's pitching and the problem that they're trying to solve. See "The Founder-Idea Fit" below for more.
Look for things with big TAM and low NPS. The Total Addressable Market (TAM) is the total possible market for your company's product or service. You'll want to look for a big market (>$10B) with lots of room for growth - like healthcare, education or real estate. One way to judge the quality of a startup idea is to assess how well it addresses a problem in an industry with a big TAM but a low Net Promoter Score (NPS). In other words, find a problem in a big industry where consumers are pretty unhappy with current services.
An Idea Versus A Good Idea
Once you have the inspiration, it's time to determine whether your idea is good. It's important to use your network and talk to consumers and to people in the industry to get a feel for what potential customers may want, but you should also have confidence in your idea on your own. Pro tip: don't hoard the idea to yourself. It's OK to go out and tell other people the idea to get feedback – the input that you get will outweigh the miniscule chance that someone steals your idea. When thinking critically about your idea, ask yourself and others the following questions:
Does my idea solve a real problem? A common theme in startups is solving a point of personal frustration. While you certainly can try to make your own life easier, you also don't want to create too small of a niche. If nobody wants your product, you don't have a business.
Why now? Why hasn't anyone solved this before? There is a time and a place for every startup. There are several reasons why my company Pacaso launched when it did, and they contribute to its success today. 1) People are more comfortable buying real estate sight unseen right now than ever before. 2) There's been a massive increase in second-home ownership interest because people have the option to work remotely. 3) Thanks to companies like Airbnb and the short-term rental industry, there's already infrastructure in place for local property management. Ask yourself: if your startup idea is so great, how come no one has done it before? Many successful startups like GoPuff, Instacart and Doordash are recycled old ideas from 10-20 years ago, but the timing is now right for their success.
Is it a feature or a company? Steer clear of creating a feature instead of a company. I personally invested in Vhoto, an iPhone app that took live photos as short videos. Vhoto failed because it was a feature not a company, as its functionality was simply added to the iPhone camera by Apple.
The Founder-Idea Fit
Founder-idea fit is a critical component of the startup equation and shouldn't be overlooked. While there is no such thing as a single great founder, there is a great founder for a particular idea. A founder with little to no interest or passion for an idea, even if they are the one who came up with it in the first place, is more likely to fail than a founder who truly believes in something.
A perfect example of great founder-idea fit is Tim Ellis, who I featured on the Office Hours podcast back in 2020. Ellis previously worked at Jeff Bezos' space company Blue Origin as a propulsion engineer and worked on the manufacturing process of rockets through 3D printing. He left the company in 2015 and founded Relativity Space with the mission of being the first company to launch a fully 3D-printed rocket into orbit. As a focused and innovative leader, Ellis and Relativity Space are on a rocket ride towards success, at least partly because of Tim's focused infatuation with 3D printing rockets. Tim would not be the ideal founder for a marketplace selling portions of second homes like Pacaso, but he is the ideal founder for a business like Relativity Space. He feels like he was put on Earth to create this technology and he is relentlessly committed to its success. He has both a deep understanding of the task at hand and the abilities and passion to make it happen.
Now what?
Once you land on a startup idea you feel passionate about and the timing is right, you can move on to your next step: naming your startup. Check this space in two weeks for my tips on naming.
From Your Site Articles
Related Articles Around the Web