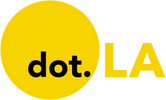 Get in the KNOW
on LA Startups & Tech
X
Streaming
Browse the latest news about streaming companies and startups from dot.LA.
Netflix and Google Are Poised to Dominate L.A. After the Pandemic
Are the upfronts turning into TV execs' personal "Black Mirror'' episode?
The annual feeding frenzy—in which C-suite television executives auction off highly-viewed (and costly) advertising time slots— is changing as new streaming behemoths shake up the market. The event often gives viewers and industry watchers insight on what shows are poised to become cultural phenomena, but that too seems to be disrupted at this year's proceedings.
It's been two years since major networks and television players convened in New York for a week, and it's clear that technology is going to change a lot about how the process works.
Streaming, a popular way to view content, doesn't follow traditional ad slots the way broadcast does. Nonetheless, last year ad-enabled streaming services–including Peacock and Hulu–slurped up a large slice of ad dollars. But this year may prove a turning point, as services like HBOMax and Disney Plus begin tinkering with ad-laced streaming, and Netflix promises to quickly roll out an ad-supported subscription tier. Large networks like ABC and NBC will have to start competing with streaming for the favor of companies and their ad money.
Another thing changing the market: the ads themselves. With more data at their fingertips, streaming services can offer far more personalized and targeted services than their network counterparts. Netflix and Disney collect mountains of data that can gauge what ads are most relevant to their viewers. That's a huge plus for advertisers, even if streaming services like Disney restrict what kind of ads it will show.
Legacy TV companies have already taken note. NBCUniversal took great pains at Monday's pitch meeting to offer their Peacock streaming service as an example of a dual streaming-and-broadcast model and lambasted streaming services that once showed disdain for advertisers and ad breaks.
"At those companies, advertising could seem like an afterthought… or even worse, a new idea for a revenue stream, but not here," NBCUniversal's ad sales chief Linda Yaccarino said, according to The Hollywood Reporter. "At NBCUniversal, advertising has always been an asset for our business… designed to enhance your business."
Adding to the instability, Nielsen ratings, which has been the universal standard for measuring viewership, is being challenged. The company's ratings were once the gold standard used, in part, to determine the time slots and networks that had the most viewers (and which became the most coveted by advertisers).
Last year, Variety reported major networks complained that the company was likely undercounting viewership due to pandemic-related restrictions, like being unable to go into peoples' homes and making sure the data-collecting technology was properly working. In its wake, software-enabled startups have popped up to better gather data remotely.
Washington-based iSpot.tv received a $325 million investment from Goldman Sachs after acquiring similar companies including El Segundo-based Ace Metrix and Temecula-based DRMetrix. Pasadena-based tvScientific raised $20 million in April to glean adtech data from smart tvs. Edward Norton's adtech firm EDO raised $80 million in April and booked a deal with Discovery ahead of the upfronts.
Nielsen also lost its accreditation with the Media Ratings Council, and without a standard ratings guide for the industry, navigating the upfronts will be a far more uncertain and nebulous process for both networks and advertisers.
With tens of billions of dollars on the line, advertisers are demanding more than just well-produced shows networks and streaming services alike—sophisticated ad placements is the name of the game.
From Your Site Articles
Related Articles Around the Web
Netflix promised change after its poor first-quarter earnings. One of the first targets: the Netflix Culture document.
The changes, which Variety reported on Thursday, indicate a new focus on fiscal responsibility and concern about censorship. While promises to support honest feedback and open decision-making remain, the memo's first update in almost five years reveals that the days of lax spending are over. The newly added "artistic expression" section emphasizes Netflix's refusal to censor its work and implores employees to support the platform's content.
The "artistic expression" section states that the company will not "censor specific artists or voices" and specifies that employees may have to work on content "they perceive to be harmful." The memo points to ratings, content warnings and parental controls as ways for users to determine what is appropriate content.
Censorship has been a contentious issue within Netflix. Last year, employees walked out in protest after the company stood by comedian Dave Chappelle's special, "The Closer," which many said was transphobic. The streaming service has since announced four more specials from the comedian, who was attacked on stage at Netflix's first comedy festival. The show will not air on the platform, as Netflix did not tape the event.
The reaction to Chappelle's 2021 special ripples further in the updated memo. After firing an employee who leaked how much the company paid for the special, the new "ethical expectations" section directs employees to protect company information.
The memo also reflects pressure borught by poor first-quarter earnings. Employees are now instructed to "spend our members' money wisely," and Variety reported that earlier passages that indicated a lack of spending limits were cut. Variety also found that the updated memo removed promises that the company would not make employees take pay cuts in the face of Netflix's own financial struggles.
These updates come as employee morale has reportedly dropped and editorial staffers at the Netflix website TuDum were laid off en masse. Those employees were offered two weeks of severance pay—and Netflix has now cut a section in the memo promising four months of full pay as severance.
As the company that literally wrote the book on corporate culture faces internal struggles, it's unlikely that making employees take on more responsibility while prioritizing corporate secrecy and discouraging content criticism will improve morale.
From Your Site Articles
Related Articles Around the Web
Photo provided by Gritty In Pink
Shira Yevin's lifelong crusade against a male-dominated music industry began with a pink RV.
After attending the Vans Warped Tour in 2004 and seeing far too few women on the bill, the punk rocker decided to take matters into her own hands: She crashed the tour by parking a pink RV on the campus of Cal State Fullerton and performing on a makeshift stage with her band, Shiragirl. The impromptu show was such a hit that Warped Tour welcomed Yevin back to run an official "Shiragirl Stage," where female-fronted bands—including artists like Joan Jett and Paramore—performed in the following years.
Now, Yevin is taking an entrepreneurial approach to carve out more space for women in music. She's the founder and CEO of Los Angeles-based startup Gritty In Pink, which runs an online "marketplace network" that connects music industry professionals with female talent—from musicians and songwriters to engineers and producers. Having launched in beta earlier this year, the startup's InPink platform lets employers search for talent by skill and demographic.
"Businesses now know they need to find diverse women to hire—but they have no idea where to go to find them," Yevin told dot.LA.
Whether Gritty In Pink can help solve that imbalance remains to be seen—but what's clear is that there's still a huge gender disparity in the music industry that needs addressing. A recent University of Southern California-sponsored study found that there's been little to no improvement over the last decade in the number of women credited as artists, songwriters or producers on popular songs.
"Women's contributions are often dismissed or devalued," according to Katherine Pieper, program director at USC's Annenberg Inclusion Initiative, which conducted the study on women in music. "They're not given the opportunity to work on these songs, or when they are, their work is not being credited to them."
The USC study examined credits for 1,000 songs that landed on the year-end Billboard Hot 100 chart over the last decade. Researchers found that just 23.3% of artists on the annual chart were women in 2021—a marginal improvement from 22.7% in 2012. The report's authors blamed stereotypes around women and their abilities as well as the situations in which they must work, noting women in the music industry are often sexualized by their colleagues.
The music industry is not alone in these dynamics; the film industry has made little progress in addressing its own gender imbalance. Women made up only 25% of all directors, writers, producers, executive producers, editors and cinematographers working on top-grossing films in 2021, according to the latest study by the Center for the Study of Women in Television and Film at San Diego State University. That's an improvement of just 6 percentage points from 19% in 2015, and up only 8 percentage points from 17% in 1998.
"The findings of my research suggest that progress will be slow—evolutionary as opposed to revolutionary," Martha Lauzen, the center's director, told dot.LA.
But just as Gritty In Pink is trying to diversify the music industry's ranks, so are there startups now looking to bring more women into film production. Launched in 2018, L.A.-based Crewvie is a platform connecting film projects with production workers and vendors, with a focus on advancing diversity, equity and inclusion. Crewvie allows talent to create profiles that voluntarily self-identify their gender, race, sexual orientation or disabilities; productions can use Crewvie to hire such talent, track the composition of their crew and use demographic data to ensure they're eligible for awards and tax incentives.
"We see Crewvie as a resource for women and other underserved people to be found," co-founder and CEO Marcei Brown told dot.LA. "So there's no more excuses [like] 'I can't find'—because they're all collected here in one place."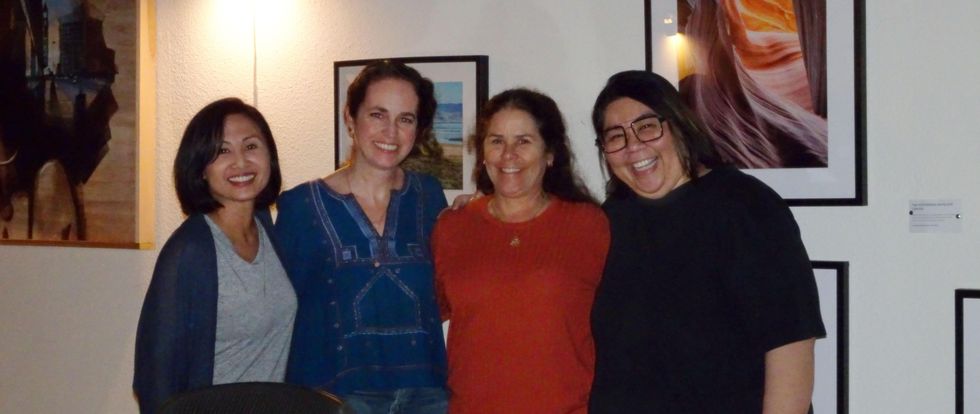 From left, Crewvie founders Sandra Jimenez, Jeanette Volturno, Marcei Brown and Camille Alcasid.Photo provided by Crewvie
Film studio Endeavor Content recently struck a deal with Crewvie to deploy the startup's software across all of its productions. YouTube productions use the platform as well, according to co-founder Jeanette Volturno. Crewvie charges rates ranging from $200 to $1,500 for individual projects, while rates for enterprise clients (such as film studios) depend on the number of people and projects expected to use it.
With less than 10 employees, Crewvie is currently looking to close a seed funding round, with eyes on a larger future funding round to expand the platform into other territories and languages. Crewvie is also considering an expansion into live events like theater productions, as well as a foray into the music industry, Volturno said.
Likewise, Gritty In Pink is still in its "baby stages," Yevin said, having raised $100,000 from Irvine-based Sunstone Management and the Long Beach Accelerator, with plans for a $1 million pre-seed round. The startup can count singer-songwriter Melissa Etheridge, of "Come to My Window" fame, among its supporters; Etheridge recently joined Gritty In Pink as a strategic advisor and has a stake in the company.
It also has dreams of expanding beyond the music industry, Yevin noted. "Our big vision is actually to become the global destination to hire female freelancers in every industry," she said.
Related Articles Around the Web