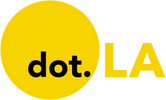 Get in the KNOW  
  on LA Startups & Tech  
X
Streaming
Browse the latest news about streaming companies and startups from dot.LA.
Photo by James Opas | Modified by Joshua Letona
"Moves," our roundup of job changes in L.A. tech, is presented by Interchange.LA, dot.LA's recruiting and career platform connecting Southern California's most exciting companies with top tech talent. Create a free Interchange.LA profile here—and if you're looking for ways to supercharge your recruiting efforts, find out more about Interchange.LA's white-glove recruiting service by emailing Sharmineh O'Farrill Lewis (sharmineh@dot.la). Please send job changes and personnel moves to moves@dot.la.
***
Technology industry veteran Robert J. Farrell was named chief executive officer of healthcare AI platform mPulse Mobile. Farrell previously served as the CEO of GlobalTranz.
Blockchain marketplace Dibbs appointed Ben Plomion chief marketing officer and Bill Plumeri chief compliance officer. Prior to Dibbs, Plomion served as GumGum's CGO, while Plumeri was the director of institutional compliance at BlockFi.
Appia Bio, a biotechnology company developing engineered cell therapies for cancer patients, appointed Jason Damiano as chief scientific officer and Margo Roberts to its board of directors. Damiano was previously the vice president of biology at UNITY Biotechnology, while Roberts served as the principal scientist and director of immune and cell therapy at Cell Genesys.
ImmPACT Bio—a clinical-stage company dedicated to the discovery of transformative chimeric antigen receptor(CAR) T-cell therapies for cancer patients—named Vikram Lamba as chief financial officer and head of business development. Lamba previously served as CFO at ChromaCode, Inc.
Allen Media Group promoted Christopher Malone from external vice president and head of corporate development to chief financial officer.
Spotter, a startup that monetizes Youtubers' library catalogs in exchange for cash, welcomed former Collective chief marketing officer Galvea Kelly as CMO.
Creator startup Jellysmack tapped fintech veteran Dov Marmor as chief business officer and head of JellyFi.
Matthew Koontz joined tv performance advertising platform tvScientific as head of product. A seasoned product management executive, Koontz has worked at Hulu, Xandr and Snap Inc.
This is the web version of dot.LA's daily newsletter. Sign up to get the latest news on Southern California's tech, startup and venture capital scene.
Disney surpassed Netflix's total subscriber count in just about three years. The company reported it now has 221.1 million total subscribers to all of its direct-to-consumer (DTC) streaming services. (That's Disney Plus, ESPN Plus, and also Hulu and Hulu with Live TV.) Netflix remains close behind, with 220.67 million subs as of their most recent earnings report (though they have been dropping subscribers gradually in recent months).

Not all that long ago, an increase in subscriber numbers was basically the only statistic that truly mattered to Wall Street. Now, other players are starting to catch up with early leader Netflix, international expansions and new licensing deals are well underway and the dust has started to settle from the opening volleys of the streaming wars. More and more, analysts and investors are looking at actual earnings. The nuts and bolts of how much is being spent on programming vs. how much is being brought in through ads or subscriptions.
Overall, Disney's streaming channels generated $5 billion in revenue, balanced alongside a $1 billion operating loss, mostly due to the sheer volume of new content Disney is producing across its services each month. (Those "Obi-Wan" episodes were *relatively* cheap, but not cheap!) Netflix has 70 million more subscribers to its core product, and charges significantly more money – around 2.7 times more than Disney on average – and thus reported Q2 revenue of $7.97 billion this year.
Of course, both Disney and Netflix have announced the imminent arrival of ads to their platforms, which upends all of these calculations. As of December 8, the basic Disney Plus plan, at a cost of $7.99 per month, will begin to include ad breaks. Viewers opting for an ad-free experience will pay $10.99/month, a roughly 40% increase. Netflix is currently working on ad integration in collaboration with Microsoft, but haven't released full details about their plans yet.
One price that's not going anywhere is the so-called "Disney Bundle," combining Hulu, ESPN Plus, and Disney Plus as a single subscription. That's going to continue to cost $19.99, even with ad-free versions of both Disney Plus and Hulu. At just $9 more than the standalone Disney Plus service, this is guaranteed to be an attractive option for many consumers. Disney's entire pricing structure, in fact, could be seen as an inducement to just sign up for the Bundle and make Disney your household's primary streaming content provider.
Though research indicates younger viewers are willing to jump around between streaming services–what's known as "churn" in the industry–for a lot of consumers, there's consumer appeal in picking a programming line-up and then sticking with it for the long haul. It seems likely that many U.S. households–particularly as inflation and recession fears remain a constant concern– will soon start setting on their 1-3 streaming services and locking them in place, pushing the streaming wars to a new level. — Lon Harris
Mickey Mouse has won the latest battle in the streaming wars—but at a big cost.
Burbank-based Walt Disney Co. surpassed Netflix in total subscribers after signing up way more customers than expected during its most recent quarter. The strong growth helped boost the company's share price in after-hours trading on Wednesday and signaled that the streaming market isn't nearing saturation yet—despite the recent doom and gloom surrounding the business.
Yet Disney also lost $1.1 billion on streaming during the fiscal third quarter, much more than the roughly $300 million lost this time last year. That's likely a big reason why the company also announced price hikes for Disney Plus—its flagship streaming service— as the entertainment giant tries to generate more revenue from the money-losing business.
Disney Plus added 14.4 million subscribers, bringing the platform's total to 152.1 million. Counting sister services Hulu and ESPN Plus, Disney now has 221 million global subscribers, slightly more than the 220 million customers Netflix reported in July.
Disney's results beat analysts' expectations and bucked the negative trend facing streaming lately. Netflix has been reeling this year, losing more than 1 million customers and planning big changes to its business. Comcast's Peacock added no new paying subs during the previous quarter. And Warner Bros. Discovery is reversing course on streaming under its new management, canning original films for HBO Max.
Wall Street has largely changed its mind about streaming. After rewarding media giants with higher stock prices for investing in streaming services, investors are now reportedly more concerned about profits and return on investment. Several media companies, including Disney, are losing hundreds of millions of dollars per quarter to invest in streaming, hoping the profits come later. Investors have generally sent media stock prices tumbling this year.
On Wednesday, however, Wall Street was happy with Disney. The company's share price was up nearly 7% to $120.05 as of 2:20 p.m. PST in after-hours trading.
The surge in subscriber growth was somewhat overshadowed by the growing financial losses from the online business and the new plan to raise prices. The company blamed higher costs for programming technology and marketing. Disney also lowered its subscriber forecast for 2024.
Like Netflix, Disney plans to release an ad-supported tier later this year to give customers a cheaper option. But it turns out that's a bit of a bait and switch, as the version with ads won't cost less than what customers are currently paying.
Disney plans to charge $7.99 per month to stream with ads, the same price the company currently bills for ad-free service. The cost of Disney Plus without ads will increase $3 per month to $10.99 as of Dec. 8. The price of Hulu without ads is also going up, from $12.99 to $14.99. Hulu with ads is increasing $1 per month to $7.99. These price hikes come on the heels of ESPN Plus' cost increase from $6.99 to $9.99 per month.
Raising prices could make the streaming business more sustainable, but hiking subscription costs comes with some risk. Consumers are feeling the pinch from inflation and have already signaled that they're willing to cancel a "costly" subscription.