Clean Tech
Browse the latest clean tech startup news to learn more about funding, hiring, launches and more.
Los Angeles has more electric vehicle chargers than any other American city.
There are over 10,000 chargers across the city thanks to the city's own aggressive "Green New Deal" and the resulting partnerships with local EV companies. The move has attracted several companies to the region.
And the effort got supercharged Wednesday when President Joseph Biden laid out his own $2.25 trillion infrastructure plan focused on clean energy that could bring billions of dollars into the electric car economy.

"We're going to provide tax incentives and point-of-sale rebates to help all American families afford clean vehicles of the future," Biden said in unveiling his plan. "Imagine knowing that you are handing your children and grandchildren a country that will lead the world in producing clean energy technology."
Later on Wednesday, Mayor Eric Garcetti spoke in support of Biden's plan, which allocates $174 billion in spending toward electric vehicles and infrastructure.
"This legislation is about winning the future, it's about a just transition for folks working in fossil fuel industries, and electrical vehicle infrastructure that will reduce air pollution here in L.A., and it has justice and racial equity as the centerpiece of all of it," Garcetti said. "L.A.'s fingerprints are all over this legislation, because we've been a model for so much of this work."
For Los Angeles's EV goals, the next challenge will be to actually get Angelenos to buy the electric cars for all those stations.
Mayor Eric Garcetti's office estimates there are 62,851 electric cars being driven around the city. That's less than 1% of the total of cars registered in the county last year, according to the Department of Motor Vehicles.
If Garcetti's is to reach his goal of having a city where 25% of the cars are zero emissions by 2025, tens of thousands of Angelenos will need to buy an electric vehicle over the next few years.
"You can't expect someone who is a low-income resident of Los Angeles to be an early adopter, because cost is still an issue," said Seth Jacobson, the managing director of Climate Resolve, a nonprofit that advocates for policy to combat climate change. "So we really need to not be overly focused on EV single-passenger vehicles as a silver bullet."
Jacobson argues the city's goals don't account for the vast majority of Angelenos who may not be in a position to buy a new car. Eighteen percent of Angelenos live below the poverty line, according to the United States Census, and on average, most new electric cars cost $19,000 more than a gasoline-powered vehicle, estimates the National Resource Defense Council.

Jacobson advocates for subsidies for pre-owned vehicles, but he admits even that has its problems, since older electric cars often need new, expensive batteries.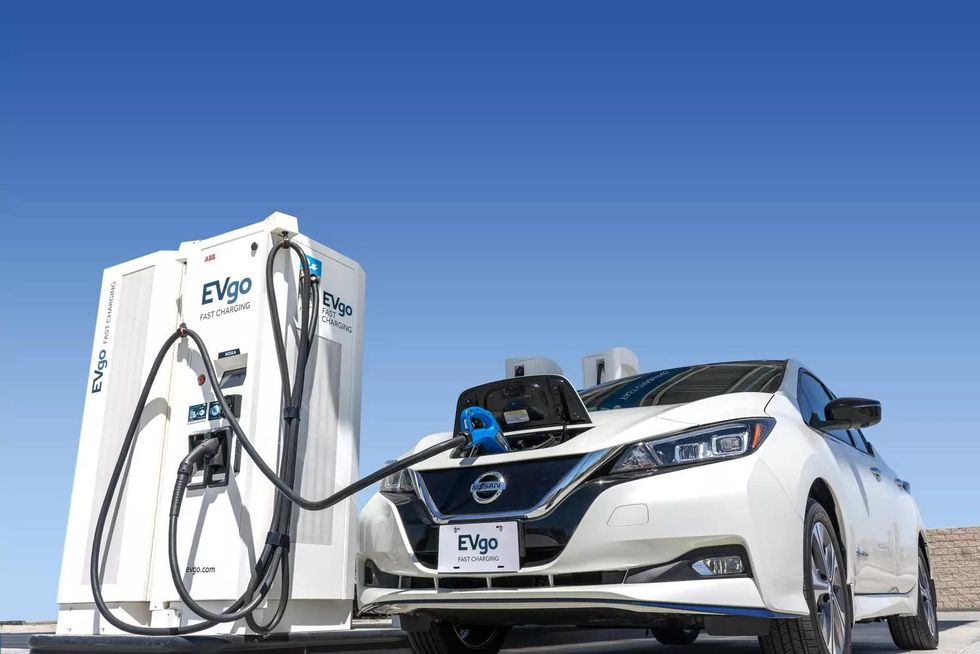 EVgo now has 160 operational stations and 290 chargers across Los Angeles County.
LA's EV Infrastructure Development
Encouraged by the city's bullish stance on electric vehicles, a rush of companies have planted their flag in L.A.; the county is already home to several EV manufacturers, like Canoo, Faraday Future and XOS trucks.
EVgo is one company that saw a big opportunity in public partnership with L.A. The company moved to the city in 2017 and now has 160 operational stations and 290 chargers across Los Angeles County, with several more still in construction. It recently announced a partnership with Uber to launch Uber Green in L.A., providing discounted charging to Uber drivers with electric vehicles.
"As an L.A. company, we see the impacts of EV adoption first hand, with Teslas, Nissan LEAFs, Kia Niros, Chevy Bolts, and more and more models on the roads every day," said Jonathan Levy, EVgo's chief commercial officer. "EVs are no longer a rare sighting in and around L.A., and we've been building out the charging infrastructure to support them."
Greenlots is another EV charging company based in Los Angeles. It was acquired by Shell in 2019, and announced this month a plan to roll out half a million charging stations over the next four years. Like EVgo, one of the company's partners is the city itself.
"Given the size of the market in California and automakers' aversion to manufacturing different vehicles for different U.S. markets, California will lead the whole U.S. market towards electrification," said Tom Ashley, Greenlots' vice president of policy and market development.

Despite upcoming challenges, California remains the largest market for EVs. The state is home to 45% of EVs in the U.S., according to a report by the California Energy Commission
Future EV Goals and Challenges
Los Angeles is now aiming to create another 15,000 charging stations by 2025, according to Julia Thayne from the Mayor's Office of Mobility and Innovation.
Many of the stations are subsidized by the city's Department of Water and Power. The bulk of them — about 8,500 — are located at offices or multi-unit apartment buildings. The city hopes that this encourages residents who don't have access to a charger at home to consider electric vehicles.
"We do need to make sure that that affordability is addressed, and there are programs to make power more affordable for utility customers, and there should be programs in place to make sure that the EVs are more affordable for low income customers as well," said Jacobson.
But, it's hard to say whether the distribution of the public chargers across the city is equitable. Most appear to be located around downtown, but there hasn't yet been quantitative research released as to whether the chargers are serving communities that need and use them.
Despite the challenges ahead, Los Angeles is ahead of the game in comparison to other American cities, to utilize the funds Biden is promising and continue developing electric vehicles and infrastructure.
The electric pickup truck market is charging up even before the first models have hit the road.
Last week, Irvine-based Alpha Motor Inc. and Torrance-based Canoo unveiled their versions that they hope will compete with legacy companies like Ford and General Motors.
The Alpha Wolf Utility Truck, like Canoo's pickup, is a much smaller version than the gas-powered vehicles on the market. The two-seat pickup truck is just 188 inches long, about a foot shorter than the smallest gasoline-powered pickup currently on sale in the U.S. Alpha plans to offer two and four-wheel-drive versions of the Wolf with a 75-85 kilowatt-hour lithium-ion battery and projects a range of about 275 miles on a full charge.
It will be priced between $36,000 and $46,000 when it goes into production as early as 2023. With the current $7,500 federal tax credit for EVs, as well as the current $1,500 California Clean Fuel Reward, an Alpha Wolf would not only be one of the least-expensive new pickups, but also cost a fraction of what large electric trucks from General Motors and Amazon-backed Rivian Automotive are expected to sell for.
"If priced right, I feel pretty confident and excited about both," said Robby DeGraff, an auto industry analyst for Tustin-based AutoPacific.
DeGraff said both Alpha and Canoo's offerings are unlikely to sway traditional truck buyers away from brands like Chevrolet and Ford, though. But the Alpha Wolf's styling — which runs against the traditional macho image of full-size pickups — might make it attractive to outdoor enthusiasts who currently drive brands like Subaru. The Alpha Wolf would also appeal to buyers looking for vehicles in the upper-$20,000 to upper-$30,000 range, an area underserved by current pickup offerings.
"The vast majority of the hype I've been hearing or seeing about the Canoo and Alpha Wolf EV pickups is coming from friends and colleagues who partake in active outdoor recreation," DeGraff said. "They want to take the Canoo electric pickup camping deep into the woods. They want to throw a pair of mountain bikes in the back of the retro-looking Alpha Wolf and depart ASAP to Moab."
With a 65-inch-long bed, the Wolf would be short on cargo-hauling compared to the midsize pickups currently on sale. But Alpha will be able to tow up to 3,000 pounds and get from zero to 60 mph in 6.2 seconds, about a second faster than a V6-powered Toyota Tacoma. Other features promoted by Alpha were multiple charging ports inside the Wolf's interior, along with a minimalist design for the dashboard and two large digital displays, and multiple outlets for charging electronic devices.
The Alpha Wolf is the latest in Alpha's spree of product announcements, the first of which was the Icon Electric Utility Vehicle unveiled in December. Designed for both consumer and commercial use, Alpha says the Icon is meant to be adapted as an SUV, van or truck thanks to its "skateboard-like chassis."
Earlier this year, the company announced The Jax Crossover Utility Vehicle and shares the Wolf's battery components but is styled to look more like an SUV rival and is estimated to cost between $38,000 and $48,000. The Ace Coupe was announced earlier this year with two levels of performance, available all-wheel drive and a projected $32,000 starting price. Reservations for the Ace, Jax and Wolf are open on Alpha's website, but unlike other EV startups, they aren't taking deposits.
Alpha joins a growing group of both legacy and startup automakers trying to establish the electric pickup truck market, even though none of the models have yet to reach customers.
Canoo Inc. revealed its radically shaped compact pickup truck concept last week, packed with innovative storage solutions, about 200 miles of range and a projected 2023 on-sale date. Rivian expects first deliveries of its $75,000 R1T pickup truck and related R1S SUV as early as June, and plans to open a showroom in Laguna Beach later this year.
Ford Motor Company, also a Rivian investor, is expected to unveil an all-electric version of its full-size F-150 as soon as this year, along with a small pickup truck with an internal combustion engine. Archrival GM's GMC Hummer EV, announced last October, is expected to reach customers this fall with as much as 1,000 horsepower and an initial price of at least $112,000. Elon Musk said in January production of the Tesla Cybertruck, previewed in 2019, could start by the end of this year, but volume sales will likely begin in early 2022.
From Your Site Articles
Related Articles Around the Web
On this week's episode of the L.A. Venture podcast, hear from serial entrepreneur Aaron Fyke, founder and managing partner of Thin Line Capital, a firm tackling the world's toughest problems in energy, water and food sustainability. We'll hear about the state of global warming, renewables and discuss the promise of clean tech investment. Frankly, Aaron truly makes me think we should devote all our energies to work on climate change — due to the exponential growth curve of the technology built to improve it.
For example, he said that 10 years ago, globally there were seven gigawatts of solar installed, and now there's well over 500. He said the same goes for wind at over 500 gigawatts, and that there's "a trillion watts of capacity installed in renewables. Renewables are now flat-out cheaper than traditional fossil generation."
He said you can buy a wind farm or a solar field for far cheaper than you could build a new coal plant, and that the "expectation is that electric vehicles will reach cost parity with internal combustion engines literally in the next three years."

To those that criticize renewable energy because the sun doesn't always shine and wind doesn't always blow, he says, we need storage, which these days is much more affordable than it once was. To those that worry about loss of jobs because coal facilities are no longer being built, he says, "One of the fastest growing positions is wind farm maintenance technician. And that's just going to be the growth jobs of the future."
We dug into the why behind the intensity of California fires, East Coast hurricanes and other disasters. And, while I was feeling pretty scared listening to Aaron explain the direness of the climate change situation, Aaron prefers to see the seriousness as inspiration for motivation. He says he focuses Fine Line Ventures on software companies or CapEx light hardware, like printed circuit board, assembly, some sensors and some analytics. He also looks closely at storage opportunities because he sees grid scale storage as the "next wave that's that's going to see huge growth."
Aaron Fyke is currently founder and managing partner of Thin Line Capital, bringing investment capital to bear on some of the world's toughest problems in energy, water and food sustainability. While CEO of Heliogen, he was committed to lowering the costs of solar thermal power. Prior to Heliogen, Aaron was the founder and CEO of Energy Cache, a low-cost, grid-scale energy storage technology company serving a multi-billion dollar energy market that was backed by Idealab, Bill Gates, NRG, and others. Aaron continued his work with gravity storage with Energy Vault, which received a significant investment from SoftBank. Previously he headed up the development of a $10M X PRIZE in Energy for the X PRIZE Foundation. Prior to that he was a Partner at Starfish Ventures, Australia's largest venture capital firm, where Aaron led the investment into the fund's biggest investment and exit.

dot.LA Sr. Podcast Producer & Editor Laurel Moglen contributed to this post.
From Your Site Articles
Related Articles Around the Web