Have you always dreamed of scarfing down a Dodger Dog while sitting in your pajamas on your couch? You're in luck. The Los Angeles Dodgers have teamed with Postmates and Home Team Kitchens to deliver stadium grub to your doorstep.
There are certain rules in life. You consume a giant tub of popcorn and a large soda when you go to the movies, a bowl of chili when you're skiing, and a hot dog and all manner of other sodium rich foods in order to distract you from the dullness of a four-hour baseball game. But this is 2020, where any normal rules have long since gone out of the window and people are craving for any way to have a taste of pre-pandemic days – as long as it can be done from the safety of their home.
Using Postmates or its competitors, one is free to choose from a vast selection of food - sushi from Sugarfish, chicken burgers from Howlin' Ray's, tacos from Guisados. So I was curious to know why anyone would want to order items they normally get only because they are confined to the stadium with nowhere else to go.
"It's comfort food and the kind of thing we need these days," said Mike Jacobs, founder and CEO of Home Team Kitchens.
Interestingly, the Dodgers starting working on a plan to deliver food in February, before the coronavirus starting causing havoc in the U.S.
"The coronavirus accelerated what we thought was a cool brand extension for us," said Tucker Kain, president of Dodgers Business Enterprise, who sees delivery as a good way to keep front of mind for fans. "We want to build a bridge with fans in a meaningful way given that the live experience isn't available."
The Dodgers and Home Team Kitchens think people will want stadium food even when they are not watching a game. "It's great food to have if you're watching Netflix or if you're at work and you want a big serving of nachos," Jacobs said.
The program quietly soft-launched on opening day and started marketing this week when the Dodgers travelled to Houston. Food is prepared out of a single ghost kitchen in Hollywood, but there are plans to expand it to 25 locations throughout Los Angeles so deliveries can be faster and fresher. Jacobs also wants to partner with sports bars to open several dine-in options.
"Demand has been greater than my projections," said Jacobs. "It's double what I was expecting. We're hiring new staff and expediting getting more locations. It's a lot of Dodger Dogs." (Dodger Dogs have also been available in select ampm locations since 2016.)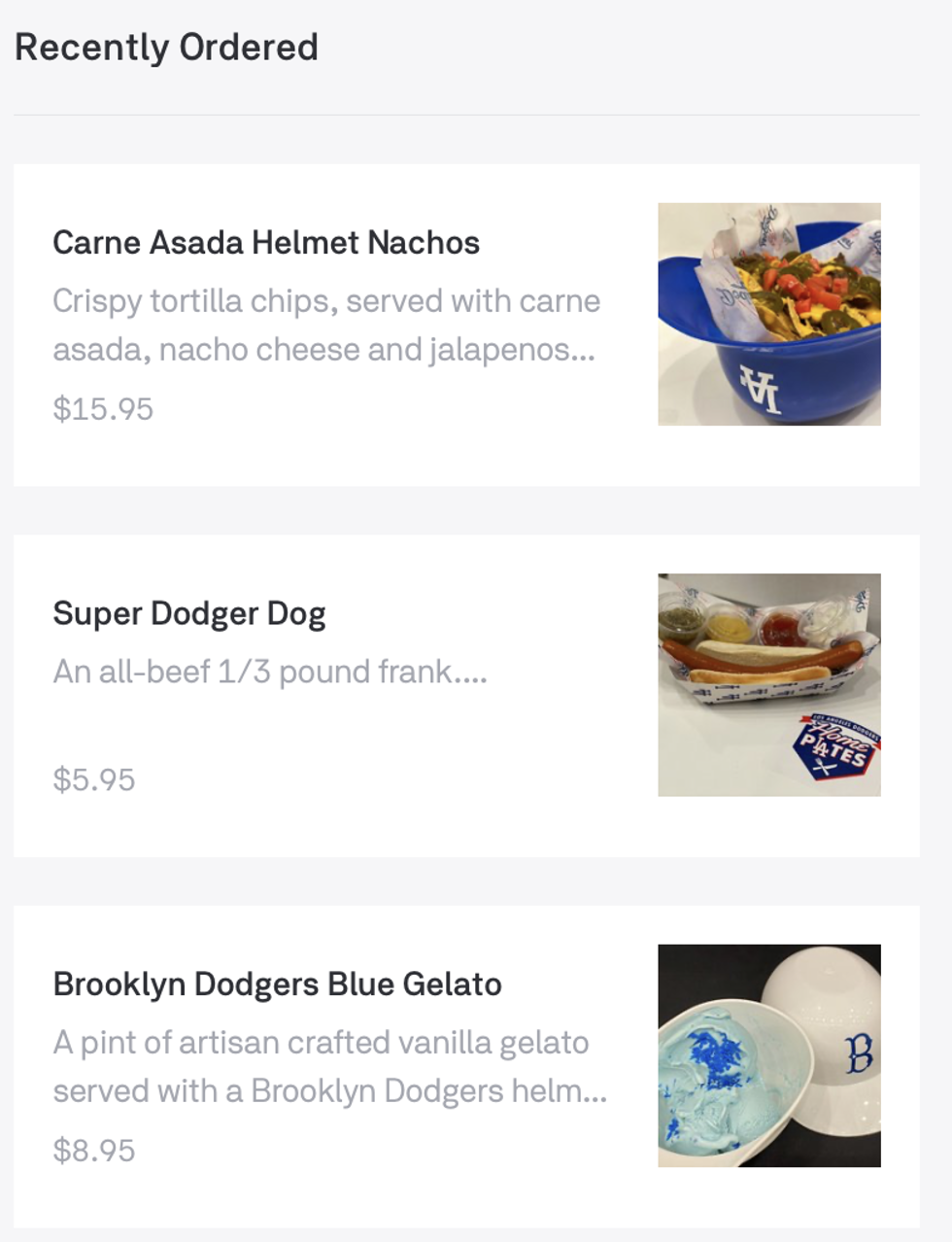 What It's Like Ordering a Dodger Dog at Home
Yesterday, as the Dodgers were preparing for their final game against the dreaded Astros, I opened up Postmates and ordered $30 of food (which came to $50 after taxes, fees, and tip.) Here's how it went.

No standing in line or worrying about missing an at-bat. First pitch was scheduled for a little after 4 p.m. I placed my order at 3:16 p.m. Postmates said my food would arrive no later than 4:20 p.m. to my apartment in downtown L.A. That turned out to be slightly optimistic, as I didn't get a text until 4:24pm notifying me that my order had arrived.

Jacobs sighed when I told him how long it took for me to get my order.
"We're hoping for 30 minutes, but it takes some time to get that right," he said, adding that with more locations the wait times will come down and the food should be hotter.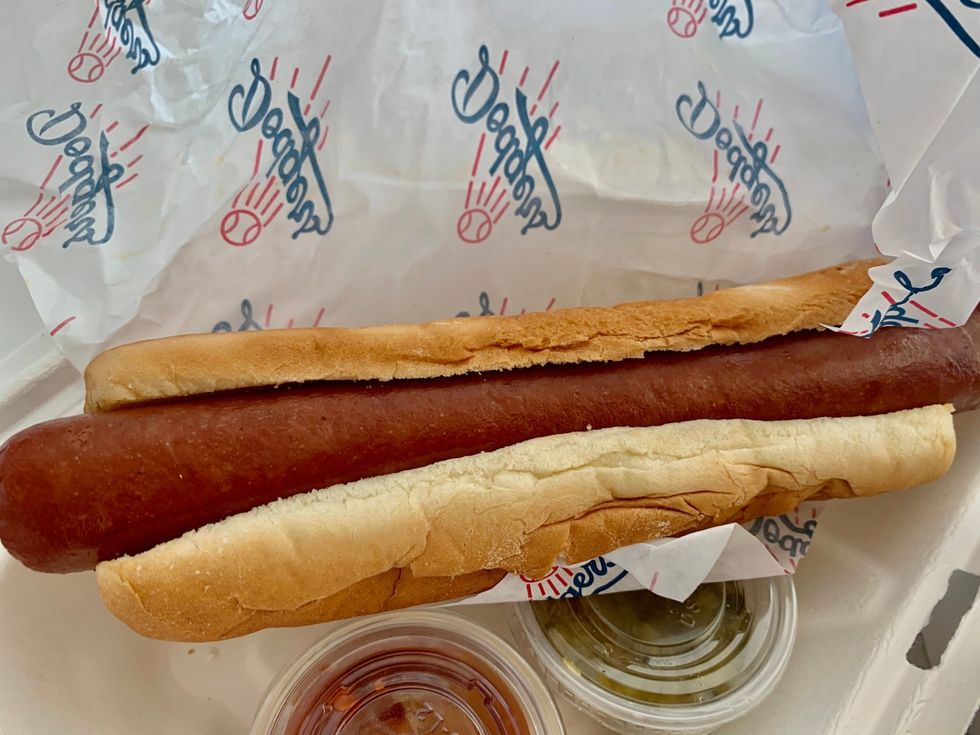 Super Dodger Dog

They don't call it a cold dog and unfortunately the dog was not even lukewarm. Maybe I should have stuck it in the microwave? I missed the warm foil wrapped version from the ballpark but once I doused it in the ketchup and onions provided, it wasn't bad.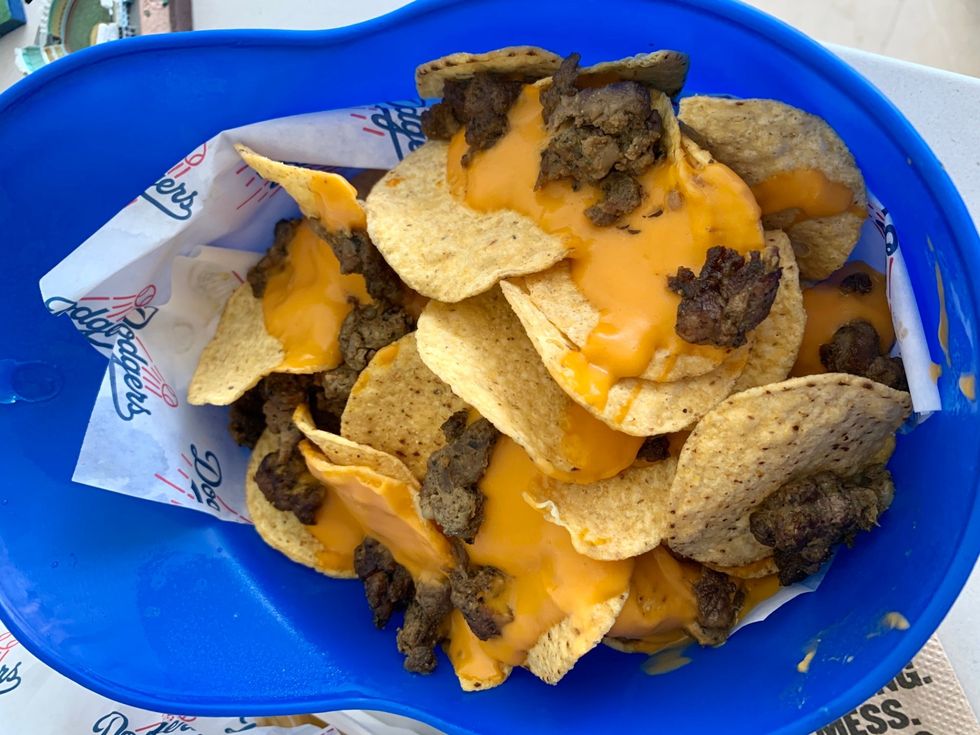 Carne Asada Helmet Nachos

At $15.95, this was my splurge of the night, but I could not resist eating out of a batting helmet and the portion size could probably feed a whole family. The tortilla chips were soft but fortunately not soggy, covered in cheese and generous chunks of asada. But again, the dish was cold so instead of getting the hot cheese you get at the stadium, it had coagulated into globs.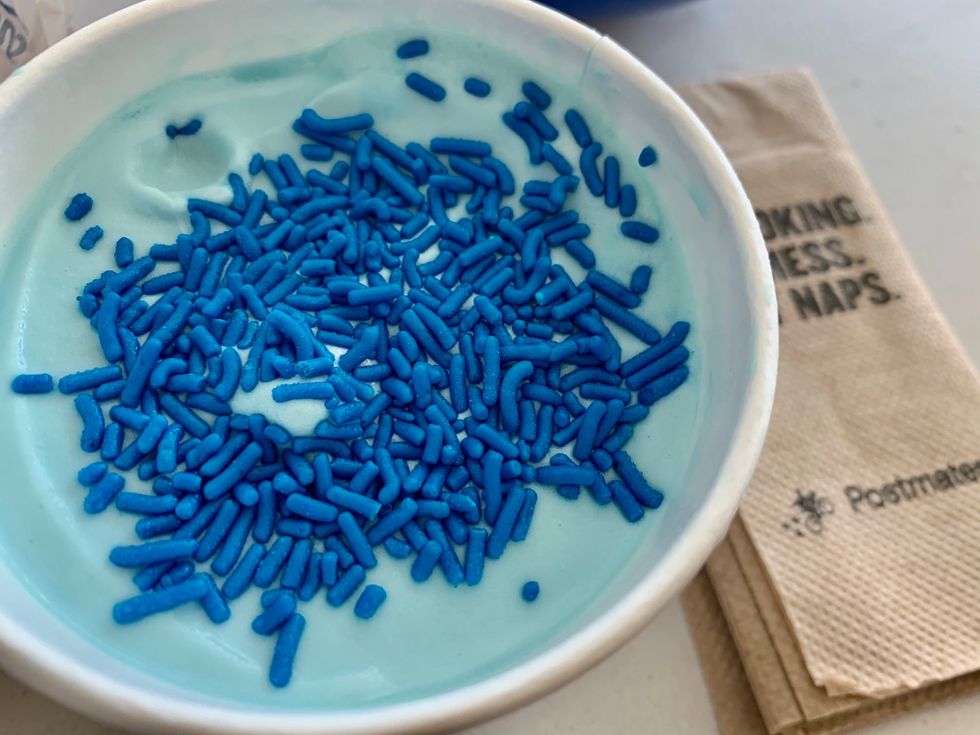 Brooklyn Dodgers Blue Gelato

I was excited to order this because it was advertised as coming in a mini Brooklyn Dodgers helmet but instead mine came in a much less exciting white plastic cup. At least this was the correct temperature though. Proving it's easier to keep cold things cold than hot things hot, the gelato was surprisingly cool and creamy. I took a few small bites and then stuck it in the freezer — one thing you can't do at the ballpark.
The game
Couldn't tell you. I don't get Spectrum SportsNet so I was planning to watch on ESPN, but the game was blacked out there. (I later read the Dodgers won 4-2 in a 13 inning thriller.)
Overall
Eating a cold Dodger Dog at home is an experience everyone should try at least once, but probably no more than that. Delivering warmer food would definitely help, but we are lucky enough to have a lot of great restaurants to choose from in L.A., so the next time I spend $50 on stadium food will be at the stadium.
From Your Site Articles
Related Articles Around the Web
Santa Monica-based healthcare startup Heal announced a $100 million investment and partnership with health insurance provider Humana, a move that will vastly extend the reach of their on-demand doctor service.
Humana hopes to use Heal's applications for its Medicare Advantage program, providing more in-home care to seniors. It will also bring the service to major metro areas including Chicago, Houston and Charlotte.
Heal's CEO Nick Desai, who is fond of saying that the traditional doctor's office is dead, said it will help his company grow nationally and develop more predictive tools to guide doctors with care.
"You want a headline?" Desai joked after making the joint announcement, "Heal wins $100 million to bring concierge care to all Americans."
"We want to expand, so we go nationwide," Desai said. "We like to think the real winners in this is the millions of Americans who get health care this way. "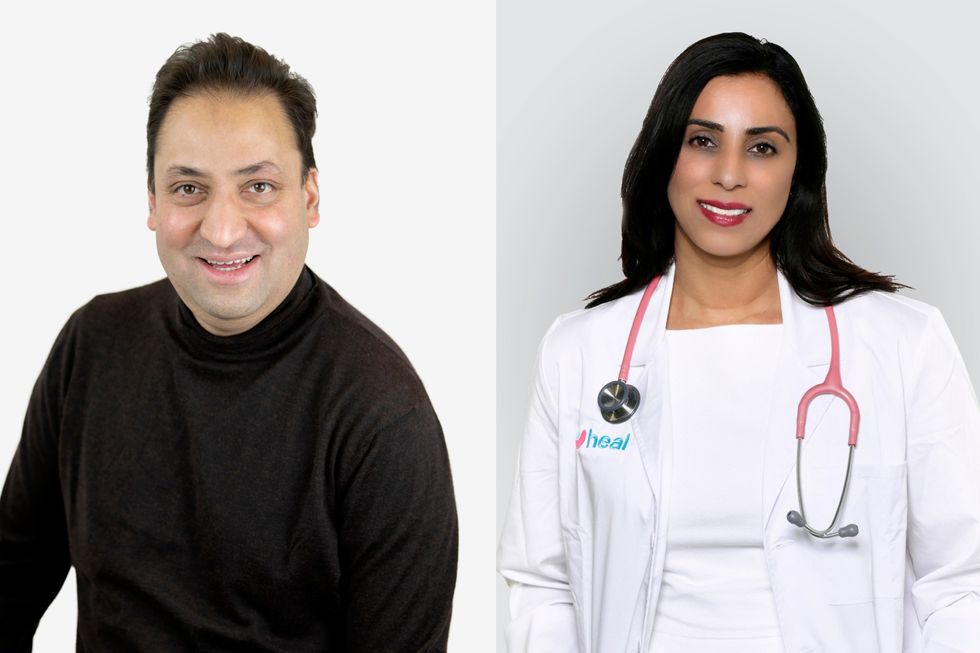 Heal CEO Nick Desai and Chief Medical Officer Renee Dua are married.
Heal boasts 200,000 home visits since it launched five years ago and expects to see 250% revenue growth between this and next year. Started by Desai and his wife, a medical doctor, after waiting seven hours for their then one year old to see an emergency doctor, the company has been on fast growth trajectory as traditional insurers look to startups for new ways to deliver care. He wouldn't provide revenue, but said it was in the tens of millions of dollars.

Humana, with about 17 million members, will use the services for its government-subsidized Medicare Advantage program as it seeks to build on its 34% penetration — as of 2019 — in the market.
"Our goal is to make the healthcare experience easier, more personalized and caring for the people we serve," said Susan Diamond, Humana's segment president for home business, who is joining Heal's board. "We continue to see high levels of customer satisfaction and improved health outcomes when care is delivered in the home,"
Humana said the partnership will help it fulfill its mission of addressing the needs of the whole person by giving doctors greater insight into health with at-home visits. There, doctors can see the social factors that may be impacting patients' health, such as a steep staircase or exposure to environmental hazards like pollution.
Most doctors see 8 to 10 patients, much fewer than regular physicians who often see dozens of patients in a day. The model, he said, brings down emergency room visits and elevates preventive care, making it appealing to insurers.
It's also a throwback.
"In 1970, 50% of all primary health care in America was delivered by house calls. Today it's less than 10%," he said. "That went away with insurance and fee-for-service care, Medicare. We are bringing it back."
But unlike the 70s, Heal monitors blood pressure, blood sugar and other vitals remotely using cloud connected devices to provide insight into patient care.
Last fall, the company, which operates fully in seven states and Washington D.C., bought Doctors on Call in New York City. That allowed it to make an entrance into the nation's largest city that was also, at one time, its largest coronavirus hotspot.
To deal with the pandemic, Heal protocol was to schedule an initial telemedicine call before scheduling a house visit to make sure their doctors weren't going to be exposed to the coronavirus.
"You know today, you don't want to go to the doctor's office because of COVID, but tomorrow it will be something else," he said. "You will never want to go to the doctor's office. Why would ever go to the doctor if the doctor comes to your house?"
Heal investors include former Qualcomm CEO and Executive Chairman Paul Jacobs, who is the company's chairman of the board, IRA Capital, Fidelity ContraFund, Jim Breyer, singer Lionel Richie and former Florida Governor Jeb Bush.
**This story has been update to include an interview with Heal's CEO.
Do you have a story that needs to be told? My DMs are open on Twitter @racheluranga. You can also email me.
From Your Site Articles
Related Articles Around the Web
When CEO Andrew Farah co-founded Density in 2014 with a team of Syracuse graduates, their initial goal was to avoid waiting in line at their favorite downtown coffee shop. Syracuse averages 104 feet of snow a year and they got tired of trudging through the cold only to wait 15 minutes for Sumatra drip coffee and bagels. Being engineers and designers, they thought there had to be a better way. They spent the next few years building a system that, as it turned out, is perfectly suited to the current COVID-19 era: A way for companies to monitor precisely how many people are occupying a given space.
"We don't take pride in the fact that a pandemic has accelerated distribution," Farah said. "But we take pride in the fact we can help in a small way to keep people safe."
Since COVID, Density has seen revenue shoot up more than 500%. Prior to the crisis, the company had seen growth of around 40% each quarter. Warehouses, grocery stores, meat processing plants and casinos all signed-up, eager to find a way to limit capacity.
Density announced Tuesday it has raised $51 million in Series C funding led by Kleiner Perkins, with participation from 01 Advisors, Upfront Ventures, Founders Fund, Ludlow Ventures, Launch, and DTA. Former MLB All-Star Alex Rodriguez also invested. Prior to this round, Density had raised $23 million, bringing total funding to date to $74 million.
Before the pandemic struck, Density saw considerable demand from companies who wanted to increase security and better utilize their office space. An estimated $1 trillion of rented office space sits empty in the United States and Farah says employees and managers are not very good at knowing what space they need and what is a waste of money.
"Most organizations were largely flying blind about how they design buildings," said Farah. "Buildings have been designed based on 150 or 200 square feet per employee, but that's just a best guess or observation."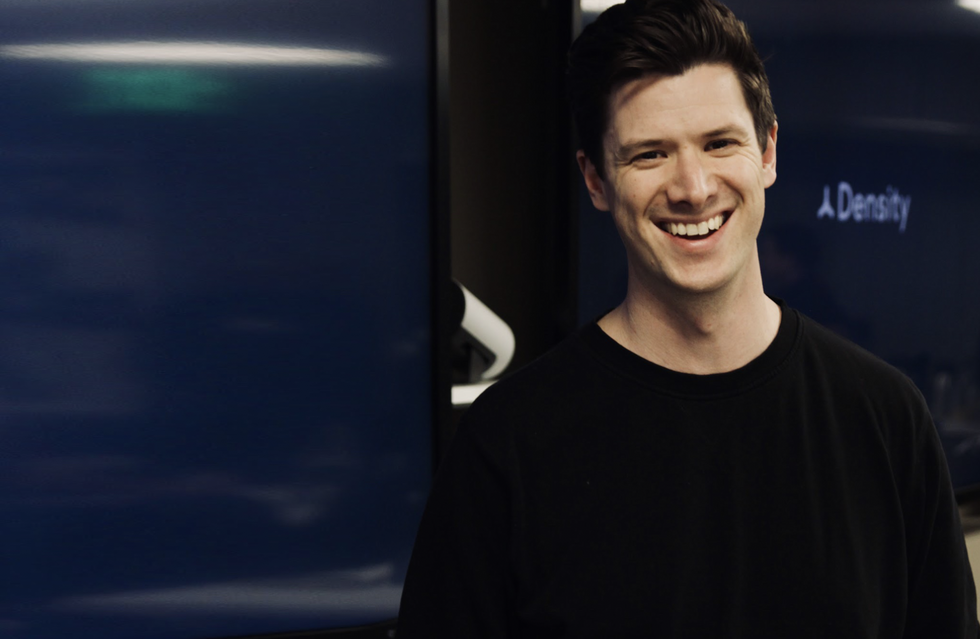 When CEO Andrew Farah co-founded Density in 2014 with a team of Syracuse engineers their initial goal was to avoid waiting in line at their favorite coffee shop.
When Verizon bought Yahoo in 2017, it used Density to figure out which desks and conference rooms it could get rid of to save on rent. Clients also include a who's who of tech companies such as Facebook, LinkedIn, Uber, Salesforce, Google, Amazon and Uber as well as Nike, Booz Allen Hamilton and the U.S. government.

While some might see the technology as intrusive surveillance, Farah says Density actually provides more privacy because its proprietary depth sensors and deep learning algorithms do not use anything that could identify who a person is, making companies reliant on traditional surveillance cameras that record a worker's every move.
"The most sophisticated companies in the world don't want to spy on employees," said Farah. "They want to preserve employee privacy."
Mark Suster, managing partner of Upfront Ventures, says he was drawn to Density as part of his thesis that computers are better at making decisions about the physical world than humans. He's invested in more than half a dozen companies along those lines including Nanit, which makes smart baby monitors, and Ring, a smart home monitoring system that was bought by Amazon for more than a billion dollars in 2018.
"Our investment in Ring was really about computer vision because Ring's initial selling point was, 'it's not just a camera for your front door but it has the ability to interpret the surroundings around you'," Suster said. "It can say if it's your dog, or leaves or someone who shouldn't be in front of your house."
Suster sees similar promise in Density, which he says can do everything from helping airlines board planes more efficiently to making sure restaurants and hotels are deploying staff when they are needed most.
"Ultimately, we're an enterprise software company," he said. "We allow people to predict how people are going to move around spaces. And people have started signing multimillion dollar contracts."
Interestingly for a company that helps other companies better utilize office space, Density has been fully distributed since 2014, with 50 employees spread out across five countries and 15 states.
"I had wondered if we should all be in the same place," said Farrah, who is now based in San Francisco.