Virtual Reality
The latest news about virtual reality and VR startups in Southern California from dot.LA.
L.A.-based Genies is expanding beyond creating and managing avatars for celebrities; consumers can now create their own avatars on partner platforms that use Genies' software development kit.
Initial partners are Gucci and Giphy, with more expected in the coming months.
Genies' pivot is an effort to capitalize on the 'digital goods economy' and the ascendance of the metaverse.
Justin Bieber made Crocs cool again earlier this month, when he partnered with the footwear company, known more for function than fashion, to release a limited edition pair that reportedly sold out in 90 minutes.
Imagine now that those shoes were meant to be worn not on human feet, but on the pixels of a consumer's digital avatar.
This is the vision of L.A.-based Genies, which announced Tuesday it is now integrating its avatar-creation technology into other companies' digital platforms via an updated software development kit (SDK).
To Genies chief executive Akash Nigam, the goal is to create new marketplaces where users can design their own avatars and adorn them with purchased digital goods.
Genies' two initial SDK partners are luxury fashion brand Gucci and Giphy, a visual tool and resource owned by Facebook that allows users to find, create and share short, looping videos.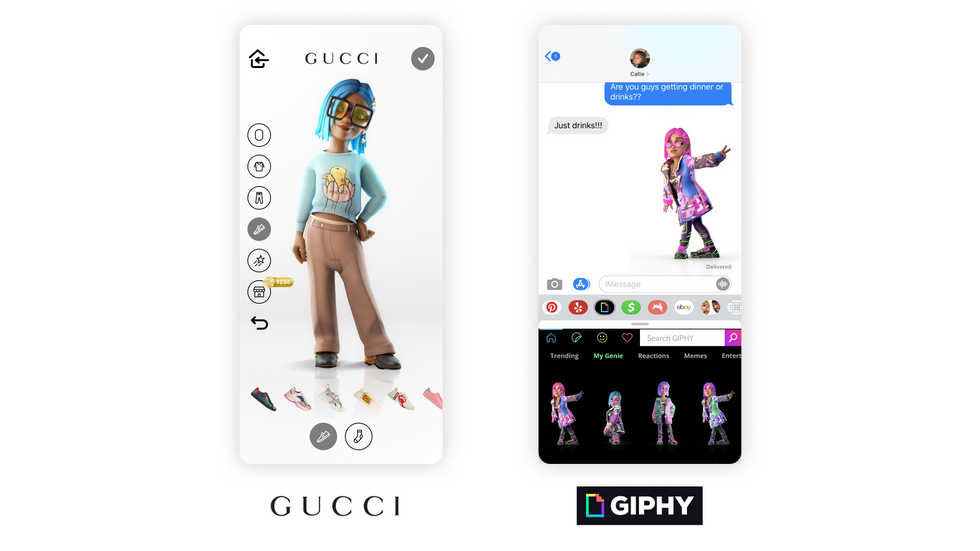 Luxury fashion brand Gucci is one of one of Genies' initial SDK partners.Courtesy Genies
To date, Genies has worked primarily with celebrities. The company runs an agency to deploy the avatars it has created for over 2,000 celebs, including musicians Shawn Mendes, Rihanna and Justin Bieber. Clients have employed their avatars for tasks like announcing newly released songs and albums on their social media accounts, as well as to endorse brands. A company representative said the avatars have been deployed "thousands of times" and have generated "millions" of dollars.

Genies is now allowing consumers to build their own avatars for the first time. And, by integrating with other platforms, the company is doubling down on digital goods.
"Our big bet is on the digital goods economy," Nigam told dot.LA. "If it works well, we'd want it to be 99.9% [of our revenues]."
Those who are skeptical that anybody would want to purchase a digital umbrella, spacesuit or pair of sandals may want to look at "Fortnite," Epic Games' increasingly popular virtual world where people go both to play games and to socialize. Although Fortnite is free to play, in 2018 and 2019 it generated over $1 billion from in-game purchases of cosmetic upgrades to players' virtual characters – on mobile platforms alone. Fortnite is also available on computers and gaming consoles, which also generate substantial revenue from selling digital-goods.
Gucci, for its part, has increasingly turned to tech as a useful complement to high-end fashion in the 21st century. It has previously partnered with Genies to tap the company's celebrity avatar agency, used augmented reality (AR) to allow potential buyers to "try before they buy" and already begun developing items exclusively for digital use.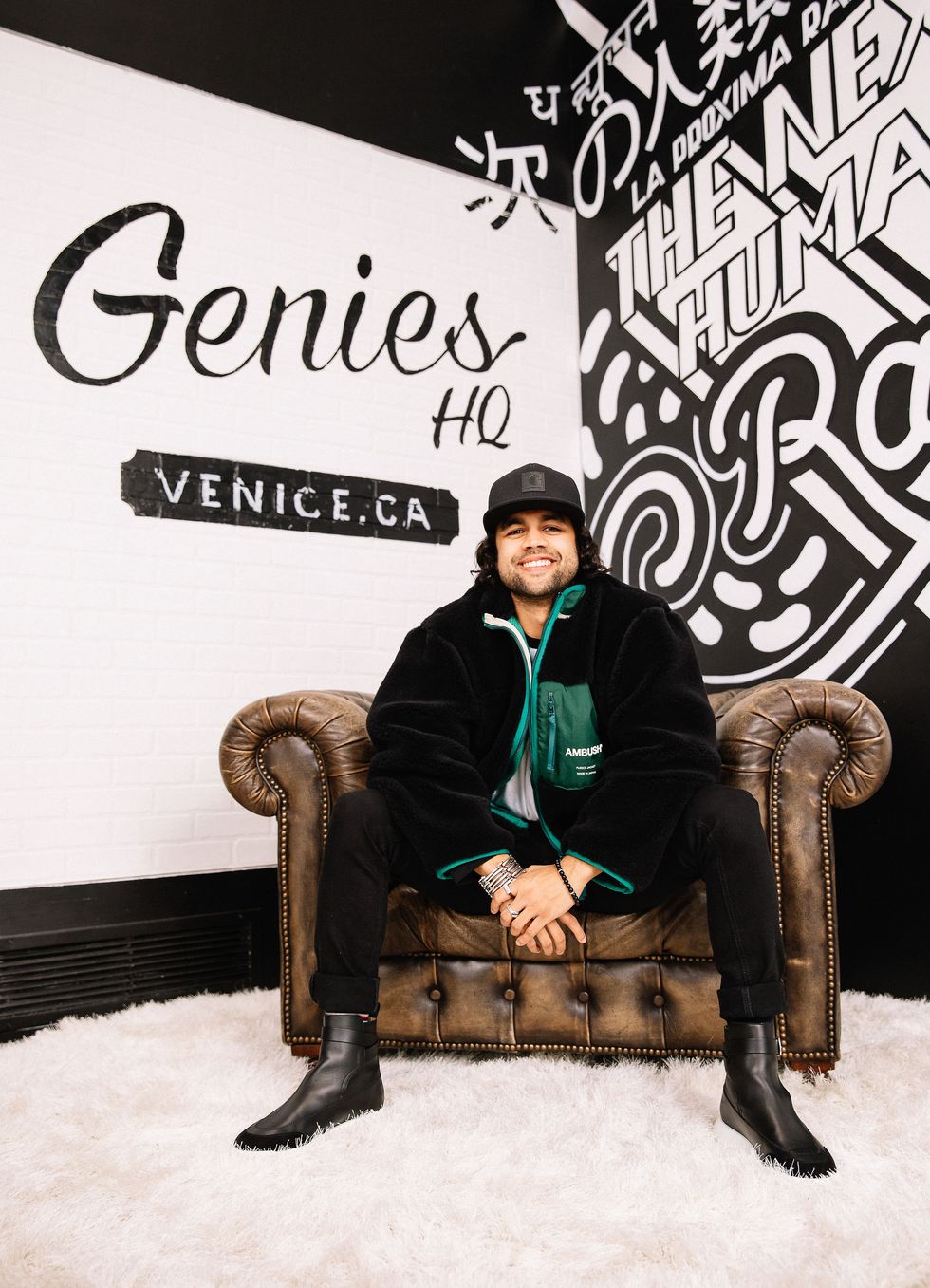 Genies CEO Akash Nigam.
Courtesy of Genies
It's a natural partner for Genies' SDK, which will allow users of Gucci's digital platform to "attire their avatars in the latest Gucci apparel...while adding a revenue generator through the sale of digital goods," according to a statement from Genies.
Genies' SDK relies primarily on a revenue split, with Genies and the hosting platform each taking a portion of the transaction income.
More partnerships are in the works.
"We've been having tons of conversations with other large partners that we will make public over the coming months," Nigam said, adding that Genies plans to encourage its celebrity network to sell digital goods on these partner platforms. In those cases, the celebrity (and/or their rights holders) will earn a percentage, too.
In advance of today's announcement, Genies has been growing its technical team. At the start of the pandemic, Nigam said the company had 16 employees in Los Angeles. It now has 50, 40 of whom are technical workers. Another 15 or so work outside of L.A., he said.

The team has been working on upgrading the look of Genies' avatars. As of today, those characters can be deployed in 3D, affording 360-degree views and allowing them to live in AR and VR worlds. They are also more expressive, with more detailed physiognomy.

Genies has raised $38.8 million to date. The company would not disclose its valuation nor share whether it is profitable.
Today begins its transition from focusing on tastemakers to preparing for a new age of virtual characters running around digital worlds.
"Over time, these SDK partnerships will create a digital identity ecosystem where consumers can transport their avatar from platform to platform," the company said in a statement.
"Avatars are a prerequisite for the metaverse," Nigam said, referring to the parallel virtual world some expect will combine of gaming, social networking and ecommerce, and which some have described as the next iteration of the internet.
It remains to be seen, of course, whether metaverse avatars will opt to wear Crocs.
From Your Site Articles
Related Articles Around the Web
Takeaways:
VR game-maker Survios is expanding beyond virtual reality games as it embraces the idea of a "cross-play" world, where users can play against one another regardless of platform.
The company sees this as part of a broader emerging trend that it calls "cross-reality."
Survios' move is part of a bigger shift in the VR industry, which is recalibrating expectations and extending the timeline for immersive technology's growth.
Culver City-based virtual reality and gaming startup Survios is broadening beyond VR.
The company — creator of such games as "Creed: Rise to Glory," "The Walking Dead Onslaught" and "Westworld: Awakening" – recently announced its first non-VR game: "Big Rumble Boxing: Creed Champions." It hopes to leverage its relationship with MGM Studios, a lead investor of its 2016 Series C fundraise and owner of the "Creed" series IP.
Following its recent $16.7 million Series D funding round, Survios is one of a number of companies taking a fresh look at how users will use virtual reality in the future, and its role in the growth of gaming and the "metaverse."
Survios has also made several recent executive hires from non-VR backgrounds. New chief product officer TQ Jefferson was formerly VP of Disney's Games & Interactive Experiences group while Michael Medrano, Survios' new VP of marketing, was previously marketing director at PUBG and brand manager at Blizzard.
"We've been brought on board to help shepherd Survios through this next evolution from scrappy startup to something more formalized," Jefferson told dot.LA. The company has now raised $70.9 million. Its most recent investors included several companies from South Korea, including Irongrey, Woori Technology Investment Co. and Samsung NEXT. Earlier funders included Bay Area-based funds DHVC, Felicis Ventures, World Innovation Lab and Lux Capital.
Survios is betting on the growth of "cross-play," wherein gamers using different gaming systems can play together. The company has a broader vision, though, which it calls "cross-reality" — a seamless connectivity between not just different gaming platforms like Playstation and XBox but also between traditional '"flatscreen" media and immersive tech like AR and VR.
"Six years ago, cross-play was verboten," Seth Gerson, chief executive of Survios, told dot.LA. Fortnite, Epic Games' flagship game and virtual world, he said "broke that dam."
Epic CEO Tim Sweeney's broadside against Apple's app store policies is part of his ongoing crusade to make the gaming world more open and connected. Doing so, Sweeney believes, will more fairly compensate game developers and help the overall industry ecosystem grow bigger and stronger–and bring about a flourishing metaverse. In line with Sweeney's vision, Gerson noted that "people are playing more and paying more."
Media analyst Matthew Ball has described the metaverse as a "quasi-successor internet where everyone and every company can exist, work, socialize, trade and create."
"The 'real world' will become fundamentally integrated into the digital one, and countless new digital services and products will be created," said Ball.
Survios expects people to eventually experience the metaverse primarily through VR. In the meantime, though, in line with its cross-reality vision, it is pursuing a strategy that includes but is not limited to VR, which it hopes will position the company to play an ongoing role as the metaverse develops.
A screenshot from Survios' first non-virtual reality game: "Big Rumble Boxing: Creed Champions."
Virtual Reality: Fad or Future?
The company says it remains bullish on its VR roots. With technological enhancements in VR hardware and an ongoing decline in price – the Oculus Quest 2, due out on October 13, carries a price tag of $299 – about 8 million head-mounted displays are now in the market, Gerson said.
Recounting his former days at Sega, when the Japanese corporation was pushing its Sega Saturn gaming console, Gerson said that "if we had had 8 million units, everybody would've been doing cartwheels down the hall."
Adding in the coronavirus pandemic's boost for VR demand, Jefferson suggested "this is perhaps an inflection point where it breaks open to a larger audience."
Many observers will roll their eyes at that, having heard such proclamations before that failed to deliver.
"Certainly, the promise of VR was expected to arrive earlier than it has," media analyst Peter Csathy told dot.LA.
Ball underscored VR's continual overexuberance by noting that ABI Research, a market research firm, forecasted in 2017 that annual VR revenue in 2021 would be $65B. In 2020, however, the company significantly lowered its outlook, forecasting $25 billion in VR revenue in 2024.
"Imagine how many VR-related start-up decks had that totally baseless, inane 2017 estimate," Ball wrote.
Others are less kind. Media analyst Dan Rayburn flatly calls VR "a fad."
Stepping Back to Build a Broader Universe
Looking back, Survios' Gerson said the VR investment market made two key mistakes.
One is a misunderstanding of how much it costs to make a high-quality VR game. Gerson said VR development is far more complex than, say, mobile games; it can take over 100 developers to make a premium VR experience. "If you don't give the team the funding and the time, they can't build that experience," he said.
Gerson said VR boosters were also mistaken in expecting VR's adoption curve to resemble the exponential growth of smartphones. Instead, he said, VR adoption has been and will likely continue to be more linear, "like color TV."
Tuong Nguyen, media analyst at research firm Gartner, wrote in May that immersive technology (VR and AR) "is still three to eight years from the early majority adoption. In other words, it's in the adolescent stage."
Still, "calling VR 'a fad' is like being negative on the internet," he told dot.LA.
Nguyen wrote that past VR efforts have lacked a viable strategy for reaching consumers. In contrast, businesses have more quickly adopted VR for some applications, like training. But the consumer market remains the larger prize.
In this sense, Survios' effort to meet the consumer where they're at by expanding beyond VR could be a prudent move.
Gerson still believes that VR is the future. He called it the "ultimate iteration" of the metaverse – the parallel digital universe first conceived by science fiction writer Neal Stephenson that is part and parcel of Sweeney's no-barriers vision of the gaming world.
Representatives at market research firm Parks Associates agree with that view.
"2020 has been a good year for virtual reality adoption in the United States," research analyst Kristen Hanich told dot.LA. "With VR headset adoption reaching a critical mass among gamers, and increasing releases of built-for-VR games to the market, the VR market is poised to finally break out."
That vision is firmly in mind at Survios.
The company wouldn't provide specifics on its product roadmap, but Jefferson did say Survios' plans "allow us to edge closer to enabling cross-reality immersion."
"We've built a whole suite of tools...and our goal is to build worlds and allow our customers to participate in those worlds using any platform they want," Gerson said.
For now, Survios will simultaneously focus on adapting to the slower adoption of VR while preparing for a future where it is more widespread.
---
Sam Blake primarily covers entertainment and media for dot.LA. Find him on Twitter @hisamblake and email him at samblake@dot.LA

From Your Site Articles
Related Articles Around the Web
The second annual Music Tectonics conference announced its lineup on Tuesday, which will focus on the growing confluence of music and tech.
The conference held its inaugural run in Los Angeles last year. This year, it will take place virtually on October 27 and 28.
Dmitri Vietze, chief executive of the event's organizer, music PR firm Rock Paper Scissors, pointed dot.LA to a few notable examples of topics to be discussed in the event panels.
The first is what he called two former "step-children of the music industry" poised to grow due to the pandemic lockdowns: music in AR and VR, and live-streamed concerts for remote audiences.
Jaroslav Beck, co-founder of popular VR music game Beat Saber, and Tom Impallomeni, chief executive of VR DJ experience Tribe XR, will feature in the "Mixed Reality & Music" panel. Stephen White, chief executive of L.A.-based live-streaming platform StageIt, will lead a discussion on the livestreaming era.
"Music Tectonics sits at the important nexus of the music industry and the software and service providers of the technology world," White told dot.LA. "It has become increasingly important for these industries to work closely together as the content and platforms continue to evolve. This relationship only works if both groups win, and that starts with meaningful dialog."
Vietze also highlighted two already-growing areas that have received a pandemic boost: social video and fitness. Triller chief executive Mike Lu will discuss his platform's growth with Rasty Turek, who heads Pex, another L.A.-based firm at the intersection of tech and music. TikTok's head of music Corey Sheridan will feature in the "Music in a Borderless World" panel.
There will also be discussions on the growing value of music at a time when music is playing a greater role across a variety of platforms and reforms to copyright law may change musicians' ability to make money.
L.A.-based Super Hi-Fi's chief executive Zack Zalon will join Sonos' Ryan Taylor in a discussion on "The Future of Listening Experiences." There will also be a "Music Tech Investor" panel focused on venture capital and startups.
The event will be headlined by Warner Music Group's chief innovation officer Scott Cohen and Cherie Hu, a music analyst with a popular music-tech blog, Water and Music.
Tickets are $59 for general admission. More information on the event, lineup and sponsors can be found at musictectonics.com.
From Your Site Articles
Related Articles Around the Web