Virtual Reality
The latest news about virtual reality and VR startups in Southern California from dot.LA.
A combination of Zoom, Minecraft, Twitch and Wordpress with the spirit of Burning Man. That's how Daniel Liebeskind describes Topia, the browser-based social world-building platform he built to bring genuine interactivity to virtual conferences and events.
On Wednesday, his West Hollywood-based startup announced it's raised $5 million in seed investment, led by Seven Seven Six, the venture fund led by Reddit co-founder Alexis Ohanian. Bonfire Ventures also participated in the round.
"Our digital lives are not going away at all," said Ohanian during an online chat earlier this week with Liebeskind. "This is going to be the gateway for so many people to have so many great experiences, and we're all grateful here at Seven Seven Six to be leading this round of funding."
Topia allows users to explore virtual worlds customized by artists and designers. As users navigate a given world and come into proximity of other users, each of their video feeds come into view, enabling them to strike up a spontaneous conversation.
The world in which those conversations take place are built by Topia's open-source community of creators, who have already designed such novel spaces as an interactive theatrical experience and an NFT museum. Asana, a project-management software firm, used Topia for a digital party to celebrate its IPO last fall.
Just months after its May 2020 launch, Topia hosted 25,000 people for Virtual Burning Man. It will host a virtual version of this year's festival as well, for which it may experiment with two-way interactivity between the in-person and livestreamed events.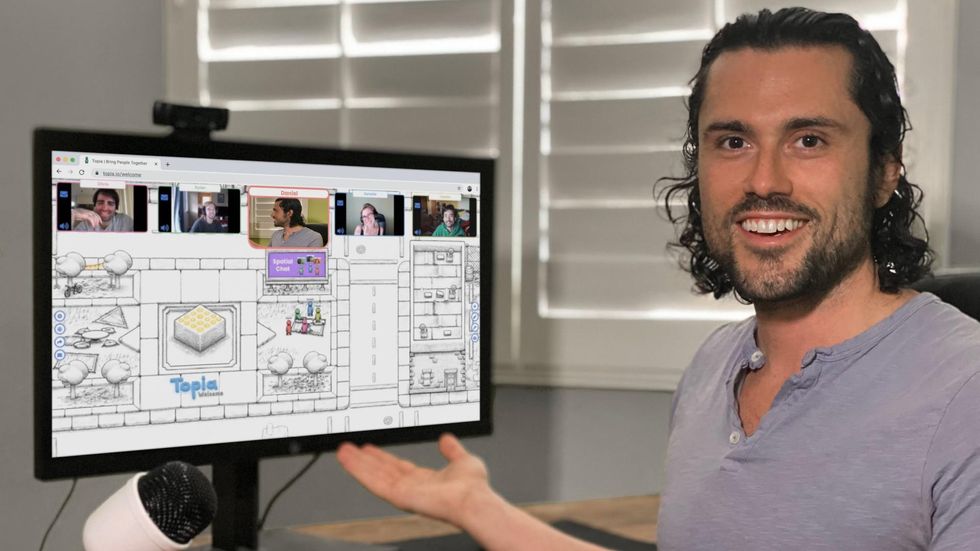 Topia founder Daniel Liebeskind
"This has been a lifelong journey of trying to build my own community and trying to build software that helps people have more authentic human connection," said Liebeskind. A multiple-time "Burner" himself, he said he built Topia to emulate certain elements of Burning Man from the beginning, including the serendipity that accompanies wandering through the Nevada desert and happening upon a new community of people who share common interests.

With the investment, Liebeskind plans to expand his eight-person team and stand up a marketplace within Topia that helps creators make money. The new creator payment ecosystem launches Wednesday. Liebeskind said his top performance metric will be the amount of money his startup pays out to creators on the platform.
As for where that cash comes from, and how the company itself makes money, Liebeskind said Topia is pursuing multiple revenue streams. The platform is mostly free to use, but certain features require payment, including customized URLs and incorporating single sign-on functionality into an event. The company is also building out an SDK and allows for ticket sales and subscriptions, which it will split with creators who design the worlds where those gatherings take place.
Creators can build their own Topia worlds and sell them as templates for others to use or build upon, similar to how Wordpress provides a marketplace for website templates and plugins. The designers can get paid for selling those templates and will also receive a percentage of the micro-transactions that take place within those worlds.
"The last bastion of things that I personally believe will ever be automated away are the things that are so uniquely human and empathetic and creative," said Ohanian, "so it's vital that we create new ways to properly reward that creativity and that empathy with money."

The marketplace launches with a collection of scenes designed by artists, including former Riot Games and Magic Leap Art Director Daren Bader, Void Bastards Creator Ben Lee and Ubisoft Senior Environment Designer Karen Stanley.
Topia has hosted about 1,000 events each month since its launch, for groups ranging from families to schools to big corporations.
Liebeskind has been building software since he was a kid and returned to tech full-time after a brief post-college foray into investment banking. He began creating the Topia business plan in late 2018, and constructed an early VR prototype in 2019.
"When the pandemic hit, I thought, 'Now is the moment for this thing that I was planning on building over the next 10 years'," he said.
Ohanian said that one of Reddit's most well known features, the "Ask Me Anything" Q&A format, was created by users, and told Liebeskind that he is excited by the user-generated trajectory of Topia.
"You'll be sitting here 10 years from now, being surprised by something where you're just like, 'Oh, I never would have imagined that,'" Ohanian said.
"The best of the internet is when you bring people together around a shared interest, and they make connections they never would have made otherwise," he added, reflecting on what has helped make Reddit into one of the internet's most popular destinations. "Leading this investment in Topia is a chance to look back now at community building [on the internet] from first principles."
From Your Site Articles
Related Articles Around the Web
Once the home of Frank Sinatra's vinyl recordings, Warner Music Group has ventured into the virtual entertainment world. The company announced it will partner with a virtual concert provider and invest in a tech company that plans to develop avatars and create NFTs for the label's artists.
Monday's announcement that Warner will enter into a content and investment partnership with Los Angeles-based Wave followed a similar announcement Friday that the venerable music label will partner with Genies, a tech company that will help develop a virtual presence for Warner artists and NFTs for their artwork and music.
"The commercial opportunity in the metaverse has exploded in the last several years, with the past few months seeing a tipping point for mainstream adoption of immersive social experiences and virtual communities," Oana Ruxandra, EVP, business development and chief digital officer at WMG, said in a news release.
Wave, a virtual concerts platform, uses its technology to transform artists into digital avatars through which they can perform livestreamed concerts for fans. It has recently released performances from artists such as The Weeknd and John Legend.
"Wave is indisputably a leader in the interactive virtual entertainment space and the right partner to help us grow WMG's efforts," Ruxandra added. "Our artists and their fans will be getting best-in-class experiences, as we pioneer new forms of consumption and monetization."
The agreement will allow Warner to develop virtual performances, experiences and monetization opportunities for its line-up of artists across its labels, including "new forms of ticketing, sponsorship and in-show interactions for fans," the company said.
In the past few months, Warner has announced it has invested in social gaming platform Roblox and experimental virtual artist record label Spirit Bomb, "enabling artists to power their creative visions and engage fans in new ways," the company said.
Warner did not release financial details of its investment in Wave.
In addition to the digital avatars for live performances, Wave offers live chats, virtual gifting and voting, as well as real-time audience appearances during artists' performances.
"WMG has an incredible history of being a trailblazer in the music industry. They share our vision for pulling the future forward using new technologies that benefit artists and fans alike," said Adam Arrigo, CEO and co-founder of Wave. "We're excited to partner with them to create interactive events that are unlike any other virtual concerts ever experienced."
The deal with Warner is one of Wave's biggest partnerships to date. It has also teamed up with Tencent Music Entertainment as well as investment from Justin Bieber, J. Balvin, The Weeknd, Scooter Braun, Top Dawg Entertainment, Maveron and Griffing Gaming.
Wave has so far hosted more than 50 events for popstars, DJs and artists.
L.A.-based Genies is expanding beyond creating and managing avatars for celebrities; consumers can now create their own avatars on partner platforms that use Genies' software development kit.
Initial partners are Gucci and Giphy, with more expected in the coming months.
Genies' pivot is an effort to capitalize on the 'digital goods economy' and the ascendance of the metaverse.
Justin Bieber made Crocs cool again earlier this month, when he partnered with the footwear company, known more for function than fashion, to release a limited edition pair that reportedly sold out in 90 minutes.
Imagine now that those shoes were meant to be worn not on human feet, but on the pixels of a consumer's digital avatar.
This is the vision of L.A.-based Genies, which announced Tuesday it is now integrating its avatar-creation technology into other companies' digital platforms via an updated software development kit (SDK).
To Genies chief executive Akash Nigam, the goal is to create new marketplaces where users can design their own avatars and adorn them with purchased digital goods.
Genies' two initial SDK partners are luxury fashion brand Gucci and Giphy, a visual tool and resource owned by Facebook that allows users to find, create and share short, looping videos.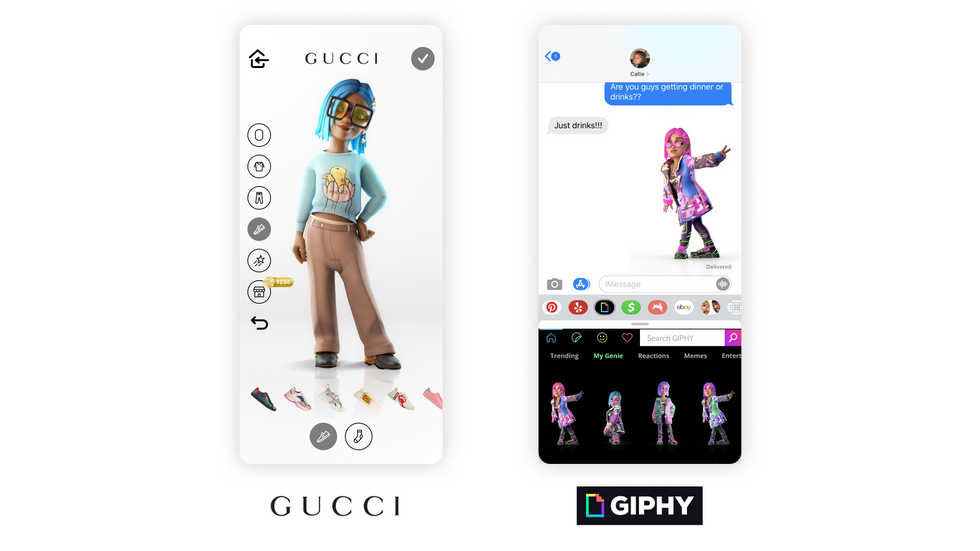 Luxury fashion brand Gucci is one of one of Genies' initial SDK partners.Courtesy Genies
To date, Genies has worked primarily with celebrities. The company runs an agency to deploy the avatars it has created for over 2,000 celebs, including musicians Shawn Mendes, Rihanna and Justin Bieber. Clients have employed their avatars for tasks like announcing newly released songs and albums on their social media accounts, as well as to endorse brands. A company representative said the avatars have been deployed "thousands of times" and have generated "millions" of dollars.

Genies is now allowing consumers to build their own avatars for the first time. And, by integrating with other platforms, the company is doubling down on digital goods.
"Our big bet is on the digital goods economy," Nigam told dot.LA. "If it works well, we'd want it to be 99.9% [of our revenues]."
Those who are skeptical that anybody would want to purchase a digital umbrella, spacesuit or pair of sandals may want to look at "Fortnite," Epic Games' increasingly popular virtual world where people go both to play games and to socialize. Although Fortnite is free to play, in 2018 and 2019 it generated over $1 billion from in-game purchases of cosmetic upgrades to players' virtual characters – on mobile platforms alone. Fortnite is also available on computers and gaming consoles, which also generate substantial revenue from selling digital-goods.
Gucci, for its part, has increasingly turned to tech as a useful complement to high-end fashion in the 21st century. It has previously partnered with Genies to tap the company's celebrity avatar agency, used augmented reality (AR) to allow potential buyers to "try before they buy" and already begun developing items exclusively for digital use.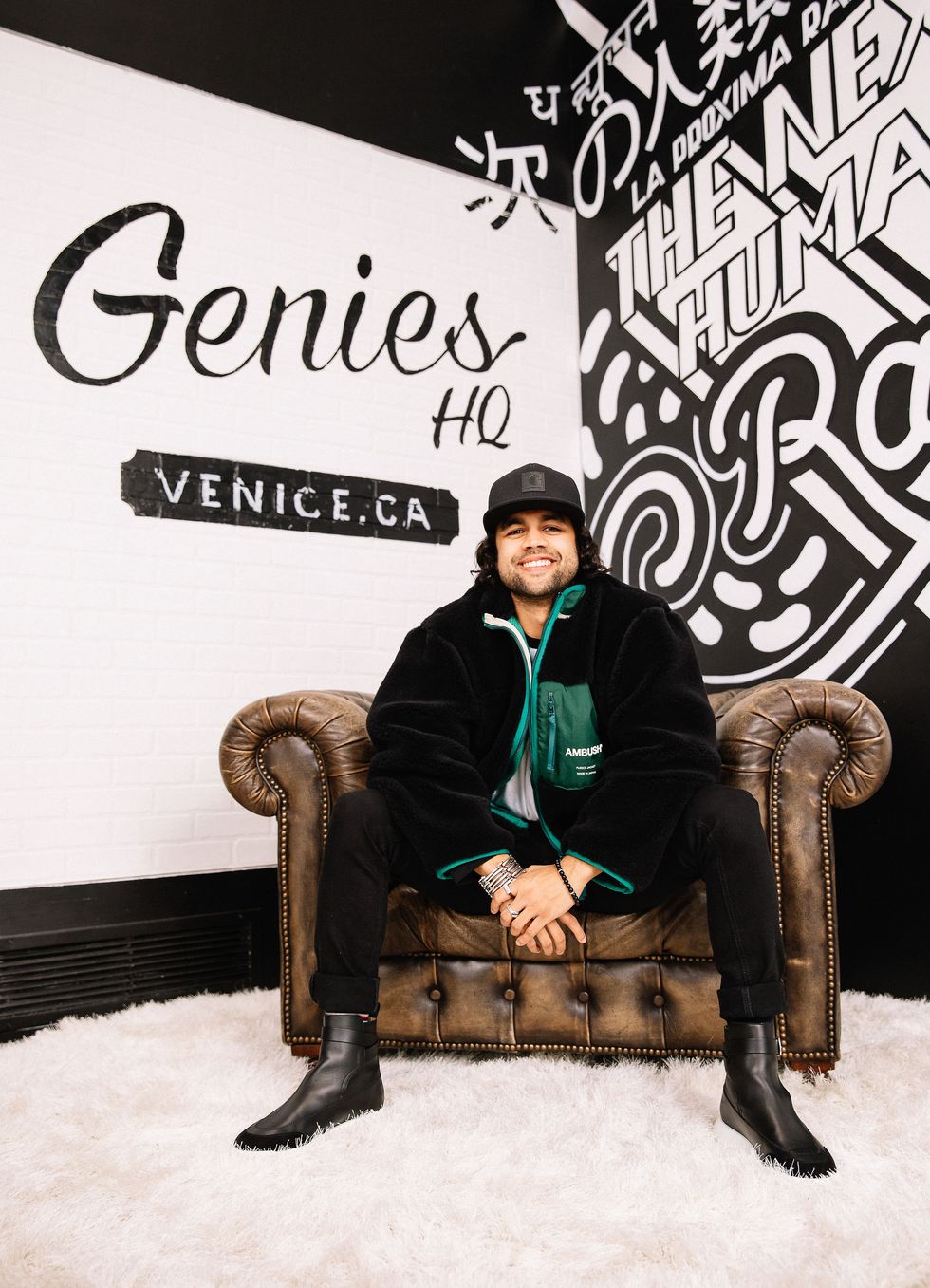 Genies CEO Akash Nigam.
Courtesy of Genies
It's a natural partner for Genies' SDK, which will allow users of Gucci's digital platform to "attire their avatars in the latest Gucci apparel...while adding a revenue generator through the sale of digital goods," according to a statement from Genies.
Genies' SDK relies primarily on a revenue split, with Genies and the hosting platform each taking a portion of the transaction income.
More partnerships are in the works.
"We've been having tons of conversations with other large partners that we will make public over the coming months," Nigam said, adding that Genies plans to encourage its celebrity network to sell digital goods on these partner platforms. In those cases, the celebrity (and/or their rights holders) will earn a percentage, too.
In advance of today's announcement, Genies has been growing its technical team. At the start of the pandemic, Nigam said the company had 16 employees in Los Angeles. It now has 50, 40 of whom are technical workers. Another 15 or so work outside of L.A., he said.

The team has been working on upgrading the look of Genies' avatars. As of today, those characters can be deployed in 3D, affording 360-degree views and allowing them to live in AR and VR worlds. They are also more expressive, with more detailed physiognomy.

Genies has raised $38.8 million to date. The company would not disclose its valuation nor share whether it is profitable.
Today begins its transition from focusing on tastemakers to preparing for a new age of virtual characters running around digital worlds.
"Over time, these SDK partnerships will create a digital identity ecosystem where consumers can transport their avatar from platform to platform," the company said in a statement.
"Avatars are a prerequisite for the metaverse," Nigam said, referring to the parallel virtual world some expect will combine of gaming, social networking and ecommerce, and which some have described as the next iteration of the internet.
It remains to be seen, of course, whether metaverse avatars will opt to wear Crocs.