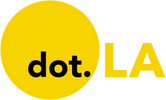 Get in the KNOW  
  on LA Startups & Tech  
X
Biotech
Browse the latest news about Southern California's biotech startups and ecosystem from dot.LA.
Image by Carolyn Figel
The pandemic exacerbated a problem that has been long bubbling in the U.S.: the childcare crisis.
According to a survey of people in science, technology, engineering and mathematics (STEM) careers conducted by the city's WiSTEM Los Angeles program and shared exclusively with dot.LA, the pandemic exposed a slew of challenges across STEM fields. The survey—which consisted of 181 respondents from L.A.County and was conducted between March 2021 and 2022— involved respondents across medical fields, technical professions and science industries who shared the pandemic's effects on their professional or education careers.
The survey found 60% of the respondents, primarily women, were balancing increased caretaking roles with work or school responsibilities. And while caretaking responsibilities grew, 49% of respondents said their workload also increased during the pandemic.
"The pandemic threw a wrench into lots of folks' experiences both professionally and academically," said Kathryne Cooper, a health tech investor who sits on the advisory board of WiSTEM. "So we need to acknowledge that."
In the L.A. area, an increasing number of childcare startups are aiming to address this massive challenge that is a growing national crisis. The U.S. has long dealt with a crippling childcare infrastructure plagued by low wages and a labor shortage in preschools and daycares, but the COVID-19 crisis made it worse. During the pandemic, women left the workforce due to the lack of childcare and caretaking resources. By 2021, women made up the lowest percentage of the workforce since 1988, according to the National Women's Law Center. Despite the pandemic forcing everyone indoors, caretaking duties fell disproportionately on women.
"I almost actually left my job because everything that I looked at was either waitlisted or the costs were so astronomical that it probably made sense for me to stay at home rather than pay someone to actually look after my child," said Jessica Chang, the CEO of childcare startup WeeCare.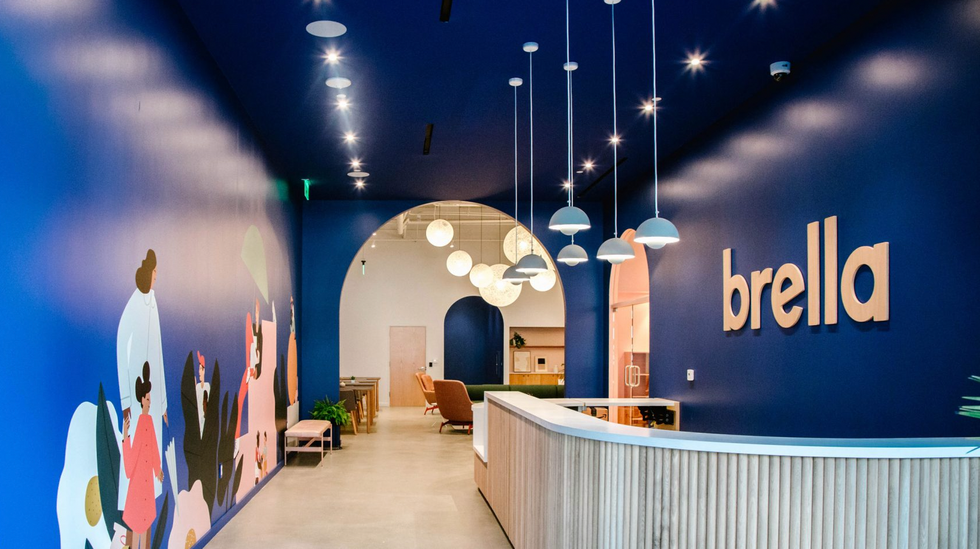 Brella's Playa Vista-based childcare center lobby.Photo courtesy of Brella
The Marina del Rey-based WeeCare, one of the startups that helps people open their own childcare facilities, announced it raised $12 million in April (to go along with an additional $5 million in bridge funding raised during the pandemic). The company helps people build daycare centers and works with employers to provide access to WeeCare centers and construct child care benefits programs.
Some of these startups strive to boost the number of daycare centers by helping operators with financial costs, licensing fees and scheduling. Wonderschool, a San Francisco-based child care startup, raised $25 million in January and assisted with hundreds of childcare facilities in L.A.-based Playground, which raised $3 million in seed funding last year per PitchBook. Playground acts as an in-house platform for childcare providers to communicate with staff and parents, track attendance, report student behavior and provide automatic invoicing services.
L.A.-based Brella, which launched in 2019, raised $5 million in seed funding in January to create a tech-enabled daycare scheduling platform that could meet the demand of flexible childcare as parents navigate a hybrid work environment, and recently opened a new location in Hollywood. The startup aims to address the labor shortage among childcare workers by paying its workers roughly $25 an hour and offering mental health benefits and career development opportunities for its educators.
"It's this huge disconnect in our society because these are really important people who are doing arguably one of the most important educational jobs," said Melanie Wolff, co-founder of childcare startup Brella. "They often don't get benefits. They don't have a lot of job security."
Venture capital funding has poured into the relatively new childcare sector. A slew of parent-tech companies aimed at finding flexible child care and monitoring children saw $1.4 billion worth of venture investments in 2021, according to PitchBook, largely to meet the demands of parents in a pandemic era who have more flexible work commutes and require more tech-enabled solutions.
"I think a lot of it has to do with what employers expect for workers," said Darby Saxbe, an associate professor of psychology and family relationships expert at USC. "There's still a lot more stigma for men to build their work around caregiving responsibilities–there's a lot of evidence that men are often discouraged from taking paternity leave, even if it's available."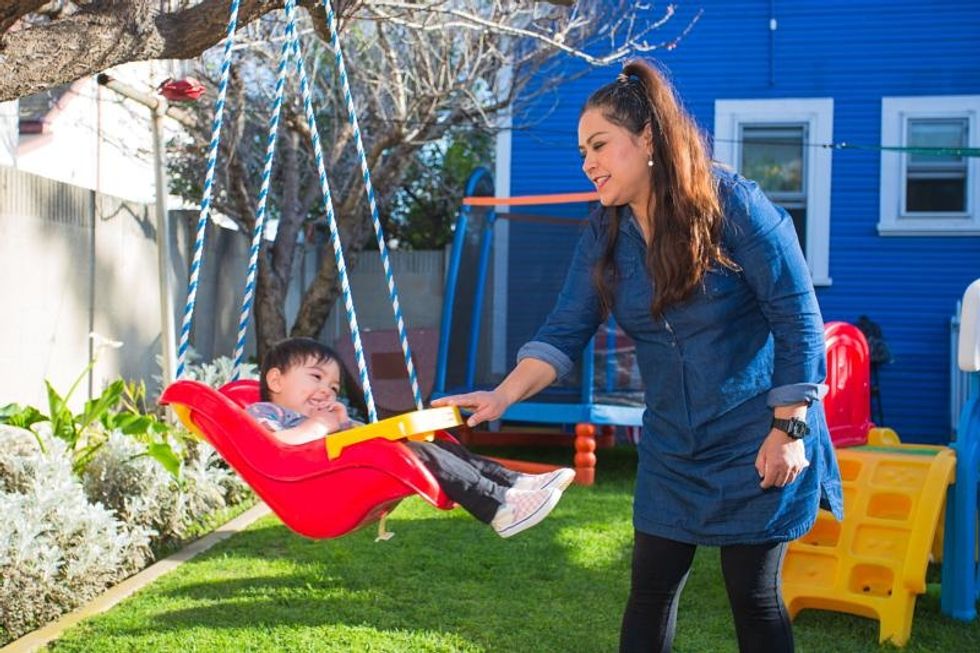 WeeCare is one of several startups updating the childcare space with technology and flexibility. Photo courtesy of WeeCare
Childcare benefits are also becoming a more attractive incentive as workers grapple with unorthodox work schedules in a hybrid setting.
"Employers, because of COVID, were having a hard time retaining and recruiting employees," said Chang. "And they were actually incentivized to actually find a solution to help the employees."
WeeCare primarily partners with employers of essential workers, like schools, hospitals and grocery stores, and the benefits programs account for the majority of WeeCare's revenue.
Childcare works are part of a massive labor shortage in caretaker roles that also include nurses, and health aids for the eldery. These workers, which allow women to maintain careers in STEM and other high-paying industries, are vital, according to Saxbe.
"Women can advance in the workplace," Saxbe said. "But if there's no support at home and there is no one who is helping take care of kids and elderly people, women can't just advance in a vacuum."
The United States Supreme Court called a Mississippi law banning abortion after 15 weeks constitutional on Friday, overturning the country's founding abortion rights decision Roe v. Wade. The Supreme Court also upheld that there cannot be any restriction on how far into a pregnancy abortion can be banned.
When Politico first broke the news months before SCOTUS's final ruling, a slew of bills entered Congress to protect data privacy and prevent the sale of data, which can be triangulated to see if a person has had an abortion or if they are seeking an abortion and have historically been used by antiabortion individuals who would collect this information during their free time.
Democratic lawmakers led by Congresswoman Anna Eshoo called on Google to stop collecting location data. The chair of the Federal Trade Commission has long voiced plans for the agency to prevent data collection. A week after the news, California Assembly passed A.B. 2091, a law that would prevent insurance companies and medical providers from sharing information in abortion-related cases (the state Senate is scheduled to deliberate on it in five days).
These scattered bills attempt to do what health privacy laws do not. The Health Insurance Portability and Accountability Act, or HIPAA, was established in 1996 when the Internet was still young and most people carried flip phones. The act declared health institutions were not allowed to share or disclose patients' health information. Google, Apple and a slew of fertility and health apps are not covered under HIPAA, and fertility app data can be subpoenaed by law enforcement.
California's Confidentiality of Medical Information Act (or CMIA), goes further than HIPAA by encompassing apps that store medical information under the broader umbrella of health institutions that include insurance companies and medical providers. And several how-tos on protecting data privacy during Roe v. Wade have been published in the hours of the announcement.
But reproductive rights organizations say data privacy alone cannot fix the problem. According to reproductive health policy think tank Guttmacher Institute, the closest state with abortion access to 1.3 million out-of-state women of reproductive age is California. One report from the UCLA Center on Reproductive Health, Law and Policy estimates as many as 9,400 people will travel to Los Angeles County every year to get abortions, and that number will grow as more states criminalize abortions.
This is the web version of dot.LA's daily newsletter. Sign up to get the latest news on Southern California's tech, startup and venture capital scene.
It's no secret that venture capital funding to mental health startups soared during the pandemic, as in-person appointments shuttered and a wave of tech-enabled therapy platforms sprouted. So if you're a teletherapy startup that's launching in 2022, how would you differentiate yourself from the BetterHelps and TalkSpaces of the world?

Mindfuli, an Orange County-based therapy platform that launched in California today, is going after what researchers call "therapeutic alliance," where both the therapist and the patient work collaboratively to achieve the treatment's goals. It requires both an understanding of what those goals are and how to achieve them, as well as a trusting, respective human bond between the two sides. It's a significant predictor of good treatment outcomes, yet often not an easy thing to achieve—especially if you're a patient desperately looking for an in-network therapist who doesn't have a months-long waitlist. And it's important because people who don't get along with their therapist often don't even try to find a new one—they just stop seeking treatment altogether, instead.
To that end, Mindfuli has both patients and therapists take a TIPI personality test and matches them based on that information, as well as the care provider's expertise and the careseeker's background and needs.
"You're not going to say 'Holy crap, this is advanced technology,'" Christof Meyer, Mindfuli's chief revenue officer and head of strategy, told me. "It's 10 questions."
Over time, Mindfuli—which is currently running on a FEMA grant and hasn't yet raised venture funding—wants to compile a reservoir of behavioral data and deploy artificial intelligence and machine learning to analyze what kinds of questions and interactions make for a good therapeutic alliance. That, in turn, would better allow it to match patients and providers in the future.
I asked Meyer if it's weird, or even ethically questionable, to use AI to try to determine how well two human beings will interact. His answer was no, because Mindfuli only wants to use it to match care professionals with patients and hopefully increase patient retention. But I'm not so sure about some of these applications. Companies like Santa Monica's Headspace Health are leveraging data points from intake forms, therapy sessions and chat sessions to suggest acute treatments like sleep exercise or meditation. Apple, meanwhile, is working with UCLA to triangulate data like visual and audible cues to determine how a person feels. Where else does this data go?
Then there's Boston-based Wysa, which just received FDA Breakthrough Device Designation last month for its AI-based "digital companion." Wysa's technology uses behavioral data points to refine how well its conversational therapy chatbots perform when "talking" to patients. Meyer insists that is not Mindfuli's goal.
"A lot of money is going into [AI therapy technology] and that's f—ing annoying to me," Meyer noted, "because that's dehumanizing the problem at the moment [patients are] screaming for help." —Keerthi Vedantam