Social Media
Browse the latest news about Southern California's social media startups, established companies and technology from dot.LA.
The prospect of internet fame is no longer enough to bring in the best and brightest. Instead, paying for content has become table stakes for these platforms as they battle one another and compete in the broader attention economy.

Netflix chief executive Reed Hastings made that clear in a recent earnings call, when he called YouTube — rather than other streaming services or theater chains — his company's "second largest direct competitor."
Within the last two years, at least 10 platforms have announced they'll be paying creators for their work, but the size of the purse, what type of content they're funding and how differs by platform.
"These types of funds are what a lot of creators have been waiting forever for, and as soon as one platform starting doing it, the others had to follow suit," said David Rhodes, a multiplatform content creator with over 10 million followers across his 12 accounts, who has earned a few thousand dollars from Snapchat's creator fund.
Whether this new funding will be enough to lure talent and sustain quality content remains to be seen, but the financial arms race has been welcomed by many creators.
Here's a quick look at each:
TikTok has said that within three years, its creator fund will grow to over $1 billion in the U.S. and more than double that globally. Only residents of certain countries are currently eligible, and successful applicants must meet other criteria, including having at least 10,000 authentic followers and receiving 100,000 views in the last 30 days. To apply, users must have a creator account, which is free to make, and submit an application via the app. Payouts are based on video views and engagement, and no caps have been set for outlays per day or to a given user, the company says.
YouTube's "shorts fund" is a $100 million pool that will be distributed through 2022. Available to creators in India and the U.S., it is an effort to boost YouTube's presence in the short-form video market via its new "Shorts" product. Phil Ranta, a social media veteran and CEO of Wormhole Labs, said he has seen lots of creators with relatively modest followings earn "bonkers" views via Shorts. YouTube says it will reach out to creators whose Shorts earn the most views and engagement each month, and called the fund "the first step in our journey to build a monetization model for Shorts on YouTube."
Snapchat is offering $1 million per day to creators on "Spotlight," a TikTok-like video-broadcasting feature launched late last year that heralded Snap's departure from an exclusive focus on peer-to-peer messaging. Anyone can submit clips to Spotlight and be eligible for the funding. Payments are distributed based on an algorithm that checks whether a post passes a "value threshold" within seven days. Snap has said factors the algorithm looks for will vary but may include unique views and performance relative to other users' posts.
Facebook set aside $25 million for a Black creator fund in 2020, available to U.S. residents with at least 10,000 Facebook or Instagram followers. The program launched in August and applications are now closed. Instagram, owned by Facebook, does not have a general creator fund, though its head, Adam Mosseri, has suggested it might create one in the future. Reports have surfaced indicating that Instagram has sought to lure some creators to its platform with lavish payments.
Pinterest has a creator fund that reportedly measures $500,000 and is open for application; participants receive $25,000 in cash and ad credits and participate in a four-week workshop. Clubhouse has indicated it will offer application-based creator grants but has not publicized details, and ran an inaugural creator accelerator program that closed applications in March. Substack offered $25,000 each to four selected writers in 2020 while OnlyFans provided four £20,000 grants to UK-based musicians.
How Some Artists Are Gaming 'Creator Funds'
The largest funds are algorithmic and the factors that trigger payouts are a moving target, but that doesn't mean they can't be gamed.
"There's always an exploit," said Ranta, noting that conversations among creators and agents often include sharing tactics for what seems to be working.
One hack he cited pertains to Snap's Spotlight fund. Some creators with big followings have found they can post to Spotlight as frequently as every five minutes with simple videos such as blowing a kiss to the camera, and earn money for it, Ranta said.
Accessing the funds can also simply mean posting relentlessly.
"The more content you can push out the better," said Rhodes. "Although some videos may do well and some won't, you're still increasing your chances of videos taking off and earning money."
Rhodes said it's key to find "formula," and "ride it out until it stops working — or until the novelty wears off — and then switch it up and try different things until you find a new formula that works, and ride that one, too."
Ranta noted that a good way to know what a platform algorithmically prefers is to monitor the company's press releases and best practices guides.
"You put those two together and you kind of get it," he said.
Conversations about how to hit the moving target also take place on forums like TubeBuddy, in addition to Reddit and Discord. Proceed with caution, though.
"Those are really hit or miss," said Ranta, or downright "unfounded gossip."
A 14-year-old Pennsylvania high school student who took to Snapchat after not getting a spot on the varsity cheerleading team is at the center of a case now being considered by the U.S. Supreme Court that will test the limits of schools' ability to police speech on social media.
In 2017, Brandi Levy, now a college student, shared an image with her 250 Snap friends. It was a picture of her and her friend pointing the middle finger at the camera with the caption "F*** school, F*** softball, F*** cheer, F*** everything."
A fellow junior varsity teammate saw the post, took a screenshot of it and shared it with a coach. The school said the posts were disruptive to cheerleader morale and suspended Levy from the team for the rest of the year to "avoid chaos" and maintain a "teamlike environment."
In the balance is the issue of Levy's speech and whether that of millions of public school students online is protected. The court is expected to rule later this month. It's a case that could transform how school districts monitor students' online speech, including on Santa Monica-based Snap Inc's apps.
Social media has become embedded in the fabric of life for teenagers. Once off-handed comments now live online and can be shared.
The issue is especially tricky for school officials who are trying to balance the use of social media as an early warning system for potential violence, bullying or even self harm.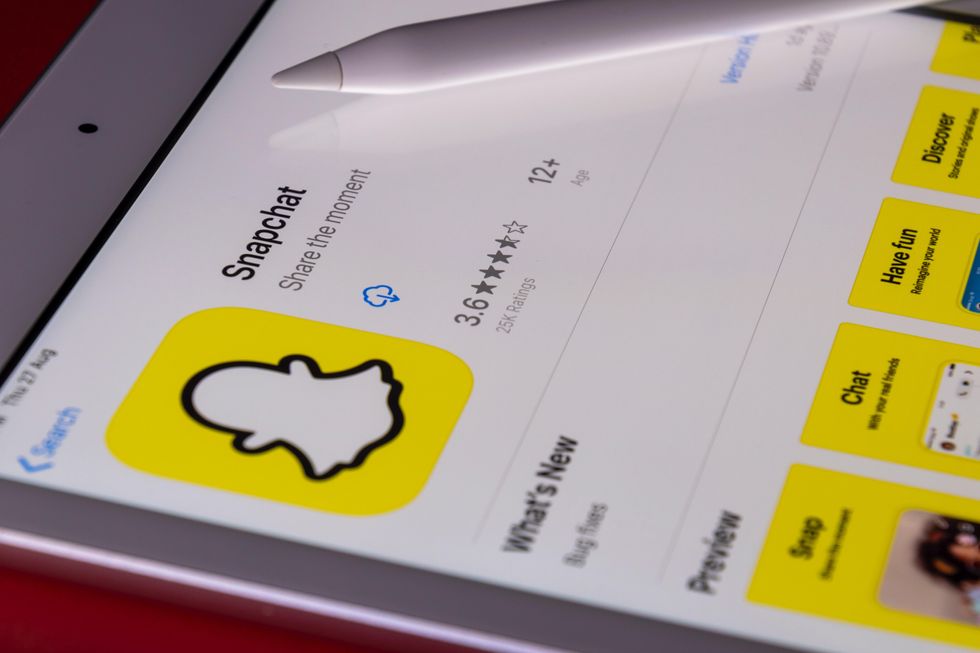 Photo by Souvik Banerjee on Unsplash
The last major ruling on student speech came in 1969 when the court held that students have free speech rights at school, unless officials find it will cause "substantial disruption."

Rachel Levinson-Waldman, deputy director of the Brennan Center's Liberty & National Security Program at The Brennan Center for Justice, said based on the justices' comments during oral arguments, she expects the court to skirt some of the broader free speech questions.
Instead, she thinks it's likely the justices will issue a narrow ruling. For example, because the case involves a student athlete, the ruling might just apply to students who voluntarily participate in an extracurricular activity if that speech is about the activity.
Still, she said statements students make on social media when they're off-campus should be protected by the First Amendment. The nonprofit center filed an amicus brief supporting Levy along with Equality California, the Anti-Defamation League and others, joining more than 100 other organizations in supporting the teen. Levy is being represented by the American Civil Liberties Union.
"It's going to have some impact on student speech going forward," Levinson-Waldman said.
The case brings to the fore some of the more difficult questions administrators, parents and students are dealing with in the online world.
If the court allows for monitoring of speech off campus, it could open the door for districts to use more social media monitoring software like Geo Listening, DigitalStakeout and Social Sentinel.
Companies have been trying to fill the gap, marketing social media monitoring services as tools that can prevent self-harm and bullying, and in some cases, mass violence.
Research by the Brennan Center of a database of government purchase orders found that 63 school districts across the country purchased social media monitoring software in 2018, up from six in 2013. Levinson-Waldman noted that the data does not capture all of the districts that may use this software.
The Center has found the technology is "largely unproven," and raises questions about privacy, free expression and other civil and human rights concerns. Also problematic, some words that might get flagged by the software might have different meanings in different cultures or contexts. That's particularly a problem for students of color, religious minorities and students with disabilities who are disciplined at disproportionately higher rates than their peers.
At the nation's second-largest school district — where students have posted shooting threats or other menacing warnings online — Los Angeles Unified School District officials said they address cyberthreats head on and don't use software to monitor their half million students on social media.
"While we can exercise our authority over out-of-school behaviors that directly and negatively impact the school, such as a threat, we are educators by trade and education is our best intervention," said an LAUSD spokesperson in an emailed statement.
The Glendale Unified School District was at the center of the issue in 2013 after it signed a contract with California-based Geo Listening to monitor students' public posts, sending daily reports to district officials when students mentioned using drugs or hurting themselves or others. The program was prompted by the suicides of two students the previous year after they were bullied online.
"We think it's been working very well," then-Glendale Unified Superintendent Dick Sheehan told the L.A. Times. "It's designed around student safety and making sure kids are protected."
The district renewed the contract in 2015. A district spokesperson said the district hasn't used the software in "several years," but could not say why the contract was terminated.
One of the issues in Levy's case is that she was not on school property when she posted the Snapchat. Rather, she posted it on a Saturday from a convenience store. So the court must decide whether schools can punish students for speech that occurs online and off-campus that may cause disruption inside schools.
The school district's attorney argued that the internet's "ubiquity" and potential for mass dissemination and permanence make the students' location "irrelevant," while ACLU attorneys representing Levy argued it would dramatically expand the disciplinary reach of schools.
During oral arguments, some of the justices seemed to indicate that the punishment did not fit the crime in this case and questioned what kind of speech would be determined to be disruptive — every curse word?
Justice Clarence Thomas acknowledged the difficulty in determining where the speech took place and whether it took place under the school's supervision.
"Aren't we at a point that if it's on social media, where you posted it on social media doesn't really matter?," Thomas said.
On the heels of launching a subscription service to solidify its ongoing shift into live events, TrillerNet — owner of short form social video app Triller — is preparing to go public via a direct listing, according to a source familiar with the matter.
TrillerNet aims to file for the listing with U.S. regulators in July, and plans to make shares available for public purchase by October, according to the source, who spoke on condition of anonymity in order to comply with SEC guidelines.

In the interim, the startup is seeking to raise $500 million in a so-called PIPE deal that will value the company at $4 billion, providing those investors a 20% discount on the expected $5 billion valuation when shares hit the public market. The investors are still being finalized but will include a number of investors based in Dubai and Abu Dhabi, the person said, as well as Taiwanese investment firm Fubon Financial Holding Co., which is led by billionaire brothers Daniel and Richard Tsai. Fubon is already an investor in the company.
In July 2020, TrillerNet (still called Triller at the time) executive chairman Bobby Sarnevesht told dot.LA Triller was seeking to raise $250 million at a $1.25 billion valuation. Since then TrillerNet has acquired four companies and hired a new CEO. The company is expected to quadruple its annual revenues to $250 million and be profitable this year, the person said.
TrillerNet CEO Mahi de Silva declined to comment, but noted that "Triller continues to explore all avenues…"
Triller previously had been exploring going public via SPAC, with talks advancing at least as far as identifying three blank-check companies and working with an investment advisory firm to see through the deal. According to a Reuters report on the deal, waning investor enthusiasm for SPACs scuppered that approach.
In April, shortly after his appointment, de Silva told dot.LA it would be "possible" that Triller would go public in 2021.
"We're at that magic threshold where as a company, we have the income statement – in terms of revenue, earnings, growth potential – we have everything that you need to be a U.S. listed public company," he said then. "So whatever vehicle we use to get there – whether an IPO, a SPAC, a direct listing – we've been very thoughtfully exploring all those options."