Social Media
Browse the latest news about Southern California's social media startups, established companies and technology from dot.LA.
Food content videos have become wildly popular on social media, but rarely can you order directly from your screen.
Diana Might and David Currant's concept could change that. The two, who were introduced by a mutual friend over Zoom, co-founded Mustard, a food video app that makes its uploaded food videos shoppable.
Might, a Netflix senior producer and self-described major foodie, admits she finds food through social media apps but isn't fond of the research it takes to translate a mouth-watering video clip into an order.
"Why can't I just order through the video?" Might said. "There isn't a hyperlink there, so I need to find the name of the food or the place and then go and search it on Yelp or Google, and it's just like five, six different places until I can get to what I want."
Once a user creates their profile, they are given the option to select three interests that pertain to the type of food they like. Whether you are into comfort food or identify as vegetarian, the algorithm aims to take into account your interests.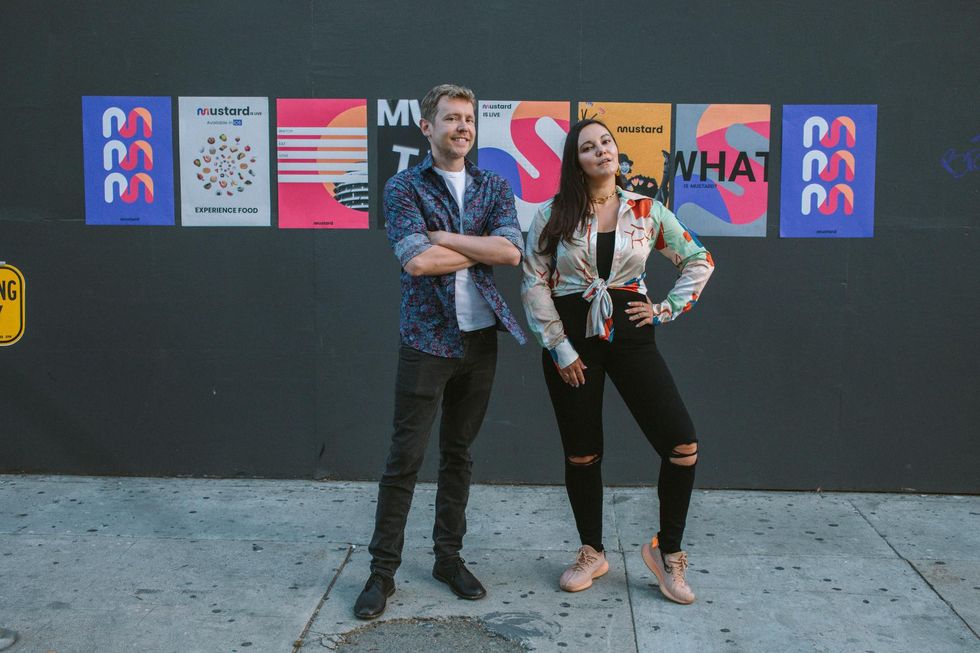 Mustard co-founders Diana Might and David Currant
Unlike videos found on Instagram or other social media platforms, Mustard highlight's food videos based on users' locations. The startup is working with content creators to repurpose their food videos into revenue opportunities.
"We just picked up the trends that already exist; people already create videos," Might said. "They already find food for videos, but we just merged two worlds together and made that more simpler and more fun to order food around you."
If their video converts a viewer into a diner, the creator automatically receives an affiliate fee — at no cost to the restaurant.
"There's so many food apps that cater first to the business and the restaurant, and our interests as foodies and content creators are the last in the line," Might said.
Mustard announced Monday that it raised $1 million in funding from Operate Studio, Newfund, Great North Ventures, and Fund LA.
The startup will use the money to hire new engineers and expand the company, creating more density in areas around Los Angeles and the rest of California.
The app is primarily available in Los Angeles, Orange County and the Bay Area and contains over 8,000 restaurants in its database. In the next year, it's also looking to branch out to the East Coast. And Mustard's co-founder said the company will be releasing a video editor within their app by the end of the year.
"I'm developing filters for food because on Instagram, you have filters for the face, only compliments certain skin tones, but not food tones," Might said.
Currently, the app is only available for iOS users, but Might said the company is planning to release an Android version in the future.
From Your Site Articles
Related Articles Around the Web
Like most tech companies, Snap Inc. employees are largely white and male and the company has been grappling with its lack of diversity.

On Wednesday, its CEO Evan Spiegel gathered an all-star group of influential leaders in Southern California's tech space from Google to Spotify and Headspace for some well-intentioned hand wringing.
"I think all of that is really hard to turn into real change unless each individual team member deeply understands and cares about diversity, equity and inclusion," said Spiegel, referring to a host of new internal metrics and systems the company has implemented.
Backstage Capital founder Arlan Hamilton, who is Black, was more blunt: Hire people of color.
CEOs "can create all these products, but they can't hire women or underrepresented groups onto their tech teams." said Hamilton, whose firm invests in startups founded by people of color, LGBTQ or women –a group she estimates accounted for about 10% of all venture investment. She sat alongside Spiegel at one of the company's panels. "The better question is to ask someone else why so why is it so hard for them."
Snap released its first public diversity report in April. The company reported this year it increased hiring racial and ethnic minorities in leadership from .5% to 13.6%. Asians make up 33.4% of staff. 4.9% of Snap's staff is Black, and 6.9% are Hispanic or Latinx.
Still, the Santa Monica-based company is overwhelmingly white, and male – nearly 50% of the company was white in its 2020 survey, while 66% was male.
The problem isn't unique to Snap; nearly all tech companies are reckoning with pressure to become more socially responsible and invest in a staff that's both diverse and talented.
"There have been reports that have come out, including from two portfolio companies of ours, that kind of prove that mostly, those promises were broken or haven't come to fruition yet," Hamilton said. "But there's still time to make up for that and I think the proof is in the pudding."
Snap's day-long diversity conference was an effort to own the narrative on a topic that has long dogged the industry.
Snap has "committed to becoming an anti-racist company" recently after being called out as part of the larger community of tech companies falling short on hiring a diverse workforce.
In 2019, the Wall Street Journal reported Snap paid settlement to three women who alleged they were targeted for layoffs because of their gender -- Snap denied this, and said that nearly three-quarters of the layoffs were men.
Shortly after, in June of 219, Snap hired Oona King to be its vice president of diversity, equity and inclusion after a maelstrom of bad press. The following month, the company announced it would do an investigation into allegations of racism and sexism.
Spiegel touted Snap's participation along with companies like Google and PwC in a recently released Action to Catalyze Tech (ACT) report that recommends tactics executives can take to make their companies more diverse.
The report calls itself "the blueprint for anyone who wants to promote equity in tech," and calls for hiring historically underrepresented talent, like people who are LGBTQ+ and/or people of color.
From Your Site Articles
Related Articles Around the Web
Snap, TikTok and YouTube executives defended their efforts to protect kids on their platforms as Congress members battered them with questions Tuesday about the algorithms, safety measures and practices they use to keep young people engaged with their apps.

All the executives broadly said that they thought certain explicit content for underage users should be restricted, but they didn't commit to backing specific legislation.
The Oct. 26 subcommittee of the Senate Commerce Committee hearing was chaired by Connecticut Democratic Sen. Richard Blumenthal. Today's meeting comes just after revelations that Facebook feeds exacerbated teens' body issues and algorithms steered them to harmful content.
Unlike Facebook, Santa Monica-based social media company Snap has largely evaded government scrutiny. But the company was in the spotlight as it fended off questions from lawmakers about its responsibility to keep drug sales off its Snapchat app. A bipartisan group of senators accused the company along with TikTok and YouTube of failing to protect children from pornography and posts encouraging suicide and drug use.
"It seems like every day that I hear stories of kids and teens who are suffering after interacting with TikTok, YouTube and Snapchat. Kids as young as nine have died doing viral challenges on TikTok," Tennessee Republican Senator Marsha Blackburn said. "We've seen teen girls lured into inappropriate sexual relationships with predators on Snapchat. You're parents, how can you allow this?"
Throughout her testimony, Jennifer Stout, Snap vice president of global public policy and John Kerry's former deputy chief of staff, tried to distance Snapchat from its competitors like Facebook, its subsidiary Instagram, TikTok and YouTube.
Stout attempted to portray Snapchat content as more heavily curated than its other social media counterparts, and argued that since it doesn't have a timeline feature, the app's main purpose is to facilitate direct messages between friends and groups of people who already know each other.
Stout also pushed back against accusations that Snapchat shows users a stream of unfiltered harmful content on its Discover page by saying that its "discovered content" is part of a walled garden that is monitored.
"It's intended to be a close ecosystem where we have better control of the content that surfaces," she said.
Sen. Mike Lee from Utah pushed back on this argument from Snapchat, saying his staff had set up a fake account for a 15-year-old and was swiftly bombarded by "wildly inappropriate" materials including an online sexualized video game, articles about porn stars and posts on why to not go to bars alone.
"I respectfully but very strongly beg to differ on your characterization that the content is in fact suitable for children 13 and up," Lee told Stout.
Minnesota Democratic Sen. Amy Klobuchar questioned whether Snap had done enough to prevent drug sales on the platform. Two teens in her state –19-year-old Devin Norrin and 23-year-old Ryan McPherson– died after taking pills from dealers they met on Snapchat selling what they thought were prescription painkillers like Percocet but were actually laced with fentanyl.
Klobuchar asked Stout if Snap would be more transparent about the "automated tools" it uses to identify and remove illegal drug-related content.
"We have stepped up and we have deployed proactive detection measures to get in ahead of what the drug dealers are doing. They are constantly evading our tactics, not just on Snapchat, but on every platform," Stout said.
Earlier this month, Snap announced in-app tools that funnel searches for drug-related words to an anti-drug education campaign and said it has cracked down on the sale of illicit drugs on the site.
The move came after the U.S. Drug Enforcement Agency reported a rise in the availability of fake prescription pills containing fentanyl and methamphetamine often purchased on social media sites used by teens. Parents whose children died because of fentanyl-related overdoses have complained the platform has become an e-commerce site for sale of these dangerous drugs.
Norrin and McPherson's cases aren't an anomaly; NBC News reported this month that teens and young adults have died from overdosing on fentanyl-laced pills they found through Snapchat in at least 14 states.
Klobuchar said social media companies should be held responsible if someone overdoses on drugs obtained through their apps.
"I think there's other ways to do this, too, such as creating liability when this happens, so maybe that'll make you work even faster so we don't lose another kid," Klobuchar said.