ordermark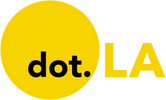 Get in the KNOW
on LA Startups & Tech
X
ordermark
Photo by Dan Tuffs
Alex Canter understood his role from the beginning. As a fourth-generation restaurateur and heir to beloved Canter's Deli in Los Angeles, he was set to continue the family legacy. But running a restaurant in 2021 is very different than running one in 1981, let alone 1931.
As Canter saw it, his job was "bringing in new technology and proving to my family that change is good," he says with a laugh.
Within a few short years, Canter has undoubtedly succeeded, building a delivery platform, Ordermark, that not only brought the family business into the digital age, but helped thousands of other restaurants as well.
But as Ordermark expands into the worlds of 'virtual brands' and ghost kitchens, some are asking whether the company is creating more problems for mom-and-pop businesses than it's solving, and if the ultimate goal is to support restaurants or compete with them.
Bringing the Deli to the Web
After a few years of working his way up from a dishwasher to managing the restaurant, Alex Canter set about bringing his family's 90-year-old deli online. He introduced Postmates, GrubHub and other delivery apps into Canter's service, and business for the kitchen picked up.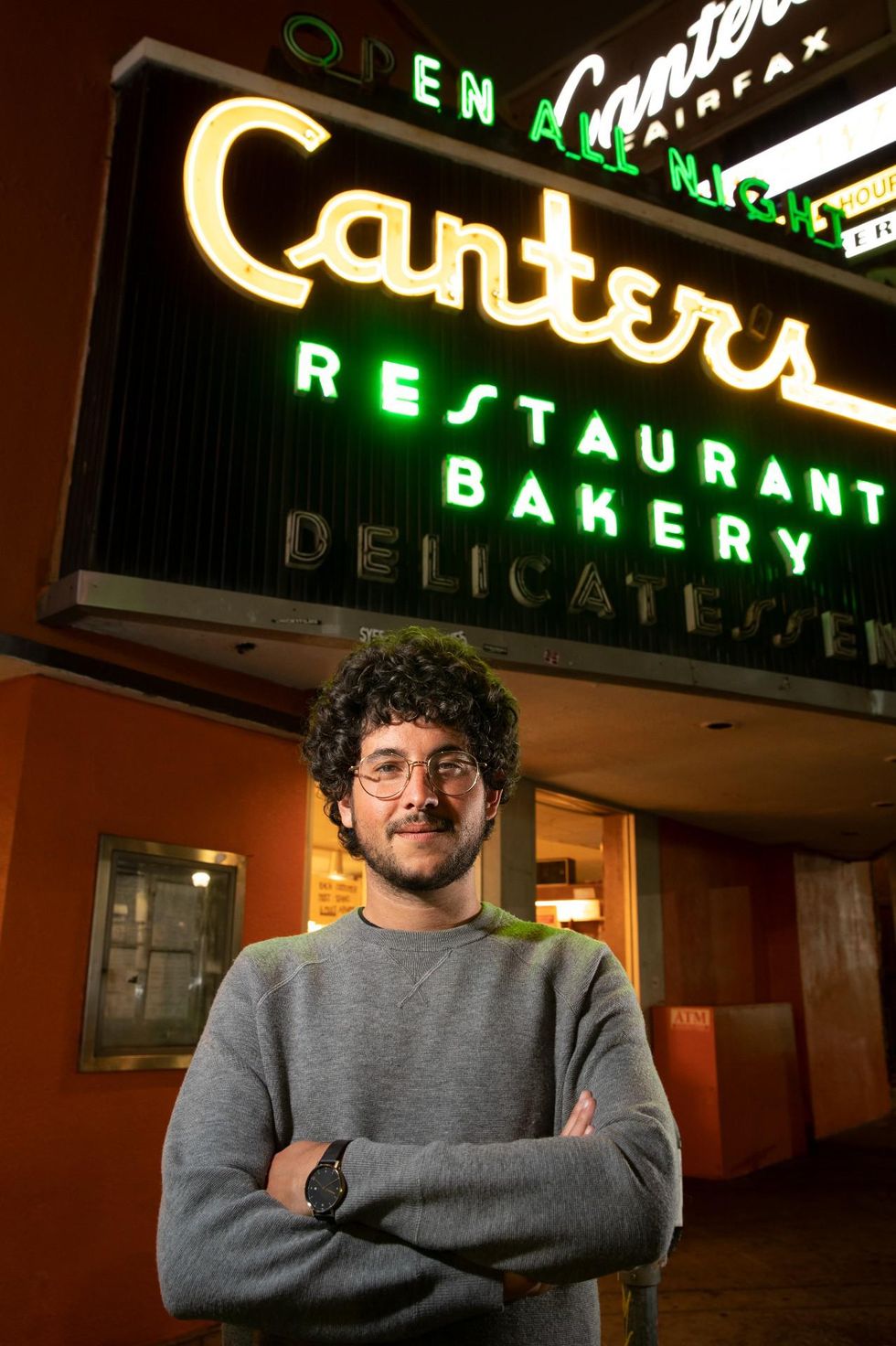 Alex Canter is the heir to L.A.'s beloved Canter's Deli and founder of Ordermark.
Photo by Dan Tuffs
"Fourteen online ordering platforms later, delivery accounted for over 30% of our revenue," Canter says. A substantial chunk, no doubt, and surprising for all, "but the staff in the back hated me because we had nine tablets, two laptops and a fax machine" to manage all the incoming orders.
"It was a very complicated process and very disruptive to our operations," he continues, adding that each third-party platform used its own device, and menus had to be manually updated across each site individually.
After talking with a few other restaurants around L.A., Canter came up with a solution: consolidate.
"Most brick-and-mortar restaurants are not set up for delivery," he says. From the in-and-out of delivery drivers waiting on their pick-ups, to the constant if disorganized stream of orders coming into the kitchen, "I really wanted to take a step back and reimagine the entire online ordering experience from scratch at a restaurant."
The result was Ordermark, which Canter co-founded in 2017.
The idea was to combine the various delivery apps onto a single OrderMark tablet. The device would allow restaurant kitchens to view incoming orders from Postmates, DoorDash, UberEats and others on one screen, and easily update menus from the same spot, too.

"When we started, we had no relationship with any of these companies," Canter says of the 50 or so online ordering platforms and point-of-sales companies that integrate with Ordermark. "And none of these companies wanted to be hardware businesses, anyway."
It was easy to see how Ordermark's system would be a win-win for restaurants and delivery platforms alike: driver wait-times were reduced along with order errors, while revenues increased.
And Ordermark seemed to have entered the online delivery market at just the right time. According to a report by Morgan Stanley, the total U.S. market for food delivery grew from $260 billion in 2017 (the year Ordermark launched), to $356 billion in 2019. Any company that could capture even a fraction of the market was poised for a windfall.
Then the pandemic hit.
Within a few weeks, the company went from adding about 300 new restaurants a month to their platform, to over 1,000 a month in March and April 2020. By then, 92% of restaurants' orders were coming from off-premise sales.
This explosion in growth, fueled by a once-in-a-century scenario, helped push Ordermark past $1 billion in sales in 2020 and sent a nascent service Ordermark had begun experimenting with into hyperdrive.
From Ordering and Delivery to Virtual Brands and Ghost Kitchens
Canter and his team launched Nextbite in late 2019, envisioning a platform that partners restaurants with virtual brands designed by Ordermark.
"The restaurant industry is in the midst of the ecommerce phase where restaurants must get creative by embracing technology and new sources of revenue generation to reach customers outside of their four walls," Canter said in an October statement after securing a $120 million Series C round of funding.
Through Nextbite, a restaurant essentially does gig work using their kitchen and staff to fulfill orders for virtual brands.
The brands are designed from scratch, Canter explains, by "looking at a lot of data of what's performing well in which markets and what time of day, based on what we know is going to deliver well, and based on what we know will be non-disruptive to restaurants' existing business."
So, say you're a Thai restaurant with a kitchen operating at only 75% capacity on weeknights, Nextbite might partner you with HotBox by Wiz Khalifa to pump out burgers and BBQ tofu in addition to your Thai menu. If all goes well, you have a new revenue stream—you keep 55% from each order you've filled, and the remaining 45% gets split between the delivery apps and Ordermark.

"A big chunk of that [45%] goes to the third-party delivery services," says Canter, "and we use some of our take to invest in the marketing of that brand so that we can continue to drive more gross sales for the restaurant."
But all this begs the question: is Ordermark solving a problem that Ordermark itself helped to create?
The restaurant industry was already in a fragile state before the pandemic. Food delivery apps and point-of-sales platforms have been devouring the razor-thin margins of small operators for the last few years now. Is Nextbite creating a cannibalistic cycle by propping up smaller restaurants' while simultaneously ensuring that their margins continue to shrink?
"It's an inevitability that dining occasions are moving off-premise," begins Zach Goldstein, founder and CEO of Thanx, a customer engagement platform.
Faced with that inevitability, many restaurants are rushing to adopt various platforms and technologies to capture whatever revenue they can from outside sales. The problem, Goldstein continues, "is that's all well and good in the medium term. But in the long term, if you have incubated a new class of restaurant [with virtual brands] that has taken on a disproportionate share of dining occasions, then we will see far fewer traditional restaurants able to survive."
Restaurants should be creating their own digital channels instead, Goldstein states.
"Every restaurant should be focused on, 'how am I building my first-party digital channels under a brand I own so that I gain the brand equity?'," he says. And the technology is there for even the smallest and least savvy players to do it, Goldstein adds. "The only proven model, in my opinion, for long-term sustainability as a restaurant is to own your own digital channels, to own your own brand or brands, and to own your customers directly so that you can talk to them."
It's a notion Canter pushes back on. He says Nextbite is plugging businesses into a national virtual restaurant marketing system.
"A mom-and-pop restaurant can't just go partner with George Lopez," he says. With the resources a small business has, "they're not going to be able to even get in the door with Wiz Khalifa to say, 'hey, let's collaborate and co-market a brand together'. But we're doing that for them, and turning it on for them, and driving all the demand for them, and basically paying them to make the food for this concept."
Investors seem to agree. SoftBank Investment Advisers, which led Ordermark's Series C raise, said in a statement that their firm was "excited to support [the company's] mission to help independent restaurants optimize online ordering and generate incremental revenue from under-utilized kitchens."
$120 million is a sizable sum of cash if neither Ordermark nor their big-name investors are looking for anything more than assist struggling mom-and-pops.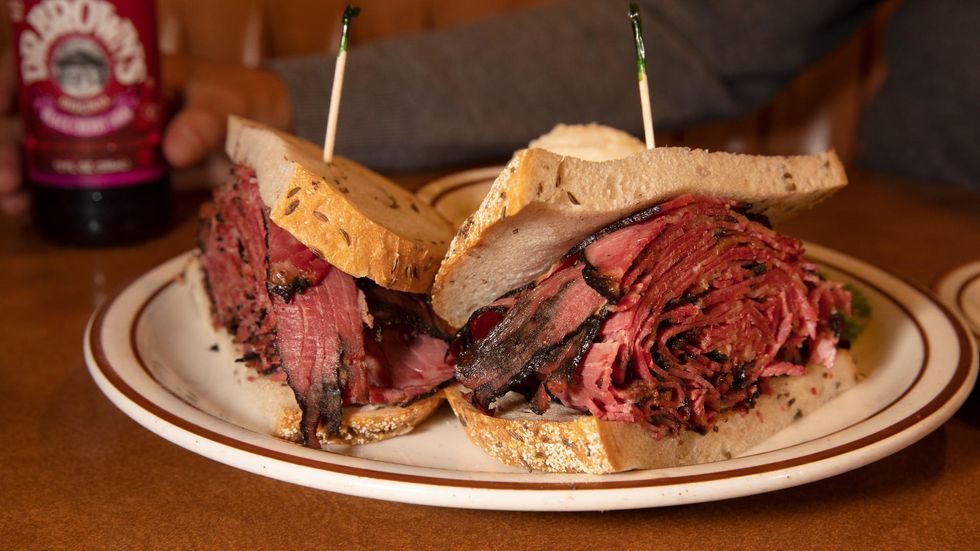 Canter's famous pastrami sandwich.Photo by Dan Tuffs
Still, Nextbite has already helped save certain restaurants during the pandemic. "It's given me a way to hire some of my staff back, get a stream of revenue, and leverage the fact that I have a kitchen and a health permit and all that, when previously I wasn't able to make any money," says Mitch Edelson, owner and operator of Jewel's Catch One in Los Angeles.

Since the city of Los Angeles mandates an establishment with a liquor license to also serve food, Nextbite has helped Catch One turn the burden of a nightclub's kitchen into a profitable proposition. Yet, Edelson is aware that the platform is something of a double-edged sword for operators. He says that bars, music venues, and restaurants should adopt the technology "before their neighbors do and they kind of lose out on opportunity."
Xandre Borghetti, co-owner and operator of Nossa LA, is even more skeptical. As he sees it, Nextbite definitely could be a band-aid for a one, two, six-month period, he says, "but at some point, it's not going to last. And then you're gonna be back to where you were, probably worse," because you've been distracted from your core business by an outside concept.
"You want to be investing in the people that you have hired to get better at your own business," Borghetti notes. "This it's kind of a distraction, and not really worth it. Especially during this time when it's pretty difficult to hire people."
It's a sentiment Jesse Gomez of restaurants YXTA and Mercado echoes. As the owner/operator of two concepts and multiple locations, "why would I want to invest energy into a concept that isn't my own?" Gomez asks. "And what if one of those outside concepts should take off?"
So, does integrating a Nextbite brand into a kitchen distract small owner/operators and potentially push them into a losing cycle of chasing revenue streams from competing virtual brands whose recipes and IP they don't own?
"Absolutely not," says Canter. "We're not in the business of competing with restaurants, we're rather enabling restaurants to do more with their existing operations." All Nextbite brands are designed specifically to be non-disruptive to the restaurants they're partnering with. Canter says the first question Ordermark asks a potential fulfillment partner is "can you handle an extra 10 or 20 online orders a day in your restaurant? If the answer's no, then why would you sign up to throttle extra orders in your kitchen if you're already at full capacity?
For those struggling to bring in revenue, Ordermark has positioned itself as a life-line in a time of flux — even if it means trimming their margins and feeding concepts that aren't their own.
The rise of delivery apps and the pandemic shutdowns have left the restaurant industry irrevocably changed. But will off-premise orders remain at 2020 highs, or will diners clamor back into seats desperate for face-to-face interaction? The continued growth in revenue among the various ordering platforms suggests delivery is here to stay. Meanwhile virtual concepts and ghost kitchens will have to prove that they're not as ephemeral as their names suggest.
From Your Site Articles
Related Articles Around the Web
Courtesy Kiwibot
If you live in Santa Monica, you can now have tacos and burritos delivered straight to your door via semi autonomous robot.
As part of its push to have hundreds of robots rolling down Los Angeles area sidewalks by the end of the year, Kiwibot is partnering with food delivery search engine app MealMe to make more restaurant deliveries available. So far, two have signed up but they hope this will be just the start.
"We want every restaurant in L.A. to give their customers the option to order delivery through MealMe and have their food delivered with a Kiwibot," said MealMe co-founder Matt Bouchner.
Bouchner said they chose to start in Santa Monica because of the city's Zero Emissions Delivery Zone, a partnership with the Los Angeles Cleantech Incubator to encourage cleaner transportation options such as robots, micro mobility and electric vehicles.
Amazon, FedEx, Starship and Uber are among the companies that have been testing small, electric delivery robots with the goal of reducing the costs of last-mile deliveries.
Kiwibot has made over 120,000 deliveries since 2017 at the University of California, Berkeley, University of Denver, and in San Jose, where it partnered with Shopify and Ordermark.
The company now views Los Angeles as its most important market.
"We trust L.A. to be the best new market for us because the food delivery habit is already there, and we feel backed to scale in an organized and socially responsible and sustainable manner," David Rodriguez, Kiwibot's head of business, told dot.LA last year.
The first restaurants in the partnership are Blue Plate Taco and Red O Restaurant, both touristy Mexicans eateries located on Ocean Avenue.
Kiwibot, based in San Jose, raised more than half $1 million in its latest crowdfunding campaign, to bring its fundraising total to over $3 million. MealMe hauled in $900,000 of seed funding in a deal led by Palm Drive Capital in February, according to Pitchbook data.
The companies' much bigger rival, Postmates, owned by Uber, has been testing a handful of delivery robots in West Hollywood since April. While those are accompanied by a human chaperone, the Kiwibot robots whizz down sidewalks all by themselves.
Bouchner said he is not concerned about robots navigating the often crowded area around the 3rd Street Promenade.
"The Kiwibots have obstacle detection and human monitoring at all times who make sure everything is going smoothly," he said.
On a recent crisp winter morning outside an empty office park in the San Fernando Valley, there were no workers to be seen. That is unless one counts the cooler-sized delivery robot slowly whirring down the sidewalk as Felipe Chavez, founder and CEO of Kiwibot, nervously watched to make sure the droid did not veer of course.
Just as no one now thinks twice about seeing e-scooters that were non-existent before late 2017, the sight of a robot ferrying salads, pizza, or groceries could become common on Los Angeles sidewalks before this year is over.
Kiwibot has quietly been testing its robots – specially designed to look cute and non-threatening – for the past few weeks in the Valley, as well as more recently at a major university campus the company won't yet name. If all goes well, Kiwibot will begin offering delivery to students through as early as next month before expanding to Santa Monica and other parts of the city after that.

"L.A. is going to be our most important city this year," Chavez said. "In the first five months of the year we plan to employ 100 robots here in the city, and we expect that by the end of the year we're going to have around 400 robots deployed."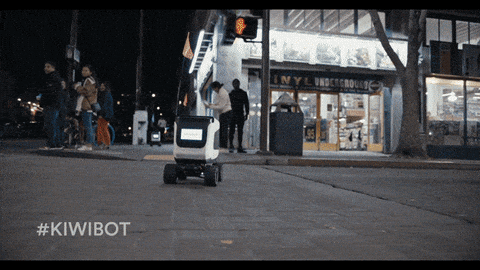 Postmates, which is now owned by Uber, has been testing a handful of delivery robots in West Hollywood since April. While those are accompanied by a human chaperone, the Kiwibot robots set out on their own, though operators take over remotely for more complex tasks like crossing the street.

Kiwibot has already made over 120,000 deliveries since 2017 during rollouts at University of California, Berkeley, University of Denver, and San Jose, where it partnered with Shopify and Ordermark. But L.A., with its vast geographic footprint, is a whole new degree of difficulty.
"It's a great challenge for us," said Chavez.
Kiwibot chose L.A. because the city already has a high adoption of food delivery, it is home to potential partners like ChowNow and Ordermark, and the city has been a willing collaborator through its Urban Movement Labs (UML), mostly by sharing data on city streets and sidewalks.
"We trust L.A. to be the best new market for us because the food delivery habit is already there, and we feel backed to scale in an organized and socially responsible and sustainable manner," said David Rodriguez, Kiwibot's head of business.
After a confrontational approach between cities and ridesharing and e-scooter companies, Lilly Shoup, UML's interim executive director, says L.A. is trying to be more collaborative with delivery robots.
"I think we've learned that it's important for city transportation agencies to get ahead of new technology before they appear on city streets," Shoup said. "It's important to understand their business models and proactively develop policies."
UML is also working on a pilot to deliver goods via drone by 2022 and in both instances Shoup says the technology can help reduce pollution and congestion since most deliveries now are made via cars.
"It's really exciting to think about new ways to reduce the environmental impact of delivery," Shoup said.
Robots substantially bring down the cost of delivery, which could help restaurants that operate on thin margins during even the best of times and have been devastated this year. But it will also mean fewer delivery jobs, most of which have been preserved as contract work in California with the recently passed Proposition 22.
Restaurants typically pay between 15% to 30% on orders placed with delivery services like Postmates or Grubhub and drivers are hardly getting rich. In fact, they often make less than minimum wage.
Kiwibot charges fees of a couple dollars on each order – which can be absorbed by the restaurant or passed onto customers. The company says its cost per delivery is now $2.98 but as it scales and the technology improves it can shave the cost down to $1.23 by the end of 2022.
Right now, Kiwibot robots – which cost between $2,500 and $4,000 each – can only operate in a 1.5 mile radius but the company's next generation can go eight miles and is large enough to fit a 12-inch pizza.
Will the Public Accept Robots?
Even when the technology is ready, Kiwibot has what may be a tougher obstacle to overcome – public acceptance. Public safety commissioners in West Hollywood raised concerns about Postmates' robots and even in tech-friendly San Francisco, a city lawmaker, worried they might run into pedestrians, tried to ban them.
Kiwibot warns potential investors on its crowdfunding page: "Delivery bots have proved controversial in some regulatory environments with some cities, like San Francisco, putting out laws that make it difficult for us to deploy. If this became widespread we would have trouble going to market."
Chavez says he spends a great deal of time thinking about how he can get the public to be comfortable with robots.
"There is a sector of people that are concerned about robots and I think that it is very important to listen to them and to get their feedback on everything. but robots are going to happen," Chavez said.
The robot also has a sign affixed to the back to clarify that it is not recording any video, something that was added after homeless people in San Jose feared they were being spied on.
There is a "black box," which records in case of an emergency, but none of the devices have been stolen — so far.
Even though local regulations can allow for robots to go as fast as 10 mph, Chavez has found a speed of 6 mph makes people feel safer.
There are also important visual considerations. Kiwibot's robots look nothing like the hulking devices conjured up in sci-fi movies like "Transformers" or "The Terminator." They are more like a plastic cooler on wheels with lights on the front that resemble a smiling face.
"The new version is even more cute," said Chavez. "It's like a squirrel on a rock."
Taking a page from nature, the design is deliberately playful and small.
"When you see an animal and it is bigger than the width of your shoulders you feel threatened," Chavez said. "So we have made sure that the robot is never going to be wider [than you] so that people don't feel threatened."
Coronavirus has also been helpful, helping accelerate the adoption not only of delivery but also of robots – who you don't have to worry about coughing on you.
Competition with Bigger Robot Deliveries
Kiwibot, which is based in San Jose, has raised more than half $1 million from more than 650 investors in its latest crowdfunding campaign, to bring its fundraising total to over $3 million.
That pales in comparison to not only Uber but also much larger rivals Starship, a robot food delivery service launched in 2014 by two Skype co-founders that plans to rollout deliver to 100 universities by next summer and Nuro – an autonomous vehicle startup founded by two ex-Google engineers valued at $4 billion. The company received regulatory approval last week to operate on city streets in the Bay Area.
But with global autonomous last-mile delivery projected to grow from $11.16 billion next year to $76 billion by 2030, Kiwibot sees room for multiple competitors.
"In L.A. right now we are talking with multiple partners, very big companies," said Chavez.
"Everything is moving very fast," he added, as his robot inched along the sidewalk, heading back to the lab to continue more testing.