fabfitfun
FabFitFun wasn't always a purveyor of goodie-filled subscription boxes.

In 2010, Michael Broukhim and his brother Daniel Broukhim co-founded the West Hollywood-based startup with Katie Echevarria Rosen Kitchens, a longtime journalist, as a blog and newsletter, which served up editorial content on beauty, fashion, fitness, and wellness. But ad-supported newsletters at the time were a challenging proposition and transforming a pure media play into a profit-making machine remains a notoriously difficult endeavor. Those challenges spurred brother Michael to seek inspiration for a pivot elsewhere.
"We weren't super optimistic on the idea of an ad-supported newsletter achieving what we wanted to achieve and in terms of making a dent in this world," says Michael, who serves as co-CEO with Daniel. "Once we had our audience, we could start asking them questions, and we talked to them. We did see things in the subscription space we thought were really interesting."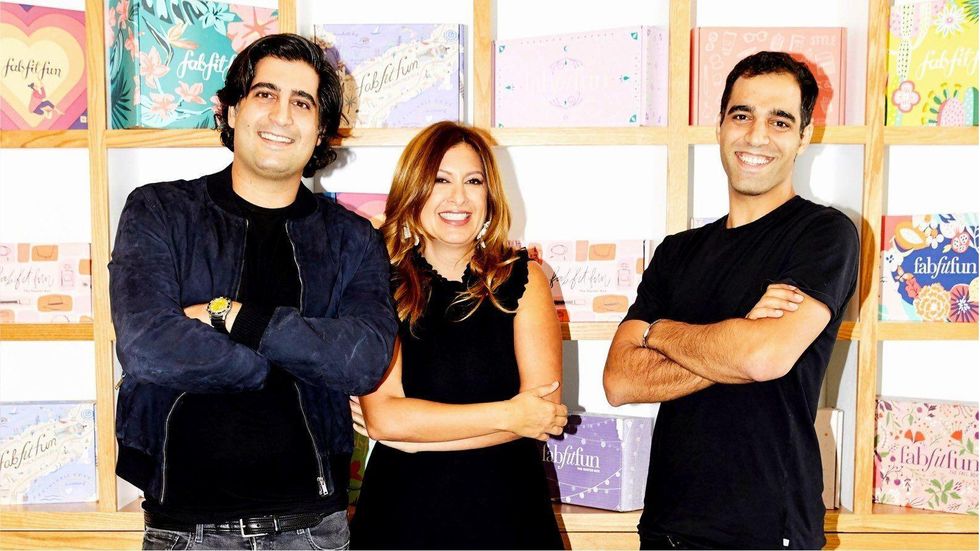 Brothers Daniel (left) and Michael Broukhim co-founded FabFitFun with journalist Katie Echevarria Rosen Kitchens.
Inspired by the swag bags doled out at the glitzy L.A. events he regularly attended, Broukhim saw a market opportunity. Swag bags often delighted people with unexpected items. What if FabFitFun offered subscription boxes brimming with a mix of items from different categories that offered the same element of satisfaction one felt in receiving and picked through a swag bag?

In March 2013, FabFitFun launched its first membership box — a run of 2,000 boxes that sold out in 24 hours. In the eight years since, that number has multiplied exponentially, with the startup now assembling nearly two million boxes a quarter for subscribers who pay either $49.99 per box or $179.99 for four boxes a year for full-sized products from over 1,000 brands ranging from Alice + Olivia to West Elm.
This April, the startup took another step to appease loyal users. Starting this summer, they'll be able to pick and choose all the items they'd like in their quarterly boxes or forgo their box completely for credit to shop on FabFitFun's site. (Previously, FabFitFun allowed subscribers to pick some, but not all, the items in their forthcoming boxes.)
"We want every woman of every sort of personality, skin tone and body type to find products that they love within the box," explains Kitchens. "In order to make that happen, there has to be a wider variety of choices so they feel that the box was tailored to them in a much deeper way."
FabFitFun's announcement follows a banner year for the startup, in which revenues almost doubled from 2018 to $600 million in 2020. As a way to keep more users happy, it's smart — addressing one of the fundamental problems of the subscription box model, which was founded on the notion of surprising and delighting shoppers who don't necessarily know what their orders will contain. But that same element of serendipity also meant some users were inevitably disappointed.
"One of the problems with subscription boxes is you might like some of the items, but you may really feel like some of the other things are a waste of your money — versus saying, 'Hey, I got to have eight things that were fantastic,'" says Charlene Li, founder of the analyst firm Altimeter.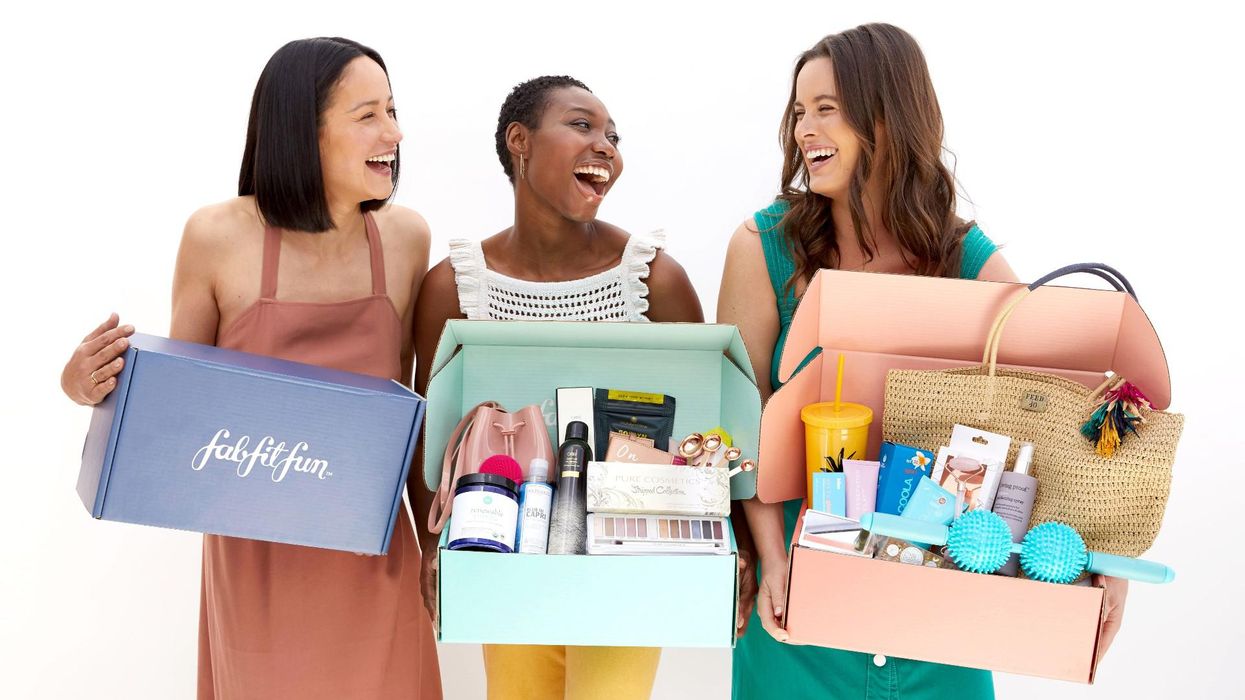 Despite some setbacks, which included streamlining operations and layoffs in February 2020, FabFitFun has largely succeeded where many subscription box startups over the years have failed entirely, either because they failed to find their niche or their targeted niche was too narrow. Even Birchbox, which is largely credited with spearheading the subscription box model, has struggled, with rounds of layoffs over the years.

Broukhim remains vague on what lies ahead for his startup, which currently employs about 550 employees and operates a 650,000-square-foot fulfillment center in Chico, California — roughly the equivalent of 11 football fields. But in the long run, FabFitFun's co-CEO wants to develop an online shopping experience that emulates the feeling many millennials and Gen Zers had growing up and going to the mall with friends, although he declines to specify how the startup will accomplish that.
With rapid revenue growth, there's also speculation of an IPO on the horizon, although Broukhim quickly dispels that rumor.
"We don't have any plans at this point, but what I'd say is we're always focused on what's doing what's right for the company and what's right for delivering this very unique experience to our members and to our brand partners," he says. "I think at some point along that trajectory 'being public' is going to be the right step for us, but we haven't made a determination yet on timing."
Until then, the startup will continue doing what it does best by bringing highly-anticipated orders — by the box-full — to shoppers' doors.
From Your Site Articles
Related Articles Around the Web
Despite — or in many cases because of — the raging pandemic, 2020 was a great year for many tech startups. It turned out to be an ideal time to be in the video game business, developing a streaming ecommerce platform for Gen Z, or helping restaurants with their online ordering.
But which companies in Southern California had the best year? That is highly subjective of course. But in an attempt to highlight who's hot, we asked dozens of the region's top VCs to weigh in.
We wanted to know what companies they wish they would have invested in if they could go back and do it all over again.
Startups were ranked by how many votes each received. In the case of a tie, companies were listed in order of capital raised. The list illustrates how rapidly things move in startup land. One of the hottest startups had not even started when 2020 began. A number doubled or even 16x'd their valuation in the span of a few short months.
To divvy things up, we delineated between companies that have raised Series A funding or later and younger pre-seed or seed startups.
Not surprisingly, many of the hottest companies have been big beneficiaries of the stay-at-home economy.
PopShop Live, a red-hot QVC for Gen Z headquartered out of a WeWork on San Vicente Boulevard, got the most votes. Interestingly, the streaming ecommerce platform barely made it onto the Series A list because it raised its Series A only last month. Top Sand Hill Road firms Andreessen Horowitz and Lightspeed Venture Partners reportedly competed ferociously for who would lead the round but lost out to Benchmark, which was an early investor in eBay and Uber. The round valued PopShop Live at $100 million, way up from the $6 million valuation it raised at only five months prior.
Scopely, now one of the most valuable tech companies in Los Angeles, was also a top vote getter.
The Culver City mobile gaming unicorn raised $340 million in Series E funding in October at a $3.3 billion valuation, which nearly doubled the company's $1.7 billion post-money valuation from March. It is no coincidence that that was the same month stay-at-home orders began as Scopely has benefited from bored consumers staying on their couch and playing ScrabbleGo or Marvel Strike Force.
The company's success is especially welcome news to seed investors Greycroft, The Chernin Group and TenOneTen ventures, who got in at a $40 million post valuation in 2012. Upfront Ventures, BAM Ventures and M13 joined the 2018 Series C at a $710 post-money valuation.
Softbank-backed Ordermark, which flew more under the radar, also topped the list. The company's online ordering platform became a necessity for restaurants forced to close their dining rooms during the pandemic and raised $120 million in Series C funding in October.
On the seed side, two very different startups stood out. There was Pipe, which enables companies with recurring revenues to tap into their deferred cash flows with an instant cash advance, and Clash App, Inc., a TikTok alternative launched by a former employee of the social network in August.
We will have the list of Southern California's top seed startups out tomorrow.
Lead art by Candice Navi.
This week's virtual pitch showcase featured three emerging ecommerce startups founded in Southern California: Mi Terro, ettitude and Aptitud. FabFitFun Co-CEO and Co-Founder Michael Broukhim joined angel investor Spencer Rascoff for the discussion. dot.LA's Chief Host and Correspondent Kelly O'Grady emceed the event.
Watch below and subscribe to our newsletter and Youtube channel to get notified about our next event.
Copy of dot.LA Virtual Pitch Showcase: eCommerce www.youtube.com
Mi Terro is the world's only biotechnology company that rescues food waste and re-engineers it into sustainable fibers that can be used for fashion, medical, and packaging industries. Through their patent-pending technology, they have created the world's first sustainable apparel line made from excess milk. They are also creating food packaging film made from whey. They are replacing petroleum-based materials with protein-based materials made from food waste. Mi Terro is redefining the circular economy in which everything begins with food waste and ends as recyclable or biodegradable.

ettitude is a female-founded LA-based sustainable lifestyle brand offering home essentials that are soft on your skin and gentle on our planet. Using their proprietary CleanBamboo™ fabrics, ettitude's bedding,sleepwear, and bath range are as soft as silk, as breathable as linen, and at the price of cotton.

Aptitud (meaning "fitness" in Spanish) was created to enhance the home workout experience. Aptitud was founded by Arielle, Audra, and Riley during the COVID-19 pandemic. As workout junkies, we shared a passion for working out together and living a fit lifestyle. Transitioning from gyms and bootcamps to working out at our homes, we experienced the challenge of finding fashion-forward, elite fitness accessories. We have curated and hand-picked the most exclusive, high-quality fitness products to enhance your home workout lifestyle. Aptitud is more than just a fitness retail company, it is a community of women from all walks of life striving for health and wellness. IG & TikTok: aptitud.co