Francesca Billington
Francesca Billington
Francesca Billington is a general assignment reporter for dot.LA. She's previously reported for KCRW, the Santa Monica Daily Press and local publications in New Jersey. Before joining dot.LA, she served as a communications fellow at an environmental science research center in Sri Lanka. She graduated from Princeton in 2019 with a degree in anthropology.
Since founding StarNews Mobile, a video platform for content creators in Africa, Guy Kamgaing has landed deals with telecommunications giants to distribute content to subscribers across the Ivory Coast, Cameroon, Congo, South Africa and Nigeria.
The CEO has already raised $2.4 million from seed investors. But as the Santa Monica-based company expands its footprint, Kamgaing is ready for more.
"We're kind of a weird animal," he said. "We're here in Santa Monica, but yet we're tackling an opportunity on the other side of the world. A lot of people have a hard time wrapping their head around what we're doing."
As he goes after a Series A, Kamgaing is testing out a new path to securing capital — a nascent program called the SoCal Venture Pipeline, which is hoping to make an imprint on Southern California startups.
Together, the Alliance for SoCal Innovation and Silicon Valley Bank (SVB) are tapping brands like StarNews Mobile and Shine Bathroom Technologies to join their network of founders and investors. The Pipeline identifies companies seeking Series A funding and connects them with the right VCs. They expect to add two to three companies each month and hit about 20 after their first year.
The goal, SVB's Head of VC Relationships Rob Freelen said, is to "uncover companies that might be in smaller, lesser known parts of the Southern California region."
That means scouting out founders across L.A., Santa Barbara, Ventura, Orange and Riverside counties.
"Entrepreneurship is everywhere, but funding is not," said Andy Wilson, the Alliance's executive director, in a statement.
For early-stage startups, the road from seed round to Series A can be a long one. That's because there's less at stake during seed rounds and investors tend to be more selective during Series A funding in part because more money is usually at stake. Between 2017 and 2020, venture firms made about a third fewer Series A deals in Southern California than seed funding deals, according to a review of Pitchbook data.
The Pipeline hopes that 20% to 30% of the startups will find funding three to nine months after the companies are selected for the program. SVB's direct investment fund might be one of them — but that's not guaranteed.
The program is looking for companies that have the right metrics.
"Series A investment requires that you have traction in terms of revenue and customers," said Eric Eide, the program's lead. "You need to show that you've got a business and you have it out in the market and it's working."
Of the over 40 startups that the Pipeline reviewed, only two made the cut.
The program, bankrolled by the Silicon Valley Bank and the law firms Wilson Sonsini Goodrich & Rosati and KPPB LLP, is free for participating companies. There's also no guarantee for the selected companies that they will get funded. Firms will do their own due diligence before making funding decisions.
The concept was modeled after Connect, a similar program in San Diego that has generated $650 million in Series A funding for startups since 2015.
Given the size of the Southern California region, Eide expects challenges when it comes to finding the right fit for companies from around the region. But he's hoping the program makes it easier for both investors looking for the right businesses and founders looking for funding, and is hopeful the model could scale outside of Southern California.
"I don't know of anything that's been tried [at] this scope," he said. "So, there is going to be a period of building."
The pipeline has so far begun accepting applications from companies in Pasadena, Ventura and Santa Barbara, and is planning to expand into Riverside and Orange County by the fall.
For Kamgaing, the program hasn't been useful just yet. But he's still hoping to make the most out of it, so he can focus on his work.
"It's extremely valuable if you don't know anybody – if you are a second or third-time entrepreneur and you've raised money in the past, you don't need them," he said. "For somebody who is very operational, very into the daily grind and doesn't have a whole lot of time and energy to dedicate to fundraising, it's perfect."
Venture capitalists last month sunk nearly half a billion dollars into a Southern California defense technology startup whose surveillance towers track migrants along the U.S.-Mexico border.
Anduril Industries, the Irvine-based maker of autonomous drones, towers and small ground sensors, will use the $450 million for acquisitions and build out its AI-powered tech designed for military and border enforcement agencies.
But activists and experts are raising flags about the technology, pointing to privacy violations and civil liberties infringements.
They also question the government's steep investment in the private defense contractors behind it.
"The fact that we're spending money on the border wall also means that we're not investing in the things we all actually need here in the valley," said Norma Herrera, an organizer with the Rio Grande Valley Equal Voice Network.
She pushes back against what President Biden called an "effective and modern border security" system—a bureaucratic apparatus that allocates $1.2 billion for border infrastructure next year (still a drop in the bucket, given the Department of Homeland Security's $52 billion 2022 budget).
Before the pandemic, Herrera knocked on doors in Texas' Starr County to tell residents about the amount of money elected officials were pouring into Trump's border wall. Now, she's learning how to explain the virtual wall, one that's often harder to notice.
Anduril declined to make executives at the company available for interviews.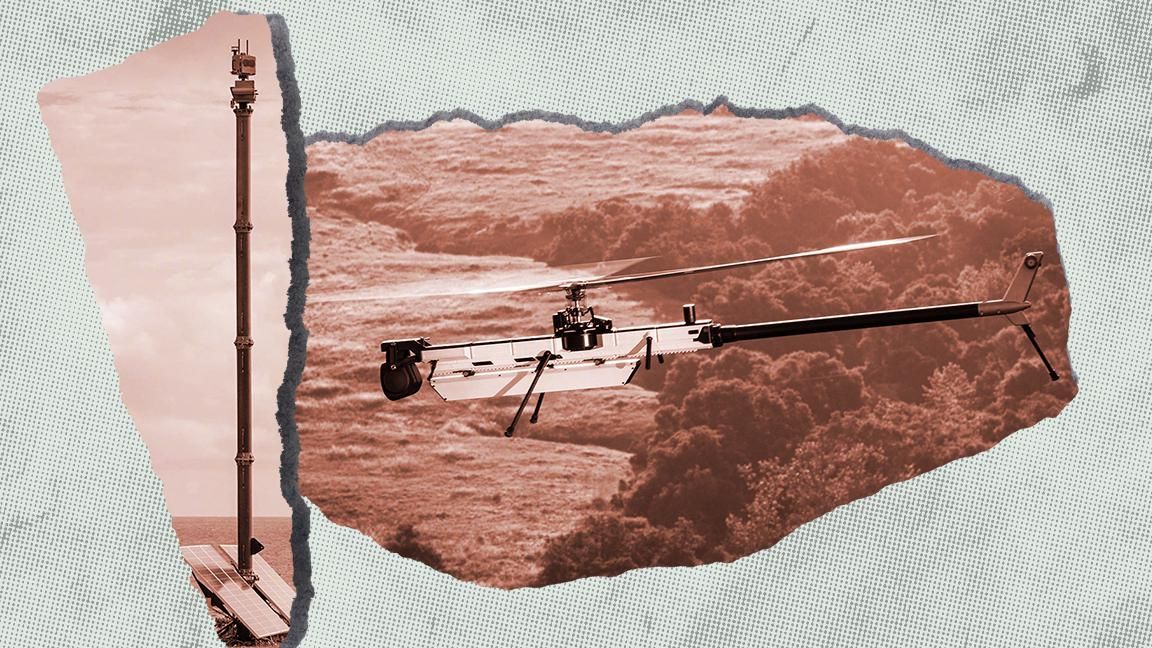 Surveillance on the Border
Over the last decade, the border security and immigration detention industry has ballooned as Democrats and Republicans both funnel more government money into private companies. Between the fiscal years 2017 and 2020, Customs and Border Protection received about $743 million from Congress for tech and surveillance, according to the legal organization Just Futures Law. And in the 2021 fiscal year alone, the Department of Homeland Security received over $780 million for the same purpose.
Anduril's recent project with CBP revolves around a $250 million contract signed under the Trump administration in July of 2020 to set up 200 solar-powered watch towers along the southern border. Of the towers, 60 are up and running as of July 2.
Under Biden's leadership, funding for border technology has become an even bigger priority, said Dinesh McCoy, a legal fellow at Just Futures Law.
"It's in large part a response to coinciding pressures of distinguishing themselves from the Trump years," he said.
Many Democrats back Biden's vision, considering a virtual barrier a far better alternative to the physical border wall Republicans prefer.
"When it comes to proposals for a virtual wall, we're talking about heavy, heavy investments," said Saira Hussain, an attorney at the Electronic Frontier Foundation who specializes in racial and immigrant justice, surveillance and technology.
Government agencies are tapping a number of private companies to install the technology. In 2019, CBP awarded the Israeli defense contractor Elbit Systems $26 million to install surveillance towers along the border.
Then came the administration's 2020 deal with Anduril. Its AI-powered operating system, called Lattice, is designed to distinguish humans from animals along the border and send information to an agent's cell phone. The company has to date received $691 million in venture capital, including $450 million that had backers including Andreessen Horowitz last month. Anduril is now valued at $4.6 billion.
"As with all of our investments, this is a bet not just on the technology (breathtaking) and the market (enormous) but also the people (outstanding)," Andreessen Horowitz co-founder and general partner Marc Andreessen said in a prepared statement.
Marc Andreessen is a longtime investor in Palmer Luckey, Anduril's 28-year-old founder. He backed Luckey's first company — virtual reality startup Oculus — before Facebook bought it for $2 billion in 2014. A few years later, Luckey left following reports that he was funding a far-right political group.
In 2017, Luckey opened Anduril with a band of former employees from Oculus VR and Palantir, the software giant with major contracts with several government agencies.
Eyes Everywhere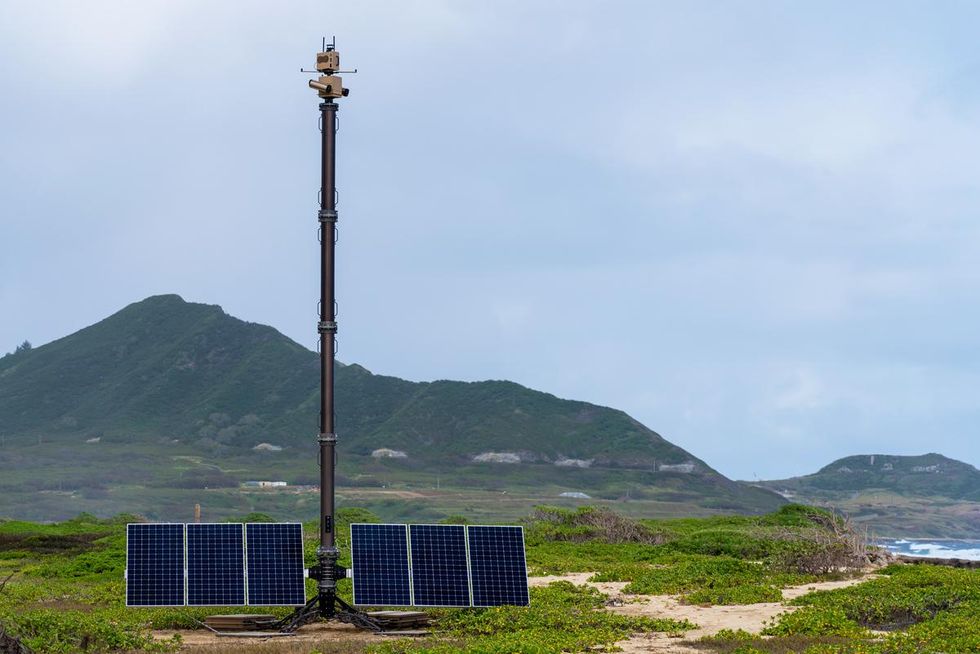 Anduril Border Tower
Along the border, Anduril's 33-foot towers are continuously scanning plots of land about three miles in diameter. They're built to ignore animals — what CBP calls a "false positive" — and light up after detecting movement from people or cars.

The towers are watching "illegal border crossings, human trafficking and drug smuggling," a spokesperson for Anduril said by email.
If a person or group falls out of the camera's vision, AI tells the next tower to pick it back up. Border patrol agents then receive an alert to their cell phones or computers.
The goal is to mimic an agent's pair of eyes, especially in remote and rural spots. As one agent put it, "they see what we can't see on the ground."
They also run on solar power, a feature CBP said avoids the need for new infrastructure that can "complicate the Border Patrol's agreements with many of the private ranchland owners, national parks, and Native Americans' tribal lands where the Border Patrol must work."
Video surveillance drones and towers are puncturing nearly every industry, from homeland security to fast food delivery to monitoring traffic and parking violations along busy streets.
The tech is also raising a flood of questions from academics and legal groups like the Electronic Frontier Foundation and Just Futures Law, all of them worried about the implications of surveillance not only for migrants, but for U.S. residents. In May of 2020, for example, agencies CBP flew a drone over Minneapolis to record protestors following the police murder of George Floyd.
"We know that what's often deployed at the border and what's normalized at the border in terms of surveillance eventually makes its way into the interior of the United States," said Hussain, the attorney from EFF.
The company says it does not use facial recognition or collect identifiable information.
But critics like the ACLU of Texas and other civil liberties groups said it's unclear what data is being collected by private defense contracts like Anduril and how it could be used and shared.
"The border is a testing ground for surveillance elsewhere," said McCoy, the legal fellow at Just Futures Law. "Unfortunately, it's been primarily used to surveill Black and brown folks in the U.S. and abroad."
As the U.S. begins reducing its military footprint in the Middle East, McCoy suspects other military contractors will turn to border surveillance as a new form of profit.
"These tools that were once confined to military contexts have found themselves more and more in local communities," he said.
Anduril, for its part, insists it is providing the government with a crucial security mechanism. "Anduril identifies a security problem," reads a prepared statement forwarded to dot.LA by a company spokesperson, "builds a potential solution, then takes it to the government for potential consideration."
Lead art by Ian Hurley
Editor's note: This article has been updated to clarify that Andreessen Horowitz was involved in Anduril 's$450 million raise round, but was not the sole funder. Additionally, mentions of Anduril's $250 million contract with CBP have been updated to clarify that they were not negotiated with President Trump himself, but rather with members of his administration.
As Amazon Fresh and Instacart race to deliver groceries to your front door, a new kind of shopping experience has quietly joined the market.
Enter Robomart's small fleet of Mercedes vans stocked like convenience stores and guaranteed to show up at your house in under 10 minutes.
In West Hollywood, residents who run out of toilet paper or laundry detergent can pay $2 to hail the miniature stores straight to their home addresses. The pharmacy van's sliding doors open to reveal rows of paper products and over the counter medicine. There's also a snack car stocked with cold soda and candy.
"Who's our target demographic?" said Ali Ahmed, founder and CEO of Robomart. "It's pretty much everyone."
The Santa Monica-based company pitches the car as a robot, but that might depend on how you define "automated." Vans are navigated by drivers who are trained to keep the tinted windows rolled up and wait quietly for customers to browse products.
For contactless checkout, the company relies on radio-frequency identification, or RFID, which uses small sensors that pick up movement from little white tabs taped to each item.
After a shift, drivers bring the vans back to an operating zone where REEF, the company known for managing ghost kitchens, replenishes products and counts inventory.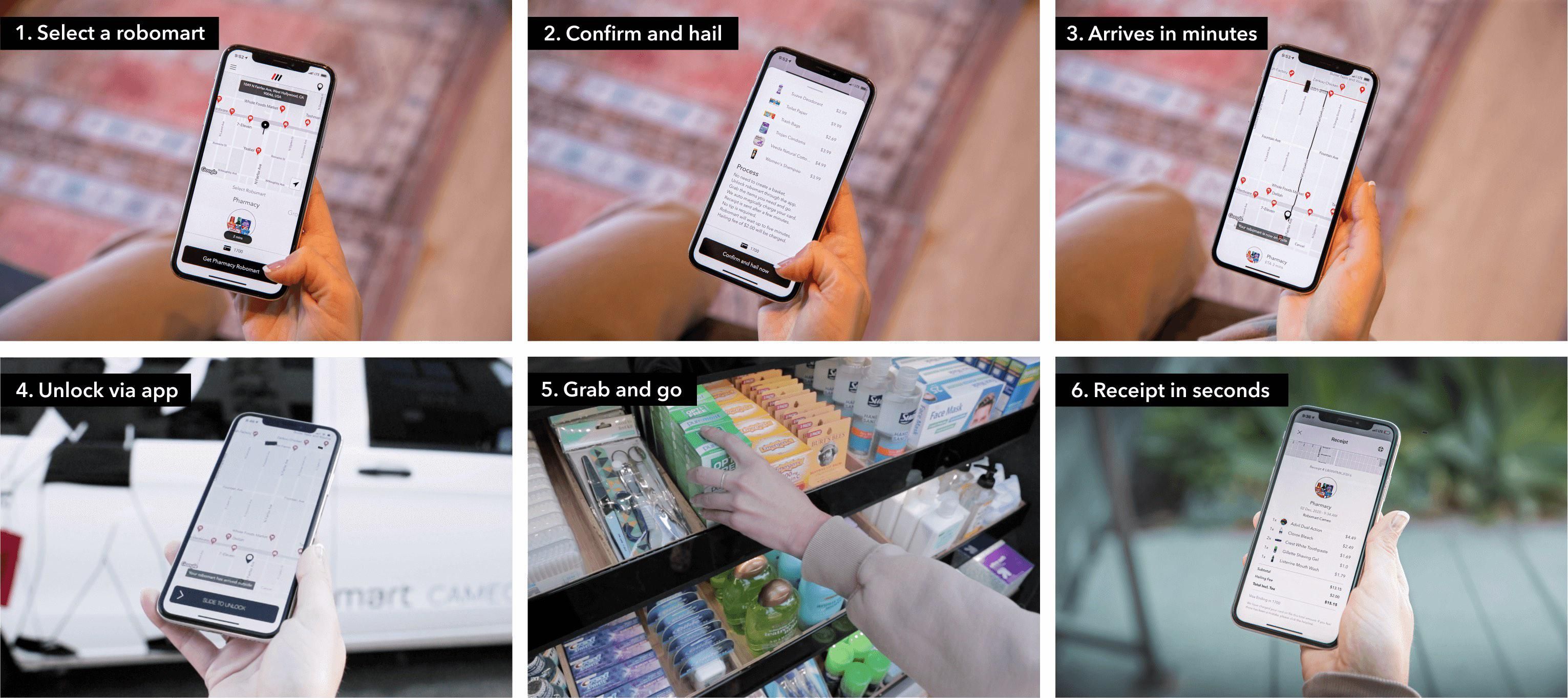 I tried the service out. After hailing the van and waiting a little over eight minutes, my pharmacy Robomart pulled up and I started shopping. The shelves displayed a standard selection of toiletries and medicine cabinet items you might find at a gas station convenience store.
Prices were lower than I expected (the same tube of Colgate toothpaste from the nearest CVS cost $1 more) but variety was limited. And there are still glitches.
The van doors slid shut once I ended my transaction on the app. I idled outside the car for a few extra minutes talking to the Robomart driver when an email arrived listing my purchases, minus a bottle of conditioner I picked up.
Ahmed promptly sent a note to inform me the mistake was a "human error" that he suggested was caused by the Robomart driver. He said my chat threw off the sensors that are supposed to track what customers take. To work properly it requires the driver to leave immediately after the purchase.
He said to fix the problem, he plans on installing a two-way speaker system for customers to chat with the driver or a customer support agent.

Already, there's a small video camera inside each van "as a backup check." Where exactly they're planted and what is done with that footage is unclear.
The van is still somewhat of a beta version and far from what Ahmed first envisioned. His prototype in 2018 was completely self-driving, a dream he's had to put on ice for now as have other delivery and ride hailing services.
Ahmed declined to say how much capital he's raised but said the company is backed by Wasabi Ventures, SOSV, The Automation Fund, Hustle Fund, Archetype Ventures, Hardware Accelerator and W Ventures.
The CEO is eying groceries, deli food and pantry essentials next.
"The alternative, I feel, is actually driving to the store," he said. "We save that entire headache."
From Your Site Articles
Related Articles Around the Web