Robotics
The latest news about robotics and robotics startups in Southern California from dot.LA
After a year and a half of the pandemic, the robots have arrived—at least in restaurants.

A new report from market research firm Global Industry Analysts (GIA) found that the global food automation market grew to $9.7 billion in 2020, spurred in part by a desire to offer customers contactless service. The GIA researchers projected the market would swell to $13.6 billion by 2026.
While food automation offers an exciting new avenue for entrepreneurs, there's also a fear that machines will ultimately replace their human counterparts. (Food service is far from the only industry to grapple with the threat of automation.)
Darian Ahler, CEO of Bobacino.
But Darian Ahler doesn't see it that way. The 37-year-old director of product strategy and food automation at Wavemaker labs and CEO of Santa Monica-based Bobacino insists that automation will automate those dreaded tasks and provide a contactless option amid the pandemic.
Ahler argues that his $50,000 boba making-machine will elevate food service, bringing fast, quick specialty drinks to mom-and-pop stores and in the process eliminate lines. (The first Bobacino pod is expected in early 2022.) And he says his new deal with a facial recognition software, PopID will offer consumers a quicker and safer way to pay.
Ahler spoke with dot.LA about Bobacino and the future of food automation.

The technology for automating food service has been around a while, but big companies have been slow to adopt it. Why is that?
If you look at it historically, automation is trying to streamline functionality and production in the food space. New York in the early 1940s and 50s had the automat.
They were building and making meals in the background and then you would go and grab a mac and cheese or a cheesecake at one of these lockers. That ended because people wanted to see their food made fresh in front of them.
Fast forward to today. There is the taboo that automation is replacing human labor. I understand the concern, but it's a bit of a misnomer. What we're trying to do is really automate those less desirable tasks, we're automating the process not the people.
Do you see automation changing the face of restaurants?
To some degree, for sure. I don't think we're going to fast forward 50 years from now and all restaurants are going to be robotic. I think it will be a continued fusion between the two.
Think about how much a kitchen has been automated over time when you have specific machines to do specific tasks rather than having somebody cook a stew. You might do that in an instapot, and that can speed up the process.
We're going to continue to see that trend. We're on the forefront of it. We're not trying to automate away the restaurant. We're trying to automate certain processes so that existing brick and mortars can have their employees do their jobs better.
The trend that I've been seeing that might be changing the structure of restaurants is the growing advent of ghost kitchens—leveraging one kitchen that might serve multiple restaurants for delivery. So removing the front of house for certain restaurants, seeing the delivery sector grow massively.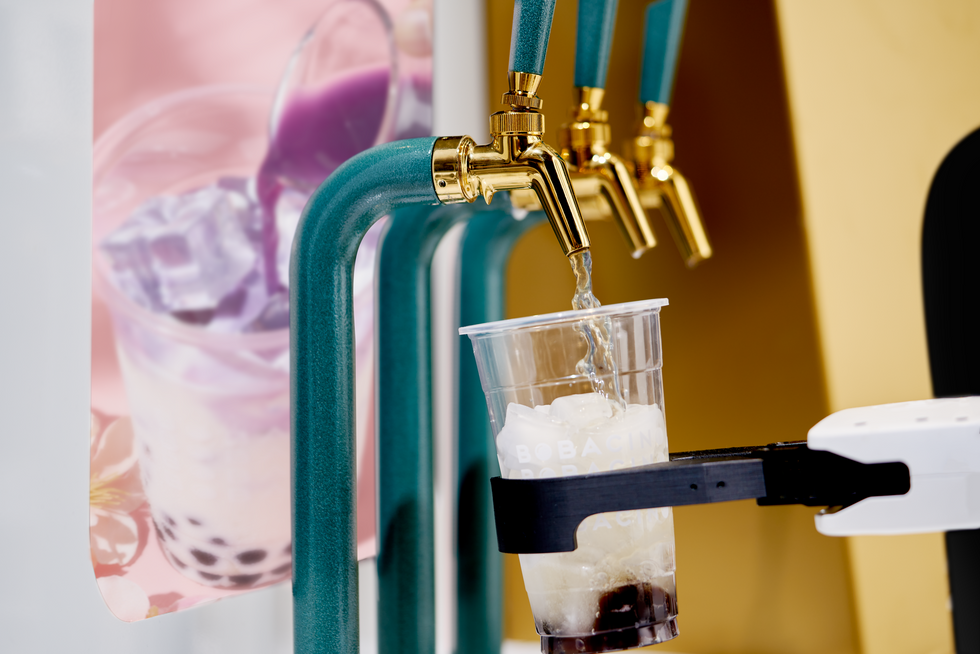 Many people are worried that technology like yours will replace human workers. What do you say to those critics?
So, it's a little bit of a misnomer. We're not trying to automate jobs, we're trying to automate processes. The difference being that we're not trying to replace people, we want to replace portions of their functions. For example, as an employee, what they're having to do is extremely tedious. We can [allow them] to focus on the customer.
With an existing boba shop, a lot of the overhead goes to labor but a good chunk of it just goes to rent, paying for the bills of utilities and the support of the space itself. With our model, being able to partner with small business owners, we can start to create a hub-and-spoke network where they can have an existing shop and they can drop 3, 5, 8, 10 of our Bobacino units.
We can deploy these out around their space and they're able to have a larger reach and larger impact without requiring the footprint or the utilities or the cost required with a brick and mortar.
How would a customer order a drink using your boba machine and the PopID technology?
If there's a long line, but you want one of the classic drinks you can go to the Bobacino pod and order one there. Everything is staged and ready to go to make your drink. If you want a traditional milk tea with boba, you walk up to our ordering interface which is a tablet with integration of PopID. If you are registering with PopID—which is an opt-in solution—you would opt-in to the process and then scan your face for payment.
You'll see the robotic arm come to life and grab a cup and bring it to the boba dispenser. Then it will deliver your drink to one of the secure pickup locations. If you have PopID, you go to that kiosk and have it scan your face and open the door. If you don't, then we provide a QR code or pin to access the drink and make sure they're getting their drink and nobody else's.
If you want a more custom drink then you wait in line and have a person build that drink for you. That can help expand the company's production and ability to serve more drinks faster without needing a larger footprint which seems to be one of the biggest issues.
Was there pushback on the price of the machine?
Nobody pushed back on it. The other part here is that we are offering leasing options, for those people that can't come up with $50,000 of liquid capital. It would be a monthly spend and that is a little bit more tangible and should have a faster return on investment even though they might be paying that out over a longer period of time.
What other projects do you have going on aside from boba?
I occupy this dual role because I came in as CEO of Bobacino, and that was partially on the business development side and partially on the product development side. But I have now fully embedded myself into Wavemaker labs as Director of Product Strategy for food automation. I work across our portfolio companies.
So we have another company called Maestro which makes pizza from scratch. We have another concept that we are developing called Nami, it's a bowl-based concept. So I help inform across all those channels, not only with the experience, but with the functionality with my background as an engineer.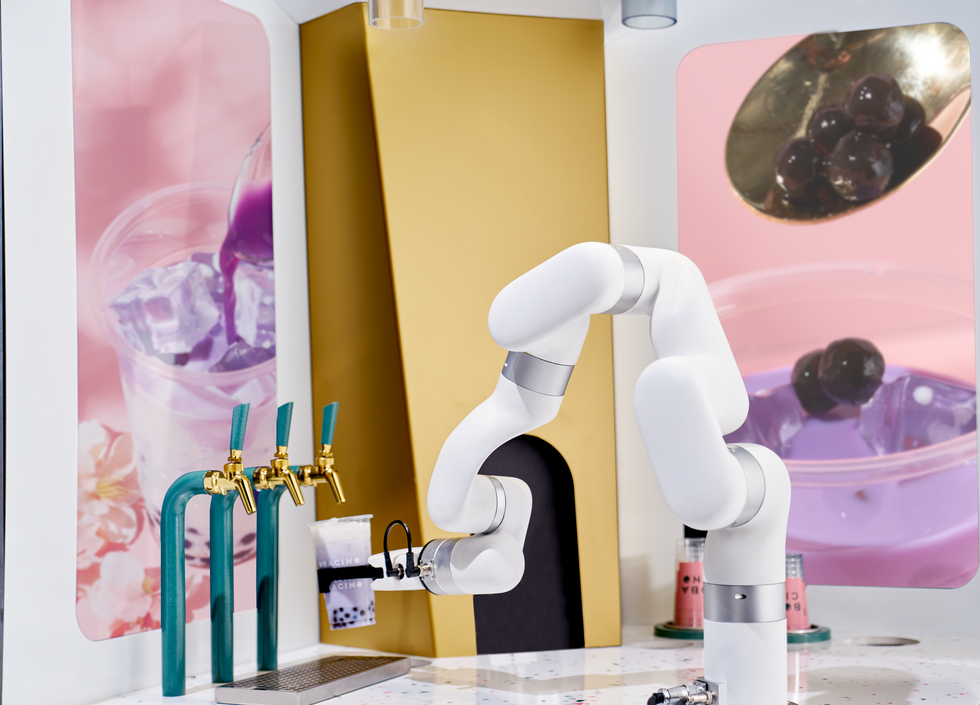 Your Bobacino prototype is up and running, correct?
Yeah, it's at our headquarters. We're not really showing it off for demos yet.
We wanted to be able to develop a unit so we could show people what we're making for our equity crowdfunding campaign, but also it was for validation. We built this in six months with hardware that is super fast from initial concept to deployment, and it will make the drink, top to bottom, which is super fun!
I will fully admit that the drink can be improved and the process can be improved. But first, we made it fast. This next version is making it good, and excited to get those first units out in front of people and get some real feedback.
This interview has been edited for length and clarity.
Artificial intelligence isn't only used to develop robots that flip hamburgers or lift boxes in a warehouse; it has permeated our daily lives. Netflix's algorithms predict what movies or TV shows we want to watch. Instagram serves up ads based on AI.
A new Brookings Institution report shows just how much it's become part of the fabric for Angelenos.
The Institution studied hundreds of metropolitan cities to evaluate their AI strength when it comes to research and how local businesses have adopted AI technology. Los Angeles landed among the top cities in the nation.
While the Bay Area dominates and is considered a "superstar," Mark Muro, senior fellow for the Metropolitan Policy Program at Brookings, said L.A.'s status when it comes to AI was a surprising finding of his research.
"L.A. looks pretty formidable in that early adopter tier," Muro said. "It's not the Bay Area, but it looks very competitive with especially strong representation in commercial industry work in terms of company representation, job postings. It looks very, very strong."
A quarter to a third of all AI activity in the U.S. is concentrated in San Francisco and San Jose, Muro said. Seattle, San Diego, Boston, New York City and Washington, D.C. rank above Los Angeles with major universities conducting a substantial amount of research and tech companies like Amazon, Microsoft and Google. Austin, Texas and Boulder, Colorado also rank above L.A.

L.A. companies outside of the traditional tech sector like Deloitte, Disney and Anthem ranked at the top when it comes to their adoption of AI, in addition to tech companies like Oracle, IBM and CrowdStrike.
"It may be that the biggest impacts in employment come from AI used by big companies or small companies in big industries," Muro said. "I think that's part of the special mix in L.A."
The COVID-19 pandemic has also increased the use of AI to replace some service sector jobs.

Joseph Fuller, an AI consultant and professor of management practice at Harvard Business School said that the pandemic has fueled AI's growth.
"It was already happening and it's accelerating. Suddenly [companies] had to do it, it was the only way to serve customers," Fuller said. "With more remote work, we had to be able to spread data and decisions and communicate more effectively."
The research found that AI is increasingly viewed as the next great "general purpose technologies" that has the power to transform many sectors of the economy and can spur economic growth through increased productivity and reduced costs.

While AI job postings have quadrupled in the past decade, Muro found, just 3% of all U.S. firms have adopted AI applications in 2018.
PricewaterhouseCoopers estimates AI's possible $3.7 trillion contribution to GDP in North America by 2030, the report noted.
Muro said Brookings undertook this research because it received a lot of inquiries from regional business leaders and economic development and tech people about the importance of AI.
He evaluated 384 metro areas and ranked them as early adopters, (the tier that holds L.A.), federal research and contracting centers, and potential adoption centers. There were 261 "others." The San Francisco Bay Area was its own category.
The goal of the report is not to spur cities that aren't as advanced into action, but to help them to first assess their positioning and then consider acting.
The report also discusses whether AI is going to be a "winner-take-most" industry or more spread out. Are these metro areas where there is a large concentration of AI research and commercialization going to dominate or do cities like L.A. and others stand a competitive chance?
Muro thinks it's early in the nascent industry and there's opportunities for L.A. to insert itself among the top echelon.
But, he warned, companies must be careful. Even as more and more industries are adopting the technology of the future to speed up processes or add efficiencies, there is a dark side. Biased algorithms used by mortgage companies reportedly denies applications from people of color in larger numbers. Facial recognition technology used by police can more frequently misidentifies people of color. And a recent incident involving Facebook's algorithms labeled people as primates.

Part of the problem is the tech companies in the Bay area have largely employed white programmers and coders that impose their worldview on the software. That's where L.A. has an advantage.
"A diverse, broadly distributed industry will likely develop fairer, more ethical products if it's developed in more places, and not just in the homogeneous Bay Area environment," Muro said. "The homogeneity of the Bay Area AI development community is a problem. Having more research and adoption conducted in more places, and in cities with greater diversity, will be important. "

"L.A. has got to make sure that more of its Black and Brown workers are at the forefront of technology."
Muro pointed to an article from the Stanford Institute for Human-Centered Artificial Intelligence that found if it's not, AI will lead to "greater concentrations of wealth and power for the elite few who usher in the new age—and poverty and powerlessness...for the global majority,"
In other words, AI has a risk of allowing the powerful to become more powerful and the rich to get richer.
"These technologies do seem to spawn economic divides within places because they're very well paid," Muro said.
Reporter Samson Amore contributed to this report.
From Your Site Articles
Related Articles Around the Web
Equipped with GPS tracking, two-way microphones and a human pilot controlling it from far away, Coco's 50-pound pink robots rolling around San Pedro, Santa Monica and other parts of Southern California are hoping to become a local mainstay.
Welcome to the delivery robot race.
As delivery bots take to the streets, Southern California has become a testing ground for companies like Coco that are trying to distinguish themselves.
The Los Angeles-based startup announced Wednesday that it raised $36 million in a Series A round led by Silicon Valley Bank, Founders Fund and the former president of Silicon Valley incubator Y Combinator and CEO of OpenAI Sam Altman.
Coco, previously known as Cyan Robotics, operates a fleet of semi-automated robots that deliver food across neighborhoods in Los Angeles. It's one of several semi-automated robot delivery services that have popped up in California over the years including Kiwibot, Starship and Nuro.
The bots are piloted by remote drivers. According to the company, hundreds of stores and restaurants have signed up to use Coco's bots, which fulfill orders within up to a two mile radius of the store.
Colapasta, an Italian restaurant in Santa Monica started using Coco several months ago after being approached by the company.
Owner Stefano de Lorenzo said fulfilling orders through Coco is slightly less convenient than working with drivers from delivery apps — staff has to manually load the food into the robot instead of just leaving the order on the table — but customer reception to the robots has been overwhelmingly positive.
"When we started using the service, I noticed that there were three, four or five different orders the same day to the same address," he said. "So I guess people were just loving (the robot) going to the house."
Rash said the company is aiming to shift how people think of food delivery: using small, lightweight electric vehicles instead of large, gas-powered vehicles transporting "a couple pounds of soup a couple blocks all day."
Rash declined to say exactly how many robots the company has in its fleet, but claimed that Coco has the largest fleet out of all the robotic delivery services in Los Angeles, where the city is weighing regulations that could limit how many robots operate in certain neighborhoods.
The proposed legislation would cap the number of delivery robots a company could place in a city council district to 75 and require machines to yield to pedestrians and obey traffic signals and signs.
Some cities have implemented measures to help robot delivery companies. Santa Monica, for example, implemented a "Zero Emissions Delivery Zone," where deliveries can only be made by robotic carts or Electric Vehicles.
This raise brings Coco's total funding to around $42 million. The company is hoping to continue to expand, and is planning to continue increasing its fleet.
Launched in 2020 amidst the COVID-19 pandemic, the company has expanded operations from one Santa Monica neighborhood to six other neighborhoods in little over a year. In February, the company rolled out their robots in San Pedro, working with Councilman and mayoral hopeful Joe Busciano and the Chamber of Commerce. Several local restaurants including San Pedro Brewing Co. and Whale & Ale signed on.
Even as stores and restaurants continue to reopen after the pandemic, Rash said he's seen delivery sales numbers continue to increase and believes that delivery is here to stay.
"The pandemic gave it a huge boost," he said. "But I think what that really did is it changed consumers' behaviors and let them understand the convenience that they can have by ordering delivery."