Robotics
The latest news about robotics and robotics startups in Southern California from dot.LA
If you live in Santa Monica, you can now have tacos and burritos delivered straight to your door via semi autonomous robot.
As part of its push to have hundreds of robots rolling down Los Angeles area sidewalks by the end of the year, Kiwibot is partnering with food delivery search engine app MealMe to make more restaurant deliveries available. So far, two have signed up but they hope this will be just the start.
"We want every restaurant in L.A. to give their customers the option to order delivery through MealMe and have their food delivered with a Kiwibot," said MealMe co-founder Matt Bouchner.
Bouchner said they chose to start in Santa Monica because of the city's Zero Emissions Delivery Zone, a partnership with the Los Angeles Cleantech Incubator to encourage cleaner transportation options such as robots, micro mobility and electric vehicles.
Amazon, FedEx, Starship and Uber are among the companies that have been testing small, electric delivery robots with the goal of reducing the costs of last-mile deliveries.
Kiwibot has made over 120,000 deliveries since 2017 at the University of California, Berkeley, University of Denver, and in San Jose, where it partnered with Shopify and Ordermark.
The company now views Los Angeles as its most important market.
"We trust L.A. to be the best new market for us because the food delivery habit is already there, and we feel backed to scale in an organized and socially responsible and sustainable manner," David Rodriguez, Kiwibot's head of business, told dot.LA last year.
The first restaurants in the partnership are Blue Plate Taco and Red O Restaurant, both touristy Mexicans eateries located on Ocean Avenue.
Kiwibot, based in San Jose, raised more than half $1 million in its latest crowdfunding campaign, to bring its fundraising total to over $3 million. MealMe hauled in $900,000 of seed funding in a deal led by Palm Drive Capital in February, according to Pitchbook data.
The companies' much bigger rival, Postmates, owned by Uber, has been testing a handful of delivery robots in West Hollywood since April. While those are accompanied by a human chaperone, the Kiwibot robots whizz down sidewalks all by themselves.
Bouchner said he is not concerned about robots navigating the often crowded area around the 3rd Street Promenade.
"The Kiwibots have obstacle detection and human monitoring at all times who make sure everything is going smoothly," he said.
From Your Site Articles
Related Articles Around the Web
Sweetgreen has pledged to be carbon neutral in six years by cutting its carbon output in half. Santa Monica and the L.A. Cleantech Incubator launched the nation's first zero-emissions delivery zone, a project meant to encourage companies to embrace EV transportation. Sign up for our newsletter and follow dot.LA on Twitter for more updates.
Today:
Sweet Green wants to get greener
Santa Monica opens emission-free delivery zone in downtown
Sweetgreen Promises Carbon Neutrality by 2027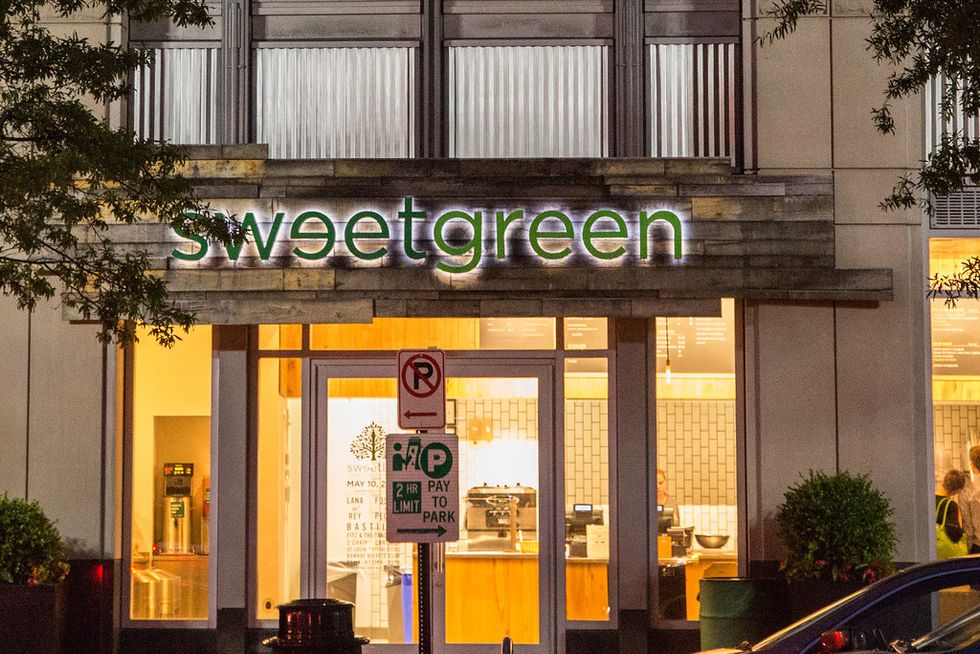 LA Tech Updates: Sweetgreen to Go Carbon Neutral by 2027; Santa Monica Opens Zero-Emission Zone
Sweetgreen wants to be greener.
The Culver City-based fast casual unicorn has pledged to be carbon neutral in six years by cutting its carbon output in half.
"We believe that climate change is the defining challenge of our generation, posing a real and systemic threat to the health of people and the planet," Sweetgreen's founders wrote in a blog post. "As restaurant leaders in an industry that drives 25% of global greenhouse gas emissions, it is our responsibility to use our platform and resources to confront this crisis head on."
---
The company says it started measuring its carbon output in 2019, which helped it identify areas where it could save energy. It was already well ahead of most other restaurants because of its heavy use of low impact fruits and vegetables rather than beef, but it wanted to do more.
Sweetgreen will now use carbon output as a metric for deciding what to put on its menu. It will also work with suppliers to be more environmentally friendly.
"To truly future proof our company, we must evolve our supply network and fix our relationship to the soil — and cultivate an environment that benefits the entire agricultural ecosystem: our food partners, customers, team members, and the planet," the founders wrote.
Santa Monica Opens Nation's First Zero-Emissions Delivery Zone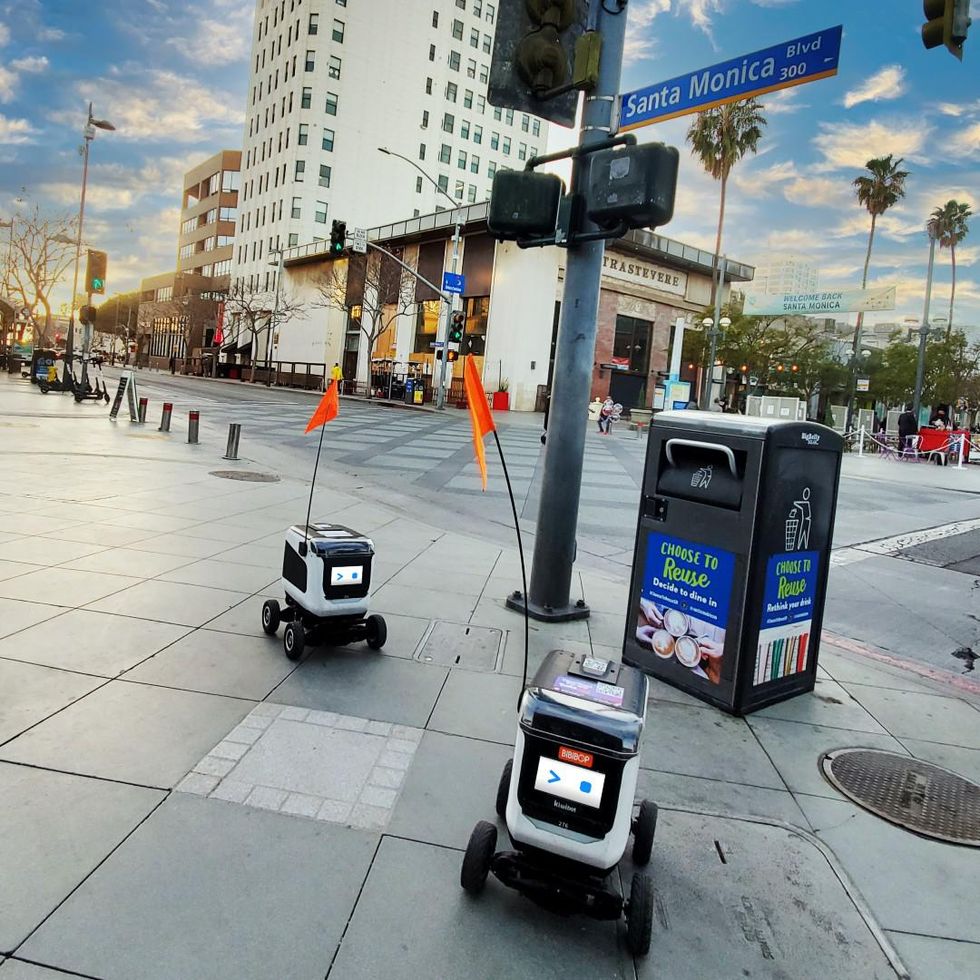 Ikea, Shopify and the yerba mate brand Guayaki are just a few of the companies that vow to cut pollution in Santa Monica by using electric vans and delivery robots to fulfill orders.
The seaside city and the L.A. Cleantech Incubator launched the nation's first zero-emissions delivery zone on Thursday, a project meant to encourage companies to embrace EV transportation by giving drivers access to 20 reserved parking and loading spots. The one-square mile radius will span Downtown Santa Monica and Main Street.
---
City officials will be watching for changes in traffic and pollution with an eye towards introducing permanent zones down the line.
To do that, they've hired Automotus, a venture-backed software startup that monitors curbside traffic. The company will install 20 small video cameras on street lamps lining the parking spots to collect data on factors like congestion and safety. Plus, the technology will alert drivers to open parking spots through an app.
Automotus' CEO says the cameras will not pick up personally identifiable information. In other cities, however, the software has been used to automate parking violations and issue tickets.
Santa Monica Mayor Sue Himmelrich said in a statement that the pilot comes at a "critical moment" in the city's recovery.
"Beyond reducing carbon and congestion, the added bonus is that restaurants can keep higher margins of sales on delivered food items," Himmelrich added.
To encourage use of the space, local businesses will be given access to two Nissan electric vans and ecommerce software company Shopify will equip merchants in the area with Kiwibot delivery robots to help drop off orders.
From Your Site Articles
Related Articles Around the Web
Robots could soon take on the tasks of farmworkers harvesting the nation's food.
Santa Monica-based Future Acres, an agriculture tech startup, unveiled its first prototype on Tuesday — a robot named Carry that helps farmers transport crops.
Carry won't replace human employees that pick crops. Rather, the remote-operated machine will follow workers and take what they collect back to a sorting facility, speeding up operations in a labor-intensive industry. Since 2017, the team has been quietly busy testing the AI-powered machine that can transport up to 500 pounds of produce in virtually any weather condition.
The model unveiled Tuesday is a beta version of the robot. A spokesperson said a Carry 2.0 will launch in the next couple months for commercial purchase. It's designed for small- to medium-sized farms across the country.
The news comes as the company launches a crowdfunding campaign for $3 million. It's already backed by Wavemaker Partners, a Los Angeles firm that also operates the robots and automation-centered venture studio Wavemaker Labs.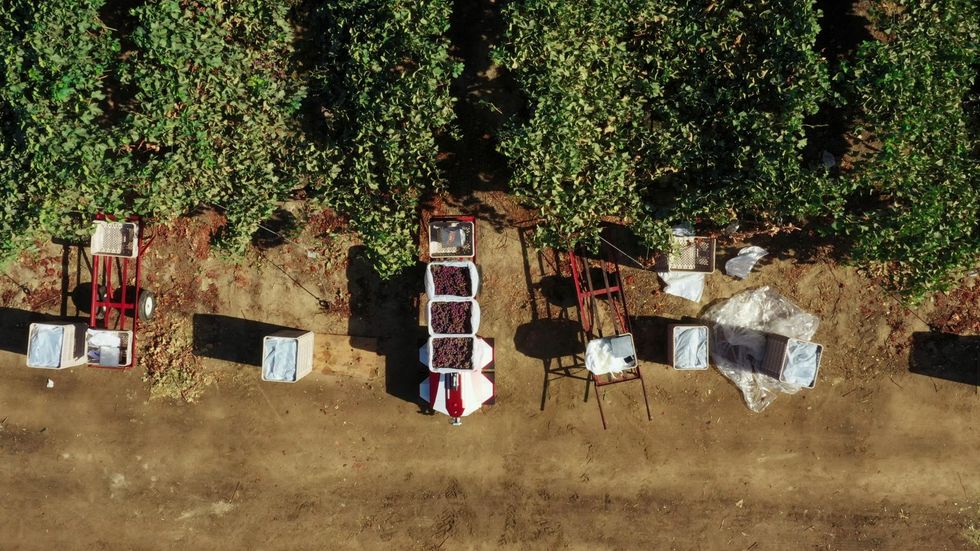 Future Acres designed their new robot, Carry, to lug boxes of produce from the fields to the sorting departments.
The Food And Agricultural Policy Research Institute estimates farm income will drop 12% in 2021 while product costs climb - largely due to the cost of labor. California is the nation's largest produce producer and relies heavily on immigrant labor. Any large-scale introduction of robots on farms could change big agriculture, much in the same way robots altered car factories.

The company says adding just one robot can increase efficiency by 30%. And it pays itself off in just 80 days.
As the agricultural industry battles financial and environmental challenges, CEO Suma Reddy says her tech will ease the physical loads that slow down many farmers. "Back pain, twisted ankles and shoulder injuries no longer need to be the normal," Reddy said in a statement.
The robotics startup also says down the line it'll turn to other tech-driven solutions to measure pesticide use and crop health and track trends like food waste.
From Your Site Articles
Related Articles Around the Web