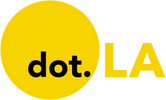 Get in the KNOW  
  on LA Startups & Tech  
X
Robotics
The latest news about robotics and robotics startups in Southern California from dot.LA
Photo from Relativity Space
Rocket maker Relativity Space soared past a milestone today, surpassing $1 billion worth of contracts for launches on its 3D-printed Terran R rocket.
Long Beach-based Relativity agreed to a multi-launch agreement with broadband satellite maker OneWeb on June 30. CEO Tim Ellis posted on Twitter that following the deal, Relativity now had over $1.2 billion in binding launch contracts secured by five different customers — even though the startup still has yet to send a rocket to orbit.
Ellis called the deal a "huge vote of confidence and we can't wait to deliver."
Relativity aims to send the OneWeb satellites by 2025. The OneWeb launch could be one of the first commercial launches sent into space by the rocket maker's reusable Terran R craft.
OneWeb was previously using Russian Soyuz rockets to launch, but sanctions imposed on Russia following its invasion of Ukraine forced it to look to other alternatives. Ellis told TechCrunch Relativity was already looking to court OneWeb as a customer before the war, though, noting the deal "has been in the works for quite some time."
OneWeb wants its broadband service to be operational by 2023, and to do that it has to launch at least 648 satellites into orbit. Relativity has two rockets under construction – Terran 1 and Terran R.
The smaller Terran 1 rocket has already secured a $3 million contract to launch small satellites for the Department of Defense. The Terran 1 will make its first flight in a mission nicknamed "Good Luck, Have Fun" (GLHF) which is expected to take off this summer and won't carry any payloads. Assuming the GLHF mission is a success, Relativity will then launch the DoD mission.
The Terran R is Relativity's 95%-reusable rocket and its answer to competitor SpaceX's Falcon 9, with which OneWeb is also launching payloads.
In an interview with ArsTechnica earlier this year, Ellis said the craft could take off as soon as 2024, though it's still being built at Relativity's 1 million-square-foot factory headquarters in Long Beach.
Last June Relativity raised a $650 million Series E funding round led by its backer Fidelity Management & Research. At that time, Ellis told dot.LA the Terran R rocket was still under development and added, "Ever since Relativity's early days in Y Combinator, we've planned to manufacture a large reusable rocket."
Photo: Decerry Donato
Move over, WALL-E: Guests at Walt Disney's parks could soon use robotic lockers that follow them around the venue to carry their belongings.
The so-called "robotic Sherpas" are being developed by Disney, which filed a patent for the technology this week, according to the Orlando Business Journal. The technology sounds a lot like autonomous wheeled robots that delivery startups are increasingly using to deliver food – equipped with cameras and proximity sensors that will help it move about crowded parks like Disneyland in Anaheim without running into everyone's ankles.
The patent filed June 14 said the eventual plan is for guests to be able to summon the robot to zoom back to their location – or anywhere else in the park – from a distance by using a mobile app. Disney is also planning to let staff remotely pilot the robots, the patent said.
An image from the patent filing obtained by local Orlando station Fox 25 showed a drawing of a woman with a baby who could use the robot locker to store her items.
The overall goal is to make retrieving and storing items more convenient for guests. One side goal of the project could be to encourage people to spend more in retail stores – the patent noted people are less likely to buy from gift shops at Disney if they're already carrying a lot of gear.
"As Imagineers, we're always pushing technology and innovation and testing new applications for possible future opportunities," Walt Disney spokesperson Diego Parras told OBJ this week. "At this point, we simply are exploring potential uses for this technology and have no plans for specific implementation."
The patent lists a few items that could be stored in the lockers, including umbrellas or packed lunches. In addition to several locking mechanisms, the robot Sherpas will also have a removable storage compartment so the storage containers can be interchanged.
Lockers already exist at the theme parks, but a mobile locker that could reach guests anywhere would certainly command a premium for the convenience of saving themselves the trek across the park.
Although its parks across the globe reopened beginning in May 2020, Disney took a hit during the pandemic when it had to close down its attractions and lucrative cruises at the beginning of the year. In its second quarter earnings report CEO Bob Chapek said domestic parks are operating basically as normal, but international parks and cruise ships are still impacted by coronavirus restrictions. While people definitely won't go to parks just to see the eventual robot Sherpas at work, if the tech can encourage guests to spend more while there, it would be a boost to Disney's bottom line.
Courtesy of Miso Robotics
On Tuesday, Pasadenia-based Miso announced it is working with Amazon Web Services' AWS RoboMaker, a cloud-based simulation service for robotics developers, to test the software powering its Flippy 2 and Flippy Lite burger-flipping robots. The partnership is meant to help Miso to more quickly simulate its technology during testing, allowing it to turn prototypes into functional products at a faster rate.
Miso Robotics chief technology officer Chris Kruger described RoboMaker as "a gamechanger" for his company—noting that Miso "went from running 12 simulations a month with single units to doing 100 in a night."
"Each of our robots out in the field are somewhat unique, and [using RoboMaker] we can basically develop new software and updates on a monthly basis and test them in their simulation service before we send them out into the field," Kruger told dot.LA. While he declined to discuss the financials of the partnership, Kruger noted that AWS has dedicated a team of people to work with Miso and tailoring its services to the startup.
Kruger will also make a presentation at the upcoming Amazon re:MARS conference in Las Vegas on June 22, where he will discuss the challenges that Miso overcame and the methods it used in developing its kitchen robots. Without giving too much away, he said that one of the biggest learning curves was in communicating and interfacing with the retail operators using its technology.
"There's a lot of support out in the market for us—a market that is hungry for this type of innovation," Kruger added.