Robotics
The latest news about robotics and robotics startups in Southern California from dot.LA
El Pollo Loco says it will become the first national restaurant company to experiment with door-to-backyard drone delivery.
On June 24, the Costa Mesa-based restaurant chain, known for its fire-roasted chicken, will test "Air Loco," its drone delivery from restaurant kitchens to customers' backyards.
As more and more people ordered delivery during the pandemic, restaurants are looking for alternative cheaper and more efficient ways to bring food to customers' homes. In 2016, Amazon was one of the first companies to discuss using autonomous aerial vehicles to deliver packages to customers' doorsteps in 30 minutes or less. But Amazon Prime Air has yet to get off the ground and into widespread use.
With the Federal Aviation Administration recently approving rules for delivery services to people's homes, it is expected more and more drones will be taking to the skies to make restaurant and other types of deliveries.
For El Pollo Loco, delivery service became a larger part of its business during the pandemic, growing by 250% over the last year, and the drone service is a way to avoid service fees from traditional delivery services like Grubhub, Uber Eats, DoorDash and others that charge up to 30% in transaction fees. It also is a way to make more deliveries more quickly and is expected to be more cost effective and convenient for customers.
"We wanted to lead the way and be the first to deliver a memorable experience to our customers in a cost efficient, fun, and reliable fashion in a way no restaurant brand had previously attempted," Andy Rebhun, El Pollo Loco's Vice President and Digital Officer said in an email.
Other restaurants have tested drone delivery to designated pickup sites, like parking lots, wherein a delivery vehicle will pick up the order from the drop-off site and deliver it to the customer's home for the last leg of the trip. Rebhun said El Pollo Loco wanted to take the step of delivering the items directly to the customer's backyard or front door.
He doesn't think drone delivery for the restaurant industry will be a passing fad.
"I believe drone delivery is one of the more sustainable and cost-effective mechanisms for food delivery in the future," he said. "I believe there will be a bifurcated delivery model in the future where businesses will choose to operate in the most efficient and margin positive mechanism."
El Pollo Loco is launching the pilot with Tel Aviv-based drone startup Flytrex, which manufactures and operates automated drones that travel at 32 miles per hour and use a wire release mechanism to gently lower food orders from 80 feet.
The drone for the service is also outfitted with a fastened delivery box that keeps orders intact, which means customers will receive their orders packed in El Pollo Loco's new special packaging — used to keep food hotter for longer — more quickly than it takes for a conventional delivery to arrive.
When the order leaves the restaurant, the food will be loaded on the Air Loco drone and once it takes off, it will ascend to about 200 feet and start the flight to the destination, Rebhun said. The drone can carry up to 6.6 pounds of food. Once the food is lowered from the 80-foot wire, the tamper-proof sealed delivery bag will detach from the crane and the customer can retrieve their food.
El Pollo Loco will begin its pilot at 10 restaurants, which will be selected within the next 45 to 60 days, the company said. Once the test is completed, it plans to expand to more of its 480 restaurants depending on demand and regulatory approval from the FAA. During the pilot, a select number of El Pollo Loco's Loco Rewards members in Southern California will be surprised with one of the first flights, the company said.
It doesn't appear as though delivery orders will slow down for restaurants.
Analysts predict that online ordering will grow this year even as restaurants open back up to traditional full-capacity dining service. The global online food delivery market is expected to grow from $115.07 billion in 2020 to $126.91 billion in 2021.
The growth rate for online food ordering and restaurant delivery has been 20% in the last five years and is expected to comprise about 40% of all restaurant sales by 2025.
Flytrex launched a pilot program with Walmart in Fayetteville, North Carolina to deliver select grocery and household essential items. It also delivers Starbucks beverages and pastries.
Earlier this year, Pizza Hut Israel said it would deploy drones to deliver pizzas. But rather than delivering directly to customers' homes, the company said the drones would drop-off the orders at a government-approved landing zone, like a parking lot, and from there a driver would make the final leg of the delivery.
In 2019, Uber Eats started testing drone delivery for McDonald's in San Diego.
In 2017, a burger-flipping robot named Flippy put fast food workers everywhere on high alert. The automation era of the restaurant industry had begun, ushered in by a $60,000 machine that slapped patties onto a grill, monitored their doneness with AI and thermal cameras, then lay them on buns.
Three years later, Miso Robotics, the Pasadena-based company behind the technology, released Flippy ROAR—short for "Robot on a Rail"—a more streamlined robotic arm with the same capabilities but half the cost. Shortly after, the company opened up availability to small restaurants with a new pricing model that got rid of Flippy's steep upfront cost and replaced it with a $2,500 monthly fee.
Miso's timing couldn't be much better: It has raised $22 million through crowdfunding, has a growing team of 45 employees, and is hitting its stride during a national restaurant labor shortage caused by the COVID-19 pandemic. Miso is now preparing to launch a Series D through its own crowdfunding platform. It's targeting $40 million in capital (with a minimum investment of just under $1,000) — an ambitious figure, but one that if met would further jumpstart the company's bid for restaurant automation domination.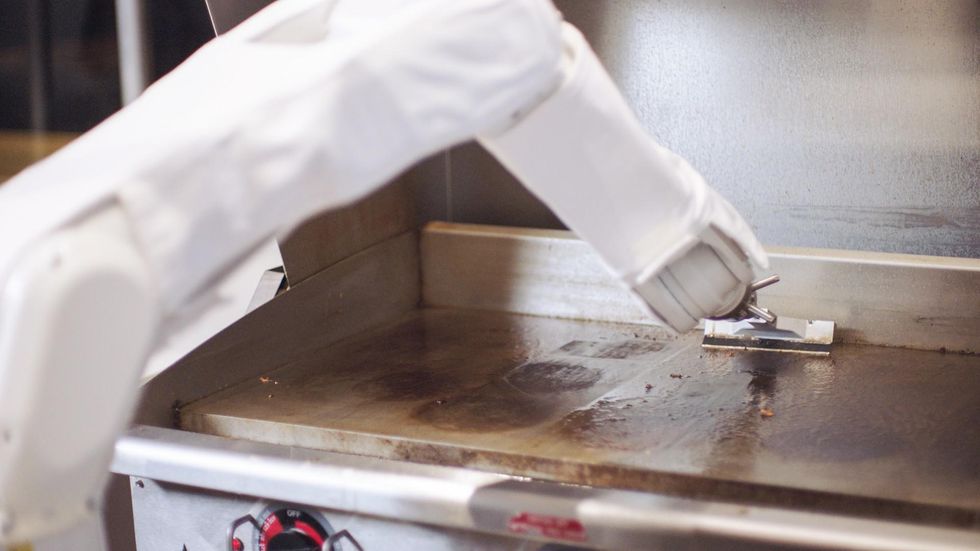 Employment at eating and drinking establishments is 15% below pre-pandemic levels, according to an April report from the National Restaurant Association. Economists blame the shortage on increased unemployment insurance, which they say has disincentivized furloughed or laid-off workers from returning to the industry. Workers argue that the pandemic has made clear that restaurant jobs just aren't worth the low pay, lack of benefits and safety risks, with many seeking jobs in other industries.

"When the pandemic hit we saw the whole food industry wake up and say, AI, automation, robotics—this isn't sci-fi anymore, this is survival," said Buck Jordan, the co-founder and president of Miso Robotics. His company recently hired Jake Brewer, a former executive at CKE, the parent company of Carl's Jr. and Hardee's, to oversee product and business development as its chief strategy officer.
Even before the pandemic, there was already a turnover crisis in the restaurant business. Industry measures in 2019 estimated a turnover rate between 130% and 150% in fast food chains, according to CNBC. Fast food jobs have become so routinized that workers who quit are easily replaceable. In other words, the jobs are designed for turnover — or robots.
Flippy, which can be programmed to do a growing number of kitchen tasks in addition to burger-flipping, has drawn the attention of quick-serve restaurants across the country. White Castle and CaliBurger were early adopters, and the robot was also deployed at Dodgers Stadium and Arizona Diamondbacks' Chase Field to cook chicken tenders and tater tots. (In White Castle's case, company vice president Jamie Richardson said that they were "not dialing down on the number of people in a restaurant" because of the technology, and instead were using Flippy to free up time for workers to focus on order and delivery accuracy. This year, White Castle added 10 new Flippy units to be deployed at franchises across the country.)

Now, with 1.8 million jobs unfilled in the restaurant business and increased interest in social distancing and "low-touch" cooking technology, "there's a massive, screaming problem to address automation in the food service industry," said Jordan. The entrepreneur was first introduced to automation in the Army, where he was exposed to unmanned ground vehicles in his work in tanks and aviation.
"It was a pretty interesting way to think about the future of automation and how robots and computers can do some of those jobs that humans shouldn't necessarily be doing," he said.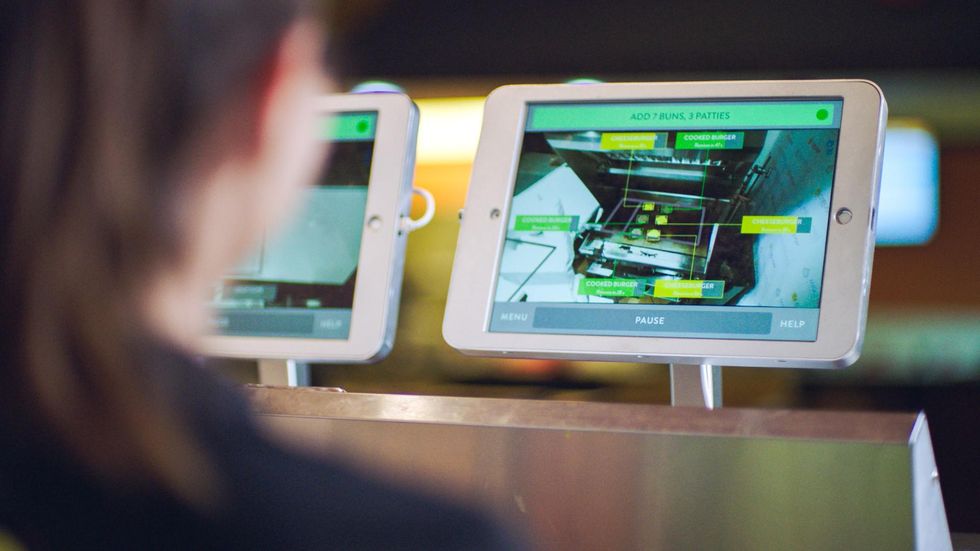 That's not to say Miso is focused solely on automation. This month, it announced CookRight, its most accessible offering yet: a system of two high-definition cameras, mounted over a grill, that use the same AI technology to tell a human cook when it's time to turn over a cut of meat. It costs a restaurant just $100 a month to operate.

CookRight, which can recognize the cut and thickness of a piece of meat cooking on a grill, doesn't involve automation, but it's still meant to increase restaurant revenue by reducing costs associated with food waste and human error. Recognizing when meat is done is one of the most basic skills a cook learns, but humans make mistakes, wasting time and money that restaurants with small margins can't afford. Steaks, for example, are often returned because they're cooked improperly, and the cook must throw out the meal and start over, making the customer wait. Other times, customers eat dishes they are dissatisfied with, decreasing their overall experience of the restaurant.
Jordan said that CookRight, which he likens to an "electronic coach," can help reduce those inefficiencies and ultimately save the restaurant money. It is the same AI technology that powers Flippy's arm and will eventually be expanded to monitor other factors involved in cooking, like the fat content of a piece of meat.
The rise of restaurant robots, which also includes Spyce's robotic kitchen, Creator's burger pipeline, and Costco's Pizza Robot, has raised concerns that automation will eventually replace restaurant workers altogether. Some restaurant executives have argued that labor groups like Fight for $15, which pushes for a fair minimum wage for workers, are to blame for the rise in automation across the industry.
But Jordan insists that robots are not meant to replace human workers. "Automation, AI and robotics — I think they all complement the role of a restaurant worker," Jordan said, "freeing up humans to do what humans do best."
Abraham Pizam, founding dean and professor at Rosen College of Hospitality Management at the University of Central Florida, said that robotics may someday take the jobs of some restaurant workers, but not until the cost of the technology becomes cheaper than labor. But automation, he argues, is not necessarily a bad thing for human workers.
"Peeling potatoes in the kitchen: Who wants to have eight hours a day peeling potatoes when actually there is a robot that can do that?" Pizam said. "You might put the same person in a higher-level, better paying and more sophisticated job."
The labor shortage, said Pizam, is forcing the restaurant industry to reckon with the need for higher salaries, which are necessary to draw workers back from taking unemployment or from other industries that offer better pay and more satisfactory work.
"When the industry is pushed in a corner, they will have no other choice but to look elsewhere," said Pizam. "And robotics will be one of those elsewheres."
From Your Site Articles
Related Articles Around the Web
If you live in Santa Monica, you can now have tacos and burritos delivered straight to your door via semi autonomous robot.
As part of its push to have hundreds of robots rolling down Los Angeles area sidewalks by the end of the year, Kiwibot is partnering with food delivery search engine app MealMe to make more restaurant deliveries available. So far, two have signed up but they hope this will be just the start.
"We want every restaurant in L.A. to give their customers the option to order delivery through MealMe and have their food delivered with a Kiwibot," said MealMe co-founder Matt Bouchner.
Bouchner said they chose to start in Santa Monica because of the city's Zero Emissions Delivery Zone, a partnership with the Los Angeles Cleantech Incubator to encourage cleaner transportation options such as robots, micro mobility and electric vehicles.
Amazon, FedEx, Starship and Uber are among the companies that have been testing small, electric delivery robots with the goal of reducing the costs of last-mile deliveries.
Kiwibot has made over 120,000 deliveries since 2017 at the University of California, Berkeley, University of Denver, and in San Jose, where it partnered with Shopify and Ordermark.
The company now views Los Angeles as its most important market.
"We trust L.A. to be the best new market for us because the food delivery habit is already there, and we feel backed to scale in an organized and socially responsible and sustainable manner," David Rodriguez, Kiwibot's head of business, told dot.LA last year.
The first restaurants in the partnership are Blue Plate Taco and Red O Restaurant, both touristy Mexicans eateries located on Ocean Avenue.
Kiwibot, based in San Jose, raised more than half $1 million in its latest crowdfunding campaign, to bring its fundraising total to over $3 million. MealMe hauled in $900,000 of seed funding in a deal led by Palm Drive Capital in February, according to Pitchbook data.
The companies' much bigger rival, Postmates, owned by Uber, has been testing a handful of delivery robots in West Hollywood since April. While those are accompanied by a human chaperone, the Kiwibot robots whizz down sidewalks all by themselves.
Bouchner said he is not concerned about robots navigating the often crowded area around the 3rd Street Promenade.
"The Kiwibots have obstacle detection and human monitoring at all times who make sure everything is going smoothly," he said.
From Your Site Articles
Related Articles Around the Web