Kiara Rodriguez
Kiara is an editorial intern at dot.LA. She has interned in communications at KCRW, assisted with economics research at Brookings Institution,and reported for local publications in New Jersey. Before joining dot.LA, she was a Yenching Scholar at Beijing University, researching the politics of international communications and leading the Yenching Academy's podcast. She graduated from Princeton University in 2019 with a B.A. from the School of Public and International Affairs.
Former Cisco executive Shaun Cooley's two-year-old Los Angeles startup is creating a platform to make buildings smarter.
Mapped, which just raised $6.5 million led by Allegion Ventures and MetaProp, helps commercial real estate companies operate their buildings remotely.
So far, it has about a dozen commercial customers that have anywhere from 100 to 1,000 buildings where HVAC, elevators and other systems can be controlled from a central brain.
Although their current customers are all commercial real estate, Cooley hopes to expand that to refineries, energy production facilities, manufacturing floors and retail spaces.
Mapped's software represents physical buildings in standardized, open-source digital database graphs and automates everything from heating and air to lighting, elevators and even conveyor belts — adjusting them based on the temperature outside or time of day, all without the need for human intervention.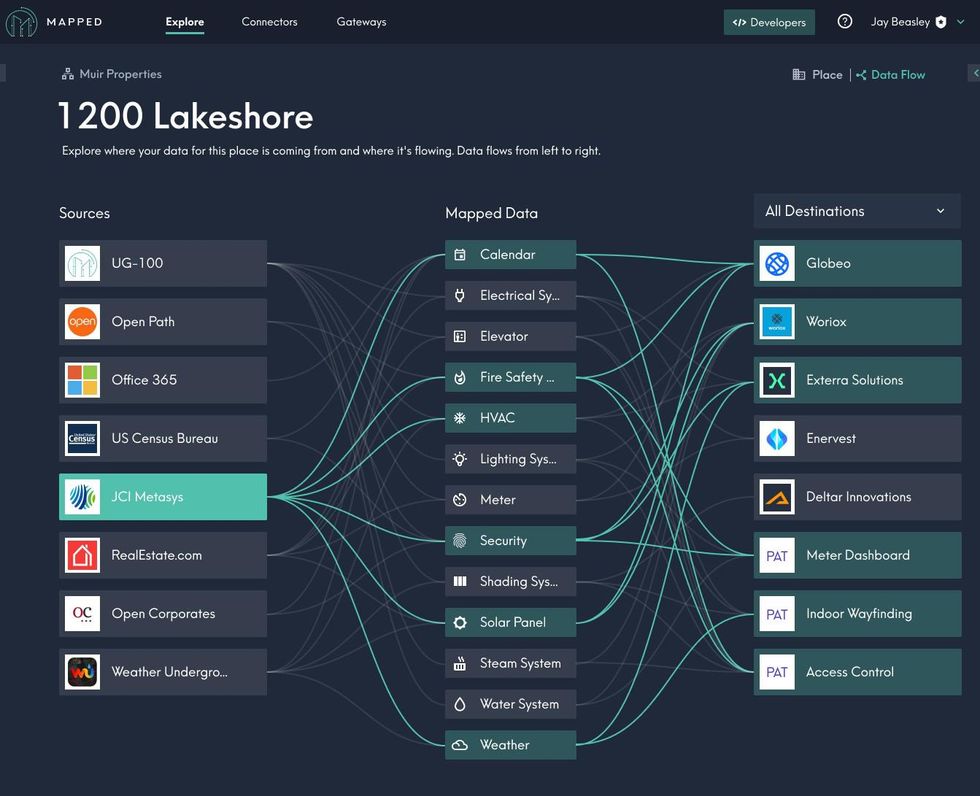 Cooley came up with the idea after years as Cisco's CTO and vice president of IOT and industries, where he saw his customers struggle with extracting data from their systems and making it usable.

"Just because you digitize, or you IoT enable one factory, doesn't mean you can take that digitization and move it to the factory across the street," said Cooley. "They have different systems, installed in a different time period, by a different system integrator."
For example, a decades old building might have an HVAC, lighting, security, elevators, irrigation system, gas metering and other systems feeding into a central hub. For owners of multiple building, the interfaces that those systems operate on are often different. Mapped offers a platform for developers to standardize those interfaces.
Using APIs, Mapped's software constantly scans the environment, communicates with devices in their native protocols, and then brings data back to its central platform. Thus, software developers can write applications one time and instantly deploy them across all of a company's buildings.

Cooley said his product is different than what's offered by Oracle and Microsoft because its designed to be an all-in-one automated platform, making it much faster than his competitors.

In March 2020, Mapped raised $3 million in its first seed round, bringing today's total to $9.5 million.

The latest round was co-led by Legion Ventures and MetaProp, Singtel joined the round and Greycroft and Animo participated.
Univision will launch a two-tiered streaming service next year, as the Spanish-language streaming battle heats up.
Univision's PrendeTV will offer free ad-supported content as well as a premium service. The free version will include originals, more recent major studio films as well as new features including live sports and a 24/7 news service.
The company will be competing with Netflix, ViacomCBS' Pluto TV, Discovery's Vix and Fox's Tubi services that all also offer Spanish-language media catered to American audiences. Telemundo, another American Spanish-language network and Univision's largest competitor, offers some of its programming on Peacock, NBCUniversal's streaming platform. Last month it announced plans for a Spanish-language production studio.
"The market is underserved. If you combine all the top global subscription services [Netflix, Amazon, etc.], the percentage of content that is originally produced in Spanish is still in single digits," said Univision President and Chief Transformation Officer Pierluigi Gazzolo. "In our world, at least 90% of the content will be created in Spanish, or with a heavy cultural influence."
The premium subscription tier, overseen by Neftlix and Hulu veteran Rodrigo Mazon, will include at least 30 original productions from some heavy hitter creatives, including writer Maria Dueñas, who will develop her first-ever series exclusively for Univision.
"Hasta Que la Boda Nos Separe" director Santiago Limón will collaborate with "Jane the Virgin" and "Ugly Betty" executive producer Ben Silverman to bring "Pinches Momias" — an action, horror and comedy series in which Guanajuato's renowned mummies come back from the dead during the busiest week of the year.
Univision also secured the first ever TV adaptation of Nobel Laureate Mario Vargas Llosa's "Travesuras de la Niña Mala," which follows an epic love story set in the 1960s across various cities in Europe.
Gazzolo pointed out that the Latino market is overrepresented in streaming. He said 78% of Latinos stream, as opposed to the general market, where about half of viewers stream.
Earlier this year, the company merged with Mexico's Grupo Televisa in a $4.8 billion deal that created a media giant. The deal will give Univision access to an iconic telenovela library and entrance into the world's largest Spanish-language speaking country.
Brand, pricing and the specific launch date for the streaming service will be announced following the close of the merger later this year.
Univision announced their plans earlier this year, but had not set a date did not reveal details.
From Your Site Articles
Related Articles Around the Web
There's such a stigma around menopause that even doctors misdiagnosed Catherine Balsam-Schwaber's pre-menopausal symptoms.
The CEO of Kindra — a Los Angeles-based menopause wellness brand that just closed a $4.5 million seed funding round — said when she was nearing 50 she could feel changes in her body. She didn't recognize that it was menopause because she didn't know enough about the hormonal changes women go through and neither did doctors.
Menopause has a total of 34 symptoms, which often go untreated because of the stigma surrounding conversations. According to the 2020 Menopause Report, only 36% of women felt moderately or very prepared for menopause.
"If you don't have the language to explain this information, you can't get the help that you need," Balsam-Schwaber said.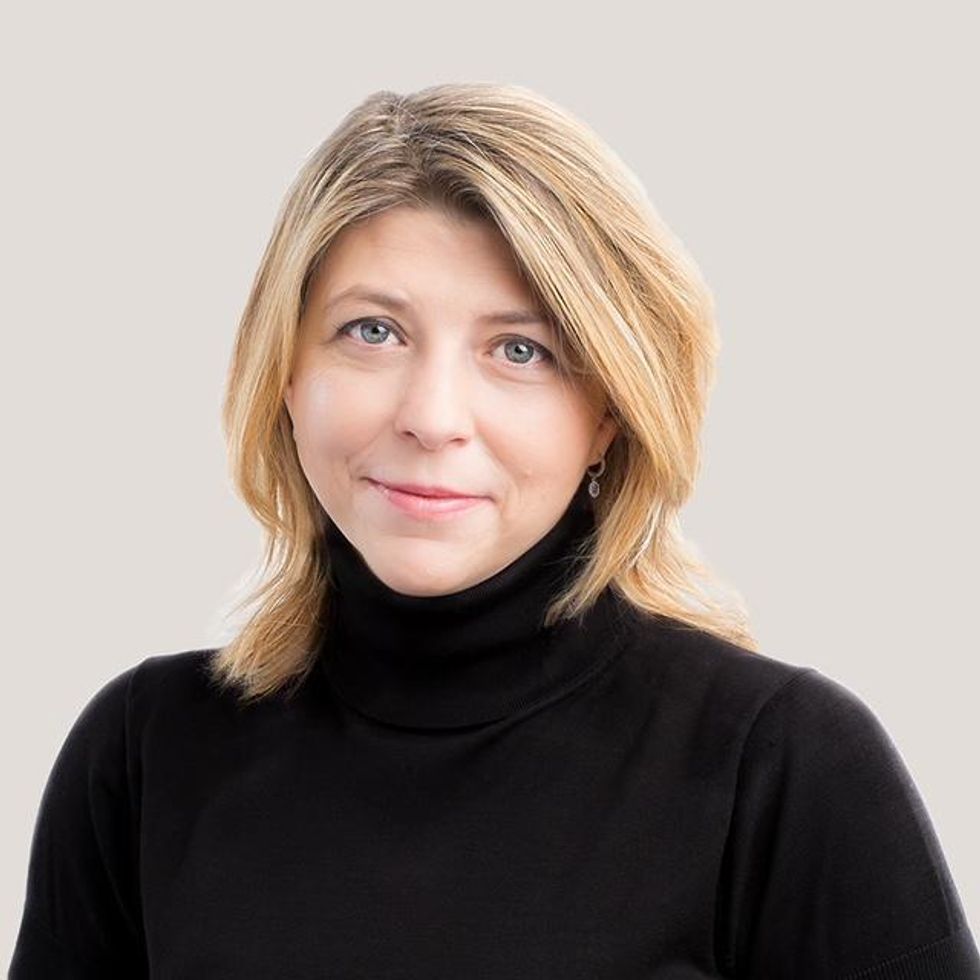 Kindra CEO Catherine Balsam-Schwaber
The round was led by the Female Founders Fund. Primetime Partners, Anne and Susan Wojcickii, Katie Couric Media, The Community Fund and H Ventures are also investors in this round.
Founded in 2019, through a partnership between P&G Ventures and M13, the rare menopause-focused startup fills a hole in the market for products and services addressing menopausal symptoms including: vaginal dryness, hot flashes, sleep disruption and fatigue (including brain fog and mood imbalance).
"By 2030, we will have more women between the ages of 40 and 64 than women under 18," said Abby Levy, managing partner and co-founder of Primetime Partners. Yet women's health is still largely excluded in research.
Although there have been positive trends (women's participation in clinical trials increased to 72% in 2019), there's still a long way to go. Women were only added to clinical trials in 1993, and in 2018 only 56% of trials included women.

"A sector that has long been ignored by venture capital, the women's health space is one of the most promising areas of investment with women controlling 80% of all healthcare buying and usage decisions in a $3.5T healthcare industry," Female Founders Fund Founding Partner Anu Duggal said.
Current products in the market are sorely lacking, according to Balsam-Schwaber.
"Until our own patented applicator, the only lotion applicators in the market were invasive with potential of increasing discomfort and/or risks." Many women still resort to coconut oil as their go-to treatment.
"We are building a new market. A market for menopause products hasn't really existed before now," Balsam-Schwaber said.
Kindra's daily lotion addresses one of the most common issues menopausal women face: vaginal dryness.
On a recent intergenerational education session for Mother's Day, participant moms explained to their grown-up daughters that they never talked about their menopause because they never had the words to explain it.
"It was a revelation," she said.
Kindra plans to use the funding infusion to further research and build their outreach.
From Your Site Articles
Related Articles Around the Web