brainbase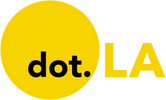 Get in the KNOW
on LA Startups & Tech
X
brainbase
The legal services industry has long been seen as slow to innovate. Two new products that interface directly with the U.S. Patent and Trademark Office aim to change that. Both are produced by intellectual property (IP) startup Brainbase.

File, one of those new products, applies to the beginning of a trademark's lifecycle, aiming to help companies apply for trademarks with the USPTO. Using AI and an API that plugs into the patent office's database, the technology searches the federal agency's data to ensure trademark availability, selects the proper classification among 45 options and completes the filing process.

The service is available to the first 2,000 users for a one-time fee of $199. That's on top of the $250 filing fee per registration with the USPTO. Hiring a lawyer to complete the trademark filing process can run several thousand dollars.
Brainbase's other new product, Vault, allows companies to import their trademarks – or a competitor's – from the USPTO into a dashboard. For a small monthly fee, users can track whether similar filings that may infringe on those trademarks enter the agency's data system, and can automatically trigger a cease-and-desist letter.
The two new products follow on the startup's beachhead product, Assist, which is already used by Buzzfeed, BBC and Sanrio among others to track the financial performance of their trademark portfolios and identify new exploitation opportunities.
Founded by mid-20s serial entrepreneur Nate Cavanaugh, Venice-based Brainbase sees itself as a technological disruptor of the stodgy IP space. The company has previously raised $15 million to automate intellectual property management, and was nominated one of L.A.'s hottest startups, according to the panelists in dot.LA's VC sentiment survey.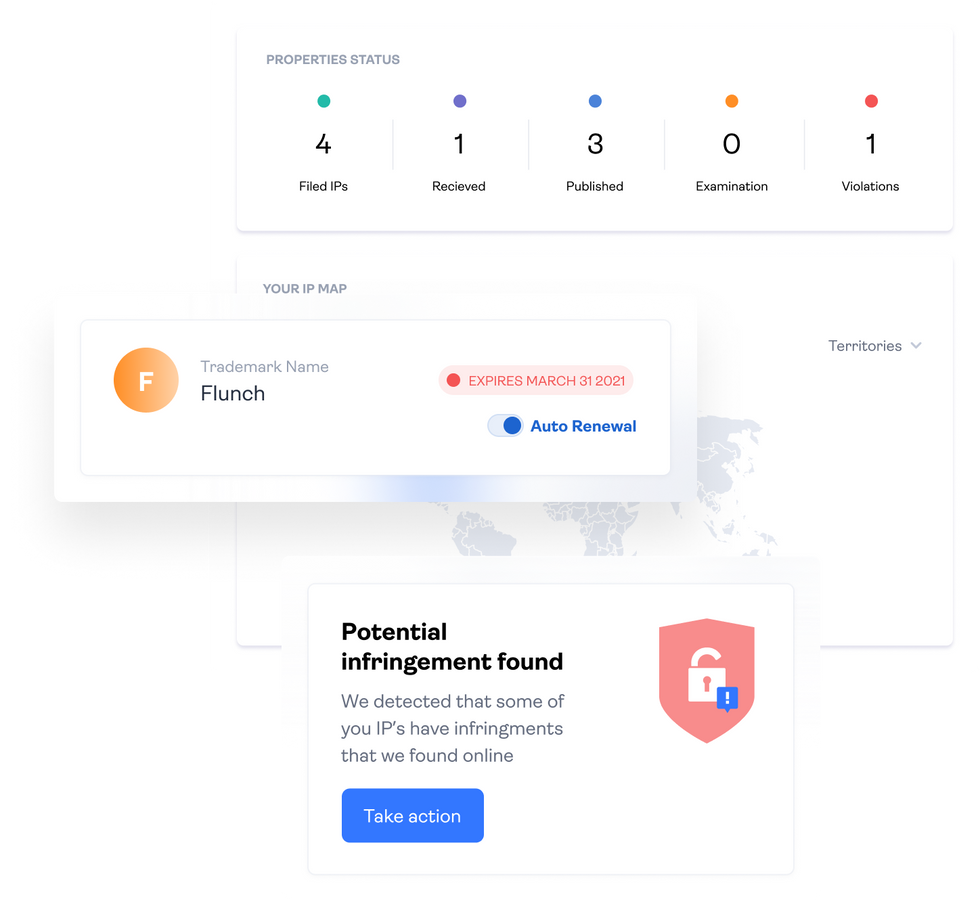 A screenshot of Brainbase's new Vault tool.
Image courtesy of Brainbase
The company's goal is to create an end-to-end suite of software that enables companies to manage the entire lifecycle of a trademark.
"To my knowledge this is the first trademark analytics offering that I've seen," said patent attorney Chris Palermo, who's worked extensively with startups in L.A. and Silicon Valley.
But, he cautions, relying exclusively on automated legal services could create more trouble than it's worth. In particular, sending a cease-and-desist letter without doing research may leave some companies wishing they'd ponied up for advice from a professional.
"Before you actually sign and send one of those, there's a lot you've got to think about," Palermo said. "For example, dispatching a strongly worded letter to another party may create declaratory judgment jurisdiction for that party, where they can sue you first."
Brainbase doesn't suggest its software should replace every company's legal team. In some cases, it highlights how it can help in-house lawyers work with other teams more effectively.
"We are unlocking this black box that is typically the domain of the lawyers and the legal team inside a company, and making the information easily accessible to anybody in the company: marketing, sales, HR," said chief product officer Gautam Godse.
"That allows for the revenue-driving folks and the legal folks to be on the same page," added communications director Greg Holtzman.
Making headway with companies that may wish to add visibility to their trademark portfolios outside the legal team could ruffle some feathers, however.
"They may see some pushback from in-house legal departments because, to some extent, this could threaten the business case for having a larger in-house practice," Palermo said.
Brainbase's new products took nine months to develop and were completed by a team of 15 developers, designers and product managers.
Now that it can offer end-to-end trademark services, Godse said Brainbase will look to expand into other countries, then to other forms of IP, starting with patents before moving to copyrights.
The company declined to disclose figures on its revenues or valuation.
From Your Site Articles
Related Articles Around the Web
Despite — or in many cases because of — the raging pandemic, 2020 was a great year for many tech startups. It turned out to be an ideal time to be in the video game business, developing a streaming ecommerce platform for Gen Z, or helping restaurants with their online ordering.
But which companies in Southern California had the best year? That is highly subjective of course. But in an attempt to highlight who's hot, we asked dozens of the region's top VCs to weigh in.
We wanted to know what companies they wish they would have invested in if they could go back and do it all over again.
Startups were ranked by how many votes each received. In the case of a tie, companies were listed in order of capital raised. The list illustrates how rapidly things move in startup land. One of the hottest startups had not even started when 2020 began. A number doubled or even 16x'd their valuation in the span of a few short months.
To divvy things up, we delineated between companies that have raised Series A funding or later and younger pre-seed or seed startups.
Not surprisingly, many of the hottest companies have been big beneficiaries of the stay-at-home economy.
PopShop Live, a red-hot QVC for Gen Z headquartered out of a WeWork on San Vicente Boulevard, got the most votes. Interestingly, the streaming ecommerce platform barely made it onto the Series A list because it raised its Series A only last month. Top Sand Hill Road firms Andreessen Horowitz and Lightspeed Venture Partners reportedly competed ferociously for who would lead the round but lost out to Benchmark, which was an early investor in eBay and Uber. The round valued PopShop Live at $100 million, way up from the $6 million valuation it raised at only five months prior.
Scopely, now one of the most valuable tech companies in Los Angeles, was also a top vote getter.
The Culver City mobile gaming unicorn raised $340 million in Series E funding in October at a $3.3 billion valuation, which nearly doubled the company's $1.7 billion post-money valuation from March. It is no coincidence that that was the same month stay-at-home orders began as Scopely has benefited from bored consumers staying on their couch and playing ScrabbleGo or Marvel Strike Force.
The company's success is especially welcome news to seed investors Greycroft, The Chernin Group and TenOneTen ventures, who got in at a $40 million post valuation in 2012. Upfront Ventures, BAM Ventures and M13 joined the 2018 Series C at a $710 post-money valuation.
Softbank-backed Ordermark, which flew more under the radar, also topped the list. The company's online ordering platform became a necessity for restaurants forced to close their dining rooms during the pandemic and raised $120 million in Series C funding in October.
On the seed side, two very different startups stood out. There was Pipe, which enables companies with recurring revenues to tap into their deferred cash flows with an instant cash advance, and Clash App, Inc., a TikTok alternative launched by a former employee of the social network in August.
We will have the list of Southern California's top seed startups out tomorrow.
Lead art by Candice Navi.
Here are the latest updates on news affecting Los Angeles' startup and tech communities. Sign up for our newsletter and follow dot.LA on Twitter for more.
Today:
Rights Management Platform Brainbase Beefs Up C-Suite, Following $8M Raise
Former QuickBook Executive to Lead Headspace's International Operations as Global Audience Grows
Headspace Adds Former QuickBook Executive as Global Audience Grows     
Headspace makes meditation app free for the nation's 23 million unemployedShutterstock
In the world of meditation, there is no time like the present. That's especially true for Santa Monica, Calif.-based Headspace.
The mindfulness and meditation company, with more than 65 million users in 190 countries, has seen its consumer product's downloads double since March, which was the same month the World Health Organization declared the novel coronavirus a global pandemic.
Headspace for Work, its corporate mental health offering, has also seen a 500% increase in interest, as companies like Tesco, Hewlett Packard Enterprises and Publicis signed on. Europe has become the fastest-growing region for such corporate partnerships worldwide.
That global growth led Headspace to announce Tuesday plans to expand its executive staff, appointing Jolawn Victor to the newly-created role of chief international officer.
"The need for mindfulness and meditation to mitigate stress and anxiety to care for our mental health, is more prevalent now than ever," said CeCe Morken, president and COO of Headspace, in a statement. "Whether we are reaching members through our work-place solutions, or the curated content in-language, we are more committed than ever to our goal of making mindfulness accessible to all, regardless of where they may be."
Victor, who is London-based, previously worked at Intuit QuickBooks where she served as the head of emerging markets and global expansion and led operations across 150 countries. Victor has also worked at PepsiCo, Kraft and General Mills. She said in a statement that she is thrilled to "help increase the awareness of mental health and wellness in existing and emerging markets" especially today.
The stats tell the tale of stress, anxiety and isolation that has brought users to Headspace.
Since mid-March through the end of May, Headspace reports it saw live group meditation up by 70%, 10 times the numbers of users beginning the company's stressed meditation program and 12 times the users doing a "reframing anxiety at-home" workout. Headspace also found a 33% increase in sleep music usage.
Earlier this year, the meditation company announced a Series C funding raise of $93 million with an extension of $47.7 million that Headspace said it applied this June.
___
Do you have a story that needs to be told? My DMs are open on Twitter @latams. You can also email me at tami(at)dot.la, or ask for my contact on Signal, for more secure and private communications.
Rights Management Platform Brainbase Beefs Up C-Suite, Following $8M Raise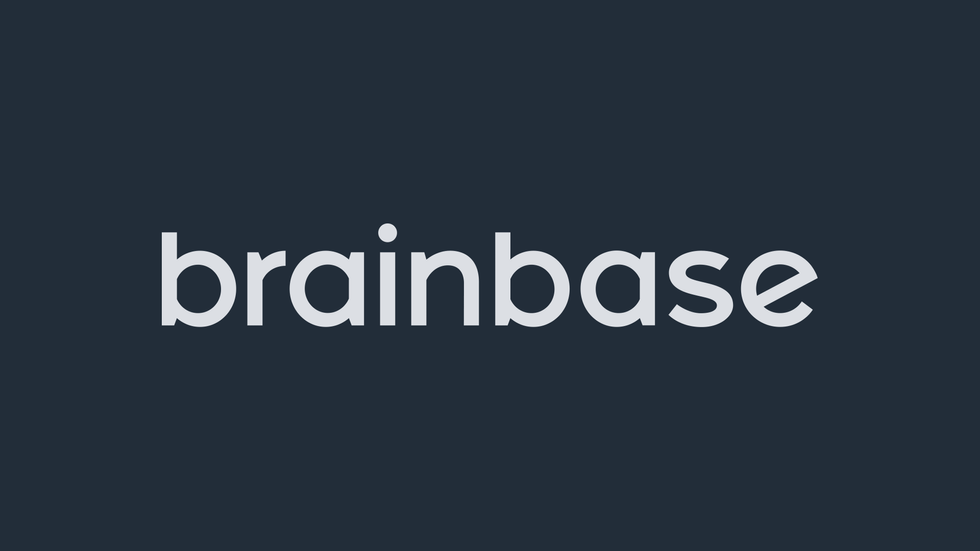 Brainbase, an L.A.-based tech company aiming to simplify and streamline the management of intellectual property like copyrights and patents, announced two executive hires on Tuesday. The moves follow the company's $8 million Series A in May, led by Bessemer Venture Partners and Nosara Capital.
Gautam Godse, former vice president of product at Glendale-based LegalZoom, which offers technology to replace lawyers for some legal tasks, is now Brainbase's senior vice president of product. He is charged with expanding Brainbase's product suite to help brands further monetize their intellectual property.
"There is a tremendous opportunity to modernize the intellectual property space using advanced machine learning and AI techniques," Godse said in a statement. "I am excited to join the team and start building these new product experiences in the legal tech industry."
Henri Kroosmann, the former engineering manager at enterprise sales software provider Pipedrive joins Brainbase as vice president of engineering. He will focus on optimizing the product, recruiting engineers and positioning the company for long-term growth.
"I want to use my experience to take the company to the next level in terms of quality, scalability and performance," Kroosmann said.
Brainbase is helmed by mid-20s wunderkind Nate Cavanaugh, who called this moment "an important inflection point for the company." It counts among its clients BuzzFeed, the Vincent Van Gogh Museum and Sanrio (of Hello Kitty and friends fame).