floqast
When Michael Whitmire was looking for a seed round for his new startup, he was told no by over 100 L.A. investors. Now, he's eyeing an IPO.
Sherman Oaks-based SaaS company FloQast has closed a Series D round of $110 million led by Meritech Capital, bringing the company's valuation to $1.2 billion and officially marking it a unicorn. General Partner at Meritech George Bischof will also join the company's board of directors.

FloQast, which opened their U.K. headquarters in London last month, will use the funds to expand globally and add more accounting functions.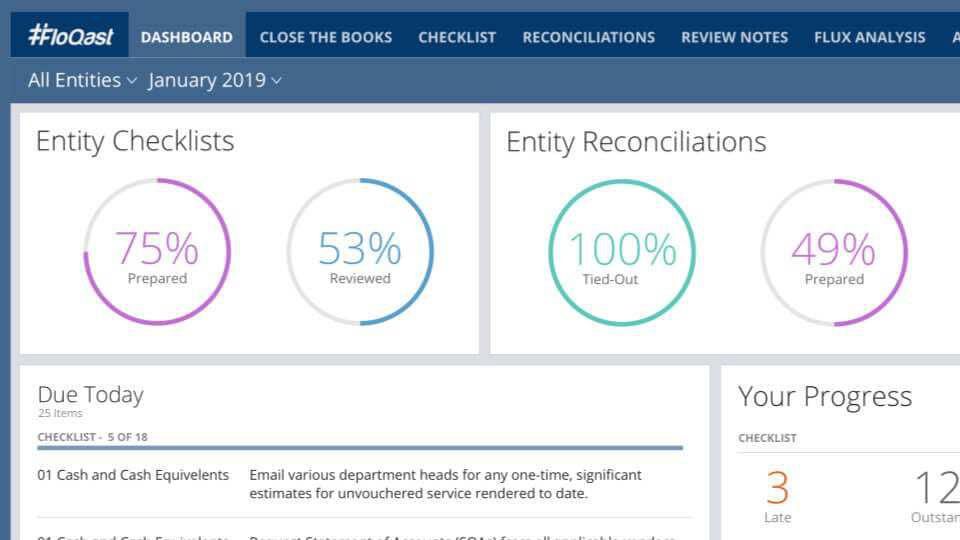 A screenshot of Floqast's accounting dashboard.
But Whitmire, FloQast's co-founder and CEO, said he is particularly excited to have Meritech Capital leading their Series D, as the VC firm has invested in many companies that have gone public, something that has been a goal of his for a long time.

"Honestly, it's more important than the valuation; the funds we got involved is the headliner from my perspective," said Whitmire. "I get that valuations sell, but the funds are so good that we got involved."
The cloud-based software tackles the niche market of corporate accounting departments and works to improve their workflow and automate the process of closing the books at the end of each month. Currently, there are more than 1,400 departments globally that use FloQast.
Whitmire got the idea for FloQast when he worked as a senior accountant for talent management software company Cornerstone OnDemand. As the company was in the process of going public, Whitmire noticed some issues with the month-end close process; it was unorganized and more stressful than it needed to be.
"Imagine having a sales team without a [customer relationship management] solution. That's effectively how accounting has been operating," said Whitmire.
In what he called a "classic entrepreneur moment," Whitmire realized there must be a better way to do this. Soon after, he left Cornerstone and started FloQast.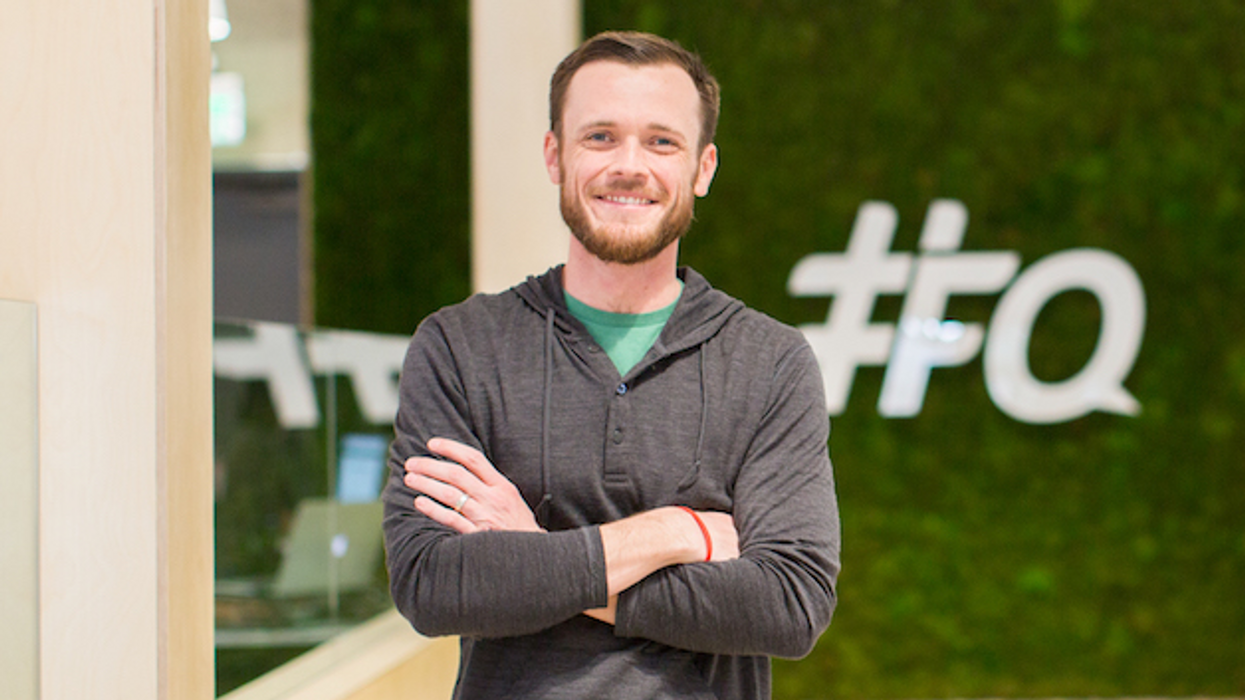 Floqast co-founder and CEO Michael Whitmire.
The company's minimum viable product was enough to get them into the Amplify accelerator in 2013. The accelerator was specifically looking for SaaS companies at the time, something Whitmire now sees as a stroke of luck.

Since then, much of what has contributed to the company's success is the perception of a pressing need for software like this. Many of the investors, while not accountants themselves, have experienced the struggles of not getting their numbers from accounting in time and thus saw the company's appeal.
The customers, however, are accountants, and the company's tagline, "By accountants for accountants," encapsulates what appeals to the customer base. This refers not only to the fact that two accountants co-founded the company, but that around 40% of the company's staff has a background in accounting.
"That shows through in our culture, our customer service, the product, the brand," said Whitmire. "People want to work with us because we're one of them. We're accountants, we get it, we've been there, we've been in the trenches."
From Your Site Articles
Related Articles Around the Web
Despite — or in many cases because of — the raging pandemic, 2020 was a great year for many tech startups. It turned out to be an ideal time to be in the video game business, developing a streaming ecommerce platform for Gen Z, or helping restaurants with their online ordering.
But which companies in Southern California had the best year? That is highly subjective of course. But in an attempt to highlight who's hot, we asked dozens of the region's top VCs to weigh in.
We wanted to know what companies they wish they would have invested in if they could go back and do it all over again.
Startups were ranked by how many votes each received. In the case of a tie, companies were listed in order of capital raised. The list illustrates how rapidly things move in startup land. One of the hottest startups had not even started when 2020 began. A number doubled or even 16x'd their valuation in the span of a few short months.
To divvy things up, we delineated between companies that have raised Series A funding or later and younger pre-seed or seed startups.
Not surprisingly, many of the hottest companies have been big beneficiaries of the stay-at-home economy.
PopShop Live, a red-hot QVC for Gen Z headquartered out of a WeWork on San Vicente Boulevard, got the most votes. Interestingly, the streaming ecommerce platform barely made it onto the Series A list because it raised its Series A only last month. Top Sand Hill Road firms Andreessen Horowitz and Lightspeed Venture Partners reportedly competed ferociously for who would lead the round but lost out to Benchmark, which was an early investor in eBay and Uber. The round valued PopShop Live at $100 million, way up from the $6 million valuation it raised at only five months prior.
Scopely, now one of the most valuable tech companies in Los Angeles, was also a top vote getter.
The Culver City mobile gaming unicorn raised $340 million in Series E funding in October at a $3.3 billion valuation, which nearly doubled the company's $1.7 billion post-money valuation from March. It is no coincidence that that was the same month stay-at-home orders began as Scopely has benefited from bored consumers staying on their couch and playing ScrabbleGo or Marvel Strike Force.
The company's success is especially welcome news to seed investors Greycroft, The Chernin Group and TenOneTen ventures, who got in at a $40 million post valuation in 2012. Upfront Ventures, BAM Ventures and M13 joined the 2018 Series C at a $710 post-money valuation.
Softbank-backed Ordermark, which flew more under the radar, also topped the list. The company's online ordering platform became a necessity for restaurants forced to close their dining rooms during the pandemic and raised $120 million in Series C funding in October.
On the seed side, two very different startups stood out. There was Pipe, which enables companies with recurring revenues to tap into their deferred cash flows with an instant cash advance, and Clash App, Inc., a TikTok alternative launched by a former employee of the social network in August.
We will have the list of Southern California's top seed startups out tomorrow.
Lead art by Candice Navi.
Los Angeles in general — and the San Fernando Valley specifically — are not exactly known for being hotbeds of enterprise software competition, but two of the world's leading providers of a niche type of accounting software are duking it out for market share and the competition is escalating during the coronavirus pandemic.
One is a startup that has raised $90 million in venture funding and the other is a publicly traded corporation with a market capitalization of $3.4 billion. Their headquarters are about five miles apart, the incumbent in Woodland Hills and the startup in Sherman Oaks.
"This is nuts to me," said Mike Whitmire, co-founder and CEO of FloQast. "It's the weirdest battle that you would never expect L.A. to have, with just the 405 between us."
FloQast, with 150 employees, closed a $40 million Series C round led by Norwest Venture Partners earlier this year at a $250 million valuation, according to Pitchbook. It is trying to nip away market share from Blackline, which was founded in 2001, and has 1,005 employees. They compete in an esoteric realm only accountants would know about: close management software. It helps companies automate the normally tedious process of closing their books every month to be able to generate more timely and accurate financial statements.
Blackline declined to make anyone available for this story.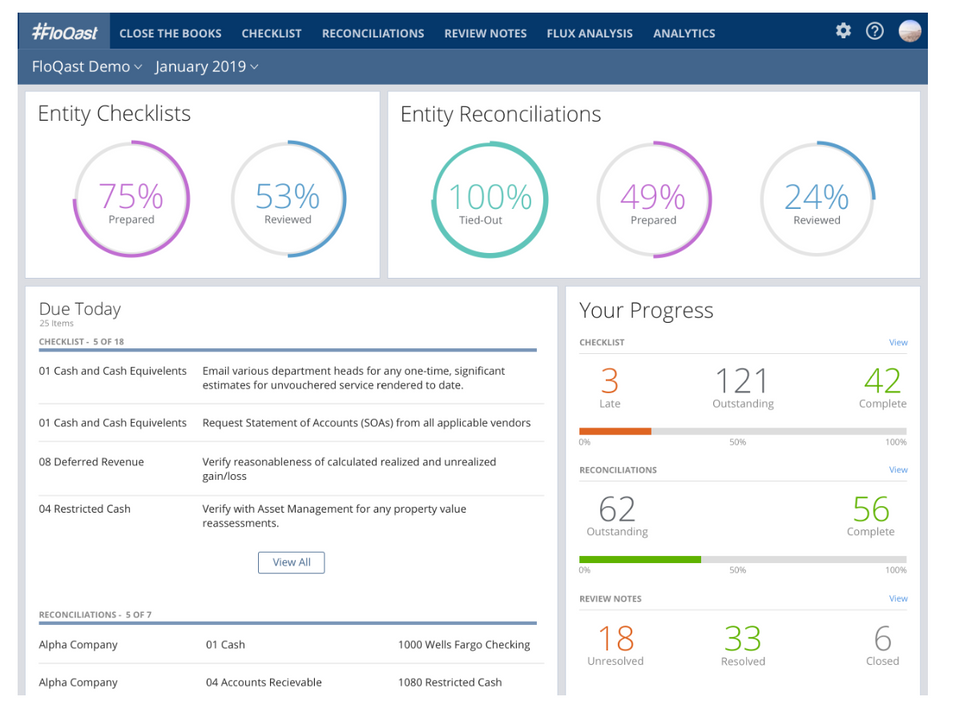 A screencast of FloQast close management software's interface.
While many companies are hunkering down just trying to make it through to the other side of the pandemic, FloQast is using the crisis as an opportunity to raise the stakes against Blackline. Starting Wednesday, FloQast is giving the implementation of its software away for free to any Blackline customer through July, promising that once they sample FloQast they will never go back to Blackline.

"It's definitely an opportunity that has presented itself because of COVID-19," said Whitmire. "During good times people are happy to reimplement and will spend more money. Now that budgets are getting tighter people are looking more closely at what better options are being deployed."
Whitmire started FloQast in 2015 with $50,000 in pre-seed funding from the Amplify.LA accelerator after seeing the limitations of accounting software when he was an early employee at Cornerstone OnDemand, joining a year before it went public in 2011. He spoke to dot.LA this week on Zoom call with a virtual background of Kirk Gibson celebrating after his famous walk-off homerun the last time the Los Angeles Dodgers won the World Series in 1988. Whitmire loves sports and relishes playing a scrappy David to Blackline's slow-footed Goliath.
"I'm super competitive," he said. "We poach clients from them, we've taken 25 to date."
FloQast has had considerable success selling its services to sports teams, who he says often have relatively complicated accounting practices. An early contract with the Golden State Warriors led to deals with the Los Angeles Lakers, Boston Celtics, Milwaukee Bucks, Washington Wizards, San Francisco 49ers, Philadelphia Eagles, and Chicago Cubs.
The company also has deals with around 900 other companies, including well-known names like Zoom, Yelp, Zillow, Grubhub, and Lyft.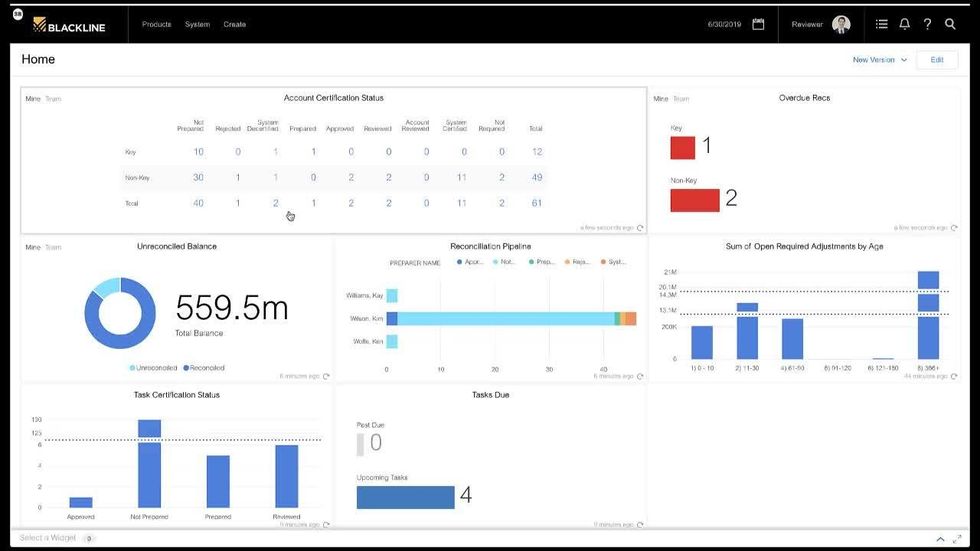 A screenshot of Blackline's enterprise software.
FloQast charges anywhere from $10,000 to $100,000 a year for a subscription, not an insignificant amount for companies trying to trim expenses in an uncertain environment. Whitmire makes the argument that his software saves substantial amounts of money in the long run. If that is not enough of a selling point, he is willing to offer struggling clients discounts or deferred payment until the crisis is over, which he says he can afford to do thanks to January's $40 million cash infusion.

"At times like these you need to be accommodating," said Whitmire. "We're in a position to do that. If a client needs a break in their billing, we can make that happen because of our balance sheet."
Of course, Blackline has a much bigger balance sheet, with $607 million cash on hand at the end of last year, but if Whitmire is nervous about so aggressively taking on such a bigger foe, he does not show it.
"It's been a lot of fun competing with them." said Whitmire. "They have a bullseye on us internally and I don't expect much to change."
Whitmire hopes that the competitor across the 405 will decide to set its sights more on big companies who employ hundreds or even thousands of accountants. "We are good at mid market," he said. "They are good at enterprise. They have bigger fish to fry."
From Your Site Articles
Related Articles Around the Web