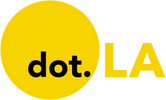 Get in the KNOW  
  on LA Startups & Tech  
X
Entertainment
The latest news about entertainment technology and entertainment tech startups in Southern California from dot.LA
Evan Xie
L.A. Tech Week has brought venture capitalists, founders and entrepreneurs from around the world to the California coast. With so many tech nerds in one place, it's easy to laugh, joke and reminisce about the future of tech in SoCal.
Here's what people are saying about the fifth day of L.A. Tech Week on social:
This is the web version of dot.LA's daily newsletter. Sign up to get the latest news on Southern California's tech, startup and venture capital scene.
1212 Santa Monica was jam packed with roughly 700 founders and VCs on Wednesday night. As music pumped through the speakers, attendees of SUPERCHARGE LA: Access to Capital & Cocktails mingled throughout the two-story restaurant tasting sliders and tacos from chef Luca Maita.
The passionate crowd, clustered in the hollowed-out center space, along the balcony lining the walls and spilling onto the promenade was full of excitement. When Grammy Award winning singer Miguel took the stage to speak about how collaborations with other musicians and entrepreneurs inform his creative process, the attendees listened closely.
When asked by dot.LA executive chairman Spencer Rascoff to respond to musician Will.i.am's prediction that more artists will turn to AI, Miguel wasn't so swayed by the idea.
"[AI] will impact the industry from the business side but it will never have that spirituality," Miguel said.
That's not to say that the chart topping musician has entirely shied away from technological innovation in the music industry. "The business of music will have its use for AI," he said. "Industrialization, through human history, has always been the thing that we gravitate towards, because we like convenience, and there's a way to make money out of that."
For the time being then, Miguel is primarily focused on how web3 can revolutionize community ownership. Which is why, last year, he joined the web3 studio T3MP0 as the company's global creative director. During the discussion, Miguel said the company, which focuses on connecting fans with creators though metaverse experiences and NFTs, allows him to flex his entrepreneurial muscles.
"It all stems from growing up here in Los Angeles, being Black and Mexican—feeling underrepresented and knowing that people have such a one dimensional way of looking at the world," Miguel said.
As people leaned over the balcony to snap photos of Miguel, T3MP0 CEO Roger Chabra said tech people are constantly seeking to "create new rules," as we saw with web3. But when it comes to NFT's waning popularity, Chabra was quick to acknowledge that although T3MPO isn't "as relevant as we used to be," the company remains relevant to partners like Miguel, Dipolo and Marshawn Lynch, who are still looking for innovative ways to connect with fans.
Other Los Angeles companies are also trying to change the relationship between creators and fans. Prior to Miguel and Chabra's discussion, Rascoff spoke with LA Chargers running back Austin Ekeler to discuss his community platform Eksperience. Through the platform, fans can connect with Ekeler and other athletes and influencers to video chat, receive signed merchandise or be sent a personalized video. After he amassed over 28,000 followers on Twitch, Ekeler said he was inspired to find more direct ways to connect with fans.
"I can't sign everyone's jersey here, so let me create an environment where I can control that and actually get those things done," Ekeler said.
As part of the event, Anna Barber, Qiana Patterson, Elianne Rodriguez and Marcos Gonzalez from PledgeLA also announced their 50 in 5 initiative. Their goal? To direct at least half of LA's VC funding to female, Black and Latino/a founders in the next five years by creating a pre-seed fund for underrepresented founders and a VC internship.
Before the night was capped off with DJ set from the iconic D-Nice who took over to set the musical vibe for the remainder of the evening, Rascoff reminded the crowd what makes the LA tech scene different from anywhere else in the world.
"All the people I've gotten to know in this community don't have sharp elbows," Rascoff said. "Instead we're all trying to lift up the LA tech community to reach its full potential."
Samson Amore
A recent article in The New York Times highlighted two major esports leagues that recently divested from their teams: Madison Square Garden sold its team CounterLogic Gaming to NRG in April, while Team SoloMid sold its League of Legends Championship Series team in late May.
Arguing that the industry still has potential for growth, several gaming executives at a LA Tech Week panel said that instead of an "esports winter," the industry was experiencing a period of "normalization." The panel at SoHo House in West Hollywood featured Brian Anderson, CEO of Culver City-based esports outfit FlyQuest Sport, Gene Chorba, head of developer relations at Roku and Felix LaHaye, founder of United Esports.
"I'm actually very skeptical of the claim of an esports winter," Anderson said. "I think that what I'm seeing in the market right now, ultimately, is just a lot of venture capital firms that deployed capital into the eSports space that are not generating the returns that they were looking for, and have now done the press junket and are labeling it an esports winter."
"In reality," Anderson said, "esports, in my view, is alive and well."
Anderson said there were a lot of "unrealistic expectations" around esports since it became popular in 2016, and the current decline was a sign that the market was correcting itself. "This is a necessary pain point that any nascent industry is going to go through as it matures and develops, and I think that in, let's say, 24 months, 36 months, esports will be in a much better financially sustainable place," he said.
"I think we're having a little bit of a normalization," Chorba said. "We saw the entire economy was being shot to the moon, with nothing behind it… we were seeing valuations of companies, public and private, that just didn't make sense for what they were building."
Other tech industries have experienced a similar "normalization" in recent years. Cryptocurrencies, NFTs and big tech have all seen a downturn in recent months after being flooded with VC interest for many years.
According to the panelists, the existing viewer base for esports was a clear sign that the industry still had potential for growth. "There's still a ton of attention on professional video games. There's still so much grassroots fan support," Anderson said. "As long as organizations and developers are able to figure out how to actually monetize that fan base, I think esports is still alive and well and here to stay for a long time."
According to Insider Intelligence in 2022, there were 532 million esports viewers globally, with nearly 30 million viewers in the U.S.; this is expected to increase to 34.8 million by 2026.
Chorba explained that the reduction in ad spend and brand deals in esports shouldn't worry investors because these crucial revenue streams have slowed down for other industries as well. "Ad-supported is hemorrhaging money and really just trying to wait out what's really a bad economy right now," he said. As more people stop paying for cable, Chorba said, eyeballs will move onto streaming sites like YouTube or Twitch to watch gaming content.
LaHaye and Chorba said that one of the reasons for the decline in esports investments could be that executives and VCs are running esports companies like tech or SaaS companies. "As a matter of fact, they are not tech companies. They are ad-supported entertainment products," LaHaye said.
By taking their companies to IPOs too early, certain esports companies ruined their chances in the market, LaHaye added. "There's also a downswing that's done by a rush to [go] public," he said. "There are some fairly poor business models in esports that are going through a rougher time."
"[Game publishing] is a hit-making business," LaHaye said. "I think there tends to be confusion between what is a fundamental issue for the esports industry itself and some business models within the esports industry being bad business."