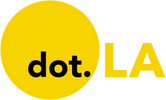 Get in the KNOW  
  on LA Startups & Tech  
X
Entertainment
The latest news about entertainment technology and entertainment tech startups in Southern California from dot.LA
Courtesy of Shutterstock
The Culver City-based social media giant is hiring for two security roles focused on thwarting insider leaks, according to Business Insider. The new hires would keep an eye on TikTok staffers to spot leaks of classified information to the press or trade secrets to rival firms or bad actors, experts told the news outlet.
TikTok's job postings come as the video sharing platform is facing mounting scrutiny. BuzzFeed News obtained leaked audio clips indicating that American data was accessed repeatedly by China-based employees of TikTok's parent company, ByteDance. That report renewed worries that TikTok's Chinese ownership poses a national security risk. More recently, a Gizmodo story detailed the ways TikTok tries to publicly downplay its Chinese ownership. Just this week, reports emerged about poor working conditions for some TikTok moderators.
Large companies monitoring their employees is not uncommon these days, especially if those firms have precious data and intellectual property. One of the two TikTok job postings, for example, is for a "counterintelligence analyst" based in Washington. A quick Linkedin search for that job title pulled up dozens of similar open roles at other companies in sectors including cyberspace and IT. Insider noted that banking behemoth JPMorgan Chase collects troves of data on its workforce, which has understandably concerned some staffers.
Leakers have helped reveal important but damning information about big tech companies. Perhaps most notably, former Facebook staffer Frances Hauguen gave the Wall Street Journal documents showing the social media firm was aware that its platform harms users. The BuzzFeed story about TikTok's handling of user data have prompted calls for a federal investigation or outright ban of the video sharing app (TikTok says it has never provided any U.S. user data to the Chinese government, nor would it do so if asked).
The two new security roles will be on TikTok's newly established U.S. Data Security (USDS) division, according to the company. In addition to leaks to reporters, the security team may contend with employees potentially sharing information with rival companies or foriegn governments trying to influence the platform, Insider noted.
TikTok declined to comment on the record, but pointed dot.LA to company blog posts about the newly created USDS team. In July,
TikTok said
it created the USDS in part to help reduce employees' access to U.S. data and cut down on that data being transferred from one region to another, including to China.
Six months after announcing bold plans to renovate the derelict Broadway Trade Center building, it appears metaverse startup Emcee won't turn the aging 1.1 million square-foot property into a "tech hub" any time soon.
The building is now headed towards foreclosure after the owner defaulted on a $221 million loan to retrofit it. This means we likely won't see the "Emcee Studio," a proposed multi-use space including a hotel, members-only rooftop pool, restaurant and coworking offices in the near future. The space will be boarded up and sold at a bankruptcy auction.
Emcee founder and CEO John Aghayan didn't respond to dot.LA's requests for comment.
"The owner was listening to ideas like [a] metaverse gaming hub but we all knew there [was] zero chance they were going to raise enough money to make the building habitable let alone be profitable," said one local real estate manager familiar with the deal who wished to remain anonymous for fear of damaging their business. "Nobody in their right mind would invest in that building in DTLA," the source added.
A brief history of the hulking, scaffolded building you've likely seen many times while traversing Downtown Los Angeles: The Beaux-Arts style property at 8th and Broadway was built in 1906 as Hamburger's Department Store, and later became the May Co. headquarters after it changed ownership in 1925. The May family vacated their department store in the mid-1980s, and since then it's become known as the Broadway Trade Center, existing in a state of limbo and increasing disrepair after being gutted two years ago. In 2014, New York-based real estate investment trust Waterbridge Capital bought the building for an estimated $130 million.
Waterbridge Capital is run by Joel Schreiber, one of the first investors in WeWork. He's running the building under a joint venture LLC called Broadbridge. In 2016 he secured a nearly $165 million loan on the property, and another loan worth $213 million in 2018. Still, after all these refinanced loans, no one was able to move in.
Waterbridge Capital is also reportedly in talks to buy the Union Bank Plaza office building Downtown for $155 million. The company didn't immediately reply to a request for comment.
A longtime L.A. broker who's been following developments on Broadway for decades and requested anonymity to avoid business conflicts speculated the Emcee announcement some months back could have been an ill-fated tactic to stave off the inevitable foreclosure when refinancing the loans was no longer an option.
"I hate to say it, but it sounded like some kind of cockamamie sham put together to find more time with the lender," the source said. They added that the foreclosure process could take up to 18 months, during which time the building will fall into even more disrepair and added they believed it's not even worth half of the total loan amount.
Now the question is, what to do with this behemoth of an empty building?
The same sources told me the city government could buy it back for pennies on the dollar now, but then it'd be on the hook for making it habitable – both brokers told dot.LA the elevators aren't even up to code, much less anything else. Also, it's got no parking lot, and parking's a critical need for any large-use building Downtown, those sources said.
"Housing is our critical need right now," the broker said. "But it's just too big of a challenge. There's no government agencies to do it [and] it's a monster floor plan."
Image courtesy Arkive
Historical documents, records and important artifacts are sometimes locked away in vaults (until a museum or library wants to showcase them), and under restricted access. Thomas McLeod believes that these artifacts hold great value and have the potential to impact communities, so he founded Arkive, the first decentralized, physical museum.
The inspiration for Arkive came from McLeod's previous company, Omni, a physical storage company acquired by Coinbase in 2019.
"We thought it would always be like utility items and we started getting full sneaker collections, vintage posters, records, comic books that were valuable and we kind of had a panic attack," McLeod told dot.LA. "The business [Omni] was built around storing bikes, and you can't put a vintage record next to a dirt bike. They just don't store in the same manner."
McLeod was fascinated by the items and collections that came through the door. To him, it felt like browsing a museum of curated items that everyday people collect.
That's when McLeod knew he was onto something.
McLeod has built startups before. Past projects included Pagelime, acquired in 2015 by SurrealCMS, and in 2012 LolConnect was acquired by Tencent.
The items in Arkive's collections are hand-selected by members who vote on what items they want to acquire. The organization currently has 300 active users, and there are hundreds on the waiting list. McLeod confirmed to dot.LA that they will increase the number of members admitted to 50 people each week with plans to cap admissions at 1,000 for the first phase. He added that while membership is free today, that will likely change in the future.
People interested in becoming members must apply on Arkive's website, where they will answer individual questions about their interests and occupations.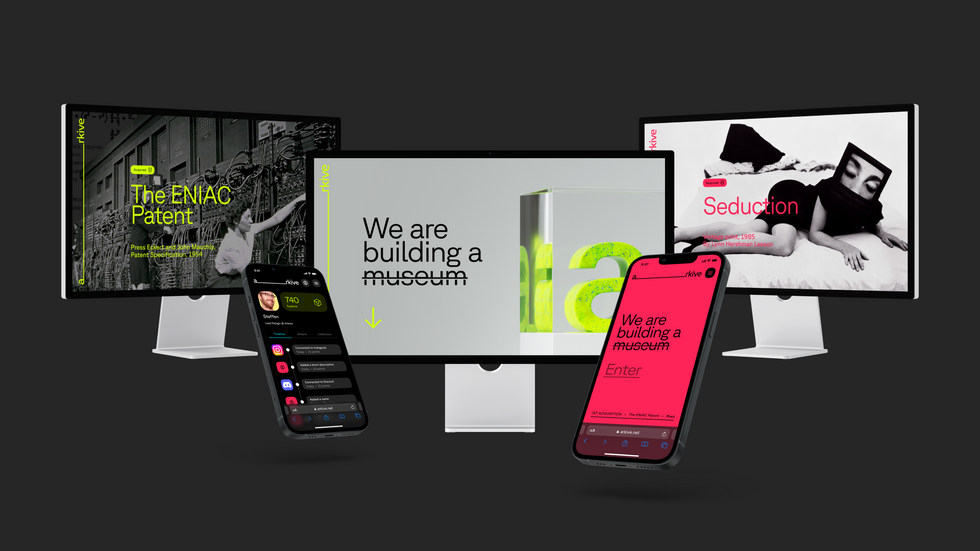 Arkive's physical, blockchain-inspired museum is coming to Santa Monica. Courtesy of Arkive
Just as museums have a lobby, Arkive has its "atrium." In this space, every member enters and registers their cryptocurrency wallets. Once registration is complete, members can vote on the blockchain for the artifact or piece of art they want Arkive to acquire. Prior to voting, to ensure they are well informed, members will have the opportunity to learn about each artifact from the artist, the gallery or the collector who previously held the item.
Since there is a surplus of artifacts around the world, Arkive's team of curators handpick options that are relevant to the current theme: "When Technology Was a Game Changer." While each round of voting is different, McLeod said the voting window for members usually lasts five days (M-F).
Arkive has acquired two items since coming out of stealth mode, the first one being the original patent for the ENIAC – known as the world's first programmable, electronic general-purpose computer. In addition to ENIAC's patent, members also voted to acquire Seduction (1985), a vintage print by Lynn Hershman Leeson, which will be part of Arkive's first public exhibition at the Art Basel Miami Beach in December 2022. Once items are acquired, they will be loaned to museums or galleries to be placed on display for the public to enjoy—at locations Arkive members believe have the most significant cultural impact.
"For instance, the ENIAC patent, we would love it if it lived at the Computer History Museum in San Mateo. If we acquired a Frida Kahlo, we would love it if it was in Mexico City or somewhere that mattered to her art or the family that she was a part of," McLeod said.
The Santa Monica-based startup announced last week that it raised $9.7 million in a seed funding round led by Offline and TCG Crypto. Other participants included NFX, Freestyle Capital, Coinbase Ventures, Not Boring Capital, Precursor, Chainforest, Coil, Julia Lipton, Joe McCann, Chris Cantino, Marty Bell and Paul Veradittakit.
"People who committed were all the way in and did not hesitate to support and be a part of the journey," McLeod said. "It got us the right people that are in it for the long haul and really care about not just the business but the potential cultural impact that it could have. So having the right investors to me is more important than just money."
Some of the funding will be allocated towards expanding the team, but a majority of the capital raised will go into acquiring more artifacts. McLeod said Arkive has three more acquisitions lined up in the next three months, but the eventual goal is to acquire two pieces a month.
Correction: An earlier version of this piece misspelled Thomas McLeod's last name.