Entertainment
The latest news about entertainment technology and entertainment tech startups in Southern California from dot.LA
Back when the video game channel G4 TV launched on cable in 2002, Twitch was nine years away from existing and the concept of creating programming exclusively for gamers, by gamers was basically unheard of.
At the time, the channel captured an audience with popular shows like "Attack of the Show!" and "X-Play," a game review show with comedy skits, but it didn't last.
Originally created by former Disney president Charles Hirschhorn, G4 was a Comcast property that was eventually licensed out to Hearst Corp. but plans to integrate it into the company's Esquire lifestyle content fell through. By 2014, with ratings low and its fan base seen as too niche, cable providers began to drop G4 from coverage. It finally stopped airing in 2014.
Seven years later, G4 is back.
Just as streaming services have made advertisers rethink the value of so-called niche audiences, Comcast is resuscitating the channel. G4 hits screens as more and more people are playing video games (thanks in part to the pandemic, which caused people of all ages to become gamers during lockdowns).
The rising player base is also spending more, making the industry more valuable than film and TV combined. According to analysts at NPD Group, U.S gamers spent $13.3 billion in the third quarter this year, up 7% annually. That's the highest quarterly spend NPD's ever recorded, and it's on track to keep climbing.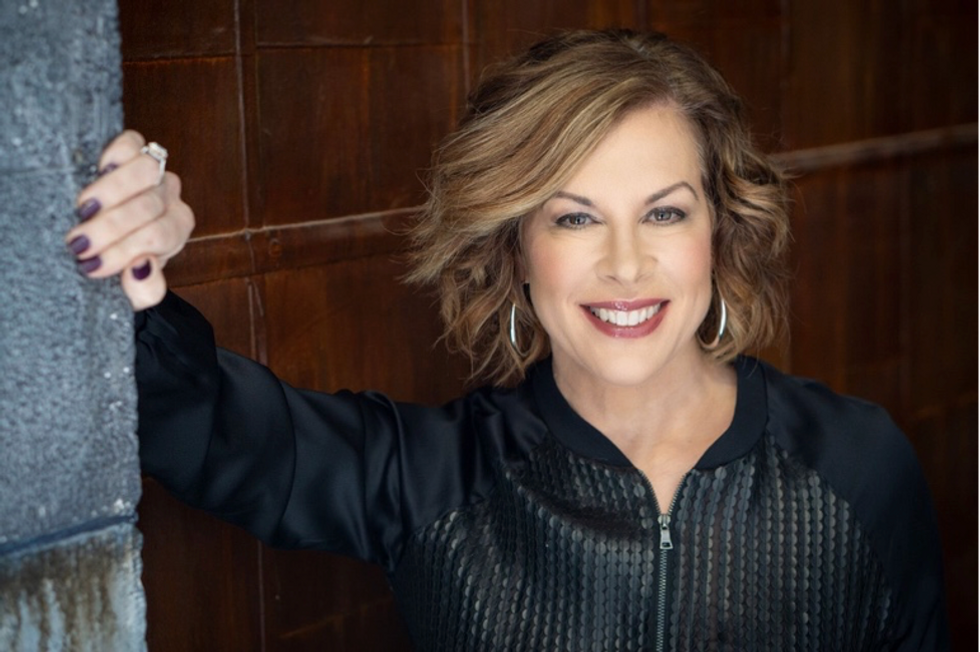 G4 President Russell Arons
"G4 in its original version was almost legitimizing something that most people didn't even want to acknowledge, right, that gaming and fandom is a lifestyle and can be celebrated," G4 president Russell Arons said. "Fast-forward to today and there's a lot of outlets in that space, but the G4 approach is really… fun, irreverent, with an ensemble cast of really authentic personalities."
G4 will bring back "Attack of the Show!" and "X-Play," for a reboot with their original hosts (Kevin Pereira and Adam Sessler). Actress Olivia Munn was originally an "Attack of the Show" co-host, but despite rumors she won't be returning for the reprisal.
Other shows in production at G4's Burbank studio include "Boosted," which will break down esports news and matches for casual fans, a show hosted by popular YouTuber Scott the Woz and a "Dungeons and Dragons" themed show called "Invitation to Party."

Arons told dot.LA the plan is to add more shows in the coming months "to really round out G4 As the place for gaming and fandom."
While the original G4 was carried on by NBCUniversal on cable, this new version is a hybrid of linear and online streaming content. It will broadcast a series of TV shows focused on gaming culture on cable channels including Verizon FIOS, Xfinity, Philo and Cox, as well as on YouTube and Twitch, which it has a multi-year promotional and commercial deal with. G4 currently has roughly 520,000 subscribers between its Twitch and YouTube channels.
G4's network is now owned by Comcast Spectacor — Comcast's sports-focused business arm which also owns an esports team, the Philadelphia Fusion.
G4 chief revenue officer Josh Cella told dot.LA the network plans to use that synergy to make content and ink brand deals focused on esports, which the original G4 channel never could before.
"To be a part of Comcast NBCU is obviously a major advantage for us," Cella said. "When we think about distribution and linear cable, that's going to naturally just inherently skew a little bit older, but there are tens of millions of gaming fans that fall within (an) older demographic that still have cable," Cella said. Where those fans are, even Cella couldn't pinpoint, but he knows they're out there.
Arons had ambitious predictions for G4's reach after rebooting. She said that at its peak, G4 recorded 65 million users, and it's expecting to launch to at least 70 million homes "because of that combination of linear and streaming." Arons added the network expects to add another 10 million households to its reach.
"I'm being conservative when I say that that 70 million figure is at launch, it could be much bigger," Arons noted.
Having a Twitch and YouTube presence is key for G4, but it remains to be seen if its audience will also tune in on actual televisions. A March Pew Research poll found that only 34% of Americans aged 18-29 get TV via cable or satellite TV, down 31% from six years ago. And less than half of people aged 30-49 are using cable — roughly 46%.
"When we think about distribution and linear cable, that's going to naturally just inherently skew a little bit older, but there are tens of millions of gaming fans that fall within (an) older demographic that still have cable," Cella said.
When G4 first debuted, its brand was a lot like MTV's awkward, geeky younger cousin – it attracted gamers by leaning into the stereotype that gamers were awkward and offbeat, and brought comedy to gaming content before most YouTube gaming channels did.
"The difference between now and the previous era of G4 is that there are a lot of brands that want to find their way in this space," Cella said. "I would tell you that it's not going to take us long to be profitable," he said, adding that he expects advertising to be "one of the main areas of revenue" for G4, which at first won't charge a subscription fee for content.
From Your Site Articles
Related Articles Around the Web
The union that represents behind-the-scenes workers in Hollywood narrowly ratified a new three-year deal with major studio owners on Monday, even though it lost by popular vote. The deal comes just a month after talks nearly erupted into the biggest strike the industry has seen since World War II.
The International Alliance of Theatrical Stage Employees' new contract boosts wages for some of Hollywood's lowest-paid workers, mandates longer weekend rest periods, and extends a controversial agreement that established lower payouts for certain "new media" streaming productions, such as shows created for services like Apple TV Plus. But the contract with the Alliance of Motion Picture and Television Producers, which represents studios and newer players from Netflix to Amazon, narrowed the pay gap between streaming productions and traditional Hollywood films and shows. The two-tiered approach has rankled many in the industry who argue that streaming has become a mainstream model that doesn't deserve discounted rates.

The contract was ratified by a 256 to 188 vote of delegates, the union announced on Monday. But 50.4% of members that represent the popular vote rejected the deal. As in U.S. politics, the popular vote does not directly determine the end results. The vote is sure to put a spotlight on the union's electoral rules, which assign delegates to locals by membership size.

IATSE members also ratified a new Area Standards Agreement, which sets similar guidelines for smaller production hubs, such as Baltimore and Washington, D.C. That agreement did gain popular support among members, with 52% of eligible workers voting "yes."

"From start to finish, from preparation to ratification, this has been a democratic process to win the very best contracts," said IATSE International President Matthew Loeb. "The vigorous debate, high turnout, and close election, indicates we have an unprecedented movement-building opportunity," he added.

At stake was IATSE members' basic contract — a 49-page deal establishing minimum pay, meal breaks and funding for workers' pension and health care plans. It also sets safety standards for the industry, which is known for grueling hours and even on-set deaths.

The deal negotiated between IATSE and AMPTP also included larger financial contributions to IATSE workers' retirement and health plans, and it laid out new diversity and inclusion initiatives. Still, many IATSE members have said the deal doesn't go far enough in raising minimum rates. Some crew members will still face 14-hour workdays without much rest under the contract.

In addition to Apple, Netflix, Disney and Amazon, AMPTP's lawyers represent AT&T, Comcast and Viacom, tech and media conglomerates that control several studios including WarnerMedia, NBCUniversal and Paramount respectively. While the trade group also includes smaller industry players, the combined market cap of these seven companies alone tops $5 trillion today.

Voting stretched from Friday morning through midnight Sunday, as executives at the IATSE urged camera technicians, editors, set builders, makeup artists and other members to endorse a deal with AMPTP. Ultimately, 72% of eligible members cast their ballots over the weekend, a decline in participation compared to the union's October strike authorization vote.

Editor's Note: This story has been updated throughout.

It's only 11am, but Brian Volk-Weiss is on his 7th or 8th meeting of the day when we finally get a chance to talk. No surprise there—who has time for sleep when you've got over over a dozen different projects in post-production alone?
As the 45-year-old founder and CEO of The Nacelle Company, a Burbank-based production company that specializes in pop culture docuseries, books, comedy and podcasts, he's worked with companies including Netflix, Amazon and HBO to build a media empire that he hopes one day will rival Viacom.
Volk-Weiss is perhaps most famous for directing the two docuseries "The Movies That Made Us" and "The Toys that Made Us," which use their respective subject matter to examine the broader influence of pop culture. His latest project, "The Center Seat: 55 Years Of Trek," is a 10-part special about one of America's most beloved sci-fi series. The first episode debuted on November 5th on The History Channel.
dot.LA spoke with Volk-Weiss about his obsession with pop culture, how COVID has changed the industry and how he picks a project in an age where data is boundless and audience expectations shift at a moment's notice.
dot.LA: First things first, how do we pronounce your company, "Nacelle?" And where did the name come from?
Brian Volk-Weiss: "Nuh-cell." A Nacelle, first of all, is a real thing: It holds the engine onto a vehicle. When you're looking out the wing at an airplane and you see the engine, it looks like a beautiful part of the plane. If you take the engine out of the plane, it's this big nasty jumble of pipes and wires. Whatever holds the engine to anything, that's a nacelle. I liked that as a concept, because a lot of what we do is work with talent—like Dwayne Johnson, Zac Efron, Amy Poehler, whatever. I view our job as basically supporting their vision.
I learned of the term, as most people do—if they're even aware of it—from "Star Trek." If you look at the Enterprise [spacecraft], what people who are not Trekkies would call the "wing"—those wings are the nacelle."Star Trek" is a massive franchise. How do you even begin to tackle a project like that?
We start with massive amounts of research. The research goes on for about six to eight weeks, then we start doing pre-interviews; between the research and the pre-interviews, our story editors start to put together what we think the episode is going to be. Then we start shooting.
One of my little secrets about directing these types of documentaries is to find the lawyers. The lawyers, very often, are the only people at these giant companies that see everything. They see the marketing; they see the production; they see the post-production; they see the sales reports.
So, I was obsessed with getting a lawyer from Kenner [the company that makes "Star Wars" toys]. It took forever to find him, and I think he was 88 or 89 years old. His name was Jim Kipling. By the time we did the interview, I think we'd almost locked the first cut to send to Netflix. But in the interview, he casually said that Kenner got the lion's share of the money from the toys, not George Lucas. This was the opposite of what everybody had been told their entire lives! So after we were able to confirm what he'd told us was true, we literally tore the episode apart and started again.
How has your approach to creating content changed as the industry has evolved?
The real change wasn't driven by the industry, it was driven by COVID. We were in production on a lot of shows last year when COVID hit, so we had to design these remote camera systems that we could FedEx to people in cases. Now that things are going back to regular shooting, we're still using those to a certain degree.
It's like a force multiplier. If we were budgeted to do 40 standard interviews with a pre-COVID methodology, now we can do 65 interviews. Forty of them will be the regular thing where we get on a plane, and we set up lights, and we interview them. But for 25 of them, we'll keep shipping these kits and do them that way. And the people we're sending kits to, very often they're people that are only important for one or two very specific things. Sending a remote camera kit allows us to get stuff that, before COVID, we wouldn't've even bothered trying to do.
What's in the kit?
It's two cameras, two tripods, two lighting bars, two audio recording devices, a mixer and three hard drives, two of which are backups.
Anything else coming out of COVID that you think will be a permanent change for the industry?
Viewing habits have changed drastically. We have so many people now watching our content on places like Tubi. Tubi was something I never even knew our library was on. Now they're one of our best partners. COVID got people watching things in ways and in a volume that I believe is unprecedented.
How do you adapt to that as a content creator?
The streaming services, they're all different, but the main thing is that A) they just have a confidence I've never seen before, and B) it's a much more worldwide thing than other companies. When we're working for Netflix or Disney Plus we're constantly talking about the whole world. When we're dealing with The History Channel, it's all about the USA.
What do you mean when you say that the streaming companies have a confidence that you've never seen before?
I'm not giving any secrets here, but the cable business, it's not what it was 10 years ago, let alone 20 years ago. Netflix, Disney Plus, all these other companies are all kicking ass, so they're like, "Yeah do whatever you want! I'm sure it'll be great!" Some of the older companies, they're more traditional and there's just a lot more back and forth.
Do you think the old model opted for quality over quantity while the new model is just sort of throwing things at the wall to see what sticks?
I don't think quality has gone down at all. I think this started probably with "The Sopranos," but I think quality is as good if not better than ever. What I always say about Netflix is that it's really hard to sell a show to [them]. But once you sell the show, it's kind of up to you. They really really trust the filmmaker. At some of the older companies, there's a lot more "Oh I don't know if people will like this."
The truth is you don't know what people are going to think until it comes out. I mean, Netflix will be the first people to tell you they didn't know "Squid Game" was going to be "Squid Game." Some of the newer companies are more at peace with the fact that nobody knows what the public is going to like
It's almost like the VC model for investing in startups: You just have to trust the founders.
Exactly.
Do you think we're improving our ability to predict what's a hit or are we learning it's even more esoteric than we ever imagined?
I think we are absolutely not improving. I don't think it can be improved upon. Netflix has more data than any content company in history and they still have things that they spend a lot of money on that bomb and things that they don't spend a lot of money on that are huge. "Squid Game," I think, is the first planetary TV show. They spent $20 million on it. That's nothing! They have movies now that are between $100 and $250 million apiece.
Another example I like to point out: Watch the Youtube video where Steve Jobs introduces the iPod. He's on stage with 5 different products. It's a 90-minute presentation. He spends 88 minutes on the other four products. Twelve months after that presentation, the iPod has literally saved the company, and all four of those other products—one of which was like a printer, one of which was like a phone, I don't fucking know—but all four of the other products were not being sold 12 months later. Nobody knows nothing.
In a world where nobody knows nothing, how do you navigate those waters? How do you, in your own words, make Nacelle the next Viacom?
I was a manager for a long time—over 10 years. I would have clients that could sell 15 to 20,000 tickets in B and C markets. I'm not talking about New York and Boston and L.A. I would have a client who could sell 25,000 tickets in Albuquerque, and I'd be talking to Comedy Central and they'd say, "Oh I don't think people are going to like that." This comedian, with no marketing, has sold two million tickets in 10 months, and you're saying you know better than he does what the people want?
I just trust the artist.
How do you decide whom to trust?
Very, very, very carefully. In this day and age, everybody wants to talk spreadsheets and Google docs and algorithms and all this other crap. At least for me, I just go with my gut. We're doing a book now with Jenny Mollen. Is this a book I would've bought for myself if I saw it walking through Barnes and Noble? Hell no! No offense Jenny. That being said, her other books were successful, and she is a hard-working person. I know based on her first two books, it's going to be a good book and I know she's going to work her ass off promoting it. If the book bombs—which I know it won't—I will sleep well at night knowing I made a good decision.
This interview has been edited for length and clarity.