Gaming
Browse the latest news about Southern California's gaming startups and companies from dot.LA.
A group of activist shareholders is calling for Activision Blizzard's chief executive Bobby Kotick to resign after accusations surfaced that he concealed alleged sexual harassment and rapes at the company.

Washington, D.C.-based SOC Investment Group (formerly known as CtW Investment Group), wrote a letter to the Activision Blizzard board of directors on Wednesday demanding Kotick exit the company immediately.
"After the new revelations, it's clear that the current leadership repeatedly failed to uphold a safe workplace — a basic function of their job. Activision Blizzard needs a new CEO, board chair, and lead independent director with the expertise, skill set and conviction to truly change the company's culture," said SOC Investment Group executive director Dieter Waizenegger.
"Activision has become a case study for how disregard for workers' wellbeing and human capital management can put company performance at risk."
Activision didn't immediately respond to dot.LA's request for comment.
SOC is the investing arm of the Strategic Organizing Commission, a group of unions that represent over four million workers with investments over $250 billion.
Last month an outcry from investors at SOC prompted CitiBank to agree to an audit of how it may contribute to discrimination and to announce it would commit $1 billion to organizations working to close the racial wealth gap. SOC is also an outspoken investor in newly public electric vehicle firm Rivian and Electronic Arts.
The demand comes in response to a Wall Street Journal report that Kotick knew of alleged sexual harassment and rapes that took place at the company three years ago but failed to discipline any culpable employees or inform the board of directors.
Kwame Bell, a spokesperson for SOC Investment Group, said it owns 3.8 million shares in Activision.
The group also advised Activision's board Chairman Brian Kelly and Robert Morgado, the board's lead independent director, to resign by Dec. 31, "in order to ensure that the board has leadership capable of leading this effort" to reform Activision's company culture.

Read the four-page letter in its entirety here.
Waizenneger added that the growing number of employees reporting harassment or assault — reports Activision admitted in an October letter to employees are increasingly frequent — are proof of "leadership failures and lack of board oversight."
Activision employees have been organizing under the moniker A Better ABK (ABK being a shortened version of the game publishers' three divisions, Activision, Blizzard and King) and this morning circulated a petition demanding Kotick's removal that gained over 500 signatures from current workers and contractors.
The group has been a vocal critic of Activision for awhile now, and has written similar missives to them urging the board of directors to stop giving Kotick bloated performance-based bonuses.
SOC also wrote Activision in August calling for Morgado to step down and be replaced by a woman or woman of color by the end of this year, and urging the mostly male board to commit to gender balance on the board by 2025.
"We call on Mr. Kotick to resign as CEO of the company, and on the board of directors to take responsibility for failing to recognize and address what the California Department of Fair Employment and Housing has described as a 'frat boy' workplace culture to flourish," SOC Investment Group wrote in the letter.
From Your Site Articles
Related Articles Around the Web
Back when the video game channel G4 TV launched on cable in 2002, Twitch was nine years away from existing and the concept of creating programming exclusively for gamers, by gamers was basically unheard of.
At the time, the channel captured an audience with popular shows like "Attack of the Show!" and "X-Play," a game review show with comedy skits, but it didn't last.
Originally created by former Disney president Charles Hirschhorn, G4 was a Comcast property that was eventually licensed out to Hearst Corp. but plans to integrate it into the company's Esquire lifestyle content fell through. By 2014, with ratings low and its fan base seen as too niche, cable providers began to drop G4 from coverage. It finally stopped airing in 2014.
Seven years later, G4 is back.
Just as streaming services have made advertisers rethink the value of so-called niche audiences, Comcast is resuscitating the channel. G4 hits screens as more and more people are playing video games (thanks in part to the pandemic, which caused people of all ages to become gamers during lockdowns).
The rising player base is also spending more, making the industry more valuable than film and TV combined. According to analysts at NPD Group, U.S gamers spent $13.3 billion in the third quarter this year, up 7% annually. That's the highest quarterly spend NPD's ever recorded, and it's on track to keep climbing.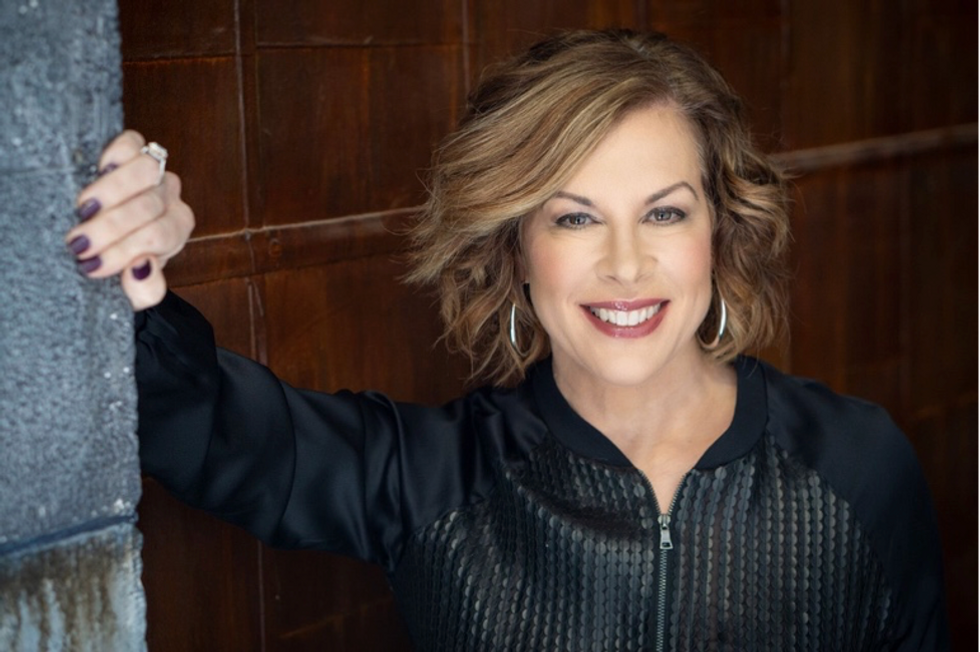 G4 President Russell Arons
"G4 in its original version was almost legitimizing something that most people didn't even want to acknowledge, right, that gaming and fandom is a lifestyle and can be celebrated," G4 president Russell Arons said. "Fast-forward to today and there's a lot of outlets in that space, but the G4 approach is really… fun, irreverent, with an ensemble cast of really authentic personalities."
G4 will bring back "Attack of the Show!" and "X-Play," for a reboot with their original hosts (Kevin Pereira and Adam Sessler). Actress Olivia Munn was originally an "Attack of the Show" co-host, but despite rumors she won't be returning for the reprisal.
Other shows in production at G4's Burbank studio include "Boosted," which will break down esports news and matches for casual fans, a show hosted by popular YouTuber Scott the Woz and a "Dungeons and Dragons" themed show called "Invitation to Party."

Arons told dot.LA the plan is to add more shows in the coming months "to really round out G4 As the place for gaming and fandom."
While the original G4 was carried on by NBCUniversal on cable, this new version is a hybrid of linear and online streaming content. It will broadcast a series of TV shows focused on gaming culture on cable channels including Verizon FIOS, Xfinity, Philo and Cox, as well as on YouTube and Twitch, which it has a multi-year promotional and commercial deal with. G4 currently has roughly 520,000 subscribers between its Twitch and YouTube channels.
G4's network is now owned by Comcast Spectacor — Comcast's sports-focused business arm which also owns an esports team, the Philadelphia Fusion.
G4 chief revenue officer Josh Cella told dot.LA the network plans to use that synergy to make content and ink brand deals focused on esports, which the original G4 channel never could before.
"To be a part of Comcast NBCU is obviously a major advantage for us," Cella said. "When we think about distribution and linear cable, that's going to naturally just inherently skew a little bit older, but there are tens of millions of gaming fans that fall within (an) older demographic that still have cable," Cella said. Where those fans are, even Cella couldn't pinpoint, but he knows they're out there.
Arons had ambitious predictions for G4's reach after rebooting. She said that at its peak, G4 recorded 65 million users, and it's expecting to launch to at least 70 million homes "because of that combination of linear and streaming." Arons added the network expects to add another 10 million households to its reach.
"I'm being conservative when I say that that 70 million figure is at launch, it could be much bigger," Arons noted.
Having a Twitch and YouTube presence is key for G4, but it remains to be seen if its audience will also tune in on actual televisions. A March Pew Research poll found that only 34% of Americans aged 18-29 get TV via cable or satellite TV, down 31% from six years ago. And less than half of people aged 30-49 are using cable — roughly 46%.
"When we think about distribution and linear cable, that's going to naturally just inherently skew a little bit older, but there are tens of millions of gaming fans that fall within (an) older demographic that still have cable," Cella said.
When G4 first debuted, its brand was a lot like MTV's awkward, geeky younger cousin – it attracted gamers by leaning into the stereotype that gamers were awkward and offbeat, and brought comedy to gaming content before most YouTube gaming channels did.
"The difference between now and the previous era of G4 is that there are a lot of brands that want to find their way in this space," Cella said. "I would tell you that it's not going to take us long to be profitable," he said, adding that he expects advertising to be "one of the main areas of revenue" for G4, which at first won't charge a subscription fee for content.
From Your Site Articles
Related Articles Around the Web
Employees at game publisher Activision Blizzard are planning to walk out once more after a bombshell report from the Wall Street Journal Tuesday detailed new assault claims and alleged that CEO Bobby Kotick was aware of a rape settlement at an Activision-owned studio nearly five years ago but refused to report it to the board of directors.
Shares of Activision slid more than 5% after the news broke.
The Wall Street Journal's Nov. 16 report said that in July 2018, a lawyer for a female employee working for Sledgehammer Games (the Activision-owned studio responsible for work on several games in its hit "Call of Duty" franchise) approached Activision and Kotick with a complaint of an alleged rape.
The employee said she had been raped in 2016 and 2017 by a male supervisor after being pressured to drink excessively at work events. The accuser's lawyer Harmeet Dhillon said in internal documents viewed by the Journal that the supervisor's name was Javier Panameno, who Activison fired two months after executives received word of the incident in 2018. The Journal also reported insider sources told them Activision settled this out of court, but that Kotick didn't tell the board of directors about the incident at all.
The scathing Wall Street Journal article also reported that Kotick protected Dan Bunting, the co-head of Treyarch, an Activision studio that works on "Call of Duty" games, who was accused by a female coworker of sexually harassing her in 2017 after "a night of drinking."
According to the Journal, Activision's HR department launched an investigation into Bunting in 2019, and urged he be fired, but Kotick "intervened to keep him" and Bunting was allowed to remain at the company partly because he led production on several blockbuster "Call of Duty" games. Bunting's LinkedIn profile indicates he left Treyarch this month after over 18 years with the company.
Walkout 2.0
Hours after the report was published, employee activists behind the group ABetterABK (an informal alliance of workers trying to organize for better treatment) posted on Twitter to say they were planning another walkout. Employees walked off the job in July to protest the company's "frat bro" culture and demand changes to its forced arbitration policies.
"We have instituted our own Zero Tolerance Policy. We will not be silenced until Bobby Kotick has been replaced as CEO, and continue to hold our original demand for Third-Party review by an employee-chosen source. We are staging a Walkout today. We welcome you to join us," the ABK Workers Alliance account tweeted Tuesday morning.
The "zero tolerance policy" line is a reference to a letter Activison sent to employees in mid-October after disciplining 20 employees and firing 20 more for misconduct. In the letter, Blizzard Executive Vice President for Corporate Affairs Frances Townsend said the company wouldn't tolerate retaliation for reporting misconduct and promised to invest more resources in training. Read that letter in its entirety here.
In a company statement provided via email by corporate spokesperson Rich George, Activision said, "We are fully committed to fostering a safe, inclusive and rewarding environment for all of our employees around the world. We support their right to express their opinions and concerns in a safe and respectful manner, without fear of retaliation."
The "World of Warcraft" publisher addressed the article in a statement posted to its website that appeared to attempt to discredit the Journal's reporting — it also said the Journal "ignores important changes underway" at the company.
"We are disappointed in the Wall Street Journal's report, which presents a misleading view of Activision Blizzard and our CEO," the statement read. "Instances of sexual misconduct that were brought to his attention were acted upon. The WSJ ignores important changes underway to make this the industry's most welcoming and inclusive workplace and it fails to account for the efforts of thousands of employees who work hard every day to live up to their and our values."
Kotick is one of the highest-paid public company leaders. His pay package was worth $154 million in 2020, though he recently asked the Activision board to reduce his pay to the legal minimum, $62,500, and said he would no longer take bonuses.
Activision is still under a U.S. Securities and Exchange Commission investigation, which is looking into how allegations of sexual harassment were handled by company executives. The company employs about 10,000 people worldwide.
In September, Activison paid $18 million to settle another similar lawsuit filed by the Equal Employment Opportunity Commission.
Drinking on the job is a frequent accusation against Activision. In an earlier lawsuit filed in July by the California Department of Fair Employment and Housing it was alleged that female employees were frequently groped by male employees who were drunk and on "cube crawls," where they'd drink "copious" amounts of booze and crawl on the ground to various cubicles where they'd then grope women and "engage in inappropriate behavior."
In a separate statement posted today, Activision's board of directors said the firm "remains committed to the goal of making Activision Blizzard the most welcoming and inclusive company in the industry. Under Bobby Kotick's leadership the Company is already implementing industry leading changes including a zero tolerance harassment policy, a dedication to achieving significant increases to the percentages of women and non-binary people in our workforce and significant internal and external investments to accelerate opportunities for diverse talent. The Board remains confident that Bobby Kotick appropriately addressed workplace issues brought to his attention."