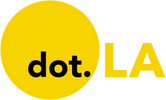 Get in the KNOW  
  on LA Startups & Tech  
X
Creator Economy
Come browse the latest news about the creator economy in Southern California from dot.LA.
Image courtesy of Vidcon
This is the web version of dot.LA's daily newsletter. Sign up to get the latest news on Southern California's tech, startup and venture capital scene.
Within minutes of walking into the Anaheim Convention Center on Thursday, I found my path blocked by a teen filming a TikTok dance—the first of many I saw throughout the day.

TikTok's fingerprints are all over VidCon, the 12-year-old annual convention centered around the booming creator economy and ever-growing realm of digital video content. That was evidenced by the teens wearing TikTok couture and the Culver City-based company's new role as the event's official sponsor. So many creators wore bright pink ensembles that one might have thought they'd stumbled onto the set of Greta Gerwig's "Barbie" movie.
And yet, many of the TikTok creators who have actually made it to the big screen—or at least parlayed their success on handheld devices into bigger, more lucrative platforms—were notably absent. Sure, the two creators currently racing for the most TikTok followers—Charli D'Amelio and Khaby Lame—both had scheduled events at VidCon this week, as did Brittany Broski. But the likes of Addison Rae, Loren Gray and Bryce Hall are among the big viral names who have opted to skip the proceedings.
At a panel that explored TikTok's impact on the entertainment industry at large, Bryan Thoensen, the company's head of content partnerships, noted that more creators are seeking opportunities outside of the app—with Hollywood agencies and production studios alike looking to tap into this growing talent pool.
"These entities are constantly asking, 'Who's on the precipice? Who's next?'" Thoensen said. "We work very closely with helping those creators to springboard into the next big thing for them."
Thoensen cited Tabitha Brown, who signed with CAA in 2020 and released a book last year, as emblematic of the heights that TikTok creators can reach—and sure enough, Brown isn't attending this year's TikTok-branded VidCon. Neither are Emily Uribe or Juju Green, whom the Academy of Motion Picture Arts and Sciences' vice president of digital marketing, Meryl Johnson, credited on Thursday for the success of TikTok's Oscars red carpet livestream this year. In fact, only a few of the TikTok stars name-dropped throughout the panel, such as Reece Feldman, had planned VidCon appearances.
With major entertainment industry stakeholders like the Academy now elevating TikTokers to larger platforms—and TikTok itself helping to forge such connections, according to Thoensen—it's no surprise that many of the app's top creators are now looking beyond TikTok, especially given its relatively limited monetization opportunities. So while investors are eyeing the creator economy closer than ever, it appears many TikTokers are now looking beyond the world of VidCon for their "next big thing." — Kristin Snyder

Photo by Kristin Snyder
The creator economy is the bedrock of this week's VidCon convention, which is drawing creators, companies, investors and fans alike to Anaheim to discuss the rapidly growing realm of digital content and entertainment.
To discuss how investors, in particular, are viewing the booming creator landscape, Thursday's "Betting Big on the Creator Economy" panel featured the likes of MaC Venture Capital partner Zhenni Liu, Investcorp managing director Anand Radhakrishnan, Team8 Fintech managing partner Yuval Tal and Paladin co-founder and CEO James Creech.
Liu said that her Los Angeles-based VC firm is paying closer attention to the influence that creators are having on how consumers spend their time and money. She cited the recent "healthy Coke" viral trend, in which people mix balsamic vinegar and seltzer water as a soda alternative, as an example—citing how the number of people who have viewed the original TikTok video that set off the craze surpasses the Coca-Cola TikTok account's number of followers.
This growing influence stems from the surging number of creators, Radhakrishnan said. With the pandemic forcing many to reconsider their career paths, he said people now view content creation as a legitimate professional route—quipping that these days, more children want to be YouTube stars than astronauts.
"As an older person, I thought this was the downfall of Western civilization," the Investcorp managing director said. "At the end of the day, I think it reflects that this is real—and as an investor, we're looking at ways to invest in the next great economies."
Creech said that the growing creator sector rests on three main pillars: content creation, audience growth and monetization. The constant evolution of creator platforms does present a challenge for investors, however, with Liu noting that more creators are looking to Web3 as an alternative to traditional outlets often offering a smaller slice of revenues.
"As a result, we're seeing creators who can't figure out how to build their audience, monetize and distribute," Liu said. "With Web3, this opens up a new opportunity. There's a lot of chaos, but chaos provides the opportunity for creators to rise up."
Additionally, the shift toward short-form content means that more investment dollars will be redirected away from longer-form shows and films, Tal observed. And even with an increasingly likely recession on the horizon—one that already appears to be hitting the creator economy, as well as the wider tech, startup and venture capital sectors—Tal and the other panelists remained optimistic about the creator economy's prospects moving forward.
"It is almost winter-agnostic," Tal said. "The shift [toward the creator economy] is so massive that no [economic] winter can slow it down."
Social media giant Snap is launching an accelerator program to support emerging Black creators.
The Santa Monica-based company announced Thursday that it will pay 25 selected applicants $10,000 per month for one year. The creators will get to beta-test new features and receive mentorship to help them succeed on the Snapchat platform.
"Black creators face unique systemic barriers across the creator industry—from disparities in compensation and attribution, to toxic experiences and more," the company said in a blog post. "We believe one of the ways we can help remove some of those barriers is to provide mentorship and financial resources to emerging Black creators in the early stages of their professional career."
Other major social media and content platforms have also launched programs to support creators from traditionally underrepresented backgrounds. Earlier this year, YouTube picked 135 creators to support financially and through workshops and networking opportunities, while Meta has a Black Gaming Creator Program that backs gamers using Facebook. Such programs are beneficial to the tech giants themselves, too, as they try to lure popular creators to their platforms.
Snap's new accelerator is part of its 523 initiative, which aims to support underrepresented companies and creators. The social media company also runs a startup accelerator called Yellow, which hosted a demo day on Wednesday for tech founders to pitch their businesses to investors. (Disclosure: Snap is an investor in dot.LA.)