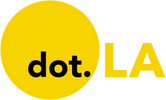 Get in the KNOW  
  on LA Startups & Tech  
X
Diversity in Tech
Come browse the latest news about diveresity in technnology in Southern California from dot.LA.
Photo Courtesy of Megan Holston-Alexander
On this episode of the L.A. Venture podcast, A16z Partner Megan Holston-Alexander, who heads the company's Cultural Leadership Fund (CLF), discusses how she uses her network to bring Black leaders to the tech space, as part of an effort to help build generational wealth in those communities.
One of the most influential venture firms around, A16z, also known as Andreessen Horowitz, has $33.3 billion in assets under management. Its Cultural Leadership Fund has two main missions: "connecting the world's greatest cultural leaders" with the best technology companies and getting young African Americans interested in tech.
Holston-Alexander's team focuses on bringing Black athletes, entertainers, musicians and C-level executives — that she labels as "cultural leaders" — into the tech industry. "And CLF gets to provide an on-ramp to that," she said.

Black culture informs many of the trends in tech, Holston-Alexander said, but the industries that benefit from those trends don't always reflect the communities that are on the vanguard—be it in music, fashion, ecommerce or elsewhere.
"And what we wanted to do is transform that and convert that cultural leadership, quite frankly, into ownership into these companies," Holston-Alexander said. "It's really great that we're on the front line of the greatest dancing trends, etc. But how do we get ownership in the things that we're, quite frankly, helping build in the background?"
So far, A16z's CLF has invested in 300 startups through its first two funds and recently announced Fund III.
Adding value to these investments can mean reaching out to cultural leaders for positions that A16z-funding are looking to fill, or working with Black executives, celebrities or innovators who are interested in a particular field in tech, and making introductions to the companies working in that space.
"We'll go and tap into our network and say, 'Who do we know that fits into [a startup's] need?," she said. The CLF works to make the introduction.
She added that the new fund has been selective with the limited partners (LPs) invested in it. They're looking for Black LPs who are not only cultural leaders but who are also engaged and deeply interested in the areas the CLF has targeted.
"The age of the disengaged celebrity investor is over, right?" she said. "Very early on, it was okay to just kind of lend your name to things right to help kind of help things blow up."
Now, the CLF wants to make sure funders are invested intellectually as well as financially.
"We'd rather bring somebody into the fund to maybe write a smaller check, but [who] is more willing to engage and pick up the phone when a founder calls."
Holston-Alexander grew up in Montgomery, Alabama—one of the centers of the Civil Rights Movement, where Dr. Martin Luther King Jr. established his church and Rosa Parks refused to give up her seat on the bus.
"This concept of civil rights and equity has been in the water that I drink since I grew up as a child," she said. "And even in 65 years, when you think about progress, when it comes to income and wealth, and generational things being passed down, there hasn't been much change."
Her background informs her work at the Cultural Leadership Fund, she said — in particular her focus on bringing young Black workers and entrepreneurs into the industry.
"We have seen technology really, in the last 20 years, become a source of wealth generation, and one of the clearest paths to wealth generation," she said "And so we want to be sure that we're tapping into that, and getting people into this industry early."
Engagement and Production Intern Jojo Macaluso contributed to this post.
Click the link above to hear the full episode, and subscribe to LA Venture on Apple Podcasts, Stitcher, Spotify or wherever you get your podcasts.
Courtesy of Amy Liu
On this episode of the Behind Her Empire podcast, host Yasmin Nouri sat down with Amy Liu, the founder and CEO of Tower 28, an affordable, irritant-free beauty brand.
Before starting her own beauty brand, Liu worked as an executive for some of the biggest names in beauty: Smashbox, Kate Somerville and Josie Maran Cosmetics. Yet Liu, who has eczema, couldn't use the products she had a hand in promoting.
The experience would inspire her to create an affordable beauty brand that is mindful of skin tones and textures, vegan and free of every known skin irritant.
A native Minnesotan, Liu is the child of immigrants. From a young age, she imagined herself following in her father's footsteps by becoming an entrepreneur.
"My dad really loved what he did. But he felt all of it, you know, the highs and the lows," she says, "So I think I have this background of seeing it, wanting it. … And then instead I think my answer was just to prepare for [risk]."
But when it was time to go to college, Liu felt lost.
"I had this idea of entrepreneurship," she says, "That didn't really exist in a way that felt like it was achievable."
Her cousin, a Harvard graduate, recommended majoring in consulting – but Liu knew her heart was not in it. Instead, she went to business school.
Yet it was only after working for other companies that she began to put her master's degree in entrepreneurship into practice. By the time she founded Tower 28, she was 40, married, with three kids in private school and a mortgage.
"I think what really did happen was I got an opportunity, and… it felt like it would be crazy if I didn't chase it."
Despite founding a clean beauty line that offers a wide range of skin tones, Liu would not consider herself a "makeup junkie."
So, what motivated her to create a beauty brand that is vegan and free of every known skin irritant? The ability to see her product make others happy and confident.
"I think the thing I really love about makeup is makeup makes people happy. And it makes them feel more confident about themselves," she says. "And I genuinely do believe that if you feel more confident, the way that you walk through the world is different. And your ability to do things and approach life is changed."
Engagement and Production Intern Jojo Macaluso contributed to this post.
Hear more of the Behind Her Empire podcast. Subscribe on Stitcher, Apple Podcasts, Spotify, iHeart Radioor wherever you get your podcasts.
From Your Site Articles
Related Articles Around the Web
Image by Ness Smith-Savedoff
On this episode of Office Hours, Spencer speaks with entrepreneur and venture investor David Beatty. Beatty is the managing partner and co-founder of Gaingels, an LGBTQIA+ investment syndicate aimed at fostering social change through their investment portfolios by creating a more diverse, inclusive and accessible venture capital ecosystem.

Their conversation was recorded at the Milken Institute Global Conference on May 2, 2022.
Beatty moved to the United States in 1990, where he started several successful businesses, including one involved in now-ancient fax and Telex technology. He retired in 2006, became an angel investor and eight years later, he decided to focus his investing efforts.

"In 2014, I started Gaingels with my co-founder, Paul [Grossinger], because there was nowhere for us as gay men to be able to invest in our own community," he said.
The syndicate started out as "a group of mostly gay men, investing in mostly gay men," Beatty said, adding that it has since expanded to include investors from a number of backgrounds, with the aim of promoting greater diversity to the startup and venture capital worlds.
Beatty argues that Gaingels' commitment to diversity, equity and inclusion goes beyond the obvious moral considerations — it's sound business.
"It's not that it matters because it's the right thing to do," he said. "It matters because companies like McKinsey and organizations like Harvard University have done so many studies that say that companies with diverse management teams and diverse boards fiscally outperform companies that don't."
The organization's structure — it's a syndicate, not a fund — is crucial, he added. For every potential deal, Gaingels receives an allocation from the prospective company's CEO, which can depend on the stage of the deal.
"And then we bring it to our members, and our members choose which deal that they wish to invest in," he said. "And we put together a special purpose LLC for that. And then we do the work to enable that LLC to make that investment."
Gaingels' membership has since expanded to 2,700, and the organization has invested in thousands of companies, according to its website. Pitchbook and CrunchBase have both recognized it as the among the most active venture capital firms in 2021, Beatty said.
"What it's doing is it's opening up this whole world of previously unavailable investment opportunities to individuals," he added. "And our focus is expanding the number of members we have to minorities from right across the board, not just the LGBTQ-plus community."
Prospective portfolio company CEOs are asked to sign Gaingels letter, of commitment to do certain things in their hiring and HR practices—for instance, considering a non-discrimination policy and pledging to seek out qualified minority candidates for every executive job opportunity—that put them on a good footing for hiring and supporting an inclusive staff.
"—which you may think is a very simple thing," Beatty said. "But when you know that you can get evicted from your house in 28 states in the United States just for being gay. These kinds of things actually matter when they come from companies."
Aside from access to capital, Gaingels portfolio companies get access to a more diverse set of investors and get to the syndicate's network of expertise and tools for hiring, including its jobs portal.
"We're now expanding that to use technologies with the partners who can bring in recruiters who can actually specialize in recruiting from minorities, so that we can actually provide more resources," Beatty added.
The goal, he said, is to make it as easy as possible for executives of their portfolio companies to hire qualified candidates from traditionally underrepresented groups.
"It's amazing to me how pretty much all of the top venture capital firms want us to be co investors on their cap tables, because of what we can help them focus on," he said.
Want to hear more episodes? Subscribe to Office Hours on Stitcher, Apple Podcasts, Spotify, iHeart Radio or wherever you get your podcasts.