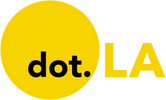 Get in the KNOW
on LA Startups & Tech
X
Diversity in Tech
Come browse the latest news about diveresity in technnology in Southern California from dot.LA.
Photo provided by Gritty In Pink
Shira Yevin's lifelong crusade against a male-dominated music industry began with a pink RV.
After attending the Vans Warped Tour in 2004 and seeing far too few women on the bill, the punk rocker decided to take matters into her own hands: She crashed the tour by parking a pink RV on the campus of Cal State Fullerton and performing on a makeshift stage with her band, Shiragirl. The impromptu show was such a hit that Warped Tour welcomed Yevin back to run an official "Shiragirl Stage," where female-fronted bands—including artists like Joan Jett and Paramore—performed in the following years.
Now, Yevin is taking an entrepreneurial approach to carve out more space for women in music. She's the founder and CEO of Los Angeles-based startup Gritty In Pink, which runs an online "marketplace network" that connects music industry professionals with female talent—from musicians and songwriters to engineers and producers. Having launched in beta earlier this year, the startup's InPink platform lets employers search for talent by skill and demographic.
"Businesses now know they need to find diverse women to hire—but they have no idea where to go to find them," Yevin told dot.LA.
Whether Gritty In Pink can help solve that imbalance remains to be seen—but what's clear is that there's still a huge gender disparity in the music industry that needs addressing. A recent University of Southern California-sponsored study found that there's been little to no improvement over the last decade in the number of women credited as artists, songwriters or producers on popular songs.
"Women's contributions are often dismissed or devalued," according to Katherine Pieper, program director at USC's Annenberg Inclusion Initiative, which conducted the study on women in music. "They're not given the opportunity to work on these songs, or when they are, their work is not being credited to them."
The USC study examined credits for 1,000 songs that landed on the year-end Billboard Hot 100 chart over the last decade. Researchers found that just 23.3% of artists on the annual chart were women in 2021—a marginal improvement from 22.7% in 2012. The report's authors blamed stereotypes around women and their abilities as well as the situations in which they must work, noting women in the music industry are often sexualized by their colleagues.
The music industry is not alone in these dynamics; the film industry has made little progress in addressing its own gender imbalance. Women made up only 25% of all directors, writers, producers, executive producers, editors and cinematographers working on top-grossing films in 2021, according to the latest study by the Center for the Study of Women in Television and Film at San Diego State University. That's an improvement of just 6 percentage points from 19% in 2015, and up only 8 percentage points from 17% in 1998.
"The findings of my research suggest that progress will be slow—evolutionary as opposed to revolutionary," Martha Lauzen, the center's director, told dot.LA.
But just as Gritty In Pink is trying to diversify the music industry's ranks, so are there startups now looking to bring more women into film production. Launched in 2018, L.A.-based Crewvie is a platform connecting film projects with production workers and vendors, with a focus on advancing diversity, equity and inclusion. Crewvie allows talent to create profiles that voluntarily self-identify their gender, race, sexual orientation or disabilities; productions can use Crewvie to hire such talent, track the composition of their crew and use demographic data to ensure they're eligible for awards and tax incentives.
"We see Crewvie as a resource for women and other underserved people to be found," co-founder and CEO Marcei Brown told dot.LA. "So there's no more excuses [like] 'I can't find'—because they're all collected here in one place."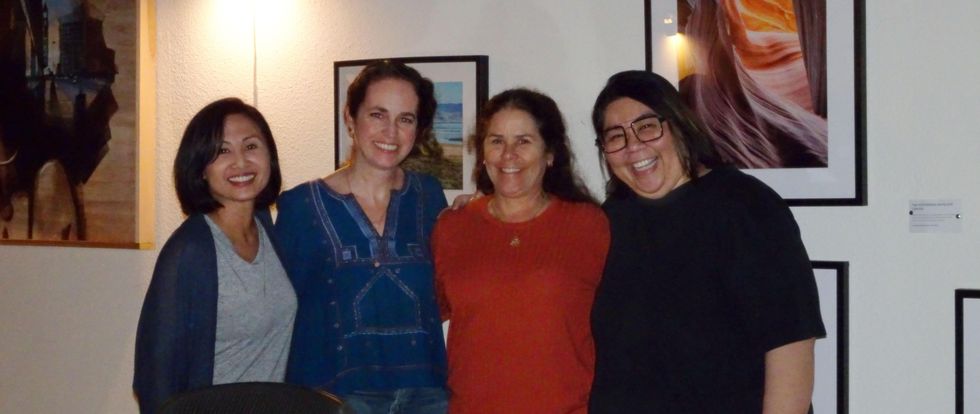 From left, Crewvie founders Sandra Jimenez, Jeanette Volturno, Marcei Brown and Camille Alcasid.Photo provided by Crewvie
Film studio Endeavor Content recently struck a deal with Crewvie to deploy the startup's software across all of its productions. YouTube productions use the platform as well, according to co-founder Jeanette Volturno. Crewvie charges rates ranging from $200 to $1,500 for individual projects, while rates for enterprise clients (such as film studios) depend on the number of people and projects expected to use it.
With less than 10 employees, Crewvie is currently looking to close a seed funding round, with eyes on a larger future funding round to expand the platform into other territories and languages. Crewvie is also considering an expansion into live events like theater productions, as well as a foray into the music industry, Volturno said.
Likewise, Gritty In Pink is still in its "baby stages," Yevin said, having raised $100,000 from Irvine-based Sunstone Management and the Long Beach Accelerator, with plans for a $1 million pre-seed round. The startup can count singer-songwriter Melissa Etheridge, of "Come to My Window" fame, among its supporters; Etheridge recently joined Gritty In Pink as a strategic advisor and has a stake in the company.
It also has dreams of expanding beyond the music industry, Yevin noted. "Our big vision is actually to become the global destination to hire female freelancers in every industry," she said.
Related Articles Around the Web
Photo courtesy of Kathryne Cooper
On this episode of the LA Venture podcast, Kathryne Cooper introduces Jumpstart Nova, a new $55 million fund investing in seed and Series A companies led by Black founders who are focused on health care innovation.

Cooper, an L.A.-native, previously managed an accelerator that made over 150 investments into medical technology companies. She's a graduate of Stanford and went to medical school at USC. Later, she would return to the school to get her MBA while working at health tech startups.
Jumpstart's other partner, Marcus Whutney, works out of Nashville and created the fund in the aftermath of the George Floyd protests and the discussions about racial inequities they prompted. Cooper said the events made Whutney think about health inequities "and specifically his position of power as the only Black VC in Nashville."

The pandemic was another wakeup call about the disparities in the health care system, especially for people of color, said Cooper.
"There are disparities in our health care system, in terms of health care outcomes affecting communities of color," Cooper said. "And data has emerged as the disparities in health care outcomes for those who had COVID-19, adversely affecting Black and brown patients—even independent of comorbidities."
Cooper said research has found that the health care industry, like many others, chronically under-invests in Black and brown leaders.
"Because health care is here to impact and improve patient lives, [...] sometimes it can get a pass for other things—like not being particularly diverse, or having a lack of executives who are women and people of color at certain levels in health care organizations," she said.
But Jumpstart doesn't limit its focus to companies working on health care disparities. It also invests in founders focused on a range of health issues.
"Just because you are a founder of color, or woman, or in this case, let's say Black founders, that doesn't mean that your solution needs to solve a health equity issue. It can also solve issues for all patients," Cooper said.
Jumpstart Nova looks at a wide range of opportunities within health care—everything from tech enabled services, biotech, health IT to diagnostic devices.
If she comes across a promising startup, Cooper said she will often reach out to their strategic limited partners, which are made up of some of the nation's leading health care companies, including Cardinal Health, the American Hospital Association, Atrium Health and Eli Lilly, among others.
"When we're looking at companies to invest in, we also want to see if there's some way that they may also fit into an ecosystem related to our strategic limited partners," she said.
Cooper hopes that Jumpstart Nova's focus on under-invested founders can also help spur other investors and VCs to look at the type of founders they're investing in.
"If they all kind of over-index in one area, [then they might] ask themselves why that is. Is it a network issue? Is it that you are tending to overlook these founders? You know, I don't know what the answer is. But I encourage people to kind of look at the data and see what it says to you," said Cooper.
Hear the full episode by clicking on the playhead above, and listen to LA Venture on Apple Podcasts, Stitcher, Spotify or wherever you get your podcasts.

dot.LA Engagement Fellow Joshua Letona contributed to this post.
From Your Site Articles
Related Articles Around the Web
Courtesy of Christina Stembel
From her one-bedroom apartment, Christina Stembel grew her local flower delivery service to a company that delivers nationwide.
On this episode of Behind Her Empire, the founder and CEO of Farmgirl Flowers discusses growing up in rural Indiana, overseeing a company without investors and finding creative solutions to obstacles.
Stembel's family wanted her to stay local to their farm, but she said she knew that wasn't the path for her. She left the farm after high school and eventually found herself working in hospitality in San Francisco. Seeing people in the city manage their own startups inspired her to consider her own business path, and she considered hundreds of ideas before landing on Farmgirl Flowers.

When it launched, the company offered just one daily bouquet. It has since grown to offer up to 40 arrangements at a time.
Stembel had no experience in the floral industry, and she soon discovered how difficult it could be to work with highly perishable products. Everything from heatwaves to shipping issues impacted the flowers, and she had to familiarize herself with potential roadblocks as she placed orders months in advance.
"I think it's really important especially for women to hear that they don't have to be the cliche story of, 'Oh, you're so lucky you turned your hobby into a business,'" she said. "You can be intentional about wanting to be an entrepreneur and start a business."
Stembel said she used to regret not going to college; investors often could not see past her lack of a degree. She had to pull from her own savings to fund the company, which is still completely bootstrapped.
Now, she said she values her experience having to foster her own intellectual curiosity and drive outside without the prompting of an academic institution, adding that perspective helped grow both her understanding of her industry and her creative approach to the business.
"I think we need to get out of this mindset that success equals funding," She said. "It was the most freeing moment that I've had since starting Farmgirl."
Hear more of the Behind Her Empire podcast. Subscribe on Stitcher, Apple Podcasts, Spotify, iHeart Radio or wherever you get your podcasts.
dot.LA editorial intern Kristin Snyder contributed to this post.
From Your Site Articles
Related Articles Around the Web