lausd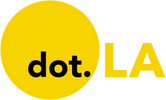 Get in the KNOW
on LA Startups & Tech
X
lausd
In the sprint to remake education during the pandemic, Los Angeles Unified School District armed half a million students with internet and devices to stay connected, but experts and parents said that its efforts to teach online sometimes fell short and left students behind.
Parents complained of edtech apps that were hard to hear in some cases or ones that were so cumbersome their children avoided them altogether. Some were age inappropriate, being used for elementary age students who had a hard time navigating them.
dot.LA spoke with a half a dozen parents and teachers about the district's effort to build thousands of virtual classrooms across the sprawling district.
Records obtained by dot.LA show the district spent $390 million in emergency funds for its COVID response from March 2020 to April 2021. More than half was spent on tech like laptops, tablets and hotspots and a lab to process COVID tests. Included in that is $23.4 million in spending on several licenses for edtech apps like Edgenuity, Discovery, Rosetta Stone, Blackboard and Edpuzzle.
While many of the edtech apps the district purchased helped students learn, some parents said others were boring and caused frustration.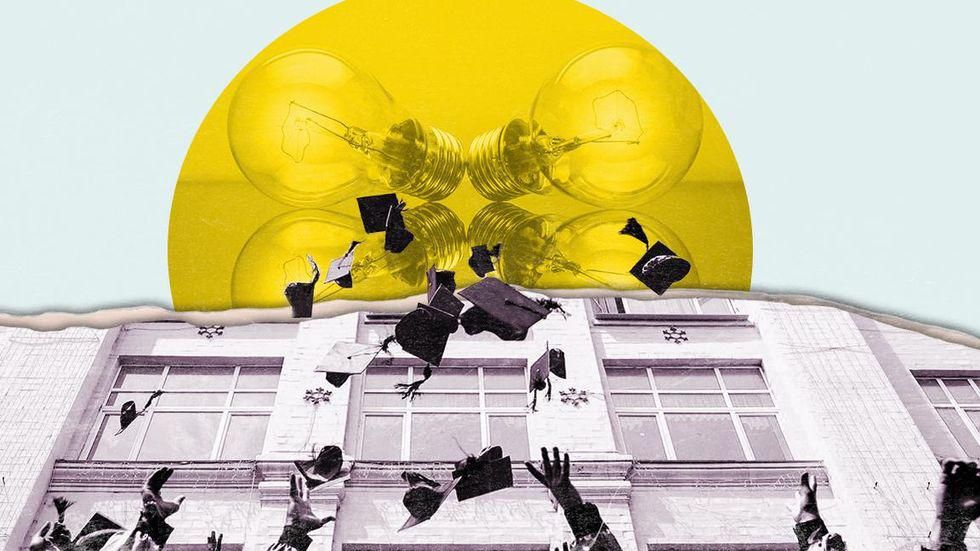 One parent group gave its own training for parents to help their children connect to their online classes.
The district has not responded to inquiries from dot.LA about their process. But experts said in the speed in which the process took place what was often left unanswered was how the district chose educational apps.
"As an educational technologist, I am in favor of resources being spent on technology. However, there needs to be a transparent process in place," said Tim Green, a professor of educational technology at California State University Fullerton.
An LAUSD spokesperson said the district sought input from teachers and administrators, surveying more than 11,000 people to determine which apps were being used and preferred by educators. The apps were also evaluated to determine whether they met California's curriculum standards and student data privacy policies.

The spokesperson said professional development for the apps was offered to teachers. And resources were available for parents, including a hotline established to provide consultations with live agents. The agents helped families learn how to use tech and virtual apps.
There remain questions about how the district determined which apps to purchase, including whether teachers, parents and students were involved in the decision-making and whether the district provided professional development to help teachers navigate these apps.
But several parents said they were left on their own to help their kids with their assignments at home using these tools.
Parent advocacy organization SpeakUp stepped in and conducted training for parents on how to use Zoom and other tech. They did this because many low-income parents had never accessed the technology before and in many cases didn't speak English, causing huge barriers to navigating the technology, SpeakUP spokesperson Jenny Hontz said.
"We walked parents through that step by step, but the district did not put many resources toward tech proficiency training. And we were only able to help a limited number of parents with our resources," she said, adding that the group had no funding for this.
Hontz said the district spending on devices and hotspots was essential.
Sonia Sanchez, who has three children in LAUSD schools, said an app called Newsela, which helps students with reading comprehension using news articles, was particularly helpful and enjoyable for her kids.
But, she added, Edgenuity was just the opposite.
Sanchez said her son in high school would postpone anything that had to do with Edgenuity, an online curriculum software for K-12 students, because it was going to take him a long time to get through it.
"They dreaded it," she said of all of her kids.
She said the app is educational and has informative lessons, but for her younger children, it was dull. Moreover, she said teachers didn't follow up with their students about what they learned because the entire lesson and assignment was built into the program. Sanchez said she was lucky enough to be able to sit down with her children as they went through lessons to help because she works part-time from home.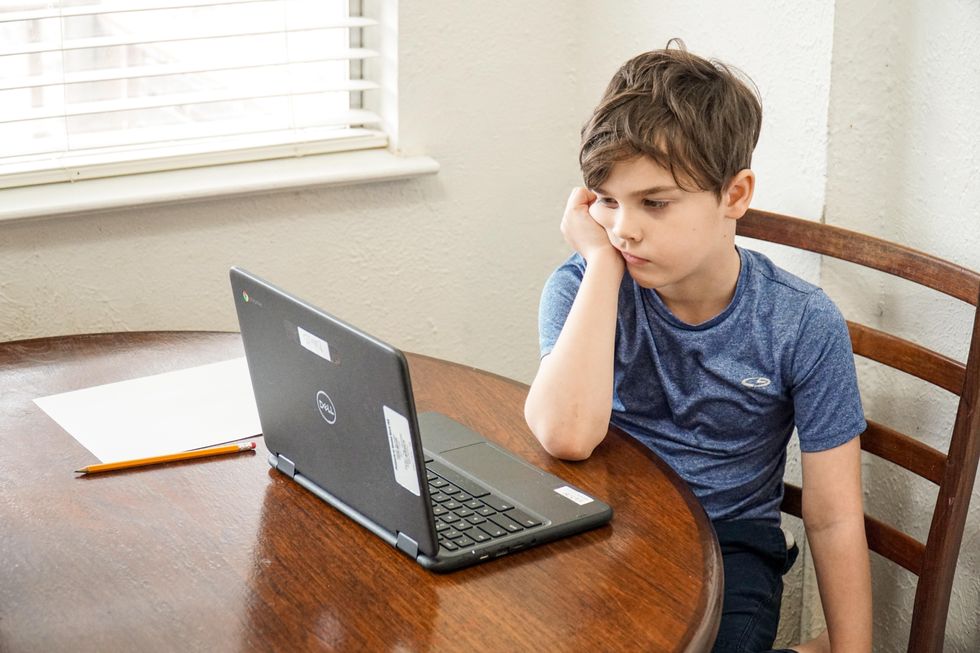 Edgenuity is used by school districts across the nation. A BuzzFeed investigation found that during the first year of the pandemic, more than 500 public school districts purchased the Arizona-based company's software, signing contracts that totaled $145 million.
Deborah Rayow, Edgenuity's vice president for instructional design and learning science, told NBC News that its software wasn't designed for the pandemic and it's up to schools to give live instruction.
LAUSD has been using Edgenuity for years for students to make up courses they didn't pass, known as credit recovery. During the pandemic, teachers turned to it as an online teaching platform.
In August, Meghan Gohil enrolled his son in the district's online independent study program through a district school named City of Angels. It was the only way Gohil could keep his 11-year-old son, who can't get vaccinated, enrolled in the district and learning at home. State legislation prevented school districts from holding Zoom classes similar to what was offered when campuses were closed.
"As much complaining as everybody did about Zoom, it was far superior to what they're doing now," Gohil said.
Edgenuity is the program used by City of Angels to facilitate online learning. Gohil and his son came up with a list of problems they've encountered with the software from poor sound quality on some videos to its focus on the amount of time a student has spent on a lesson rather than comprehension.
When asked whether he's going to re-enroll his student at his regular school in Sherman Oaks after his son is vaccinated, Gohil said, "Hell yeah."
He said it looks like his son, normally a straight A student, is going to get a B this semester.
Students across the nation ended the pandemic school year behind. A study by McKinsey & Co. found that elementary students ended the 2020-21 school year four to five months academically behind. And the findings were more dire for Black and Latino students.
In a statement, Edgenuity said it experienced challenges as it quickly scaled to accommodate many more students than it initially expected.
"But in every case, we recognize our role as education and curriculum partners for our school customers comes with great responsibility, and that's why we have worked with our stakeholders to learn from the last academic year and distill those valuable lessons and insights to inform how we have worked with schools as we entered this third interrupted school year," the company said.
It also said it directly worked with LAUSD to provide tools, resources and support.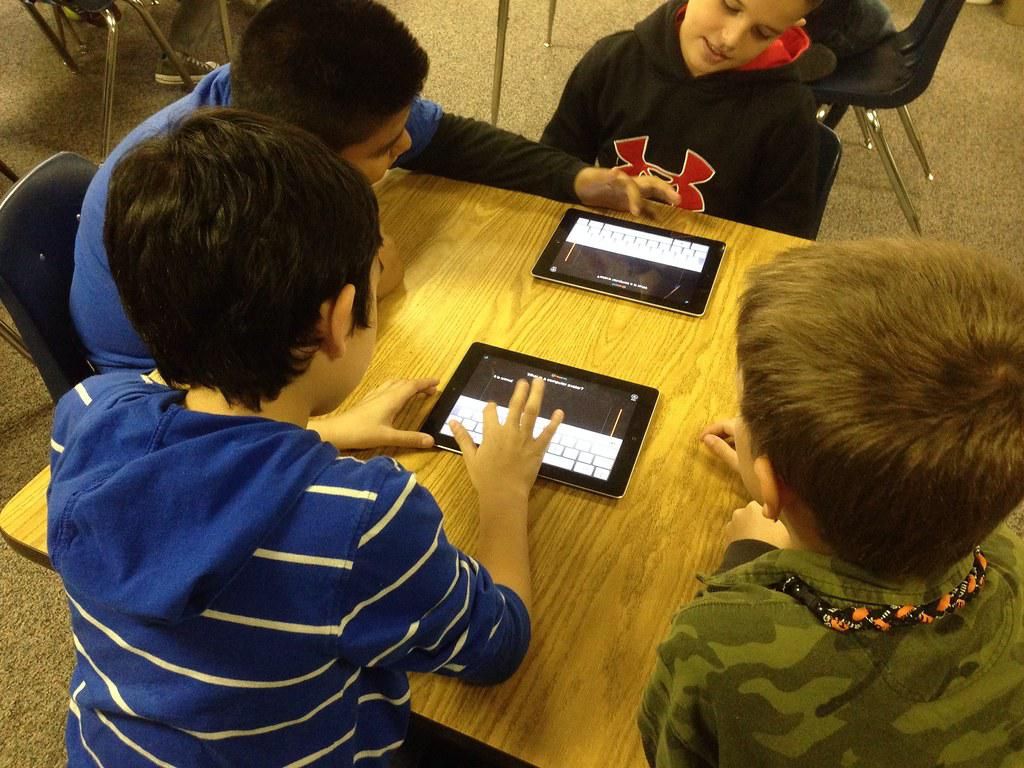 Gayle Bigyan said her daughters who are in 5th and 6th grades have had positive experiences with edtech apps, including Newsela, Nearpod, Amplify and XtraMath.
"Both of my daughters' reading comprehension, analytical thinking have gotten a lot better because of those platforms, because they used them every day," she said.
She said her fifth grade daughter is now at the top of her class and Bigyan credits the apps in part for getting her there.
She wants teachers to continue using technology even as classes are now in-person.
Teachers also said they also found apps like Newsela and Nearpod beneficial.
Parent Rebecca Cunningham said she wasn't surprised the district spent millions on tech, but she wants the district to be thoughtful on what it will spend going forward.
"Sometimes you throw everything against the wall and see what sticks," she said. "But we need to make sure that we don't just renew those contracts just because. But, instead, we really need to evaluate and find out from the teachers what they are actually using, and what they know how to use."
IXL Learning announced last week LAUSD has renewed its contract with the edtech company, which is used to supplement math and English lessons. The terms of the deal were not disclosed.
The LAUSD spokesperson said it will evaluate which apps it will continue to use.
"We will continue to monitor the needs of our communities and leverage renewal options accordingly," they said. " Regular meetings are held with each digital tool vendor to discuss usage, professional development, and needed implementation support."
Image by Ian Hurley
In the early days of the pandemic, there was a mad dash to get technology and broadband internet service into students' homes. About 1 in 3 Los Angeles Unified School District families didn't have a desktop or laptop computer or high-speed internet, according to an April 2020 study by USC Annenberg.
To improve tech access and to make other COVID-related purchases, the Board of Education granted authority to then-Superintendent Austin Beutner to spend "any dollar amount necessary" to respond to the crisis. In 13 months, the district spent $390.5 million.
Over the course of the 13 months of data, the single largest purchase — $51.3 million — went to SummerBio, a Silicon Valley COVID testing company.
All told, $227.6 million went to tech companies or 58% of the district's total spending in that time frame.
The spending went to tech companies like Apple, T-Mobile, Verizon and a COVID testing company, records obtained by dot.LA through a Public Records Act request show.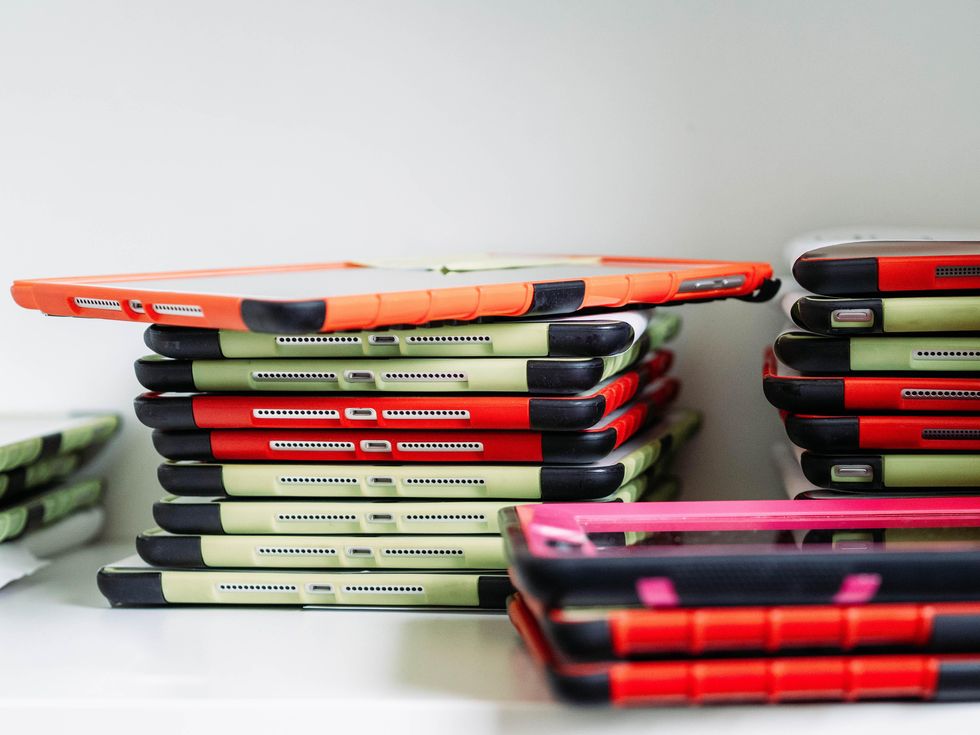 Los Angeles school district spending from March 2020 through April 2021 show that money was spent on line items from iPads and broadband to food for students and families, and masks and sanitizing supplies for schools.
In March 2020 alone, 94% of the $72.3 million the district spent using emergency funds went to tech companies.
"It took a procurement team working around the clock to scour the globe and find devices and a technology team to make sure the devices had the proper software installed and every student was connected to the internet," Beutner said in May 2020.
It also began purchasing COVID-19 supplies, including 100,000 N95 masks and 300,000 surgical masks, for $2.4 million, and food for the district's "Grab n Go" meal program, like $450,000 on cases of chicken tenders and drumsticks.

John Rogers, an education professor at UCLA, said the district took decisive action to get necessary technology into student's hands.
"It was a herculean task to shift in-person instruction to remote learning in a district that serves many families who previously did not own a computing device or had regular access to the internet," he said. "Many other districts around the county lagged behind LAUSD in their efforts to provide a baseline of access to learning."
Here are the total amounts large tech companies were paid: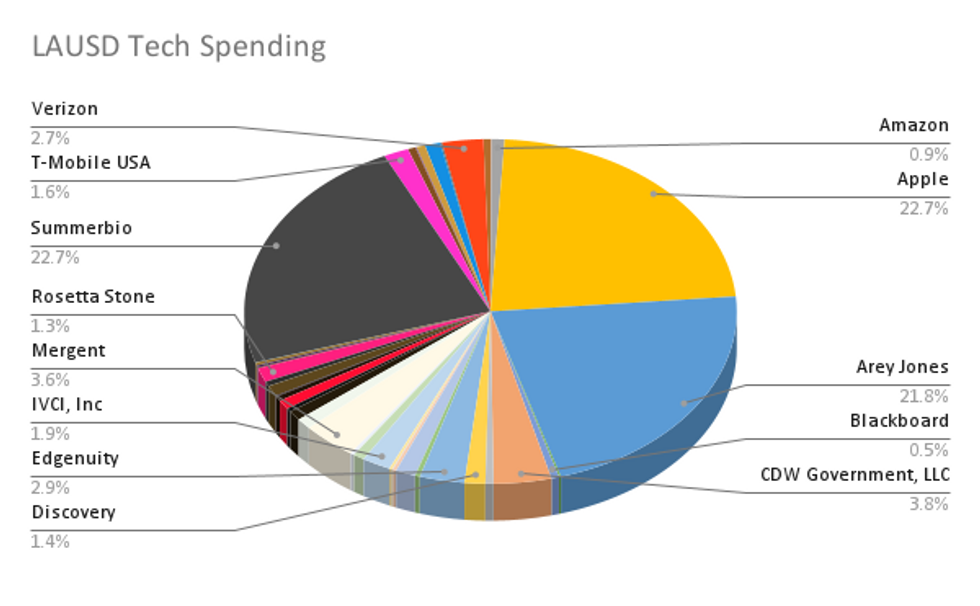 Apple
$51.3 million
Apple was paid virtually the same amount as SummerBio in total, just $9,000 less. It is unclear from the data exactly how many iPads and other devices were purchased and distributed, as a $37.8 million purchase for iPads doesn't list a quantity of items.
Arey Jones
$49.2 million
San Diego-based Arey Jones, which has relationships with Microsoft, Google, Intel, HP and other companies, is a conduit for school districts to procure technology equipment and software. LAUSD purchased Dell, Samsung and HP Chromebooks, monitors and iPad integration services and cases. In March 2020 alone, the company received $22 million.
CDW Government, LLC
$8.6 million
LAUSD purchased 1,000 video conferencing bars from CDW Government, LLC, a technology provider for state and local governments, for $8.5 million.
Amazon
$2.0 million
As online learning extended beyond the few weeks that many were expecting, it became clear that some households had multiple students and adults working at home. Headphones were a solution to help students block out the noise of a busy home to focus on their studies. About a month into the pandemic, LAUSD purchased 131,000 pairs of headphones for $1.9 million.
Mergent
$8.1 million
In December, the district spent $8.1 million for 490,000 headphones, enough for a pair for every student.
Edgenuity
$6.7 million
LAUSD opened up summer school to all students for enrichment courses, like guitar lessons and language classes, in addition to classes where students can make up credits. About 100,000 or about a quarter of the district's students enrolled in summer school. The district paid for a platform called Edgenuity for credit recovery for 30,000 high school courses and 40,000 middle school courses, according to the data. It's a software program that the district has used for years. The district also used the program as classes turned online and continues to use it in its online independent study program.
Verizon
$6.1 million
The district agreed to pay Verizon up to $4.6 million in March 2020 for mobile broadband services and devices. It later paid another $1.5 million for additional service and devices.
IVCi
$4.3 million
Audio visual company IVCi sold 5,000 video conferencing bars for $4.3 million.
T-Mobile
$3.7 million
The first purchase the district made was to increase its contract with T-Mobile for mobile broadband and devices by $500,000 to $750,000. In March 2020, it paid a total of $2.4 million and later made an additional $1.3 million payment.
Discovery
$3.1 million
The district purchased a districtwide licensing agreement.
Reading Horizons
$3 million
The district bought a license for the training and curriculum tool software for teachers teaching science.
Rosetta Stone
$3 million
The district bought licenses for 100,000 students from the language software company.
Microsoft
$2.3 million
The district described this purchase as "various applications." Microsoft developed an app called the Daily Pass that must be scanned for each student and staff that enters a campus. That contract was for gratuitous services.
Nearpod
$2 million
The district purchased a license for the instructional platform for teachers.
Crayon Software Experts
$1.7 million
LAUSD paid Crayon Software Experts, a software asset management managed services company, for Microsoft Power Apps licenses to implement its COVID vaccination program.
IXL Learning
$1.7 million
The district bought site licenses for 300,000 students from the integrated learning platform that supports personalized learning in math, English language arts, science, social studies and Spanish.
Blackboard
$1.2 million
The district purchased a districtwide enterprise license for the online learning platform for additional teacher to student notification functions.
Zoom
$1 million
The tool that many of us became familiar with during the pandemic, the district spent about a half million on software licenses for 66,500 employees, 500,000 students and 2,000 others.
Newsela
$995,000
Elementary schools purchased licenses for Newsela, a literacy-focused startup with content in English and Spanish.
Renaissance Learning
$995,000
The district bought licenses for Renaissance Learning, a math and reading software.
Edpuzzle
$730,000
LAUSD bought a districtwide license for Edpuzzle, which teachers can use to make interactive videos.
HopSkipDrive
$500,000
Pasadena start-up HopSkipDrive, an ridesharing company for students, was paid $500,000 to take students to and from COVID-19 testing sites.
From Your Site Articles
Related Articles Around the Web
Children aged 5 to 11 may be eligible for a coronavirus vaccine by the time they go trick or treating on Halloween.
Pfizer and BioNTech announced Monday its vaccine has been shown to be safe and highly effective among children in that age group. The companies plan to apply to the Food and Drug Administration by the end of the month for emergency authorization to use the vaccine in these children.
The announcement is sure to bring relief for parents and teachers who have been waiting for young children to get vaccinated. Health officials report 8.8% of 5 to 11-year-olds in the county have tested positive for COVID-19. Though case rates have been falling even as children have returned to school.
Unvaccinated children, even if they are asymptomatic, can spread the virus to family members, teachers and others who they are in regular contact with.
Pfizer and BioNTech plan to receive the results of its vaccine trial in children under 5 by the end of the year.
The emergency approval for 5- to 11-year-olds could come swiftly if the process goes as smoothly as it did for other age groups.
Emergency approval for the Pfizer vaccine for people aged 16 and older and children 12 to 15 years old both took three weeks. The FDA has yet to provide full approval of the Pfizer vaccine for children aged 12 to 15. But they can still receive the vaccine under emergency use authorization.
The decision comes at a time when pediatric cases of COVID-19 nationally are on the rise. National data show more than 5 million cases of COVID-19 have been reported among children and teens, causing 460 deaths since the start of the pandemic. Pediatric cases now account for 1 in 5 new cases.
Pfizer's announcement could have big implications for the Los Angeles Unified School District, which was the first major school district in the nation to mandate vaccines for eligible students.
Students who are 12 and older are required to be vaccinated by Jan. 10. It is unclear if the district will extend the mandate to all students 5 and older if the vaccine is given emergency use approval.
The district has established a robust system for administering vaccines. In August, mobile vaccination teams visited every middle and school to administer first and second doses and vaccine appointments can be scheduled through the district's Daily Pass app, which was made by Microsoft. The district has not said whether they would provide vaccines for younger children, if the approval comes.
The full data from the vaccine trial for 5- to 11-year olds has not yet been published or peer reviewed. It will be studied by regulators to determine whether the vaccine is safe and effective.
"We are eager to extend the protection afforded by the vaccine to this younger population, subject to regulatory approval, especially as we track the spread of the Delta variant and the substantial threat it poses to children," Pfizer chief executive Albert Bourla said in a statement. "Since July, pediatric cases of COVID-19 have risen by about 240 percent in the U.S. — underscoring the public health need for vaccination."
There were nearly 2,300 children between ages 5 and 11 in Pfizer's trial, two-thirds of whom received the vaccine.
In the trial, children who received two shots of a 10 microgram dose, spaced three weeks apart had similar side effects to young adults. People 12 and older receive a 30 microgram dose.