edtech
The creator of YouTube "channels" launched a new online video platform for learning on Tuesday, taught by a roster of iconic artists and celebrities from Madonna to Deepak Chopra.
Bright is the L.A.-based brainchild of Guy Oseary — investor and music manager for acts including Madonna and U2 — and Michael Powers, who was behind "channels." Their new platform focuses on livestreamed, interactive teaching sessions.
At launch, Bright boasts over 200 hosts, whose source of fame and following spans the traditional to the digital. Madonna, Ashton Kutcher, Amy Schumer, the D'Amelio Sisters, Judd Apatow and Deepak Chopra are among current instructors.
"At YouTube, we saw that 20% of video views were learning content from individual creators," Powers said in a statement. "There is an incredible appetite to learn from other people and I wanted to develop a platform that provided more interaction and intimacy."
Initial courses include a "Tell Your Story" guest interview program hosted by actress Laura Dern and "Champions Talk" with basketball analyst Kenny Smith, who will interview athletes about their competitive psychology. The stars of reality show "Property Brothers" offer a course on home design, and Ronnie2K — known for offering tips for winning video games — offers tips on how to build a gaming career.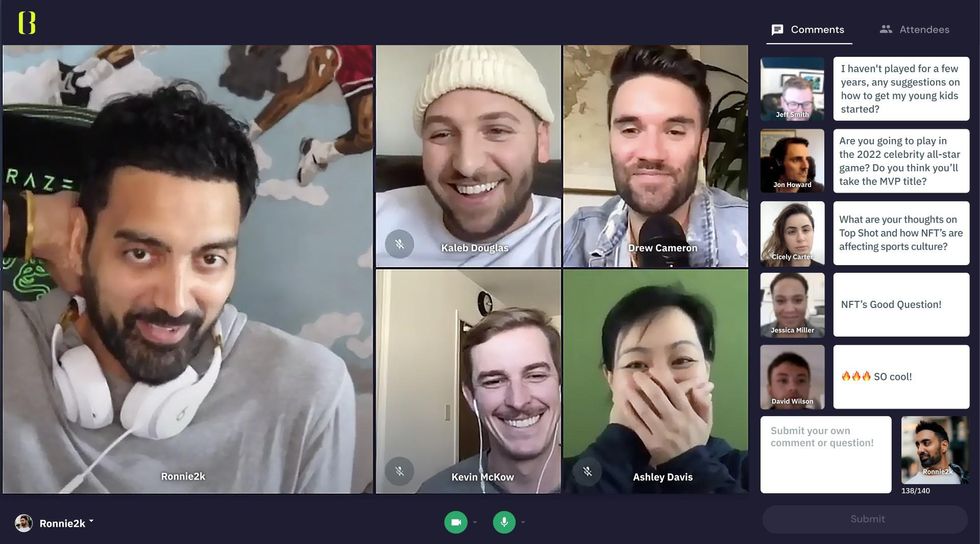 Hosts on Bright will develop a curriculum and set the schedule, class-size and price, of which Bright will take a 20% cut. Courses will fall into one of six categories: body, mind, culture, home, money and craft.

The company was founded in mid-2020. Oseary's Sound Ventures, which he co-founded with Ashton Kutcher, is the lead investor. RIT Capital, Norwest, Globo and Slow Ventures also participated in the seed round. The company did not disclose how much it has raised.
There's no shortage of competing platforms. MasterClass also sells celebrity-led courses, and just raised a $100 million Series E round of funding. Bright is seeking to differentiate itself by offering live, interactive sessions it bills as more akin to conversations, and Oseary is leveraging his rolodex to power the company.
Powers, intimately familiar with Google-owned YouTube, thinks Bright can provide a boost to creators and celebrities that other platforms cannot.
"The fact that creators don't even know who their core audience is, because these ad-driven platforms won't tell them, means they can't take their business to the next level," he said.
In addition to its 200 initial hosts, Bright says it has over 1,500 more on its waitlist. Apart from a handful of them who are company advisors, they did not receive financial incentives to join.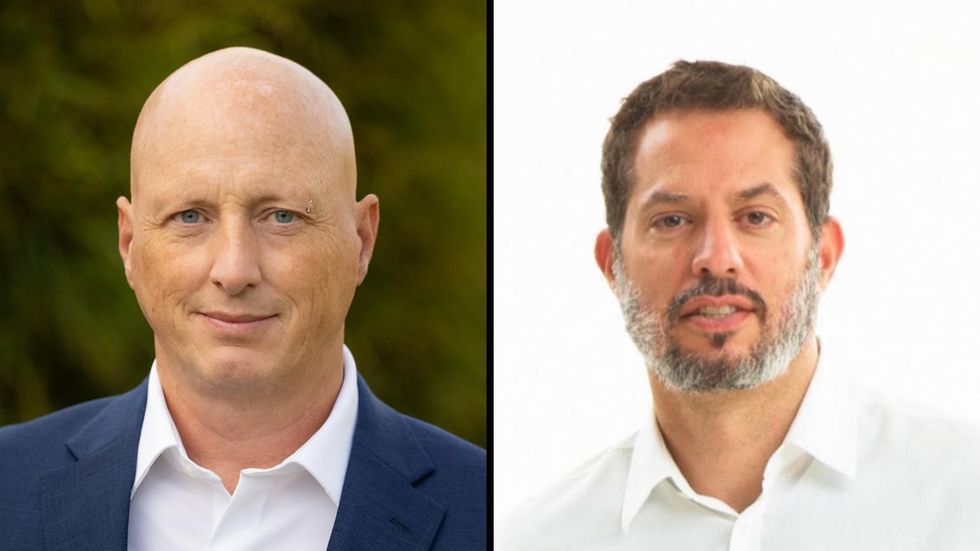 Bright is the L.A.-based brainchild of Guy Oseary (right) — investor and music manager for acts including Madonna and U2 — and Michael Powers, who was behind YouTube "channels."
Instead, Powers said, what attracted them is the opportunity to expand their business of being a celebrity and strengthen their fan relationships. When Bright users opt-in to updates about a host's courses, they also consent to sending their contact information.

"That allows the creators to then take those people to their mailing list. They can take them to their Shopify shop," said Powers. "Whatever they have going on in their business, they can connect those people into that bigger universe of things they're doing."
It's a contrast to what many other video platforms do, particularly those whose business is selling ads.
"When you have an ad-driven platform from the beginning, the ownership of the relationship of your audience is fundamentally with the platform," said Powers.
"Is a Google sales team going to truly value an individual high-profile creator on their platform?" he added, implying their primary constituent of interest is the advertiser.
Bright is built atop Zoom, using the video chat company's software development kit through its partnership program. Bright will add customized features that, for example, allow hosts to invite users to speak with them "on stage."
Working under Powers, who will be Bright's CEO, is a team with experience at numerous tech companies, including Caffeine, Instagram, Pinterest, Apple and Facebook.
"I was there at the beginning of the creative economy coming in on YouTube," said Powers, "and now it's time for them to go even further."
From Your Site Articles
Related Articles Around the Web
Scrolling through Twitter could soon help you learn another language. That's the idea behind Toucan, a tech startup whose browser extension translates words on your screen from English to one of seven languages — soon to be 11.
On Tuesday, the Santa Monica-based company closed a $4.5 million seed round to launch the software in Mandarin, Hindi, Arabic and Hebrew.
"As you're on Facebook, Twitter, Google, Reddit, we serve you up with micro moments of learning," said co-founder and CEO Taylor Nieman. She and Brandon Dietz, Toucan's co-founder and chief product officer, were early employees at Headspace before it closed over $30 million in its Series A in 2015.
"Back in the day we changed our Facebook feeds to Spanish or our iPhone settings to Portuguese," Nieman said. "But with that full 100% immersion, your brain thinks 'What the heck is happening?' and you revert back to English. It's too much."
Instead of operating through a separate app for daily lessons and quizzes — like Duolingo's model — Toucan meets consumers wherever they're working online. It's an approach to education technology that co-founders Nieman, Dietz and Shuan Merritt, a former software developer at car-shopping app Fair, thought of after years working in consumer technology.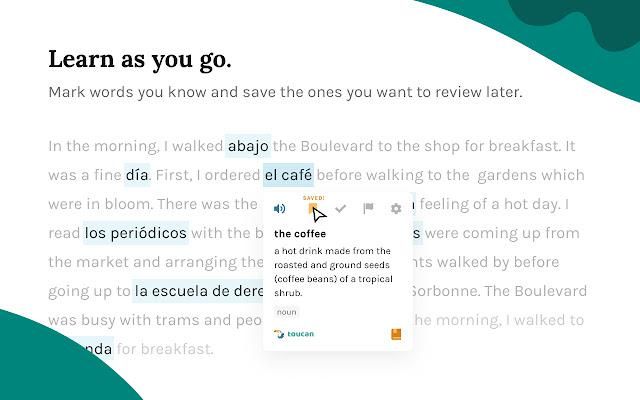 An ad for Toucan shows how users can toggle between languages.
"These highly motivated people that are opening an app for 15 minutes every day are the 1% of learners," the chief executive said of traditional language app users. "It is the 99% of users that have tuned out of those apps that we're really excited to cater to."

The global edtech market is estimated to hit $404 billion by 2025, according to data from Pitchbook. In 2020, companies like Coursera and Masterclass closed deals at $130 and $100 million respectively.

Toucan users can hover their cursor over each translated word for a recorded pronunciation and its definition. The basic service for Google Chrome and Safari is free, but Toucan also sells a premium version that translates more words per page and lets users save words to review later.
To make extra revenue, the startup also launched a feature for users and companies to "own" words for $1 each month, which links to their URL each time the word shows up for a Toucan user. "Coffee," for example is owned by the daily newsletter Morning Brew and Headspace owns "meditation."
The 12-person team plans to hire and expand its language offerings by the end of next month. Also slated to arrive in early May is a Spanish-to-English translation option, which will propel the company into international markets. Eventually, Nieman said the company will start "dabbling in mobile" to explore how Toucan's tech can layer on top of social and messaging apps.
LightShed Ventures led the round, along with new investors Next Play Ventures, Concrete Rose Capital, GingerBread Capital, Form Capital, Goodwater Capital, Hampton VC, Spacecadet Ventures, GTMfund, Baron Davis Enterprises and Human Ventures. Existing investors GSV Ventures, Amplifyher Ventures and Vitalize also contributed.
From Your Site Articles
Related Articles Around the Web
Los Angeles students are returning to classrooms this month that will look different and not only because desks will be six feet apart.
Laptops and tablets, which have been students' only connection to their teachers and classmates for the past year, will become prominent in classrooms that for generations have relied on paper and pen.
"I do think it's going to be a new game," said Michael Finn, who teaches at Marshall High School in Los Feliz. While technology has been available to Los Angeles Unified School District teachers long before the pandemic, teachers used it to varying degrees. Now, every teacher has adopted it and many are discovering more of its features and functions.
The nation's second largest school district began a phased reopening last week, with middle and high schools doors to open the week of April 26.
"Laptops, cameras, tablets are now just part of our learning environment," said Sophia Mendoza, who heads LAUSD's instructional technology division.
And so too are an array of educational software and other programs from Google Classroom and Schoology to quiz app Kahoot!, Newsela, a platform that hosts thousands of different texts geared toward different reading levels, and Nearpod, an app that allows teachers to take students on virtual field trips.
It will be a transformational shift in some classrooms where technology has been lacking.
When the pandemic hit last year and schools shuttered, districts across the country scrambled to ensure that students had devices to access online classes as well as a reliable connection to high-speed internet.
Some school districts also had to sign contracts for online learning management systems or other tools.
Tech Growth
Google Classroom said more than 150 million students and teachers now use its services, up from 40 million last year.
And venture investment in education tech startups more than doubled last year to $13.49 billion compared to $5.1 billion in 2019, according to Pitchbook.
Analysts expect the pandemic to accelerate the growth of a digital learning infrastructure.
At the L.A.U.S.D. tech companies raked in $70 million during the first two months of the pandemic, documents first obtained by LAist show.
The largest share of the money, $37.8 million, went to Apple for iPads as the district scrambled to arm a half million students with internet access and devices.
The district spent another $22 million to purchase Chromebooks and Windows devices through a company called Arey Jones. Verizon also received school district money, although the exact amount wasn't clear based on the documents.
In May, Superintendent Austin Beutner said its push to distribute devices to all of the district's 550,000 students was nearly complete.
"If the transition to online learning is our moonshot, the rocket's been built and lift off has occurred. We're in the early days of an extraordinary voyage," Beutner said in May.
While teachers will still rely on fundamental techniques they've learned throughout their careers, new tech programs like Pear Deck — which integrates with Google Slides and allows students to interact with the teacher's presentation — could make teaching more effective.
"What we're seeing now is that teachers are starting to see the value in some of these things when they may not have really been interested in trying it out before," said Corinne Hyde, an associate teaching professor at USC's Rossier School of Education.
"A lot of teachers who were a little bit unsure before have gotten over that initial hump of being nervous of the technology or skeptical of the technology and seeing that there's some opportunity there even when students and teachers are going back into the classroom."
Flipgrid, a tool that was popular before the pandemic, is one that Hyde sees as remaining in use once students are back in classrooms. Teachers can create a prompt within a grid where students can collaborate to post video responses.
Hyde also imagines apps that allow students to take virtual field trips to places like the Louvre will remain in widespread use by teachers.
"There are certain things that we can do with technology on the ground that actually do transform the learning experience that are simply not possible without the technology," Hyde said.
Marshall High School's Finn said he'll continue to use a digital audio workstation program called Soundtrap for his songwriting class. He thinks other teachers will also be adopting apps and other tools they became accustomed to during the pandemic.
Mendoza envisions teachers using the technology for introductory videos from the teacher and students, digital forms for parents that can be accessed in real time, collaborative tools like digital documents that can be shared among students, and digital polls, quizzes, assessments and instant feedback.
"It's going to be strategic," Mendoza said. "Educators will have to decide when and how much and be purposeful."
What started out as crisis management has turned into a sustained change, Mendoza said.
"Our educators have really taken this crisis and turned it into opportunity," Mendoza said. "There are so many silver linings here in L.A. Unified...I do see our future as being very bright in the sense that a lot of learnings that we have all learned over the last 12 months will continue on."
Not Business as Usual
Devices will also take more of an outsized role as students gradually return. Teachers will still have to conduct their classes online, as some parents opt to keep their children home and many classes remain remote.
A recent survey by the district shows that less than a third of parents are ready to send their children back to the school yard. Those children will be offered instruction online.
At high schools, for example, students will only be on campus two to three days a week. The hustle and bustle of students rotating from classroom to classroom will be gone, instead, teenagers will have to remain seated at one desk and log on to classes. As a result, the teacher in the classroom may be teaching a completely different class than the ones students are logged into..
To accommodate this, the district is making noise-canceling headphones available.
Officials say while the arrangement isn't ideal, students will still have the social interaction with their classmates and teachers.
Instruction will also look different in elementary schools where students will attend class five days a week for a half day in small, staggered groups and log in for the remaining school day from home.
Mendoza envisions students coming to class with their device with them and when they sit down at their desks, they will pull it open to access the day's lesson plans and materials.
"The school walls have been broken down, virtually," Mendoza said.
Finn is looking forward to when he can stand up in the front of his classroom and ask his students to open their computers, without being worried that he's on mute.
"That's going to be magic," he said.
He's looking forward to being able to see students as they're completing their assignments online as some students turn off their cameras during virtual classes for various reasons.
"I'm excited and I feel it from my colleagues as well," he said. "We're excited to take the things that we've learned and be able to implement them with a student in front of us."
Lead image by Ian Hurley
From Your Site Articles
Related Articles Around the Web