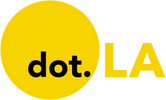 Get in the KNOW  
  on LA Startups & Tech  
X
Lon Harris
Lon Harris
Lon Harris is a contributor to dot.LA. His work has also appeared on ScreenJunkies, RottenTomatoes and Inside Streaming.
Photo by Carl Nenzen Loven on Unsplash
This is the web version of dot.LA's weekly round-up newsletter. Sign up to get the latest news on Southern California's tech, startup and venture capital scene.
The "influencer house" concept was born out of practicality (and admittedly took inspiration from the "startup house" conceit already popular among tech founders). The best way to beef up the following of a hot new creator is to pair them in videos with other, already-established creators who in turn grant them greater exposure to a wider audience. What better way to team up like-minded groups of young influencers than sticking them all in a house together, so they make collaborations around the clock?
There are a lot of similarities between putting your life on display on a social media app and putting your life on display for the amusement of reality TV viewers, and the influencer house concept brings everything about "living in public" together. It already inspired one actual Netflix reality show: the oft-maligned 2021 release "Hype House."
The "collab house" concept was functionally created in 2014 by the members of a YouTube channel known as "Our Second Life," who worked and lived together in the so-called 02L Mansion. The following year, a number of notable Viners all moved together into the same Hollywood apartment complex at 1600 Vine Street, which became known as "The Vine House." (Where do they come up with these names?!?)
It remains a popular gimmick to this day, largely because of the potential for creating an online brand that doesn't age along with its on-screen talent. If popular collaborators share their audience with newcomers, it builds in an ongoing process for maintaining the group's popularity over time, even after some of the older members move out and even <shudder> get real jobs.
As producer Troy Kelly pointed out in a prescient 2020 blog post, though the perception is that influencers are all one-person shows making raw and unfiltered content from wherever they happen to be, in reality, successful ones have an entire staff supporting them, promoting their content and keeping everything organized. A studio space or office provides this team with vital off-camera support they might not have in a kitchen or garage area.
As with Netflix's "Hype House," much of the appeal of the content created in these settings is fantasy wish fulfillment, the dream of living in a lavish Los Angeles home and enjoying the rockstar celebrity lifestyle. But there can be benefits to sharing a more relatable, low-key online experience as well. DIY and crafting videos in which creators showcase at-home projects for tiny budgets have seen an explosion in popularity, with young creators taking lessons from home renovation reality shows and applying them to their own videos.
The explosion of influencer houses and collab cribs appears set to continue unabated. "Call of Duty" trick shot experts the FaZe Clan communally purchased a Burbank mansion to share with an estimated value of $10 million (though some members claim it's more like $30 million). The group also introduced an L.A. pop-up lounge and retail store this year on Melrose and Fairfax – The Armory – that's itself inspired by a collab house, giving fans the simulated experience of hanging out at home with their favorite gamers.
A spate of articles this summer celebrated West Hollywood's "Retirement House," occupied by senior citizen influencers. There's even a TikTok house movie in the works from producer and star Curtis "50 Cent" Jackson and his company, G-Unit Film & Television. "Skill House," from "Spiral" vet Josh Stolberg, is a horror film satirizing influencer culture, which will be filmed in the real-life TikTok collab mansion known as "Sway House."
Is this art imitating life or the other way around? Who can even be sure at this point?-- Lon Harris

HBO Max launches with over 10,000 from a range of content\u00a0brands
This is the web version of dot.LA's daily newsletter. Sign up to get the latest news on Southern California's tech, startup and venture capital scene.
As the end of the pandemic streaming boom craters Netflix stock, the entertainment landscape has shifted significantly. Now that WarnerMedia has transformed into WB Discovery, its new management team– led by former Discovery CEO David Zaslav – is reversing course on steaming. (The elimination of the long-awaited CNN-Plus streaming service just weeks after it launched was our first major clue that the new team was not interested in wasting any time.) A few major decisions by Zaslav and WBD this week indicate the company has started to lose faith in the "all streaming, all the time" focus.

Most significantly, WBD no longer plans to release the DC Comics adaptation "Batgirl" in any form--either theatrically or directly to HBO Max--despite the fact that the film is reportedly already in post-production and came with a hefty $90 million price tag. (It was originally budgeted at $75 million but COVID-related delays bumped that up a bit.) Other projects have also reportedly been scrapped.
According to "Variety," WBD lost faith in not just those specific projects, but the idea of releasing original films directly to its streaming service, HBO Max.
WBD also started the long-term project of consolidating and streamlining its content offerings across fewer services this week, likely the first step in introducing a joint HBO Max/Discovery Plus offering or bundle. This includes plans to move a selection of shows from cable's DIY-centric Magnolia Network – curated by "Fixer Upper" stars Chip and Joanna Gaines – to HBO Max, while the CNN and CNN Films library jumps over to Discovery Plus.
Reports from social media and elsewhere indicate that more series and films are quietly being removed from HBO Max's library, including the Robert Zemeckis-directed "The Witches" and Seth Rogen starrer "An American Pickle."
This has predictably led to widespread concerns online from fans of other popular HBO Max originals, who suddenly feel the ground shifting beneath their feet. To be honest, not much has been done to allay these worries.
WB Discovery released its first post-merger quarterly earnings report on Thursday, but though rumors had swirled about major announcements, strategy shifts and even layoffs, executives were notably reserved about their future plans. On a call with investors, Zaslav indicated that HBO Max and Discovery Plus exist as "complimentary" services and will be bundled together at some point during summer 2023, but gave few other details.
One slide in particular, meant to highlight the complimentary nature of the two services, was immediately roasted on social media for distinguishing them along confusing and potentially inaccurate axes. The graphic indicates that HBO Max skews male, while Discovery Plus leans female, and notes that HBO Max is "lean in" and the home of "fandoms" while Discovery Plus is "lean back" and the home of "genredoms." Most who responded seemed unclear on what these terms even meant.
We learned that the entire company now counts 90.4 million subscribers to its streaming platforms. There were also indications that WB Discovery planned to cap its investment in new kids and family programming over the next few years, along with halting any new content licensing deals. CEO & President of Global Streaming and Interactive JB Perrette also indicated that the company had started the process of developing its own ad-supported free streaming service, similar to Paramount's Pluto TV or Amazon's Freevee.
But perhaps the most revealing part of Thursday's report came in a statement from Zaslav himself. He writes "we intend to maximize the value of [our] content through a broad distribution model that includes theatrical, streaming, linear cable, free-to-air, gaming, consumer products and experiences, and more, everywhere in the world."
It's a potential canary in the coal mine moment, an early indicator that CEOs and investors no longer see streaming as the sole or even the primary distribution channel for content moving forward. It also helps to explain all of this week's other decisions that befuddled fans and onlookers: without the financial boost from theatrical box office returns, WBD doesn't see a path to profitability for direct-to-streaming original films. Without an ad revenue stream for cable TV, WBD perhaps doesn't see a way to pay for enough content for a thriving combined HBO Max and Discovery Plus service. — Lon Harris
This is the web version of dot.LA's daily newsletter. Sign up to get the latest news on Southern California's tech, startup and venture capital scene.
A significant bump in inflation and overall concerns about a coming recession have Americans spending less on just about everything. Last week, we talked about the impact the Great Belt Tightening has had on the streaming industry, but it's also creating headaches for video game manufacturers and publishers. According to the market research firm NPD, overall US consumer spending on video games and related products fell by $1.78 billion in the second quarter of this year, a 13% drop compared to the same period last year.
Sony's software business plummeted by 26% in Q2 vs. 2021, which the company blamed on both a lack of new releases and Americans simply spending less time playing video games than they did a year ago. Microsoft likewise reported that its hardware sales slumped by 11% year-over-year in Q2, along a 6% dive in Xbox content and a 7% decline in overall gaming revenue. (Nintendo won't publish its Q2 numbers until next week, but it's expected to sell slightly fewer Switch consoles than it did last year.)
A report from Ampere Analysis forecasts the entire gaming industry could shrink as much as 1.2% in 2022, down about $188 billion globally. Recession fears, supply chain problems and inflation woes certainly played a role in this, but it's also notable that the industry is coming off of two years of significant growth, as a lot more people stayed indoors and spent more money on home entertainment. Nielsen reported that 82% of global consumers either played video games or watched video game-related content during COVID lockdowns.
Some of this massive growth was always going to prove unsustainable. Once it was safer (or at least presumed safer) to re-enter the world, some of those console dollars were going to back to restaurants, movie theaters, Dave & Busters, laser tag and whatever else people do when they actually go out places.
But that didn't stop a lot of companies from expanding over the last few years, only to now find themselves overextended. Game developers Niantic and Unity have both started cancelling projects and laying off staff to control costs and other companies – including Electronic Arts, Meta, Microsoft and Nvidia – have frozen or downscaled their hiring plans.
And though 2022 opened with the arrival of a string of hotly-anticipated new games – including "Elden Ring" and "Horizon Forbidden West" – pandemic-era delays have impacted the remainder of the year's release calendar, creating something of a drought of must-have new titles.
Still, it's probably too soon to entirely lose hope and gaming has proved largely resilient over the past decade or so. Microsoft and Sony both seem to feel that their hardware and supply chain issues are behind them and 2023 should the return of a stacked new release calendar.
Los Angeles-based publisher Riot Games shows no signs of slowing down, despite the wider industry trends. (The company announced today that its latest "League of Legends" spinoff – the 2D fighting game "Project L" – will be free to play, with only "respectful monetization.") As well, Activision Blizzard reported lower year-over-year earnings and revenue for the second quarter this week, but nonetheless expanded its work force, converting close to 1,100 temporary and contingent employees into full-time workers. The company also acquired "Spellbreak" studio Proletariat and the artificial intelligence company Peltarion over the past quarter, integrating in a number of new staffers from those teams.
While blaming its underwhelming Q2 performance on lower engagement from "Call of Duty" and "World of Warcraft" fans, the company looked ahead to new releases in the coming months from both franchises – including "Call of Duty: Modern Warfare II," "World of Warcraft: Wrath of the Lich King Classic"–along with the high-profile sequel "Overwatch 2."
Activision Blizzard, of course, is also preparing more generally for a potential merger with Microsoft, initially announced back in January, while also fending off a string of lawsuits relating to alleged sexual harassment and toxic workplace culture. Which just reinforces how multi-faceted these situations can become and how difficult it can be to make predictions about this particular wing of the technology business, regardless of the current economic climate..— Lon Harris