newsletter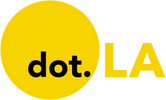 Get in the KNOW
on LA Startups & Tech
X
newsletter
Photo by David Shultz
This is the web version of dot.LA's daily newsletter. Sign up to get the latest news on Southern California's tech, startup and venture capital scene.
The Wednesday newsletter this week is a story. For that, I apologize; I am not a best-selling author. But the story is instructive and wholly true.

University of California, Santa Barbara, May 12—Atop a lawn of yellowed grass and beneath a blinding afternoon sun sits what you might be tempted to call a car. But the three-wheeled vehicle is technically classified as an "autocycle"; its missing rear wheel might be the last thing you notice. Like an F1 car, its two front wheels sit outside the body at the end of struts. The body is cetacean in both shape and color—streamlined, blue, gray and black. A suite of diamond-shaped photovoltaic cells tessellate across the hood, the dash, and the roof. The cumulative effect is reminiscent of a dolphin in an argyle sweater riding backwards on a tricycle.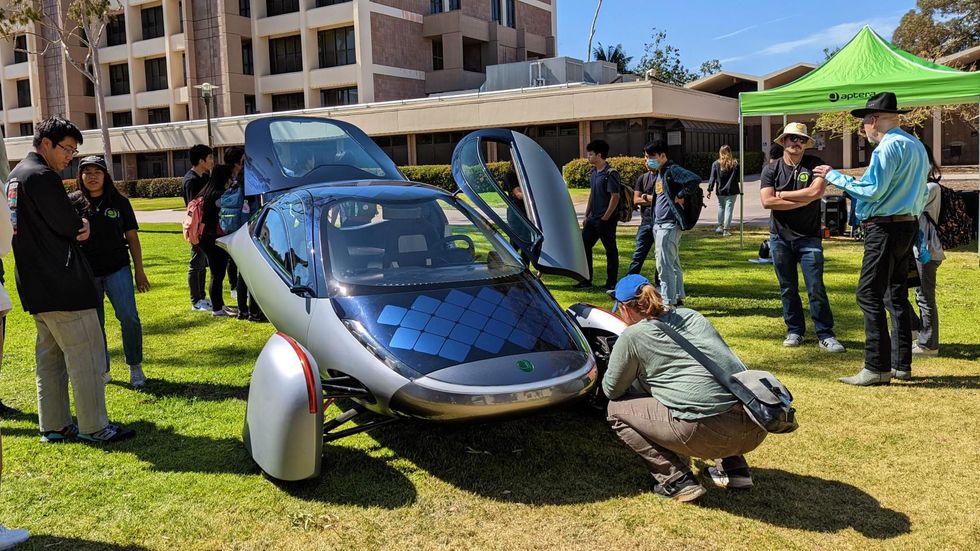 A front view of Aptera's solar-powered "autocycle."Photo by David Shultz
The vehicle is a prototype from a Southern California company called Aptera, which has been touring college campuses showing off its technology. The idea is to make a truly solar-powered car—or autocycle, rather. In pursuit of that goal, Aptera has done everything it possibly can to make the vehicle more efficient: removing that missing rear wheel makes the car more aerodynamic and reduces friction, while the entire shape has been optimized to be as streamlined and lightweight as humanly possible. (It only seats two passengers.) Aptera claims that the entire car experiences as much drag as your hand does when you stick it out the window on the highway. The company claims a drag coefficient of 0.13; most vehicles on the road today hover between 0.3 and 0.5, for comparison. Aptera's current prototypes weigh between 1,800 and 2,200 pounds; a 2022 Toyota Camry, by contrast, weighs 3,310 pounds.

Depending on the specific model, the battery ranges from 25-to-100 kilowatt-hours, which Aptera says can provide the car with anywhere from 250 to 1,000 miles of range on a single charge. In ideal conditions, the solar panels can recharge up to 40 miles per day. One-thousand miles of range is roughly triple what the top battery-powered electric vehicles on the market can offer today. And as long as you're driving less than 40 miles per day, on average, you may never even need to plug the car in—assuming you live someplace sunny enough. The technology is frankly inspiring—the kind of thing you want to work, and which could make a real difference in carbon emissions if it were to catch on.
The UCSB students mingling around the car, however, seem mixed in their opinions. "I don't know if my nine-foot surfboard would fit," one muses. (To be fair, a nine-foot surfboard doesn't fit in my Prius either, but you can't put anything on the roof of the Aptera without covering up the solar panels and destroying the sensitive aerodynamics). Annie Lovell, a second-year graduate student at the Bren School of Environmental Science & Management, is not a fan of its aesthetics. "I would rather go vintage than futuristic," she says.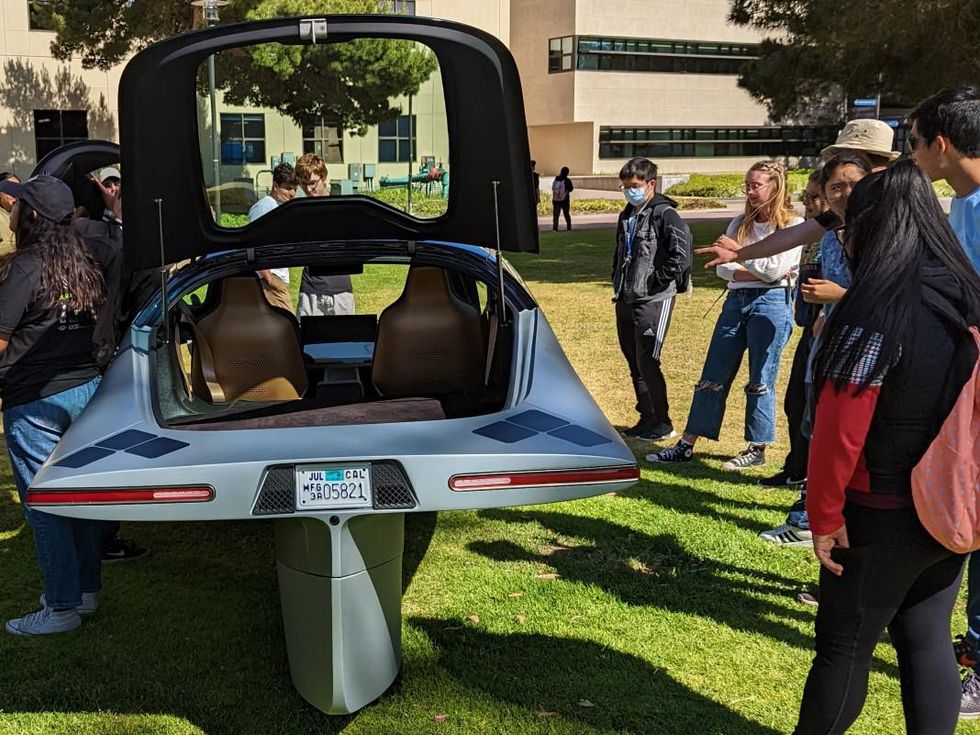 A back view of Aptera's solar-powered "autocycle."Photo by David Shultz
That night, Lovell went home and began to regret her choice of words. I know that because, by pure coincidence, I ran into her in a coffee shop the next day, where she asked if I could change her quote. She maintained that it would be hard to imagine herself buying a car like Aptera's, but said she was "excited for the potential for new technologies in the auto industry to replace our gas-guzzling cars" as well.
I think that's a perfect metaphor for how I feel about this car, too. Godspeed, Aptera—I wish you the best, truly. But if a grad student in an environmental science program in Southern California can't imagine themselves buying the car, it's pretty difficult to picture the technology catching on in Tulsa or Houston or Jacksonville. Adding 40 miles of range per day from the sun is nice, but a Level 3 charging station adds that much power in two minutes. A thousand miles of range is awesome, but are the tradeoffs—no back seats, no roof rack, no hitch—worth it to the average car buyer? While Aptera maintains that it plans on adding airbags and standard safety features to the car, as of now, the vehicle will only be required to meet the safety standards for an autocycle (which are only slightly higher than those of a motorcycle). Crash-testing is slated for this summer.
Aptera says it's already secured 20,000 pre-orders for the car and hopes to begin delivering vehicles as early as the end of this year. After production scales up, the company aims to sell around 100,000 vehicles annually for at least the first couple of years. Depending on the battery configuration, prices will range from $25,900 to $50,700. — David Shultz

Courtesy of LAFD
This is the web version of dot.LA's daily newsletter. Sign up to get the latest news on Southern California's tech, startup and venture capital scene.
Fire season in Los Angeles is here again, though each year it seems to have never left–cue the stream of panicked texts from East Coast family members asking if I need to flee from any smoldering infernos.

Technically, fire "season" in the city of angels is supposed to last May through October, but climate change keeps pushing that earlier. This year, the L.A. Fire Department reported brush fires as early as April. Currently the L.A. Times's interactive Wildfire map notes two active burns right now: the Coyote Fire west of Palm Springs, which started May 15 and has burned over 46 acres and the Moonlight Fire, a blaze farther north near Lassen National Forest that's been burning for almost 40 days.
Climate scientist Daniel Swain also just noted there's also less snow in Northern California than usual for this time of year, and that early melting could increase the risk of wildfires in coming months.
The LAFD is now betting that a new type of engine could help manage blazes across the county. They're putting a new smaller truck with an electric engine made by Austrian company Rosenbauer through a (ahem) trial by fire, deploying it this week at Hollywood Station 82.
The $1.2 million fire truck has a battery life of about two hours on full charge and is about the same price as a regular diesel engine.
The truck is technically a hybrid, operating on a diesel engine as backup in case the 100-kilowatt battery dies. It's got all the standard bells and whistles, including two 1,000 feet hoses and tanks that can hold up to 750 gallons of water. The truck can also adjust its suspension up to as high as 19 inches for tough terrain.
As L.A.'s lush greenery dries and becomes a tinderbox, it's the well-to-do neighborhoods high in the hills with narrow, winding access roads that are often hit first – just look at the recent Laguna Nigel fire. It's not easy piloting a fleet of huge fire trucks into the hills, and a narrower electric engine might help.
When plans to test the electric truck were announced two years ago, former LAFD chief Ralph Terrazas took a test drive and became an instant fan of the tighter turning radius.
The LAFD recently switched leadership, electing its first female and LGBTQ fire chief, Kristen Crowley, last month. During the unveiling of the new truck, Crowley said she thinks electric vehicles could help keep firefighters safe from emissions, which they're already breathing in loads of in the form of toxic smoke.
"We are beaming with pride to be able to add this fire engine to our fleet," Crowley said at a press conference. She said it will bring diesel emissions to "basically nothing."
With climate change making fire season a year-round affair and the number of properties in California at risk of wildfire damage expected to hit 600,000 in the next three decades, there isn't a better time for the department to try out new tech. — Samson Amore

Big Changes Coming to Netflix After Catastrophic Earnings
Deadline reports that Netflix is in the early days of developing livestreams for unscripted shows or comedy specials. The idea is that Netflix could use it for live voting during competition series, such as the upcoming dance contest "Dance 100," or livestream reunion specials for its reality TV shows. Similarly, Netflix could livestream stand-up comedy events like its Netflix Is A Joke festival, though it may want to consider a tape delay in case another comedian is attacked on stage.
If successful, that could open the door for Netflix to add other live content, such as sporting events. The company has had success with sports documentaries, but Deadline reports that Netflix's livestreaming experiment is unrelated to those sports suggestions.
At the very least, livestreaming would give Netflix more variety with its content offerings. While media and tech companies in the streaming space are still figuring out how to retain subscribers, what's becoming clear is that giving consumers more choices—from whether to watch with ads or see a show live or on-demand—is a good idea.
Many Netflix rivals—from Amazon Prime Video to Paramount Plus—already air live content, and Disney Plus recently experimented with livestreaming through the announcement of the Oscars nominations. "Dancing With The Stars" is coming to Disney Plus this fall, making it the first live series to exclusively debut on that streaming platform.
Netflix's exploration of livestreaming is just the latest in a series of big changes underway at the company, from layoffs to canceled shows to a new culture memo. It's even possible that Netflix starts putting its original movies exclusively in theaters for extended periods, according to Bloomberg. Senior executives have reportedly discussed trying to release movies in thousands of theaters for roughly 45 days before making them available on Netflix, though there's no deal near completion.
Still, from commercials to live shows (and maybe movies in cinemas) Netflix is leaving no stone unturned—even if it means looking a lot more like the legacy media rivals it once sought to disrupt. —Christian Hetrick