Sarah Favot
Favot is an award-winning journalist and adjunct instructor at USC's Annenberg School for Communication and Journalism. She previously was an investigative and data reporter at national education news site The 74 and local news site LA School Report. She's also worked at the Los Angeles Daily News. She was a Livingston Award finalist in 2011 and holds a Master's degree in journalism from Boston University and BA from the University of Windsor in Ontario, Canada.
El Pollo Loco says it will become the first national restaurant company to experiment with door-to-backyard drone delivery.
On June 24, the Costa Mesa-based restaurant chain, known for its fire-roasted chicken, will test "Air Loco," its drone delivery from restaurant kitchens to customers' backyards.
As more and more people ordered delivery during the pandemic, restaurants are looking for alternative cheaper and more efficient ways to bring food to customers' homes. In 2016, Amazon was one of the first companies to discuss using autonomous aerial vehicles to deliver packages to customers' doorsteps in 30 minutes or less. But Amazon Prime Air has yet to get off the ground and into widespread use.
With the Federal Aviation Administration recently approving rules for delivery services to people's homes, it is expected more and more drones will be taking to the skies to make restaurant and other types of deliveries.
For El Pollo Loco, delivery service became a larger part of its business during the pandemic, growing by 250% over the last year, and the drone service is a way to avoid service fees from traditional delivery services like Grubhub, Uber Eats, DoorDash and others that charge up to 30% in transaction fees. It also is a way to make more deliveries more quickly and is expected to be more cost effective and convenient for customers.
"We wanted to lead the way and be the first to deliver a memorable experience to our customers in a cost efficient, fun, and reliable fashion in a way no restaurant brand had previously attempted," Andy Rebhun, El Pollo Loco's Vice President and Digital Officer said in an email.
Other restaurants have tested drone delivery to designated pickup sites, like parking lots, wherein a delivery vehicle will pick up the order from the drop-off site and deliver it to the customer's home for the last leg of the trip. Rebhun said El Pollo Loco wanted to take the step of delivering the items directly to the customer's backyard or front door.
He doesn't think drone delivery for the restaurant industry will be a passing fad.
"I believe drone delivery is one of the more sustainable and cost-effective mechanisms for food delivery in the future," he said. "I believe there will be a bifurcated delivery model in the future where businesses will choose to operate in the most efficient and margin positive mechanism."
El Pollo Loco is launching the pilot with Tel Aviv-based drone startup Flytrex, which manufactures and operates automated drones that travel at 32 miles per hour and use a wire release mechanism to gently lower food orders from 80 feet.
The drone for the service is also outfitted with a fastened delivery box that keeps orders intact, which means customers will receive their orders packed in El Pollo Loco's new special packaging — used to keep food hotter for longer — more quickly than it takes for a conventional delivery to arrive.
When the order leaves the restaurant, the food will be loaded on the Air Loco drone and once it takes off, it will ascend to about 200 feet and start the flight to the destination, Rebhun said. The drone can carry up to 6.6 pounds of food. Once the food is lowered from the 80-foot wire, the tamper-proof sealed delivery bag will detach from the crane and the customer can retrieve their food.
El Pollo Loco will begin its pilot at 10 restaurants, which will be selected within the next 45 to 60 days, the company said. Once the test is completed, it plans to expand to more of its 480 restaurants depending on demand and regulatory approval from the FAA. During the pilot, a select number of El Pollo Loco's Loco Rewards members in Southern California will be surprised with one of the first flights, the company said.
It doesn't appear as though delivery orders will slow down for restaurants.
Analysts predict that online ordering will grow this year even as restaurants open back up to traditional full-capacity dining service. The global online food delivery market is expected to grow from $115.07 billion in 2020 to $126.91 billion in 2021.
The growth rate for online food ordering and restaurant delivery has been 20% in the last five years and is expected to comprise about 40% of all restaurant sales by 2025.
Flytrex launched a pilot program with Walmart in Fayetteville, North Carolina to deliver select grocery and household essential items. It also delivers Starbucks beverages and pastries.
Earlier this year, Pizza Hut Israel said it would deploy drones to deliver pizzas. But rather than delivering directly to customers' homes, the company said the drones would drop-off the orders at a government-approved landing zone, like a parking lot, and from there a driver would make the final leg of the delivery.
In 2019, Uber Eats started testing drone delivery for McDonald's in San Diego.
A 14-year-old Pennsylvania high school student who took to Snapchat after not getting a spot on the varsity cheerleading team is at the center of a case now being considered by the U.S. Supreme Court that will test the limits of schools' ability to police speech on social media.
In 2017, Brandi Levy, now a college student, shared an image with her 250 Snap friends. It was a picture of her and her friend pointing the middle finger at the camera with the caption "F*** school, F*** softball, F*** cheer, F*** everything."
A fellow junior varsity teammate saw the post, took a screenshot of it and shared it with a coach. The school said the posts were disruptive to cheerleader morale and suspended Levy from the team for the rest of the year to "avoid chaos" and maintain a "teamlike environment."
In the balance is the issue of Levy's speech and whether that of millions of public school students online is protected. The court is expected to rule later this month. It's a case that could transform how school districts monitor students' online speech, including on Santa Monica-based Snap Inc's apps.
Social media has become embedded in the fabric of life for teenagers. Once off-handed comments now live online and can be shared.
The issue is especially tricky for school officials who are trying to balance the use of social media as an early warning system for potential violence, bullying or even self harm.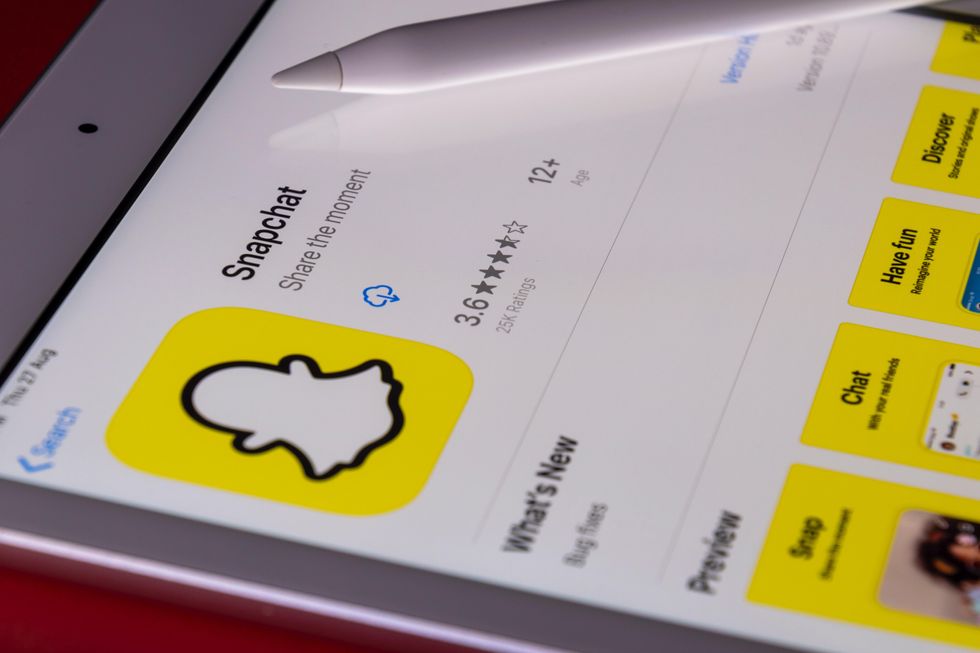 Photo by Souvik Banerjee on Unsplash
The last major ruling on student speech came in 1969 when the court held that students have free speech rights at school, unless officials find it will cause "substantial disruption."

Rachel Levinson-Waldman, deputy director of the Brennan Center's Liberty & National Security Program at The Brennan Center for Justice, said based on the justices' comments during oral arguments, she expects the court to skirt some of the broader free speech questions.
Instead, she thinks it's likely the justices will issue a narrow ruling. For example, because the case involves a student athlete, the ruling might just apply to students who voluntarily participate in an extracurricular activity if that speech is about the activity.
Still, she said statements students make on social media when they're off-campus should be protected by the First Amendment. The nonprofit center filed an amicus brief supporting Levy along with Equality California, the Anti-Defamation League and others, joining more than 100 other organizations in supporting the teen. Levy is being represented by the American Civil Liberties Union.
"It's going to have some impact on student speech going forward," Levinson-Waldman said.
The case brings to the fore some of the more difficult questions administrators, parents and students are dealing with in the online world.
If the court allows for monitoring of speech off campus, it could open the door for districts to use more social media monitoring software like Geo Listening, DigitalStakeout and Social Sentinel.
Companies have been trying to fill the gap, marketing social media monitoring services as tools that can prevent self-harm and bullying, and in some cases, mass violence.
Research by the Brennan Center of a database of government purchase orders found that 63 school districts across the country purchased social media monitoring software in 2018, up from six in 2013. Levinson-Waldman noted that the data does not capture all of the districts that may use this software.
The Center has found the technology is "largely unproven," and raises questions about privacy, free expression and other civil and human rights concerns. Also problematic, some words that might get flagged by the software might have different meanings in different cultures or contexts. That's particularly a problem for students of color, religious minorities and students with disabilities who are disciplined at disproportionately higher rates than their peers.
At the nation's second-largest school district — where students have posted shooting threats or other menacing warnings online — Los Angeles Unified School District officials said they address cyberthreats head on and don't use software to monitor their half million students on social media.
"While we can exercise our authority over out-of-school behaviors that directly and negatively impact the school, such as a threat, we are educators by trade and education is our best intervention," said an LAUSD spokesperson in an emailed statement.
The Glendale Unified School District was at the center of the issue in 2013 after it signed a contract with California-based Geo Listening to monitor students' public posts, sending daily reports to district officials when students mentioned using drugs or hurting themselves or others. The program was prompted by the suicides of two students the previous year after they were bullied online.
"We think it's been working very well," then-Glendale Unified Superintendent Dick Sheehan told the L.A. Times. "It's designed around student safety and making sure kids are protected."
The district renewed the contract in 2015. A district spokesperson said the district hasn't used the software in "several years," but could not say why the contract was terminated.
One of the issues in Levy's case is that she was not on school property when she posted the Snapchat. Rather, she posted it on a Saturday from a convenience store. So the court must decide whether schools can punish students for speech that occurs online and off-campus that may cause disruption inside schools.
The school district's attorney argued that the internet's "ubiquity" and potential for mass dissemination and permanence make the students' location "irrelevant," while ACLU attorneys representing Levy argued it would dramatically expand the disciplinary reach of schools.
During oral arguments, some of the justices seemed to indicate that the punishment did not fit the crime in this case and questioned what kind of speech would be determined to be disruptive — every curse word?
Justice Clarence Thomas acknowledged the difficulty in determining where the speech took place and whether it took place under the school's supervision.
"Aren't we at a point that if it's on social media, where you posted it on social media doesn't really matter?," Thomas said.
Craig Jones, co-founder and CEO of Formative, a platform that helps teachers track real-time student data, wants to live in a world where students don't have to take a final exam at the end of the school year.
Founded in 2013, his software platform allows teachers to see students' level of comprehension and achievement in real time, allowing teachers to assess students as they learn and adjust the curriculum to focus on areas where students may need more help.
"There will be a day where students don't take a big test at the end of the year as a school's primary way to assess student learning," Jones said in an interview.
The software enables teachers to give timely feedback to the student, rather than students having to wait for teachers to grade an exam for the entire class.
Jones wants to build even more features for teachers and more services for school leaders. On Tuesday, he got a boost to do just that with a $70 million Series A funding round led by global growth investor Summit Partners, with participation from existing investors including Emerson Collective, Fika Ventures, Mac Ventures and Rethink Education.
He said the company plans to triple its headcount to 150 this year as they build partnerships with top content providers and publishers and expand into additional markets.
Jones started creating solutions to help improve data collection and feedback for his students when he was teaching for Teach For America at a Los Angeles Unified School District middle school from 2008 to 2012. Jones then went on to co-found the company with Kevin McFarland in 2013 when they were UCLA graduate students.
Formative, like many edtech companies, saw growth during the pandemic, becoming an integral part of the classroom as learning shifted online, after Formative launched its COVID assistance program. That program gave teachers and their students free access to features that would normally cost money.
The company found many of those teachers kept using its service even as they returned to their classrooms.
"We were feeling like the solution that helped them during the virtual environment was just as applicable and maybe even more useful when they had all the students in the same room," Jones said. "It put us in the position where the growth would sustain into the future…and we would be part of the future of what school looks like."
Formative assessments, from which the company gets its name, have become more common in classrooms recently. Formative assessments include things like short, informal quizzes at the end of the lesson, or even in the middle, that can give teachers a snapshot of a student's understanding.
Experts have encouraged teachers to use them to improve student learning, rather than wait for "summative" assessments like a final exam or a standardized test. The approach gives educators timely data that indicate students' skill level and their progress toward learning standards before a course has been completed.

Inspired by the concept, Formative lets students submit video and audio clips, images, drawings or file uploads to respond to questions. In addition to instant results, teachers can see their students' performance over a longer period of time.
Formative said four million students engaged with the platform in the past year. The company added that it has an annual recurring revenue growth of about 700%.
Jones said 92% of all school districts in the U.S. have at least one teacher who uses Formative. Some school districts such as Omaha Public Schools, Atlanta Public Schools and Portland Public Schools have contracts with Formative.