Sarah Favot
Favot is an award-winning journalist and adjunct instructor at USC's Annenberg School for Communication and Journalism. She previously was an investigative and data reporter at national education news site The 74 and local news site LA School Report. She's also worked at the Los Angeles Daily News. She was a Livingston Award finalist in 2011 and holds a Master's degree in journalism from Boston University and BA from the University of Windsor in Ontario, Canada.
The U.S. Securities and Exchange Commission has launched an investigation into video game publishing giant Activision Blizzard, which is engulfed in allegations that company executives ignored reports of sexual misconduct and discrimination against women employees.
The Santa Monica-based company on Monday confirmed the probe and said it was cooperating with the federal agency.
"The U.S. Securities and Exchange Commission is conducting an investigation concerning the company's disclosures regarding employment matters and related issues, and has issued subpoenas to the company and several current and former employees that seek information related to this," a company spokesperson said in a statement.
An SEC spokesperson declined to comment.
The Wall Street Journal reported the investigation will include how the company handled employees' allegations of sexual misconduct and workplace discrimination, citing documents and people familiar with the matter.
The maker of World of Warcraft and Candy Crush was sued by the California Department of Fair Employment and Housing in July. The lawsuit said the company fostered a "frat boy" culture where women employees were subjected to constant sexual harassment, lower pay and retaliation.
WSJ reported the documents the SEC has subpoenaed include personnel files of six former employees, separation agreements reached this year with staffers and Chief Executive Bobby Kotick's communications with other senior executives regarding complaints of sexual harassment or discrimination.
The news organization reported the SEC is looking to discern whether Activision executives properly disclosed allegations of harassment and gender compensation disparities, and whether any of that information should have been shared with investors.
Activision initially said the California lawsuit used distorted and false descriptions of Blizzard's past. Hundreds of employees staged a walkout, calling for a change in the company's culture. Kotick issued an apology ahead of the protest saying the company's initial response was "tone deaf."
The Communications Workers of America filed charges last week with the National Labor Relations Board against Activision, alleging the company used coercive tactics to prevent its employees from organizing.
Days after the California lawsuit was filed, Blizzard president J. Allen Brack stepped down and Jen Oneal and Mike Ybarra replaced him as co-leaders of the company.
While Kotick has stayed at the helm of the company, Activision hired Julie Hodges, a Walt Disney executive, as chief people officer and Sandeep Dube, a Delta Air Lines executive, as chief commercial officer.
On Twitter, a prominent investor, Ross Gerber, called for Kotick to leave the company.
"We have to seriously reconsider our position in $ATVI - Bobby Kotick must go," Gerber, president and CEO of Santa Monica-based wealth and investment management firm Gerber Kawasaki, tweeted.
Despite the lawsuits, Activision Blizzard
last month beat revenue expectations generating $1.92 billion
, slightly down from the company's banner 2020 second quarter, but surpassing analysts expectations of about $1.89 billion.
Children aged 5 to 11 may be eligible for a coronavirus vaccine by the time they go trick or treating on Halloween.
Pfizer and BioNTech announced Monday its vaccine has been shown to be safe and highly effective among children in that age group. The companies plan to apply to the Food and Drug Administration by the end of the month for emergency authorization to use the vaccine in these children.
The announcement is sure to bring relief for parents and teachers who have been waiting for young children to get vaccinated. Health officials report 8.8% of 5 to 11-year-olds in the county have tested positive for COVID-19. Though case rates have been falling even as children have returned to school.
Unvaccinated children, even if they are asymptomatic, can spread the virus to family members, teachers and others who they are in regular contact with.
Pfizer and BioNTech plan to receive the results of its vaccine trial in children under 5 by the end of the year.
The emergency approval for 5- to 11-year-olds could come swiftly if the process goes as smoothly as it did for other age groups.
Emergency approval for the Pfizer vaccine for people aged 16 and older and children 12 to 15 years old both took three weeks. The FDA has yet to provide full approval of the Pfizer vaccine for children aged 12 to 15. But they can still receive the vaccine under emergency use authorization.
The decision comes at a time when pediatric cases of COVID-19 nationally are on the rise. National data show more than 5 million cases of COVID-19 have been reported among children and teens, causing 460 deaths since the start of the pandemic. Pediatric cases now account for 1 in 5 new cases.
Pfizer's announcement could have big implications for the Los Angeles Unified School District, which was the first major school district in the nation to mandate vaccines for eligible students.
Students who are 12 and older are required to be vaccinated by Jan. 10. It is unclear if the district will extend the mandate to all students 5 and older if the vaccine is given emergency use approval.
The district has established a robust system for administering vaccines. In August, mobile vaccination teams visited every middle and school to administer first and second doses and vaccine appointments can be scheduled through the district's Daily Pass app, which was made by Microsoft. The district has not said whether they would provide vaccines for younger children, if the approval comes.
The full data from the vaccine trial for 5- to 11-year olds has not yet been published or peer reviewed. It will be studied by regulators to determine whether the vaccine is safe and effective.
"We are eager to extend the protection afforded by the vaccine to this younger population, subject to regulatory approval, especially as we track the spread of the Delta variant and the substantial threat it poses to children," Pfizer chief executive Albert Bourla said in a statement. "Since July, pediatric cases of COVID-19 have risen by about 240 percent in the U.S. — underscoring the public health need for vaccination."
There were nearly 2,300 children between ages 5 and 11 in Pfizer's trial, two-thirds of whom received the vaccine.
In the trial, children who received two shots of a 10 microgram dose, spaced three weeks apart had similar side effects to young adults. People 12 and older receive a 30 microgram dose.
Tracy DiNunzio wants to kill fast fashion.
Founder and CEO of Santa Monica-based Tradesy, DiNunzio said over the last decade consumers are recognizing the harmful effects of low-priced, rapidly-produced fast fashion on the global climate. She argues that in addition to being environmentally conscious, buying and reselling high-end fashion items can also be affordable.
"We've always focused on luxury and it's not because we love Louis Vuitton bags," DiNunzio said, referring to the site's most popular item. "We picked luxury because they're the most durable goods that exist and have the highest and most resilient demand."
Investors are buying into that mission.
Tradesy recently raised $67 million in a Series D funding round led by Foris Ventures. Since it was founded in 2009, the company has raised $149 million. DiNunzio did not disclose the company's valuation.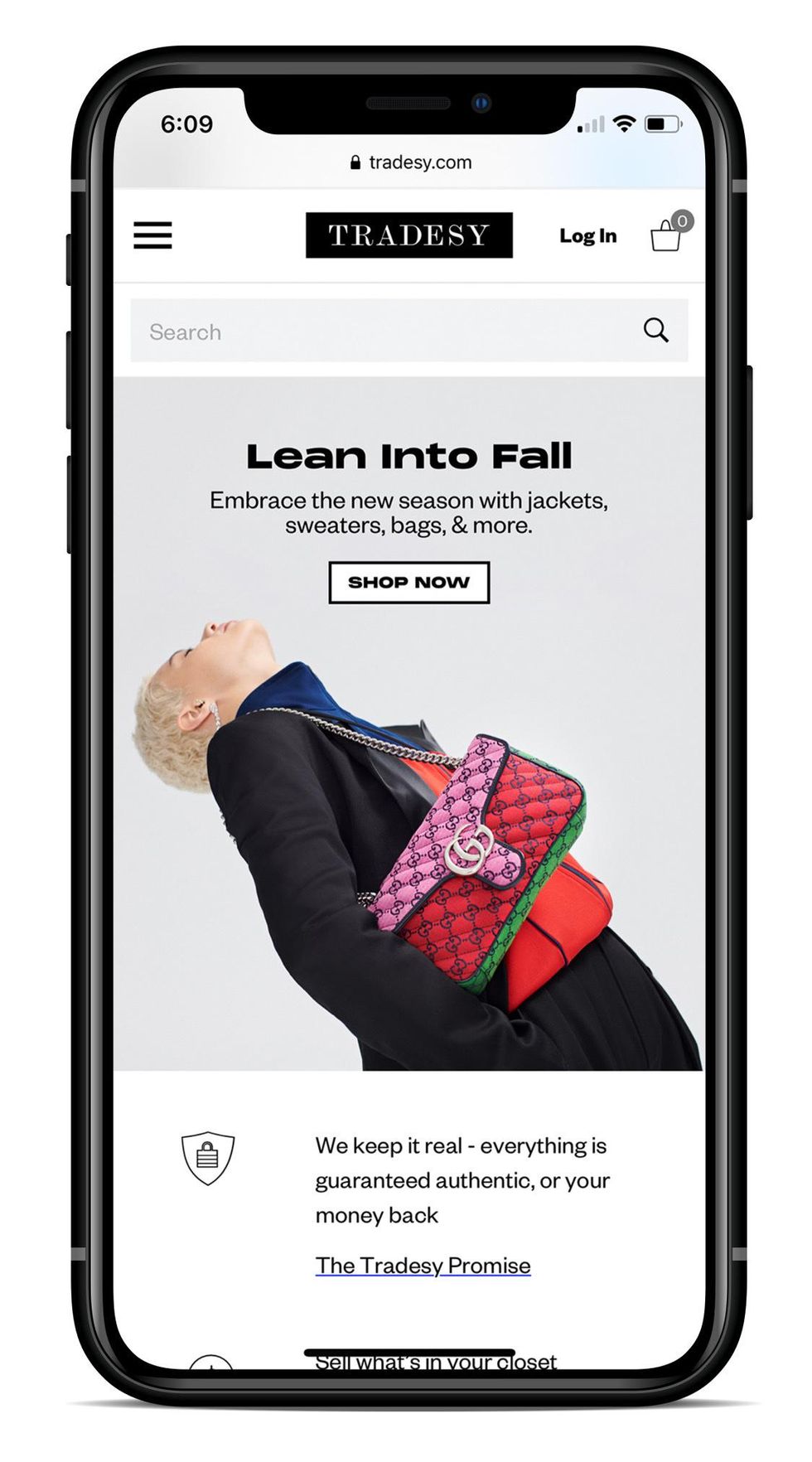 The global secondhand luxury goods market exhibited "strong growth" from 2015 to 2020, and market research firm IMARC Group expects the market to grow at a compound annual growth rate of 10.3% over the next five years.
While some may dismiss luxury items as being only for the wealthy, DiNunzio said a marketing analysis done by the company early on showed the average household income for a Tradesy customer was $65,000.
There are other benefits, she said, noting luxury products tend to hold their value. For example, a consumer can buy a $500 bag, keep it for a year, then resell it for close to the same price a year later.
"We're seeing that customers who might have thought luxury was out of reach are turning to resale and embracing resale," she said. "Everyone wants better quality things and it's just a matter of affording them."
With the infusion of cash, Tradesy hired a new chief operating officer, Amy Gershkoff Bolles, who led the global data science team at eBay.
The company will also be continuing to develop AI and machine learning technologies so that the resale experience can be "seamless" for buyers and sellers and to create a "personalized and curated" experience for buyers, DiNunzio said.
It will also begin to invest more heavily into marketing, having mostly relied on organic growth in the past.

The market for lower-end secondhand clothing is also seeing a lot of action.
thredUp, an online consignment and thrift store, went public earlier this year at a $1.3 billion market cap. Etsy acquired Depop, a fashion resale marketplace targeted for Gen Zers, this summer for $1.6 billion in a mostly cash deal.
DiNunzio said Tradesy stands apart from its competitors because it is a peer-to-peer platform, so the company doesn't hold any inventory, and luxury items have high average order value. It takes a 19.8% commission from sellers. They also authenticate online, eliminating the need for shipping.
"It's just about the cheapest and lowest impact way for people to still get a fresh order whenever they want," she said.
From Your Site Articles
Related Articles Around the Web