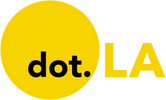 Get in the KNOW
on LA Startups & Tech
X
Sarah Favot
Sarah Favot
Favot is an award-winning journalist and adjunct instructor at USC's Annenberg School for Communication and Journalism. She previously was an investigative and data reporter at national education news site The 74 and local news site LA School Report. She's also worked at the Los Angeles Daily News. She was a Livingston Award finalist in 2011 and holds a Master's degree in journalism from Boston University and BA from the University of Windsor in Ontario, Canada.
Nissan Leaf's were one of the first mass-marketed electric vehicles to hit the market. Now, as their first generation batteries are reaching the end of their ability to power electric vehicles, the question has become what to do with tens of thousands of batteries piling up.
One Santa Monica-based company, B2U Storage Solutions, has found a solution: transforming these batteries and those from other car manufacturers into storage for solar energy, effectively creating an 8.5 megawatt solar power plant in the Lancaster desert. The stored solar energy can then be sold to the grid to power the region in the evenings, when the demand for electricity is high and energy from the sun isn't available.
With a state ban on the sale of new gasoline-powered cars set to take effect by 2035, millions of electric vehicles are expected to be sold in California in the coming years. It's created a headache for policymakers who are grappling with how to regulate the disposal of these batteries.
Worried about the glut of batteries, state Assemblymembers Brian Dahle and Phil Ting wrote legislation that was signed into law in 2018 aimed at creating a plan. The Lithium-Ion Car Battery Recycling Advisory Group, consisting of car manufacturers, the salvage industry, recyclers and nonprofits and facilitated by the California Environmental Protection Agency, are studying what regulations should be in place when it comes to the disposal of EV batteries.
"With California continuing to expand its rollout of zero-emission vehicles, it is critical that we as a state prepare for the large-scale battery recycling necessary to accommodate the transition to greener technology," said Mark Isaac Isidro, legislative director for Assemblyman Tom Lackey, a co-author of the bill whose district includes Lancaster.
Recycling lithium-ion batteries can be tricky because they are comprised of metals like lithium, cobalt and nickel that are difficult to recycle. The battery cells are also glued together with strong adhesives, making it hard to separate them. It is often cheaper to mine new metals.
But energy storage is one solution.
B2U CEO Freeman Hall is making a pitch that the batteries should be given a second life before they're recycled.
"We're helping gain that trust with the [original equipment manufacturers] because they're such an important voice in how the rules will get written on lifecycle management and we want to make sure that they understand that reuse is a very good place to go when risk is managed appropriately," he said. "And we think we can be the leading reuse provider for batteries in second life stationary storage and we think that we have a good business model to manage that risk at scale."
Hall said his business sits at the intersection of two big societal and environmental needs: transforming the power sector into renewable energy and transitioning the transportation sector toward electrification.
Maria Xylia, a research fellow at SEI - Stockholm Environment Institute and co-author of a report called "Beyond the Tipping Point: Future Energy Storage," agrees. Batteries are often considered useless for cars after they reach 80% of their battery capacity, she said.
"So that means that you have a whole lot left which is not applicable for car vehicle applications, but it's great for stationary storage and all these other opportunities, so why waste this opportunity?," she said. "It's a great way of handling the question of what you do with batteries and improving even more the environmental benefits from electrification in the transport market."
And investors are watching. B2U recently closed a nearly $10 million Series A raise that will help it expand its capacity at the Lancaster site and to bring on another site in Southern California by the second or third quarter of next year. The round was led by the power division of Japanese trading conglomerate Marubeni.
By this time next year, Hall plans to produce about a total of 50 megawatt hours with both projects.
The Lancaster array contains about 500 batteries. By early next year, Hall expects that number to reach 1,000.
Hall said the typical cost of recycling a battery is $500 to $700. If the batteries can be reused, it will reduce the cost of recycling.
"We can pay for those batteries rather than OEMs having to pay for the recycling," he said.
B2U purchases the batteries from manufacturers like Nissan, typically when they're at 65% of their capacity or greater. Hall said he's looking at salvage yards as another supplier; that's generally where cars end up that can no longer run because of powertrain issues, for example.
The batteries are kept in their original casing, eliminating the need to repurpose them, and placed into large cabinets that are wired to each other, using the company's proprietary technology, to create a large-scale energy storage system.
The batteries slowly charge during the day and once the sun goes down, B2U sells the energy to the grid when wholesale market prices are more expensive.
Aging studies conducted by B2U show that each battery can run for about 2,000 cycles before they are no longer useful. Each day is about 1 cycle, resulting in an additional five and a half years of use.
"Things are working very well. We're making pretty good money and we do believe we're proving our thesis that our proprietary technology using these second-life batteries is going to be a lower cost and we will be able to sort of demonstrate the reliability and performance over time of the solution," Hall said.
Rachel Miller, founder and CEO of Closegap, has always been interested in helping kids who did not win the "birth lottery," as she calls it.
She is one of them.
Growing up, her mother had schizoaffective disorder, but did not take medication for it. Miller often stayed at strangers' houses or with family and friends because her mother had a hard time keeping a job. As a result, she often found herself exposed to others who were using drugs.
One night when she was 9, Miller thought she would have to sleep on the streets, but she and her mother received a last-minute motel voucher after standing outside a welfare office for hours.
It was in education that Miller found refuge. She'd often bounce around to several different schools in a year, but often was surrounded by teachers she saw as "guardian angels" who cared about her and her situation.
The support propelled her to attend Los Angeles Pierce College and then USC's Marshall School of Business before getting a master's degree in entrepreneurship at the University of Amsterdam. Drawing on an entrepreneurial spirit, she started a donation platform where people could gift specific items to disadvantaged families. It ultimately failed but something else bloomed.
"I learned so much and actually realized that I don't want to try to eliminate the adversity that kids experience," she said. "I want to optimize the support that they get from the adults around them and teach them the coping skills they need."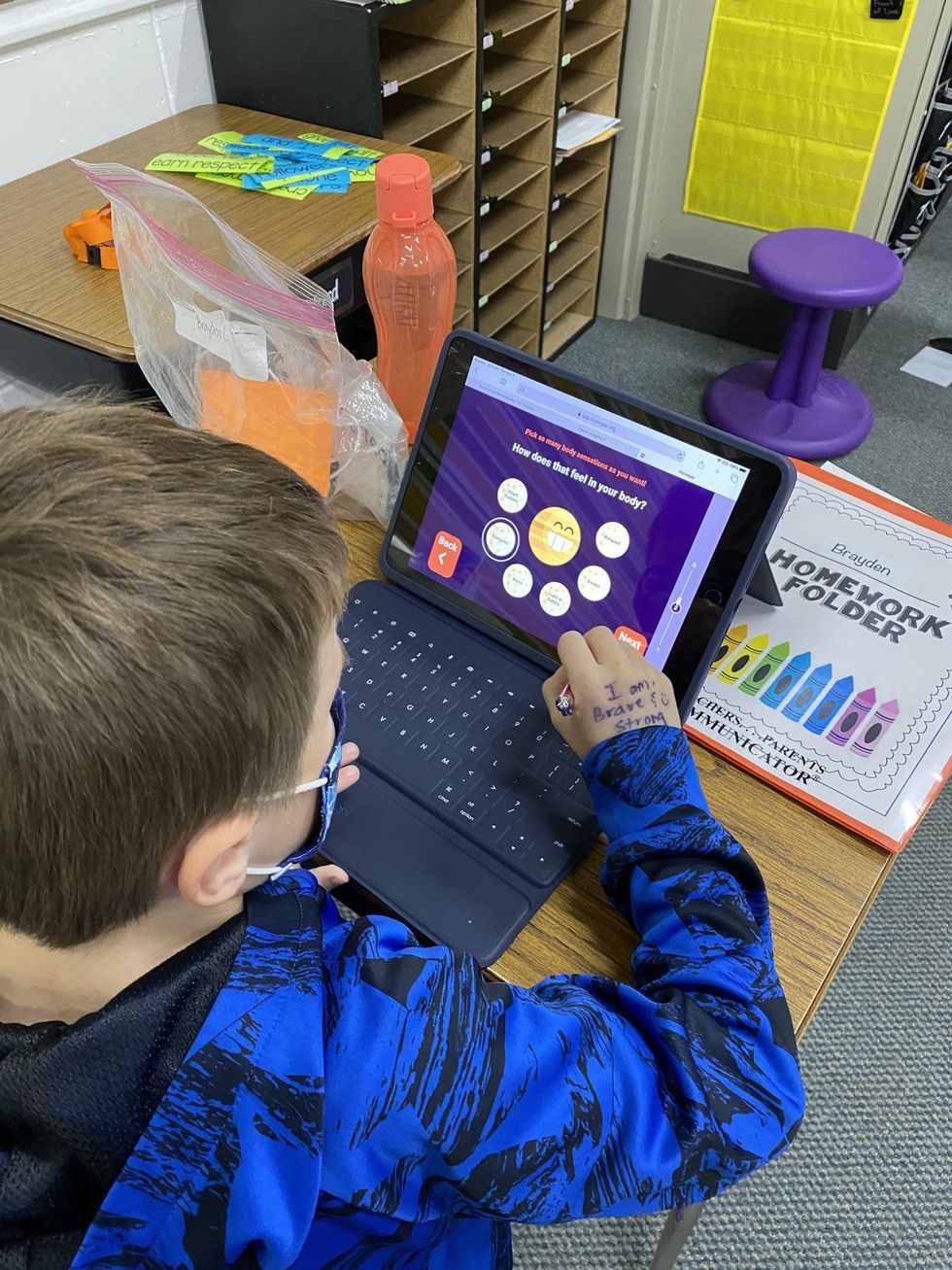 She launched Closegap in 2019. The web-based app used by schools lets students check in daily with their emotional well-being by answering questions like: Are you feeling worried or are you feeling like you are worth less than others. The questions are tailored to different age groups and teachers and counselors get results for each student. It tells them whether a child hasn't had breakfast that morning or is experiencing suicidal ideations.
For years, Miller was reluctant to share her story. She had a difficult childhood, one that she often didn't feel comfortable talking about. But she came to understand that it was that pain where her passion for disadvantaged kids comes from.
About 2,100 schools across the U.S. use the Los Angeles-based nonprofit's app, as well as schools in 25 countries. Students have completed about 2.5 million "check-ins."
When COVID hit, the app went from reaching 10,000 students to 140,000 students in two months, Miller said. That number has now reached about 160,000 students.
It's no coincidence. The American Psychological Association's Stress in America 2020 study shows that 43% of Gen Z teens, aged 13 to 17, say the level of stress in their life has increased over the past year. And a UNICEF report on the mental health of children globally found that 1 in 7 adolescents is estimated to live with a diagnosed mental disorder.

School districts across the country, and here in Los Angeles, are hiring school psychologists and psychiatric social workers to address the need.
Closegap targets schools because that's where Miller thought it would be most effective. "Not all families are created equal," she said. Community resources often fall short. She thought Closegap could help students make a connection with at least one adult.
"If we can optimize for that, if every kid had at least one trusted adult, our entire society would look different, that would literally change everything," she said. "That's why Closegap really focuses on that check in and getting them in contact with school counselors and teachers," Miller said.
The app has a free version that's more focused on the connection with an individual student as well as a recently launched paid premium product that provides aggregated data to school districts.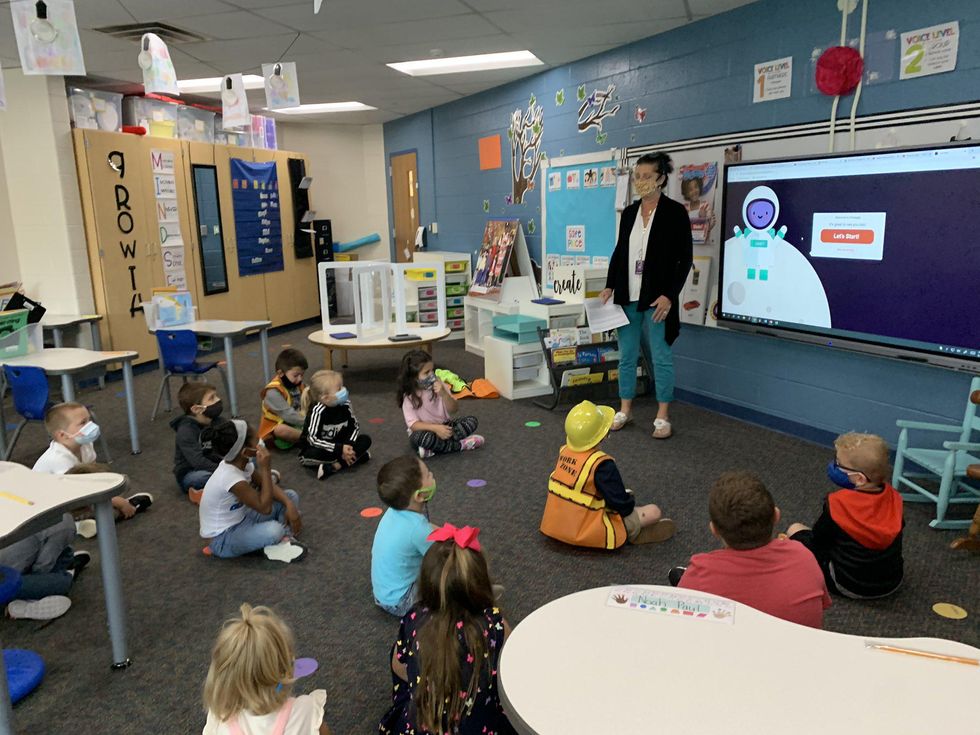 dot.la
"The idea is to create a safe digital space, where they feel comfy sharing, so it's not just a survey," she said. "It's really this moment where you get to check in with your emotions, your somatic sensations, your energy level and then you get to share if you have any challenges."
There are then activities on the app that students can do if they choose, like deep breathing exercises, progressive muscle relaxation and therapeutic shaking.
When it comes to student data privacy, Miller said it's something she takes seriously and part of the reason she founded the organization as a nonprofit.
So far, the only time Closegap will intervene is when a student reports ideas of self-harm or suicide. They will follow-up with the school to ensure an adult has been in contact with that student. She said all of the students who have reported self-harm or suicide on the app are receiving treatment.
Miller has relied on philanthropic donations to fund the app so far. She has several investors, rather than a single one -- much like a startup backed by venture capitalists would have.
The company is now working on integrating pieces into the app that orient children to the future, rather than living in the here and now. Students who experience trauma are often stuck in their present situation, in survival mode, she said.
"What I want to work on next is really making sure that all students, regardless of the circumstances they find themselves in, have some concept of the future and can start to at least a little bit visualize what their lives might look like after whatever it is they're in," Miller said.
From Your Site Articles
Related Articles Around the Web
In the sprint to remake education during the pandemic, Los Angeles Unified School District armed half a million students with internet and devices to stay connected, but experts and parents said that its efforts to teach online sometimes fell short and left students behind.
Parents complained of edtech apps that were hard to hear in some cases or ones that were so cumbersome their children avoided them altogether. Some were age inappropriate, being used for elementary age students who had a hard time navigating them.
dot.LA spoke with a half a dozen parents and teachers about the district's effort to build thousands of virtual classrooms across the sprawling district.
Records obtained by dot.LA show the district spent $390 million in emergency funds for its COVID response from March 2020 to April 2021. More than half was spent on tech like laptops, tablets and hotspots and a lab to process COVID tests. Included in that is $23.4 million in spending on several licenses for edtech apps like Edgenuity, Discovery, Rosetta Stone, Blackboard and Edpuzzle.
While many of the edtech apps the district purchased helped students learn, some parents said others were boring and caused frustration.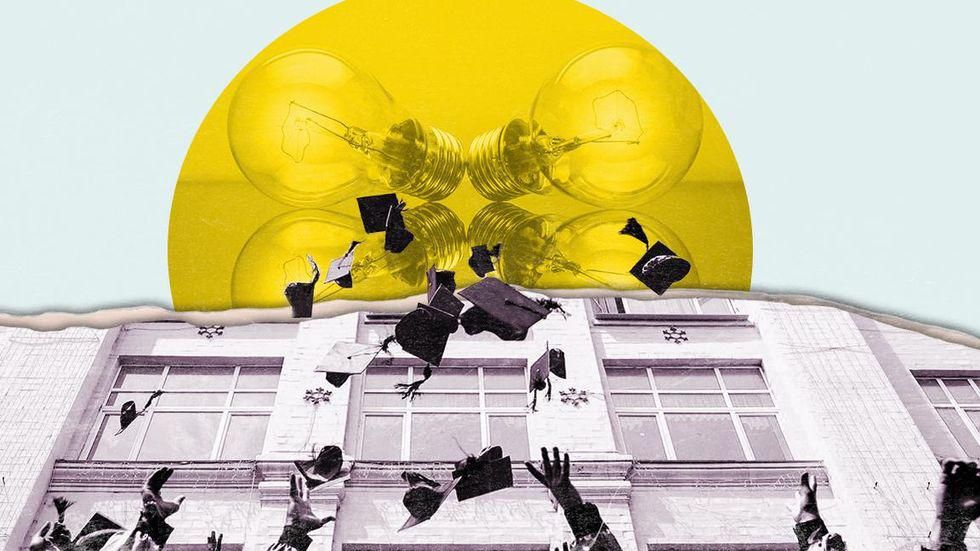 One parent group gave its own training for parents to help their children connect to their online classes.
The district has not responded to inquiries from dot.LA about their process. But experts said in the speed in which the process took place what was often left unanswered was how the district chose educational apps.
"As an educational technologist, I am in favor of resources being spent on technology. However, there needs to be a transparent process in place," said Tim Green, a professor of educational technology at California State University Fullerton.
An LAUSD spokesperson said the district sought input from teachers and administrators, surveying more than 11,000 people to determine which apps were being used and preferred by educators. The apps were also evaluated to determine whether they met California's curriculum standards and student data privacy policies.

The spokesperson said professional development for the apps was offered to teachers. And resources were available for parents, including a hotline established to provide consultations with live agents. The agents helped families learn how to use tech and virtual apps.
There remain questions about how the district determined which apps to purchase, including whether teachers, parents and students were involved in the decision-making and whether the district provided professional development to help teachers navigate these apps.
But several parents said they were left on their own to help their kids with their assignments at home using these tools.
Parent advocacy organization SpeakUp stepped in and conducted training for parents on how to use Zoom and other tech. They did this because many low-income parents had never accessed the technology before and in many cases didn't speak English, causing huge barriers to navigating the technology, SpeakUP spokesperson Jenny Hontz said.
"We walked parents through that step by step, but the district did not put many resources toward tech proficiency training. And we were only able to help a limited number of parents with our resources," she said, adding that the group had no funding for this.
Hontz said the district spending on devices and hotspots was essential.
Sonia Sanchez, who has three children in LAUSD schools, said an app called Newsela, which helps students with reading comprehension using news articles, was particularly helpful and enjoyable for her kids.
But, she added, Edgenuity was just the opposite.
Sanchez said her son in high school would postpone anything that had to do with Edgenuity, an online curriculum software for K-12 students, because it was going to take him a long time to get through it.
"They dreaded it," she said of all of her kids.
She said the app is educational and has informative lessons, but for her younger children, it was dull. Moreover, she said teachers didn't follow up with their students about what they learned because the entire lesson and assignment was built into the program. Sanchez said she was lucky enough to be able to sit down with her children as they went through lessons to help because she works part-time from home.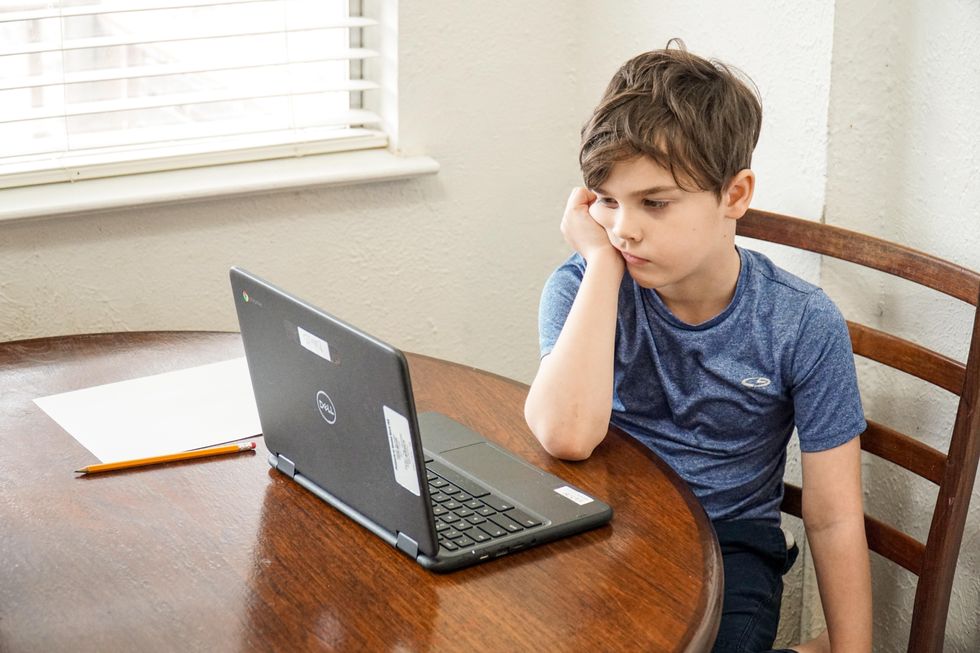 Edgenuity is used by school districts across the nation. A BuzzFeed investigation found that during the first year of the pandemic, more than 500 public school districts purchased the Arizona-based company's software, signing contracts that totaled $145 million.
Deborah Rayow, Edgenuity's vice president for instructional design and learning science, told NBC News that its software wasn't designed for the pandemic and it's up to schools to give live instruction.
LAUSD has been using Edgenuity for years for students to make up courses they didn't pass, known as credit recovery. During the pandemic, teachers turned to it as an online teaching platform.
In August, Meghan Gohil enrolled his son in the district's online independent study program through a district school named City of Angels. It was the only way Gohil could keep his 11-year-old son, who can't get vaccinated, enrolled in the district and learning at home. State legislation prevented school districts from holding Zoom classes similar to what was offered when campuses were closed.
"As much complaining as everybody did about Zoom, it was far superior to what they're doing now," Gohil said.
Edgenuity is the program used by City of Angels to facilitate online learning. Gohil and his son came up with a list of problems they've encountered with the software from poor sound quality on some videos to its focus on the amount of time a student has spent on a lesson rather than comprehension.
When asked whether he's going to re-enroll his student at his regular school in Sherman Oaks after his son is vaccinated, Gohil said, "Hell yeah."
He said it looks like his son, normally a straight A student, is going to get a B this semester.
Students across the nation ended the pandemic school year behind. A study by McKinsey & Co. found that elementary students ended the 2020-21 school year four to five months academically behind. And the findings were more dire for Black and Latino students.
In a statement, Edgenuity said it experienced challenges as it quickly scaled to accommodate many more students than it initially expected.
"But in every case, we recognize our role as education and curriculum partners for our school customers comes with great responsibility, and that's why we have worked with our stakeholders to learn from the last academic year and distill those valuable lessons and insights to inform how we have worked with schools as we entered this third interrupted school year," the company said.
It also said it directly worked with LAUSD to provide tools, resources and support.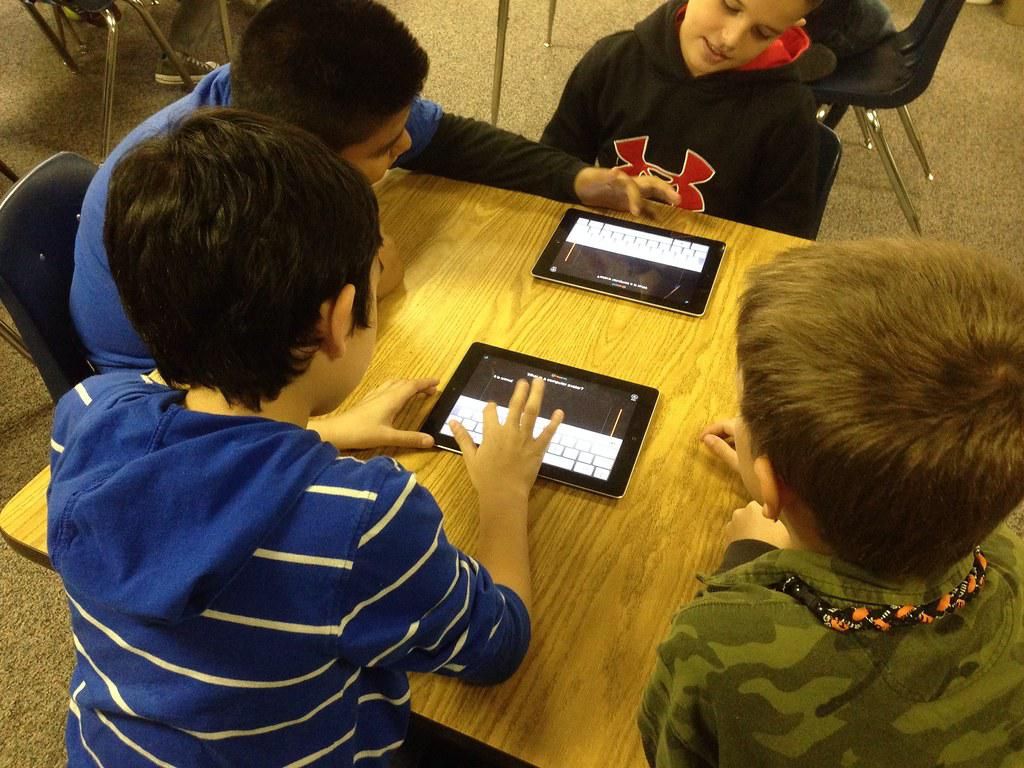 Gayle Bigyan said her daughters who are in 5th and 6th grades have had positive experiences with edtech apps, including Newsela, Nearpod, Amplify and XtraMath.
"Both of my daughters' reading comprehension, analytical thinking have gotten a lot better because of those platforms, because they used them every day," she said.
She said her fifth grade daughter is now at the top of her class and Bigyan credits the apps in part for getting her there.
She wants teachers to continue using technology even as classes are now in-person.
Teachers also said they also found apps like Newsela and Nearpod beneficial.
Parent Rebecca Cunningham said she wasn't surprised the district spent millions on tech, but she wants the district to be thoughtful on what it will spend going forward.
"Sometimes you throw everything against the wall and see what sticks," she said. "But we need to make sure that we don't just renew those contracts just because. But, instead, we really need to evaluate and find out from the teachers what they are actually using, and what they know how to use."
IXL Learning announced last week LAUSD has renewed its contract with the edtech company, which is used to supplement math and English lessons. The terms of the deal were not disclosed.
The LAUSD spokesperson said it will evaluate which apps it will continue to use.
"We will continue to monitor the needs of our communities and leverage renewal options accordingly," they said. " Regular meetings are held with each digital tool vendor to discuss usage, professional development, and needed implementation support."