amazon
When Jeff Wilke, CEO of Amazon Consumer Worldwide, made the surprise announcement in August that he was leaving, he said he felt it was time to do something else.

"Time for me to take time to explore personal interests that have taken a back seat for over two decades," Wilke wrote in a heartfelt letter to Amazon's 1.13 million employees.
Wilke has been vague about what those interests are until he recently sat down for an extended conversation with dot.LA. (He also shared his views on Amazon, which you can read here.)
While Jeff Bezos, who announced his own retirement as CEO in February, is focused on space exploration, Wilke's interests are decidedly less celestial – investing in underrepresented founders and restoring American manufacturing.
It is full circle for Wilke, who grew up in Pittsburgh where he saw once-prosperous factories shutter their doors.
"I watched the decline of industry and the effect that it had on the people of Pittsburgh and it really left a mark on my life," he said.
Initially, Wilke went about as far from the rust belt as one can get. After graduating from Princeton with a degree in chemical engineering, he went to work at Andersen Consulting (now Accenture) writing software. The job paid well but Wilke found it unsatisfying.
"I got to a point where I decided I couldn't keep doing what I was doing," he said. "I needed to make a career change."
He went to get an MBA at the Massachusetts Institute of Technology where, unlike most of his colleagues who were focusing on finance and consulting, he enrolled in the Leaders for Global Operations program. (He served as co-chairman of the program's governing board for over a decade.)
After graduation, he worked in plant operations at the industrial conglomerate AlliedSignal – which was later absorbed by Honeywell – before being poached by Amazon at the age of 33 to be vice president and general manager for operations.
Wilke said he was attracted to Amazon after reading Bezos' now-legendary 1997 shareholder letter, which stressed the importance of investing for the future.
"I loved the focus on long-term free cash flow instead of the quarter-to-quarter financial targets which drive most public companies," Wilke said. "And I loved the idea that success at Amazon would likely depend on both computer science and operational excellence."
In a Wall Street Journal article announcing the hire, Amazon's then-president Joe Galli said he was counting on Wilke to take the company's nascent network of distribution centers "to a whole new level of productivity and excellence."
It is safe to say Wilke got the job done, helping Amazon go from $2 billion in revenue in 1999 to now more than $1 billion a day.
Now he is deploying some of his wealth as an angel investor in startups including Fernish, Pacaso, Dolly, SparkToro, Convoy, Lockstep, Cyrus Bio, All Voices, Pure Watercraft, Alpine BioSciences — and most significantly — Re:Build Manufacturing.
Here is the second part of our conversation, edited for length and clarity. Read part one here.
I'm interested in what you've done in manufacturing. What do you see as your role?
Jeff Wilke: When I showed up at Amazon in 1999, I had created a playbook for operational excellence, built on these experiences and leveraging what had been built through lean manufacturing in the auto industry and other places. Starting in 2000, we applied it in retail for the first time and that was a terrific experience. But after I had made my decision to leave Amazon, I started to have some conversations with a friend who is a grad school classmate, Miles Arnone, and is now a co-founder of Re:Build Manufacturing about what more the U.S. could do to make sure it would remain competitive in this vital industry. We decided to build a new American manufacturing company that would ultimately build U.S. factories and hire U.S. workers. We decided to start with some acquisitions of existing companies, but the goal over time is to build new operations. We're hoping with the right mix of technology, skilled people, long-term focus, the right leadership principles – that the U.S. can successfully compete in manufacturing once again.
When you say 'compete,' what does that mean? You know better than anyone that this is a globalized economy. Consumers want cheap things shipped to them overnight and it's cheaper to make most things overseas. So can the U.S. really be a manufacturing powerhouse?
I think it can. I don't think it's going to be able to do it by copying what happened in Asia over the last 30 years. We can't have factories filled with unskilled, low-paid workers. But I think we can have the right hardware technologies alongside humans who are higher skilled. And you mentioned a key word, which is consumer desire for speed and speed isn't just a consumer thing. When you think about a lean process where you take as much time out of the process as you can, producing things in Asia thousands of miles away is not lean. Lean would be having production close to customers so processes can react faster.
Do you think we'll see iPhones or Kindles produced here?
I don't think you could do that overnight. But, I think that over time we'll build up the multiple tiers of suppliers that are necessary to build something like an iPhone and, maybe even one day, a version of that kind of complex consumer electronics product here in the U.S.
It's interesting because the logistics jobs at places like Amazon have actually replaced a lot of manufacturing jobs...
There have been millions of jobs created as a result of companies like Amazon. One thing to keep in mind, though, is that delivery in some sense replaces your labor, which was unpaid, to get in your car and drive somewhere to buy something and come back. And those are new jobs that are created in the economy as opposed to shifting from one thing to another. Certainly in a bunch of towns in the U.S. where manufacturing withered, they were very grateful that Amazon built the fulfillment center that paid really well and offered people who didn't have great skills the chance to improve their lives and I think that trend will continue. The kinds of jobs that I think we're going to build at Re:Build Manufacturing will be typically higher-skilled jobs and, consequently, higher pay.
It's unusual to hear people in tech talk about manufacturing. Tech is usually seen as part of the problem...
I think that a software-only economy is more fragile than an economy that also embraces the complicated dance between software and hardware. My experience over the last 21 years helping to build Amazon was one where that dance was critical to the success of the firm. Amazon is a great software company, but it had to learn to be a great operator in the physical world, too.
You also said you had other interests you were going to pursue. What are some other things you're excited about doing that?
If you go back to May, I came to a conclusion that really changed the way I was getting involved in activities that were making a difference in DEI [diversity, equity and inclusion]. I admitted that I had subscribed to this idea that just facilitating achievement would solve racial inequality; If I just help the smartest people of color to get into a good school or to get a good job, that everything else will take care of itself. But it's not enough. So one of the things I started to do is think about my investing choices and which firms that I backed with my own money and my own time. And the truth is until recently all the firms that I would have listed had the advantage of privilege. So my friend Ron Conway [Founder & Co-Managing Partner at SV Angel] called months ago to ask if I would invest my money and time helping two guys named Austin Clements and Ajay Relan to build an L.A.-based fund called Slauson and Co. Normally I wouldn't have looked at something that was really new where they had no track record. But, if everybody is making that decision and that's how we're allocating capital, we're never going to overcome the inequality that has compounded over all these years.
You've been splitting your time between Seattle and in L.A. How come?
I decided to start spending some time down here as my wife turned her writing skills toward scripts. She's lately been working with a composer who's in L.A. on a musical. There's such a creative vibe here in L.A and I think for us, spending some of our time here has been really good for her. And if you spend any time in Seattle in the winter it's easy to understand why you might want to get a little bit more sun in the winter months.
Is she going to be doing any projects for Amazon Studios?
(Laughs) I don't know. I don't have any kind of "in" at this point so it's up to her, but she'll certainly pitch every great studio and Amazon is one of them.
What are you reading on your Kindle right now?
I am reading a Churchill biography. I've tended to read leadership biographies and I find it interesting to focus on both the superpowers that make leaders successful and especially their humanity and all the weaknesses that they have to overcome. And every one of us has both. I think sometimes when we look at history we tend to want to polish away humanity and weakness and focus just on these superpower things. Well, I don't think there are any superheroes. There are only real people who have devoted themselves to great causes.
Part 1: Jeff Wilke's reflections on his time Amazon.
Lead illustration by Eduardo Ramón Trejo.
From Your Site Articles
Related Articles Around the Web
In March, Jeff Wilke quietly stepped away from Amazon, the company he was instrumental in building from an online book retailer to one of the most valuable and influential corporations in the world.

As CEO of Amazon Worldwide Consumer since 2016, he oversaw the company's vast retail business, Prime, the Amazon marketplace, Amazon stores, marketing and Whole Foods.
When Wilke joined Amazon in 1999 to oversee operations the company was doing about $2 billion of revenue a year. Now it brings in about $1 billion every day and last week announced its sales grew by an astonishing 44% year-over-year.
Wilke was long considered the second most important person in the company behind Amazon CEO Jeff Bezos, who shocked the world by announcing his own departure in February.
Bezos called Wilke his tutor and he was seen as a likely successor, but that job instead went to Andy Jassy, the chief executive of Amazon Web Services.
In a wide ranging conversation with dot.LA – among his first since leaving – Wilke says he has no regrets and felt it simply time to do something else.
Wilke also talked about what it was like to work for Bezos and his reaction to last month's failed unionization vote at an Amazon warehouse in Alabama.
This interview has been edited for length and clarity.
You left Amazon only a few weeks ago. What's it been like these past couple of weeks, not being at the helm of that giant operation?
Jeff Wilke: It's certainly been an adjustment and I'm still adjusting. I was there over 21 years and it's a part of me in so many different ways. I have so many connections there still and friends who are there. I spent the first two weeks learning to code in Python, which I thought would be a really good way to stay connected to the engineers that build Amazon every day and upgrade my skills since I hadn't written code in modern languages.
So you're not on the golf course. You're learning Python?

Yeah, it was super fun. It was very immersive. It was a reminder to me of how coding compounds creativity and invention.
Why did you want to depart Amazon?
I just said it was time. I didn't spend any time through the years carefully charting some course. We were building what we hoped would be a lasting, important company and worrying about the customer experience and I got to a point where I felt like it was time to do other things.
Did the job become not as fun with all of the scrutiny from Washington and organized labor and just the giant pressure you were under with all that?
The job was just as fun when I started to think about leaving, which was well before the pandemic. And it was really meaningful last year in terms of all that was accomplished. But it just felt time for me to move on.
Did you want to be the next CEO?
I never really thought about it because I always imagined Jeff doing it forever. When I was making my decision that wasn't what I was thinking about.
But when you heard he was stepping down, were you like, "I should have just stuck around a little longer?"
No. I was super excited and I am super excited for [new Amazon Worldwide Consumer CEO] Dave Clark and for Andy Jassy.
Were you surprised when the other Jeff said he was leaving?
Yes
It's interesting that both of you who had been there over 20 years and in his case founded the company decided at this moment to leave. Do you think he took some inspiration from you?
(Laughs) That's hard to say but I think in many ways the last year or so has been quite a time of self-reflection for many people. It's not surprising to me that if people were maybe thinking in the back of their mind about making a change, the events of the last year would have caused them to think even harder about it. I don't know for sure why Jeff chose the particular time he chose, but he has so many things in his life that he wants to focus on, too. And I'm just really happy for him.
How do you think the company will be different under Andy Jassy?
Andy was a part of the S-team [Amazon's senior leadership group] for a long time and contributed materially to a bunch of the things that are part of the culture. He and I worked with a group of people on a couple of the revisions to the leadership principles that really have guided the company for nearly two decades. And of course the business and culture that he built with the team and AWS is a big part of Amazon and certainly a big part of the technical underpinnings of the way Amazon works. And that's not going to change at all. So I think it's a terrific team with a great mission and a lot of runway because of the businesses that they're in. I'm going to remain a fan.
What was Jeff Bezos like to work for?
You vote with your feet at work, and if I didn't think he was somebody that I enjoyed working for and that I could learn from, I wouldn't have had him as my boss for over 20 years. He and I have different strengths in different areas where we were able to help each other out by learning from each other and of course Amazon is more than just one or two or 10 people – it's thousands and now actually over a million people.
In those early days what did you see Amazon becoming? Did you just think it would be a big bookseller or could you have seen this global colossus?
I don't think anybody could have imagined what actually happened. Too many things had to fall into place. For instance, there was no iPhone or Android system in 1999 when I joined. People weren't carrying around what are basically supercomputers in their hands, which radically changed the way people interact with the World Wide Web. The delivery networks were not nearly as capable as they became over those 20 years. There's a ton of work to do to get costs to a point where you could afford to offer something like Prime. We didn't have a studio so the idea that we would be creating movies and TV shows as a complement to the delivery services as part of the subscription program called Prime – I think it would have been hard to envision all these things in detail.
What was your reaction to the union vote in Alabama failing by a pretty wide margin?
Jeff hit this well in the shareholder letter; the company can always be better at taking care of employees. If I were still there, I wouldn't have hung my hat on the outcome of that particular vote. I would have said there are some signals that we're receiving that say we have more work to do. We should be proud of what we've done – proud of our safety record and proud that we pay industry leading wages and proud that we have 20 weeks of family leave for people who started an unskilled hourly job on day one, which is really unheard of. So, we have all these things that we've done that are great and then there's a lot of things that we can do to get better.
What did you think of "Nomadland"?
The work camper thing was something that sort of naturally evolved. There were groups of people who had come to work only for the holiday at Amazon and they showed up in campers and they were making great money and then they left post-holiday. They started coming back every year. They really enjoyed it. They built email networks together and they coordinated their work. They asked Amazon to help with finding parking lots for the campers and we were happy to do that. But it was really an organic thing. It just sprouted up. I really enjoyed my trips to the fulfillment centers, hearing their stories and then seeing them come back year after year.
Is it hard when you order something now from Amazon and it doesn't arrive on time and you're like, "why did this happen?" Is it hard to get that out of your system after all these years?
Of course. I mean, the team knows any time there's a defect, I'm going to send an email and that's not going to change.
Part two: Jeff Wilke reveals his next chapter.
Lead illustration by Eduardo Ramón Trejo.
From Your Site Articles
Related Articles Around the Web
Once an obscure health care company, Crossover Health, has netted some of the biggest names in technology. And its new venture with Amazon is about to make it even bigger.
The San Clemente-based startup netted $168 million in Series D funding just this week, and its burgeoning success speaks to a larger trend that could change how U.S. health insurance is done.
Once a small health care provider co-founded by two colleagues in Aliso Viejo, Crossover Health has grown into one of the biggest names in the industry and is expected to rake in $165 million in revenue by year's end.

Facebook, LinkedIn and Comcast are among its clients and its providers now oversee 400,000 patients across the country. But their most well-known partnership is with Amazon, which is using the company to power their 17 in-person clinics, including one near its fulfillment center in San Bernardino.
Crossover promises to lower the cost of health care for employers by providing primary and preventive health care at a pre-fixed rate. In addition, it says it can save companies 15% on average on their health care costs by emphasizing preventive care.
Co-founder Scott Shreeve said he started to think about this idea after seeing a rotating door of patients with various ailments in the emergency room.
"I would do my best to take care of my 30 or so patients every day that came in and try to address their issues," Shreeve said. "And then the next day there'd be 30 more, and then 30 more. It just felt like, 'what can I do to get ahead of this, to get upstream of these problems?'"
Crossover's Series D round was led by Deerfield Management Company. The goal is to help the company grow faster.
Founded in 2010 by Shreeve, an emergency medicine doctor, and health insurance expert Nate Murray, the company runs 48 health clinics that are based employer sites or close by. The company, like Forward and One Medical, uses comprehensive analytics platforms to track and enable patient health care.
Crossover nabbed its first big client, Apple, in 2011 as the tech giant was developing on-site clinics.
Its success can be attributed to the growing number of self-insured companies. Rather than paying money to an insurance company, a business will take on the risk of paying health care providers itself. They often still use insurance to handle the administrative tasks, but use primary health clinics like Crossover Health to handle the everyday needs of their employees.
Crossover Health announced a partnership with Amazon in 2020 to develop a slew of health clinics scattered across the country meant for Amazon workers who might work odd hours. It has opened up 17 clinics in five states, including the San Bernardino area. The clinics operate from 7 a.m. to 11 p.m. and offer everything from primary care to behavioral health services for workers and their families.
"If you come in and you've got a back injury that's that's causing depression, we're not going to just treat your back injury and punch you out of here," Shreeve said. "We have a physical therapist and a mental health therapist as part of a similar team and they work to provide that comprehensive care."
Crossover Health may not be Amazon's only provider. Wyoming-based Care Medical, which contracts with Amazon to offer Washington employees in-person and virtual care, filed paperwork to do business in other states, according to STAT News. It is unclear if this is a joint venture with Amazon.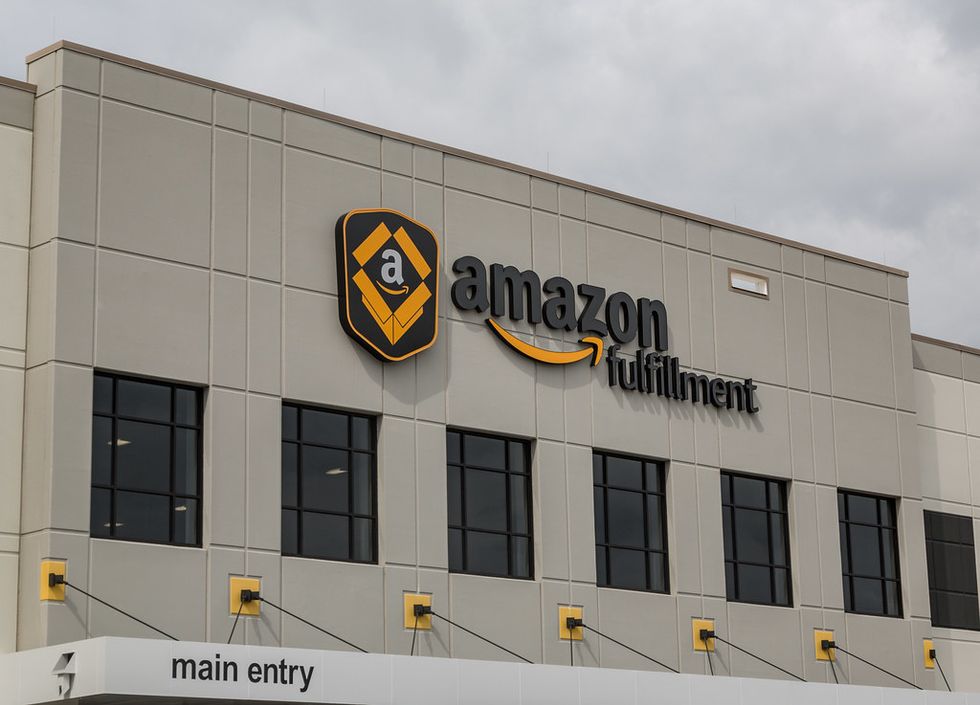 A New Model for Tech Companies
Many tech companies have adopted on-site or near-site clinics in order to proactively lower health insurance costs. If employees have easy access to quality primary and preventative care that can manage or stave off chronic conditions, the employer pays less on reactive care for high-risk issues.
The self-insured model has historically worked best for large businesses who can offer hundreds of employees to, and afford to broker deals with, health care providers. Eighty-four percent of large companies were self-insured in 2020. Disney and Walmart are both self-insured, and Walmart flies its employees over state lines to see specialists in its network.
"If you're a little company and you have one person that works for you that has a really bad accident, that can blow your budget for five years. Then you have to buy reinsurance to protect you against that," Glenn Melnick, a professor at the USC Price School of Public Policy. "There's no savings there... whereas if you're a big company, administrative costs are spread out among a lot of employees."
In addition to Crossover Health's on-premise and virtual clinics staffed by doctors, therapists and other care providers, the company offers fitness classes and resources on grocery shopping and other extrinsic factors that play a role in determining one's health.
"They have a real incentive to keep all their members healthy," said Eunjoo Pacifici, a professor at the USC School of Pharmacy. "Their expenses are kind of fixed for paying for doctors and infrastructure. If they can keep the cost of care down, they can keep more of their profits."
It also has a network of specialists and can schedule appointments with them on behalf of a patient. Specialists are not covered under Crossover Health. The company uses an in-house data analytics technology platform that allows them to collect an employee's medical history with their permission, create a baseline of health, track 40 metrics of health, identify potential risk factors and proactively encourage employees to get treated.
The platform is a portal by which patients can securely contact health care experts and access their health records. In turn, Crossover Health recommends flu shots, physicals and other services based on the employee's health profile.
While this model is shown to be effective in managing care, according to Melnick, not all preventative health care is cost effective. Some chronic diseases — like diabetes, cancer and heart disease — require years of preventative health care to slow the effects, and those preventative treatments may not outweigh the cost of treating the disease.
"It improves quality of life," Melnick said. "There are other reasons to do it, but for other things it is not economically justified."
Crossover Health says while chronic conditions are more expensive to treat, they're balanced out by the employees who require very little care.
From Your Site Articles
Related Articles Around the Web