amazon
amazon
The annual boost in holiday help comes as the tech giant has already been looking to fill tens of thousands of hourly positions across the fulfillment side of its business, including 125,000 announced in September. Additionally, Amazon said last month that it was looking to hire for 40,000 corporate and tech jobs across more than 220 locations in the U.S.
Amazon now employs more than 1.3 million people in full- and part-time jobs worldwide. The company has hired over 450,000 people in the U.S. since the beginning of the COVID-19 pandemic. Last year's seasonal hiring of 100,000 was down from 2019's 200,000, but Amazon had already brought on 175,000 seasonal workers in March and April of 2020 to meet online shopping demand as the first stage of the pandemic confined many people to their homes.
The push for operations workers in stowing, picking, packing, shipping and more comes as disruptions to global supply chains have struck fear into shoppers worried about whether holiday presents will arrive on time. Amazon has already announced "Black Friday" style deals across its website.
Average starting pay for the new roles is $18 per hour, with sign-on bonuses of up to $3,000 and an additional $3 per hour depending on shifts in many locations. Amazon announced in April that it planned to invest more than $1 billion in wage increases for its operations workers, promising raises of between 50 cents and $3 an hour to more than 500,000 employees.
The company listed 20 states with the greatest number of seasonal openings, including: Arizona, California, Colorado, Florida, Georgia, Illinois, Indiana, Maryland, Michigan, Minnesota, Nevada, New Jersey, New York, North Carolina, Ohio, Oregon, Pennsylvania, Tennessee, Texas, and Virginia.
The company opened more than 250 new fulfillment centers, sortation centers, regional air hubs, and delivery stations in the U.S. in 2021.
This story originally appeared on GeekWire.
From Your Site Articles
Related Articles Around the Web
In the early days of the pandemic, there was a mad dash to get technology and broadband internet service into students' homes. About 1 in 3 Los Angeles Unified School District families didn't have a desktop or laptop computer or high-speed internet, according to an April 2020 study by USC Annenberg.
To improve tech access and to make other COVID-related purchases, the Board of Education granted authority to then-Superintendent Austin Beutner to spend "any dollar amount necessary" to respond to the crisis. In 13 months, the district spent $390.5 million.
Over the course of the 13 months of data, the single largest purchase — $51.3 million — went to SummerBio, a Silicon Valley COVID testing company.
All told, $227.6 million went to tech companies or 58% of the district's total spending in that time frame.
The spending went to tech companies like Apple, T-Mobile, Verizon and a COVID testing company, records obtained by dot.LA through a Public Records Act request show.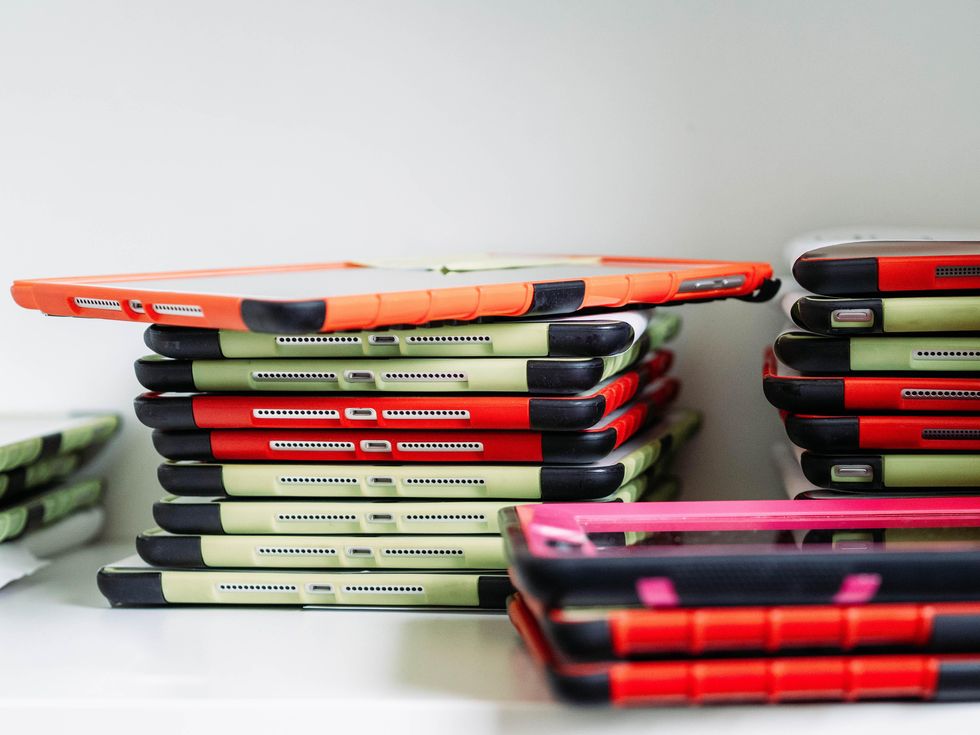 Los Angeles school district spending from March 2020 through April 2021 show that money was spent on line items from iPads and broadband to food for students and families, and masks and sanitizing supplies for schools.
In March 2020 alone, 94% of the $72.3 million the district spent using emergency funds went to tech companies.
"It took a procurement team working around the clock to scour the globe and find devices and a technology team to make sure the devices had the proper software installed and every student was connected to the internet," Beutner said in May 2020.
It also began purchasing COVID-19 supplies, including 100,000 N95 masks and 300,000 surgical masks, for $2.4 million, and food for the district's "Grab n Go" meal program, like $450,000 on cases of chicken tenders and drumsticks.

John Rogers, an education professor at UCLA, said the district took decisive action to get necessary technology into student's hands.
"It was a herculean task to shift in-person instruction to remote learning in a district that serves many families who previously did not own a computing device or had regular access to the internet," he said. "Many other districts around the county lagged behind LAUSD in their efforts to provide a baseline of access to learning."
Here are the total amounts large tech companies were paid: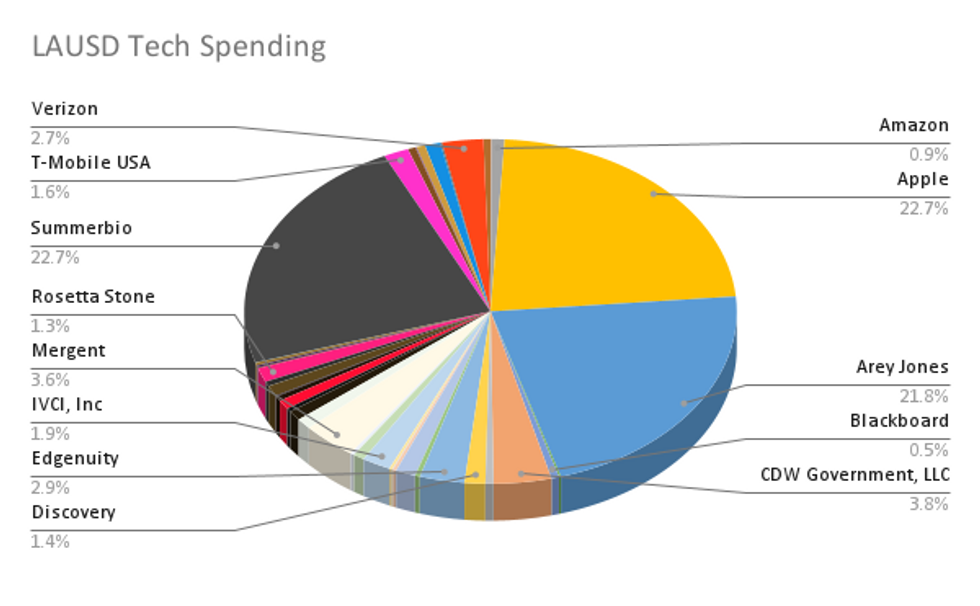 Apple
$51.3 million
Apple was paid virtually the same amount as SummerBio in total, just $9,000 less. It is unclear from the data exactly how many iPads and other devices were purchased and distributed, as a $37.8 million purchase for iPads doesn't list a quantity of items.
Arey Jones
$49.2 million
San Diego-based Arey Jones, which has relationships with Microsoft, Google, Intel, HP and other companies, is a conduit for school districts to procure technology equipment and software. LAUSD purchased Dell, Samsung and HP Chromebooks, monitors and iPad integration services and cases. In March 2020 alone, the company received $22 million.
CDW Government, LLC
$8.6 million
LAUSD purchased 1,000 video conferencing bars from CDW Government, LLC, a technology provider for state and local governments, for $8.5 million.
Amazon
$2.0 million
As online learning extended beyond the few weeks that many were expecting, it became clear that some households had multiple students and adults working at home. Headphones were a solution to help students block out the noise of a busy home to focus on their studies. About a month into the pandemic, LAUSD purchased 131,000 pairs of headphones for $1.9 million.
Mergent
$8.1 million
In December, the district spent $8.1 million for 490,000 headphones, enough for a pair for every student.
Edgenuity
$6.7 million
LAUSD opened up summer school to all students for enrichment courses, like guitar lessons and language classes, in addition to classes where students can make up credits. About 100,000 or about a quarter of the district's students enrolled in summer school. The district paid for a platform called Edgenuity for credit recovery for 30,000 high school courses and 40,000 middle school courses, according to the data. It's a software program that the district has used for years. The district also used the program as classes turned online and continues to use it in its online independent study program.
Verizon
$6.1 million
The district agreed to pay Verizon up to $4.6 million in March 2020 for mobile broadband services and devices. It later paid another $1.5 million for additional service and devices.
IVCi
$4.3 million
Audio visual company IVCi sold 5,000 video conferencing bars for $4.3 million.
T-Mobile
$3.7 million
The first purchase the district made was to increase its contract with T-Mobile for mobile broadband and devices by $500,000 to $750,000. In March 2020, it paid a total of $2.4 million and later made an additional $1.3 million payment.
Discovery
$3.1 million
The district purchased a districtwide licensing agreement.
Reading Horizons
$3 million
The district bought a license for the training and curriculum tool software for teachers teaching science.
Rosetta Stone
$3 million
The district bought licenses for 100,000 students from the language software company.
Microsoft
$2.3 million
The district described this purchase as "various applications." Microsoft developed an app called the Daily Pass that must be scanned for each student and staff that enters a campus. That contract was for gratuitous services.
Nearpod
$2 million
The district purchased a license for the instructional platform for teachers.
Crayon Software Experts
$1.7 million
LAUSD paid Crayon Software Experts, a software asset management managed services company, for Microsoft Power Apps licenses to implement its COVID vaccination program.
IXL Learning
$1.7 million
The district bought site licenses for 300,000 students from the integrated learning platform that supports personalized learning in math, English language arts, science, social studies and Spanish.
Blackboard
$1.2 million
The district purchased a districtwide enterprise license for the online learning platform for additional teacher to student notification functions.
Zoom
$1 million
The tool that many of us became familiar with during the pandemic, the district spent about a half million on software licenses for 66,500 employees, 500,000 students and 2,000 others.
Newsela
$995,000
Elementary schools purchased licenses for Newsela, a literacy-focused startup with content in English and Spanish.
Renaissance Learning
$995,000
The district bought licenses for Renaissance Learning, a math and reading software.
Edpuzzle
$730,000
LAUSD bought a districtwide license for Edpuzzle, which teachers can use to make interactive videos.
HopSkipDrive
$500,000
Pasadena start-up HopSkipDrive, an ridesharing company for students, was paid $500,000 to take students to and from COVID-19 testing sites.
Reality caught up with science fiction today when Star Trek actor William Shatner, a.k.a. Captain James T. Kirk, briefly crossed into outer space aboard Blue Origin's New Shepard suborbital spaceship.
In the process, the 90-year-old Shatner took the title of oldest human in space, less than three months after 82-year-old aviation pioneer Wally Funk set that record on Blue Origin's first-ever crewed flight.
"How about that, guys?" Shatner could be heard saying during the descent. "That was unlike anything they described. … That was unlike anything you could ever feel."
Today's mission at Blue Origin's Launch Site One in West Texas was the 18th for the New Shepard breed of spaceships, including 16 uncrewed flights over the past six years. It marked a bright day for Jeff Bezos' Kent, Wash.-based space venture, coming amid a set of challenges and controversies.
The flight followed the pattern set by July's milestone mission, which carried Funk, Bezos, his brother Mark and Dutch student Oliver Daemen across the 100-kilometer (62-mile) space boundary known as the Karman Line.
Today, Shatner was joined by three other spacefliers: Chris Boshuizen, a venture capitalist who co-founded Planet Labs; Glen de Vries, a co-founder of Medidata Solutions who is now an executive at Dassault Systems; and Audrey Powers, Blue Origin's vice president of New Shepard mission and flight operations.
Boshuizen and de Vries paid an undisclosed fare for their trip, while Shatner and Powers flew on Blue Origin's behalf.
Before heading out to the launch pad, Blue Origin crew trainer Sarah Knights presented the quartet with commemorative coins. "Heads we go, tails we don't," Shatner joked.
While the booster flew itself to a touchdown on a landing pad not far from the launch pad, the four space travelers returned to their seats for a parachute-aided descent back to the Texas desert. The trip took 10 minutes and 17 seconds.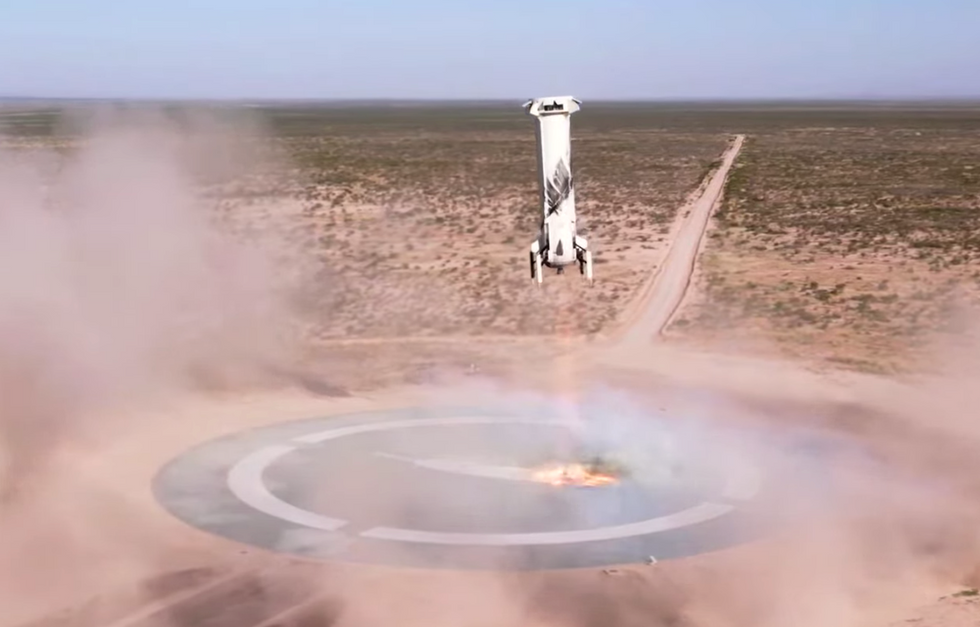 The crew capsule sits at its landing site.
After the landing, Bezos opened the hatch and ushered the crew out for a round of hugs from friends and family — and a spray of celebratory champagne.
"Everybody in the world needs to do this," Shatner told Bezos as he stood outside the capsule. "It was unbelievable. … To see the blue colors just whip by, and now you're staring into blackness. … There is Mother Earth and comfort, and there is space. Is there death? I don't know.
"What you've given me is the most profound experience I can imagine," said Shatner, seemingly overcome. "I'm so filled with emotion about what just happened. It's so extraordinary. I hope I never recover from this."
Bezos then gave each of the fliers a custom-made astronaut pin and a hug. Thousands of postcards were packed aboard the capsule for the Club for the Future, Blue Origin's nonprofit educational program, and they'll be returned to senders now that they've come back from space.
Shatner was the star of today's mission, thanks to his long-running status as a space-show celebrity. He was the starship captain in the original "Star Trek" series in 1966-1969, in an age before his three shipmates were born, and went on to roles in a string of Star Trek movies as well as non-spacey films and TV series.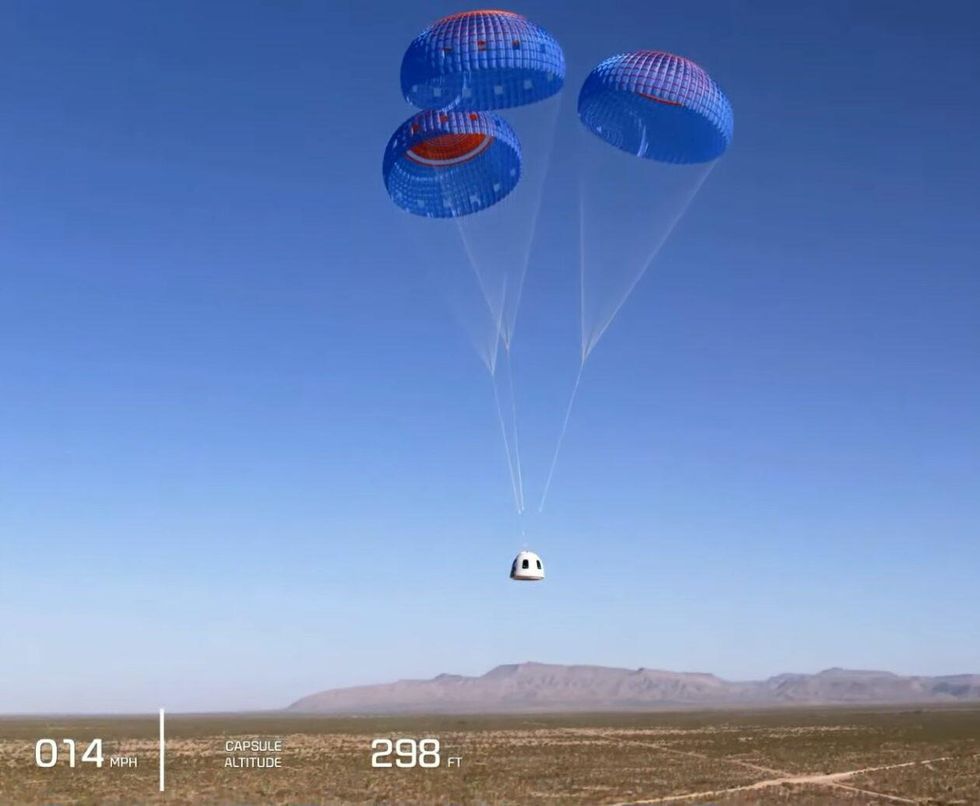 The New Shepard crew capsule descends to its touchdown.
He's also served as a pitchman for Priceline, and at times, Shatner sounded as if he was playing that role in an unofficial capacity for Bezos and his space vision. "Jeff Bezos' concept to make living and building in space, and to make pollution a thing of the past — what noble ambitions those are, and somebody has to start it," he said in a pre-launch video released by Blue Origin.
So far, New Shepard seems to be the most successful element of Blue Origin's multi-pronged space program. After July's first crewed mission, Bezos said that his 21-year-old space venture had racked up nearly $100 million in private sales for future suborbital spaceflights. The next crewed flight is expected to take place late this year, and there'll be uncrewed research missions as well.
Blue Origin has faced setbacks on other fronts, including delays in the development of its next-generation BE-4 rocket engine and its orbital-class New Glenn rocket. This spring, it lost out to SpaceX in a multibillion-dollar competition to build the first lunar lander to carry astronauts for NASA's Artemis moon program. A ruling on Blue Origin's legal challenge is expected next month.
The crew capsule sits at its landing site.
There have been signs of internal dissension as well: Last month, an essay attributed to 21 current and former Blue Origin employees accused the company of laxity when it comes to sexual harassment and flight safety.
According to the essay, most of the authors "would not fly on a Blue Origin vehicle" due to safety concerns. Perhaps in response to the essay, today's Blue Origin webcast made a point of emphasizing the safety of the New Shepard system.
"There are a lot of people at Blue that would be excited to fly on New Shepard, and I'm happy to count myself as one of them. It's a fantastic system. It's a very robust system," Andrew Lake, senior director of New Shepard safety and mission assurance, said in a pre-recorded interview.
"Well, I hope we get to go one day," replied Ariane Cornell, who doubles as a launch commentator as well as Blue Origin's director of astronaut and orbital sales.
This article originally appeared on GeekWire.
From Your Site Articles
Related Articles Around the Web