amazon
VAN HORN, Texas — As of today, Jeff Bezos is not only the richest person on Earth. He's the richest person to fly to space as well.
The billionaire and three crewmates — including the world's oldest space traveler and the youngest — took an 11-minute ride on a reusable New Shepard rocket ship that was built by Blue Origin, the company created by Bezos in 2000.
"There's a very happy group of people in this capsule!" Bezos could be heard saying just after touchdown. "Best day ever!"
Today's flight marked the first time that people flew aboard New Shepard, which previously went through 15 uncrewed tests at Blue Origin's West Texas spaceport. The vehicle is designed to be flown autonomously, without a pilot at the controls.
Before the flight, Bezos said it was important for him to take a seat on the first crewed flight and demonstrate New Shepard's safety. "We know the vehicle is safe," he told CNN. "If it's not safe for me, then it's not safe for anyone."
In a historical flourish that's fitting for a man who paid to have the booster engines for NASA's Apollo moon missions retrieved from the bottom of the Atlantic, the milestone flight took place on the 52nd anniversary of the Apollo 11 moon landing. And speaking of flourishes, Jeff Bezos wore a cowboy hat and his lucky cowboy boots as he entered the capsule.
New Shepard's first crew also included an aviation pioneer who missed out on NASA's glory days: Wally Funk, a member of the "Mercury 13" group of women who were put through the same tests that the Mercury astronauts suffered through in the early 1960s but were never able to join the astronaut corps.
Funk, who's now 82, today displaced the late Mercury astronaut John Glenn from the most senior spot on the list of spacefliers. (Glenn was 77 when he flew on the shuttle Discovery in 1998 as a U.S. senator.)
Blue Origin's New Shepard rocket ship rises from its Texas launch pad. (Blue Origin via YouTube
Another record-setter on the crew is Oliver Daemen, an 18-year-old Dutch student who is now the world's youngest person to fly to space. (The late Soviet cosmonaut Gherman Titov, who followed Yuri Gagarin into orbit in 1961 at the age of 25, previously held the record.)

Daemen, the son of a Dutch investment company's CEO, had been planning to go on Blue Origin's second crewed flight. He was switched to the first crew when the winner of a $28 million auction asked to go on a later flight, reportedly due to a scheduling conflict.
Bezos also brought along his brother, Mark Bezos, an investor and volunteer firefighter whom the billionaire described as his best friend. Just before launch, capsule communicator Sarah Knights read out a message from the Bezos brothers' sister, Christina Bezos, who reminded Mark about the "Star Trek" games they used to play (with Jeff filling the Captain Kirk role).
"Mark, be prepared to fire those torpedoes if ordered to do so," Christina said.
Today's 11-minute mission was essentially a repeat of New Shepard's uncrewed test missions, starting with the ascent of the hydrogen-fueled booster from Blue Origin's Launch Site One. Less than three minutes after liftoff, the crew capsule separated from the booster and continued rising past the target altitude of 100 kilometers (62 miles).
The difference this time around is that there were actually four people on board to gaze out the capsule's jumbo-size windows, unstrap themselves from their seats and float around the cabin in zero gravity. Previous missions used a sensor-laden test dummy nicknamed Mannequin Skywalker.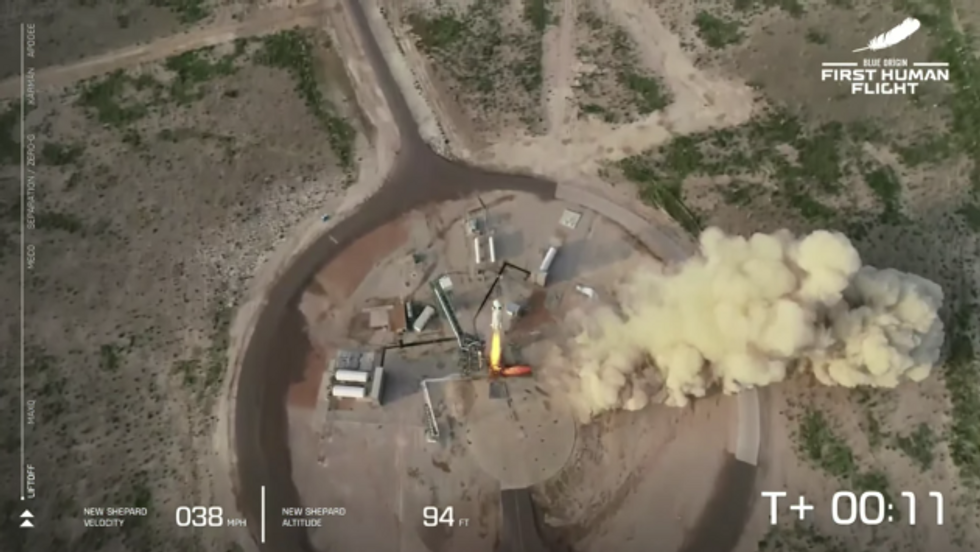 While the booster guided itself to an autonomous landing on a pad at Launch Site One, the capsule decelerated and drifted down to the Texas desert at the end of its parachutes. Retro rockets fired just before touchdown, cushioning the impact and kicking up a cloud of dust. Soon afterward, Blue Origin's recovery team picked up the newly minted spacefliers.

The successful flight stands as one of the greatest achievements to date for Blue Origin, the company that Bezos founded in 2000 with the ultimate goal of having "millions of people living and working in space." During a string of TV interviews on the eve of the flight, Bezos insisted that Blue Origin was building a "road to space" that future generations could follow for the benefit of humanity.
In addition to the New Shepard program (named in honor of the late NASA astronaut Alan Shepard), Blue Origin is also developing an orbital-class rocket called New Glenn, and has been working with industry partners on a lunar landing system for NASA. Those programs have suffered setbacks, however, principally having to do with government contracts that were lost to SpaceX and United Launch Alliance.
In the suborbital spaceflight market, Blue Origin's biggest competitor is Virgin Galactic, which is nearing the end of the flight test program for its SpaceShipTwo rocket plane, dubbed VSS Unity. Virgin Galactic founder Richard Branson climbed aboard Unity for its most recent test flight last week, scoring a victory in the billionaire space race. However, Blue Origin beat Virgin Galactic to the punch today when it flew Daemens, the first suborbital space customer to use his ticket to fly.
If all proceeds according to plan, Blue Origin will fly its next crewed suborbital space mission in the September-October time frame, while Virgin Galactic will start taking on commercial passengers next year.
Tidbits from New Shepard's first crewed flight:
Three of today's spacefarers used their last names as call signs, but because there were two Bezoses on board, Mark Bezos used the call sign "DEMO," which is an acronym created from the first names of his four children.
Blue Origin used Rivian electric trucks to carry crew members to the launch pad and pick them up after landing. It's no coincidence that Amazon, the other company founded by Bezos, has invested in Rivian and ordered 100,000 Rivian electric vans for Amazon's delivery fleet.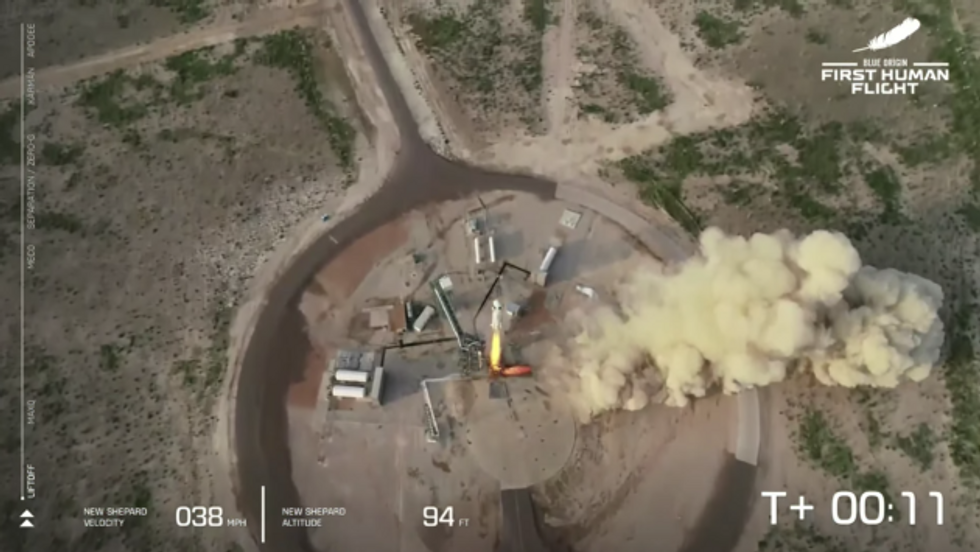 This story first appeared on GeekWire.
But Amazon itself is catching heat for reportedly discriminating against its employees.
Darnell Hunt, dean of social sciences at UCLA and an author of the annual Hollywood Diversity Report, called Amazon Studios' new guidelines "an important piece of a larger holistic approach" to making lasting change in Hollywood. But, he said, that doesn't address the culture within Amazon proper, and how diversity, equity and inclusion are embedded into the company's daily operations.
"How does it affect executive duties at Amazon, the people making the core decisions from the very top that impact the way people throughout the organization are thinking about what the values of Amazon are?" Hunt said.
Amazon did not reply to a request for comment.
According to the Hollywood Diversity Report out of UCLA, women made up just 26% of film writers and about 21% of directors last year. People of color made up nearly 26% of film writers in 2020. There are also disproportionately fewer women and people of color directing films with budgets over $100 million, the report found.
Amazon Studios said in a statement that the new guidelines are stricter than the diversity requirements put forth last year by the Academy, which runs the Oscar Awards and has faced mounting criticism centered around a rallying cry of "OscarsSoWhite."
Starting in 2022, films vying for the Academy of Motion Picture Arts and Science's "best picture" award must submit confidential "inclusion" data; and by 2024 they must adhere to specific diversity standards, which have been both lauded and criticized for being too lenient.
Amazon Studios' new guidelines include the following specific goals for its productions:
Each film or series with a creative team of three or more "above-the-line" roles – directors, writers, producers – "should ideally include a minimum 30% women and 30% members of an underrepresented racial ethnic/group."
Actors' real-life identities should align with those of their characters.
At least one character should have a speaking role from each of the following categories: LGBTQIA+, person with a disability, and three "regionally underrepresented race/ethnic/cultural groups." One character can fulfill one or more of these identities, and a minimum of 50% of them should be women.
Seeking bids from woman-owned and minority-owned vendors and suppliers.
Pay equity across casting, crew and suppliers.
Among the advisors who helped Amazon Studios develop its new guidelines were representatives from the USC Annenberg Inclusion Initiative, a think tank that studies diversity and inclusion in entertainment.
"Frankly, the outcomes of [diversity equity and inclusion] work within the entertainment industry have not been swift or sweeping. In part, that can be attributed to disingenuous approaches to address the systemic barriers to entry that have long plagued Hollywood," said Stacy Smith, founder and director of the Annenberg Inclusion Initiative, in a statement. "But now, Amazon Studios has created a comprehensive new blueprint that will change Hollywood by elevating those who have historically lacked access. I'm immensely proud of this new policy and I know it will be a gamechanger throughout an industry often resistant to real change."
Little was divulged by Amazon about how it plans to enforce the new guidelines.
"You have to incentivize people to do the right thing," Hunt said. "You can do it with a carrot or with a stick. I'd want to see a conversation about that."
Editor's note: This story has been updated to clarify the breadth of the studio's new policy.

From Your Site Articles
Related Articles Around the Web
Ninety-six years after Metro Pictures, Goldwyn Pictures and Louis B. Mayer Pictures merged to form MGM Studios, the Hollywood mainstay best known for its roaring lion mascot is set to join a trillion-dollar business empire best known for selling household items over the internet. Amazon Inc. has acquired MGM for $8.45 billion, the companies said Wednesday.
The move culminates Century City-based MGM's prolonged search for a buyer that has been rumored for over a decade. In 2018, former chief executive Gary Barber was fired just five months after signing a multi-year extension, amid an internal dispute over how the company was handling an entertainment industry being reshaped by streaming. An impersonal "office of the CEO" has since led the studio.
"The real financial value behind this deal is the treasure trove of IP in the deep catalog that we plan to reimagine and develop together with MGM's talented team," Amazon's senior vice president of Prime Video and Amazon Studios said in a statement.
MGM counts over 4,000 films among its assets, including "Silence of the Lambs," "12 Angry Men," "Rocky" and "Tomb Raider." Its TV shows include "The Handmaid's Tale," "Fargo" and "Vikings" as well as reality series "Survivor," "The Real Housewives" and "Shark Tank." MGM also owns the premier pay-TV channel Epix. The company reportedly earned just shy of $1.5 billion in revenue in its most recent fiscal year.
Amazon inherits these assets, along with the crown jewel that is the James Bond franchise, which will see its 25th installment released this fall with "No Time to Die." That trophy comes with a caveat, however, as MGM has shared copyright of the franchise with the British Wilson/Broccoli family, which retains significant decision-making power over the asset.
The MGM acquisition is Amazon's second-largest, behind the $13.7 billion purchase of Whole Foods in 2017.
The deal is the latest in an increasingly consolidating entertainment industry. Earlier this month, AT&T's WarnerMedia merged with Discovery that essentially completed the telecom company's departure from the entertainment business.
Although outgoing Amazon CEO Jeff Bezos has said streaming's main value to his company is that it helps to sell more shoes – Amazon Prime Video is included in Amazon's Prime subscription offering, alongside other perks like free shipping – the company's ambitions in streaming have been substantial. It launched its own studio in Culver City in 2010 and is reportedly spending nearly half a billion dollars to produce the first season of a "Lord of the Rings" TV series. To stream the NFL's Thursday night franchise, it is paying an average of $1.2 billion per year. The company also operates ad-supported service IMDB TV.
Most analysts agree the average consumer wants to pay for no more than four or five streaming subscriptions. Netflix and Disney have separated themselves from the pack, and recently locked up most of Sony, one of the few remaining arms dealers, in a long-term licensing deal.
Though Amazon's precise streaming ambitions within its sprawling empire are unclear, insiders consider its track record of producing hits out of its in-house studio relatively uninspiring. A new looming threat created by the Warner-Discovery deal likely added urgency within Amazon to make a move.
The deal remains subject to regulatory approval. Amazon was sued earlier this week by the attorney general for Washington, D.C., for abusing its market power in its online marketplace.
The other contestants in the streaming war may not wait for regulatory resolution before opting to make a move of their own. ViacomCBS, which runs Paramount Plus, and Comcast's NBCUniversal, which runs Peacock, are both falling behind. Recent calls out of COVID-embattled Japan to cancel this year's Tokyo Olympic Games are worrying to NBC, which owns rights to the Games and has long harbored plans to use them to Peacock's benefit.
Apple, which like Amazon is a deep-pocketed, tech-first company that has forayed into streaming but lacks a clearly defined entertainment strategy, also remains in the mix.
MGM's $8.45 billion price tag equates to about 40% of Amazon's 2020 operating profit and just over half a percent of its $1.64 trillion market cap–over seven times the size of Netflix's and five times the size of Disney's.
From Your Site Articles
Related Articles Around the Web