Image by Ian Hurley
In the early days of the pandemic, there was a mad dash to get technology and broadband internet service into students' homes. About 1 in 3 Los Angeles Unified School District families didn't have a desktop or laptop computer or high-speed internet, according to an April 2020 study by USC Annenberg.
To improve tech access and to make other COVID-related purchases, the Board of Education granted authority to then-Superintendent Austin Beutner to spend "any dollar amount necessary" to respond to the crisis. In 13 months, the district spent $390.5 million.
Over the course of the 13 months of data, the single largest purchase — $51.3 million — went to SummerBio, a Silicon Valley COVID testing company.
All told, $227.6 million went to tech companies or 58% of the district's total spending in that time frame.
The spending went to tech companies like Apple, T-Mobile, Verizon and a COVID testing company, records obtained by dot.LA through a Public Records Act request show.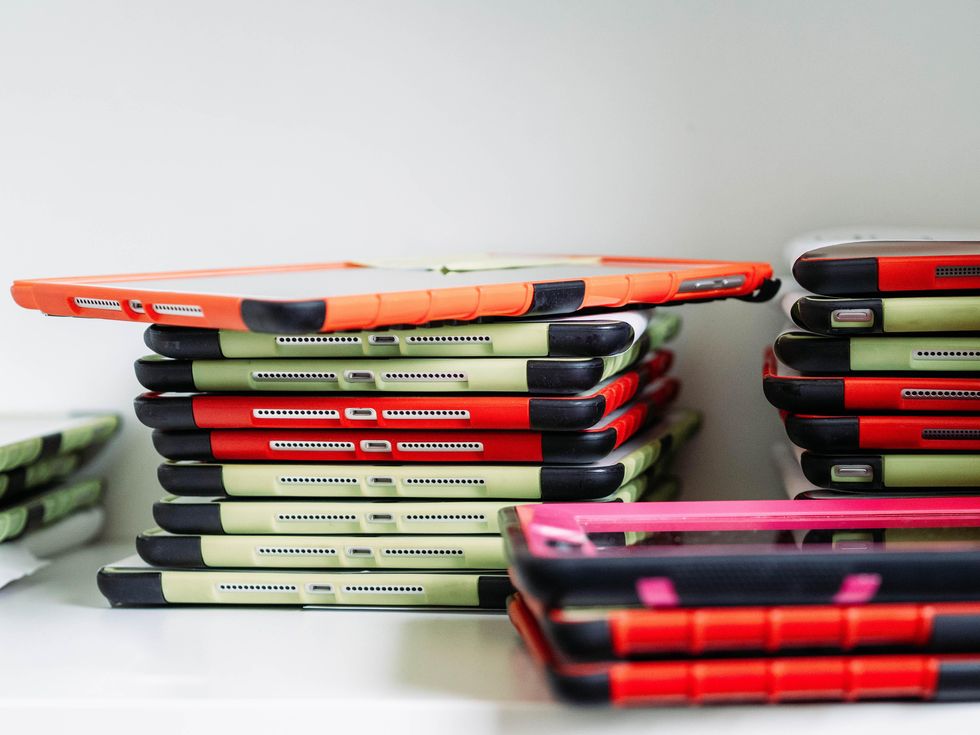 Los Angeles school district spending from March 2020 through April 2021 show that money was spent on line items from iPads and broadband to food for students and families, and masks and sanitizing supplies for schools.
In March 2020 alone, 94% of the $72.3 million the district spent using emergency funds went to tech companies.
"It took a procurement team working around the clock to scour the globe and find devices and a technology team to make sure the devices had the proper software installed and every student was connected to the internet," Beutner said in May 2020.
It also began purchasing COVID-19 supplies, including 100,000 N95 masks and 300,000 surgical masks, for $2.4 million, and food for the district's "Grab n Go" meal program, like $450,000 on cases of chicken tenders and drumsticks.

John Rogers, an education professor at UCLA, said the district took decisive action to get necessary technology into student's hands.
"It was a herculean task to shift in-person instruction to remote learning in a district that serves many families who previously did not own a computing device or had regular access to the internet," he said. "Many other districts around the county lagged behind LAUSD in their efforts to provide a baseline of access to learning."
Here are the total amounts large tech companies were paid: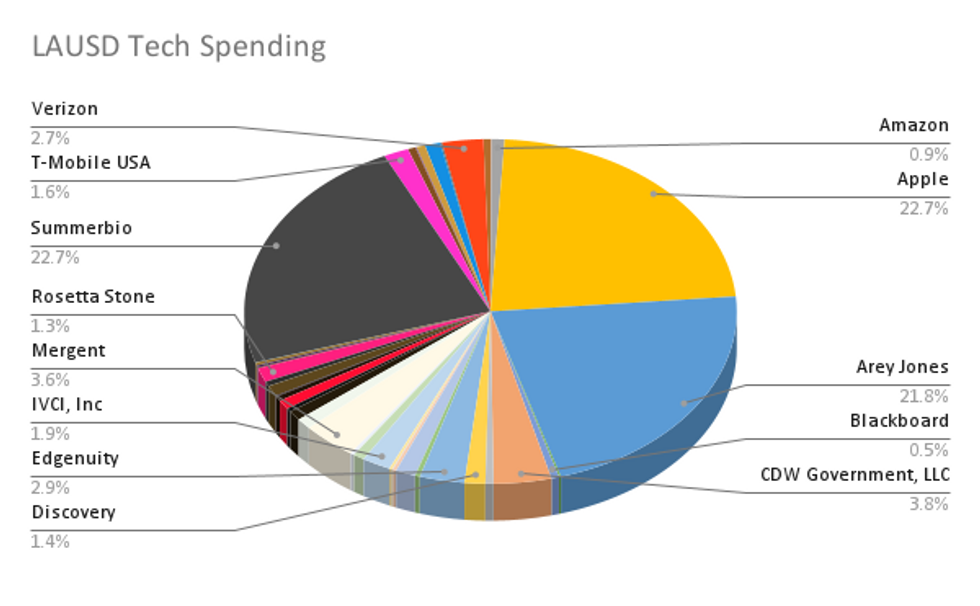 Apple
$51.3 million
Apple was paid virtually the same amount as SummerBio in total, just $9,000 less. It is unclear from the data exactly how many iPads and other devices were purchased and distributed, as a $37.8 million purchase for iPads doesn't list a quantity of items.
Arey Jones
$49.2 million
San Diego-based Arey Jones, which has relationships with Microsoft, Google, Intel, HP and other companies, is a conduit for school districts to procure technology equipment and software. LAUSD purchased Dell, Samsung and HP Chromebooks, monitors and iPad integration services and cases. In March 2020 alone, the company received $22 million.
CDW Government, LLC
$8.6 million
LAUSD purchased 1,000 video conferencing bars from CDW Government, LLC, a technology provider for state and local governments, for $8.5 million.
Amazon
$2.0 million
As online learning extended beyond the few weeks that many were expecting, it became clear that some households had multiple students and adults working at home. Headphones were a solution to help students block out the noise of a busy home to focus on their studies. About a month into the pandemic, LAUSD purchased 131,000 pairs of headphones for $1.9 million.
Mergent
$8.1 million
In December, the district spent $8.1 million for 490,000 headphones, enough for a pair for every student.
Edgenuity
$6.7 million
LAUSD opened up summer school to all students for enrichment courses, like guitar lessons and language classes, in addition to classes where students can make up credits. About 100,000 or about a quarter of the district's students enrolled in summer school. The district paid for a platform called Edgenuity for credit recovery for 30,000 high school courses and 40,000 middle school courses, according to the data. It's a software program that the district has used for years. The district also used the program as classes turned online and continues to use it in its online independent study program.
Verizon
$6.1 million
The district agreed to pay Verizon up to $4.6 million in March 2020 for mobile broadband services and devices. It later paid another $1.5 million for additional service and devices.
IVCi
$4.3 million
Audio visual company IVCi sold 5,000 video conferencing bars for $4.3 million.
T-Mobile
$3.7 million
The first purchase the district made was to increase its contract with T-Mobile for mobile broadband and devices by $500,000 to $750,000. In March 2020, it paid a total of $2.4 million and later made an additional $1.3 million payment.
Discovery
$3.1 million
The district purchased a districtwide licensing agreement.
Reading Horizons
$3 million
The district bought a license for the training and curriculum tool software for teachers teaching science.
Rosetta Stone
$3 million
The district bought licenses for 100,000 students from the language software company.
Microsoft
$2.3 million
The district described this purchase as "various applications." Microsoft developed an app called the Daily Pass that must be scanned for each student and staff that enters a campus. That contract was for gratuitous services.
Nearpod
$2 million
The district purchased a license for the instructional platform for teachers.
Crayon Software Experts
$1.7 million
LAUSD paid Crayon Software Experts, a software asset management managed services company, for Microsoft Power Apps licenses to implement its COVID vaccination program.
IXL Learning
$1.7 million
The district bought site licenses for 300,000 students from the integrated learning platform that supports personalized learning in math, English language arts, science, social studies and Spanish.
Blackboard
$1.2 million
The district purchased a districtwide enterprise license for the online learning platform for additional teacher to student notification functions.
Zoom
$1 million
The tool that many of us became familiar with during the pandemic, the district spent about a half million on software licenses for 66,500 employees, 500,000 students and 2,000 others.
Newsela
$995,000
Elementary schools purchased licenses for Newsela, a literacy-focused startup with content in English and Spanish.
Renaissance Learning
$995,000
The district bought licenses for Renaissance Learning, a math and reading software.
Edpuzzle
$730,000
LAUSD bought a districtwide license for Edpuzzle, which teachers can use to make interactive videos.
HopSkipDrive
$500,000
Pasadena start-up HopSkipDrive, an ridesharing company for students, was paid $500,000 to take students to and from COVID-19 testing sites.