Sony Picture Hackers Accused of Cyber Crimes, Trying to Bilk $1.3B
Sam Blake
Sam primarily covers entertainment and media for dot.LA. Previously he was Marjorie Deane Fellow at The Economist, where he wrote for the business and finance sections of the print edition. He has also worked at the XPRIZE Foundation, U.S. Government Accountability Office, KCRW, and MLB Advanced Media (now Disney Streaming Services). He holds an MBA from UCLA Anderson, an MPP from UCLA Luskin and a BA in History from University of Michigan. Email him at samblake@dot.LA and find him on Twitter @hisamblake
Three North Korean hackers allegedly tied to the infamous 2014 attack on Sony Pictures Entertainment have been indicted for a wide range of cybercrimes, including an attempt to steal and extort over $1.3 billion in fiat and cryptocurrency.
The U.S. Department of Justice filed the indictment to a Los Angeles federal court in December but it wasn't unsealed until Wednesday. It accuses Jon Chang Hyok, 31, Kim Il, 27 and Park Jin Hyok, 36, of being members of a North Korean military agency that engaged in criminal hacking, including the 2014 cyberattack on Sony in retaliation for the studio's depiction of a fictional assassination of the North Korean leader in "The Interview."

---
The indictment expands on previous charges levied by the DOJ in 2018.
It also pegs the men to several other heists, schemes, extortions, and computer viruses that allegedly occurred between 2015 and 2020.
From 2015 through 2019, the three are accused of attempting to steal more than $1.2 billion from banks in Vietnam, Bangladesh, Taiwan, Mexico, Malta and unspecified locations in Africa by hacking the banks' computer networks.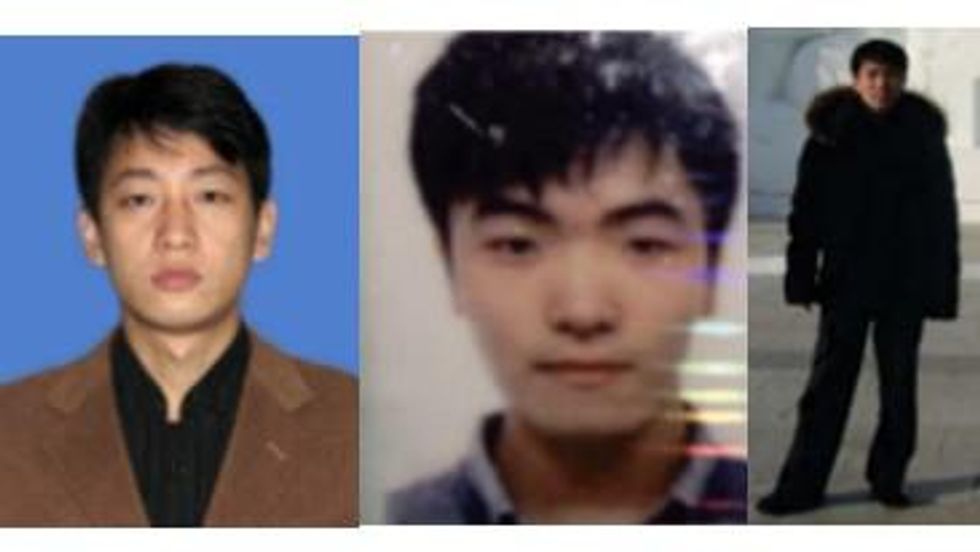 Left to right: Park Jin Hyok, Kim Il and Jon Chang Hyok were indicted by the FBI for cyber crimes on Wednesday.
From December 2017 through August 2020, the cabal allegedly tried to steal over $100 million in cryptocurrency from companies in Slovenia, Indonesia and New York.

The hackers are also alleged to be behind the WannaCry ransomware, which unleashed a worldwide attack that infected an estimated 200,000 Windows computers in 2017. They demanded a ransom payment made in Bitcoin to restore the computers to working condition.
Jon, Kim and Park are charged with one count of conspiracy to commit computer fraud and abuse, with a maximum sentence of five years in prison; and one count of conspiracy to commit wire fraud and bank fraud, which carries a maximum sentence of 30 years.
The investigation was led by the FBI's L.A. field office.
Sam Blake
Sam primarily covers entertainment and media for dot.LA. Previously he was Marjorie Deane Fellow at The Economist, where he wrote for the business and finance sections of the print edition. He has also worked at the XPRIZE Foundation, U.S. Government Accountability Office, KCRW, and MLB Advanced Media (now Disney Streaming Services). He holds an MBA from UCLA Anderson, an MPP from UCLA Luskin and a BA in History from University of Michigan. Email him at samblake@dot.LA and find him on Twitter @hisamblake
https://twitter.com/hisamblake
samblake@dot.la