California Is Getting New Fueling Stations for Hydrogen Cars, But Who Will Use Them?
Harri Weber
Harri is dot.LA's senior finance reporter. She previously worked for Gizmodo, Fast Company, VentureBeat and Flipboard. Find her on Twitter and send tips on L.A. startups and venture capital to harrison@dot.la.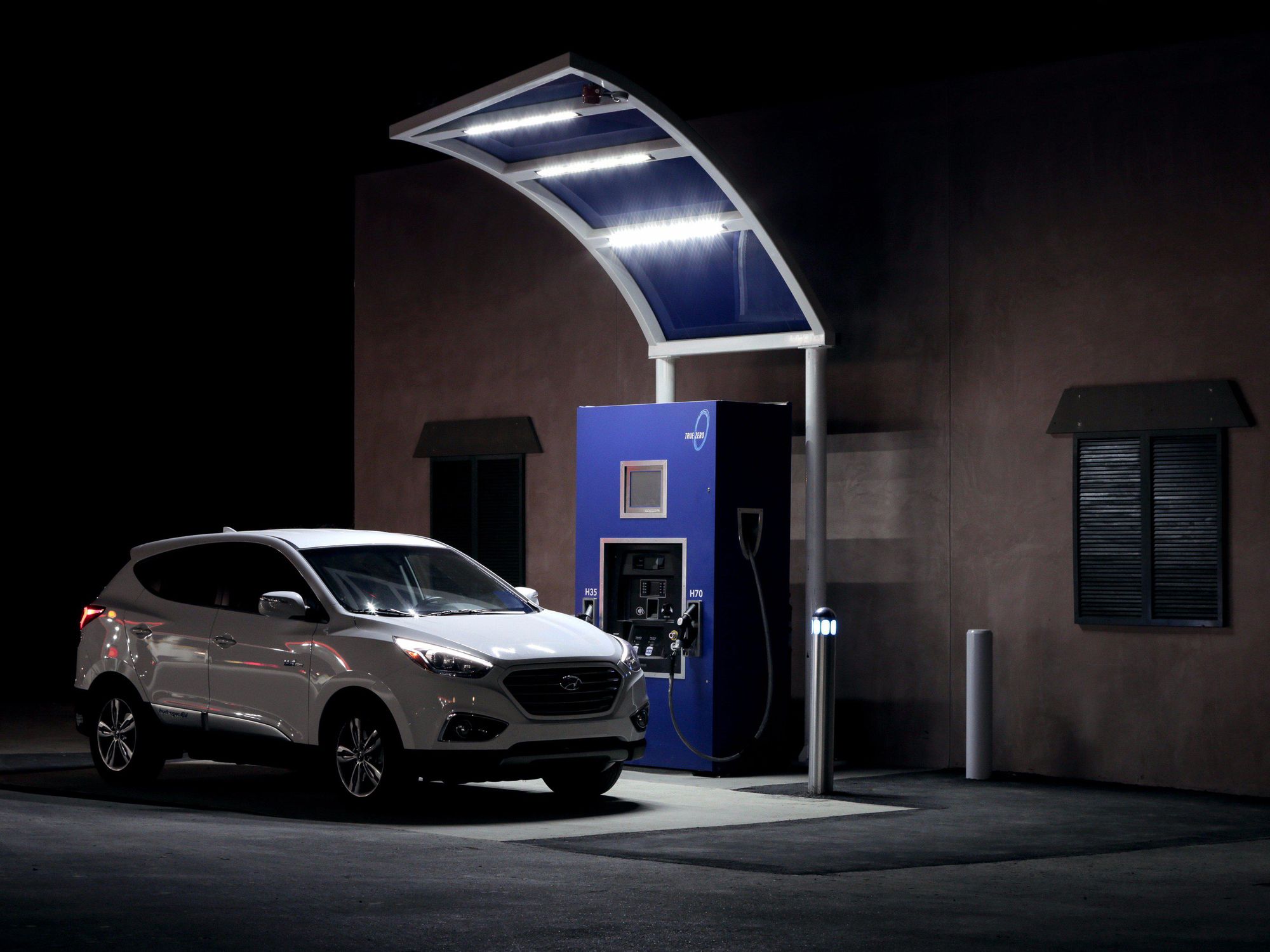 In California, virtually the only state with hydrogen cars on the road, about 47 active fueling stations serve a trickle of early hydrogen adopters who mostly cruise around Los Angeles and the Bay Area today. These hydrogen-powered passenger vehicles aren't anywhere near as popular as electric cars, but that isn't stopping California from spending millions of dollars to support them.
In the next five years, the state plans to triple the number of hydrogen refueling stations available to everyday drivers. With support from California taxpayers and a handful of investors, FirstElement Fuel is poised to operate more than half of those locations.
---
The Irvine-based company, which already lays claim to running the "largest hydrogen fueling network in the world," aims to more than double in size to 80 stations by 2024. To fund the expansion, it recently raised $105 million from Air Water, MUFG, Nikkiso, and JII. All four firms hail from Japan, which has also banked on hydrogen in pursuit of its climate goals.
Named after hydrogen's position on the periodic table, FirstElement says its stations have prevented "more than 110 million pounds of CO2" from polluting the atmosphere to date. The company adds that it is "regularly breaking single day, and 7-day [fueling] records," a signal that demand is rising.
But climate experts contacted by dot.LA did not share FirstElement's enthusiasm for hydrogen passenger vehicles, nor do many automakers, due to the relative scarcity of clean hydrogen, its low energy efficiency, the risk of leakage, and the overwhelming momentum behind battery-powered vehicles in the market today. This comes despite the perks of hydrogen fuel cell-propelled cars, including faster refueling times and longer ranges than you can find in many EVs.
The Trouble With Hydrogen
"Regarding light-duty cars, hydrogen might have been viewed as competing with battery cars as of ten, 15 years ago, but the market has moved strongly towards battery-powered cars," said Robert Howarth, Cornell University professor and co-author of a recent study on hydrogen's climate impact.
For experts like Howarth, emissions from hydrogen production remain a colossal sticking point.
"Today, 96% of hydrogen in the U.S. is made from natural gas, and has a huge greenhouse gas footprint," Howarth told dot.LA. "The natural gas industry is claiming they can do better and reduce emissions some, producing so called 'blue hydrogen'" by employing carbon capture technology. However, Howarth says his research "clearly shows this marketing claim is not true."
For its part, FirstElement says its hydrogen comes from "renewable biofuel sources" and is "'green' by any measure," although it did not respond to further questions on its sustainability practices. In the past, the company has advertised its fuel as 33% renewable hydrogen, and the California Fuel Cell Partnership station map still lists the fuel dispensed at some FirstElement stations as such.
"Hydrogen made from renewable biofuel could in theory be zero carbon," Deepak Rajagopal, professor at UCLA's Institute of the Environment and Sustainability, told dot.LA. But the fuel would likely require offsets to truly be considered zero carbon, he said.
Regardless, the company — along with firms like fossil fuel giant Shell — is working to make hydrogen more accessible. The expansion plans are crucial for the roughly 7,500 Californians who currently drive hydrogen cars such as Hyundai's Nexo or Toyota's Mirai. Some early adopters say they've faced fuel shortages, or "hydropocalypses" — building more stations could make getting around easier while potentially driving down costs.
Still, the slow progress made in overcoming these challenges, together with meager sales, explains why automakers like Honda and Volvo seem to have lost interest in hydrogen passenger cars.
Meanwhile the electric vehicle market is booming. California alone has roughly 73,000 EV chargers, serving the approximately 425,300 plug-in vehicles registered in the state today.
The Future of Hydrogen Fuel Cells
But hydrogen has noteworthy support in other avenues, including as an alternative to combustion engines in larger vehicles.
Companies like Daimler, Toyota and Volvo are eyeing hydrogen fuel cells to replace diesel engines in long-haul trucks. They support hydrogen because hydrogen fuel tanks fill up quickly and weigh far less than batteries.
FirstElement plans to serve commercial customers such as these, too. The firm says at least 12 of its 80 stations will support heavy-duty trucks in addition to light-duty cars.
Plus, there's air travel. Hawthorne-based Universal Hydrogen has plans to test the first hydrogen-fueled airliner, because it could prove more practical for flying than heavy batteries, especially for long trips.
Beyond transportation, Hydrogen is used to make artificial fertilizer and refine petroleum. Down the road, it could also play a key role in decarbonizing steel.
So even if hydrogen-powered passenger cars are doomed to eat Tesla's and Rivian's dust, the need for clean, green hydrogen — and the infrastructure to distribute it — isn't going anywhere.
Harri Weber
Harri is dot.LA's senior finance reporter. She previously worked for Gizmodo, Fast Company, VentureBeat and Flipboard. Find her on Twitter and send tips on L.A. startups and venture capital to harrison@dot.la.