los angeles tech scene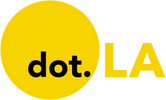 Get in the KNOW
on LA Startups & Tech
X
los angeles tech scene
The Los Angeles Tourism Department partnered with curiosities and travel website Atlas Obscura for a first of its kind digital interactive map of L.A. County's top attractions, just in time for the summer influx of tourists.
Visitors to L.A. – or locals looking for a fun reason to leave their apartments – can scroll the interactive map on a browser or download the app.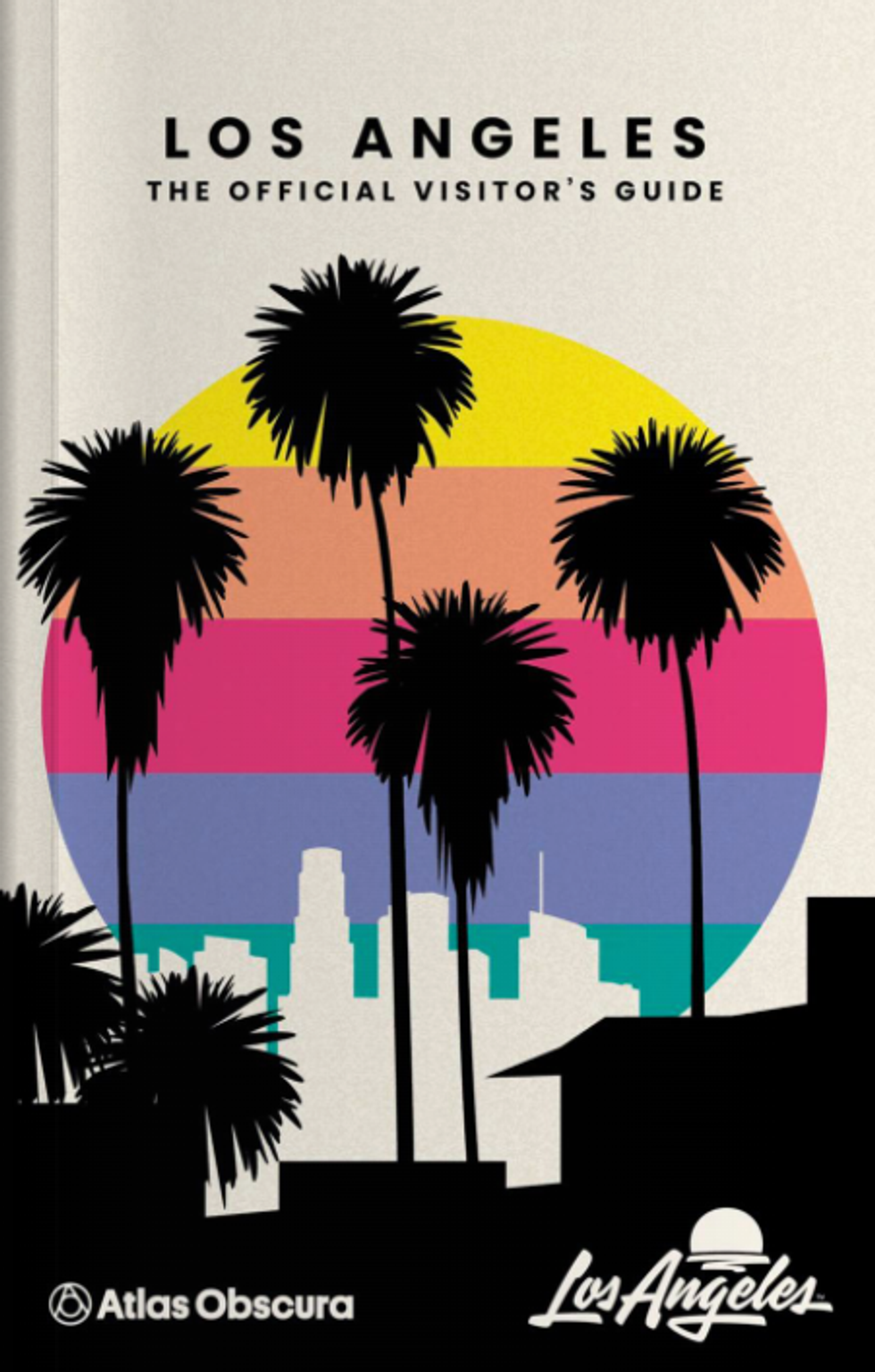 Image courtesy of the L.A. Tourism Dept.
The "Discover Los Angeles" map can be broken down by neighborhood or by a series of "guides," which all feature as part of the larger promotional campaign roll-out known as the Explorer's Guide to L.A
Atlas Obscura and the Tourism Department also published a hardcover edition of the Explorer's Guide, along with several other speciality breakout guides, including the Meeting Planners Guide, artistic Visitor's Map and, for those with more expensive tastes, the L.A. Luxury Guide to the city's pricier pursuits. The paper versions of the guides have QR codes for travelers to scan and take information with them on the go.
This year's collaboration with Atlas Obscura gives the Tourism Department's previous guide a much-needed update – it was previously a whopping 136-page PDF document created in 2020.
The Explorer's Guide includes a mix of places you'd expect to see on the map, like Griffith Park and the museum at the La Brea Tar Pits. It also has some unlikely spots sourced from Atlas Obscura's network of local explorers who recommended their favorite places to visit: the Palos Verdes Peninsula, Venice Canals or the Watts Towers, a stunning, monumental public art exhibit of mosaic steel towers that was built by one Italian immigrant over a 34-year period.

30 neighborhoods are discussed in the guide, from classic tourist destinations like Hollywood and beach cities like Santa Monica and Venice to lesser-known but still exciting enclaves like Leimert Park, Frogtown and Little Ethiopia. There's also several maps for specific interests – taqueria lovers will find new spots to nosh with the taco map, and there's also a map of the Downtown Arts District, spots to stargaze and sports venues.

"For myself and the writers and editors on this project, many of them L.A. natives, getting to write and curate the official visitors guide to the city of L.A. was an absolute dream," Atlas Obscura co-founder Dylan Thuras said in a statement. "We hope that these guides will inspire all the curious travelers arriving in L.A., to try new things, as well as providing new adventures for longtime L.A. residents. There is really no limit to what L.A. has to offer."
From Your Site Articles
Related Articles Around the Web
Photo by Justin Han
The last two years have seen many companies in Los Angeles—and the rest of the world—to pivot to a remote- or hybrid-work model that has quickly become the new normal. But with COVID-19 cases trending down and mandates easing up, employers are now reassessing what work should look like moving forward—and what it could mean for L.A.'s tech and business communities.
On Wednesday, local business leaders and stakeholders gathered in Downtown L.A. to discuss these very topics at "The Future of Work: People, Places and Spaces," a symposium hosted by the Pasadena-based nonprofit Alliance for SoCal Innovation and the Downtown Center Business Improvement District (DCBID).
The event's panelists include Slack senior vice president Brian Elliott, SoCal Edison senior vice president Natalie Schilling, L.A. Economic Development Corporation (LAEDC) vice president Jessica Ku Kim, Arup associate principal Katherine Perez and Geolab CEO Kian Gohar, among others.
Elliott kicked off the discussion by noting that even Slack—whose online workplace communication software became pervasive during the pandemic—found the initial shift to remote work as a shock to its system.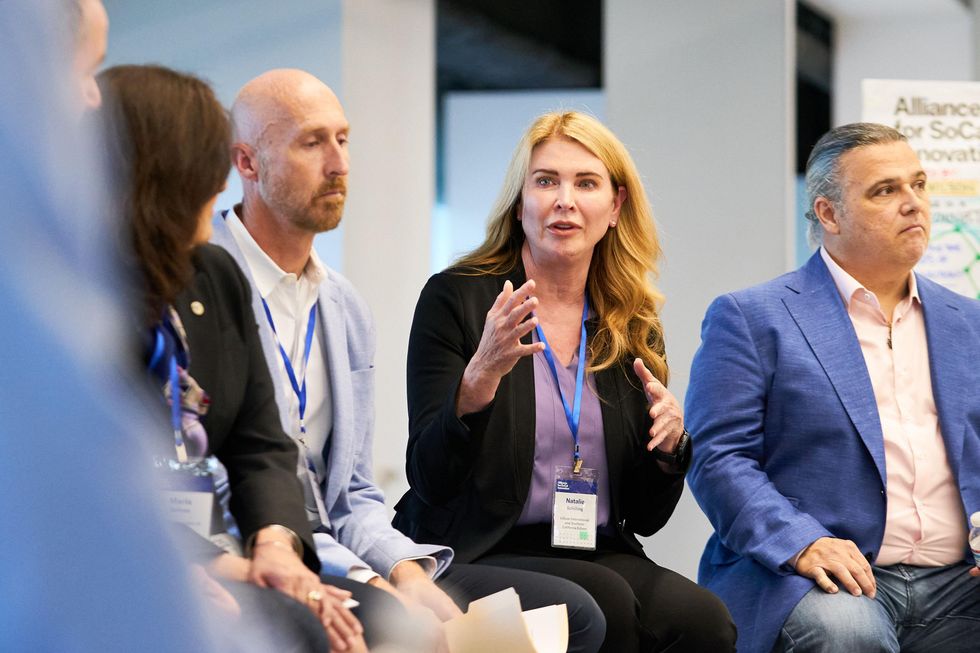 SoCal Edison senior vice president Natalie Schilling shares her thoughts on the hybrid-work model. Photo by Justin Han
"Less than 3% of our workforce were remote [before the pandemic]," he said. "Most people assume that because we're a technology company, we were already doing [remote work] all along." One positive was in hiring, Elliott noted, as the new remote work model allowed Slack to more easily recruit and acquire talent from all around the world.
Gohar chimed in by pointing out how "the pandemic really made us reassess all our assumptions about how we live, how we work, how we socialize and how we learn."
While lockdowns saw society realize the importance of "essential" workers in industries like food and health care, whose jobs could not be done at home, there were advantages gained by making many jobs remote. Workers could save time and money by eliminating their commutes, while carbon emissions also fell. Working parents with caregiving responsibilities were also generally provided more work-life balance and flexibility that they didn't have pre-pandemic.
But with office occupancy rates slowly creeping back up, there are divides emerging between those more satisfied with the new normal and those who'd prefer a return to pre-pandemic ways.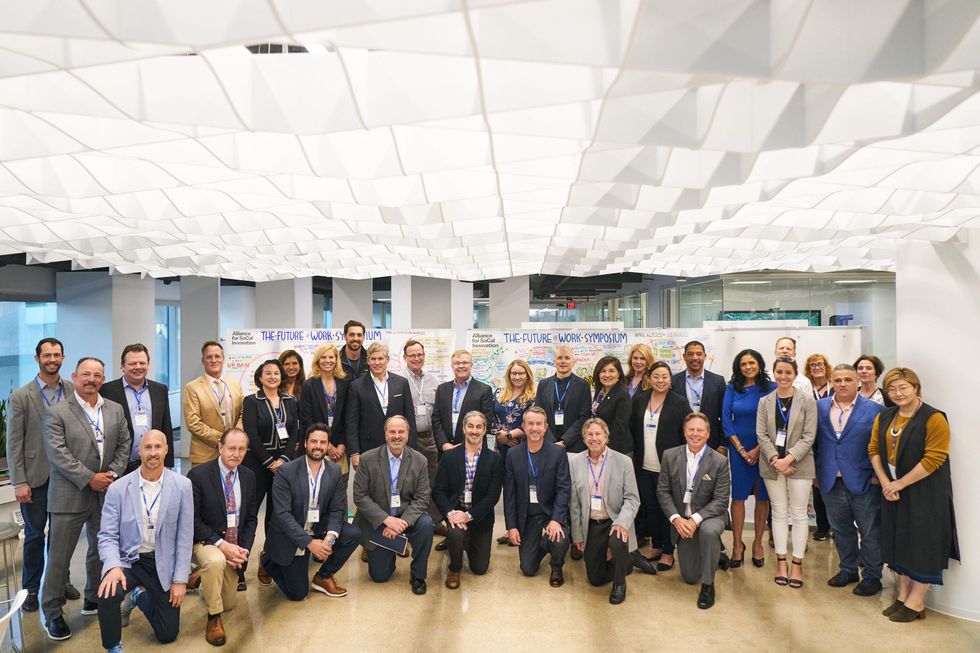 "Future of Work" event speakers and attendees pose for a photo. Photo by Justin Han
Perez said she is seeing a divide at her design and engineering firm among executives—many of whom have families and want to continue working from home—and junior staff who seek the mentorship and collaboration that comes with being in the office.
On the flip side, Schilling said employers may risk losing out on talent if they don't provide work-from-home options—particularly younger employees fresh out of college and low on savings, who may balk at paying today's sky-high gas prices in order to commute.
"The biggest concern [at SoCal Edison] is connectedness, productivity and getting people to want to stay at our company," Schilling added.
While the conversation around what "the future of work" will look like remains open for debate, most of the panelists found common ground on Kim's observation that "one size does not fit all"—and the sentiment that what may work for one company in a post-pandemic world may not be the best for others.
Courtesy of The Bloom Firm
Three women suing Activision Blizzard for sexual harassment in the workplace publicly detailed their experiences Tuesday, likening working at the male-dominated video game publisher to being in a "cult" and demanding that CEO Bobby Kotick be fired.
"Good versus evil wasn't just in their games," attorney Lisa Bloom told a group of assembled media at a press conference in Woodland Hills on Tuesday morning. "For years, the women who work in the company have been fighting the monsters inside the company who treated them like dirt."
Last week, Bloom filed a lawsuit against Activision on behalf of a client referred to as Jane Doe. Bloom said she represents a total of eight women who have claims against the Santa Monica-based company—including the three who spoke today—and encouraged more to come forward. Bloom told dot.LA that each woman is filing an individual suit, to make sure they're fairly compensated.
The Jane Doe who sued Activision last week came forward today at the press conference, where she revealed key details about her case, including her first name. Christine still works in the company's IT department, where she's been an employee for five years. She claims to have been pressured to drink alcohol on the job and sexually harassed by multiple male Activision employees—including her direct supervisor, former Activision manager Mark Skorupa, who is named as a defendant in the lawsuit.
"Blizzard was my dream job," Christine said. "When I would try to be more social and attended events, I'd be subjected to sexual harassment, unwanted advances and comments… I just wanted to do my job and go home."
Among the inappropriate interactions, Christine said male colleagues and "men in leadership roles" at the company have, without her consent, hugged her tightly from behind, put their hands into her lap, fondled her breasts and attempted to kiss her. Christine also said that a female colleague who held "swinger parties" with her husband invited her to join.
While Christine still works at Activision, she claimed that retaliation for speaking out about misconduct at the company has seen her passed over for promotions and kept her from advancing in her career. She said she filed several reports with the human resources department, only to have her complaints dismissed.
Christine's is the first lawsuit filed against Activision by Bloom, but the attorney told dot.LA that she anticipates more to come.
Bloom is demanding Kotick be fired for cause so he can't receive the roughly $375 million payout he's expected to receive after Activision's $69 billion merger with Microsoft closes. She is also requesting damages for her plaintiffs, a third-party investigation into the company's conduct, and court orders to end forced arbitration at Activision and create a rotating HR department.
Two other women came forward at the press conference to speak out against Activision, also declining to give their last names for fear of retaliation. Ariel claims to have "endured sexual and emotional abuse" during her time at the company, where she was "degraded, gaslit and humiliated."
A third woman, Shannon, spoke to the press via video conference. "While working at Activision, I suffered sexual harassment, sexual battery and sexual assault by managers and supervisors," she said. Shannon recalled being sexually assaulted during numerous business trips by her bosses.
Bloom also read a statement from a fourth woman, who wished to remain anonymous. "This was a cult—either you were in or you were out," the statement read. "What I experienced during my tenure at Blizzard was nothing short of horrendous."