clean tech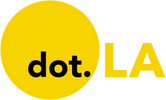 Get in the KNOW
on LA Startups & Tech
X
clean tech
Courtesy of Xos Trucks.
Xos Trucks revealed two new EVs on Tuesday aimed at shifting everything from local delivery vehicles to long-distance haulers away from internal combustion engines. The new models come as the race to get more truck fleets and delivery services using electric vehicles, especially at Southern California's overwhelmed ports.
Xos showed off its Class 6 and 7 MDXT, a medium-duty delivery vehicle, and the Class 8 HDXT semi truck. Both have between 230 and 270 miles of range on a full charge and are completely electric, according to the company, and in more than a few ways said to be more capable and better haulers than their gasoline or diesel-powered equivalents.
The Atwater Village-based company, which launched in 2016, has already made some inroads with its SV05 Stepvan that was unveiled four years ago and adopted by companies such as Amazon and FedEx — which were represented by attendees at the San Pedro "Fleet Week" event that had the Port of Los Angeles as a backdrop. It comes as the ports of Los Angeles and Long Beach struggle under the pressure of a backlog of goods that are stacked at the two busiest ports in the country — and as the state tries to figure out how to significantly improve air quality.
CEO Dakota Semler said Tuesday evening the vehicles marked the completion of the first phase of the company's mission of building environmentally-friendly vehicles for fleets and companies that are trying to become more sustainable — a move all companies will eventually have to make amid increasingly stringent emissions standards for all vehicles.
"The next phase is helping fleets scale zero-emissions vehicles across their entire operations," he said. "We've already started to pave the way for the future we've envisioned."
Xos' HDXT model trucks will most likely be the ones coming to and from the country's ports. The vehicles can drive an estimated 230 miles on a full charge. Xos said they also have the most torque of any Class 8 semi truck available, at more than 36,000 foot-pounds.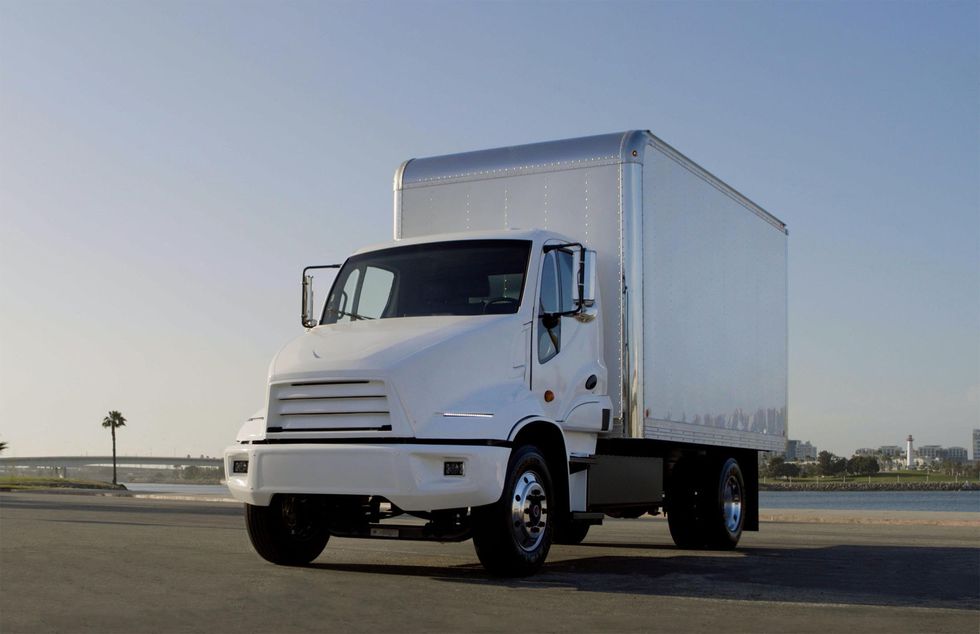 Xos showed off its Class 6 and 7 MDXT, a medium-duty delivery vehicle.Courtesy of Xos Trucks
Indiana-based Allison Transmission developed its eGen dual electric motor powertrain that powers the rear axle of the truck itself, freeing up much of the space under the hood that would normally be occupied by a large diesel engine. Total system output from the motors is 798 horsepower.
The medium-duty MDXT is a Class 6 or 7 vehicle that Xos will offer as a box truck, refrigerated truck and a flatbed vehicle and is intended for more local or mid-distance use. It also boasts an impressive-for-its-class 16,000 foot-pounds of torque, as well as up to 270 miles of range and competitive hauling capabilities.
Both vehicles have interiors that are mostly familiar to truck drivers. However, there's a prominent touchscreen in the center of the dashboard that's also central to Xos' fleet ambitions, and what Semler called an introduction to the company's next phase.
Crucial to that is a connected vehicle platform for fleet management called Xosphere, which the company also unveiled at Tuesday's event. Xos says its proprietary software can actively monitor vitals on the MDXT and HDXT including vehicle battery charge and health and estimated vehicle range. It can also determine whether it has enough of a charge to complete its route and even perform over-the-air updates. Managers can also use the stats to evaluate energy and maintenance costs for the fleet.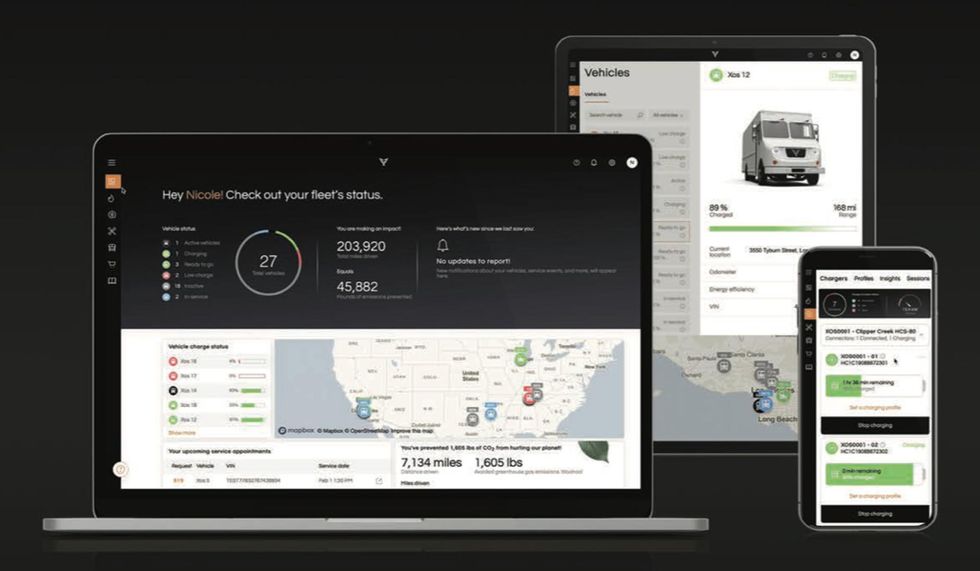 Xosphere actively monitors vitals on fleet vehicles, including vehicle battery charge and health and estimated vehicle range.Image courtesy of Xos Trucks
COO Giordano Sordoni said the platform's ability to update and perform maintenance remotely would allow vehicles like the MDXT and HDXT, as well as future Xos vehicles, to be on the road longer and reduce the juggling fleet managers sometimes do with conventional trucks, which have to be taken off the road to be serviced by a technician.
"We designed the Xosphere to be ridiculously intuitive," he said to the audience of fleet managers. "You shouldn't need a background in computer science to access powerful insights to your fleet."
Other players in fleet management software include Fleetio, Rhino Fleet Tracking and AUTOsist, some of which have several years on Xos' platform. But while the Xosphere is most likely optimized for Xos' vehicles, it's available to all fleets regardless if they use electric or internal combustion trucks.
Both vehicles already have initial orders. Texas-based supply chain and distribution services company McLane is taking the first 10 HDXTs as part of its "Green Advantage" initiative. The company says it's invested more than $230 million to reduce its carbon footprint and make its fleet more environmentally friendly.
Wholesale beverage distributor Republic National Distributing Company, also based in Texas, has ordered five MDXT vehicles. The company operates in more than 30 states. The Xos vehicles will be its first electric vehicles.
And Massachusetts-based UniFirst is already using Xosphere software to manage its fleet's service history and maintenance needs.
"We are building the fleet of the future. The new vehicle platforms go farther, last longer and cost less for all types of fleets," Semler said. "We will continue to bring innovative fleet solutions to market in an effort to provide customers with safer, more sustainable and more cost-efficient products."
Xos might have a head start on actually getting EVs to fleets, but much larger companies are trying to do the same with everything from commercial vans to Class 8 haulers.
In 2020, Toyota launched a pilot program with 10 hydrogen fuel cell-powered Class 8 trucks at the ports of L.A. and Long Beach using Kenworth vehicles. This week, Hyundai Motor said it would expand its XCIENT fuel cell truck program to the Port of Oakland next year. That program started in Switzerland in 2020.
And at a Hawthorne event in November 2017, Tesla revealed its Semi truck prototype. Initially expected in 2019, CEO Elon Musk has most recently estimated to start production in 2023 in either Nevada or Texas. The EV company claims more than 700 orders for the vehicle, including from companies such as Walmart, PepsiCo and UPS.
From Your Site Articles
Related Articles Around the Web
Image courtesy of URB-E
Whether it's Amazon's enormous investment in electric vans or Starship Technologies' autonomous food transport rovers, there's no shortage of tech companies looking to electrify last-mile deliveries and cut carbon emissions.

URB-E, a Los Angeles-based startup, may have the simplest solution of all: electric bicycles. With its fleet of souped-up, battery-powered custom e-bikes equipped with collapsible box trailers, the company is ferrying meals, groceries, ecommerce orders and other packages to doorsteps in L.A. and New York City.
Now, the mobility and logistics company is returning to its roots in California to partner with the Los Angeles Cleantech Incubator (LACI) and the city of Santa Monica on a pilot program that establishes zero-emission delivery zones. Santa Monica has established itself as the cradle of micromobility in recent years, and the city's initiative—described as the first of its kind in the U.S.—aims to live up to that reputation by carving out priority curb space for electric delivery vehicles in certain high-traffic corridors. In addition to luring new operators, the program should also lower air pollution, greenhouse gas emissions and noise pollution in some of the busiest parts of Santa Monica.
The pilot will feature 10 URB-E e-bikes that will service zero-emission delivery zones along Santa Monica Boulevard and Colorado Boulevard, with plans to expand the pilot to 20 URB-E vehicles in the near future. The startup will share the curb space with electric vehicles from the likes of Coco, Fluid Truck, Maxwell Vehicles and Nissan, as well as vendors like Ikea and Shopify. The pilot will run until the end of the year.
"I think we've already seen an enormous amount of excitement in this space," LACI president and CEO Matt Petersen told dot.LA. "We know that URB-E is going to just crush it as they hit the streets."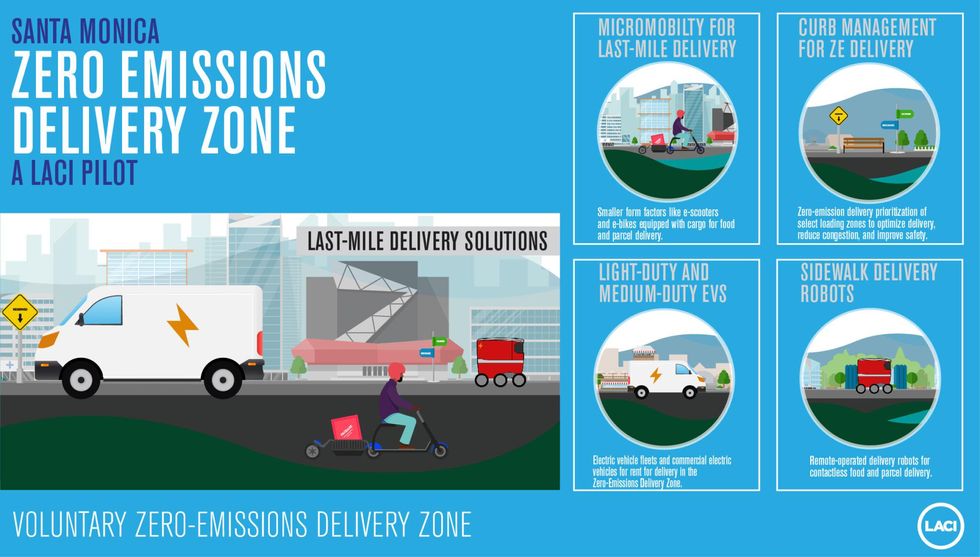 Courtesy of LACI
URB-E is no stranger to LACI: Founded in 2015 by former Ford and Fisker engineer Sven Etzelsberger and business development veteran Peter Lee, the startup joined the incubator in 2018—a stint that helped propel its business forward. Back in those days, URB-E was focused on developing e-scooters; initially, the company wanted to use its scooter technology and to deliver packages around the Burbank area, but quickly discovered that, to be cost-efficient, it needed to carry more weight than the scooters could handle.
"[The scooters] could pull around 300 or 400 pounds, which is not actually that much," recalled URB-E CEO Charles Jolley, an Apple and Facebook veteran who now leads the startup. "In order to get that good balance of efficiency, you needed to carry around 800 pounds." So URB-E went back to the drawing board and revamped its designs—moving on to e-bikes that can haul up to 800 pounds and a completely new container system.
In addition to its hometown, the company has also cut its teeth in New York City, where delivery riders pedal across neighborhoods in Manhattan and Brooklyn. Jolley said the length of a delivery run depends on the shape of the neighborhood, but it usually takes five-to-nine miles of riding to unload a full container of goods. The startup was boosted by a $5 million Series A funding round led by UBS Group early last year.
Another week, another new neighborhood for URB-E! Where is it?pic.twitter.com/VmLa2O1bNe

— URB-E (@URB-E) 1650992421
While bikes and containers are core to URB-E's platform, the company is also collecting logistics data every step along the way. With a custom software app that riders use to navigate and deliver packages, URB-E is actively mapping the infrastructure needs of neighborhood-scale electric delivery. As the startup has grown, it's gained insights into where to position charging stations and staging areas and how to efficiently execute deliveries.
That will help it support whatever electric contraptions may show up down the road as the delivery vehicles of the future, according to Jolley. "The vehicles can evolve over time, and we actually now have all of this infrastructure to support [them]," he said.
From Your Site Articles
Related Articles Around the Web
Image courtesy of Plenty
This is the web version of dot.LA's daily newsletter. Sign up to get the latest news on Southern California's tech, startup and venture capital scene.
With Southern California's drought reaching emergency levels, water restrictions are cropping up across the region. The Metropolitan Water District of Southern California is demanding that local agencies reduce consumption by 35% and limit outdoor watering to one day a week in parts of Los Angeles, San Bernardino, and Ventura counties. That adds to a recent executive order by Gov. Gavin Newsom, who declared that the state's Water Board must consider a ban on the watering of decorative grasses around commercial, industrial, and institutional areas.

Simply put, Southern Californians must find a way to make due with 80 gallons of water per person per day (the average SoCal resident currently uses somewhere between 100 to 125 gallons of water per day). And if we can't curb our water usage, stricter cuts—including a ban on all outdoor irrigation—could come down as early as September.
But while restrictions aimed at residential water use are important and will be vital to surviving the drought, the fact is that "urban" water usage is a drop in the bucket compared to agriculture, which consumes four times as much H2O in California.
Seeing how this is a tech website, maybe you can guess where I'm going with all this: Is there a technological solution for growing plants with less water? Yes, there is.
Vertical farming is picking up real steam in Southern California. As the name suggests, the technique revolves around growing crops vertically, often forgoing soil in favor of a hydroponic system where roots dangle in a mixture of water and nutrients. This reduces the geographic footprint of a farm substantially, and its water consumption, too. Because there's no runoff, water waste is dramatically reduced compared to traditional farms—with some setups able to grow an equivalent amount of crops with up to 95% less of the wet stuff.
In Los Angeles, the big name in vertical farming is Plenty, which we've covered in the past. The San Francisco-based unicorn is currently growing a host of leafy greens in a building in the middle of Compton, and plans to further scale with the help of a $400 million Series E funding round it raised in January.
In addition to taking up less water and land, vertical farming also brings fresh produce closer to end consumers. Because vertical farms can be placed in dense urban areas and grow produce year-round in a climate-controlled environment, they significantly cut down on the carbon emissions required to ship fruits and vegetables to their end destinations.
Of course, there are limitations to what types of crops can be grown on a vertical farm. So far, the technology has only really been successfully applied at scale to leafy greens, herbs, and a few types of berries. That won't do much to help California reduce the water needed to grow staple crops like grapes, almonds, oranges and walnuts—but then again, the technology is still relatively young.
There's a strange logical fallacy that people often fall victim to when discussing environmental efforts. It goes something like: "This isn't the biggest issue, so we shouldn't focus our efforts here." Is banning plastic straws going to clean up the Great Pacific Garbage Patch? No. Would eating less red meat eliminate global CO2 emissions? No. Is vertical farming going to solve Southern California's drought? No.
But solving the climate crisis requires a million tiny victories like these, which help us progress to where we need to be. The gains from embracing vertical farming alone won't mean anything if we don't make a drastic shift toward renewable energy sources, zero-emission vehicles and other sustainable solutions—but that doesn't mean they don't matter. — David Shultz