women in tech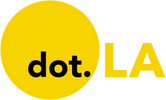 Get in the KNOW
on LA Startups & Tech
X
women in tech
Photo courtesy of Noora Raj Brown
On this week's episode of the Behind Her Empire podcast, host Yasmin Nouri talks with the executive vice president of Gwyneth Paltrow's Goop, Noora Raj Brown.
Brown started working at Goop when the company was still in the early, hectic stages, moving from a weekly newsletter Paltrow would send out to her friends to a multinational publishing and lifestyle brand.

At the time, Goop's advice, guides and features about beauty style and wellness, were tackling difficult issues like divorce, sexuality and health in very personal terms.
"So much of what we do at Goop is to push conversations into the mainstream and to talk about things that, frankly, people don't always want to talk about," she said. "And these are hard conversations, right?"
Brown, a daughter of immigrants, grew up in Silicon Valley and always considered herself a creative, even though her parents were hopeful she'd take a more conventional professional route. "It was like, very much medicine and tech, and I wasn't interested in either," she says. Instead, her interest veered toward fashion.
After earning her degree, she moved to New York City to work at a fashion magazine called Details, where she got to learn quickly about how designers function and how garments are produced and promoted — but the job didn't come easy.
"A lot of it was really like finding your path, feeling really lost for a long time. And I think I also had this idea that I would come to New York and I would start interviewing and get a job," says Brown. "And that would sort of be it. And I didn't realize how insanely competitive it was."
Brown moved on to work in talent PR where she organized photo shoots, coordinated the angles of stories and then at a fashion and style publication called InStyle during a time when it was in the process of being sold to a new owner.
"There was a feeling of like, you couldn't win," Brown says. "You're operating from a place of fear; you're not able to be your best self, right?, and you're not able to produce your best work."
In 2016, when Brown made her way to Goop, there was no in-house communications or legal team, no HR, piles of debt and, from Brown, terror. "I sort of felt like, I was the first line of defense for anything negative that happened to the business," she says.
The experience left her feeling unqualified, but she said Paltrow's confidence in her made Brown more confident in her own abilities.
"I think we all just need to give ourselves the benefit of the doubt a little bit," she says.
Brown's personal journey, in many ways, mirrored Goop's mission to push unconventional conversations into the mainstream. Brown says Goop has faced some backlash for its stories, but she says she feels strongly that important topics shouldn't be taboo, and adds that it takes honesty and courage to make change.
"If you're really going to, as we say, [...] milk the shit out of life, you need to do that," she says. "As I said, operating from a place of real pride, but also real bravery is super important."
Engagement and Production Intern Jojo Macaluso contributed to this post.
Hear more of the Behind Her Empire podcast. Subscribe on Stitcher, Apple Podcasts, Spotify, iHeart Radio or wherever you get your podcasts.
Image by Carolyn Figel
The pandemic exacerbated a problem that has been long bubbling in the U.S.: the childcare crisis.
According to a survey of people in science, technology, engineering and mathematics (STEM) careers conducted by the city's WiSTEM Los Angeles program and shared exclusively with dot.LA, the pandemic exposed a slew of challenges across STEM fields. The survey—which consisted of 181 respondents from L.A.County and was conducted between March 2021 and 2022— involved respondents across medical fields, technical professions and science industries who shared the pandemic's effects on their professional or education careers.
The survey found 60% of the respondents, primarily women, were balancing increased caretaking roles with work or school responsibilities. And while caretaking responsibilities grew, 49% of respondents said their workload also increased during the pandemic.
"The pandemic threw a wrench into lots of folks' experiences both professionally and academically," said Kathryne Cooper, a health tech investor who sits on the advisory board of WiSTEM. "So we need to acknowledge that."
In the L.A. area, an increasing number of childcare startups are aiming to address this massive challenge that is a growing national crisis. The U.S. has long dealt with a crippling childcare infrastructure plagued by low wages and a labor shortage in preschools and daycares, but the COVID-19 crisis made it worse. During the pandemic, women left the workforce due to the lack of childcare and caretaking resources. By 2021, women made up the lowest percentage of the workforce since 1988, according to the National Women's Law Center. Despite the pandemic forcing everyone indoors, caretaking duties fell disproportionately on women.
"I almost actually left my job because everything that I looked at was either waitlisted or the costs were so astronomical that it probably made sense for me to stay at home rather than pay someone to actually look after my child," said Jessica Chang, the CEO of childcare startup WeeCare.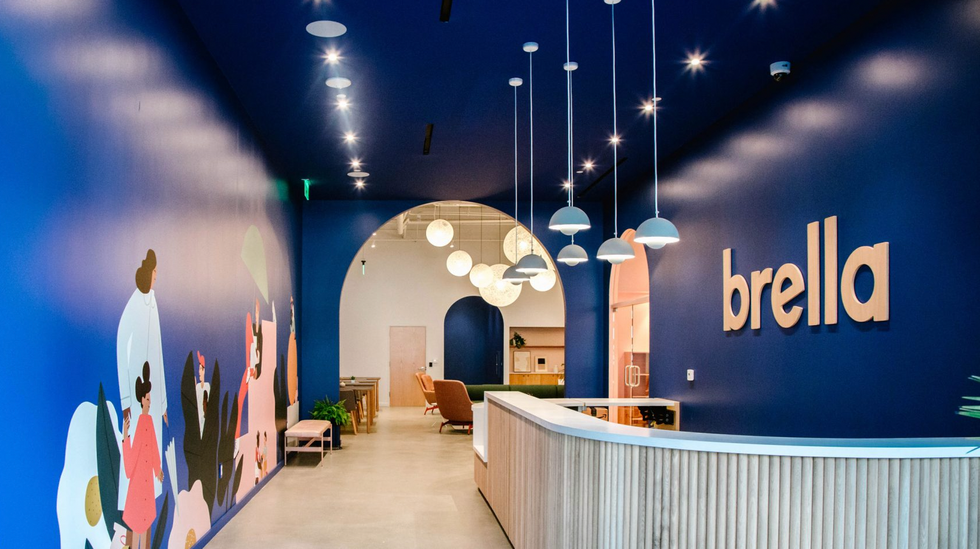 Brella's Playa Vista-based childcare center lobby. Photo courtesy of Brella
The Marina del Rey-based WeeCare, one of the startups that helps people open their own childcare facilities, announced it raised $12 million in April (to go along with an additional $5 million in bridge funding raised during the pandemic). The company helps people build daycare centers and works with employers to provide access to WeeCare centers and construct child care benefits programs.
Some of these startups strive to boost the number of daycare centers by helping operators with financial costs, licensing fees and scheduling. Wonderschool, a San Francisco-based child care startup, raised $25 million in January and assisted with hundreds of childcare facilities in L.A.-based Playground, which raised $3 million in seed funding last year per PitchBook. Playground acts as an in-house platform for childcare providers to communicate with staff and parents, track attendance, report student behavior and provide automatic invoicing services.
L.A.-based Brella, which launched in 2019, raised $5 million in seed funding in January to create a tech-enabled daycare scheduling platform that could meet the demand of flexible childcare as parents navigate a hybrid work environment, and recently opened a new location in Hollywood. The startup aims to address the labor shortage among childcare workers by paying its workers roughly $25 an hour and offering mental health benefits and career development opportunities for its educators.
"It's this huge disconnect in our society because these are really important people who are doing arguably one of the most important educational jobs," said Melanie Wolff, co-founder of childcare startup Brella. "They often don't get benefits. They don't have a lot of job security."
Venture capital funding has poured into the relatively new childcare sector. A slew of parent-tech companies aimed at finding flexible child care and monitoring children saw $1.4 billion worth of venture investments in 2021, according to PitchBook, largely to meet the demands of parents in a pandemic era who have more flexible work commutes and require more tech-enabled solutions.
"I think a lot of it has to do with what employers expect for workers," said Darby Saxbe, an associate professor of psychology and family relationships expert at USC. "There's still a lot more stigma for men to build their work around caregiving responsibilities–there's a lot of evidence that men are often discouraged from taking paternity leave, even if it's available."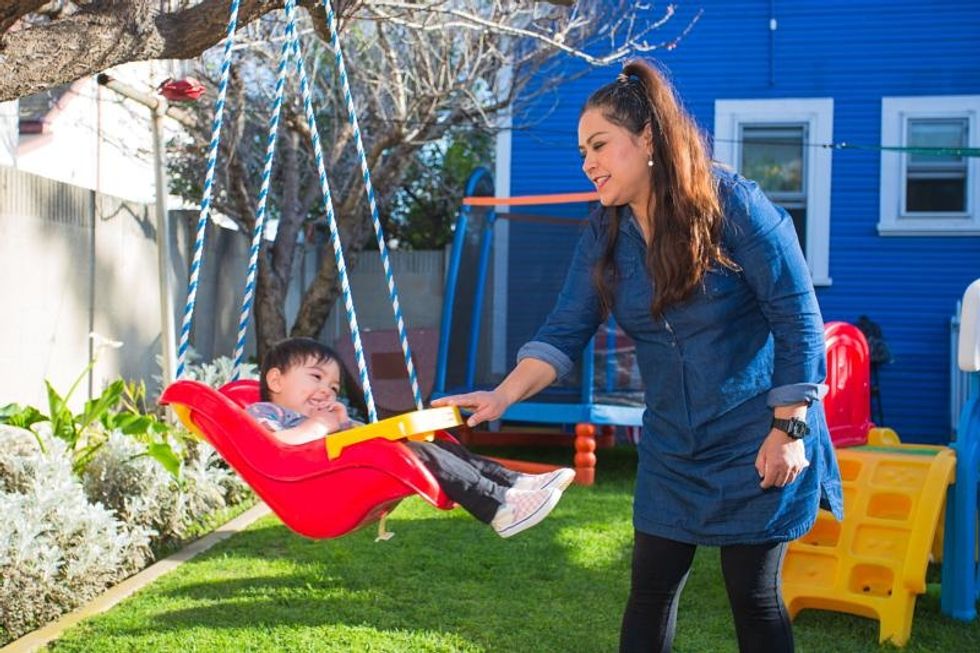 WeeCare is one of several startups updating the childcare space with technology and flexibility. Photo courtesy of WeeCare
Childcare benefits are also becoming a more attractive incentive as workers grapple with unorthodox work schedules in a hybrid setting.
"Employers, because of COVID, were having a hard time retaining and recruiting employees," said Chang. "And they were actually incentivized to actually find a solution to help the employees."
WeeCare primarily partners with employers of essential workers, like schools, hospitals and grocery stores, and the benefits programs account for the majority of WeeCare's revenue.
Childcare works are part of a massive labor shortage in caretaker roles that also include nurses, and health aids for the eldery. These workers, which allow women to maintain careers in STEM and other high-paying industries, are vital, according to Saxbe.
"Women can advance in the workplace," Saxbe said. "But if there's no support at home and there is no one who is helping take care of kids and elderly people, women can't just advance in a vacuum."
From Your Site Articles
Related Articles Around the Web
Image courtesy of Camille Styles
Camille Styles thought she had her dream job — until she started to crave more creativity.
On this episode of Behind Her Empire, the serial entrepreneur talks about how she learned to take risks, dealing with burnout and gaining the confidence to pursue her passions.
Styles runs Camille Styles, a digital publication that grew out of a blog she created as a hobby and, over time, became a business.
Styles says she grew up adapting. As a young girl, she lived in Fort Worth Texas where her mother exposed her to art, nature and cooking. When she turned eight, her family moved to a small town in Missouri. Eventually, her family moved once more, leaving Styles to once again find her footing in a new environment.

"I can remember screaming at my parents that they were destroying my life," she says. "But in hindsight, I am so thankful for those experiences that really started to build that sense of independence and determination to kind of find my own path and carve out a place for myself."
That skill of adaptability helped Styles to stay afloat through her professional life — from New York, where she worked in the fashion industry as a college student, to Texas, where she got her start in event planning, to her journey into becoming an entrepreneur at 24.
"I talked to basically every small business owner that I knew, I asked for their advice and to talk to them about some of the mistakes they made," she says." "And I launched Camille Styles Events with one intern and myself working out of the basement of our little 1,000-square-foot bungalow."
She didn't stop there; "On the side, I launched a blog," she adds.
That blog has been the focus of her career for over a decade. Throughout that time, Styles had to adapt to keep up with the rapidly-evolving internet, growing her audience, monetizing her content and refining it for social media platforms– all while being a mother to her two children.
Styles says she avoids feeling overwhelmed by doing what feels natural to her—changing.
"Instead of quitting, I pivoted and I changed," she says, "which I think is really important when anyone feels burnout—to not just keep doing what you're doing."
Thirteen years after starting her blog, Styles is once again changing route. Her new business hasn't yet been named or announced, but Styles says she is learning how to build and ship physical products to customers, something she has never done before. But starting from scratch is nothing new for Styles.
"It's nice to be able to kind of let it unfold naturally and take my time with each step of the process," she says.
Engagement and Production Intern Jojo Macaluso contributed to this post.
Hear more of the Behind Her Empire podcast. Subscribe on Stitcher, Apple Podcasts, Spotify, iHeart Radio or wherever you get your podcasts.
From Your Site Articles
Related Articles Around the Web