women in tech
women in tech
Entrepreneur Nicole Gibbons joined this episode of Behind Her Empire to talk about how to leave your corporate job and do your own thing.

Gibbons is the founder of Clare, the only Black-owned paint brand in the U.S. Her journey from fashion to striking out on her own into interior design and ultimately to starting her own company is filled with lessons on timing and perseverance.
"I spent my time for five years side hustling, building my confidence and learning the design, trade, learning how to operate a business and gaining enough competence to then take the leap to do my thing full time," said Gibbons.
Right out of college, Gibbons took a public relations job at Victoria's Secret at 21 and worked there for almost 10 years, but she knew it wasn't where she wanted to be.
Gibbons took on side projects, including starting a blog about home décor, more to satisfy her curiosity than to establish a business.
"None of my friends cared about design. No one in my life, I had no one to nerd out with about furniture and decor," she said. "And that's really why I started the blog."
From there, she found herself helping people with their home spaces and establishing herself as a voice in the interior design industry. Eventually, she took on some interior design clients and decided to make the jump to start her own business.
"Initially I had this sort of chip on my shoulder of like, 'I didn't go to design school. I don't have a formal education in design. So how am I going to ever have enough credibility to be taken seriously?'"
The first year was difficult, but over time, her business picked up, and her hands-on approach to helping users pick paints gave Gibbons an idea for a direct-to-consumer business. But she ran into many investors skeptical of her idea of disrupting an industry that was dominated by staid paint companies run mostly by older white me.
"If I pitched you, and you told me it was a silly idea. I'm like, 'You don't know what you're talking about. [On] to the next person who can see the light.' And that was just my attitude," said Gibbons.
As a first time CEO, Gibbons acknowledges she's still learning and isn't afraid to ask for help Gibbons added, "Feedback is a gift."
dot.LA Engagement Fellow Joshua Letona contributed to this post.
Want to hear more of the Behind Her Empire podcast? Subscribe on Stitcher, Apple Podcasts, Spotify, iHeart Radio or wherever you get your podcasts.
By all accounts, these are heady times for health-tech startups. In 2020, as the pandemic raged, a record $28.5 billion of venture capital poured into the U.S. biotech startup scene, according to Pitchbook data. New dollars inflated valuations for telehealth services, concierge medical practices and a slew of other startups designed to save doctors, hospitals and patients time and money.
But not everybody reaped the benefits. A survey of nearly 700 health startup leaders conducted by Rock Health in 2020 found that support for Black founders was largely inadequate. Black founders were more likely than white or Asian founders to bootstrap their companies, while most were based in the South or the Midwest—far from the funding hotbeds of the Northeast and West Coast.

These inequities formed the genesis for Jumpstart Nova, which bills itself as the first venture fund investing exclusively in Black-founded and Black-led health companies. The fund—a spinoff from Nashville-based venture capital firm Jumpstart Health Investors—announced Wednesday that it has raised $55 million from health care investors including Eli Lilly and Company, Cardinal Health and Atrium Health, oversubscribing its initial $30 million target.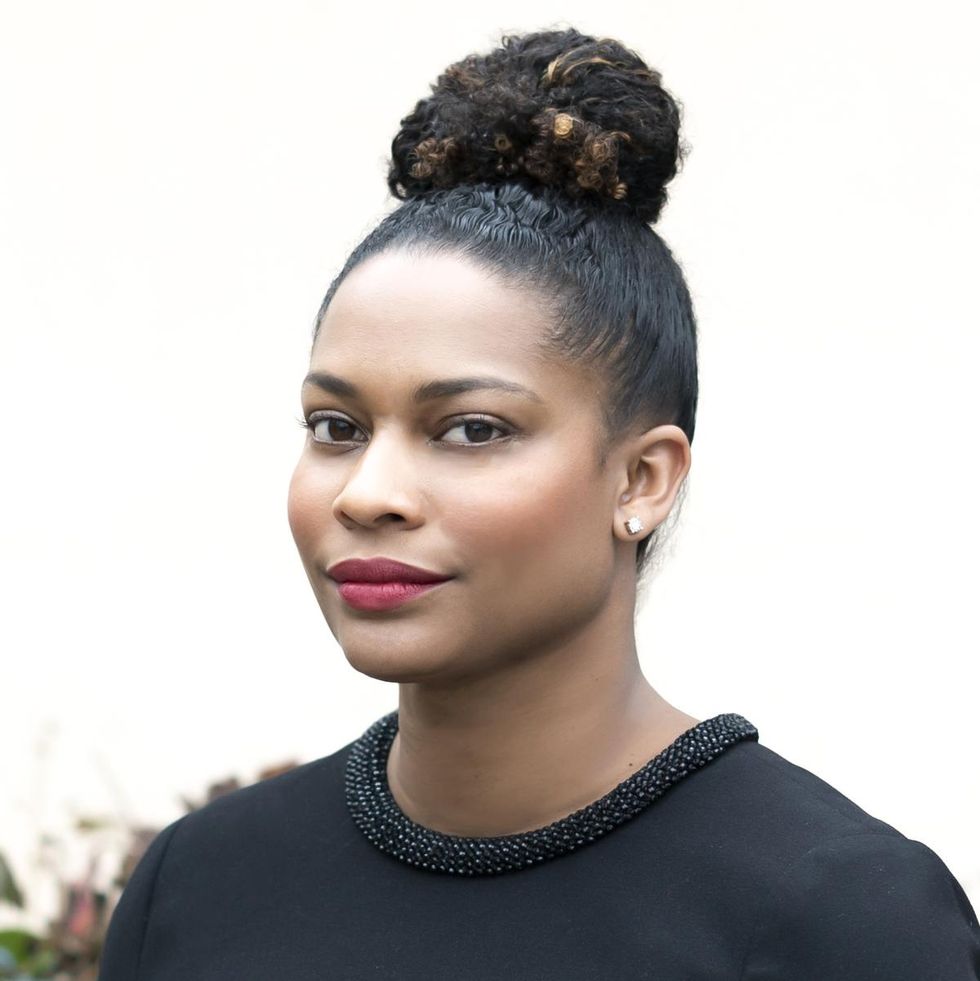 Jumpstart Nova partner Kathryne Cooper
Though Jumpstart is based in Tennessee, the Nova fund will have roots in Los Angeles, as well. Jumpstart Nova partner and native Angeleno Kathryne Cooper is based in L.A., and is working alongside Jumpstart co-founder Marcus Whitney to lead deals and manage the portfolio. Cooper brings an experienced background in the worlds of health care technology and startup investing. She previously managed an FDA-backed seed fund for the West Coast Consortium for Technology & Innovation in Pediatrics, and has served as an advisor to Backstage Capital, an L.A.-based venture fund for minority-led startups, as well as the city of Los Angeles' Women in STEM (WiSTEM) initiative.
"[Black people] have been overlooked traditionally for investments from the venture space, and I believe that talent is equally distributed and anyone can build within health care," Cooper told dot.LA. "So I think it was a unique market opportunity to create a fund that invests exclusively in Black founders."

According to Jumpstart, of the nearly 785,000 companies in the U.S. health care sector today, only around 35,000—or less than 5%—are Black-owned. The venture fund is hoping to eliminate certain processes baked into the venture capital world that it believes make it harder for minority founders to access funding. For instance, instead of relying on in-person meetings that require founders to fly out to L.A. or Nashville, it is soliciting founders from all over the U.S.—an attempt to rectify some of the geographical inequities that leave many Black founders at a disadvantage.
"I think protocols like that are helpful because some of these methodologies have chronically underserved certain types of founders," Cooper said. "And we don't make the same mistake, even though we're investing in Black founders."
From Your Site Articles
Related Articles Around the Web
Shutterstock
Facing a series of walkouts and allegations of a "frat boy" culture, Activision Blizzard released a trove of data on gender representation in its workplace this week that showed just how homogenous the company is.
The report was released in a letter to employees and published Dec. 16. It was part of the video game publisher's attempts to rehabilitate its image following a lawsuit from California regulators alleging the company created a pervasive mysoginistic culture and a Securities and Exchange Commission probe. It's also facing intense backlash from current and former employees, who all allege Activision ran a workplace rife with sexual harassment and retaliated against victims for speaking out.
The report found that about a quarter of the total global workforce at Activision, Blizzard and King is female – a statistic it claimed was the same as other competitors in the gaming industry.
"While representation company-wide is similar to our peer gaming companies in the United States, this is wholly inadequate in my mind," Alegre wrote. "We will do better. We have a lot of work to do as we build an organization where diversity is as much a core value as innovation."
The company said 29% of its recent hires across divisions were women, but also noted 26% of the attrition that happened in 2021 was also female employees. Essentially, the publisher lost nearly as many women as it hired in the last year to resignations or retirement.
Women account for 26% of Activision, Blizzard and King's executive leadership and 26% of its entry-level positions, the company noted.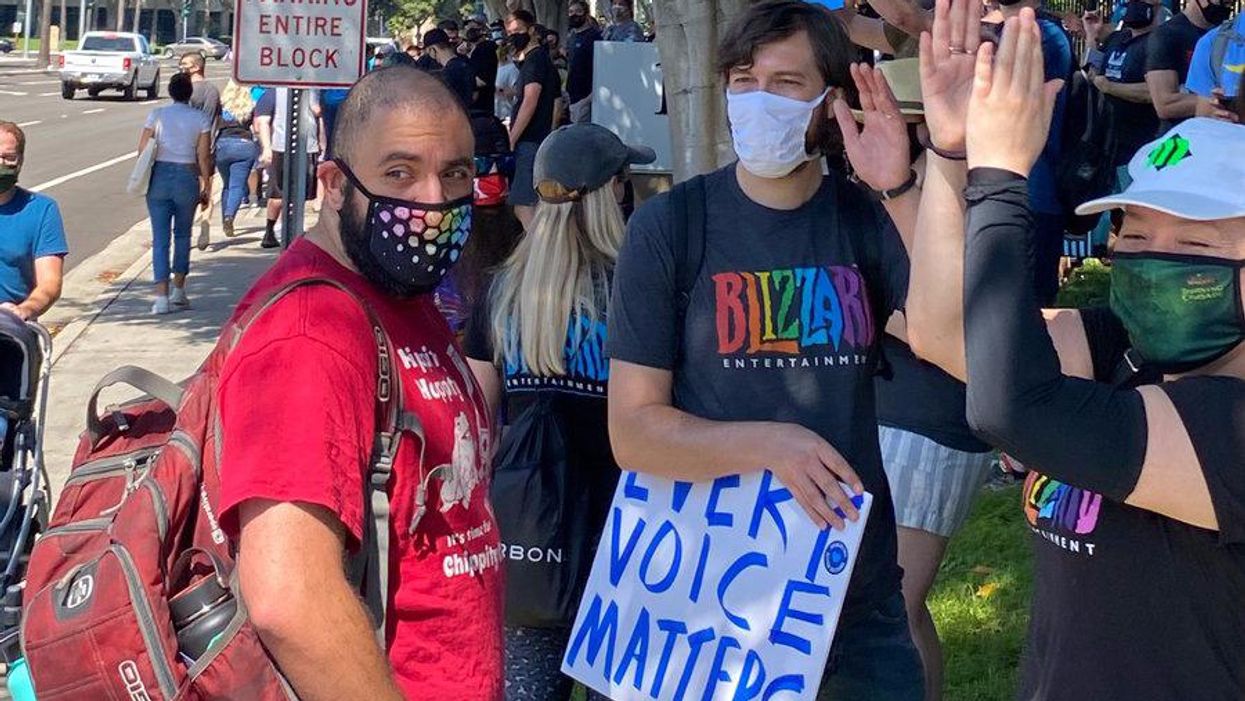 Sam Blake/ dot.LA
Activision also fell short of the average threshold for hiring ethnically diverse staff. Of its U.S. employees 36% identified as "a member of an underrepresented ethnic group," which Activision admitted was behind the average of its competitors, who report roughly 40%.
Underrepresented ethnic groups – non-white staff – make up 15% of Activision Blizzard's executive leadership.
In the letter, Activision chief operating officer Daniel Alegre said the company's goal is to double the representation of women and non-binary staff at Activision Blizzard in the next five years.
Alegre said he wants at least one-third of the company to consist of non-male staff. He also said Activision Blizzard will include yearly diversity goals with executive leadership performance goals and invest in professional development and manager mentorship programs that "foster a culture of inclusion" across the company and allow more diverse staff to ascend the corporate ladder.
This letter from Activision Blizzard is a stark contrast to one sent to employees last week in an attempt to discourage them from unionizing.
Workers at Activision's headquarters in Santa Monica were communicating with the media labor union the Communications Workers of America, which asked them to sign a union authorization card, one of the first steps towards a vote on joining a union.
The union discussions prompted chief administration officer (and former member of the Trump administration) Brian Bulatao to recognize the employees' right to have a union under the National Labor Relations Act, but strongly warned against it.
Bulatao said in a letter to the company's nearly 10,000 employees last week they should "consider the consequences" of signing into a union agreement with CWA. He added, "Achieving our workplace culture aspirations will best occur through active, transparent dialogue between leaders and employees that we can act upon quickly. That is the better path than simply signing an electronic form offered to you by [the] CWA or awaiting the outcome of a legally mandated and regulated bargaining process sometime in the future."
Risa Lieberwitz, a labor and employment law professor at Cornell University, told the Washington Post Bulatao's email "plays close to the line of illegality in the implication that Activision Blizzard's 'pledged' progress in workplace conditions are linked to the company being nonunion."
Employees and a group of activist investors continue to call for CEO Bobby Kotick's resignation, following revelations that he knew about alleged abuse within the company for several years but failed to act or inform the board. Activision Blizzard in September agreed to pay $18 million as part of a settlement with the U.S. Equal Employment Opportunity Commission.
Activision Blizzard has experienced at least three work stoppages in the last five months as employees walked out to protest the company's culture and handling of ongoing accusations.
Most recently, contractors at Raven Software – a subsidiary that does quality testing for some of Activision's most popular franchises including "Call of Duty" – walked off the job to protest contract cuts.
Activision employees including Jennifer Gonzalez, a former senior test analyst for Blizzard Entertainment and walkout organizer who recently quit, organized a GoFundMe page with the goal of creating a $1 million fund to support striking workers. The fund's description said, "Activision-Blizzard leaders have continually abused, union-busted, and remained apathetic to the wishes of workers." Over $330,000 has been raised so far.
From Your Site Articles
Related Articles Around the Web