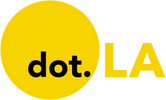 Get in the KNOW  
  on LA Startups & Tech  
X
Here's What EVs Are Doing to California's Energy Grid
David Shultz
David Shultz reports on clean technology and electric vehicles, among other industries, for dot.LA. His writing has appeared in The Atlantic, Outside, Nautilus and many other publications.
04:55 PM | September 01, 2022
If you've been outside lately in Southern California, you'll know there's an ongoing heatwave here. In something of an annual tradition, the electricity grid is under duress because of the heightened demand for power-hungry air conditioners.

In response, the California Independent Systems Operator, which oversees the state's electric grid, has issued "flex alerts," which are essentially pleas to residents to conserve power during peak usage (4 p.m. to 9 p.m.) by turning off appliances, air conditioning, setting thermostats to 78 degrees Fahrenheit, and refraining from charging electric vehicles.
This last item–don't charge your EVs–has drawn some schadenfreude from some news outlets which point out that, just last week, the state announced plans to ban new gas car sales. How can California possibly hope to power a fleet of around 20 million electric vehicles in the future when it can hardly power around 1 million cars today?
---
Whether or not it's being asked in good faith, it's a valid question. So here's an explainer about what exactly is going on with the grid and the role that EVs will likely play in the future.
The problem is that it's too hot right now. As always, no one can claim that climate change caused this heatwave, but the overwhelming majority of scientists agree that human-caused climate change is making heatwaves like this one more common. The future will certainly have more such heat events than the present, especially if we don't find a way to reduce or eliminate carbon emissions.
When it's too hot, people use a lot more air conditioning. Air conditioning is especially energy-intensive. The result is that–all at once–there's more demand for electricity. When demand outstrips supply, blackouts occur.
"People think of 'the grid' as this uniform system. But really, it's a bunch of electrical connections that have evolved over time," says Cascade Tuholske, an assistant professor of Human-Environment Geography at Montana State University. "Some aspects of the grid are super antiquated. And you can't just pump more electricity into a system without upgrading it."
You can imagine the electrical grid sort of like plumbing. Like water in pipes of different diameters, there's a maximum amount of electronics that can flow through different grid architectures, so simply adding more energy into the system doesn't necessarily solve the problem.
The California electric grid, in other words, has failed to keep pace with the increasing demand for air conditioning. Or, as California Gov. Newsom put it in a press conference yesterday, "All of us have been trying to outrun Mother Nature, but it's pretty clear Mother Nature has outrun us."
Even without the increased demand from electric vehicles, the grid needs upgrades. But EVs–even a whole state's worth–don't add as much demand to the grid as fossil fuel advocates might suggest. The main reason EVs aren't likely to cripple the grid is that they don't all charge at the same time and they don't usually charge when demand is high. Like with smartphones, most EV charging happens overnight, while the car sits in the garage, while people aren't awake to use appliances, while demand for air conditioning is lowest.
Nationally, EV charging accounts for just .2% of energy grid consumption, by some estimates. Adding a nation of EVs will absolutely add demand for electricity to the grid–as much as 25% more, according to scientists–but this transition is going to happen slowly, over time. Even California, which has the most ambitious EV adoption policy, is allowing 13 years before banning gas-powered car sales. It will probably be 30 years or more before 90% of the cars on the road are electric. The demand for more power will ramp up slowly, just as it has historically as Americans bought refrigerators, air conditioners, computers, etc.
President Biden's Inflation Reduction Act includes massive amounts of funding to address these exact issues, including $2.5 billion to "modernize and expand capacity of America's power grid."
Ironically, EVs actually may offer help to a stressed electrical grid if they're used correctly. Cars with full batteries can be plugged in and used to supply energy to the grid – just as they did a month ago when Tesla pooled energy from its users' vehicles to boost California's supply. Of course this will drain your car's battery, but you should be able to get paid for your troubles. A 50kWh battery like what's found in an electric vehicle is more than enough to power the average house for a day.
"At least in theory, if they're integrated into the grid, you can draw the power off your EV battery during periods of excess demand," says Tuholske.
David Shultz
David Shultz reports on clean technology and electric vehicles, among other industries, for dot.LA. His writing has appeared in The Atlantic, Outside, Nautilus and many other publications.
03:49 PM | October 14, 2022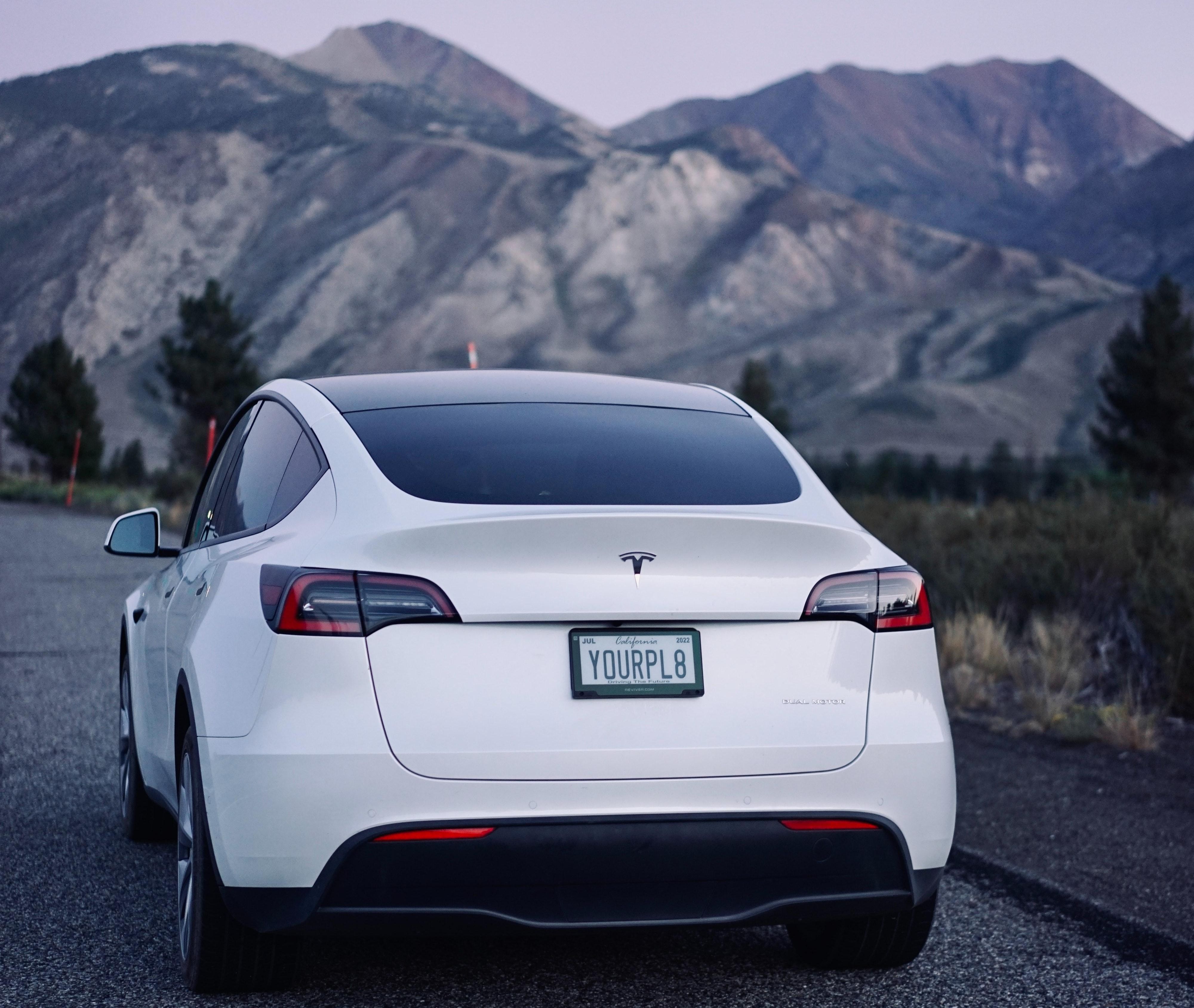 Thanks to a new bill passed on October 5, California drivers now have the choice to chuck their traditional metal license plates and replace them with digital ones.
The plates are referred to as "Rplate" and were developed by Sacramento-based Reviver. A news release on Reviver's website that accompanied the bill's passage states that there are "two device options enabling vehicle owners to connect their vehicle with a suite of services including in-app registration renewal, visual personalization, vehicle location services and security features such as easily reporting a vehicle as stolen."
Reviver Auto Current and Future CapabilitiesFrom Youtube
There are wired (connected to and powered by a vehicle's electrical system) and battery-powered options, and drivers can choose to pay for their plates monthly or annually. Four-year agreements for battery-powered plates begin at $19.95 a month or $215.40 yearly. Commercial vehicles will pay $275.40 each year for wired plates. A two-year agreement for wired plates costs $24.95 per month. Drivers can choose to install their plates, but on its website, Reviver offers professional installation for $150.

A pilot digital plate program was launched in 2018, and according to the Los Angeles Times, there were 175,000 participants. The new bill ensures all 27 million California drivers can elect to get a digital plate of their own.
California is the third state after Arizona and Michigan to offer digital plates to all drivers, while Texas currently only provides the digital option for commercial vehicles. In July 2022, Deseret News reported that Colorado might also offer the option. They have several advantages over the classic metal plates as well—as the L.A. Times notes, digital plates will streamline registration renewals and reduce time spent at the DMV. They also have light and dark modes, according to Reviver's website. Thanks to an accompanying app, they act as additional vehicle security, alerting drivers to unexpected vehicle movements and providing a method to report stolen vehicles.
As part of the new digital plate program, Reviver touts its products' connectivity, stating that in addition to Bluetooth capabilities, digital plates have "national 5G network connectivity and stability." But don't worry—the same plates purportedly protect owner privacy with cloud support and encrypted software updates.

5 Reasons to avoid the digital license plate | Ride TechFrom Youtube
After the Rplate pilot program was announced four years ago, some raised questions about just how good an idea digital plates might be. Reviver and others who support switching to digital emphasize personalization, efficient DMV operations and connectivity. However, a 2018 post published by Sophos's Naked Security blog pointed out that "the plates could be as susceptible to hacking as other wireless and IoT technologies," noting that everyday "objects – things like kettles, TVs, and baby monitors – are getting connected to the internet with elementary security flaws still in place."
To that end, a May 2018 syndicated New York Times news service article about digital plates quoted the Electronic Frontier Foundation (EFF), which warned that such a device could be a "'honeypot of data,' recording the drivers' trips to the grocery store, or to a protest, or to an abortion clinic."
For now, Rplates are another option in addition to old-fashioned metal, and many are likely to opt out due to cost alone. If you decide to go the digital route, however, it helps if you know what you could be getting yourself into.
Steve Huff
Steve Huff is an Editor and Reporter at dot.LA. Steve was previously managing editor for The Metaverse Post and before that deputy digital editor for Maxim magazine. He has written for Inside Hook, Observer and New York Mag. Steve is the author of two official tie-ins books for AMC's hit "Breaking Bad" prequel, "Better Call Saul." He's also a classically-trained tenor and has performed with opera companies and orchestras all over the Eastern U.S. He lives in the greater Boston metro area with his wife, educator Dr. Dana Huff.
steve@dot.la
02:16 PM | March 02, 2023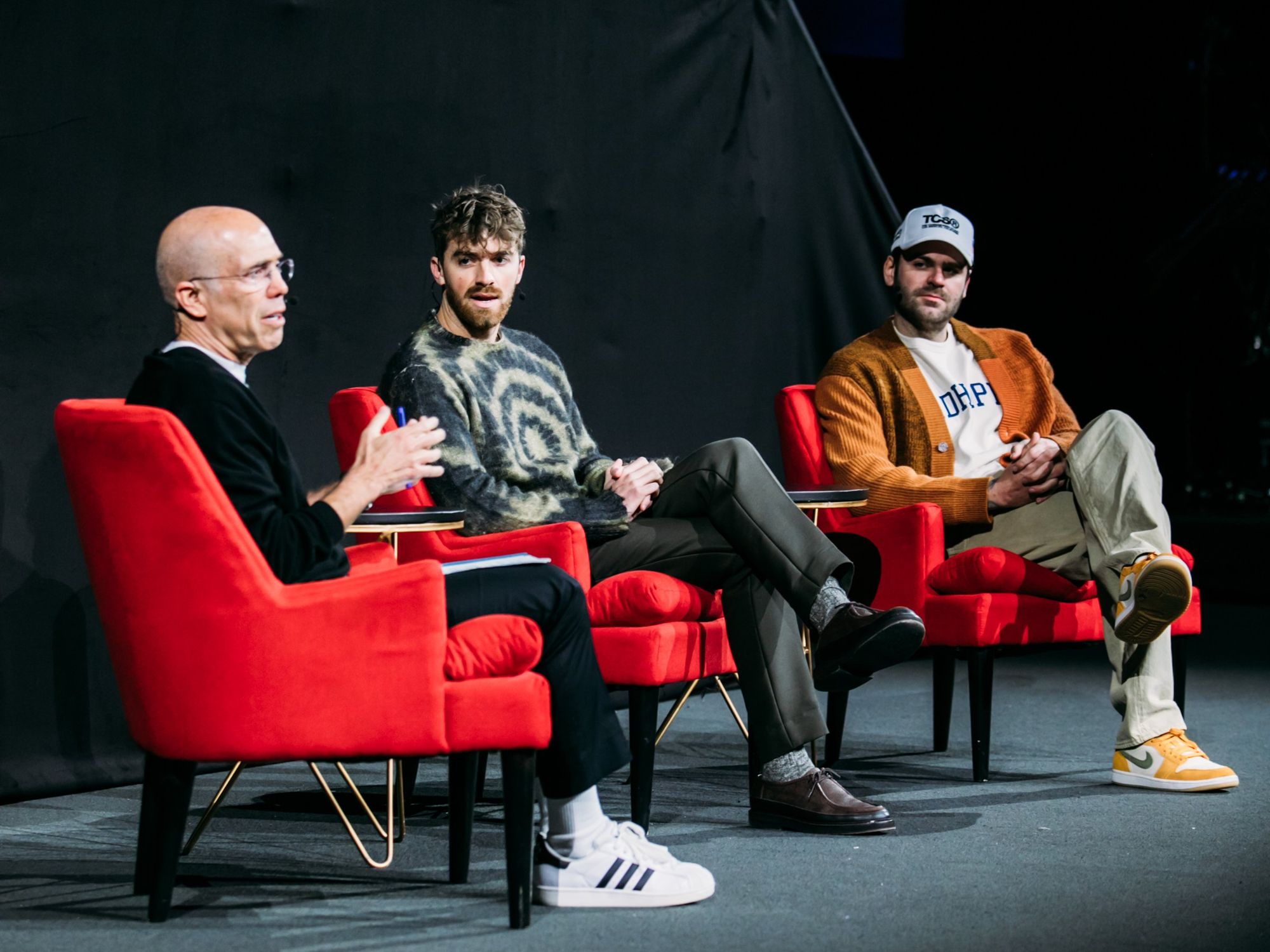 Clark Studio
On Thursday, Upfront Ventures hosted its 2023 Summit and music icons Alex Pall and Drew Taggart of The Chainsmokers hit the stage, not to perform, but instead to discuss their venture journey.
The duo launched MantisVC, a Marina Del Rey-based early stage tech venture fund in 2019.
Pall and Taggart shared the stage with WndrCo's managing partner Jeffrey Katzenberg to dive deeper into what their music career has taught them and how it translated over to their venture firm.
Here are some of the most important takeaways:
The duo believes hustle is more important than talent to achieve success.
"There's just so much content out there that's just happening all the time for no reason," Taggart said. "There's just so much to pay attention to and if you have to wake up every day, and think out what your angle is going to be, try stuff, have it not work. You have to accept defeat so frequently and still get up and do it."
Creating music was their foray into building communities.
"I think we have some real insight into how to build that community and tell that story because essentially, that's all we're trying to do," Pall said. "No matter what your business is, you're telling the story about something that you think is important that someone else needs and will enjoy."
Building connections and having conversations with pioneers in the space helped them launch MantisVC.
"Humility and being self aware are two of our strengths," Taggart said. "I think knowing what we don't know is a big part of how we've gotten to where we are, and with the support of people around us, and the relationships we built, we understood that we were going to have to go out and prove to the world that we were serious about this and we respected the people that have come before us and the people that are doing it right now."
VCs should offer all their founders support.
"When you're building something early on, you want that support, that hands-on feeling and the purpose of Mantis isn't necessarily right now to replace the incredible institutional investors that exist out there and have been around for a while," Pall continued.
"But we want to be the Robin to their Batman, and we think there's a way that we can kind of partner with everybody in the space and provide our founders that holistic support they need. It's inspiring to work alongside people that share that same energy and we're constantly working on ourselves and I feel like it takes a really special type of human being to be successful in this world. Level of grit and determination and something that's continually fueled us and we want to invest in people like that."
Feedback is necessary and essential to create successful products and businesses.
"Similar to products or services that you're building, it's important to get real life feedback out there and iterate on those things," Taggart said. "And there's really just no substitute for that."
Pall added, "I think for some reason in our culture, it's become an issue for people just to be straightforward and say no, about things and give honest feedback and, and move on. I think we can all learn a lot from just having more honest conversations with each other."
Never lose sight of your core audience and mission as a company.
"Never forget what your core product is and what people love about that and make sure that every piece of innovation is derivative of that," Taggart said. "I see a lot of friends of ours that have had really successful companies start to build ancillary projects that don't really feed their core audience that they're just making to compete with their competition. We do the same thing in songwriting, and you can never lose sight of what people love about you."
Decerry Donato
Decerry Donato is a reporter at dot.LA. Prior to that, she was an editorial fellow at the company. Decerry received her bachelor's degree in literary journalism from the University of California, Irvine. She continues to write stories to inform the community about issues or events that take place in the L.A. area. On the weekends, she can be found hiking in the Angeles National forest or sifting through racks at your local thrift store.