afterparty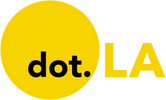 Get in the KNOW
on LA Startups & Tech
X
afterparty
Courtesy of Afterparty.
Web3 startup Afterparty has raised $4 million to launch an NFT-based ticketing platform for live events, with plans to use its Utopian NFTs as event tickets after a trial run at a Las Vegas music festival last month.
Afterparty landed the new capital—which it described as an extension of its $3 millions seed round from last fall—from more than two dozen investors, including angel investors like Paris Hilton and Jason Calacanis and VC firms like early-stage crypto fund Blockchange. Existing investors Acrew Capital and TenOneTen Ventures also participated. (Disclosure: dot.LA co-founder and chairman Spencer Rascoff is an investor in Afterparty and contributed to the round.)
Afterparty has now raised $7 million in total funding since launching in August 2021, co-founder and CEO David Fields told dot.LA. Fields, a former executive at Michael Eisner's investment firm The Tornante Company, said Afterparty is "building technology to enable creators and music artists to build direct connections with their fans and realize the full potential of Web3."
The startup trialed its NFT ticketing technology in Las Vegas last month, at what it called the "first NFT-gated festival ever"—meaning nobody could get in unless they owned one of Afterparty's Utopian NFTs or were a guest of an NFT holder. Fields said over 6,000 people attended the event.
The Utopian NFT collection features 1,500 pieces of art depicting headshots of futuristic, cyberpunk-esque robots. On NFT exchange OpenSea, the NFTs are listed at prices ranging from 5.35 ETH (roughly $16,400) to 50 ETH (upwards of $153,000).
Owning one of these NFTs—some of which the company minted earlier this year at a party at its Afterparty House in the Hollywood Hills—comes with perks, including access to future Afterparty festivals. Afterparty is now planning a Los Angeles festival for this coming October—with access coming through its upcoming Guardian NFT collection, which will provide holders with "lifetime festival membership," it said.
Afterparty's venture into event ticketing is an attempt to disrupt services like Ticketmaster, which often charge hefty transaction fees. Local startups like Granted, which raised a $3 million seed round this February, are also looking to use cryptocurrency and NFTs to wrest power away from ticketing brokers.
Fields noted that blockchain technology also makes it impossible to scalp an NFT ticket. He added that Afterparty is involved in discussions with other festivals interested in integrating its NFT ticketing system, but wouldn't disclose specifics.
"The ability to buy a ticket every subsequent year… if you had that in the first year of Coachella or the first year of Burning Man, that would be something that'd be really valuable," Fields said.
Afterparty also plans to allow music artists to mint their own NFTs through the company and use those as tickets for their own events and festivals.
"Collectively, [artists] get 0% of secondary sales today," Fields said. "$10 billion-plus of global secondary sales in concerts are going to other parties, and I believe NFTs are going to be a really big part of the story about how artists and venues can recapture a lot more of the value in that market."
From Your Site Articles
Related Articles Around the Web
Illustration by Ian Hurley
In Los Angeles—like the startup environment at large—venture funding and valuations skyrocketed in 2021, even as the coronavirus pandemic continued to surge and supply chain issues rattled the economy. The result was a startup ecosystem that continued to build on its momentum, with no shortage of companies raising private capital at billion-dollar-plus unicorn valuations.

In order to gauge the local startup scene and who's leading the proverbial pack, we asked more than 30 leading L.A.-based investors for their take on the hottest firms in the region. They responded with more than two dozen venture-backed companies; three startups, in particular, rose above the rest as repeat nominees, while we've organized the rest by their amount of capital raised as of January, according to data from PitchBook. (We also asked VCs not to pick any of their own portfolio companies, and vetted the list to ensure they stuck to that rule.)
Without further ado, here are the 26 L.A. startups that VCs have their eyes on in 2022.
The founders of Afterparty see themselves as on the forefront of a so-called "Web 3," a reimagined internet that relies less on private intermediaries like Google and Facebook, and enables more direct connections between creators and their fans through the blockchain.
The L.A.-based startup launches Thursday to provide tools for creators to both mint NFTs and host online events that require crypto tokens for entry. It's also bringing on Eytan Elbaz, founder of mobile gaming giant Scopely, as an investor and giving him the title of co-founder.

Barely five months old, Afterparty was founded by Dan Rahmel, previously of Music Audience Exchange, and David Fields, a former strategist at Disney and head of investments at former Disney CEO Michael Eisner's The Tornante Company. It aims to empower creators by making it easier for them to create NFTs.
Fields said the status quo of the creator economy forces creators to cater to social media platforms' algorithms, and drowns out the true fans in comment sections. But through NFTs and the closely related "social tokens," which enable individuals and groups to issue cryptocurrencies linked to themselves, Web 3 may be changing the balance.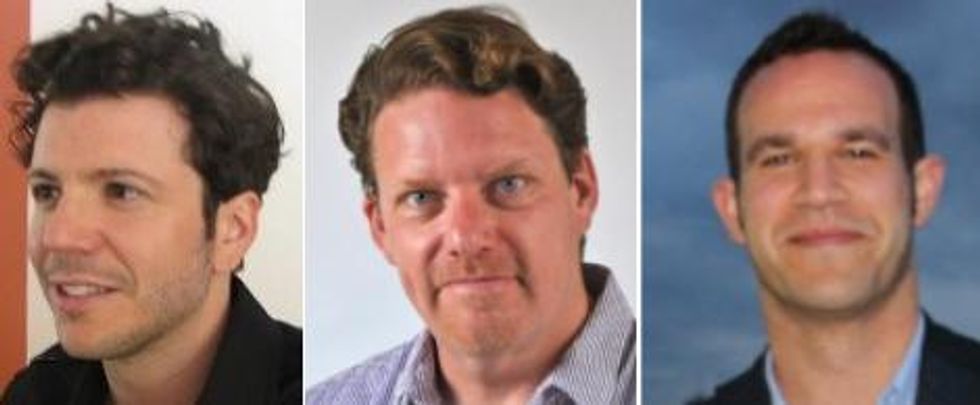 Afterparty co-founders (from left) Eytan Elbaz, Dan Rahmel and David Fields
At Disney, Fields helped lead the Pixar acquisition in 2006, and with Eisner he invested heavily into the creator economy when it was being fueled by a nascent YouTube.

"I think we're entering a second, just as powerful disruptive wave with crypto networks," Fields told dot.LA. "We are at as profound a moment for the creator economy and entertainment industry as we saw with broadband internet coming in."
Afterparty provides design templates to help creators mint NFTs. Designers can submit frameworks and earn compensation from the platform if their submissions are used.
The company itself issues a crypto token as well, which can be required to access events on the platform. The token also provides owners with voting power to make decisions on things like what the company should do with the money. In this way, Afterparty aims to become a so-called decentralized autonomous organization, with majority ownership held by its community via these "governance tokens."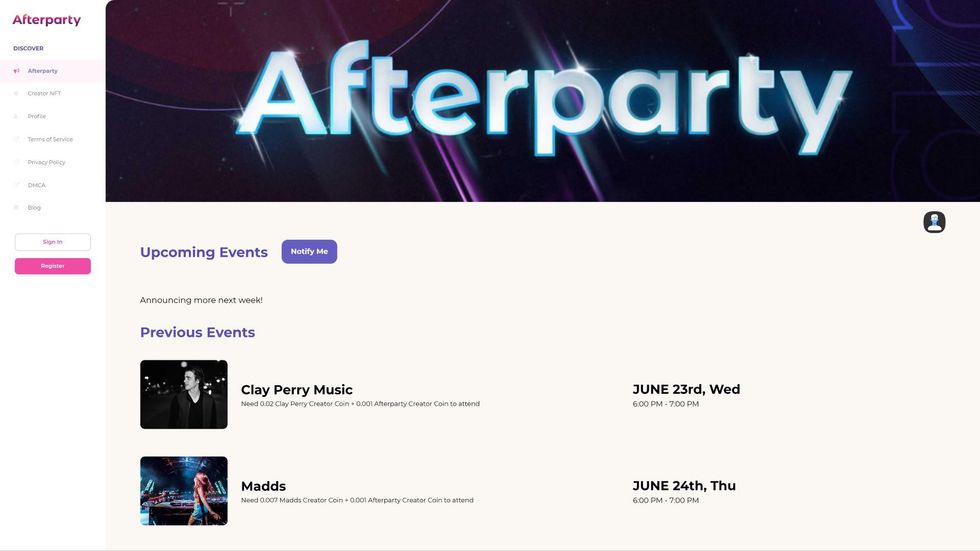 A screenshot of Afterparty's website.
During the company's beta period, held in June and July, artists Clay Perry and Tropix earned $500 and $1,000 in direct income, respectively. Jon Youshaei, who hosts a popular Clubhouse show about the creator economy, also participated in an event.

"We felt like we were selling picks and shovels in a gold rush," Fields said. The company has focused so far on musicians but plans to expand into broader creator categories.
Elbaz, one of the L.A. tech community's biggest success stories, is himself a musician, like his co-founders.
"NFTs are at a critical inflection point where the merging of music and art with digital assets will take the industry in whole new directions," he said in a press release. "We're now at a place where we must facilitate how creators and fans can exchange them seamlessly."
The NFT markets have been up and down lately, with some platforms seeing record highs while others have plummeted. Though it may seem like the hype cycle has hushed following the NFT mania that crested with digital artist Beeple's $69 million sale in March, administered by auction house Christie's, the Aftrparty team and the crypto community at large see the party just beginning.
"I think we're going to see an explosion of really exciting new experiments," Fields said.
From Your Site Articles
Related Articles Around the Web