Caitlin Cook
Caitlin Cook is an editorial intern at dot.LA, currently earning her Master's degree in Mass Communication from California State University, Northridge. A devoted multimedia journalist with an interest in both tech and entertainment, Cook also works as a reporter and production assistant for MUSE TV. She got her Bachelor of Fine Arts in Filmmaking from University of North Carolina School of the Arts.
In-game purchases enhance the gaming experience and create profit for game developers. But what if they were also an investment for gamers?
Los Angeles-based game technology studio Mythical Games is trying to make that happen by bringing NFTs into the gaming world. As blockchain technology and the gaming industry both see a surge in interest, their combination may have been inevitable.
Mythical, started three years ago with the explicit purpose of making blockchain a part of gaming, is one of several companies distributing NFTs through video games, along with Chain Games and B-Side Games.
Nicole Yang, the company's VP of marketing, said the company initially struggled to figure out how to even explain blockchain – the underlying technology that verifies crypto transactions – to consumers. Now, there's "an insane amount of energy and awareness" around the technology and NFTs.

On Wednesday, Mythical announced it raised a $75 million Series B round, bringing the total amount raised to $120 million. The round, led by WestCap, will be used to grow "Blankos Block Party" — the company's first game — as well as expand to more gaming platforms and develop future projects.
"Blankos Block Party" is an open-world party game where players can play mini games with friends and create their own levels. The Open Beta version of the game is available to download for PC.
Blankos are designed by Mythical Games in collaboration with artists and can be compared to collectible vinyl toys.
What separates Blankos from similar party games is that each playable character, called a Blanko, is a unique NFT owned by the player, with the potential to appreciate in value. Blankos are designed by Mythical Games in collaboration with artists and can be compared to collectible vinyl toys. Other items owned in the game, such as clothing, are also sold as NFTs. Current Blanko players collectively own more than 100,000 NFTs, and there is no limit to how many a single player can possess.

To make a profit, players can resell their Blankos within the company's "Mythical Marketplace," which recently went into alpha testing. Yang said said certain factors can contribute to the appreciation of a Blanko's value, including when it was created, the scarcity of the model and what the Blanko has done in the game. The NFTs are sold on the EOS.IO blockchain and use the Proof of Authority algorithm to validate each transaction.
Some, including influential blockchain site Cyptopedia, have raised concerns that integrating gaming with blockchain could cause game developers to focus more on the investment opportunity and less on quality of gameplay.
Yang said gameplay is their priority, and that players could come into the game with no intention of touching the blockchain and still have a fulfilling gaming experience.
"I think there's this intersection of people that are gamers that are going to come into it, which we've definitely seen," she added. "[And] we have people that are more on this game entrepreneurship side, who maybe are less engaged with the core gameplay of the product but very interested in the NFT aspect of it. For us, it's a welcome space."
From Your Site Articles
Related Articles Around the Web
Sports fans and politicians have debated whether college athletes should be able to make money from their fame for years. Less commonly debated, however, is whether high school athletes should be able to do the same.
On Tuesday, Pasadena-based youth sports streaming platform BallerTV announced its new plan to allow high school athletes to make money off their names, images and likeness. How? By joining the NFT craze.
The company will sell NFTs that depict video highlights from the final June 8th game at Pangos All-American Camp, an elite, invite-only camp for high school basketball players. This game, called the "Cream of the Crop" game, features the top 30 players from the camp.
BallerTV hopes the potential of these players to become basketball's next legends will encourage consumers to invest in the NFTs.
"These NFTs will give collectors and young athletes the opportunity to capture the first moments of what could very well be storied NBA and professional careers," said BallerTV CTO Kavodel Ohiomoba.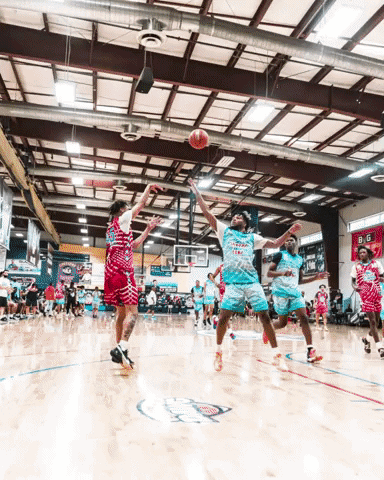 The NFTs are set to drop Tuesday on BallerTV's website at ballertv.com/nft and will be available for purchase on the Ethereum blockchain, with no starting price. The athletes featured in the NFTs will receive half of the profits, which may then be deferred until graduation from high school. The other half will go back to BallerTV.
Players can also donate their profits to a charity, school or organization of their choosing. BallerTV said it offered the option in case accepting the profits became an issue for players' future eligibility to play sports in their state.
BallerTV is taking their stand at a time when the issue of paying student athletes is top of mind at many universities and colleges, especially in California. In 2019, California Governor Gavin Newsom signed a bill allowing college athletes to hire agents and profit from endorsements without losing their NCAA eligibility. This bill will go into effect in 2023. Though California is the first state to do this, several other states are following suit.
BallerTV hopes the auction will contribute to the larger movement to allow student athletes to get paid, whether through selling NFTs or through other means.

"We're gonna see what the reception is to this," said BallerTV Executive Vice President Sandeep Hingorani. "How do the athletes respond? How does the community respond? Is this something they find interesting? But if that reception is not there, then there are going to be other avenues to explore to allow families and athletes to earn and benefit from the opportunities that are there."
While the NCAA has been slowly moving toward allowing its student athletes to benefit monetarily from their heightened profile, the National Federation of State High School Associations (NFHS) — which writes the rules for most high school sports — remains steadfast against payment for high school athletes.
"High school students participating [in travel or club sports] MUST NOT be allowed to benefit from [their name, image and likeness]," NFHS Executive Director Karissa Niehoff said in a statement earlier this year. "This would completely disrupt the high school environment when these students come into the high school locker room."
Meanwhile, the NBA has been cashing in on the recent NFT craze. NBA Top Shot, for example, a marketplace dedicated to selling video clips of NBA stars as NFTs, has an aggregated market value of $627,894,904, according to NFT site CryptoSlam. Last April, a clip of LeBron James dunking sold for almost $400,000 on the site.
From Your Site Articles
Related Articles Around the Web
The days of paying a lawyer to write up legal documents may quickly be coming to an end.
e-gree, a Los Angeles-based app that allows users to create, sign and transfer legal documents within minutes, closed a $1 million seed round on Wednesday. The new funds will be used for app development, PR and marketing within the United States.
The app has more than 20 pre-made templates that can be used for matters such as non-disclosure agreements or wills. These documents can then be shared between users. Pricing currently sits at $14.99 a month or $39.99 a year to use the app, which currently hosts more than 10,000 users.
A representative from Impulse VC, the round's lead investor, said they believe e-gree will improve communication and trust between individuals in personal and business relationships.
"[Signing contracts is] normally an expensive and intimidating process and many people end up losing their rights because they didn't go through traditional legal channels," said Australian model, philanthropist and e-gree angel investor Jessica Kahawaty. "We finally have a tool that is accessible — the price of a cup of coffee — and effective, which protects you in the eyes of the law."
e-gree's services are similar to those provided by companies like LegalZoom and Rocket Lawyer, which also make legal services more accessible through technology. Chief Legal Officer Keith Fraser said e-gree hopes to differentiate itself by focusing on more casual scenarios, such as short-term bets — or long-term relationships — where a legal contract could be useful.
For instance, Fraser said e-gree provides non-disclosure agreement templates for partners in romantic relationships that could help combat "revenge porn" — the sharing of sexually explicit content of a person without their consent.
Back in 2016, McKinsey Global Institute estimated that 23% of lawyers' work could be done with existing technology.
The legal profession has been considering what automation might mean for its future for years. Many have concluded that technologies like e-gree could take on more routine tasks, allowing lawyers to focus on more complex work.
"Certain legal topics are well-suited for an automated type of process without the need for a lawyer or legal professional," said Fraser. "So yes, [automation is] something that is coming, definitely, and growing. And e-gree wants to be a part of that."
From Your Site Articles
Related Articles Around the Web