Inside SoLa and Riot Games' State-of-the-Art Center in South LA's 'Tech Desert'
Samson Amore
Samson Amore is a reporter for dot.LA. He holds a degree in journalism from Emerson College. Send tips or pitches to samsonamore@dot.la and find him on Twitter @Samsonamore.
Image courtesy of SoLa Impact
It's a blisteringly hot afternoon as high school students stream out of the Diego Rivera Learning Complex in South Central Los Angeles. What these teens don't yet know is that a brief walk down the alley behind their bus stops at Central and 60th, there's an oasis of air conditioning and state of the art gaming equipment waiting for them – SoLa Impact's Tech and Entrepreneurship Center, sponsored by Riot Games.
---
The minute the gates on E. 61st street open, it's easy to forget the clutter and chaos of South Central's industrial alleys as the clatter of nearby recycling shops fades. But it's not always this quiet at the Beehive, according to SoLa's chief impact officer Sherri Francois and director of partnerships Daniel Rosove.
The facility had its grand opening Aug. 11, welcoming in 200 people to explore the campus and learn about SoLa Impact's various programs, which are run through its nonprofit I CAN Foundation. The next round of programs begins Sept. 11, 2022. There's a one-time annual $25 membership fee, which includes unlimited access to the Tech Center and its gaming lab. The I CAN Foundation also offers scholarships, and recently helped send 25 students to college this fall.
SoLa's mission is to bridge the digital divide between the greater L.A. tech economy and its minority population. Its mantra, Francois said, is "if you can see it, you can be it." Those words are in several places in the Tech Center to remind the students (ages 8-18) who come through the doors of their potential, including a mural and desktop wallpapers in the center's sparkling new computer lab.
"South L.A. is a tech desert," Francois told dot.LA. "Less than half our service population have computers in their homes, [and] the majority of our local schools lack any type of technology programming, or tech enrichment… the access to technology training is dismal."
Riot Games recently stepped up and donated $2 million to help launch the center. Its co-founder and president Marc Merrill also donated funds. Other local sponsors include Snap Inc., which also ran a Snap Summit to teach students about mixed-reality, the L.A. Kings, the L.A. Rams, LiveNation and its CEO Michael Rapino. Additional donors include Oprah Winfrey, NWA's Arabian Prince, and mayor Eric Garcetti's Angeleno Connectivity Trust.
"What drew us to SoLa was this was a neighborhood for the kid to kind of come in and see what is possible," Riot Games' director of social impact Jeffrey Burrell told dot.LA.
A minimum of 1,000 students are expected to come through the Tech Center's doors in its first year.
"SoLa has been one of the most impactful programs I have ever been a part of," J.J. Flores, a 2021 SoLa scholarship recipient and current environmental studies major at USC, told dot.LA via email. "SoLa provides me with yearly care packages, they made a mini-doc to feature my story, and they provide me with an incredible network of people that truly believe in my potential and want to see me succeed."
Flores added, "seeing the entire program evolve into a bigger and better thing by the day... with its new tech and entrepreneurship center, a space for community events... is such an inspirational thing because it shows me that they're doing all this because they truly see the potential that South LA students like me have."
Here's a look inside the Tech Center—though Francois and Rosove both encouraged people to drop by and see for themselves. "Outside of Riot and Snap, we haven't been able to tap into the L.A. tech industry," Francois said. "One of our goals is to establish better partnerships," she said, adding that most CEO's haven't yet come to visit, but she'd welcome a drop-in.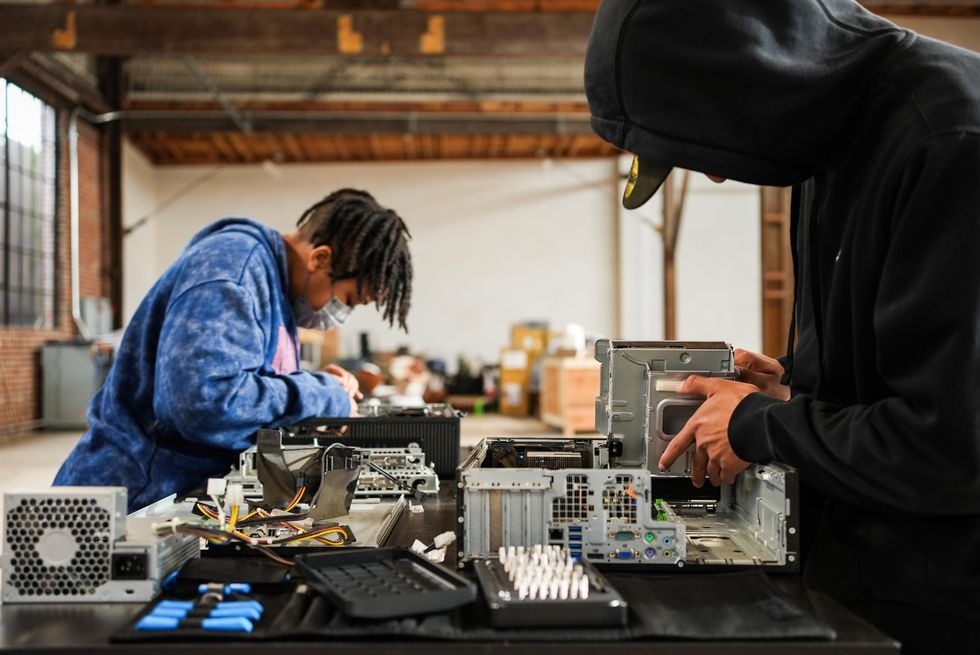 SoLa Tech Center students participate in a workshop building PCs. Credit: SoLa Impact
First Impressions
Don't mistake the icon for the London Underground logo–Francois and Rosove told me SoLa's symbology was inspired by a Google Map pin. SoLa's I CAN nonprofit is part of a larger umbrella of community initiatives including SoLa Impact, which manages 1,500 apartments for low-income residents, and it was the first to utilize the pin logo, Francois said.
Francois's brick-lined office is nestled into the right corner when you enter, and on the left there's some administrative offices. Behind the reception desk is a glitzy wall with glass plaques acknowledging the center's donors. What really catches anyone's eye is the neon sign above the check-in desk, proudly proclaiming "powered by Riot Games."
"Absolutely none of this would be possible without Riot," Francois said.
Computer Lab and 3D Printers
The computer lab is impressive, with brand-new Macs that would be at home at a visual arts college. Of course, there's brand-new fiber optic internet, which Rosove said had to be installed from scratch, since the building – and most of South Central L.A. – isn't wired for high-speed internet. "Most of the internet access is through phones for these folks," he noted.
An anonymous donor recently contributed 10 3D printers, which will be used in a CAD design program to teach students how to create their own models. On a lab shelf – interspersed with Riot Games memorabilia from its hit "League of Legends" title – Rosove pointed out a couple of freshly printed Easter Island heads ( Moai) made recently by students, giving a big thumbs-up.
Emblazoned in bold colors on the wall dividing the computer lab from the kitchen area is Francois's mantra, "if you can see it, you can be it." Heading towards the gaming lab and jam room, there are two walls filled with plaques celebrating SoLa's 124 scholarship recipients and a tantalizing row of four classic arcade games.
Across from the lab there's a room for students complete with a green screen and closet retrofitted to be a podcast studio, basically the video production hub. As Francois got her start as a producer for CNN, NBC News and HGTV, it was important for her to have a media room for other people to learn the trade and create a portfolio. "That's quite a core part of Sherri's vision of folks have to be really building a personal portfolio as part of their time here," Rosove said.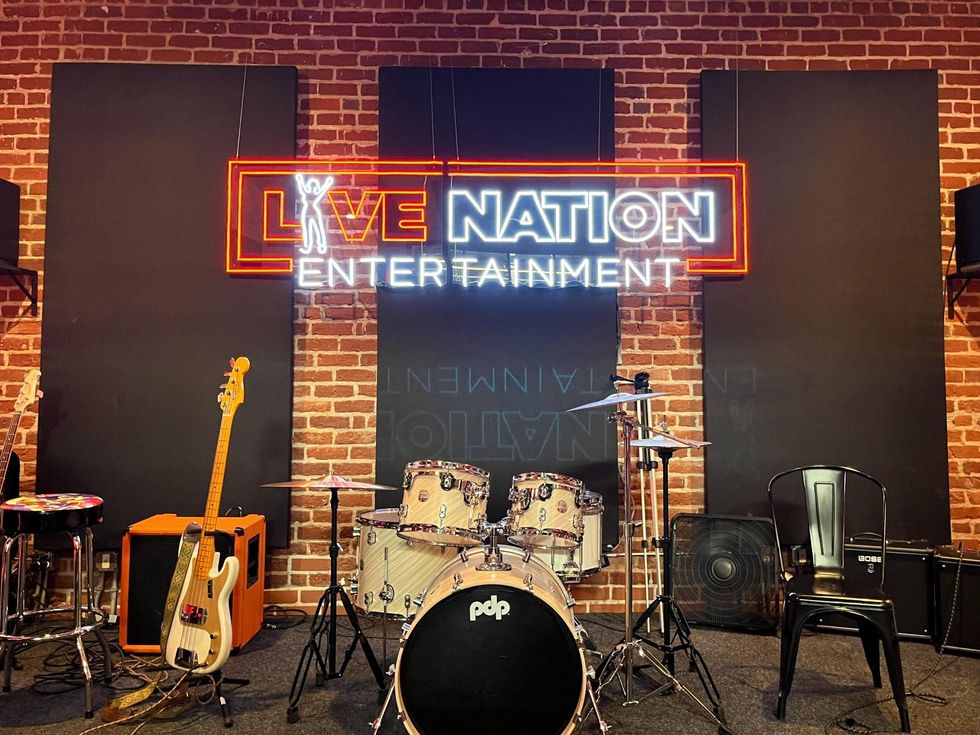 Image by Samson Amore
LiveNation Jam Room
A paradise for music lovers, LiveNation's donation to SoLa helped fund its music room, which is complete with a sound board and everything needed to hold an open mic night or create a full band, including a drum kit where Rosove admitted he occasionally blows off steam during the workday.
There are tributes to the greats of West Coast hip-hop scattered around the room, including a framed copy of "The Chronic." Across the hall there is a brand-new mixing studio funded in part by 1500 Sound Academy and N.W.A.'s Arabian Prince, who wanted SoLa to pass on production and DJ skills to a new generation.
LiveNation collaborated with SoLa on a program where students taking a 10-week course worked with its pros to put on its first local youth-led music festival, which was held on Aug. 12 with 15 live acts.
"It's set this great benchmark for what this program could be and what's really great is five of the students are moving on to internships at Live Nation," Rosove said.
Virtual Reality and Gaming Lounge
If most students using SoLa's facilities are accustomed to using their phones to access the internet and game, they'll be blown away by the tech here. Towards the back of the center there are four gaming chairs and a brand new PS5 and Xbox Series S waiting to be used by eager teens.
Across the way, there are a dozen Oculus headsets in an open space for kids to flail around and experiment in VR. "We piloted an educational software put together through Meta around virtual world building in the spring but didn't quite hit," Rosove said, noting they're still working out the kinks.
The Grand Finale
The darkened, LED-lit cavern in the very back of SoLa's facility is the real draw. It's the Riot Games esports center, a scaled-down version of the company's flagship West L.A. gaming arena.
Soon, it'll be the home base for SoLa's student esports team, which will compete in Riot Games titles like "Valorant."
Part arena, part gaming café, this place is all awesome. In the back there's a DJ booth and professional-grade voiceover booth nicknamed the SoLa Streaming Studio for students to practice "shoutcasting," or calling an esports match, and tons of TVs to broadcast the action live. Right before the entrance to the green room is a wall of gaming history collected by Francois, including some consoles younger students might never have seen before (feel old yet, Sega Genesis?).
"I guarantee you, coming out of this Tech Center, at some point, you will see the first World Championships right out of South Central," Francois said about the esports teams. She joked the gaming content is "the chocolate on the broccoli," the glitzy fun part that gets kids in the door and then inspires them to learn other skills in the gaming world.
Riot's branding is all over the esports arena, which could also double as an event space – Francois said SoLa's eager to work with companies for private events to help keep the lights on.
"I will not forget this, we opened the doors [in January] and the first two kids were middle school students – they turned to each other and one, he said, 'oh my god, is this for us?' And the answer is hell yeah, it's for you," Rosove said.
Editor's note: This story has been updated with additional comment from a SoLa scholarship recipient.

Samson Amore
Samson Amore is a reporter for dot.LA. He holds a degree in journalism from Emerson College. Send tips or pitches to samsonamore@dot.la and find him on Twitter @Samsonamore.
https://twitter.com/samsonamore
samsonamore@dot.la