first resonance
first resonance
A work collaboration and inventory management software for aerospace manufacturers — including rocket-part maker Phase Four — First Resonance is poised to take off.

The startup raised a $3.5 million Series A on Wednesday, and will use the funding to expand its footprint in Los Angeles.
Eventually, the downtown-based company wants to be the software behind a new wave of mobility, from jetpacks to air taxis.
First Resonance initially targeted aerospace companies, but has since expanded to other industries, including automotive and robotics. CEO Karan Talati said the company eventually plans to help build air taxis.
"We're bringing on companies even right now that start to get into the kind of blurry lines of what the future of mobility looks like," Talati said.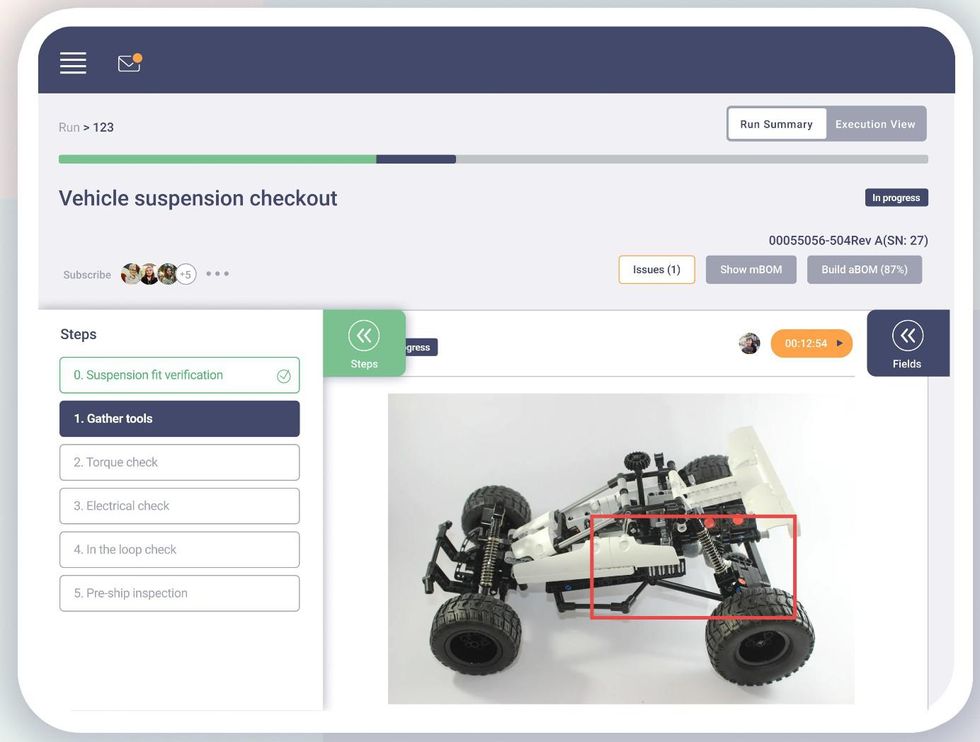 A screenshot of First Resonance's inventory management software.
The new round of funding will allow the company to double — "if not triple" — its headcount by the end of this quarter and develop its main product, the Ion factory management software, which allows manufacturers to automate and streamline operations.

The funding round was led by Blue Bear Capital, a Beverly Hills-based venture capital firm that looks to invest in automation, artificial intelligence and the industrialization of renewable energy.
First Resonance has now raised a total of $5.3 million since its 2018 launch.
The startup began working remotely last March. Its six-person team is made up of engineers that come from top manufacturers in town including SpaceX, Toyota and NASA.
Blue Bear Capital partners Ernst Sack and Vaughn Blake decided to invest in First Resonance because they saw the long-tail potential for First Resonance's software as the market for electric cars soar and the space market expands.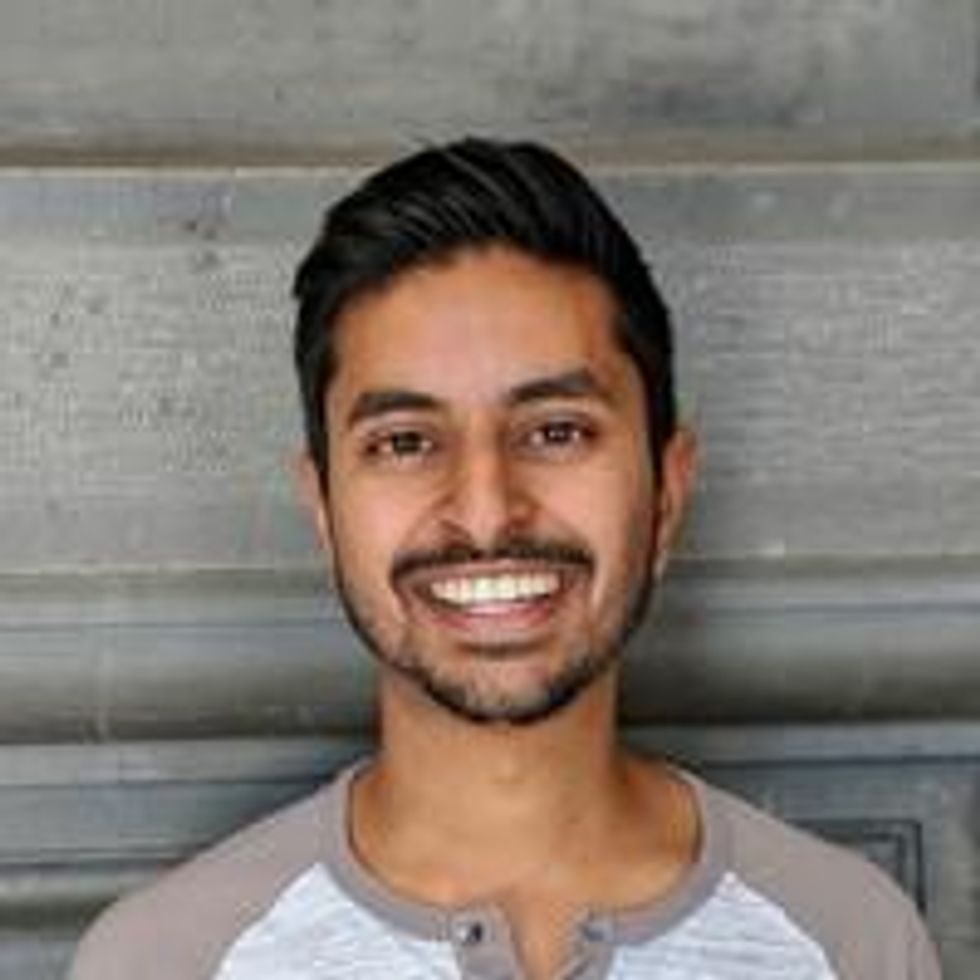 First Resonance CEO Karan Talati
Manufacturing in both of those areas requires a complex set of processes.
"At the global level, the revolution of next-gen manufacturing is critical to solving the climate and mobility challenges that we'll be facing in the years ahead," Blake said. "First Resonance' software ignites that revolution by enabling the manufacturing workflows required to electrify transport, reach orbit and propel satellites."
The software lets factories automate their manufacturing and manage their supply chains, freeing up more time for engineers to focus on futuristic designs, Talati said. It also uses data visualization and analytics to help builders troubleshoot design issues.
First Resonance is already backed by notable firms including Santa Monica-based Wavemaker Partners and Westwood-based Fika Ventures, but Blue Bear has a foothold in Texas, where aerospace activity and manufacturing are exploding, giving it an edge over other firms. Elon Musk has reportedly moved to Austin, and some of SpaceX's manufacturing has migrated to Boca Chica Village in Texas.
"It's been really great [to access] new customer acquisition or networks, with their extended team in San Francisco as well as Texas," Talati said, noting at First Resonance has plans to expand far beyond Los Angeles' borders.
From Your Site Articles
Related Articles Around the Web
Los Angeles is home to around 5,000 startups, the majority of which are in their young, formative years.
Which of those thousands are poised for a breakout in 2021? We asked dozens of L.A.'s top VCs to weigh in. We wanted to know which companies they would have invested in if they could go back and do it all over again.

Yesterday, our investors picked their favorite Series-A or later startups, and not surprisingly there was more consensus, with familiar names like PopShop Live and Scopely leading the way.
But the most lucrative returns come from identifying companies in their infancy, as recent blockbuster IPOs vividly demonstrate. For instance, Sequoia's $600,000 seed check to Airbnb in 2009 accounted for 70% of its shares in the company and helped it get into competitive later rounds. When the vacation rental service went public last month, Sequoia's stake was worth $4.8 billion.
What will be the next breakout? The complete list is below and is ranked in random order except for the first three, which stood out by virtue of getting multiple votes: Pipe enables companies with recurring revenues to tap into their deferred cash flows with an instant cash advance. Clash App, Inc., is a TikTok alternative launched by a former employee of the social network in August. And XCLAIM allows bankruptcy claims to be digitally traded.
Lead art by Candice Navi.
As COVID-19 layoffs cost friends and families jobs, Liora Simozar, a product manager at Clutter Inc., and her friend Ranika Kejriwal, put together a crowdsourced list of open tech and startup jobs in Los Angeles.

Simozar and Kejriwal, who head the local chapter of Women in Product and both have jobs, started their nascent effort in a Slack group in early March figuring many of their 500 members would be impacted. Eventually, they blasted it out to hundreds of their contacts and now have nearly 200 local employers looking for candidates on their crowdsourced list. Similar efforts have been playing out across the tech world as others release lists among friends and colleagues.
It's been a reprieve in an otherwise grim job market as companies like Bird and ZipRecruiter slashed their workforce in abrupt and sometimes brutal manners.
"It's tough being a laid off, you go through a lot of different emotions," said Simozar. "I felt a real sense of urgency because when you are losing your job, you are losing your health care benefits and this is a health crisis."
More than 26 million people have filed for unemployment since the pandemic halted normal life. Last week, USC researchers estimated 1.3 million workers in Los Angeles County alone have lost their job since mid-March. Startups and tech companies have seen a reversal of fortunes, cutting jobs that once seemed secure and eliminating six-figure positions. But, the downturn has helped some big tech and smaller thriving companies pick up hard-to-catch talent.
The spreadsheet by Simozar and Kejriwal, who works on Tinder's product team, posts positions for engineers, product designers and data analytics from companies like Jessica Alba's Honest Company, the board game maker Exploding Kittens and Northrupp Gruman. The lists are being shared on LinkedIn, among friends and within tight-knit networks.
"I think a lot of people are encouraged by how many companies are still hiring through the crisis," she said.
One advantage to the list the two put together is that its local companies, as opposed to other ones that include jobs across the county.
"We got more high-quality candidates from this list than from LinkedIn or AngelsList," said Sam Byker, founder and chief executive of downtown-based Atticus, a tech firm aimed at making legal representation more accessible. The firm closed a $4.5 million seed round in December and is more than doubling its 8-person staff. The pandemic has stoked demand for the firm's services. A lot of the company's work is helping disabled people qualify for government benefits and demand tends to spike during downturns.
"It is always hard for us to find candidates that are the right fit," he said. "We are on a lot of platforms but at the end of the day, it was that google sheet that got many of our best applicants."
A few candidates who reached out through the sheet are going through the interview process. "There are a few folks that we are really excited about," he said.
Karan Talati said he turned to the list when he had to layoff two of his eight employees at First Resonance, a small startup that builds software for aerospace manufacturing.
"We have had to make these hard decisions that we don't want to," he said. "Most of our investors have been spending time with portfolio to make sure they are set for surviving and that means cost cutting where needed and unfortunately that means people."
He offered the employees severance and insurance, but he has been sending them leads and lists like this one in hopes that his former employees would find a job.
"If we have to part ways with people that we care about, hopefully can land as quickly as possible," he said.
Jerry Nickelsburg, the director of UCLA's Anderson Forecast, said the good news is that the region's tech sector — which spans an array of industries from logistics to restaurants to software — will likely recover.
"Are there firms in every sector that are struggling and have laid off staff? The answer is yes, but there also are firms in many sectors in finance, in some of the tech businesses, we see it in the distribution of goods that have actually added some employees. Still, not nearly enough," he said. "The tech sector has been growing and growing very rapidly in L.A., and then greater L.A. and Orange County as well over the last decade. Our expectation is that that will continue."
Meanwhile, even those lucky enough to find jobs after a layoff have a bit of survivor's guilt.
"The reality is, I feel super guilty that I gave notice right before layoffs happened, which ended up saving me from said layoffs," wrote recruiter Ashlyn McIntosh about her new job. "Here's the thing my amazing former manager and now friend for life Darren Stewart reminded me of: I hire people for a living. If I keep going, more people have jobs, meaning less people are living in anxiety."
Just days before the posting she watched her 17-person recruiting and human resources team at PatientPop dwindle to three after the company laid off about a quarter of its staff in a round of COVID-19 layoffs, she said. The data science team was also wiped out she said, noting that those are difficult positions to fill.
The company did not respond to a request for comment.
McIntosh who now works at TeleSign said she's seen a rush of applicants to jobs. Other recruiters, who she once competed against, are now calling her and sharing job applicants that they would have guarded before the pandemic. Hard to fill positions now have candidates clamoring.
The dire circumstances have reshuffled the job market for those with the right skills and it has also opened up talent that wasn't accessible before.
Matt Alling, who runs headhunting firm Marius Group, said that in some ways he has felt like a first responder dealing with so many people that have been laid off. Although about 80% of his clients froze hiring, the rest are hiring more than usual and keeping him busy.
"If we averaged 30 new candidates a day, now we are imputing 200 people a day," he said. "We have been working double time to connect with really good candidates."
Companies like Chinese-owned startup ByteDance is looking to hire 10,000 new employees, Bloomberg reported last week. The company's app TikTok is based in Culver City and has been advertising jobs. Other big tech companies like Amazon and Apple have been on a hiring spree as they see an opportunity to pick up hard to find talent.

Arteen Arabshahi, vice president at Jeffrey Katzenberg's WndrCo, which develops and operates consumer technology businesses, said he has seen it play both ways. On the other side are companies sharing lists of employees that have been laid off in hopes of placing talented workers.
"Everyone is trying to make the best of a terrible situation," said Arabshahi, who oversees the firm's venture arm. "These types of initiatives have been really helpful for smaller businesses that are trying to hire. These are amazing for those companies.
Do you have a story that needs to be told? My DMs are open on Twitter @racheluranga. You can also email me.